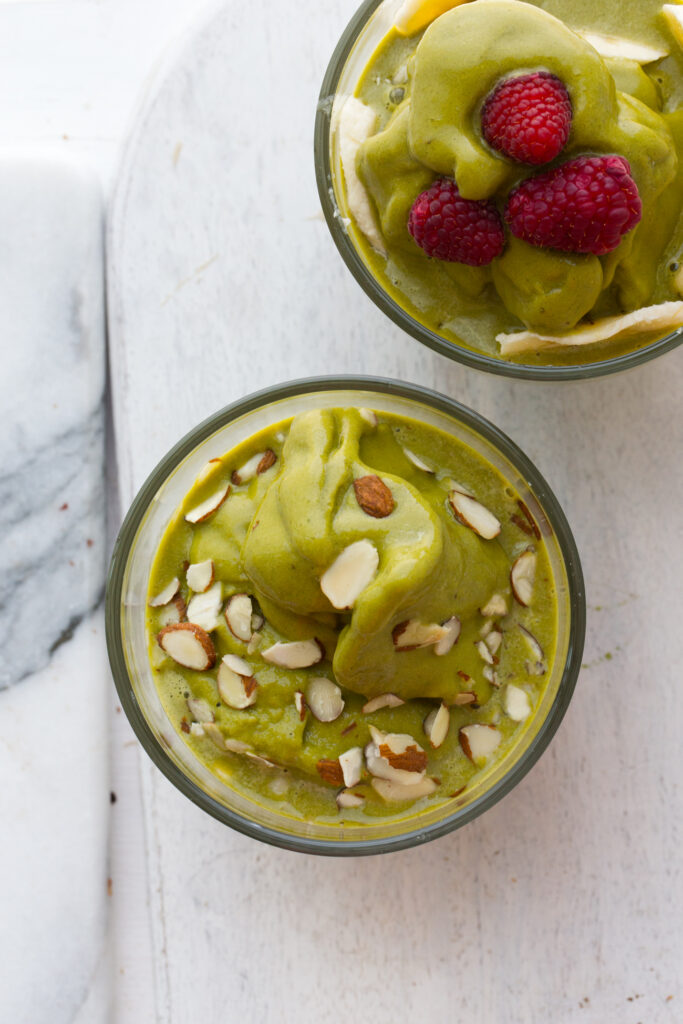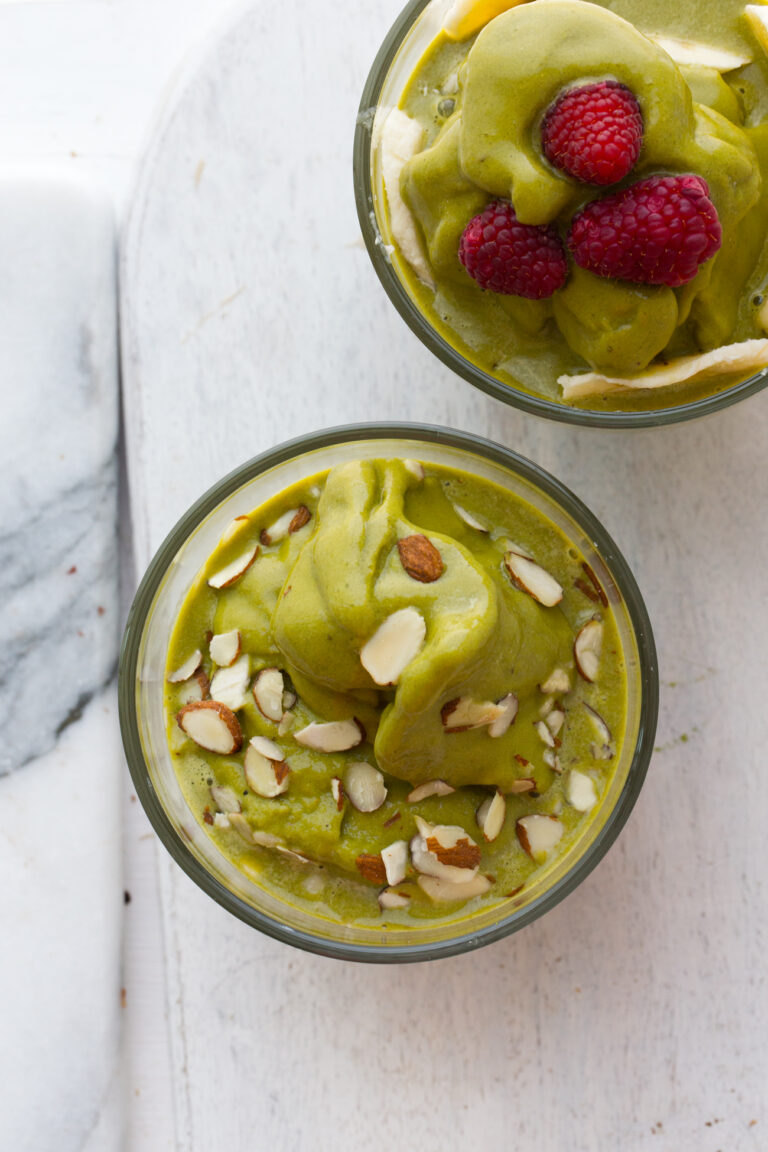 This post covers basically everything you'd ever want to know about matcha! Plus, includes one of my favorite matcha recipes: Matcha Blender Ice Cream…
Matcha Fan
A few years ago I discovered matcha green tea. Life, changed. Queue the triumphant choir music and sunrise glow rising over the hilltops.
Immediately after enjoying my very first mug of matcha, at Urth Caffe in Los Angeles btw, I hopped on my computer and fervently googled "What is matcha?" "Benefits of matcha?" "Matcha vs. coffee?"
I read the "matcha 101" style content on every matcha and tea website I could find. My curiosity was on fire. But what I really wanted most of all was to chat first hand with a long time matcha fan, even better, a matcha expert! Well today I get to do just that and you get to listen in on what my expert has to say..
Get ready to learn all about matcha in my 8-question interview with Encha Matcha brand founder + matcha expert, Li Gong!..
M A T C H A.
Matcha is one of my wellness ingredient favorites. Green tea antioxidants and energy? Yes!
And believe me when I say this: not all matcha is created equal. Browse my matcha buying guide to see details of that. Or hop over to my store to see a few of my fave matcha brands.
Highest Quality Matcha…
Matcha, when high quality, is simply sublime. Spring green, grassy and light in flavor, perky, alluring. Lower quality matcha can taste muddy, bitter and the color can even be dark faded green and even brownish. Not good.
If you need one factor to evaluate matcha quality: it is all about the color.
Matcha Blender Ice Cream
One of my favorite ways to serve matcha is in a smoothie bowl, but really, I call this a Matcha Blender Ice Cream because it blends up thick and creamy and tastes like a treat.
Aside from smoothie bowls, I love matcha in lattes. My daily peppermint matcha latte is a fave ritual of mine for a calm yet energizing morning.
All About Matcha Interview
Today's interview is with my friend Li Gong. Li is the founder of the matcha brand Encha. I tried Encha for the first time this past year and fell in love with its high quality and desirable price range. Li is an amazing owner. He is very passionate and hands-on with his company and product. I also respect his dedication to making sure his entire line of matcha is organic and vegan. Read the full interview below my Matcha Blender Ice Cream recipe…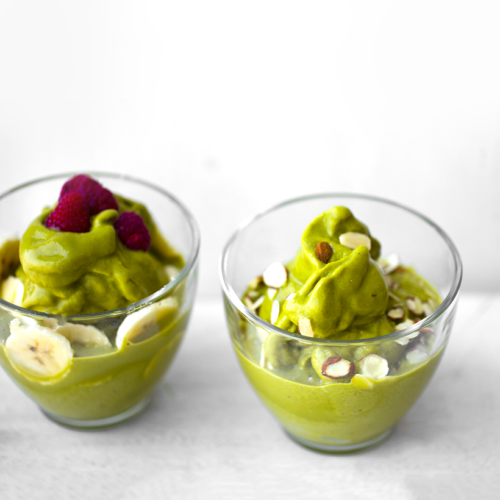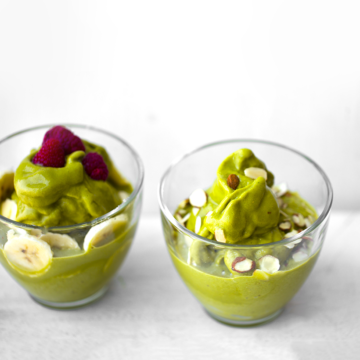 Matcha Blender Ice Cream
Frosty, creamy, Zenergy-infused matcha green tea smoothie bowls.
Print
Pin
Ingredients
2

bananas

,

frozen, very ripe

1

cup

watermelon

,

frozen cubes

1

cup

soy milk

1-2

teaspoon

matcha green tea
Optional:
vanilla protein powder

a few drops of peppermint extract

,

optional

Toppings:

,

nuts, seeds, berries, granola, puffs, crushed cookies, spicy pumpkin seeds, anything you'd like!
Instructions
Add all ingredients to a high speed blender and blend until thick and smooth.

Pour into serving bowl(s). Top with goodies.
nutrition estimate | per serving
Calories:
168
kcal
|
Carbohydrates:
35
g
|
Protein:
5
g
|
Fat:
2
g
|
Saturated Fat:
1
g
|
Sodium:
47
mg
|
Potassium:
653
mg
|
Fiber:
4
g
|
Sugar:
20
g
|
Vitamin A:
759
IU
|
Vitamin C:
16
mg
|
Calcium:
162
mg
|
Iron:
1
mg
8 Questions: All About Matcha!
Interview with Matcha Expert and Encha Matcha Founder, Li Gong, Ph.D Stanford University
1. Kathy: What is Matcha?
Li: Matcha is the ground-up whole green tea powder.
It is the most effective way to consume the nutrients, most notably – antioxidant catechins, moderate caffeine and mentally calming theanine in green tea leaves. Matcha has more theanine and tastes softer than regular green tea leaves because matcha plants are shade-grown for 3 weeks before harvest and the leaf stems are removed.
Shaded growth gives matcha more theanine. Theanine and removal of stems also make matcha taste softer and more savory.
2. Kathy: Tell us about your brand, Encha. What makes it so amazing?
Li: Encha is the world's only exclusively organic matcha brand. I literally innovate on and practice "from farm to cup." Not just lip service.
First, most matcha brands offer both organic and conventional matcha. I have seen spray of pesticide on tea plants. Tea leaves have no protection, unlike, say, avocado. So organic is very important.
Second, I believe in direct sourcing from the farm and empowering the farmer without going through trading middlemen. I adamantly looked for and personally visited USDA-certified organic farmers up and down Japan. Then I learned and investigated the entire process from tea field to steaming and grinding and to refrigeration to ensure the highest quality. And I tasted lots of matcha and selected the best tasting organic matcha from a family-tradition matcha farmer and producer in the Uji area outside Kyoto. I am very grateful to them.
Third, indebted to my social science training from Stanford, I explore the concept of "to cup" by educating folks about matcha and organic farming, supporting the self-study of the experience of drinking Encha, and empowering early drinkers to support their friends, family members and local cafes. I love involving and supporting the communities.
3. Kathy: What are some of your favorite ways to enjoy matcha?
Li: My most favorite way of drinking matcha is whisking and savoring a bowl of hot Encha tea in every morning. I can taste the smooth, slightly nutty and refreshingly grassy complex taste of Encha, enjoy the beauty of this green goddess and benefit from a minute of active meditation through whisking.
I also love making latte art with almond milk. On busy days, I make a big bottle of matcha smoothie with banana, avocado, mango, nuts or seeds, etc. A powerful superfood on the go.
4. Kathy: How would you compare matcha to coffee, as an energizing beverage?
Li: No comparison! That's one thing that really sets matcha apart from coffee. The last time I drank a cup of coffee was in Feb. 2014. I was at a workshop in London. Jet lagged and eager to perform. I drank the free coffee as everyone else. I literally felt my neurons jumping and didn't feel that many things I said were well thought out. After I drink Encha, I first feel alert. Then I feel my mind broadening gradually. It feels like a big calm blue lake broadening and shining under the sun. Of course if I had very poor sleep, matcha can only help to a certain extent, but still so much better than coffee.
Caffeine wanes out in 2 or more hours depending on the person. But the effect of theanine goes on for quite a few hours. Encha drinkers reported anywhere from 4-9 hours of good mental focus. And, some Encha drinkers reported they sleep better at night after drinking Encha during the day versus coffee.
After I discovered the unique "Zenergy" effect of matcha plus its antioxidant efficacy, I had an epiphany. My days will never be the same. It is my calling to utilize my passion and knowledge to help Zenergize everyone's day.
5. Kathy: Why does quality vary so greatly among brands?
Do you get frustrated that there are so many low quality brands on the market, calling themselves matcha? I know I do!
Li: I was very frustrated in early 2014 when I was doing research with matcha and other teas I purchased online and in San Francisco. Very few were organic. No well-informed source to explain the science, the taste and the making of matcha.
After my research and visiting farms, I realized that there are two main factors accounting for the variances. One factor is regular green tea powder vs. matcha. Regular green tea powder doesn't have much theanine due to no shaded-growth, smells less soft and tastes coarse due to no removal of stems. It is much cheaper.
The second factor is harvest season and quality variation across matcha. Spring 1st-harvest leaves for matcha are the most tender. Early summer 2nd-harvest starts to take on a moderate bitter note. Summer or fall harvests are very bitter. I also want people to take less sugar. So I only source 1st and 2nd harvests for Encha. The growing condition, farming excellence, processing, grinding and storage also make a difference.
6. Kathy: Why should consumers choose organic?
Li: Oh lord, if you see how pesticide is sprayed on the "nude" tea plants in non-organic conventional farms, you will know why. I don't want to blame conventional farmers for doing that. It is the overall modern agricultural system that made many farmers depend on synthetic fertilizers and pesticide to ensure quantity and control quality. Conscientious farmers suffer loss for 3-5 years to go through organic transformation. I want our deliberate choice of paying a few bucks more for organic matcha to send a strong signal to encourage more farmers and their partners to switch to organic. Farmers are willing to go organic if they know people want it.
7. Kathy: How should consumers store their matcha? (Fridge or countertop?)
Li: The best way to store matcha is to keep it sealed in the fridge. If out and about, still keep it sealed and away from sun and moisture. The powerful antioxidant Catechins including EGCG in matcha will get oxidated if exposed to sunlight, air and moisture. The flavor would go away, too. So the general practice is to store it in the fridge for being good for 2-3 months, and in room temperature for about 1 month. Encha is seal-packaged in the farm in Japan. Unopened Encha is good for ONE year when refrigerated.
8. Kathy: Why drink matcha? What are some of the possible benefits of regular consumption of matcha?
Li: Matcha is the only natural beverage choice that I know offers mental energy boost and aids mental calmness and focus. It is the best for morning and afternoon. Daily intake of the catechins in matcha helps fighting cancer, lowing cholesterol, reducing inflammation in skin and stimulating metabolism. The USDA database documenting the content of the flavonoid antioxidants across 500 natural and processed foods and beverages show green tea leaves have the highest amount of flavonoid followed by cacao beans. So it is a no brainer to consume the whole green tea leaf in the savory matcha form.
Thank you Li! SO much amazing information here. I am so pleased to have these answers for my own reference and for you all.
I hope you feel inspired to whip up today's Matcha Blender Ice Cream and enjoy all the lovely benefits and uniqueness that matcha has to offer.
Wanna Make a Matcha Latte?
Here ya go!.. How-to Make a Matcha Latte – 7 Tips for the Best Matcha Latte Ever
Pin this post for later:


updated: 3/14/19 | orig post: 7/8/15