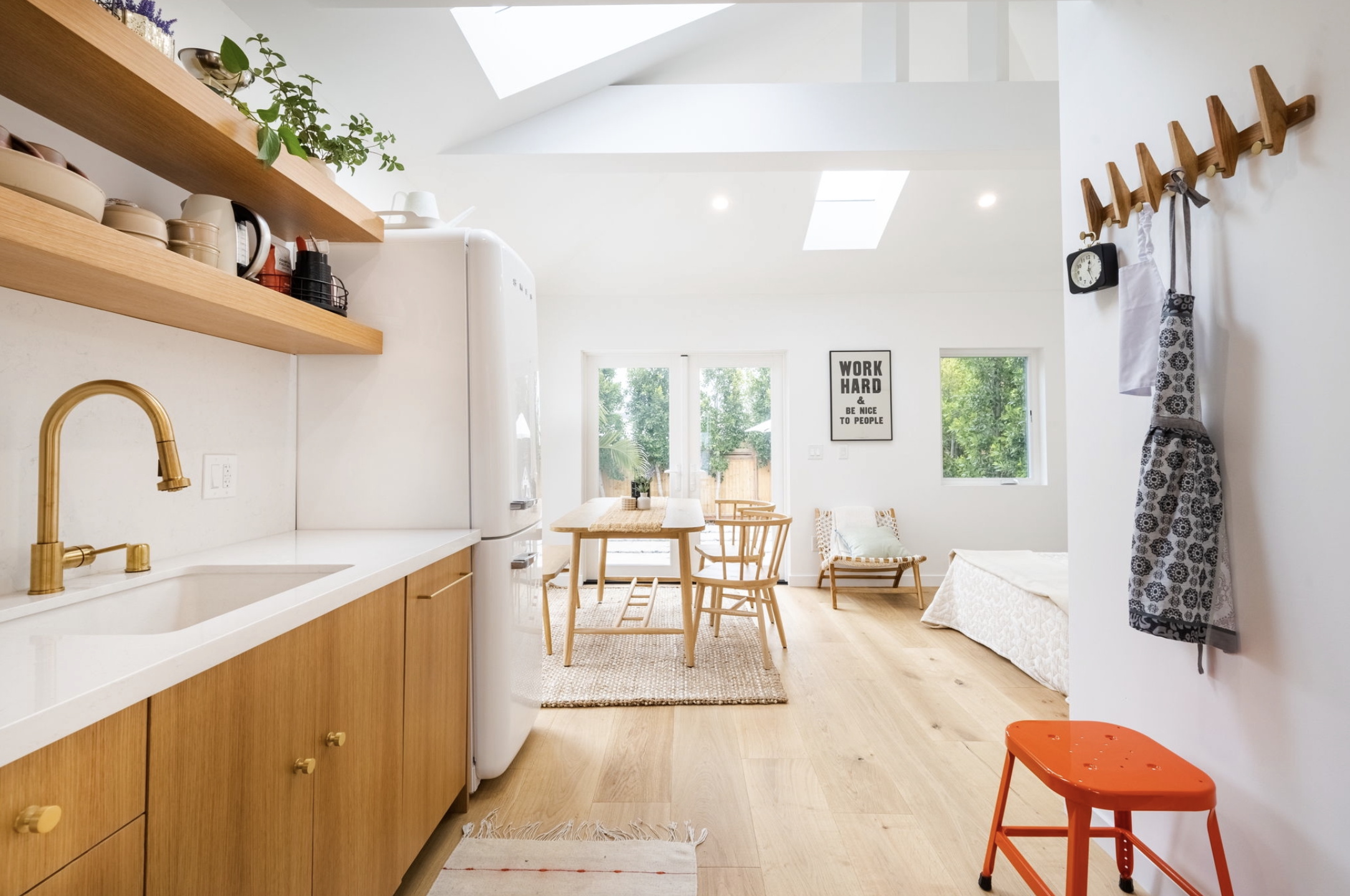 Today I am sharing a creative project we recently completed: our garage to ADU conversion, aka the making of what is a home studio office of sorts.
Just to mention this upfront, our project was completed by the LA-based ADU firm, OTTO. We did a lot of research on companies and they really impressed us with their design know-how and seamless startup process. This is not a sponsored post at all, but I did want to share a referral discount available to you! If you sign up with Otto for your ADU project, you can receive a $1550 credit just by mentioning my name.
Ok, back to our project details….
Construction Metamorphosis: Dark Dingy Garage Into Bright Beautiful ADU!
What was once a dark and musty 1950's detached garage – that we only used for storage – is now a space where we can gather, feel outdoor-yet-indoors, host overnight guests and be creative.
What Size is this Adu / Garage conversion???
My most-asked question because it truly looks so large! It is only about 16'6″ x 18'6″ – which is a little over 288 square feet.
Creative Workspace
Our dark old garage is now a light-filled space where I can "detach" from our main house, the one filled with toddler toys and dirty dishes to be dealt with, and brew and bubble away with my creative projects, from photography to writing and more.
Now, don't get me wrong, I have worked from home for about fifteen years now, to some effect, and have loved having my desk a few feet from my kitchen, or sometimes stumbling from bed to computer in mere seconds – no shoes required, but there is also something nice about being able to separate from your main living space, if desired.
Read: My 11 Tips for Working From Home
So garage to ADU conversion it was.
Timeline: A Bit Over a Year
The project took a bit over a year and is now finished.
Fill The Space!
When construction was complete, we were given a beautiful blank slate to fill. And by fill, I mean, place furniture, organize work items and make the space functional yet inviting.
It is actually quite a challenge to fill a detached studio with inspiring warmth and energy that matches that of your main house. Just think about how much fills your home on a daily basis!
Giggling voices, cozy rugs, pets, comfy furniture, softly humming appliances, photos on the walls, aromas, sounds, textures, energy from the front door.
And a new building truly does clear all that from memory. The goal: to create an uplifting creative cove. I'm still working on making this space functional and inspiring.
Why Did We Convert Our Garage to an ADU?
Coming out of 2020, "working" had shifted to a lot of remote work, and now we also had a baby. So essentially, my work had drastically changed for this period of time. As in, I wasn't doing my traditional job of creative professional.
The spare room that was designated as "Kathy's office" was now being used for my husband. I was totally fine with this, but wondered where I would go once I was ready to dive into work again.
Our solution: and ADU!
So, did it work???
Well, flash forward to today: I am slowly working again and, I find that I separate my workspace between the kitchen island in our main home and my new ADU studio.
I still love working out of the main house, mostly because it has a very warm energy that is impossible to replicate – with access to all the comforts, sights and sounds of home – and the best part – our kitty cats. Huge bonus.
The cats will not go into the ADU, since they are indoor kitties and I do not want to risk confusing them, especially after what we just went through with MrWhite.
Unused Garage Space
We weren't really in need of the detached garage that our home came with. We charge our Tesla in the back driveway. And in LA, you don't get snow or severe weather changes, so parking a car outside, under the sun and sky and stars is basically not a problem.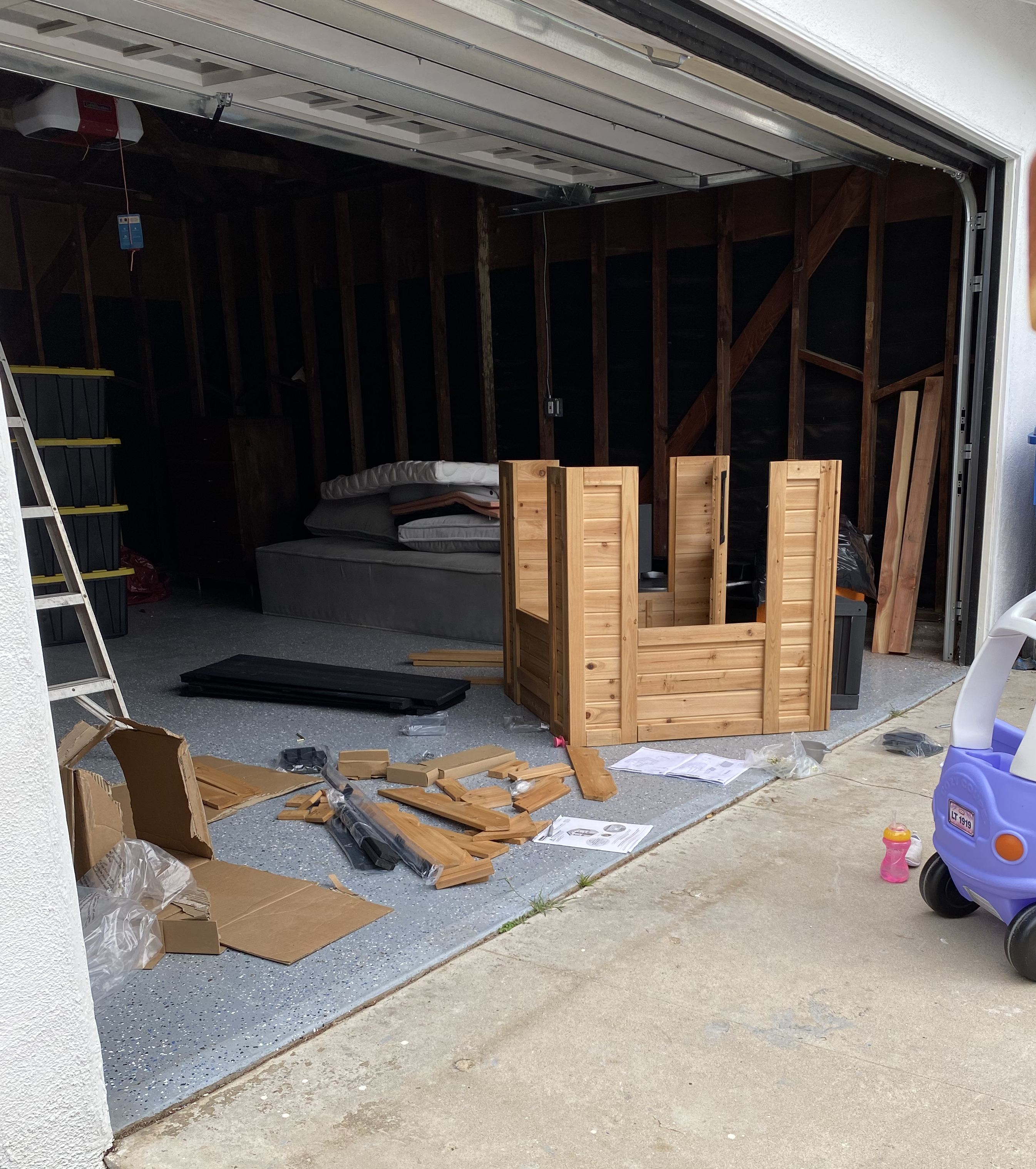 A Place for Overnight Guests
We get more house guests now that we have a child. I mean, everyone wants to hang with our little cutie pie, I don't blame them, she's the best. So we wanted a space to house overnight guests for a few days, a week or longer! I like the extra spacing between us and our guests. And since the ADU contains a kitchen, they can even prep meals like coffee and breakfast and snacks etc.
But the main purpose of our ADU is for a flexible work space.
I wanted a flexible space that would serve as both a photography studio, kitchen space, and podcasting studio (shhh, more on that project later!)
Will You Rent Out Your ADU? OR do AirBNB?
Short answer, no. Technically, we could rent out our ADU, especially since an ADU has its own address. Or use it for AirBNB. Many people do that! But that's not our passion or comfort level on our property, so no. And being a landlord or AirBnB host also comes with a long list of things to manage, so it's not something to undertake lightly.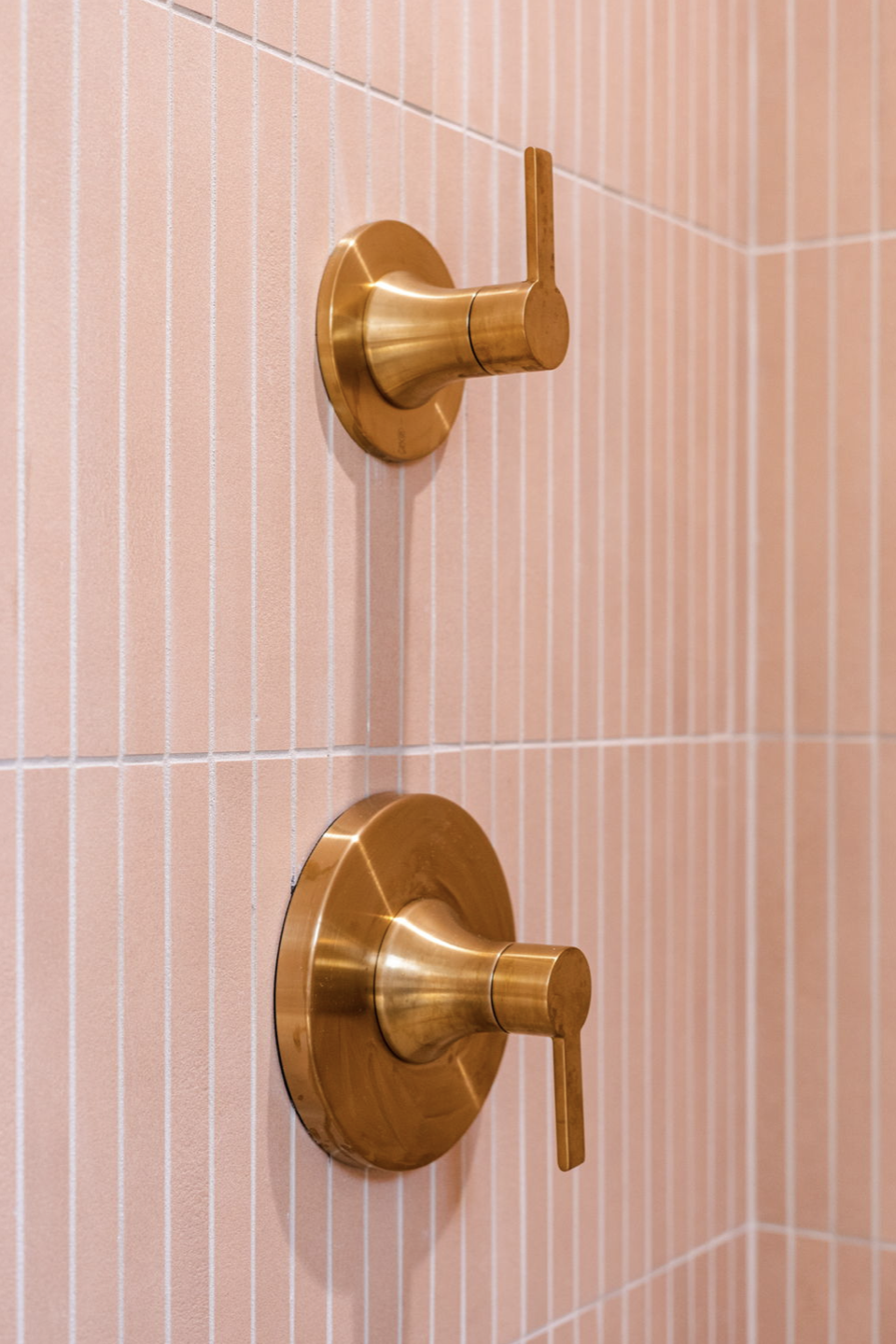 Five Things I Love About Our ADU
The Natural Light. The tall windows and French doors that create a super bright corner. The two skylights also bring in loads of natural light.
SMEG. I needed that fridge and I really think it brings so much character to the space. Plus it works great too!
Privacy. One goal for the ADU was that I really wanted the space to feel bright, but still private. By keeping one section of the kitchen wall free of windows, windows that would otherwise face our home, I think we accomplished that goal. And the windows that do look towards our home can easily be covered with semi-private curtains.
The bathroom colors. Though the main space is mostly white, with some fun wood cabinets in the kitchen, the only base color comes from the bathroom – which I love. The pinkish and mossy green hues in there, paired with the gold finishes is so lovely and modern — without being too feminine.
Having all the appliances! This place is stocked. Fridge, convection oven/microwave, four burner induction stove, washer and dryer and a dishwasher. Yes, you could live here.
What I Wish it Had…
Somewhat wish we had these…
A Murphy bed. They are quite expensive and take up some space on the wall. I like to have a cleared studio when I need it for photography. Always possible to add later though.
A hidden AC/Heat unit. The mini-split is great, but I wish it was hidden or in a less visible spot on the wall. This would have added a significant cost though, so we didn't move it.
More Storage. I mean, this is a tiny space so it's not really possible but still would be nice.
Room Addition or Bedroom Nook. Again, the bed issue. We didn't go with adding another room onto our garage space, but I kinda wish I had that extra room to better dictate the space function. I could have kept a small added room for a cozy bed nook for guests. But oh well.

Adding onto the garage would have added a higher price to the construction cost and more time to the project so we decided to just convert the garage as is – no added square footage. Plus, we didn't want to sacrifice backyard space. So I wish I had an extra room, but also very happy with it as is.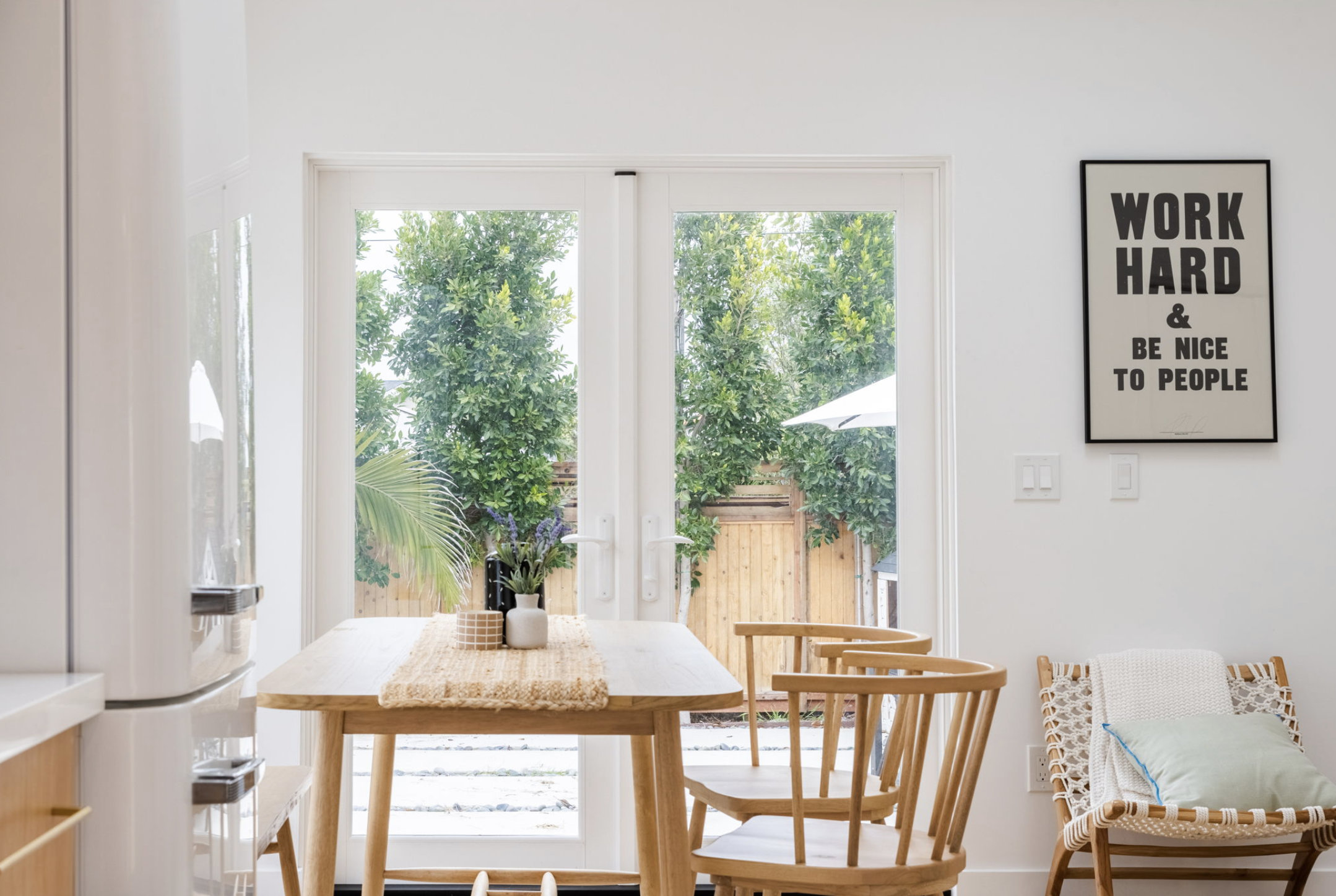 Why Convert a Garage to an ADU?
Here are some reasons why you may want to look into a garage to ADU conversion for yourself!
To get technical, an ADU (Accessory Dwelling Unit) is a separate living unit on the same lot as a primary residence. There are many reasons why homeowners may choose to build an ADU.
Here are some of the most common reasons to have an ADU:
Rental income: Many homeowners choose to build an ADU as a way to generate rental income. Renting out the ADU can be a great way to offset mortgage payments or supplement retirement income.
Multi-generational living: ADUs can provide a separate living space for aging parents, adult children, or other family members who want to live nearby but still maintain their independence.
Increased property value: Adding an ADU can increase the value of your property, especially if it is in a desirable location or if rental income is a possibility.
Home office or workspace: An ADU can provide a separate space for a home office, studio, or workspace, allowing you to work from home without disturbing the rest of the household.
Flexibility: An ADU can provide flexibility for changing needs over time. For example, it can be used as a guest house, vacation rental, or home gym.
Environmental benefits: An ADU can be designed to be energy-efficient and environmentally friendly, with features like solar panels, green roofs, and rainwater collection systems.
Affordable housing: In some areas, ADUs are being promoted as a way to provide more affordable housing options.
Aging in place: An ADU can provide a comfortable and accessible living space for seniors who want to age in place and maintain their independence.
In regards to number eight, I have even heard of some older people who live in their large homes decide to put an ADU on their property, then essentially let their adult children move into the main large house while they stay on property and move into the smaller ADU. In cities where the prices of new homes are soaring, this would benefit young families and seniors.
Overall, building an ADU can provide many benefits, including increased income, flexibility, and added value to your property.
Converting a garage into living space can be a great way to add extra square footage to your home.
College Students Could Stay at Home
We often joke that if we live here when Rosalie graduates high school, she can just move into the "tiny house" and never leave us. Ha.
Hosting Guests
I think I was a hotel owner in another life, because one of the first things I did when our ADU was completed, was create a few little "guest baskets." One in the bathroom, with items like travel toothbrushes, soaps, razors, etc. And in the kitchen, some with drinks, snacks and coffee and tea center on hand.
If you are about to dive into a project like this, here are some helpful tips and just some things to think about…
Here are some tips to help you with the ADU process:
Determine the purpose of the space: Before you begin the conversion process, you need to decide what the purpose of the space will be. Will it be a bedroom, a home office, a playroom, or a guest suite? Knowing the purpose will help you plan for the layout and design of the space.
Check local zoning laws: Make sure to check your local zoning laws to see if converting your garage into living space is allowed. Some areas may require a permit or have specific regulations that you need to follow.
Choose an amazing company to assist in the process! We went with OTTO. We did a lot of research on companies and they really impressed us with their design know-how and seamless startup process. If you sign up with Otto, you can receive a $1550 credit to your project, just by mentioning this post and my name – woo hoo! I also receive a referral credit.
Insulate and weatherproof: Garages are often not insulated and weatherproofed like other living spaces in your home. Make sure to add insulation to the walls, ceiling, and floor to help regulate the temperature in the space. Additionally, check for any air leaks around doors and windows and seal them up.
Add flooring: Garage floors are usually concrete, which can be cold and uninviting. Consider adding new flooring, such as laminate, hardwood, or carpet, to make the space more comfortable and livable.
Add lighting: Garages are often dark and poorly lit, so make sure to add plenty of lighting to the space. You can add overhead lighting, task lighting, and even natural lighting with windows or skylights.
Plan for storage: Garages are often used for storage, so make sure to plan for adequate storage in your new living space. Consider built-in shelving or cabinets to keep the space organized and clutter-free.
Consider HVAC: Depending on your climate, you may need to add heating and cooling to your new living space. Consider installing a mini-split system or extending your existing HVAC system to the garage.
Add finishing touches: Once the major renovations are complete, add finishing touches to make the space feel like a livable area. Add decorations, furniture, and window treatments to make the space comfortable and inviting. Factor this into your budget! You don't want to be left with an unfurnished and accented space.
Remember, converting a garage into living space can be a big project, so make sure to plan carefully and hire professionals as needed.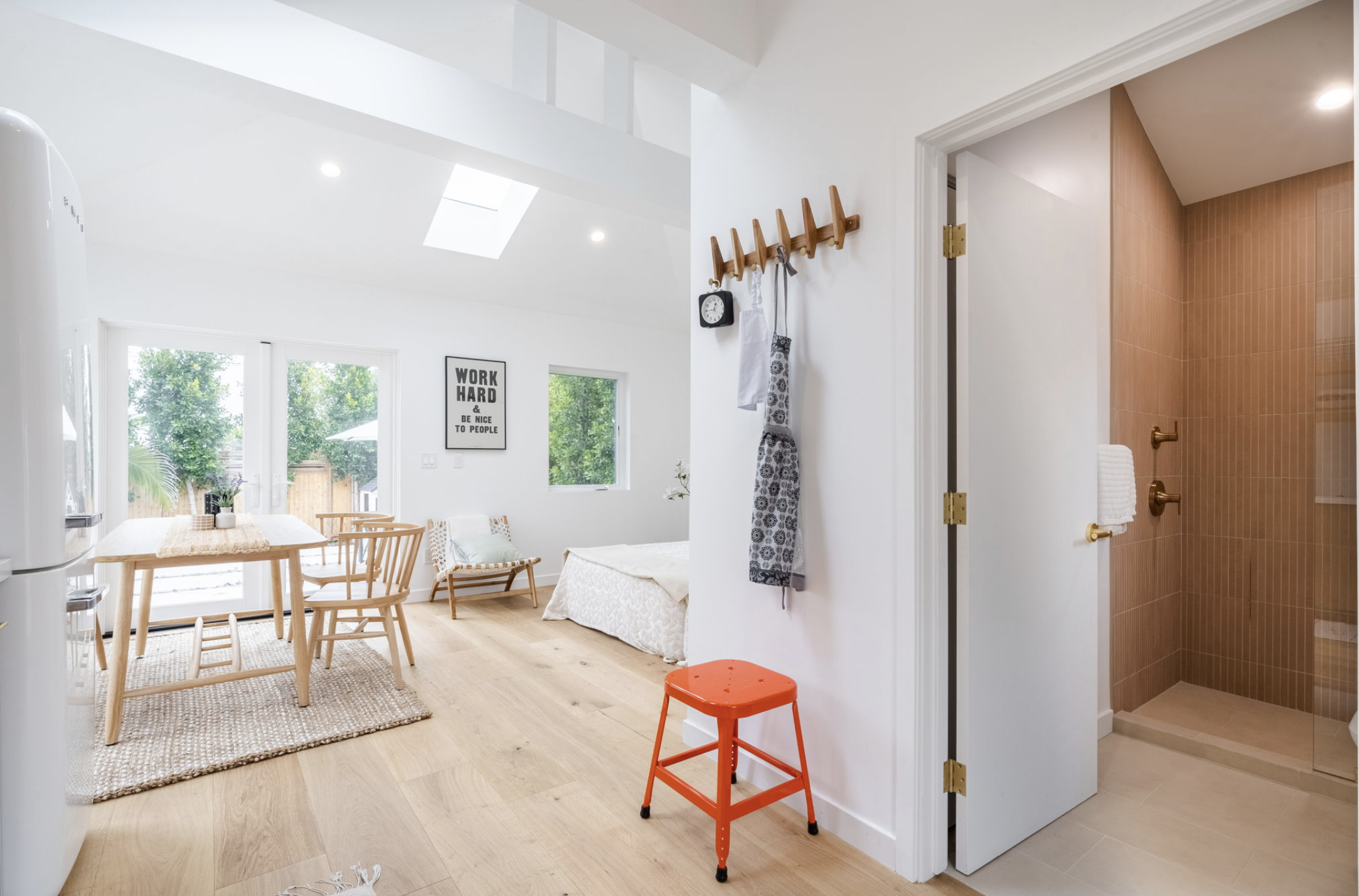 Some of the Brands I used to Decorate the Space…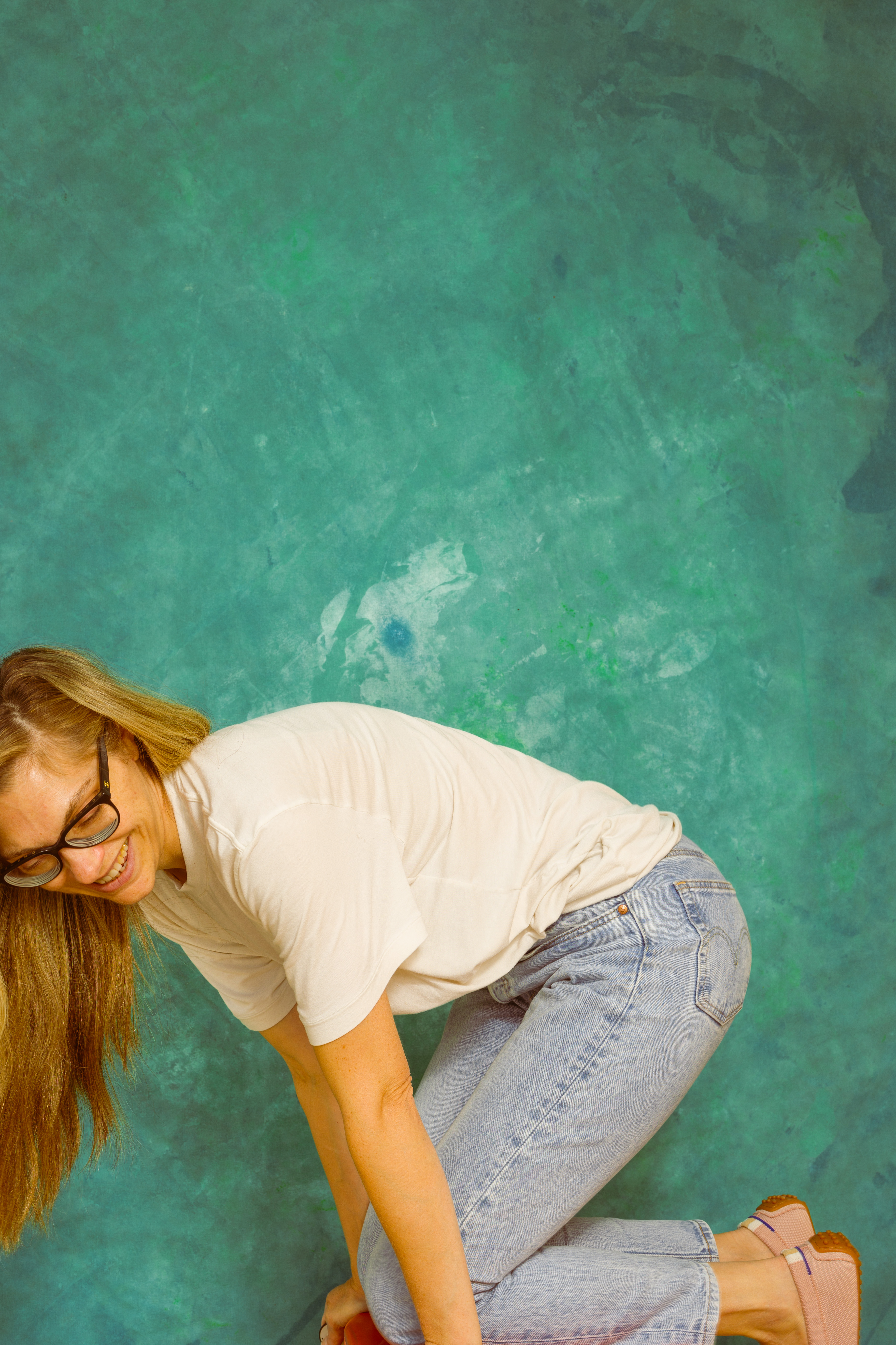 Photo Studio Gear
Some of the photo goodies I plan to use in this space..
Food Photography Backgrounds – My usual stock of them finally have a space that's not in the living room or laundry room.
Tripods – One or two is a good mix.
Laptop – Since I didn't want to keep a computer in the studio, a laptop allows me to move my work from main house to studio.
Backdrops – I am actually experimenting with making my own backdrops! This has been so fun. I painted the teal one in the photos here. It's a fun skill to learn!
Studio Lighting
Grip Equipment for hanging backdrops – C stand, clamps, sandbags, etc
Desk or Rolling Media Center
Tether Cords, Remote Control for Camera
Camera, Lenses – In My Camera Bag
iPhone tripod or holder like a Canvas light.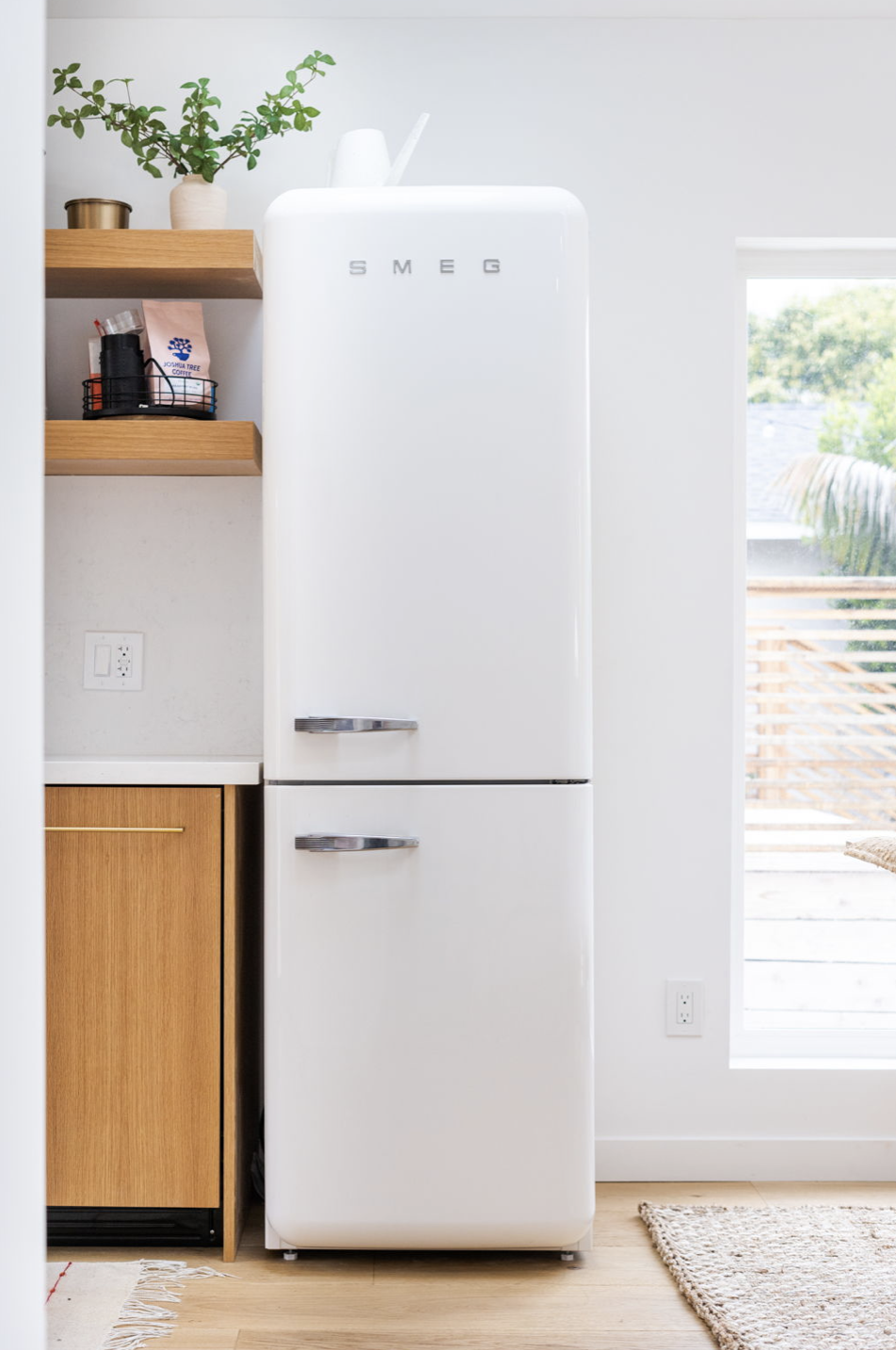 Photos of our ADU
Photo credits: BOW LA
These photos were all taken by the very talented team at BOW Los Angeles Photography. Thank you for allowing me to use them for this post!