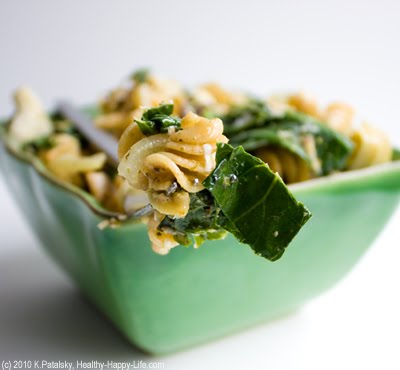 My Green Pesto Pasta Spirals are the cure for your 'red sauce' pasta boredom. There is only so much pasta marinara that one can take. Go green with your pasta! Try these spunky spirals on for size.
The flavors: garlic, basil pesto, EVOO, sweet onions, marinated artichokes, a few sliced shiitake mushrooms and a huge armful of fresh cut leafy greens. The greens are wilted into silky layers and blended into the tender spirals of whole wheat pasta. A pinch of vegan cheese on top. No basil? No problem! You'll be intrigued to see that this pesto pasta was made without fresh basil – since it can be tricky to always have fresh basil on hand. This is your shortcut recipe answer. Get some green (pasta)…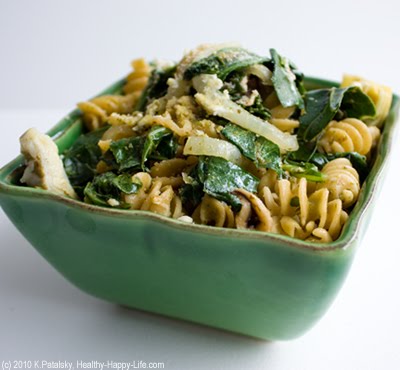 Greens and Pasta. Fast! I wanted pasta for dinner. But I also wanted a big serving of healthy leafy greens. Not the wimpy iceberg lettuce kind. The hardcore kind: collard, chard, mustard, beet, turnip and kale greens. Just to name a few. I found this awesome bag of Cut 'n Clean Organic Greens at Whole Foods, so my "washing and chopping" greens prep time was eliminated.
Pasta Wilted Greens. I decided to add three giant handfuls of the greens to my freshly cooked whole wheat pasta. The warm pasta wilted the greens beautifully, making a super flavorful and super healthy dish. Also, eliminating another step in my process: no-cooking the greens separately, fabulous!
Note: You can use any "greens" you'd like. If you can find bagged/washed/chopped greens, you'll save yourself some time. But any bunch of greens at your store will work great. And sometimes the whole bunches of greens are fresher than a bagged green. Organic preferred. A more tender green like baby spinach will work, but I prefer a heartier texture for this dish.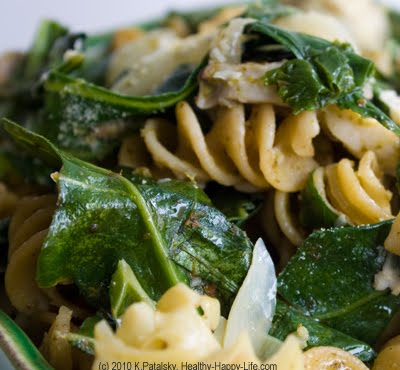 Pesto! Without fresh basil. I was craving pesto, but there was no fresh basil in sight. So I decided to try Amore brand Pesto Paste. I was surprised to see that this pesto paste was dairy-free, vegan. Usually, pre-made pesto blends contain milk. The Amore pesto Paste ingredients: basil, sunflower oil, olive oil, salt, pine nuts, garlic, citric acid. Available in the pasta sauce aisle.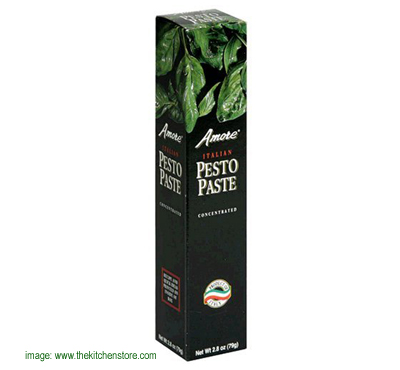 Now that I had organic greens and some serious pesto flavor, I began my green goodness pasta recipe…
Green Pesto Pasta Spirals
vegan, serves 4 with leftovers
1 bag (16 oz.) whole wheat spiral pasta
Veggie Saute:
2 tablespoon EVOO
3 tablespoon apple cider vinegar
1 cup shiitake mushrooms, sliced thin
2 garlic cloves or 1 tablespoon garlic powder
1 cup sweet onions, ring sliced
pinch of black pepper
Fold in:
1 tube Amore Pesto Paste
1 tablespoon EVOO
6 oz. raw assorted leafy greens, chopped
*About 2-3 big handfuls of raw greens
6-8 marinated artichoke hearts
¼ cup Vegan White Cheese
*Mozzarella or Monterey Jack
garnish: dash of vegan parm cheese
Tomato Add-in's, Optional: ½ cup of EVOO marinated sun-dried tomatoes
OR
1 small can of whole San Marzano Tomatoes
*About 6-8 whole SM tomatoes in juice
Directions:
1. Prep your veggies.
2. Boil your pasta water with a pinch of salt. Add pasta to water.
3. While pasta is cooking, add 2 tablespoon olive oil to a saute pan. When oil is hot, add in your onions and mushrooms. After a minute or so, add in the vinegar and garlic (chopped clove or powder). Saute until tender and mushrooms begin to brown on edges. Turn off heat, toss in a pinch of black pepper, and set aside.
4. Drain pasta. Transfer to large mixing bowl. Toss warm pasta with your pesto paste and 1 tablespoon of olive oil.
5. Once the pesto paste is well coated on pasta, drop in your fresh raw greens. Fold them into pasta well. The still-warm pasta will begin to wilt the greens until they are delicately blended into your pasta dish. I used about 3 large handfuls of greens. 2-3 bold handfuls is a good amount.
6. Next, fold in your sauteed veggies and artichoke hearts. Also fold in a pinch of your cheese and if adding in sun-dried tomatoes, add them in here.
7. The last step is a bake pasta in your oven. Transfer the pasta to a large casserole dish. If you are adding San Marzano tomatoes, add them to the pasta here – a quick fold-in will do. Top your pasta with your remaining vegan cheese (add more for a super cheesy topped pasta) and a few pinches of red pepper flakes if you'd like.
8. Broil the pasta for 3 minutes – to bubble to cheese. Then cover dish with lid and bake for 15 minutes at 350 degrees. This will soften the pasta and marinate all the flavors into the greens.
9. Serve with a pinch of vegan parm cheese. Store in the fridge.
Leftovers! Tastes great served cold or warm the next day.