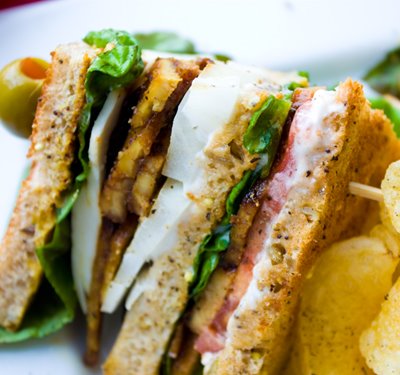 The classic Club Sandwich is the king of house made sandwiches. It turns soft poppy seeded loaf bread into a triple decker feast suitable for everyone from poker players and little league teams to ballerinas and poolside bathing beauties. Elegant yet dangerously filling. Dainty yet monster sized. And now there's a healthier recipe to enjoy this classic lunchtime, picnic plate. Here's the recipe for my Healthier Club Sandwich with tempeh bacon. And yes, it's built for two…
One picnic basket. One sandwich. Two hungry healthy eaters. What's fabulous about a club sandwich is that it's big enough for two diners to share. How romantic, fun, easy is that?! Super fun.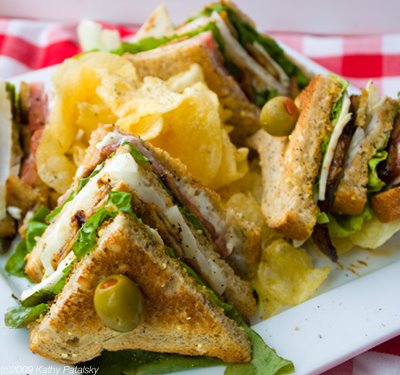 Now lets get to the recipe:
Healthier Club Sandwich
(It's a classic club with tempeh bacon)
vegan, serves two or one who is hungry
3 slices soft seeded grain bread
*I used 365 Whole Foods brand 'Birdland' Bread
4-5 ounces tempeh bacon
*recipe for vegan tempeh bacon here
2 large leaves of curly red lettuce
1 slice vegan cheese (thin and deck of cards sized.)
1 teaspoon vegan buttery spread
1 teaspoon Dijon Mustard
1 tablespoon Vegenaise mayo spread
2 slices sweet onion
2 slices tomato
fresh black pepper
4 green olives with pimentos
4 toothpicks
Sandwich Assembly:
First, toast the bread to a light-dark brown.
Spread vegan buttery spread on both sides of the middle stacked slice of bread.
Spread mustard on the inside of top slice.
Spread vegenaise on inside of bottom slice.
Spread any leftover vegenasie on both sides of middle slice of bread.
Start the layering:
Bottom: Bread.
Next, onion.
Next, a layer of tempeh bacon.
Some pepper.
One lettuce leaf.
More pepper.
The middle bread slice.
A layer of vegan cheese.
Next, the tomato slices.
Another layer of tempeh bacon.
A bit of pepper.
The last leaf of lettuce.
A tad more pepper.
The top layer of bread.
Next, stick 4 toothpicks in the sandwich. One for each triangle slice.
Now carefully slice the sandwich into the triangles.
Stick one olive in each toothpick.
Arrange on plate however you wish!
Some salt and pepper potato chips are a nice addition for an extra special picnic for two.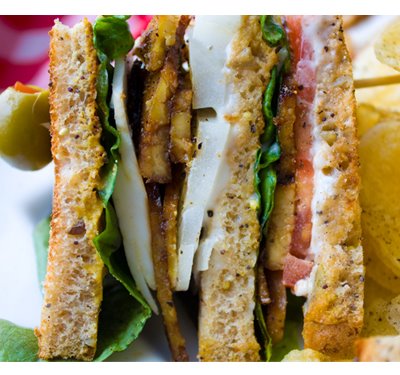 Optional: Melt the cheese on the middle slice of bread for a 'melted' club sandwich.
So just why is it healthier?…

Healthier than the Original. To do a quick compare of the facts. Take Jack in the Box's Chicken Avocado Club sandwich. It is a hand-held mini-club sandwich and has 800 calories. 43 grams of fat and 9 grams of saturated fat. It feeds one person. My healthier makeover club easily feeds two picnicers, is made with tempeh for protein, healthier fat-containing vegenaise, higher fiber bread, higher quality veggies and animal-product free cheese. Plus it's nutrient dense. And it's significantly lower in sodium. The JBX club has a whopping 75% your RDA of sodium in one sandwich. Yuck. While I haven't done the exact calculation, this club is definitely a lot less than than.