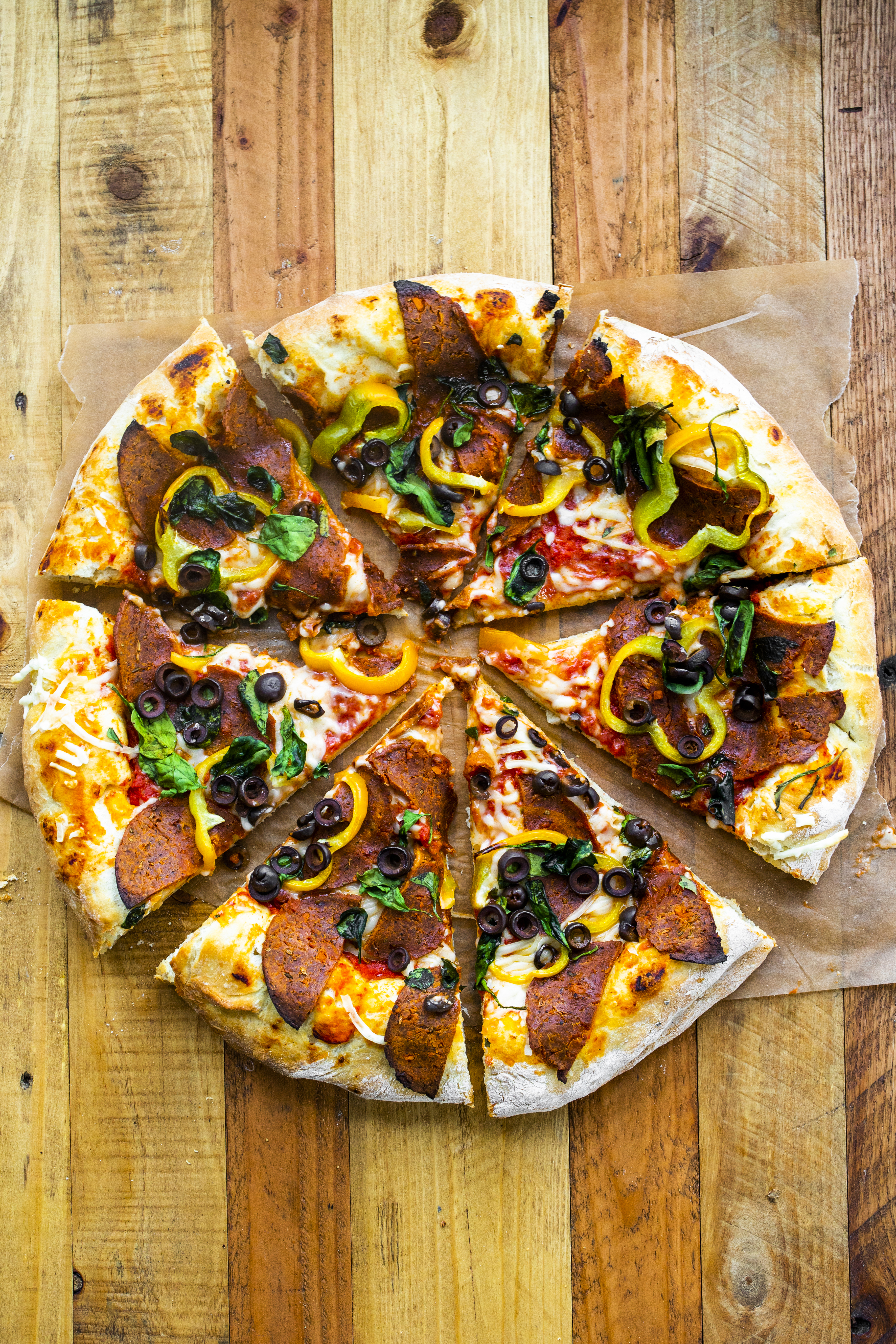 Today I'm sharing How to Make Best Vegan Pizza! Tips, tricks, recipes, ingredients. This is your ultimate vegan pizza guide for 2021. (Plus, my recipes for dough, sauce and Parmesan sprinkle!)
Thank god it's Friday night and I just-just-just-just-juuuuuuust ….. made pizza! Get pizza, pizza pizza… (Sang to the beat of Just got Paid by *Nsync. ) And here we go now..
Vegan Pizza 2021
Vegan pizza has come a long way! It used to be that a vegan pizza meant a cheese-free pie loaded with veggies – and that was it. Sure, that can be super yummy, but nowadays you can pretty much make your vegan pizza however you crave it. And today I am sharing my pizza crust recipe as well as some of my favorite toppings…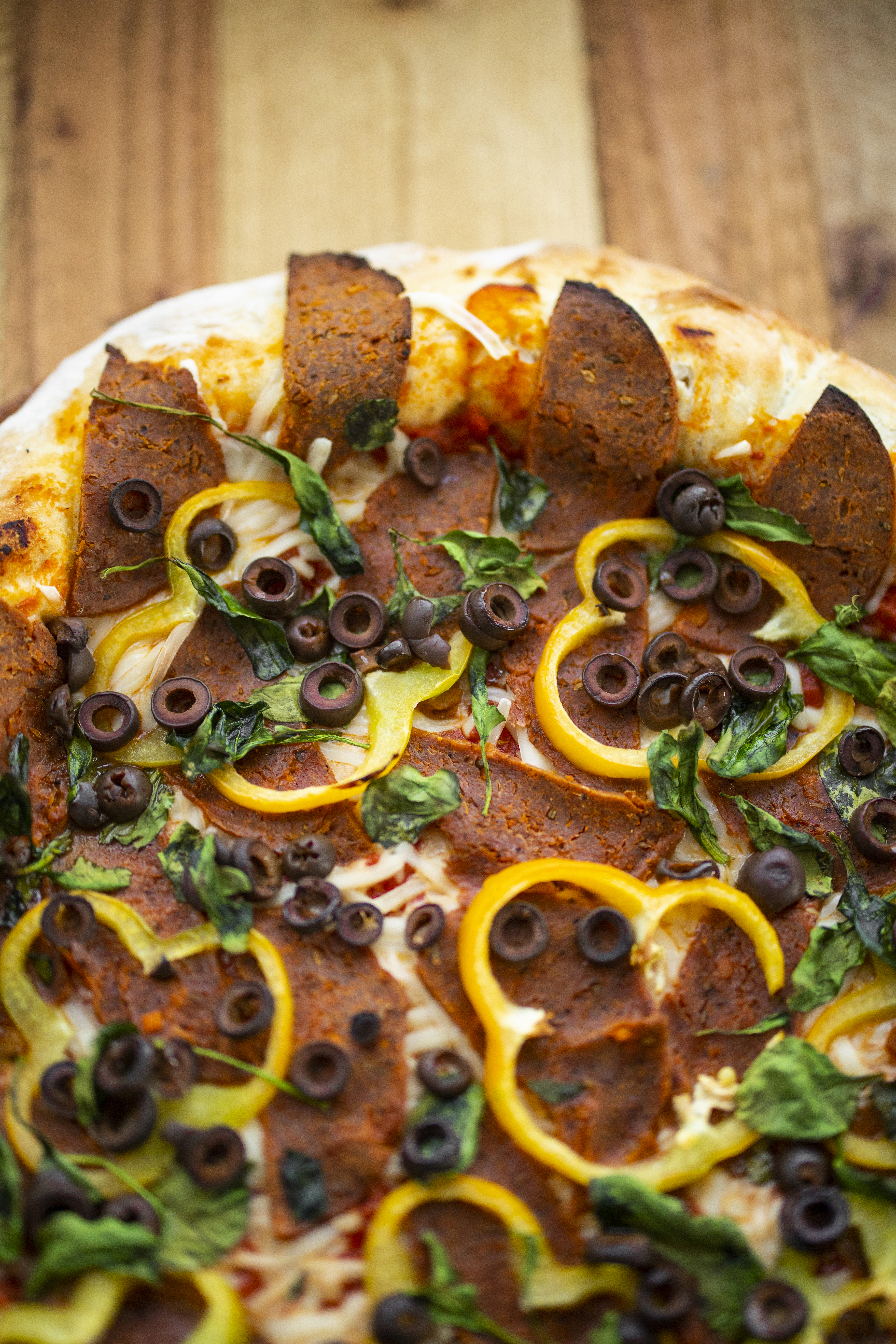 How to Make Best Vegan Pizza
Ok, so here are the basics for making the best vegan pizza…
An amazing crust, preferably with '00' flour — but really any flour will do.
Yummy sauce
Melty cheese
VEGGIES!
Fake meat toppings if you are feelin' them
Whatever else your heart desires. Yes, pineapple can happen!
A yummy beverage! Pizza needs something fizzy or sweet and fizzy by it's side!
….For my fizzy beverage: I currently love adding fresh grapefruit juice to sparkling water. But root beer, ginger ale or even some beer (if that's your thing) would be a lovely addition to your pizza table.
My Favorite Vegan Pizza Products:
Cheeses
You do not need to add cheese to make a vegan pizza amazing, but it sure does help!
I like classic mozzarella on top. Parmesan and maybe a hint of cheddar too is fun. Does anyone remember when pizza always had a bit of cheddar on top too?? Was that a 90's thing?
For vegan cheese, I am currently loving Violife Mozzarella. I also adore the Miyoko's Kitchen Mozz. But any vegan cheese brand of shreds that you enjoy will work. There are sooooo many amazing vegan cheese brands in stores these days. From Daiya to Chao, So Delicious and Kite Hill.
I did a vegan pizza cheese review here a few years back.
Sauce
The best vegan pizza needs yummy sauce. Bright and tangy with a hint of sweetness – herbs and garlic in there too.
You can either buy a bottle or DIY it. My pizza sauce recipe is here. If buying, I have really loved the RAO's sauce and also the Cucina Antica.
Other sauce ideas: pesto sauce, BBQ sauce or even a simple olive oil base.
Toppings
How to Make Best Vegan Pizza? Add yummy toppings! You know all the usual veggie suspects, but what about fake meats? There are so many amazing pizza toppings you can play with these days.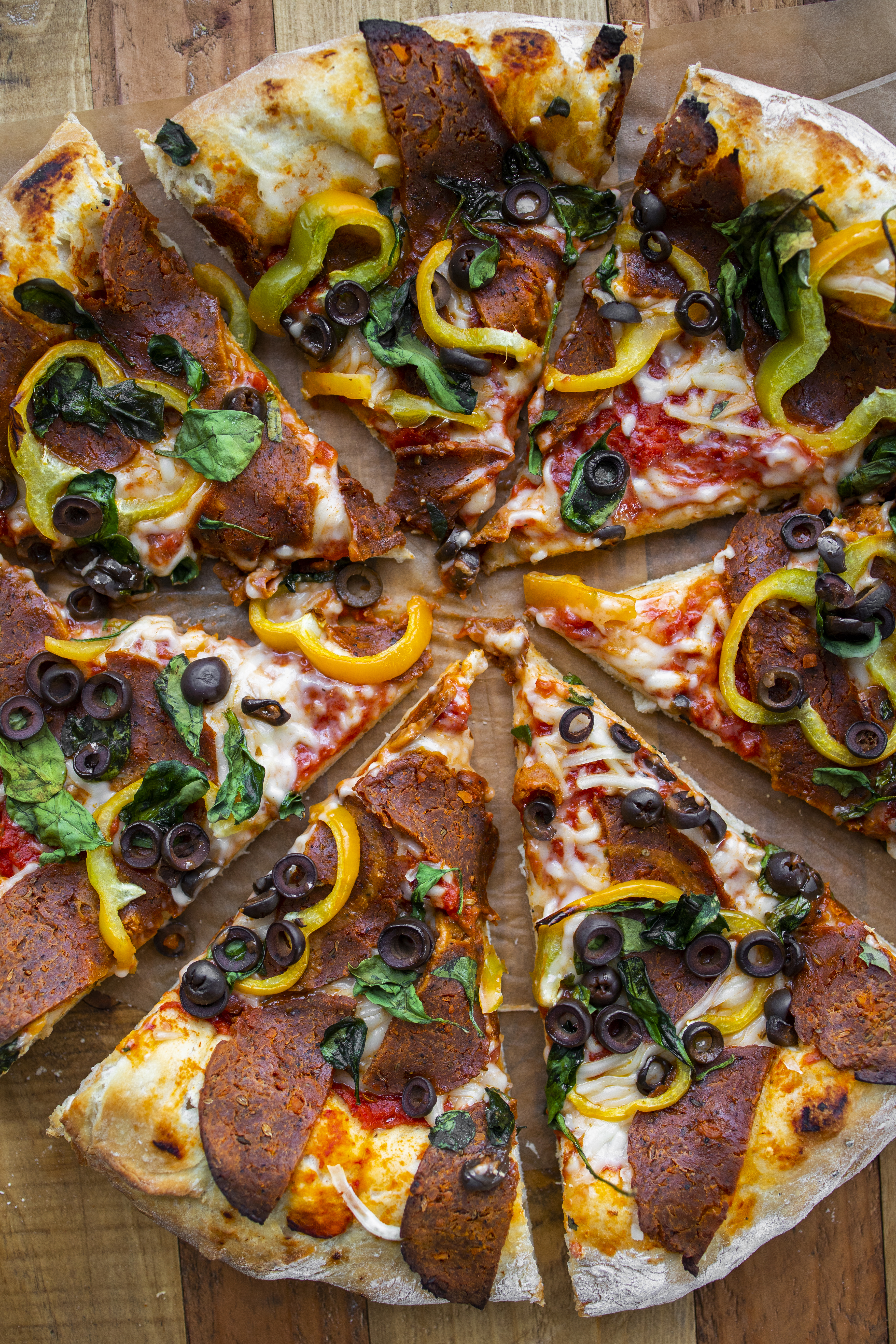 7 Super Vegan Pizza Tips
For the best vegan pizza, make your own dough! My recipe is below.
Add some EVOO as you go! I love to drizzle it over my rolled out crust, then again over the top of everything.
One unique ingredient I like.. Fresh lemon juice over top my pizza too. I will even add lemon slices before baking for a super yummy baked lemon flavor. I remove the lemon before eating. If you don't have lemon, try balsamic vinegar for some acid. Pineapple also does this .. if you like it on your pizza.
Use more than one cheesy accent! You could sprinkle some nooch over top to serve or even use a sort of vegan Parm sprinkle. DIY it with my vegan Parm recipe.
Add some veggies after the cooking process! I love sprinkling chopped arugula, avocado slices or fresh basil over top my baked pizza.
Use a pizza stone or pizza pan for the best crust texture. Mine is similar to this one, but I don't think mine is nonstick, so I spray or brush with EVOO.
Have fun!! How to Make Best Vegan Pizza? Don't take pizza assembly too seriously. Add some 'crazy' toppings/ (what about skillet chickpeas or sweet potato!) and don't stress if your crust isn't perfectly round. Stuff your crust with cheese or add BBQ as the sauce! Dip your pizza in vegan ranch sauce or add tons of pineapple! You do you. And have some fun.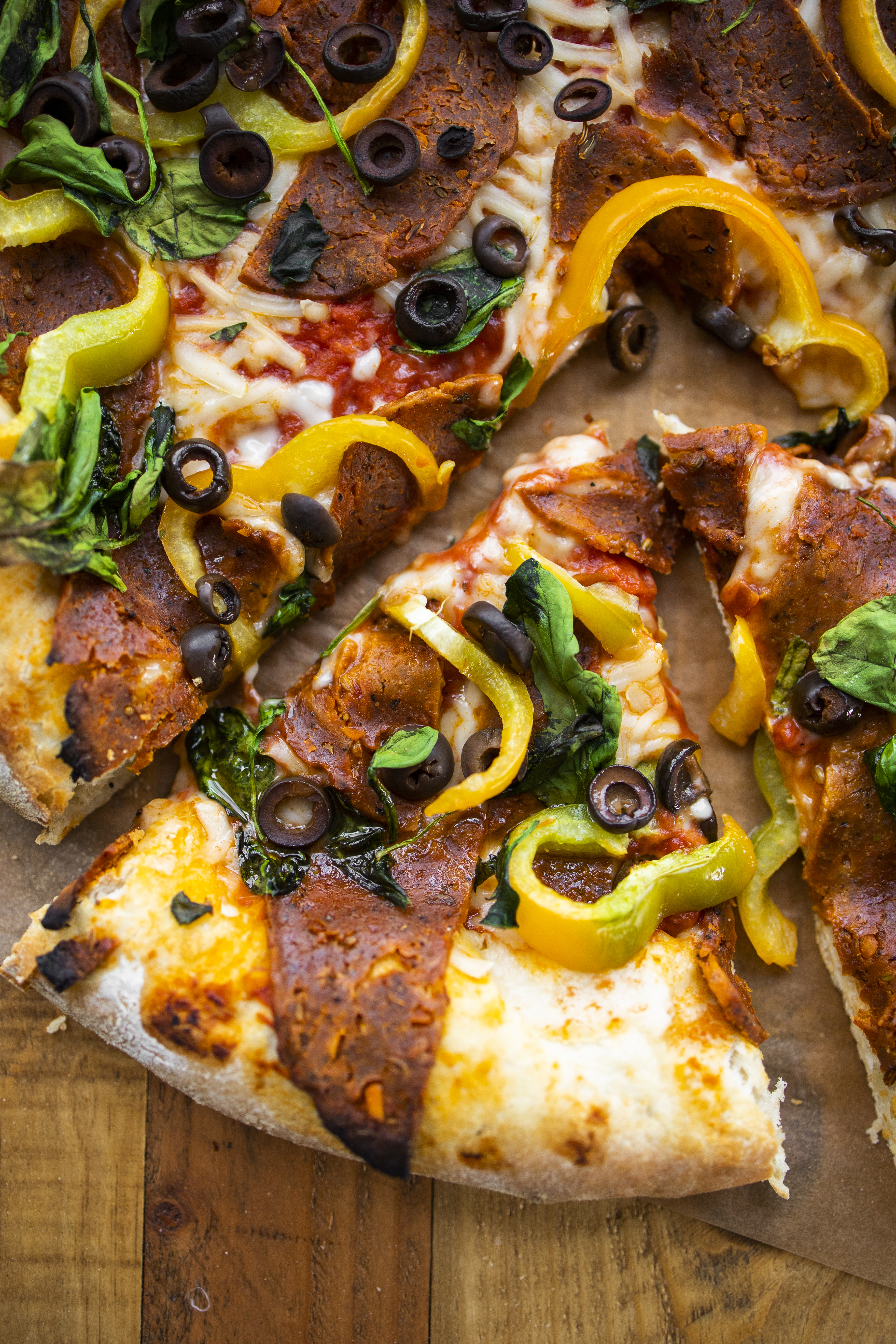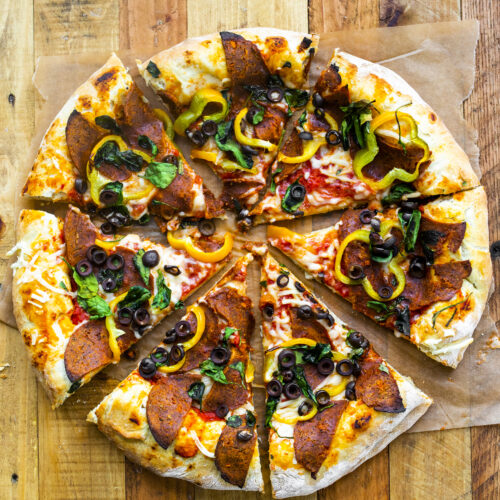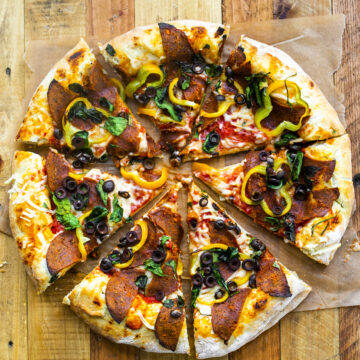 Vegan Pizza Dough
This fluffy and chewy vegan pizza dough is easy to make and bakes up the best vegan pizza!
Print
Pin
Ingredients
1

tablespoon

yeast

2

cups

warm water

2

tablespoon

coconut sugar

6

cups

'00' flour

,

or sub AP or bread flour

1

teaspoon

salt

2

teaspoon

olive oil

,

ectra virgin
Instructions
Add the yeast, water and sugar to a large mixing bowl. Stir to dissolve yeast and sugar. Let sit for 5-10 minutes.

Add the flour, salt and EVOO. Knead in the bowl for about five minutes.

Cover the bowl and let rise for 1-2 hours.

If you cannot use the dough right away, roll into a ball and place in plastic wrap – place in the fridge. When ready to use the dough, simply roll it out to a thin state and add toppings – bake and serve. Bake time for one large pizza runs 16-22 minutes at 450 degrees.
Equipment
large mixing bowl

pizza pan
nutrition estimate | per serving
Calories:
362
kcal
|
Carbohydrates:
74
g
|
Protein:
10
g
|
Fat:
2
g
|
Saturated Fat:
1
g
|
Sodium:
299
mg
|
Potassium:
105
mg
|
Fiber:
3
g
|
Sugar:
2
g
|
Vitamin C:
1
mg
|
Calcium:
14
mg
|
Iron:
4
mg