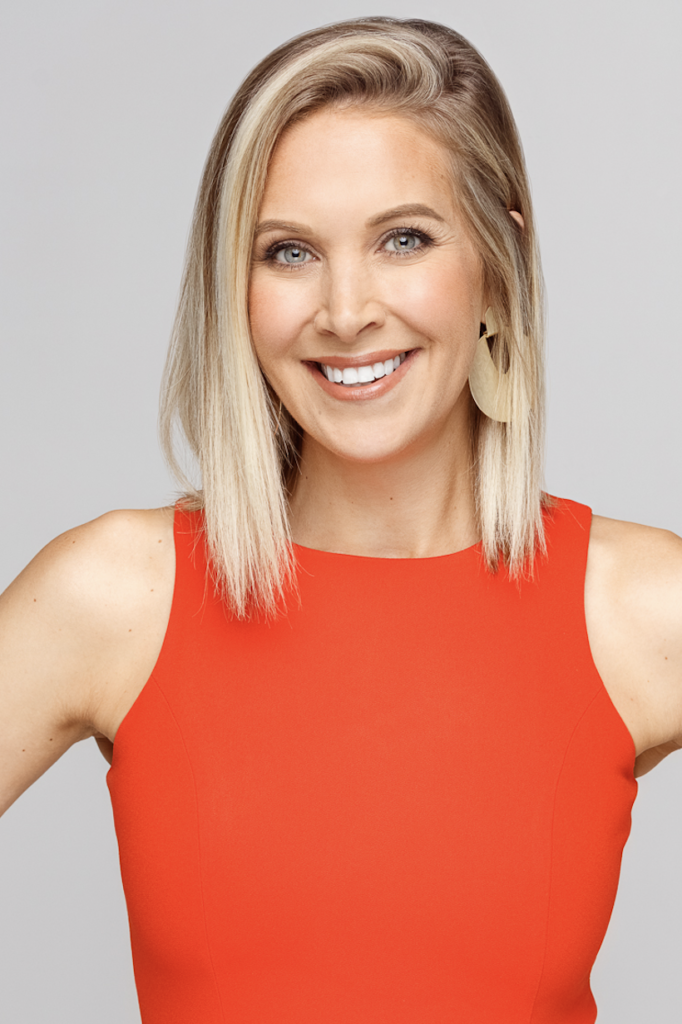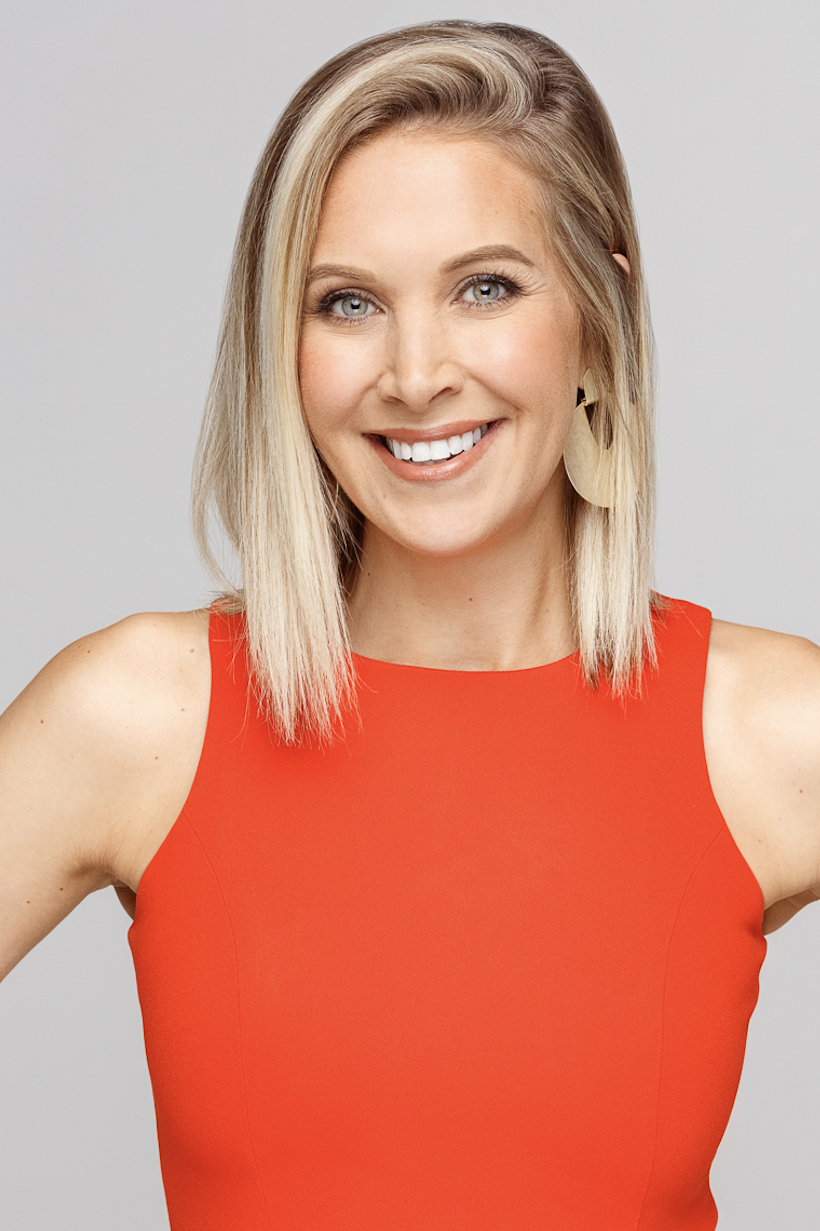 Hey guys! I am so excited to be chatting with Sam Schacher today as my first interview in my HHL Healthy Happy Leaders Interview Series. This is a reboot to my popular Veggie Girl Power Interview Series, featuring inspiring names like Marilu Henner, Heather Mills, Portia de Rossi and more.

HHL Interviews. These interviews feature inspiring leaders who are making a difference for animals, people and the planet.
Sam Schacher of Daily Blast Live! Sam is a mother, and the host and managing editor of Daily Blast LIVE (a Nationally syndicated television show, that is also LIVE on FaceBook and YouTube). She is also the co-owner of Biren & Co. candles. And fun fact, we just happen to go to the same high school. Let's chat!…
---
First off, if you haven't checked out Daily Blast Live, you definitely want to! It is a real, honest, entertaining, LIVE conversation about the day's trending stories. You can watch it on your computer via DBL. I love playing it in the background while I am editing photos or doing other blogging busywork – like my website redesign.

Why She's Awesome. Sam has worked so hard in her career to have such a huge platform. She speaks up for animals and speaks her mind on issues she cares about. From sharing The Gentle Barn on Insta to her daily gig on DBL. And side note, Sam was a crazy-talented swimmer and beloved student in our Santa Cruz, Cali – AHS days. Some of my closest friends were on the swim team and I remember always hearing about how Sam was killing it and such a team leader and role model. She has a sparkle and sass that people are drawn to and I am so happy to be able to chat with her today!..
Healthy Happy Leaders Interview: Sam Schacher
Q: You just announced you are pregnant, with baby #2! Congratulations! How has your second pregnancy differed from your first?
Sam: Great question, I am VERY nauseas this time around. My Dr. diagnosed me with Hyperemesis Gravidarum, which my girlfriend said, "Sounds like a Harry Potter curse." To which I replied, "Feels like one too (laughing)." Which is such an oxymoron, because it is such a blessing and miracle, and my husband and I are over the moon, and we can't wait to see our daughter Sophie become a big sister; she is going to be the most caring big sis!
BUT I have to be honest, the constant nausea and throwing up have been brutal, especially at work doing LIVE TV. I have had to excuse myself from the desk to throw up, all the while LIVE on air. I have so much empathy for those who deal with chronic illness, it is debilitating and depressing, and to those mamas who deal with HG their entire pregnancy, I cannot imagine; they are warriors.
They are not alone, there is a whole tribe of women dealing with difficult pregnancies and knowing that at least gives me strength and understanding. I can't wait to feel better, but in the meantime, it's so worth it… and I focus on how the best of times are yet to come. I am very blessed.
Q: Why did you go vegan, and talk to us about your vegan pregnancy?
SAM: Initially I went vegan because I love animals so much. I have always loved dogs, and one day it just clicked: I started seeing every animal as my dog…pigs, cows, chickens, you name it – they all are sentients, feel pain, and don't deserve to suffer. I no longer could contribute to their suffering. That was 13 years ago.
Now, watching how animal agriculture is one of the largest contributors to climate change, as well as the current devastation in the Amazon; I am also vegan for the environment. I am so encouraged by all the options for a plant based diet today; If you haven't tried Beyond Meat burgers or sausages, let me tell you, you won't miss meat one bit. And, I have had zero problems being plant based while pregnant, all my blood tests have been perfect, and were last time around as well with Sophie. Of course, I must be mindful to get all my nutrients, but doing it plant based has worked well for me.
Q: How vocal are you about veganism in your everyday life?
SAM: This is a tough one, because I want to lead by example, and not preach, and I find that works best. However, if I see someone state something inaccurate or insensitive regarding animals, I must speak up – especially when I am on TV. Animals have no voice, and in those situations, it is important to me to speak for them.
Q: What do you say to people who think harshly about vegans?
SAM: For the most part, people have been supportive, but that isn't always the case: Why would you criticize or mock someone who is sticking up for animals, and who are trying to advocate for our planet? It makes no sense to me. I usually just shrug it off and ask why they feel that way? They usually don't have any valid reasons and end up eating their words. And I will say, veganism is much more accepted today than when I first went vegan over ten years ago. Back then, people didn't even know what it was, and assumed I just ate lettuce all day (laughs). I'm so happy we have made progress.
Q: What is your spirit animal and why?
SAM: DONKEYS! I love them so much. I love how they have the gentlest eyes, and kind demeanor, and are unassuming, but when they speak up…boy do they have a unique loud voice! Go Donkey, tell 'em!
Q: What vegan fashion or beauty do you love?
SAM: I LOVE Matt & Nat handbags, shoes, and wallets. They are vegan leather and the lining is made from recycled plastic water bottles, and they are so chic and edgy. I have most of their camo "leather" bags and accessories. And for makeup and skincare I love Aillea Beauty, it's a one-stop shop for all your clean beauty and skin care needs. Kind of like Sephora, but everything they sell is curated to be cruelty-free and clean. Your skin is your largest organ, so it's important we know what we are putting on our bodies, and it's important to choose products that don't hurt animals; it's just not necessary. Aillea takes out the guess work and does the research for you. Also, there are a ton of affordable cruelty-free options today, which is a win-win!
Q: What always makes you laugh?
SAM: My daughter, Sophie; she is a crack up. She loves trying to make me laugh, it's adorable. My co-hosts at Daily Blast Live always have me in stitches; I can't count how many times I have laughed so hard on this show that I cried and could not speak; it can be counterproductive as a talk-show host (laughing). And lastly, Steve Harvey hosting Family Feud gets me every time. His one liners, or his side-eye he gives the contestants, always makes me laugh.
Q: What is something you said to your younger self when you felt sad, or anxious, or fearful?
SAM: Growing up as a swimmer I was used to being coached (by my amazing swim coach, Jim Triplett). So, when I was alone and anxious or fearful I would coach myself. I would also visualize the outcome being a positive one, no matter what I was going through. Jim taught me how to meditate and visualize at a very young age. I am forever grateful to him for that.
Q: What was the best move you ever made to move your career forward? 
SAM: I am going to answer this literally and figuratively (laughs), because I moved from Los Angeles to Denver, CO to develop and host Daily Blast LIVE, which was single handedly the best career "move" I have ever made. It was a big leap of Faith to leave LA, and my jobs at The Young Turks and CNN, for a new TV show. I believed in the concept, as I had never heard anyone pitch an idea to shoot a TV show LIVE in every time zone, and to also marry broadcast with digital equally. I am so grateful I am here with the Daily Blast Live family, because we are changing television, not only in our format, but in our conversations; we are hands-down the most unfiltered, raw, real, and uncensored daytime talk show, and people are taking notice.
Q: Speaking of your platform and being uncensored, you recently went viral when you spoke out against police brutality. Last I checked your video had well over 3 million views and is still climbing, with lots of praise from the black community; why do you think your message resonated with viewers?
SAM: I did not see it coming;
I spoke from the heart and tried to have a nuanced conversation about race in America, and was honestly fed up hearing people dismiss the black community and justify police brutality, and also not acknowledge one's white privilege.
I wanted to have an honest conversation about empathy and reform. I, in no way shape or form am anti-police, as I have great respect for their service and sacrifice, but we must weed out the bad ones, and we must acknowledge that being black in America is a different experience than being white in America.
Too many people of color have been killed and/or brutalized by police officers. It's simply egregious. And, the bad cops are tarnishing the reputations of all the good police officers out there, how do you think they feel?
Q: How can we support your career from afar? 
SAM: Check out Daily Blast LIVE! We have a lot of great surprises this Fall! If we aren't in your city, check us out LIVE on Facebook and YouTube. We shoot LIVE 6 shows a day! WE are always ON! And if you love candles, my husband and I have a candle company, Biren & Co. They are very unique candles that dare I say have the most intoxicating fragrances and creative packaging. You can find them in stores like Anthropologie, or on our website.
Q: Best advice for young professionals today? 
SAM: To understand that it takes TIME. Be patient, work hard, look at the big picture and know that with tenacity and good ol' hard work (and a positive attitude) that you will exceed your wildest dreams! It took me over ten years before I finally got a paid steady gig. Before that, I still hustled at my craft, took on many hosting gigs, many of them with no pay, while working as a waitress at night. Those weren't easy times, but my determination and "big-picture" goals got me through it. Don't lose sight!
Q: What was one of the most amazing career moments you had thus far?
SAM: Co-hosting with Dr Drew (not only on HLN, but also on Loveline). I grew up listening to Dr. Drew, and never in a million years did I think I would get to work alongside one of my idols; yet alone become close friends with him. And most recently, DBL has been a lifelong dream come true; I have always dreamt of being able to develop a show that harnesses authenticity, and represents all voices…representation matters, and that has become DBL, and I am so blessed to be able to work on this show every single day. I do not take it for granted.
Thank you so much for your time Sam! Follow her on Twitter, Insta and check in with her on DBL!
Best. Day. Ever. I can't say it enough: Thank YOU @TheGentleBarn for rescuing & rehabilitating abused farm animals & giving them such a lovely place to call home. #MyHappyPlace 🐖❣🐷
Pin this interviews for later..