Looking for a healthy and delicious recipe for your New Year's Eve feast? Ring in the New Year with soba noodles! Soba noodles are healthy, easy to make in advance and even quite traditional. Did you know that soba noodles (buckwheat noodles) are the cornerstone ingredient in a traditional Japanese New Year's Eve dish? The dish is called Toshikoshi Soba, which roughly means "year-end soba" or "year-passing soba". But watch out, it is considered bad luck if you do not finish your soba noodles by midnight. So quickly slurp up those 11:59pm noodles and countdown to a healthy, happy new year! Here are some Soba Facts and my recipe for Wasabi Citrus Soba Noodles with Beech Mushrooms. Happy New Year indeed!…
Soba 101. Frankly, I am still a soba noodle newbie. I've prepared soba a handful of times, but I have been pleased with my cravable results. I have yet to refine a peanut sauce-slathered soba dish, which is my favorite at Japanese restaurants. Any secrets out there? I'd love a few tips. But I must say, I love my recipe below that I can share with you all. It is light, tangy, spicy and citrus-infused.
Interestingly, preparing Japanese soba noodles is a lot more complex than preparing Italian semolina pasta (something I have done hundreds of times). Soba noodles can be served either hot or cold. Hot noodles are usually found in a soup or broth, while cold noodles are tossed in a variety of flavors and ingredient accents from peanut sauce to wasabi powder. On New Year's Eve, hot noodles are preferred. But I'm sure cold soba noodles, in all their tasty, slick, slurpable glory, would suffice. Cold soba is my prefernce.
A few Soba Noodle Facts:
*Soba noodles are one of the various types of Japanese noodles (udon, ramen, soba and shirataki). Soba noodles are made of buckwheat flour, or a mix of buckwheat and other various flours or wild yam.
*Toshikoshi Soba, "year-end soba" is a traditional New Year's Eve dish in Japan. It is bad luck to not finish your soba before midnight. Soba is usually eaten cold, however on New Year's Eve the soba noodles are likely prepared and eaten warm with a side dashi sauce or dipping broth.
*Buckwheat isn't a grain. It is a relative of the rhubarb family.
*Soba noodles can be gluten free, since buckwheat is gluten free. Choose 100% buckwheat soba.
*Soba noodles (made of buckwheat) are a nutritional goldmine: "Nutritionally, buckwheat provides vitamins B1 and B2, the minerals potassium, magnesium, phosphate and iron (buckwheat contains more iron than cereal grains), and it has nearly twice the amount of the amino acid lysine found in rice. Buckwheat bran (farinetta) contains rutin, a flavonoid known to reduce cholesterol, lower blood pressure and maintain the strength and flexibility of capillaries. A recently discovered compound in buckwheat called fagopyritol seems to have potential to help manage type II diabetes." – Dr. Weil on buckwheat.
*Soba noodles are traditionally prepared from scratch and sliced by hand. The measurements for each soba noodle are crucial – as each noodle must be the exact same size.
*Soba noodles are a common food find when dining out in Japan. You will see them served casually at street carts and fast food vendors, as well as in the most modern and upscale of fine dining restaurants. Like all things, the taste, nutrition and quality of soba will vary based on the ingredients, preparation, freshness and serving variation used.
*Cold soba noodles may be flavored with green tea, wasabi, peanut, miso, various seaweeds, sesame and more. Soba noodles have a mild flavor that easily compliments various ingredient accents.
*Cold Soba Noodles are commonly found in the appetizers section of American Japanese restaurant menus, however a big bowl of cold soba can actually be a quite substantial vegetarian meal all on its own.
*Various health claims often come when soba is discussed: "The following is the summary of the major health benefits of buckwheat: Decreases cholesterol, Lowers blood pressure, Reduces fat accumulation, Promotes healthy bowel movements, Fits a well-balanced and low-calorie diet. Buckwheat also contains choline. Choline, a compound in the vitamin B complex that plays an important role in metabolism, lowers blood pressure, and decreases cholesterol." -Dr.Oshimi, healthhokkaido.com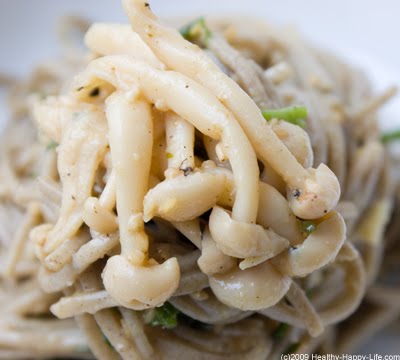 Beech Mushrooms. I adore using beech mushrooms in cold soba noodle recipes. Beech shrooms are like extra large enoki mushrooms. They are tender, slippery and delicate to bite. They absorb flavors very well and can be eaten hot or cold. If you can't find beech mushrooms, try enoki mushrooms. If you can't find enoki mushrooms, try a traditional shiitake mushroom. Shiitake shrooms are less delicate, so they will require more cooking time than beech or enoki. If you can't find fresh shrooms, try canned straw mushrooms.
Preparing Soba Noodles. Coming from an Italian family, I have a great passion for all things Italian. And pasta is one of those things. But as I was about to learn, not all noodles are created equal. For pasta marinara, I simply boil some dry noodles in salted water, drain the noodles, then toss them in some warm marinara pasta sauce. Serve, garnish, voila! But preparing buckwheat noodles is quite a different process…
How to Make Cold Soba. Here's what worked for me:
1. I bought some Eden brand Wild Yam Soba at Whole Foods Market (along with various other products in the 'Asian' section of Whole Foods: umeboshi, pickled ginger, wasabi powder, mandarin oranges, canned water chestnuts, Japanese soup mix, and a good soy sauce.) I also picked up some beech mushrooms, fresh ginger, cilantro, parsley, tangerines and fresh scallions from the produce department.
2. Read the instructions on the package! No matter what variety of noodle you buy, read the instructions first. They will likely give you a bit of insight on your noodle and how to prepare it in a traditional manner. But this process worked for me.
3. As I researched, I learned that soba noodles are best when boiled in a highly seasoned broth, as they will absorb a lot of the liquid during the cooking process. My broth was a mixture of dried seaweed (from my soup mix), soy sauce, citrus, mushroom powder and sesame seeds. (See recipe below.) Boil noodles for 6 to 8 minutes.
4. While the noodles are boiling, prepare an ice bath of water in a large bowl.
5. After 6-8 minutes, drain noodles in the sink, BUT don't dump the remaining broth, collect it in a bowl for further use in your meal. You can serve the broth as a side soup or use it to prepare rice, tofu or various saute dishes. I used my broth to saute the beech mushrooms that graced the top of my soba noodle dish.
6. Dunk the drained noodles into your ice bath. Then rinse the noodles under cold water to further chill and wash the cooked noodles. Note: This may feel extremely odd to chill freshly cooked noodles, but trust me, cold soba is delicious!
7. Lastly, I tossed my drained and cold-water-rinsed noodles in a bit of experimental sauce. I used various flavors of wasabi, sesame oil, sesame seeds, citrus, soy sauce, scallion, cilantro and peanut. (see recipe) I then placed the noodles in the fridge for 20 minutes before serving.
8. While the noodles were chilling, I sauteed my beech mushrooms in a bit of leftover broth. I then placed them in a separate bowl and let them chill in the fridge for a few minutes. Toss cold and enjoy.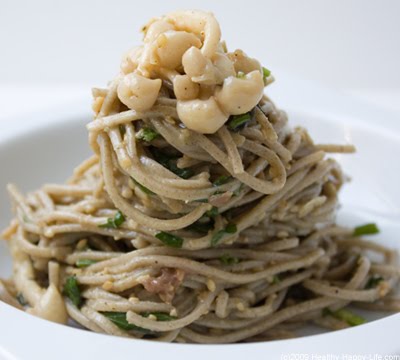 As promised, here is the complete recipe for my Wasabi Citrus Soba Noodles. My full meal on "Asian Night" consisted of: Wasabi Citrus Soba Noodles with Beech Mushrooms, pickled ginger, umeboshi plums, wasabi paste, tofu-veggie rice paper wraps, mandarin-ginger tossed arugula greens and lychee bellinis to sip on the side. Fortune cookies too (because Whole Foods had some for sale, and I love those little paper fortunes.)
Here is my soba noodle recipe in full:
Wasabi Citrus Soba Noodles, with Beech Mushrooms
vegan
1 package Soba Noodles, 8.8 ounces
*I used Eden brand Wild Yam Soba Noodles
Boiling Broth:
2 tangerines, juiced and zested
1 teaspoon grated fresh ginger
2 tablespoon agave syrup
1 teaspoon black pepper
1 tablespoon wasabi powder
3 umeboshi plums, de-pitted and added whole
2 tablespoon soy sauce
1 packet of vegan "Japanese Soup" mix
*I used San-J brand vegan Wakame soup with shiitake mushrooms
Cold Toss-In Ingredients:
2 tablespoon sesame oil
¼ cup salted peanuts
¼ cup sea salted sesame seeds
1 teaspoon wasabi powder
¼ cup cilantro or parsley, chopped fine
¼ cup scallions, chopped thin
2 teaspoon garlic powder (or fresh garlic)
1 cup broth-sauteed beech or enoki mushrooms
black pepper to taste
optional: more citrus (tangerines, oranges, mandarins or minolas), peeled and diced
Directions:
1. Prepare boiling broth by adding 3 ½ cups of water to soup pot. Add in all broth ingredients: tangerine juice and zest, fresh grated ginger, agave syrup, black pepper, wasabi powder, umeboshi plums, soy sauce and soup mix. Bring broth to a boil.
2. Add in the dry soba noodles. Make sure the noodles are completely covered with water. If you need to add more liquid, add more water as needed.
3. Boil noodles for 6-8 minutes. While boiling, prepare a big bowl of ice water bath. You can also prep the toss-in ingredients while the noodles are boiling (chop the scallions, etc.)
4. After 6-8 minutes drain noodles, however do not toss the boiling broth down the drain – save it in a separate bowl. This leftover broth can be used as a flavoring ingredient in other dishes or even sipped as a soup on its own.
5. Immediately submerge the noodles (still in a strainer) into the ice bath. Rinse the noodles very well with ice cold water. Toss to remove excess water. Set aside. Dry well with air. Dry them on a bamboo mat if you have one.
6. You can now prepare the beech or enoki mushrooms by lightly sauteing them in the leftover broth and a bit of oil. I used a teaspoon of olive oil, but use whatever you'd like. Allow cooked mushrooms to chill in fridge. Drizzle a few drops of sesame oil on top if you'd like. Sesame oil is best when added cold to salads and noodles. It is not ideal for heat.
7. Next, add cold noodles to a large mixing bowl and toss with the flavoring ingredients: sesame oil, sesame seeds, wasabi powder, peanuts, chopped cilantro or parsley, pepper, scallions, garlic, mushrooms and optional citrus. Only use half your portion of mushrooms for the toss-in. The other half will be used as a garnish.
8. Place noodles and shrooms in the fridge to chill for at least 20 minutes before serving. These noodles also taste divine the next day. Cold soba is delicious and healthy. Serve on New Year's Eve for an extra special traditional Japanese treat!
…but finish those noodles before midnight! (I don't think that will be too hard.)