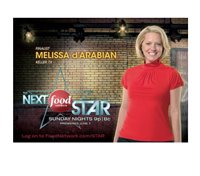 Last night was the finale episode of The next Food Network Star reality TV show. The winner was my number one pick from the beginning: Melissa D'Arabian! She beat out Jeffrey in a battle of the FN Pilot episodes. Here are all my rants and raves from the finale episode last night…
From episode one, Melissa's bubbly personality and bright energetic eyes won my "first impression rose" (reality show term, for those of you who avoid watching ABC's The Bachelor). But Melissa won me over big-time in episode 6, the South Beach episode where she was the only contestant to think of including a vegetarian appetizer at the Nikki Beach Club party. That was indeed my favorite episode of the season since it came complete with now famous Bobby Flay quote: "People are tackling people for a shrimp!"
Finale Thoughts. The Pilots were the big final test. They both did well. But honestly, neither were great. I'm sure it takes a few episodes to really get your groove though. I mean, have you seen some of Rachel Ray's vintage "30 Minute Meals" episodes. So much 'talking with her hands' that I think she might karate chop me in my living room. But anyways, I actually thought that Jeffrey presented his dish in a more creative and "foodie-esque" way. But the "Ingredient Smuggler" title was the worst! Isn't smuggling, I don't know, illegal! Silly. I actually think it would've been cool if FN did let Jeffrey do a show where instead of simply cooking with ingredients in the kitchen, he traveled to where he buys them from and goes back to the kitchen to cook-like Rachel's Vacation only with cooking. But that's just me. I really like the harissa component of Jeffrey's meal. I am a huge fan of the ingredient harissa, so he had me at h-arissa. I buy jars and jars of the stuff from Le Pain Quotidian. But I did like Melissa's step by step process idea. However, I hated the fact that she had to use both butter and cream in her family-friendly dish! Not exactly healthy. If she runs to "Paula" style ingredients like butter and cream every time she needs a flavor boost, I will be incredibly disappointed in Melissa. Use fresh herbs, fruit, veggies-healthy flavorful stuff! Just my advice.
Bobby Hosting. I thought Bobby did a good job at the 'hosting' part of the show, although it is not his forte. He belongs behind a grill or in a test kitchen knocking bad chill phrases and a sarcastic attitude to his companions. That's the Bobby enjoy. I personally don't think FN should be using its Iron Chefs as ' Ryan Seacrest' like hosts for any of the shows. Keep the chefs in the kitchen and the personalities with the microphone and sealed envelope to announce the winners. But good job anyways, goes to Bobby.

Moving Forward. Thank goodness Melissa's show name was pretty good. Not too corny like the 'smuggler' thing. I think she will do very well. However when I saw that she has 4 kids under the age of 4, my jaw dropped to the floor. Won't those kids miss their mommy? I am assuming they will all be moving to NYC. Which could be a big adjustment for all of them. Four kids in an NYC apartment-even a big one- will be a huge change from a giant Texas house. But this season was awesome. I really enjoyed it. And I hope a few of my other fave contestants like Michael, Debbie, Jeffrey, Katie and Jen find some cool jobs involving cooking. Cooking and food is a passion that doesn't end simply because the Food Network doesn't give you a shot. I think the thousands of folks who lined up with me (and in other cities) to enter the open casting call for the Next Food Network Star Show will agree with me on that one.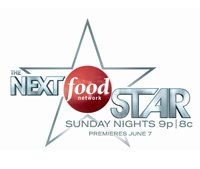 Good luck Melissa, and please remember the veggie-vegan-vegetarian kids, fans and families out there watching your show!