Dear Critics, if you think you'll end up hungry eating vegan food, you're wrong. My noble Olive Tapenade Tempeh Veg Sandwich is exhibit A of that verdict. Let your watering mouth be the judge. This swanky sandwich, aka my humble lunch, is quite a vision of sandwich beauty if I do say so myself. Let my sandwich-boasting continue, and get the recipe…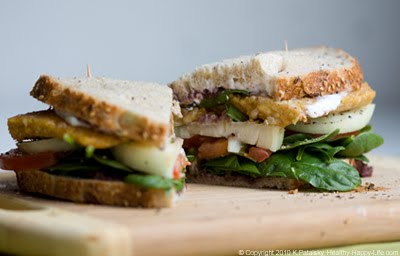 Not All Looks. Yes she's a pretty sandwich, but what about the taste? Vegan sandwich ecstasy. Aka, yum. The flavors: salty smooth kalamata olive tapenade mingling with the zippy sweet flavor of maple-soaked tempeh, layered on a bed of fresh perky green baby spinach leaves, a few rounds of fresh tomato and sweet onion to top it off. And a skinny slathering of Vegenaise inside the top slice. Tons of fresh black pepper grated throughout. And the critics say vegans don't eat lavishly…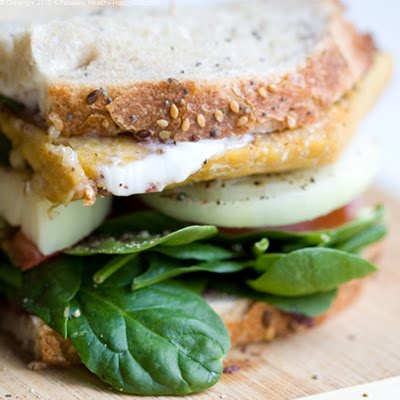 Tempeh Two Ways. There are two ways to prepare the tempeh, I actually used the fast way and it was delicious! Two Ways: 1. Traditional Method – saute it on your stove top as the recipe calls for. This process will take a good 5 minutes. OR 2. Fast Method – simply place the tempeh in a shallow glass container, soak in the tempeh marinade, cover, vent and microwave on high for 90 seconds. That yummy-bitter-hearty tempeh taste will still shine through and you'll be eating in a flash. *yes, the sauteed tempeh has a much better texture and a bit better taste, but if you are in a hurry, the microwaved version is tasty.*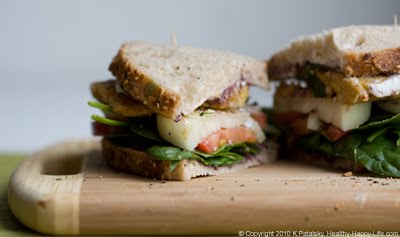 Tapenade. You can make your own tapenade – which I prefer, or you can buy a good vegan olive tapenade at your fave gourmet store. Up to you! You can even substitute a different flavor of tapenade if you aren't into the olive thing. The green, sweet potato or mushroom dips featured here would work. Sunny Asparagus tapenade would be yummy too.
Olive Tapenade 'n Tempeh Vegan Sandwich.
vegan, serves one hungry or two timid sandwich eaters
2 long slices grain bread
*spelt, whole wheat, sprouted grain are my faves
2 Tbsp olive tapenade
1 Tbsp Vegenaise
2 slices EZ Maple Tempeh
3 tomato slices
3 sweet onion slices
big handful of baby spinach
fresh black pepper
EZ Maple Tempeh
2 slices of tempeh, thinly sliced, about 4 oz.
1 1/2 Tbsp maple syrup
2 Tbsp apple cider vinegar
*grade B maple syrup pref'd
1 tsp olive oil for saute pan
pepper
Kalamata Olive Tapenade
*modified version of Pure Olive Tap recipe here
1 cup kalamata olives, pitted
1/4 cup white beans
1 Tbsp EVOO
1 tbsp water
handful fresh parsley
pepper
*Blend in a food processor. Makes about 1 cup of tapenade
Directions:
1. Prep your veggies: wash n slice tomato and onion. Set aside. Gather all ingredients.
3. Tempeh: Slice your tempeh into two thin blocks -each about the surface size of a deck of cards. (I used about 1/2 of an 8 oz. package of tempeh. Soak your tempeh in the maple syrup and vinegar. Dash some pepper on top. Next, either lightly saute your tempeh stove top, or use the super-fast method and simply microwave for 90 seconds in a covered, glass container. Drizzle the EVOO on top if microwaving. Stove top, should be about 2 minutes on each side over high heat.
4. Start building your sandwich: olive tapenade on both sides of the bread. A light smear of Vegenaise on one side. Then add the baby spinach, tomato, onion, tempeh and a good grinding of black pepper.
5. Slice. Eat. Smile. Bask in the glow of envy from sandwich-onlookers. *Pickle Optional. Wash it down with some lemon iced tea, perhaps.