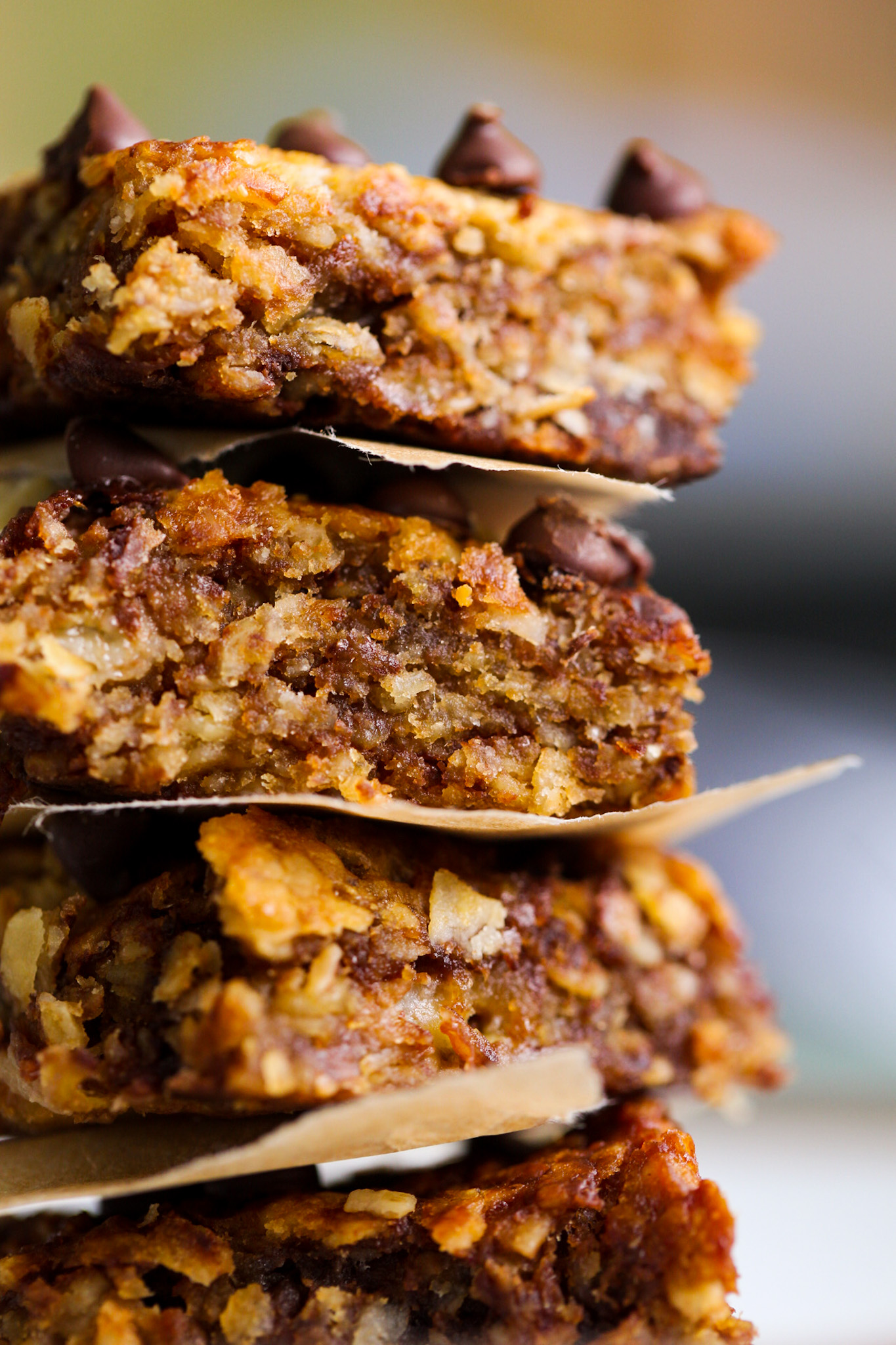 These Peanut Butter Banana Flapjacks with optional chocolate chips could also be called soft and chewy granola bars. But since I think of granola bars having a bit of crunch to them, I decided to go with flapjacks. Plus, since flapjacks are a british phenomenon, the name gives these rustic, simple, hearty bars a bit of worldly flair.
Cravable Flavors
And yup, these flavors are so beloved and basic. Peanut butter. Fresh banana. Chocolate. All of this goodness is folded together with rolled oats, a bit of flax and some other flavorful, healthy ingredients.
You can serve these Peanut Butter Banana Flapjacks with tea as a snack or take them on the go. When stored in the fridge, they firm up quite nicely if that is your texture preference. I found they get extra chewy served chilled from the fridge.
And the best part is that you can whip a bath of these flapjacks up in about twenty minutes!…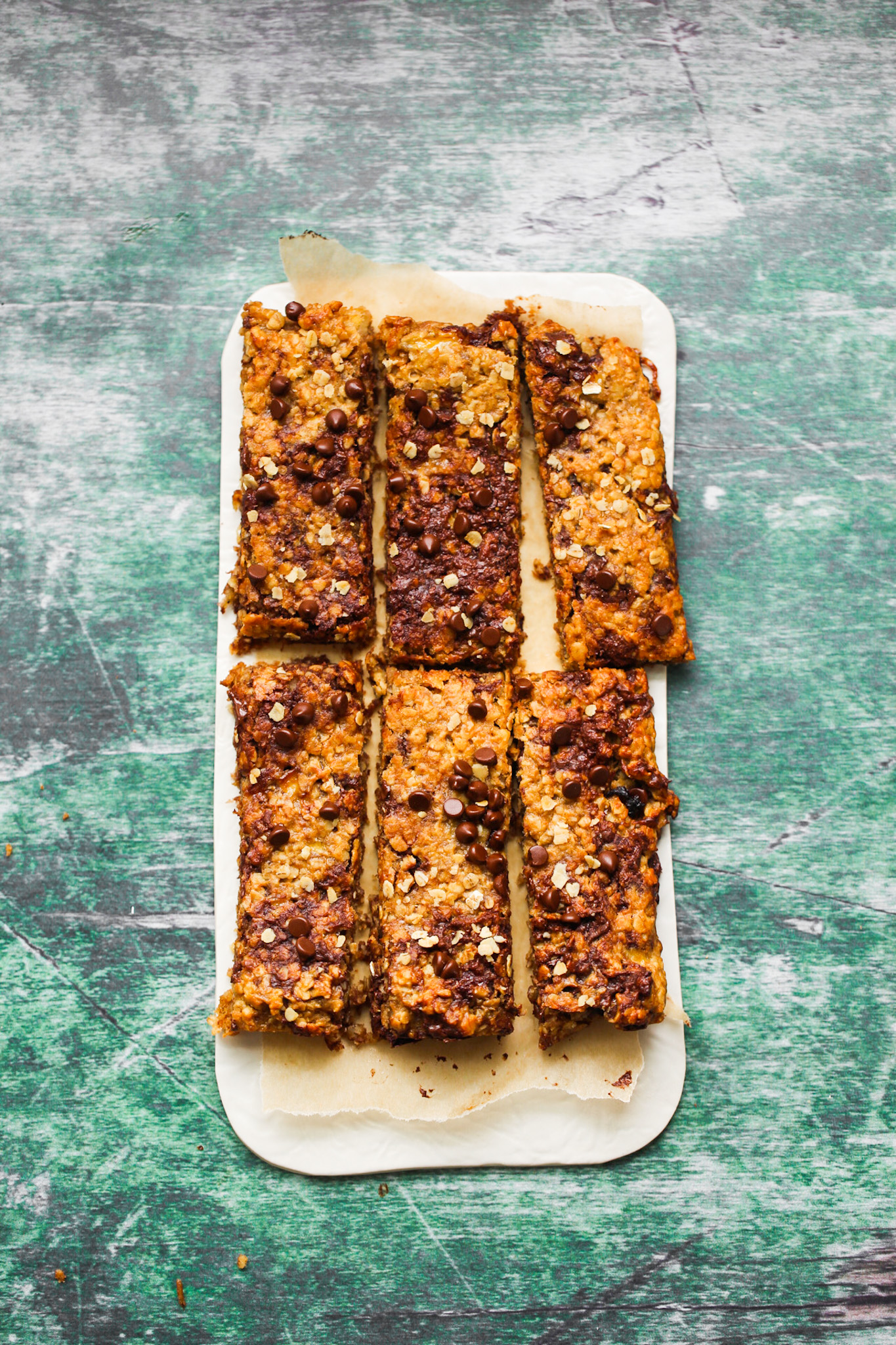 Healthy Snackin'
These peanut butter banana flapjack bars offer up a healthy and very delicious treat for an anytime snack. They will satisfy you easily since they are packed with fiber and healthy fats. From rolled oats, flax seeds, peanut butter and mashed bananas – you are getting your fill of hearty, healthy foods when you nibble on these.
These bars remind me of these Chocolate Chip Granola Bars, that bake up a bit drier and crunchier – most likely due to the lack of moisture. These flapjacks are very moist from the mashed banana.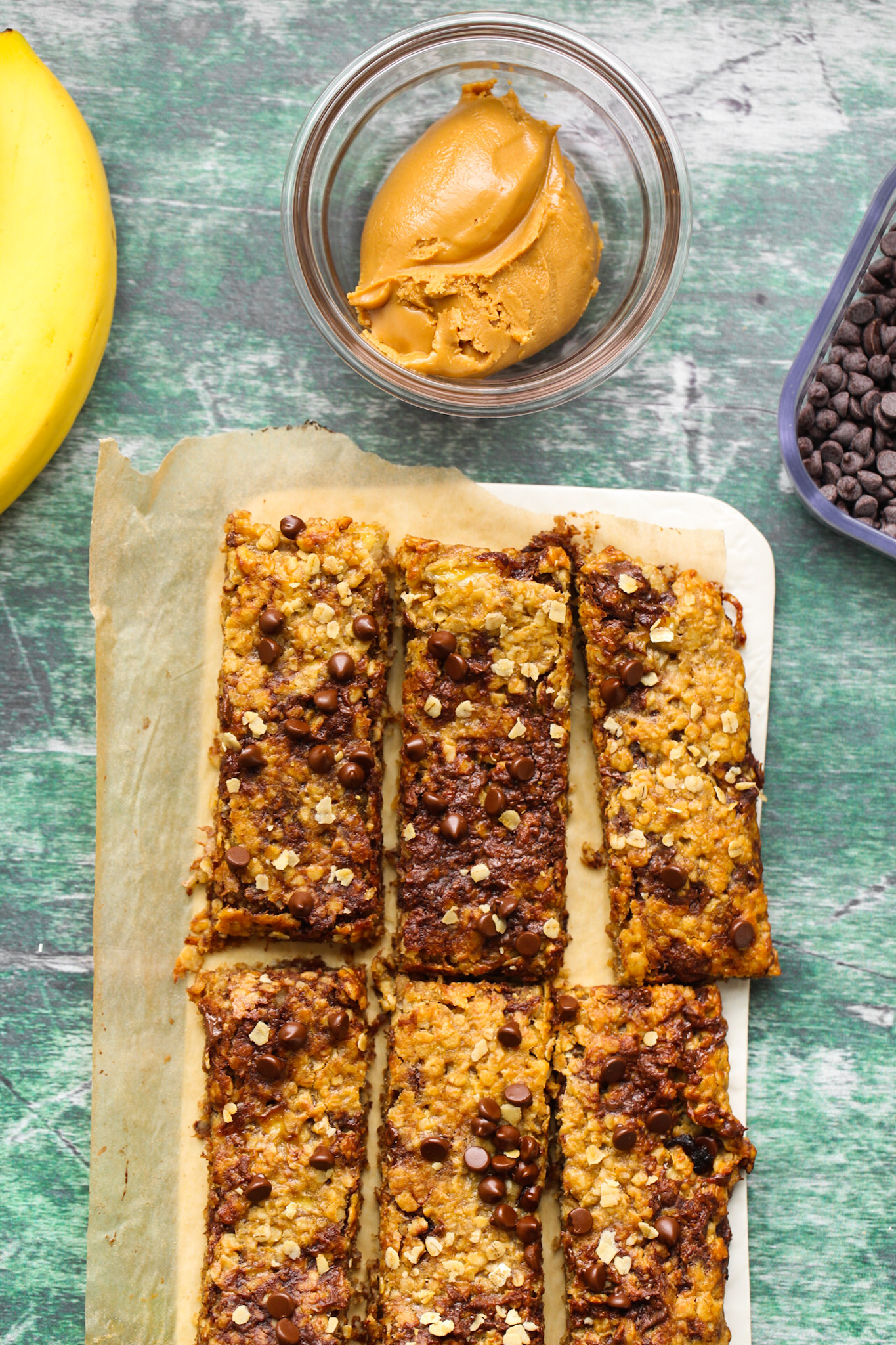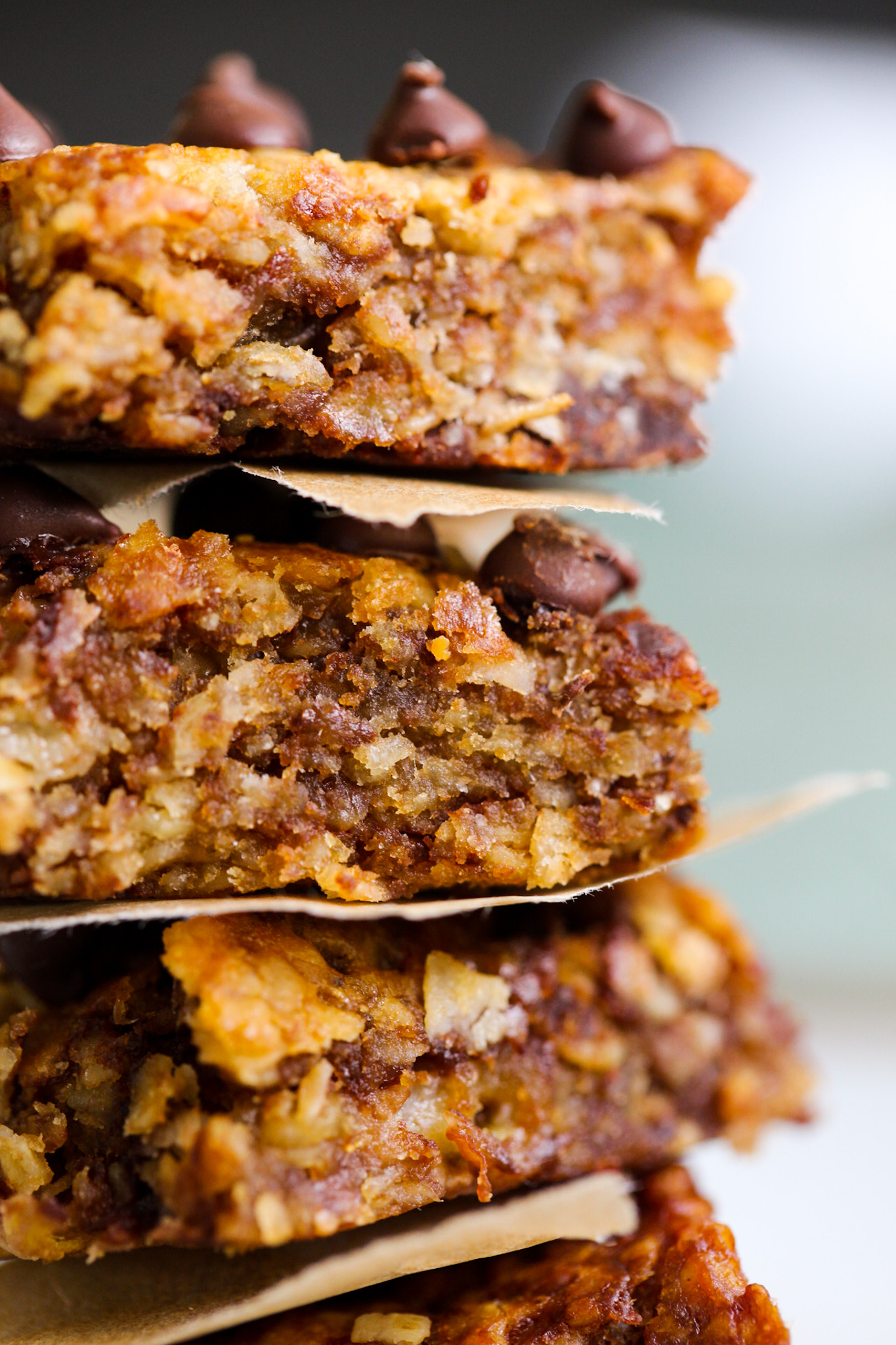 What is a Flapjack, anyways?
A little foodie 101 for you! so a flapjack in the USA is often a rustic term for pancakes. but in the UK, flapjacks are a sort of soft and chewy rolled-oat based bar. Similar to a granola bar, but really more like a hearty, rustic cookie bar due to the texture. Here is what the internet says…
"In England, Ireland, and even Australia and New Zealand, a flapjack is an oat bar, and these flapjacks are basically the polar opposite of a fluffy, light pancake. British flapjacks have a dense, almost cookie-like texture. Plus, they're baked, not cooked on a griddle or flipped in a skillet. "

– myrecipes.com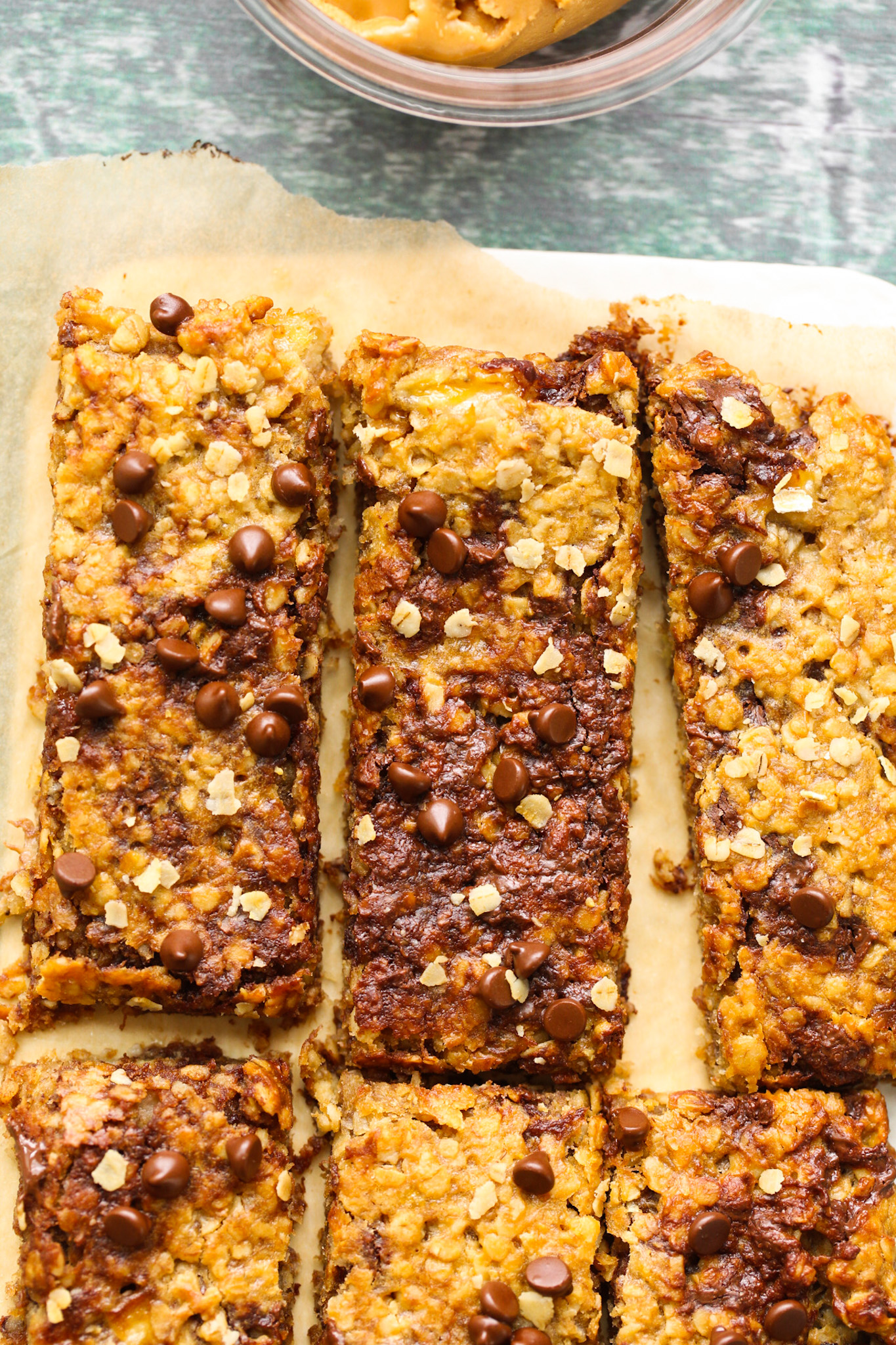 Traditional Flapjacks
Another interesting fact about flapjacks. Traditionally, a british flapjack contains only four ingredients! Oats, butter, brown sugar, and golden syrup. The golden syrup is traditionally from a company called Lyle's.
So obviously my flapjacks, are definitely not traditional. I imagine that traditional flapjacks have a rich, sweet and buttery flavor and chewy texture. Maybe one day I will veganize a traditional flapjack using maple or agave syrup. But for now, I'm pretty happy about these Peanut Butter Banana Flapjacks!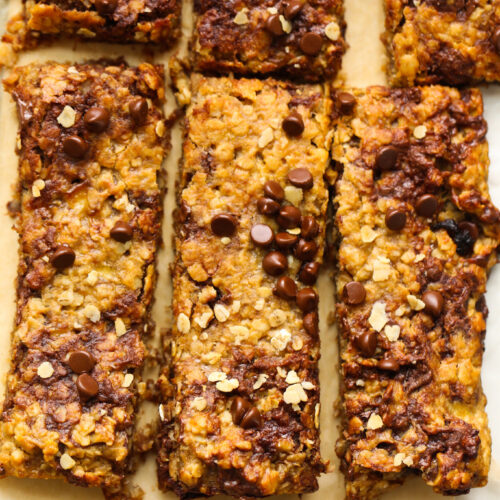 Peanut Butter Banana Chocolate Chip Flapjacks
These chewy, oat-stuffed flapjack bars are loaded with bananas, peanut butter and chocolate chips.
Print
Pin
Ingredients
½

cup

peanut butter

3

tablespoon

vegan butter

¼

cup

agave or maple syrup

1

teaspoon

vanilla extract

,

optional

2

large

bananas

,

mashed

3

tablespoon

ground flax seed

¼

teaspoon

salt

1 ⅓

cups

rolled oats

½

teaspoon

ground cinnamon

,

optional

⅓

cup

vegan chocolate chips

,

optional
Instructions
Preheat oven to 350 degrees. Line a baking sheet with parchment paper.

In a large soup pot over medium heat, met the vegan butter and peanut butter with the agave or maple syrup. Stir until smooth.

turn heat to low and stir in the vanilla, mashed banana and flax seed. Stir well.

Turn off heat. Fold in the salt, oats and cinnamon. Gently fold in about half of the chocolate chips — note, they will melt a bit because the mixture is warm. If you don't want your chips melted, you can simply add them on top of the bars.

Pour the mixture onto your parchment paper. Use about half of a small baking sheet to spread the bars. Tip: Press down on the mixture by folding over the parchment paper and flattening. This will create a smooth surface. The bars should be pressed to about ¼ – ½ inch thick.

Sprinkle remaining chocolate chips over top the bars.

Bake at 350 for 15 minutes.

Allow the flapjacks to cool for at least ten minutes before slicing and serving warm. Or fully cool and serve at room temperature or chilled. Stor in the fridge or freezer.
Equipment
baking sheet

parchment paper

large soup pot
nutrition estimate | per serving
Calories:
122
kcal
|
Carbohydrates:
13
g
|
Protein:
3
g
|
Fat:
7
g
|
Saturated Fat:
1
g
|
Sodium:
91
mg
|
Potassium:
148
mg
|
Fiber:
2
g
|
Sugar:
5
g
|
Vitamin A:
111
IU
|
Vitamin C:
1
mg
|
Calcium:
11
mg
|
Iron:
1
mg