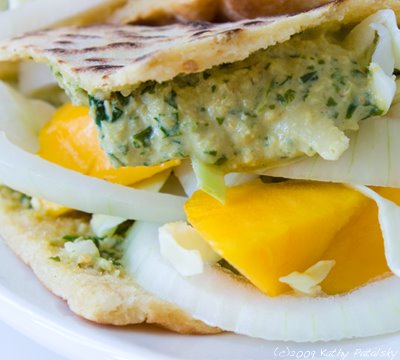 I am on a real mango blitz right now- I can't seem to get enough of them. Champagne, Haitian or traditional round varieties all make me swoon in the produce section. So I wanted to build a light no-bake pita pocket sandwich around some beautiful thick mango slices, but I didn't want to heavy-it-up with a dense proteins like tempeh or seitan. So, I decided to do a zesty pine nut pesto as the flavor pairing. I changed my traditional pesto recipe to make it a tad sweeter and super lemon essenced. Bright, acidic and sweet, this pesto is to die for! And it compliments the sweet creamy mango perfectly. What a hit of a pita pocket sandwich! Click ahead for the sunny-licious recipe…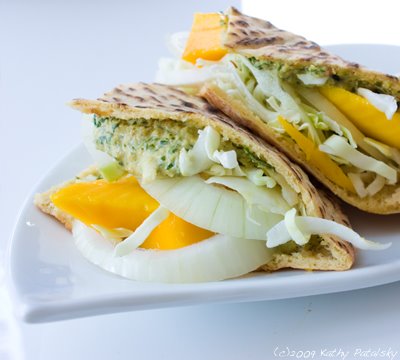 Pesto Gone Sassy. This pesto sauce is soo good. I sassed it up by amping up the lemon flavor and adding a sweet-saute of toasted pine nuts to the blend. But it is indeed that hefty kick of lemon that leaves you coming back for another spoonful. Good thing the pitas won't use all the pesto you make-so there will be plenty for dipping!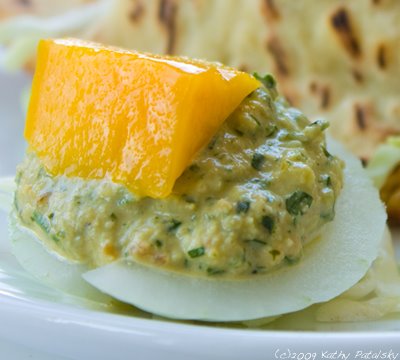 Here's the sunny summertime style recipe…
Simply Sunny-licious Pesto Mango Pitas
vegan, serves two
½ cup Kathy's Lemon-y Pesto Spread (recipe below)
*the recipe below will make about a cup, so you'll have leftover pesto for dipping. Yum.
1 large ripe mango, sliced
1 small vidalia onion, sliced into rounds
a few handfuls of greens-your choice
2 soy or whole wheat pita pockets, warmed
To Make:
The only intensive part of this recipe is the pesto:
Kathy's Lemon-y Pesto Spread
1 large lemon, juiced
1 cup toasted pine nuts
2 tablespoon agave syrup
1 tablespoon olive oil
1 teaspoon pepper
1 teaspoon salt
2 cups chopped fresh basil
½ cup parsley
8 cloves of garlic
1 teaspoon red pepper flakes
To make pesto:
Lightly toast pine nuts in a bit of oil, salt and agave syrup. Be careful-pine nuts only need about 45 seconds over high heat to toast up! The burn very easily.
Add all ingredients to food processor and blend until creamy and smooth.
Pita Assembly:
Add a few spoonfuls of pesto, a few slices of mango, and onion to each pita. Add as many greens to stuff the pita full. Serve in triangle pieces.
So yum.
My alternate walnut-cheesy pesto dip recipe is here.