If you think
Philly Cheese
sandwiches can't be vegan, and
Root Beer Floats
are only for kids – listen up. These two summer treats will impress even the
snootiest, veganist, sophisticated
of tastes. Well, that and they are just two
fun-yummy
summertime recipes to try!
Lunch and a frosty treat? done..
Mocha Root Beer Float
makes one float
3 small scoops vanilla bean ice cream (any variety vegan ice cream)
* I used Coconut Milk ice cream which gave the entire float a tropical accent
1 tablespoon chocolate syrup
1 shot espresso (for coffee-free version, sub with more root beer)
1 can or bottle of root beer – use as much as fills your glass – add more as you drink if you'd like
swirl of vegan/non-dairy whipped cream – any variety
* I used soy whipped cream – coconut whip works too
1 tall parfait/milkshake glass
Directions:
1. Add vanilla coconut milk ice cream
2. Add chocolate syrup.
3. Add espresso – or root beer. Add root beer until foams to top.
4. Add vegan whipped cream on top.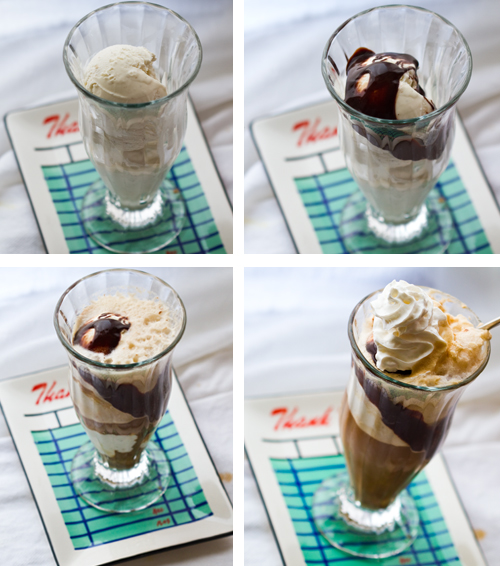 Vegan Philly Cheese Panini
makes one sandwich
1 Field Roast Spicy Chipotle Sausage, thinly sliced
½ cup Daiya Cheddar Cheese
¼ cup roasted peppers and /or onions
2 slices of thick-cut sandwich bread – brushed with olive oil on both sides (I like a hearty multigrain bread)
optional: spices for a pepper/onion saute
1. First I roast my veggies and prep my sausage by thinly slicing.
2. Then I arrange all my ingredients – open faced on bread and place under broiler in oven for 3 minutes.
3. Then I fold sandwich together and panini press for another 3 minutes.
Slice. Serve!