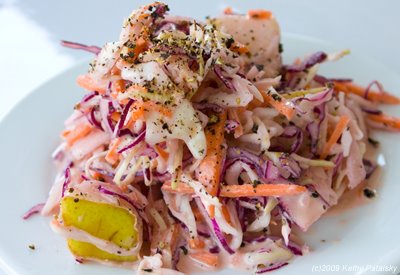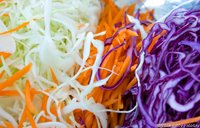 Munch on some crunchy cabbage with my sweet and zesty Vegan Cole Slaw recipe. I love cole slaw and this refreshingly light, yet creamy, recipe really hits the spot. Plus, add some honey-toasted pistachios for extra crunch – and nutrition!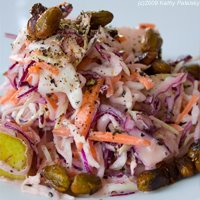 Healthy crunch. Carrots rich in vitamin A. Cabbage rich in fiber and vitamin K, A and C. Uses zesty Veganaise, vegan "mayo" – so no unhealthy saturated fat-loaded mayo. I've even added a few twists on this classic dish.
Click ahead for the recipe…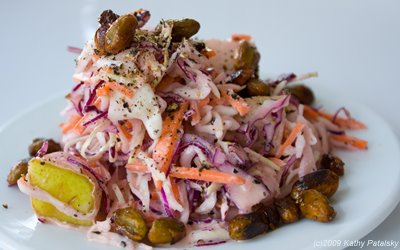 Vegan Cole Slaw
serves about 6
1 cup shredded and chopped carrots
1 cup shredded and chopped red cabbage
2 cups shredded and chopped green cabbage
3 heaping tbsp. Veganaise, vegan "mayo"
¼ cup red wine vinegar or substitute lemon juice (your taste preference)
1 pear, chopped
1 tsp. celery seed
1 tsp. garlic powder
20 grinds of fresh pepper (2-3 Tbsp.)
2 Tbsp. agave syrup or maple syrup
½ cup pistachios (optional)
In a large bowl:
Add cabbage and carrots.
Add vinegar.
Toss.
Add Veganaise and agave/maple.
Toss well.
Add garlic powder and pepper.
Fold in pears.
Fold in agave-roasted pistachios (optional)
Allow to chill in fridge for at least twenty minutes before serving.
Serve cold with fresh pepper on top.
(Garnish with pistachios if you use them.)
——-
Sweet 'n Pepper Toasted Pistachios
1 cup roasted and salted pistachios (de-shelled)
2 tablespoon agave syrup
1 tablespoon oil (olive or canola)
5 grinds fresh black pepper
To make:
Add oil to a skillet.
Turn stove heat on high.
When oil starts to sizzle, add nuts.
Shake pan back and forth as you 'toast' them.
(shake continuously over heat during next steps.)
Add agave and some black pepper.
Shake/toast over high heat for 90 more seconds.
Make sure all nuts are coated.
Remove pan from heat.
Add remaining pepper.
Toss nuts with pepper well.
Pour in a small bowl.
As nuts cool they will harden.
Serve warm or cool.