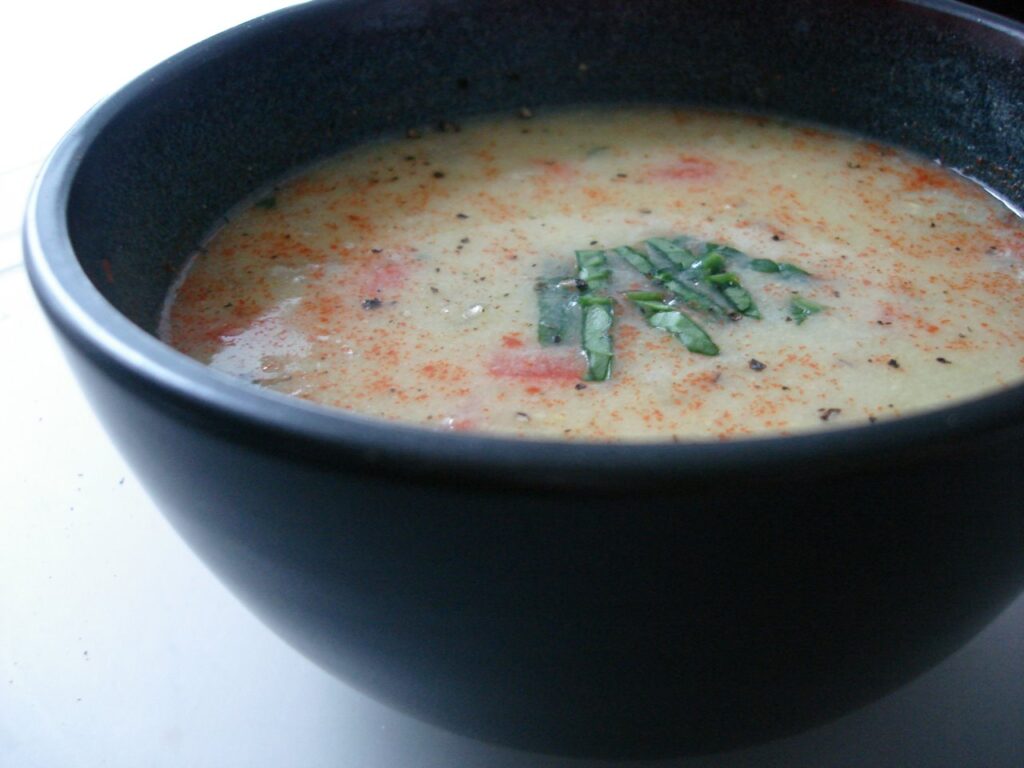 Even if you despise whole corn, you will adore this chowder.
…or
chowdah.
This is not a traditional chunky, thick-cream chowder. This recipe is smooth, silky and full of spicy flavor! It's almost like a
Spicy
Mexic
an
Tortilla Soup
, minus the tortilla chips!
Vegan Sweet Spiced Corn Chowder
Puree in blender:
1 small sweet potato, baked, mashed
2 cups veggie broth
1.5 cups soy milk
3 tablespoon Veganaise
2 cups organic corn, fresh or frozen
2 tablespoon maple syrup
Saute over medium heat, until soft:
¼ cup olive oil
1 small white onion, diced
¼ cup celery, diced
1 cup red bell pepper, diced
1 stalk green scallion, chopped thin
½ cup corn
Add all above ingredients to soup pot, plus:
1-4 teaspoon cayenne powder
(how spicy do you want it?)
2 teaspoon salt
2 teaspoon fresh ground black pepper
2 teaspoon corn meal (optional for texture)
Stirring occasionally, allow to simmer, half-covered for 15 minutes.
Add more broth as needed for desired consistency.
Garnish with fresh chopped spinach and cayenne powder.
Salt and fresh-ground black pepper to taste.
High in
fiber
and
folate,
corn also contains
thiamin (vitamin B1)
,
pantothenic acid (vitamin B5)
,
vitamin C
,
phosphorus
and
manganese.
One cup of corn contains 24% RDA pantothenic acid and 14% RDA thiamin.