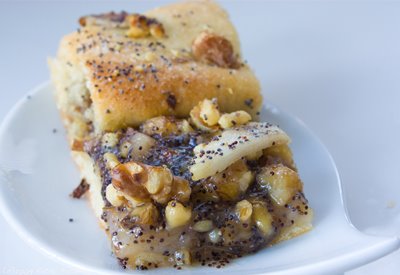 Folded and Filled Sweet Bread. I'm always looking for a new way to turn ordinary dough into something extraordinary and savory sweet. I used the traditional Jewish Hamantashen cookie as my inspiration. I rolled out my dough and filled it with a delicious walnut-poppyseed-pear filling before folding it loosely.
This is a new vegan recipe I adore!
From Dough: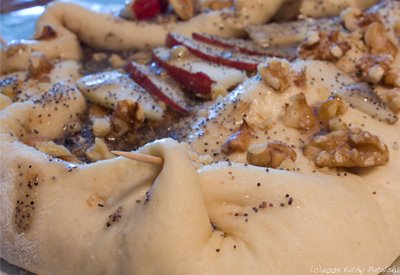 To Bread: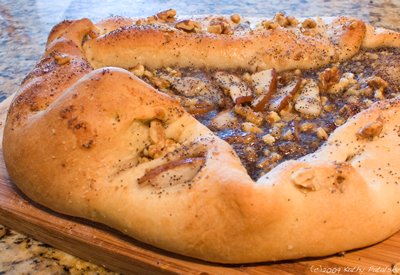 Walnuts, Pears and Poppyseeds: a delicious sweet bread filling. Love this! Soft bread with a crisp brown flaky crust oozing with caramelized walnuts, sweet pears and crunchy lemon poppyseeds. And the healthy pears, calcium-rich poppyseeds and super nut walnuts add for a delicious boost of nutrients.
Click ahead for my recipe! This one is a vegan original….

Pears Sweeten the Deal. The pears, were a last minute addition. Right before rolling out my dough, I decided I needed a bit of fruit in this dish, so staring at the ripe red Bartlett pears sitting in my fruit bowl, I thinly sliced one and warmed it with the caramelized nut mixture. What a pear-fect accent to this dish.
Anytime Bread. This is one of those recipes that your can make (or eat) at 6am or 6pm. It is delicious as a morning tea bread or even sweet enough to be an after-dinner treat. Heavenly dessert: warm it and serve with a scoop of STOGO vanilla soy cream.

Hamantashen Inspiration. I love Hamantashen, traditional Jewish, triangle pillow cookies with flaky folded cookie crust. They are filled to the seams with beautiful poppyseed, walnut or apricot spread. Strolling along NYC streets, I often see those beautiful 'Hamantashen' cookies in bakery windows. Unfortunately, most Hamantashen cookies are not vegan. Enter, my recipe creation…
Walnut-Poppyseed Pear Folded Sweet Bread
vegan, makes one large loaf
1 packet quick rise yeast
1 cup unbleached white flour
1 cup whole wheat flour
½ cup +a few pinches vegan dry sugar
2 teaspoon salt
1 teaspoon garlic salt
3 tablespoon vegan buttery spread
2 tablespoon canola oil
1 lemon, juiced
1 cup shelled walnuts, crushed
¼ cup poppyseeds, plus sprinkle jar
3 tablespoon agave syrup
2 tablespoon vital wheat gluten
1 pear, sliced thin
canola oil spray
4-5 toothpicks, to secure filled and folded dough
Directions:
Bread Dough:
Add yeast packet to one cup of warm water. Stir well. Add 2 tablespoon canola oil, 2 tablespoon vital wheat gluten, ¼ cup vegan dry sugar, 1 teaspoon lemon juice and 1 teaspoon salt.
Stir well.
Stir in 1 cup whole wheat and 1 cup white flour.
Flour a large cutting board.
Transfer dough to cutting board surface and knead for 5 minutes.
Add more flour if needed.
Coat your large mixing bowl with a spray of canola oil.
Once dough is formed into a smooth ball of dough, transfer it back into your large mixing bowl.
Cover with a clean towel and set in high warm spot to rise.
Allow dough to rise for 35 minutes.
While dough is rising, work on filling.
In soup pan:
Heat stove to med-high.
Spray pan and add 1 cup crushed walnuts.
(I crush my walnuts with the thick handle of a butter knife. Pound into crumbles.)
Allow nuts to toast for 1 minute, stir constantly.
Once nuts are toasted, add 3 tablespoon vegan buttery spread, 1 teaspoon vanilla extract, 1 teaspoon salt, ¼ cup sugar, remaining lemon juice, ¼ cup dry sugar, 3 tablespoon agave syrup and ¼ cup poppyseeds.
Stir mixture on high for a few minutes. Allow nuts and seeds to caramelize.
After a few minutes, remove mixture from heat and stir in pear slices. Pears should be sliced very thin about ½ inch long.
**Keep out about 6 pear slices and a tablespoon of walnuts for garnishing.
Allow mixture to cool for the remaining rise time- at least ten minutes.
Post-First Rise:
Punch out dough.
Transfer dough onto floured cutting board surface.
Knead for two minutes.
With a rolling pin, roll out dough to be about ½ inch thick.
Transfer dough to baking sheet.
Use parchment paper or a light spray of canola oil.
Poke with your finger, dents in the surface area of the dough.
Do not poke through bottom of dough.
Spray dough with canola oil, add 2 tablespoon raw poppyseeds to surface.
Once filling has cooled:
Add filling to top of dough. Quickly roll and fold in edges. Create a half-rolled bread. Secure filling in center by pinning sides of dough with toothpicks. The shape should be organic and free-flowing.
Garnish dough:
Take your garnish pears and walnuts and create a pretty design in center of filling. Poke a few loose walnuts into crust of dough.
Sprinkle a final layer of dry poppyseeds over dough. As much as you'd like.
Sprinkle 1 teaspoon garlic salt over top of dough.
Sprinkle a pinch of sugar on the pear slices.
Second Rise:
Allow filled and folded dough to rise for a second time. About 15 minutes. Since the filling is slightly warm, you can keep the dough on the counter top.
Bake Bread:
Bake at 355 degrees for 25-30 minutes or until crust is browned. Filling will need time to cool before cutting. Center may seem uncooked, but will harden upon cooling.
Serve warm, or allow to cool and harden in fridge before serving. Depends on what consistency you want.