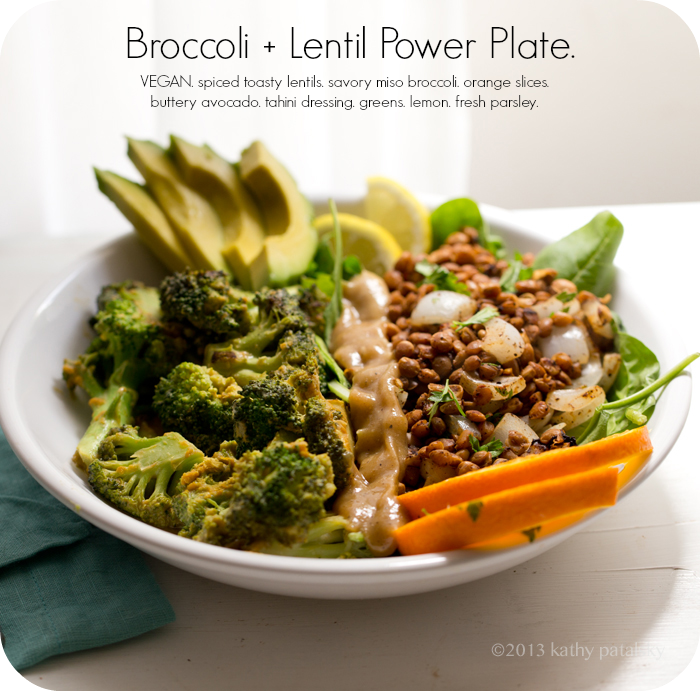 I was craving lentils. Badly. I will thank Marilu Henner and Ginny Messina The Vegan RD for that craving, via The Marilu Show.
When life hands you healthy cravings… So instead of sulking in front of my computer and grabbing something quick and easy for lunch, I headed into the kitchen for a very last minute hot lunch recipe. The result was this amazing power plate! Or bowl. It combines savory, cheezy miso broccoli florets with toasted and spiced lentils. A quick tahini-maple sauce over top. And some leafy greens, slivers of buttery avocado and sweet and sassy vitamin-C infused citrus completed this super healthy and delicious meal. Get the recipe and make it in under 10-15 minutes (seriously, I did!)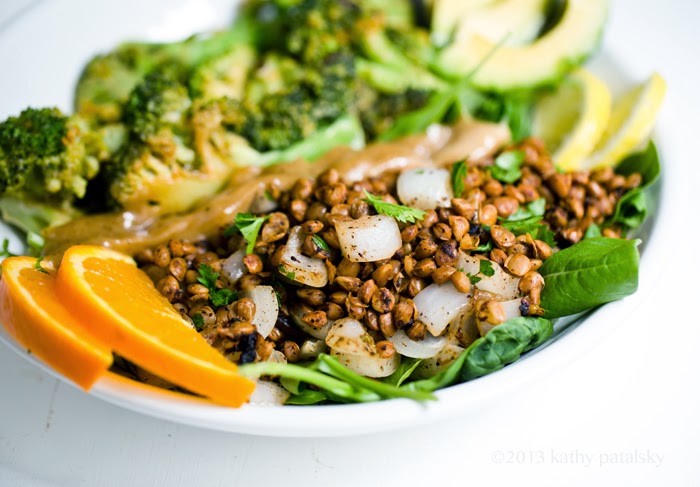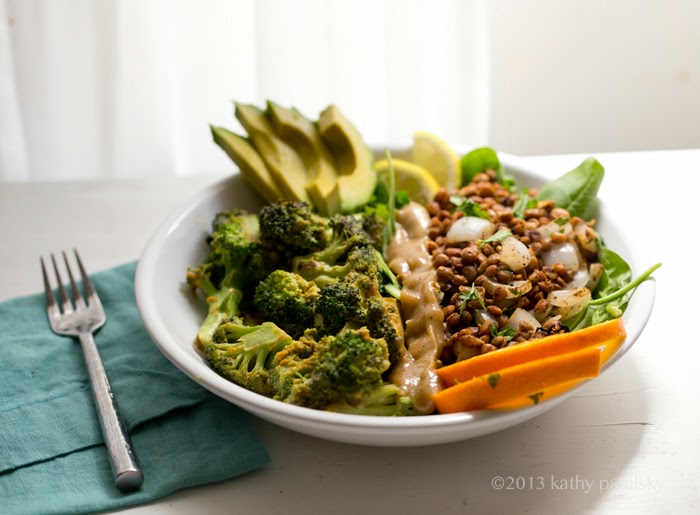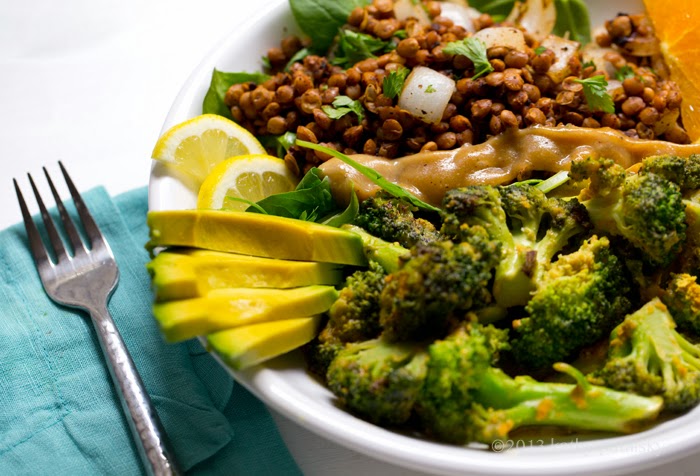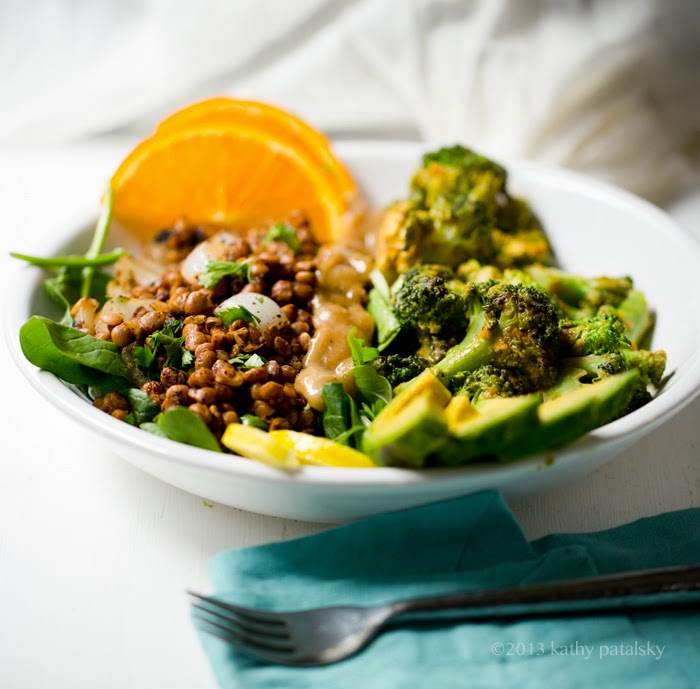 Some people ask me why I love blogging instead of just "cookbook writing" all my recipes. Well yes I am excitedly planning on a full scale cookbook in the future and I loved writing my smoothie book, but I really do love blogging recipes as my day-to-day gig. Why? Well this recipe is a perfect example.
Blogging recipes is about more than just the food. The recipe reflect life. My life. And my kitchen creations hopefully inspire what you do in your kitchen today and tomorrow. In an instantaneous way. Cookbooks take months – years – to write and distribute. Blogging communicates a recipe sometimes in the same day it is created! (Like this one!)
Our recipes and meals reflect our lives. The foods we eat and meals we create for our selves or our families (or the meals we skip!) are a direct reflection of our day to day lives and in turn our day to day WELLNESS.
Wellness is an important word to me. It encompasses not just the foods we eat but also the relationships we have, the careers we pursue, the exercise we get (or skip!) and the spiritual lives we lead. Spiritual could even be as simple as a daily meditation practice. You can read more about wellness in my post: Defining Wellness Hettler's Six Dimensions.
But long story short, I was listening to Marilu's awesome radio show this afternoon (don't forget –> I will be a guest on Friday!) and she had Ginny The Vegan RD on as a guest. Ginny was discussing bits from her new book Vegan For Her and saying how important iron is to young vegan women. An excellent source of iron: lentils! And she was also commenting how vitamin C from fresh fruits and veggies is so important for efficient iron absorption. So I threw some amazing fresh citrus on my plate today as well.
My plate. A direct reflection of wanting to improve my nutrition, as inspired by a radio show I listened to today! (Now THAT is why I love blogging.)
Healthy Recipe…
Healthy plate. This plate has it all. The lentils are a good source of protein, iron, fiber, vitamins and minerals. And that broccoli is also rich in fiber as well as green veggie nutrients. Broccoli is one of those green superfood veggies that we should all be eating more of. And even kids seem to love these "tiny trees." Plus the citrus is rich in vitamin C and the miso and tahini are healthy ways to add loads of flavor.
"Like other cruciferous vegetables in the Brassica family (kale, collard greens, cabbage, Brussels sprouts and cauliflower), broccoli contains sulfur-containing phytonutrients that have gotten a lot of attention from nutritionists for their potential cancer-fighting properties. It's packed with vitamins C, A, K and folate, as well as with fiber. And broccoli is a very good source of manganese, tryptophan, potassium, B vitamins, magnesium, iron, calcium, zinc and vitamin E — all in a pretty, tasty, cook-friendly package." – NYTIMES
More broccoli health benefits..

"Detoxification. Broccoli contains an unusual combination of three phytonutrients, glucoraphanin, gluconasturtiian, and glucobrassicin. Together these nutrients have a strong impact on our body's detoxification system. Anti-Inflammatory. Broccoli is a particularly rich source of a flavonoid called kaempferol, which helps to battle allergies and inflammation." – Forbes
And those lovely lentils..

"One fact worth noting: unlike other beans, lentils do not contain sulfur, the gas-producing element in legumes. And in addition to being an excellent source of soluble fiber and a good source of protein, manganese, iron, phosphorous, copper, vitamin B1 and potassium, lentils are an excellent source of molybdenum, a mineral important in the metabolism of fats, carbohydrates and iron." – NYTIMES
Broccoli..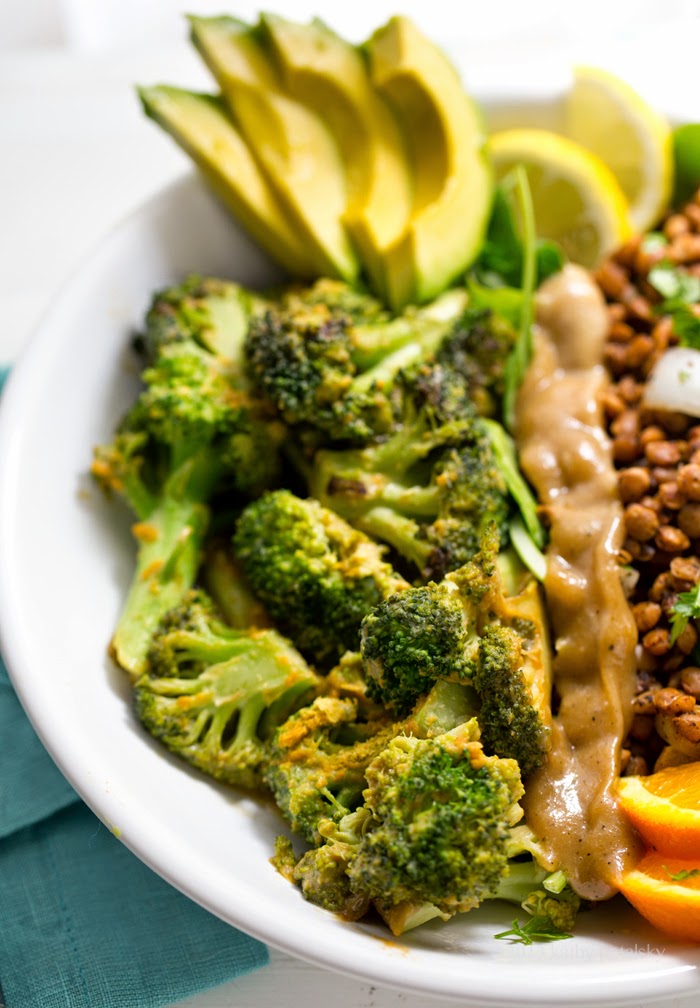 Lentils..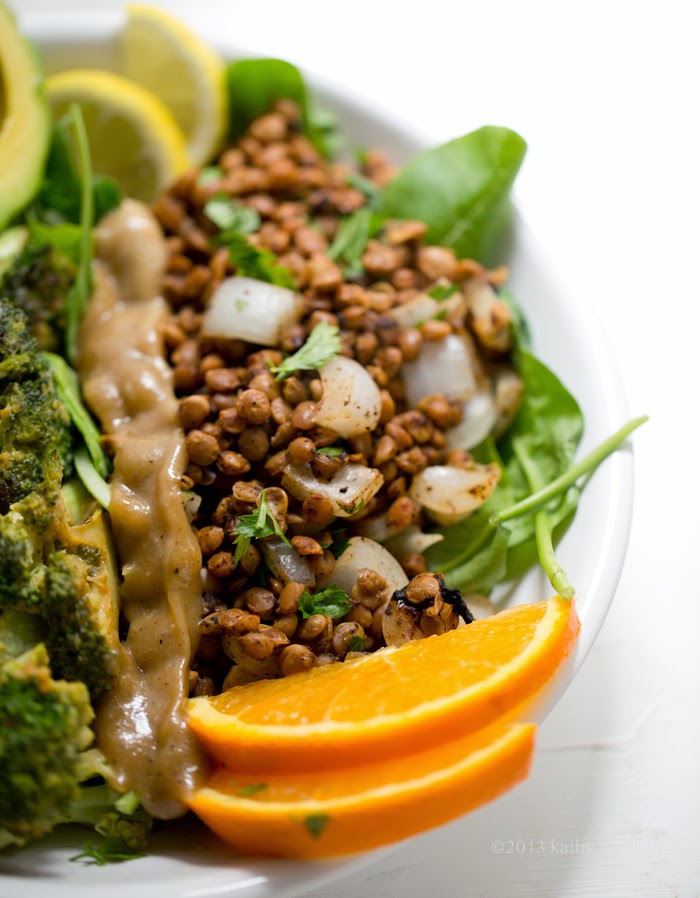 –>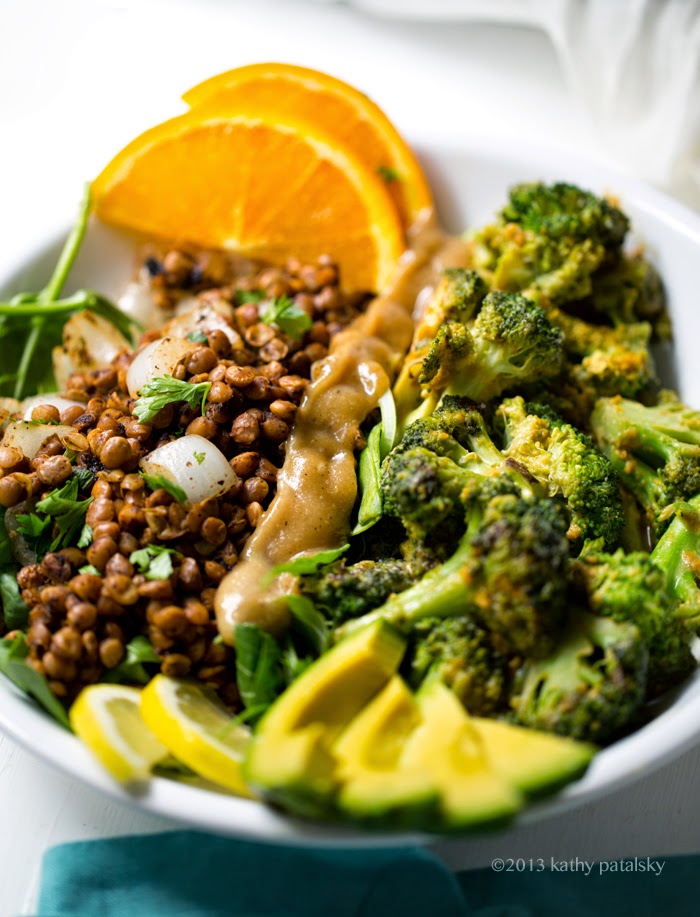 Savory Miso Broccoli + Spiced Lentil Power Plate
vegan, serves 1-2 (If serving 1 – you will have lentil leftovers)
Savory Miso Broccoli
½ teaspoon extra virgin olive oil
1 small bunch of broccoli (about 2-3 cups of chopped florets) – organic
1 ½ tablespoon white miso paste
1 teaspoon tamari
¼ cup water
2-3 tablespoon nutritional yeast
pepper to taste
optional: a few splashes of rice vinegar, apple cider vinegar or lemon juice
Toasty Spiced Lentils
½ teaspoon extra virgin olive oil
1 can of cooked lentils, organic – drained and rinsed well
spices: any will work! I simply used some fine black pepper!
2 small lemons, juiced
2 tablespoon fresh flat leaf parsley, finely chopped
¼ cup white onion, diced
Tahini Sauce
1 tablespoon tahini
1-2 teaspoon grade B maple syrup
1 tablespoon lemon juice
Other:
½ avocado, sliced
2-3 fresh orange slices
1 handful mixed greens
Directions:
1. Open lentils and drain liquid from can. Rinse lentils in cold water very well. Set aside.
2. Wash and chop your broccoli. Chop onion and parsley and juice lemons.
3. Whisk together your miso base for the broccoli. Add the miso, water and tamari to a cup and stir until thinned.
4. Heat a large skillet over high heat. Add ½ teaspoon of olive oil. Add the broccoli and toss broccoli in oil a bit. Add the miso-water mixture over top the broccoli and cover with a skillet lid. Allow the broccoli to steam and cook for about 1-2 minutes over high heat. When the broccoli is just about tender enough to serve, add in the nutritional yeast. This will coat the broccoli and add a nice extra layer of savory flavor. Add an optional splash of vinegar or lemon juice if the broccoli looks a bit too dry. You could also add in another splash of water if needed and allow that to steam the broccoli further. Cook until all the liquid has been absorbed and a nice coating coats your broccoli. Transfer hot broccoli to serving plate.
5. No need to wash the skillet. Add a ½ teaspoon of olive oil and your lentils, spices and onion. Using a spatula, scrape the sides of the pan so that any leftover "sauce" from the broccoli mingles with the lentils. Add in a splash of lemon juice to help deglaze the pan. Toast lentils for about 1-3 minutes over high heat. Just as the lentils seem done, add in the parsley and lemon juice. Serve lentils when they are toasted and almost become "fluffy" as the outside skins toast up and the inside becomes soft from the heat.
6. Add your handful of greens to the plate, next to the broccoli. Then add the lentils over top. Add the avocado and citrus and a few pinches of freshly chopped parsley as well. Lastly, whisk together your tahini sauce/drizzle and pour it over top your plate as desired.
Troubleshooting: This dish turns out quite savory and a bit on the salty side from all the flavors. If you are watching your sodium or just do not like it "too salty" start off with half the indicated miso. The reason my dish came out a bit salty was because my lentils were pre-salted from the can. Be very aware if you are using salted lentils of not. If not, you may want to add a splash of tamari to your lentil saute. And again, to reduce the sodium in this dish, simply add less of the tamari and miso. You can substitute these with water, lemon juice or vinegar.
Serve warm and steamy!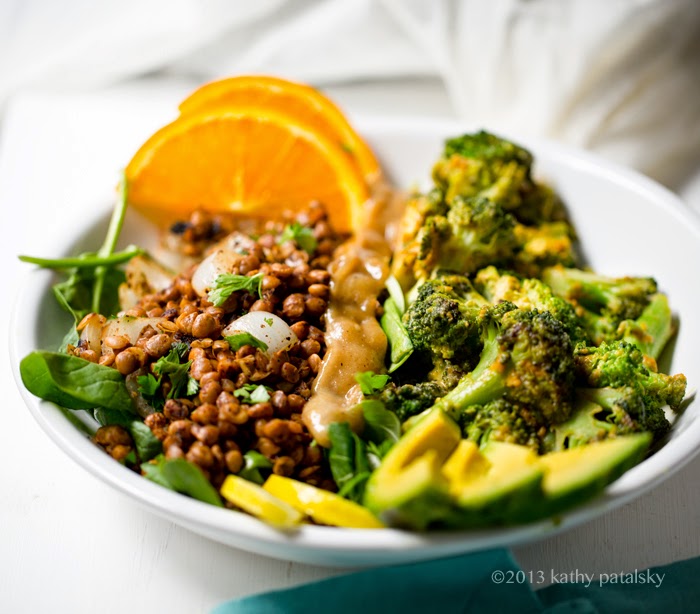 One more thing… Oh soy. On the radio show today, Ginny and Marilu also had an awesome conversation about SOY. I have always been a fan of unprocessed organic soy even though I have noticed more and more vegans trying to cut soy from their diets. Well Ginny and Marilu really outlined a few of the points I agree with. Too much to discuss here, but you can listen to the show in Marilu's show archive online. If you are interested in vegan nutrition, this show is for you! Date: July 31.