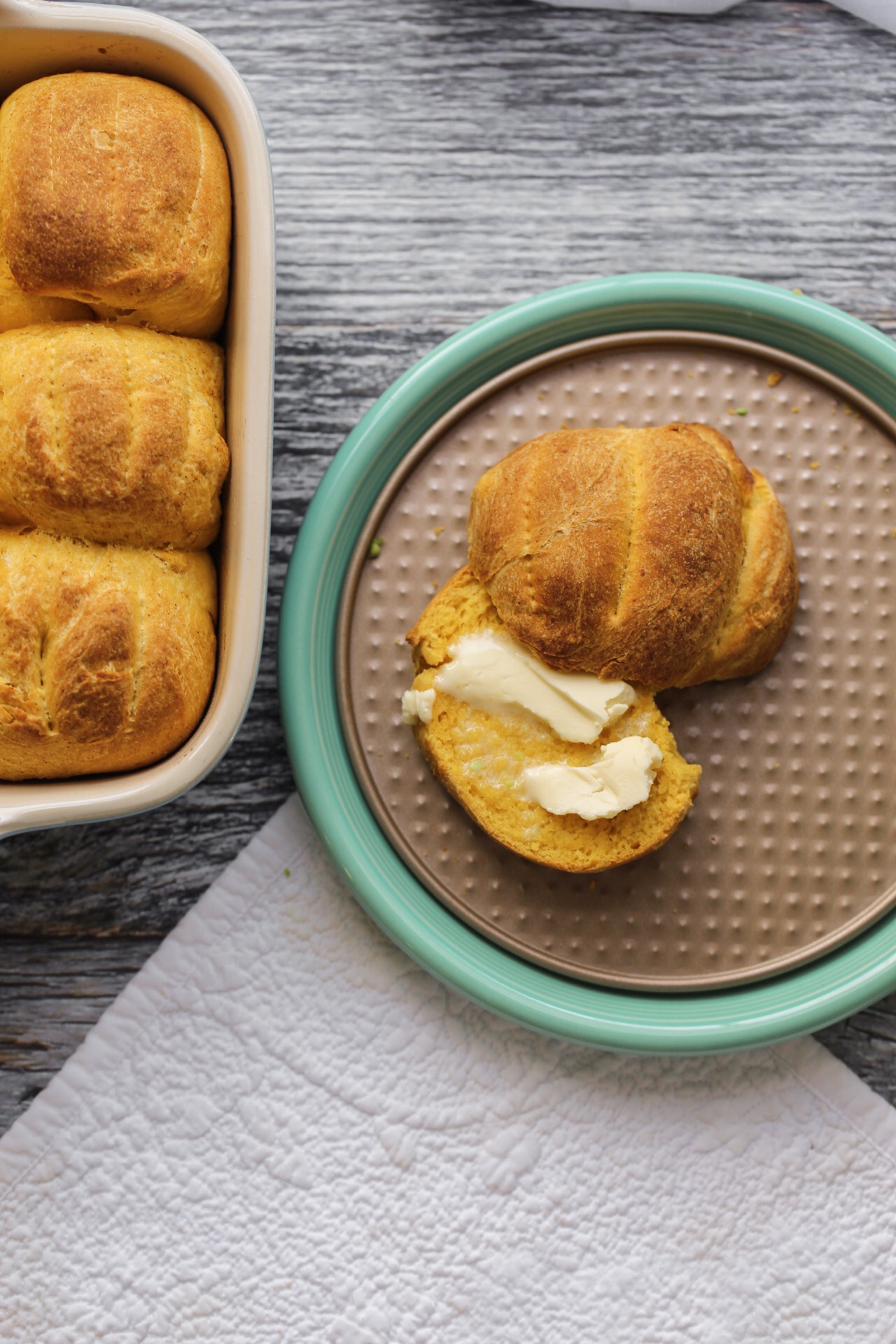 These Soft Sweet Potato Rolls are perfect for the holidays. Fluffy rolls are an essential part of any special meal. They tie everything together and add a bit of coziness. You can add butter, jam, EVOO or just serve as they come.
These Soft Sweet Potato Rolls are made using simple ingredients. They are yeasted so that they bake up extra fluffy and soft. You can absolutely make these a few days in advance and do a second bake on the day you serve them. Just like many store-bought rolls allow you to do.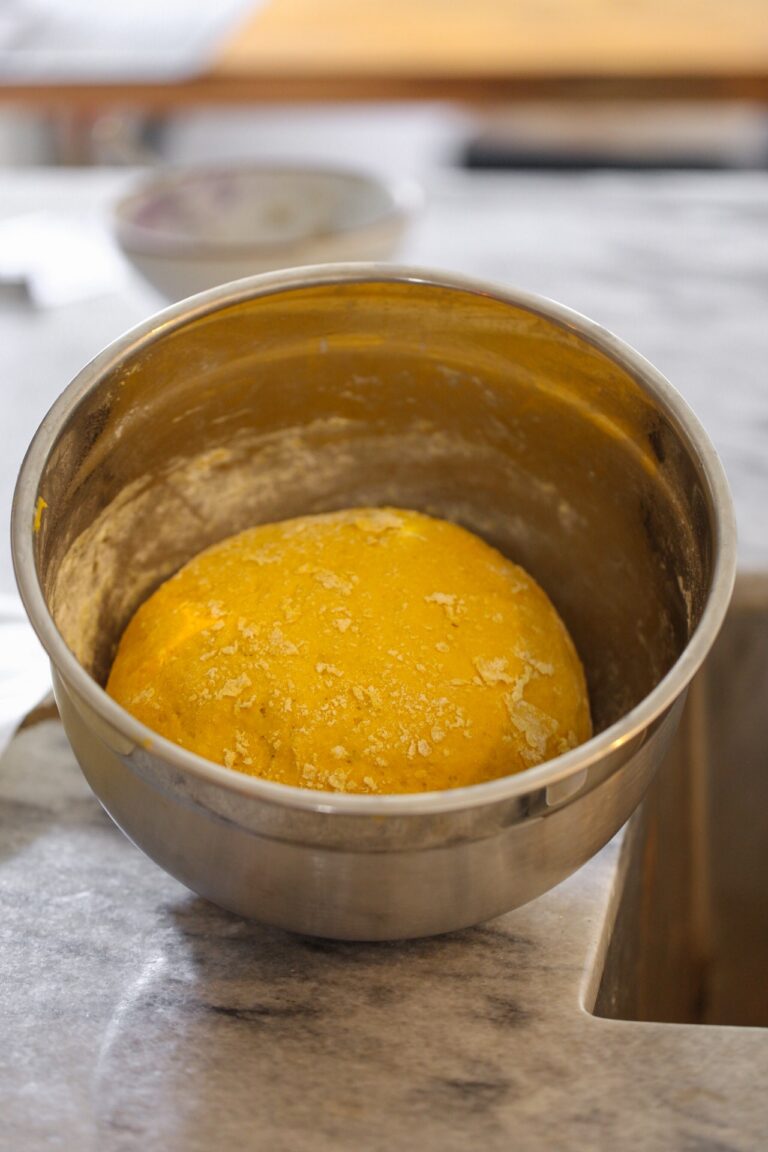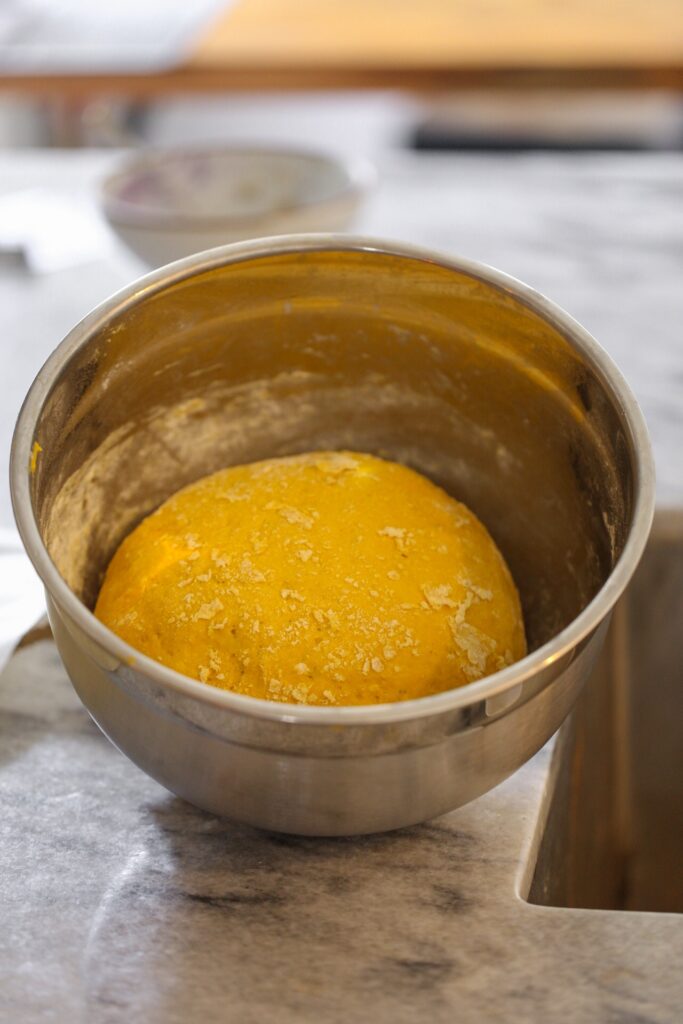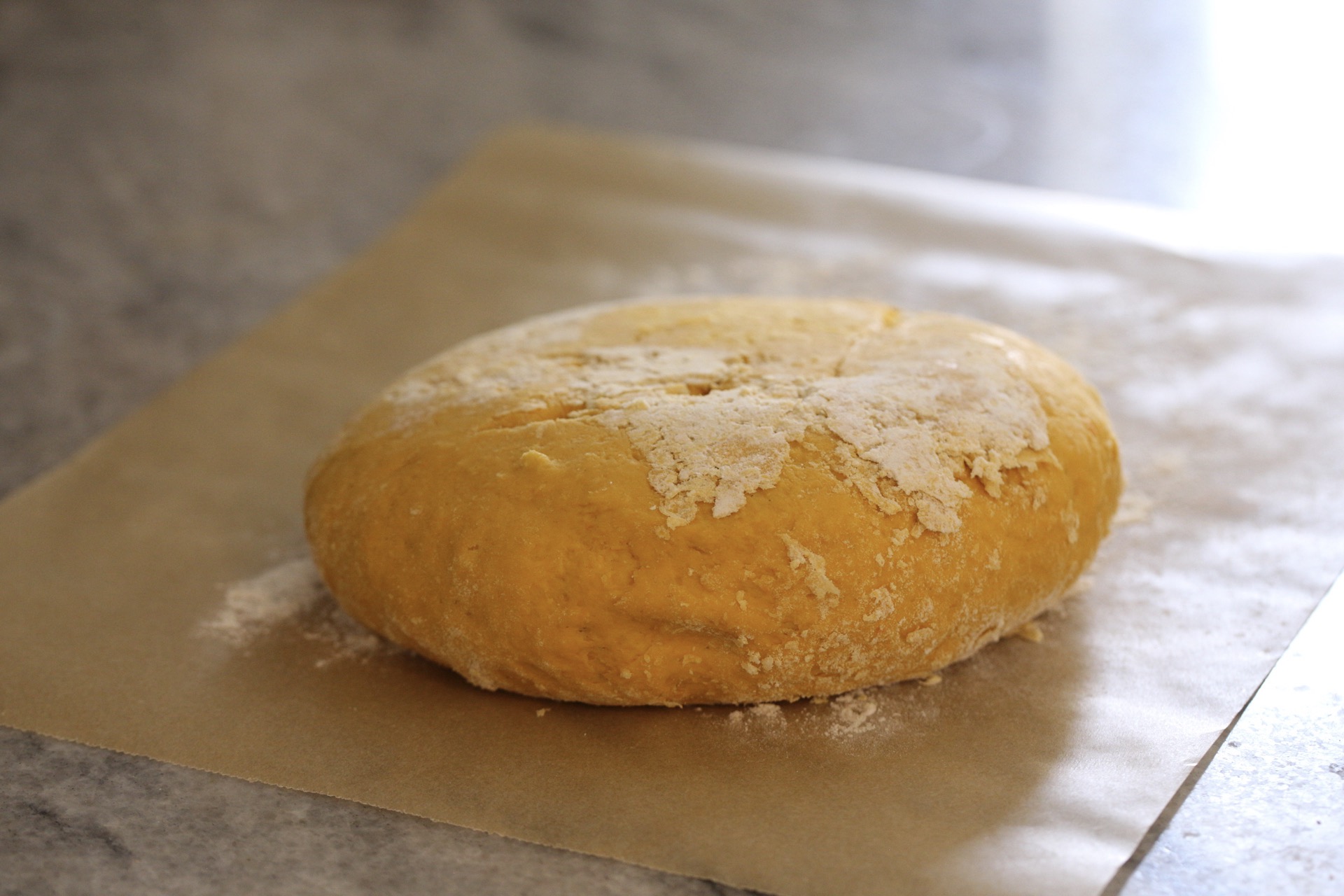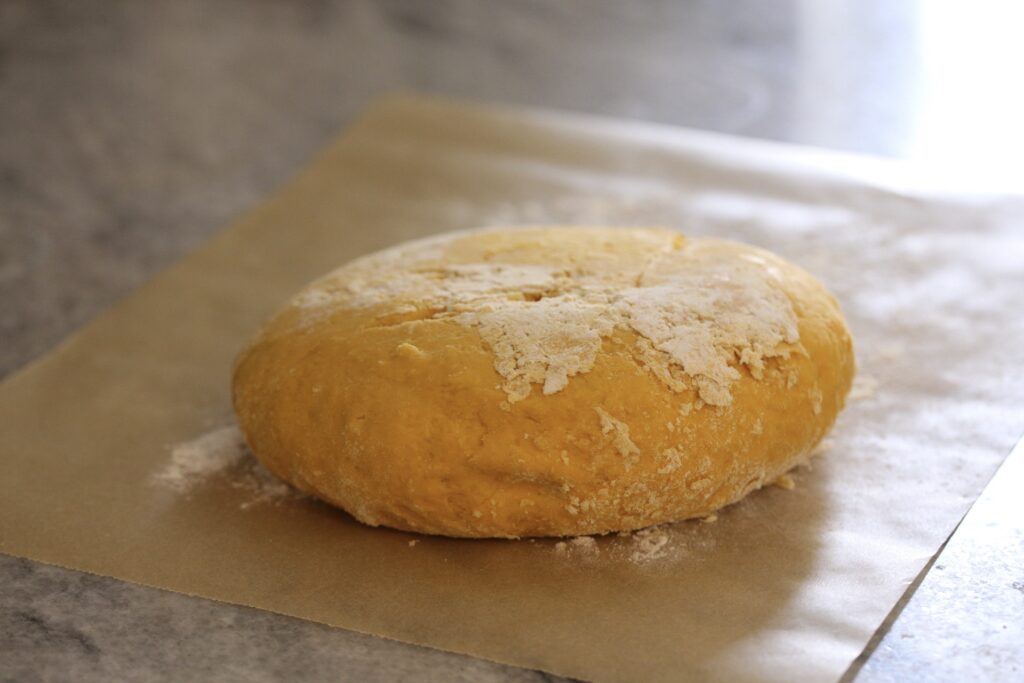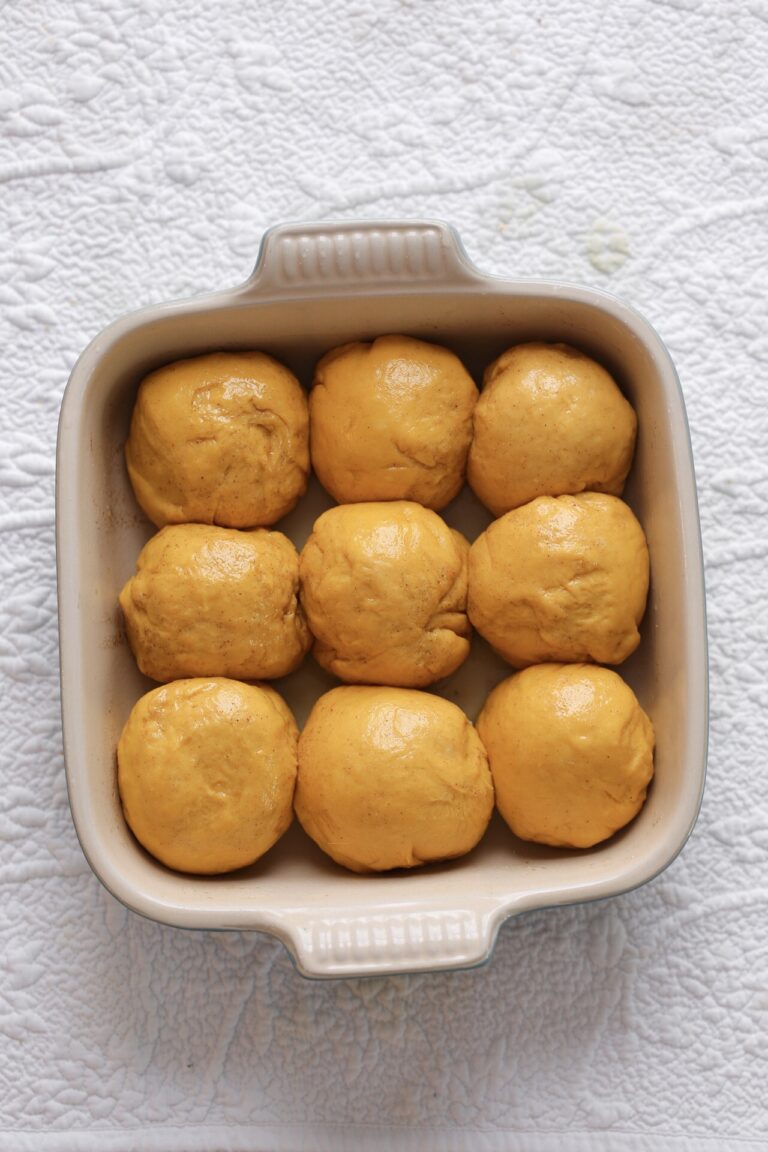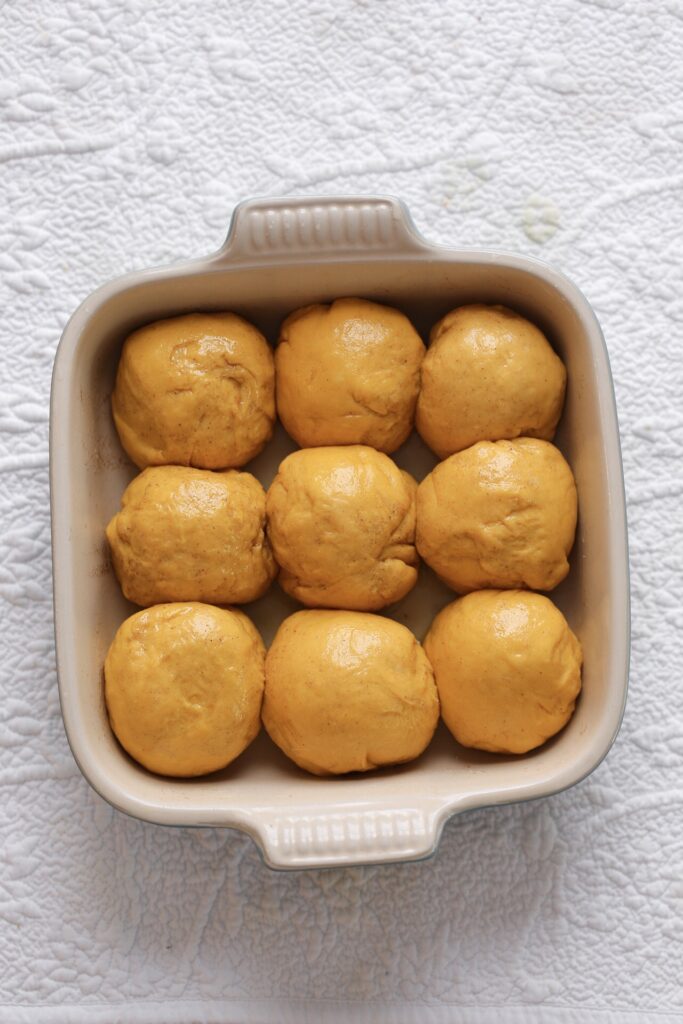 Sweet Potato Rolls – dough balls all ready for scoring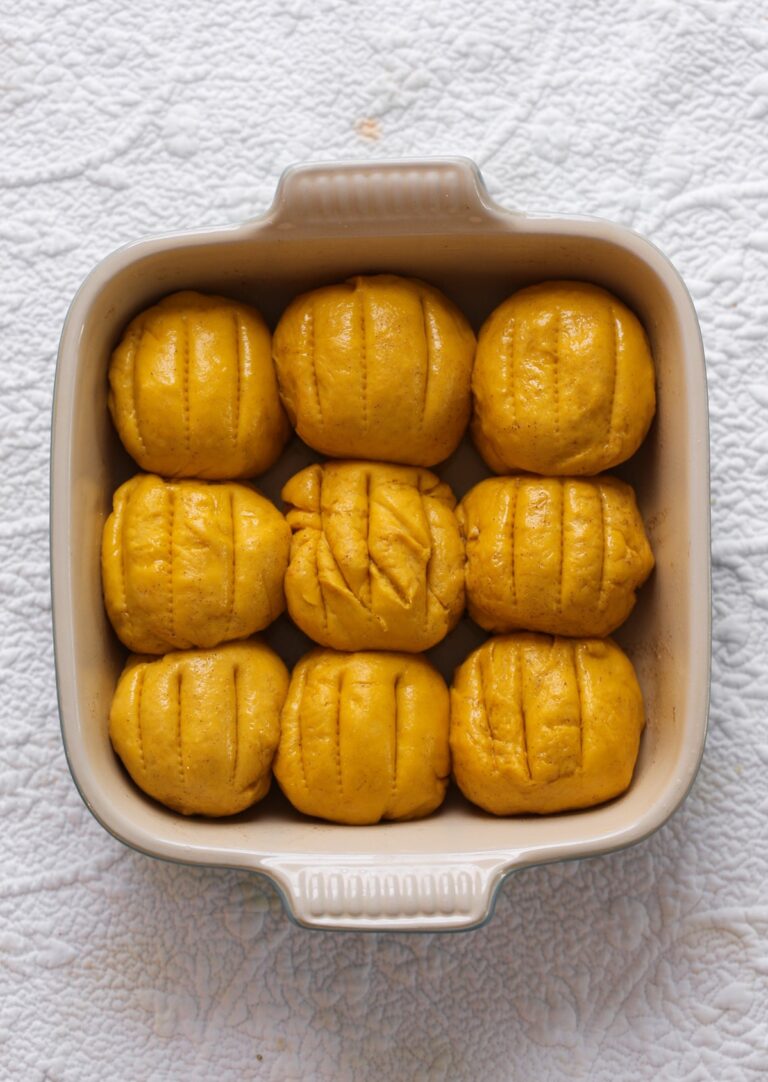 …scored rolls, ready for baking
Baking Rolls: Skill Level.
I am not an expert bread baker, but that doesn't mean I cannot whip up some homemade rolls, biscuits, pizza dough and more when in the mood. I hope that you feel the same way! Baking bread is most certainly a craft. A skill that you can harness and develop. Like any other skill, you will get better the more you do it. But if you are like the average cook, you probably just want to have the pleasure of serving homemade rolls with your meal. Well, this recipe is here for that.
These sweet potato rolls are pretty hard to mess us. They have a gentle rise and are sturdy in the oven, making them hard to burn. Instead the tops kind've caramelize into a golden brown, getting more crisp and light as cooking time goes on.
This sweet potato dough doesn't have to be baked into rolls. You could also experiment with forming it into a load or even cutting it into biscuit shapes. However, for biscuits, usually like a higher amount of vegan butter.
Holiday Rolls
These fluffy rolls remind me of the plain white, top-scored rolls we would always have at Thanksgiving and Christmas dinner. Only these are extra special because they are homemade and they have a beautiful golden color that will look lovely on any holiday table.
Get all my Thanksgiving recipes here!
Double Baking
My preference for these rolls is to make the dough few days ahead of time. Bake it for about twenty minutes. Then freeze or chill the half-baked rolls. Then I pop them back in the oven – the day I want to serve them – to cook for another ten to fifteen minutes. Note: If you freeze the half-baked rolls, you will want to thaw them out for 10-20 minutes before popping them in the oven.
Scoring Dough
Adding crevices and lines, designs and shapes to the top of your dough is a pretty simple process. The trick is to use a very sharp knife to make the dents. Fancy bread bakers can even get their hands on a scoring kit.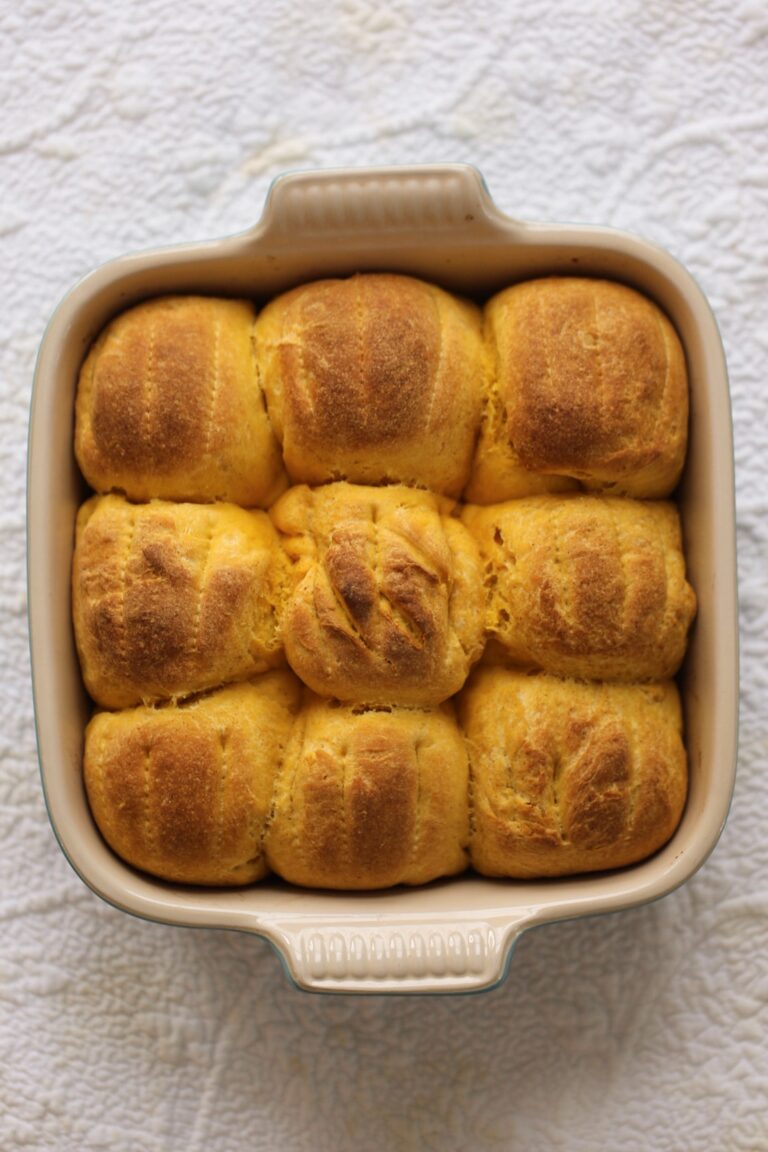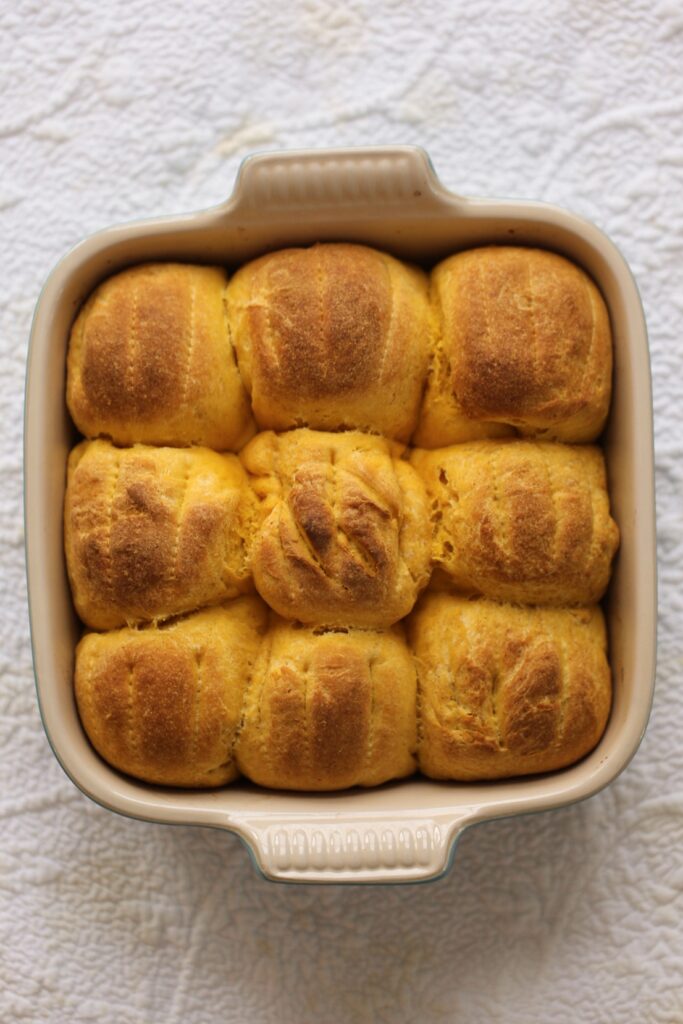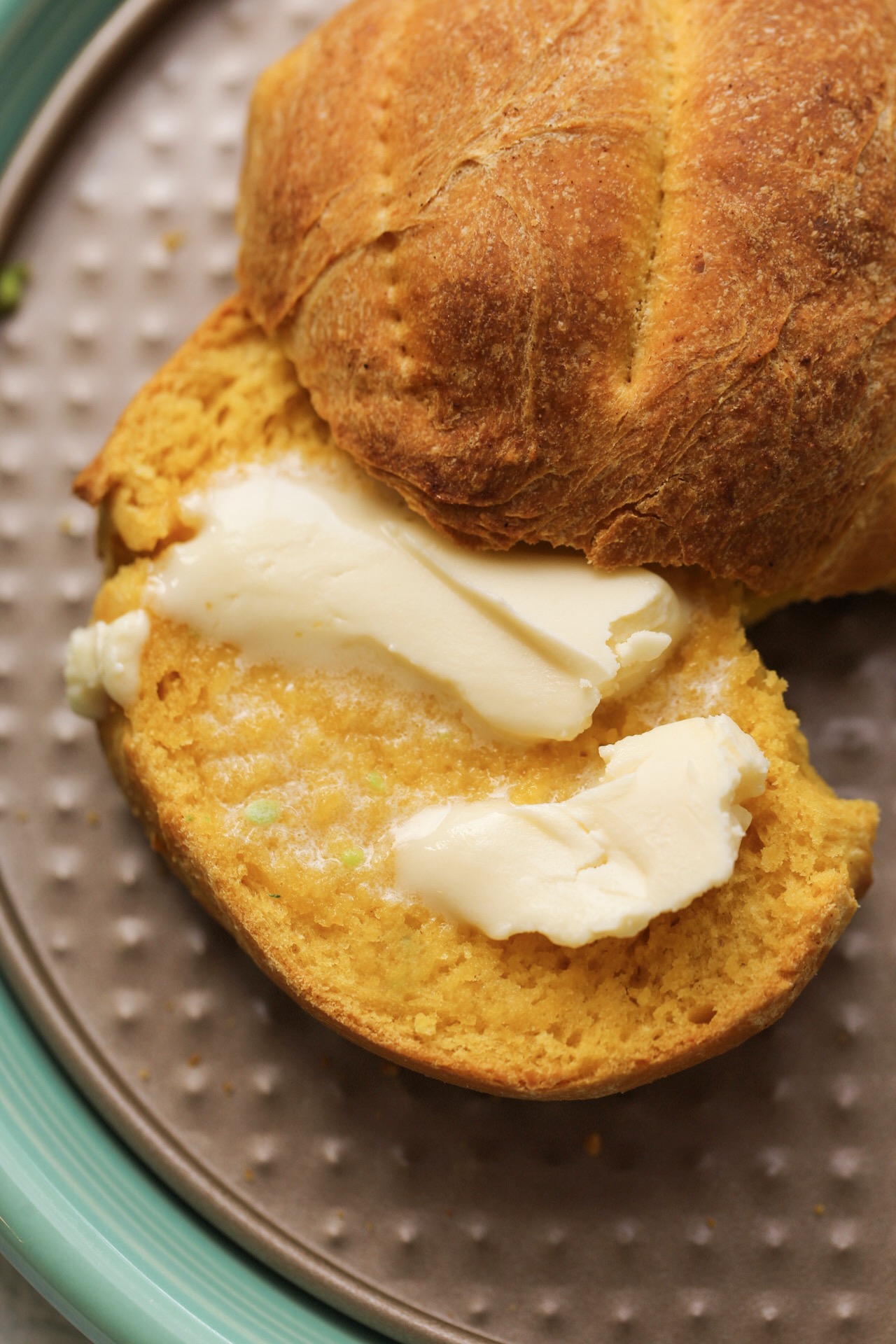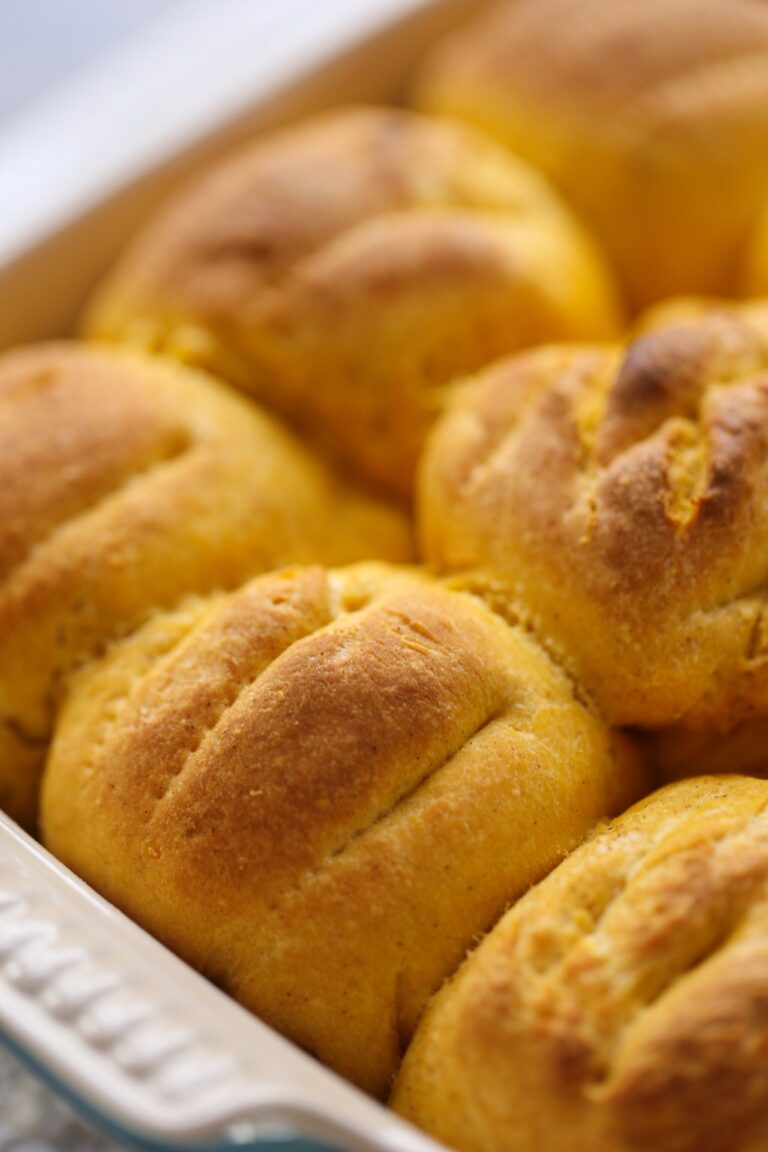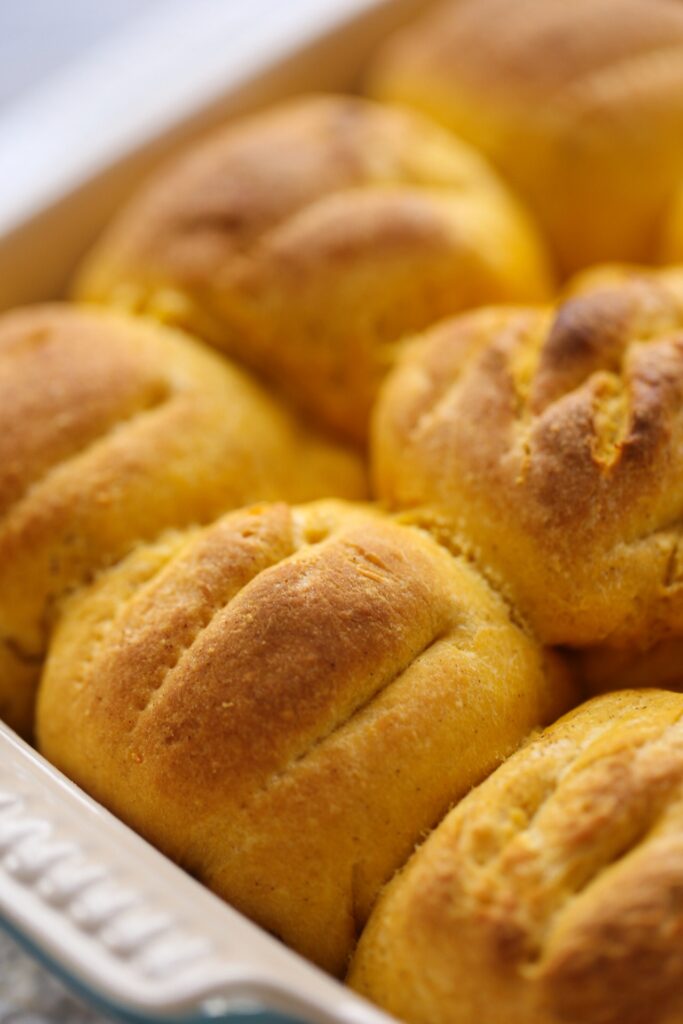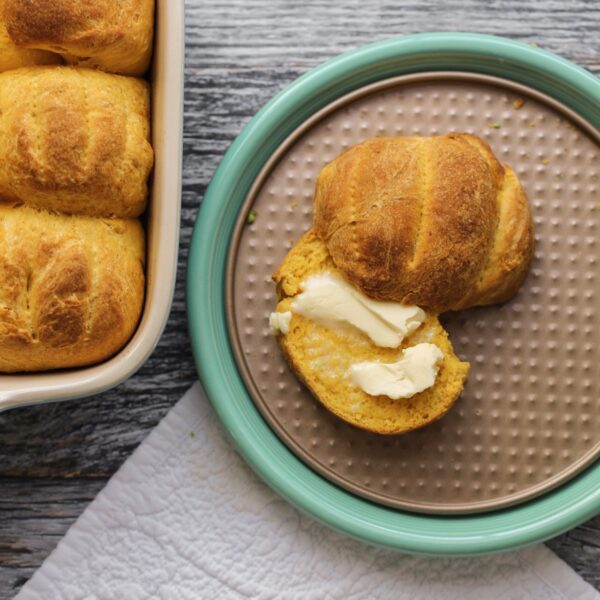 Soft Sweet Potato Rolls
These fluffy rolls are golden orange and bake up soft and light. Perfect addition to any meal. Makes 9 large rolls or 18 small.
Print
Pin
Ingredients
blender:
1

cup

mashed sweet potato

⅓

cup

vegan butter

,

melted

3

tablespoon

pumpkin seeds

¾

cup

soy milk
stir together:
2

tablespoon

maple syrup

2 ¼

teaspoon

active dry yeast

,

= 1 packet

¼

cup

warm water
fold in:
½

teaspoon

salt

4

cups

flour

,

all purpose or bread flour
Instructions
The first thing you will need is a baked sweet potato. You can either bake a medium sweet potato in the oven for 35-45 minutes, or microwave it until tender.

In a large mixing bowl, stir together the warm water and yeast. Stir in the maple syrup as well. Note: Make sure your syrup is about room temp. Let the yeast mixture sit for a few minutes.

While the yeast mixture sits, mash your sweet potato flesh and measure out one cup. Add the sweet potato, pumpkin seeds, vegan butter and soy milk to your blender. Blend from low to high until smooth and silky.

Pour the sweet potato blend into the large mixing bowl, with the yeasted mixture. Stir to combine. Then add in two cups of the flour and the salt. If using a stand mixer, you can use a dough hook, but stirring by hand with a large wooden spoon also works. Add the remaining two cups of flour, one cup at a time. You can now start kneading the dough in the bowl, with your hands.

Turn out the dough onto a cool smooth surface like a marble countertop. You can also use a piece of parchment. Knead by hand for a few minutes to smooth out the dough and activate the gluten in the flour.

Transfer the dough back into the mixing bowl. Cover with some plastic wrap and place in a warm spot in your kitchen. Allow to rise for one hour – or until about doubled in size.

Lightly grease a square or round baking dish with extra virgin olive oil. (A 7×7, 8×8 or 9×9 dish will work.) Other option: You can also use a basic baking sheet for a more flat and wide roll.

Transfer the risen dough back to your work surface. Separate or cut the dough into nine equal pieces.

Using your hands, roll the dough pieces into balls. Stretch the smoothest side of the dough so it faces up in a nice round shape. Fold the excess dough at the bottom. Tuck the dough ball into the baking pan. Repeat with all the dough. Optional: Score tops of the dough with a knife if you want patterned lines.

Preheat oven to 375 degrees.

Cover the pan with plastic wrap and allow it to rise for another 30 minutes.

Same day serving: Bake rolls at 375 degrees for 30-35 minutes, or until tops are golden brown. Double Bake Method: Bake rolls for 20 minutes, 375 degrees. Then the day you want to serve them, bake for ten minutes at 350 degrees.

Serve warm! Store leftovers in the freezer.
nutrition estimate | per serving
Calories:
155
kcal
|
Carbohydrates:
25
g
|
Protein:
4
g
|
Fat:
4
g
|
Saturated Fat:
1
g
|
Sodium:
101
mg
|
Potassium:
100
mg
|
Fiber:
2
g
|
Sugar:
2
g
|
Vitamin A:
1229
IU
|
Vitamin C:
1
mg
|
Calcium:
22
mg
|
Iron:
2
mg