This easy Spring Fruit + Avocado Salad has avocado, sweet mango, fragrant red strawberries, healthy hemp seeds, spicy arugula and a lively maple-mustard dressing. (Funny thing is, this salad is so flavorful, the dressing is actually optional. A little spritz of lemon and some EVOO and you could be good to go.)
Feel Good Bowl. This cheerful bowl is packed with antioxidants, flavor and color! This is one salad you will just want to eat straight from the big bowl you tossed it in.
Fall in love with your salad bowl and try this salad this week..
It can be challenging to find time for greens when you are busy, stressed and really just want to eat a slice of toast with some nut butter on it and be done witn it. Or something packaged. Or frozen. Or something that comes in a plastic bag. But the truth is, prepping a salad like this one is incredibly easy. We just need to motivation to try it!
I really hope this post inspired you to whip up a salad like this for lunch or dinner this week.
Lunch Salad. This is my favorite lunch salad of right now. For a few reasons:
1. Hydrating. First off, it is hydrating, Adding fruit to your salads actually adds a good amount of water content, so your salad ends up being a bit more hydrating than if it didn't have fruit. So if you aren't a huge water drinker, a salad with loads of fresh fruit can actually be a great way to stay hydrated during the day!
2. Flavor. This salad is loaded with flavor. Sweet and tart flavors from the mango and strawberries. Then you get a bite of spiciness from the arugula. And a sassy hit from the dressing. The salt and pepper adds even more flavor. And those buttery avocados smooth everything out. The hemp seeds really don't have much flavor. They really just add a bit of texture and nutrients galore.
3. Good Stuff. Antioxidants. Fiber. Protein. Healthy Fats. This salad is one to feel great about eating!
4. Fast! This salad actually only has five main ingredients, not including the dressing. And you could actually use whatever dressing you'd like. And to be honest guys, the fruit, avo and greens are SO flavorful on their own, you barely even need dressing! A drizzle of EVOO + lemon would totally do it too. And if you only have mango or only have strawberries, that is fine too. Or if you want to try another fruit like sliced mandarin or blueberries or even apple – go for it!
5. Filling. The avocado and hemp seeds really gives this salad a filling quality to it. Plus, it is rich in fiber. IF you want even more heartiness to this salad some great adds would be:
– tempeh bacon
– skillet or plain chickpeas
– skillet tofu cubes
– toast with hummus
– pecans, cashews or walnuts or another nut
Subs? You can easily sub in and out ingredients too. In place of hemp seeds, any seed or nut will do.
Salt? This salad is best when a bit of sea salt is added. I have a really lovely salt that I brought back from Croatia last fall. It has a few fragrant herbs embedded in the salt and is great for enhancing a salad. A basic pink or good sea salt will also do. Pepper is another great add for bringing out the natural flavor of these ingredients.
If you like this salad, you will probably love this one as well..
Hope you guys love this one! Enjoy and I hope you have a happy, healthy week.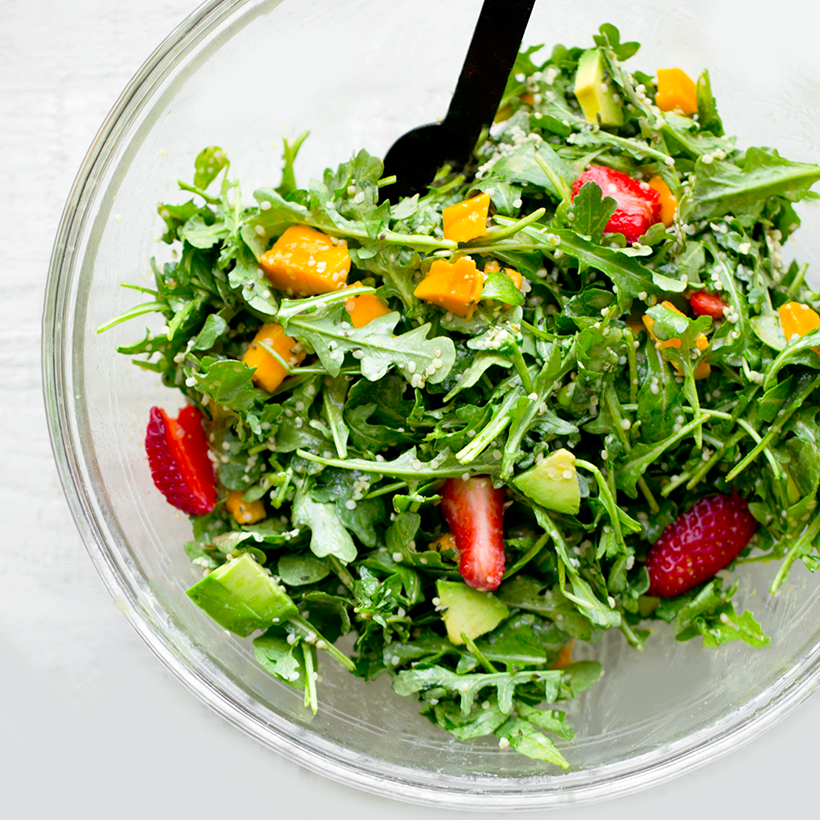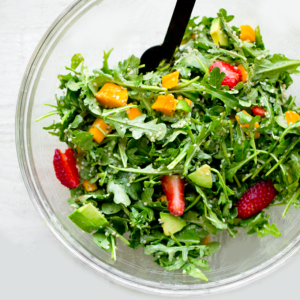 Spring Fruit + Avocado Salad
This fragrant and colorful spring salad has avocado, fruit, arugula and healthy hemp seeds. Perfect lunch salad for spring. Vegan, gluten-free.
Print
Pin
Ingredients
1

avocado, diced

5

oz

arugula

1

mango, diced

1

organic strawberries, sliced

2-3

Tbsp

hemp seeds

⅛

tsp

pink salt

a few pinches of black pepper

Dressing: either lemon/EVOO or Maple Mustard Dressing to taste
Instructions
Add the arugula to a large mixing bowl. If desired, use kitchen shears to cut the arugula a bit.

Add the avocado, salt and pepper, hemp seeds and dressing – just a tiny bit of dressing to start. Toss well. Let the avocado soften the arugula a bit.

Fold in the mango and strawberries. Serve!
nutrition estimate | per serving
Calories:
330
kcal
|
Carbohydrates:
28
g
|
Protein:
10
g
|
Fat:
22
g
|
Saturated Fat:
3
g
|
Polyunsaturated Fat:
8
g
|
Monounsaturated Fat:
11
g
|
Sodium:
173
mg
|
Potassium:
932
mg
|
Fiber:
10
g
|
Sugar:
17
g
|
Vitamin A:
3027
IU
|
Vitamin C:
62
mg
|
Calcium:
159
mg
|
Iron:
4
mg
Perfect dressing to try on this salad:
Pin it for later: