Well I have to say my Summer 15 Challenge (15 new summer recipe posts in 30 days!) has been harder than I thought. Only because come summertime, posting gets harder and harder simply because there is so much more to enjoy outside, under the blue sky than in front of a computer.
But hey, a girl has to eat, right?

So on this busy Friday, I returned home from a quick beach morning with a friend, and I knew I had to post something to keep to my schedule. And I was also hungry for a late afternoon lunch. So, as often happens, lunch became work! This Chili-Lime Mango-Avocado Quinoa Power Salad is so flavorful, cravable and energizing with juicy summer mango and buttery avocado, all soaked in zesty lime juice and a hint of smoky paprika. Protein and fiber-rich quinoa tosses with yummy spinach and a few black bean tortillas on the side. I loved this easy vegan lunch and hope you do too!..
A really yummy addition to this salad would be: skillet plantains. YES. Just a thought.
So what do you guys have planned for this weekend? I have to say, I am happy to be untethered to anything too adventurous. Bring on a lazy weekend speckled with work projects and some fun outside.
Oh and the Game of Thrones season finale! Exciting.
This salad reminds me of one of my faves: Mango Arugula Avocado Macadamia.
This is recipe #12 in the Summer 15!..
Summer15 HHL Recipes:
1. Corn Fritters with avocado salsa.
2. Pink Flamingo Cheesecake Bars
3. Summer Salad in a Jar
4. Copycat Green Tea Frappuccino
5. Sticky-Sweet BBQ Apricot Tempeh Salad with avocado
6. Avocado Hamil-toast (avocado toast with skillet plantains)
7. Cherry Pie Cookies
8. Mother of Dragonfruit Smoothie Bowl
9. Almond Butter S'mores
10. DIY Pink Drink
11. Cheezy Sauce for Pasta with Kale
12. Summer Salad: Chili-Lime Mango-Avocado Quinoa Power Salad
13. Vegan Peanut Butter Cookie Ice Cream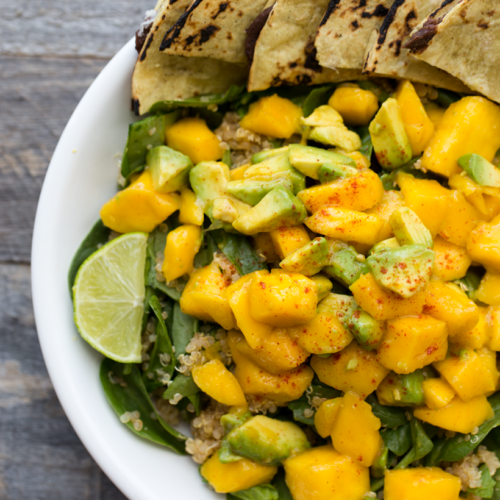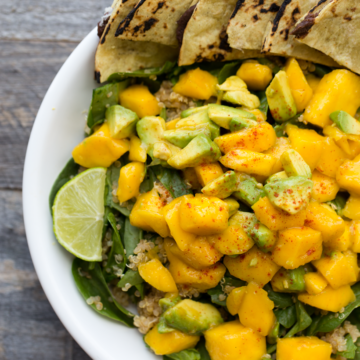 Chili-Lime Mango-Avocado Quinoa Power Salad
This power salad is flavorful and fueling with juicy mango and buttery avocado soaked in lime juice on top of a quinoa spinach salad. Optional black bean tortillas on the side.
Print
Pin
Ingredients
2 cups baby spinach

1 cup quinoa, warm

1 mango, diced

½ avocado, diced

1 lime

smoky paprika and/or cayenne

dressing – optional (any flavor – try no-honey mustard)
Black Bean Tortillas:
⅓ cup black refried beans, hummus or mashed black beans

2 corn tortillas

½ teaspoon nutritional yeast or a pinch of vegan cheese (optional)

Side: hot sauce
Instructions
Add the mango, avocado and juice of ½ lime to a large mixing bowl, toss well. Add ⅛ teaspoon smoky paprika. Toss. (Tip: for extra spiciness add a few pinches of ground cayenne pepper.)

Pour the mango mixture into a side bowl.

In the same large mixing bowl, add the spinach and quinoa, toss well. The warm quinoa will lightly wilt the spinach. Add whatever dressing you'd like — but dressing is actually optional because the mango topping is so full of flavor.

Pour the spinach mixture into your serving bowl. Then top it with the mango mixture. Add a sprinkle of smoky paprika on top.

Optional: garnish with easy quesadillas. I simple warm the tortillas on my stovetop to blacken, spread the mashed beans or refried beans or hummus on top — add the cheese or nutritional yeast – and close with a second tortilla. Slice and arrange alongside your salad serving bowl.

Serve salad with hot sauce.