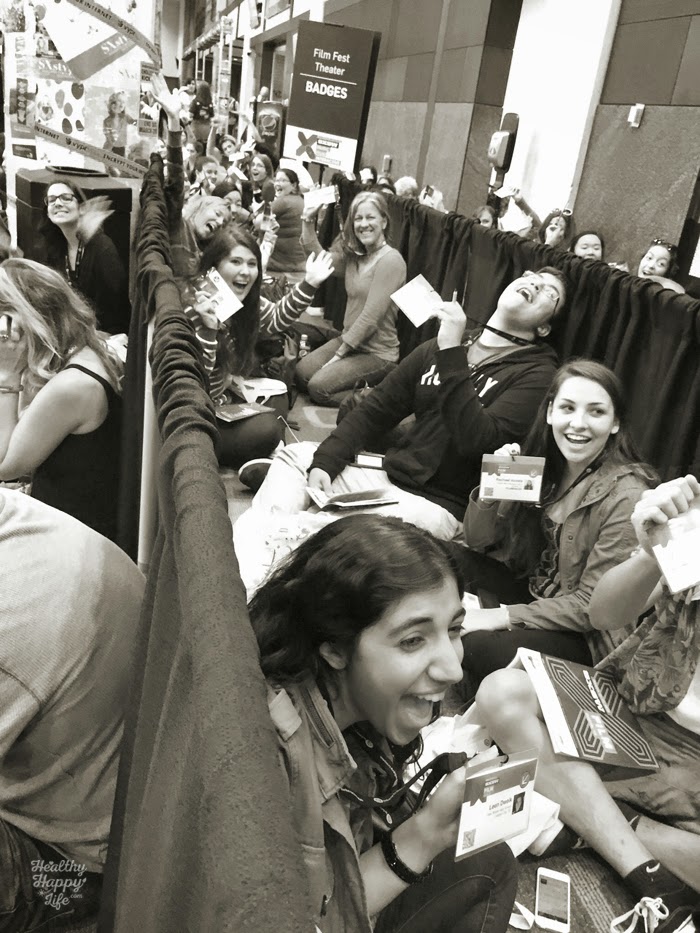 Last week I had an amazing experience traveling to Austin Texas to attend South by Southwest 2015, aka SXSW. I submitted my "vegan meetup" session to the panel picker and I was thrilled when it was chosen to be an official SXSW event. So having never been to Austin or SXSW before I packed up a bag and flew out to Texas for an adventure…
My SXSW Video! must watch…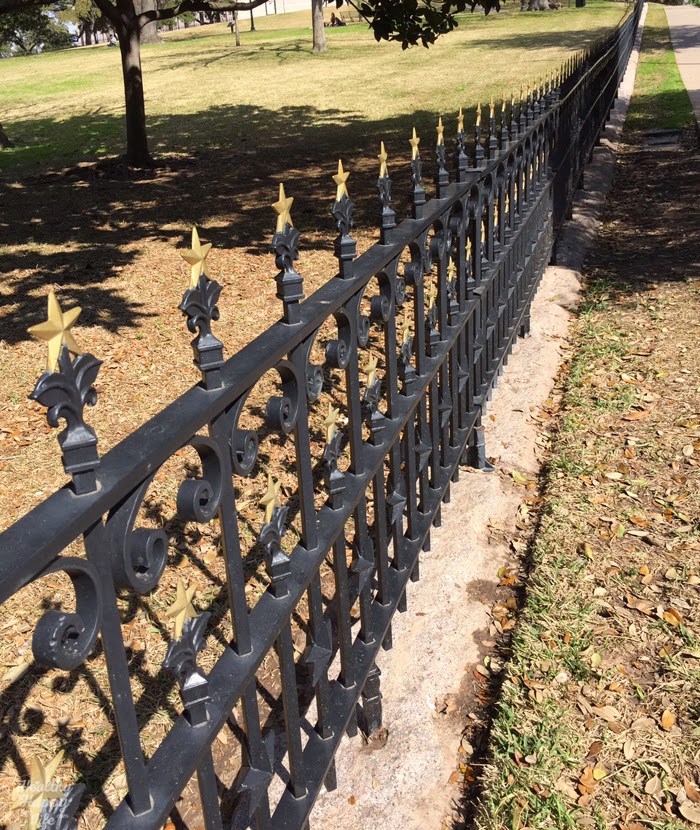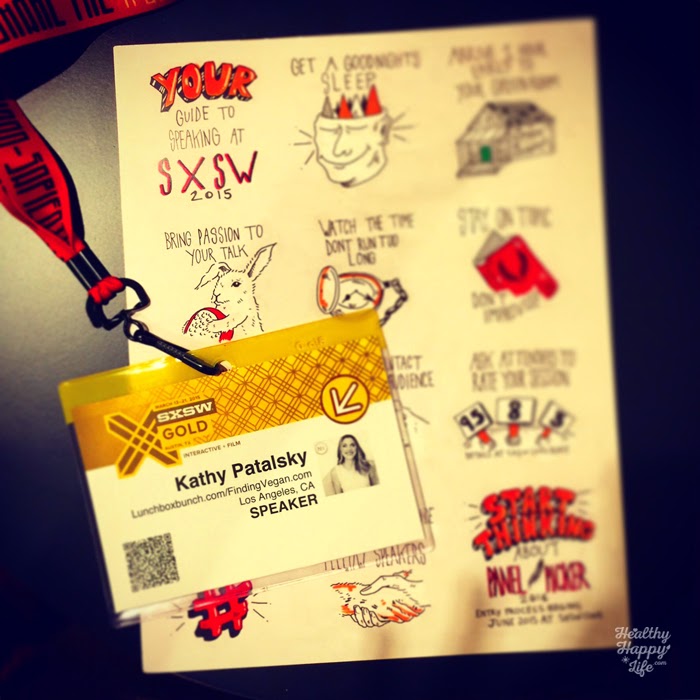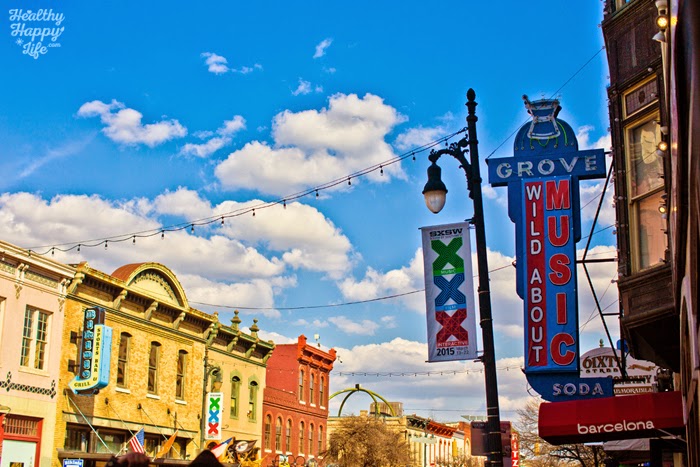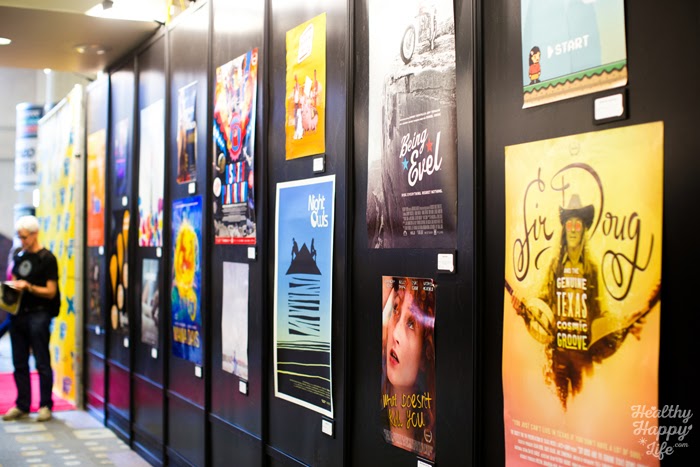 An adventure it was! I checked into my hotel on Thursday morning, the day before all the action was set to begin. I headed out into the sunshine and spent a few hours walking all around Austin's downtown area. I was surprised by how vacant the streets were! But I knew tomorrow would be a different story, so I embraced the calm quiet on the street corners, and non existent line at Starbucks as I grabbed a soy matcha latte, sipped and strolled.
Fun fact: the SXSW music conference and festival (as it was called back then) was started in 1987! SXSW has since branched out to include film and interactive events, aka tech industry type offerings. And SXSW even has events outside of Austin. SXSW attracts celebrities, tech superstars, film makers, musicians, foodies and more. It is a melting pot of creative geniuses in the beautiful rustic and lovable town of Austin.
Austin is beautiful, dusty green lawns, powder blue sky and wide, peaceful horizons.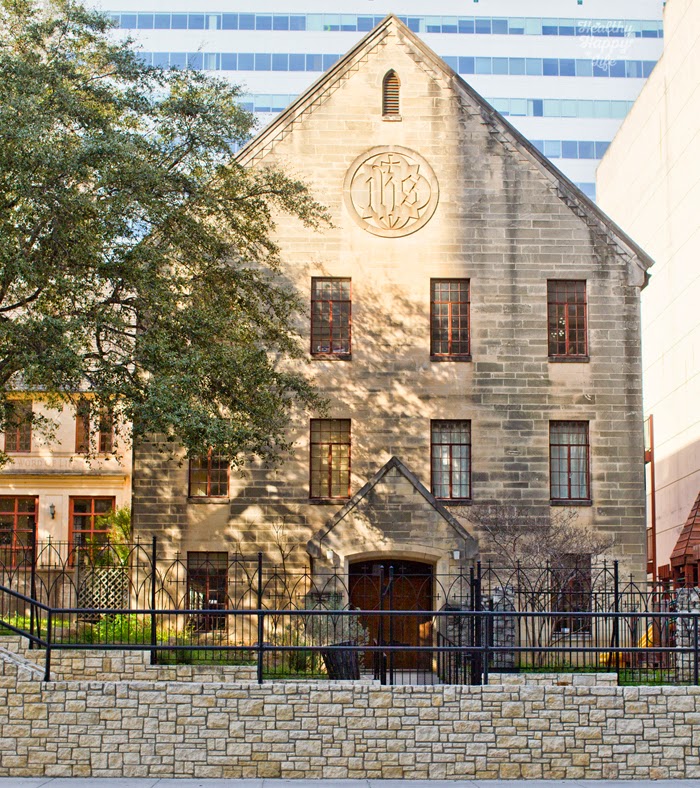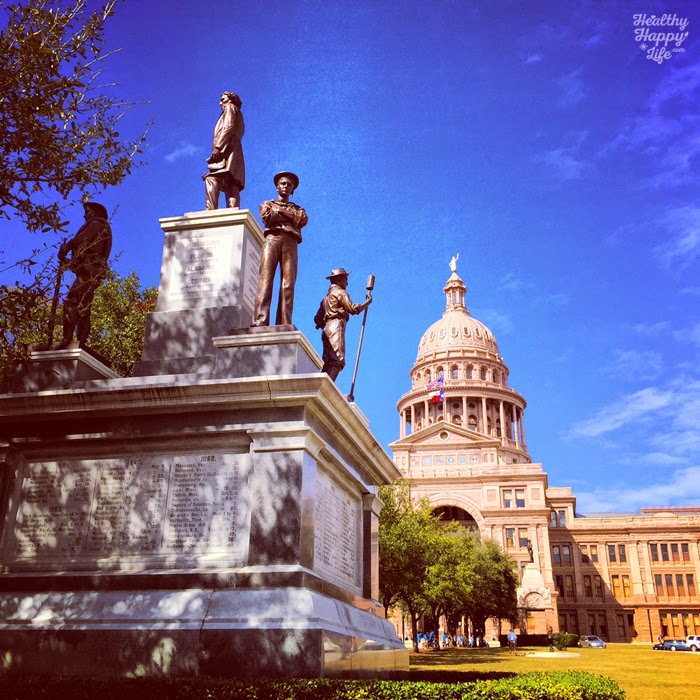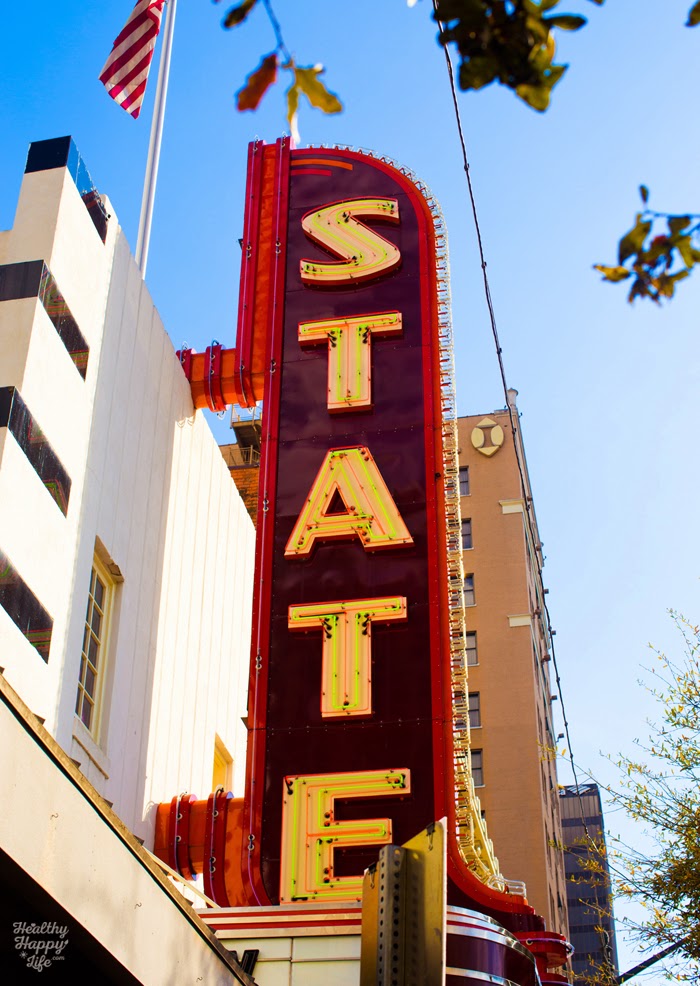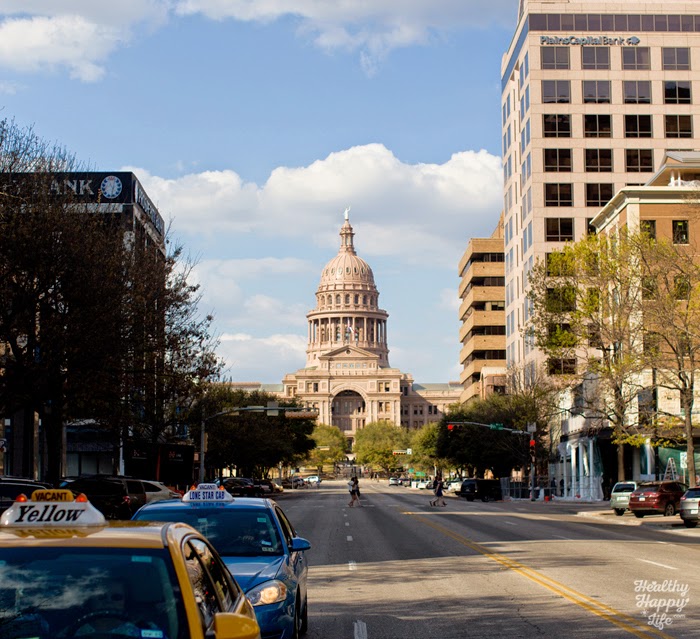 The second I stepped out of the hotel I heard something whistling. I was a bit caught off guard and thought it was a person, but it was a bird. Or more specifically, a grackle! They are everywhere, and they love to make noise all day and even night long. They have curious little faces that remind me of a dinosaur in an odd ancient way. They are curious little guys with a lot of gusto and character. Hello little guy..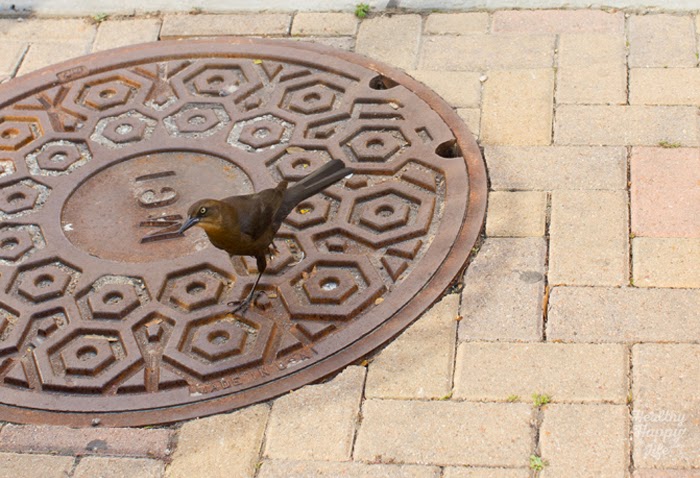 The sun was hot and I skipped back to the hotel for some rest. But sadly I realized that my hotel room was actually quite dusty, and as silly as it may sound, I am actually horribly allergic to dust. Whenever I get pricked for allergy tests for dust, I swell up like a balloon and the doctor's eyes pop out in horror. So a dusty hotel room is a no-go for me. I tried to stick it out, but after a few hours I was wheezing like crazy and my skin broke out in a rash.
So like any good techie at SXSW, I whipped out my iPhone, and used my trusty Hotels.com App to book a room in another hotel, at the brand new JWMarriott, for one night. Luckily, Thursday night was still reasonably priced (for a last minute beautiful hotel room at SXSW!), and I knew that this brand new hotel would NOT be dusty. I couldn't stay at the JW on Friday (the next night) because the Friday night room rate jumped to $1100. Yup, seriously. The "W" hotel next door was up to $1295. Those are four digits guys. I knew I stepped into the SXSW version of the twilight zone when I started searching hotels and the $400 rooms looked like bargains! Lesson learned: book early for SXSW!
So I Uber-ed over to my new hotel, getting into a nice long chat with my Uber driver about how packed the streets were beginning to get already. But from all the dust and my wheezing I was feeling pretty crappy.
But the JW revived me. I am in love with those sleep floors in the gorgeous twinkling lobby. It was glowing, alive and vibrant with energy. People were dining at the bar, checking into their rooms and prepping for the madness that would ensue tomorrow. I was so happy to be able to stay in that hotel for one night! It is such a gorgeous space and it was also where my Vegan Meetup event was located the next day so it was perfect.
I checked in and glanced over to my right to see (I think!) Rachael Ray checking in. She DOES do an event at SXSW every year so I think it was actually her. Was that you Rachael? I know she must read my blog, right?
I went up to my JW room and felt a million times better! The room was gorgeous and sleek and so clean. I took a hot shower and ordered room service. They had a vegan-friendly farro and kale entree and I ordered the trio of dips, getting two salsas and one guacamole, nixing the queso. I also ordered a pot of hot chamomile tea. It was perfection…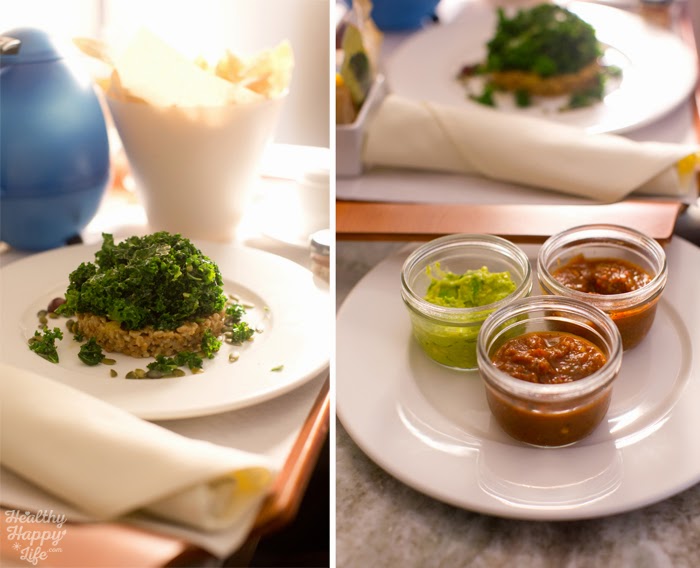 I fell asleep staring at the twinkly lights of Austin and the night sky painted a deep navy blue above the winding Colorado River.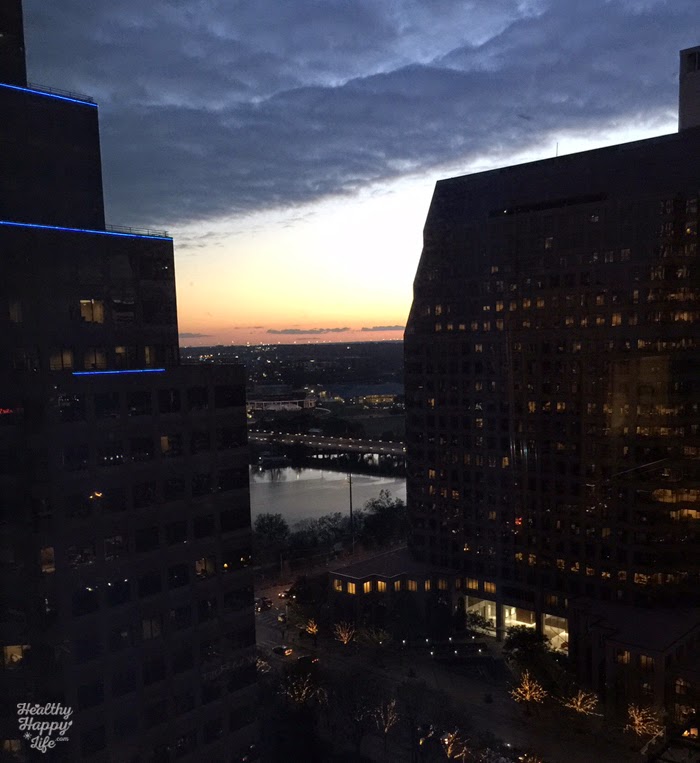 I woke the next day to a beautiful sunny day.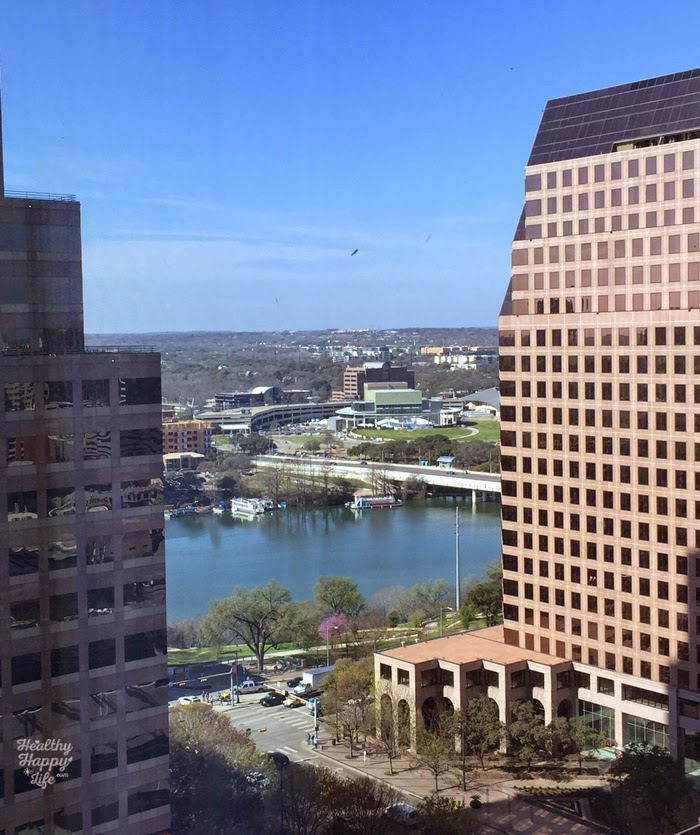 Wow! I was shocked by the change on the streets. It was like Christmas morning and instead of presents, Santa Claus dropped people on the streets! The sidewalks were overflowing. So many characters. I expected all hoodie-wearing tech people at this part of the conference, but I saw sleek suits, dark sunglasses, elegant ladies, hipster types, young college students carrying posters and handing out flyers, and of course plenty of hoodies and t-shirts and jeans and badges everywhere. From low brow to high brow and everything in between, SXSW attracts us all.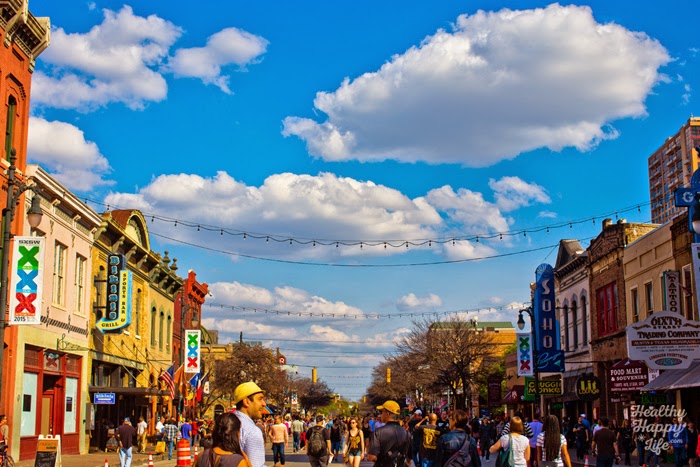 Day One SXSW. I spent my first day at SXSW attending a few events, and mentally prepping for my meetup at 5pm. I wanted to check out the highly anticipated "Conversation with Ryan Gosling" event at vimeo Theater in the Convention Center. I reluctantly got in the long line even though there was still 90 minutes before the event. Just call these loyal, line-waiting ladies the Gosling girls..


I plopped on the floor behind the girls and loved the people watching and easy chatter that abounded. SXSW-ers are in general a pretty laid back, friendly crowd. And thank goodness I met some amazing people in line. My new friend, a film guy, we later realized was in my 4th grade class! Talk about a small world. Crazy.
Ryan Gosling was of course awesome. I loved hearing him and famed director Guillermo Del Toro talk about Ryan's new film Lost River. It looks beautiful and I cannot wait to see it. The preview was glistening with colors, textures and characters. And one person described it as a sort of "Dark Goonies." So, yes ok, that wins!
And his "Hey Girl" moment was pretty rad too. That is all on my SXSW YouTube video above!
Official Vegan Meetup. I was so excited to head over to the JW to host the meetup. I met up with Annie of VegAnnie.com, who I had been emailing with for the past few months about meeting up. I was SO happy when I realized that we were definitely going to be blogger bffs. She is sweetheart and sometimes you just connect with people immediately, and it was that way with Annie! Love love love her. She is a smarty too, studying hard at UT Austin to get her PhD in Nutrition. I loved hearing all about her wellness journey during our long chats pre and post vegan meetup. Back to the meetup!..
I was thrilled when the room was full of people all chatting and making friends…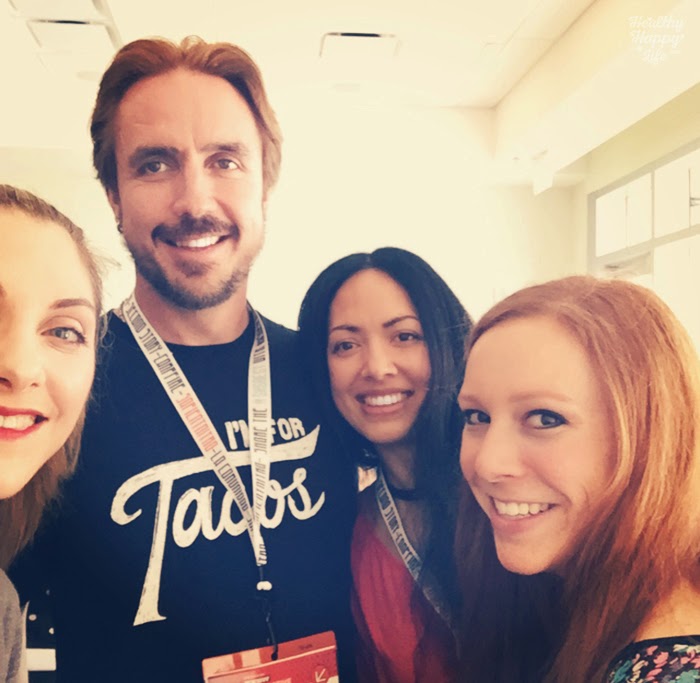 But I was a bit stressed because the cupcakes that I had ordered weeks ago were late being delivered, a courier problem stuck in traffic. So I spent most of the meetup on the phone with the bakery or apologizing to guests for the delay. There was one guy who was pretty annoyed that there were no cupcakes upon arrival, but hey, there is one in every crowd! My new meetup friends all assured me that everyone was happy and I didn't have to feel bad. I even offered to buy everyone a drink at the bar that was set up at the event. I had fun chatting and was very relieved when the cupcakes FINALLY arrived.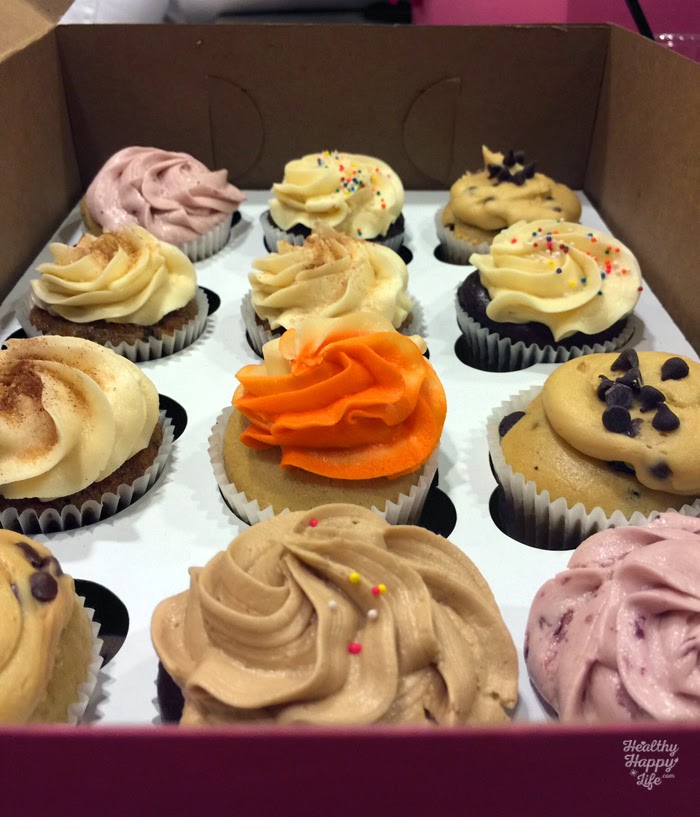 I want to thank Sugar Circus for the yummy cupcakes, better late than never, right?
But since they were a bit late .. OK … really late! We had leftovers. SO now I had a few dozen cupcakes to give away. I served out two boxes to the vegan meetup-ers. But we still needed a plan to distribute these leftovers.
But in order to plan our night we needed some down time. So after the room and hallway had cleared, Annie and I found a cozy spot in the ladies lounge on the fifth floor of the JW and sat by the mirror and ate cupcakes and sipped chilled water while charging our phones, texting and chatting. It was a perfect girlie moment.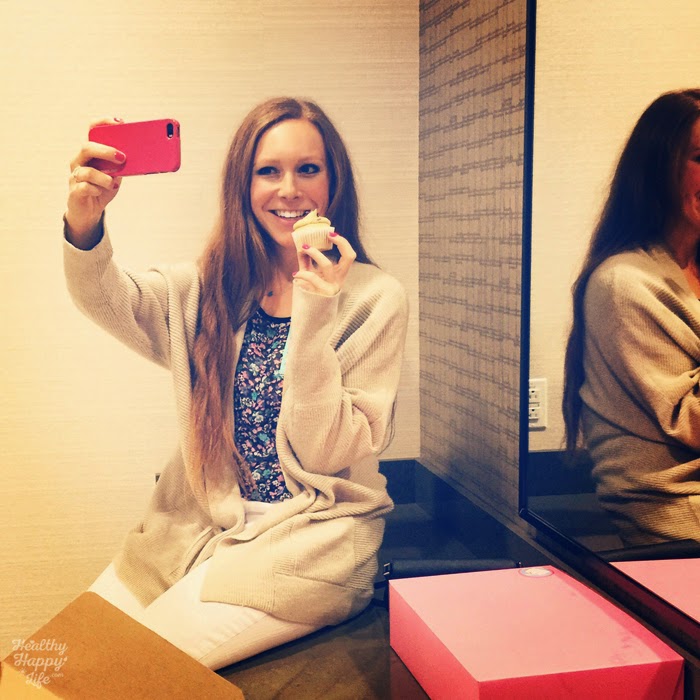 Then we decided to head out on the streets and try to give our cupcakes away. This proved to be more difficult than we had hoped. A few drunk boys happily grabbed a few, then we stumbled upon some Pedicab drivers who loved them. Then we met Jacob!
Jacob was randomly positioned at a busy corner when we energetically bounced up to him offering him a vegan cupcake. He said sure and then told us he was vegan. When he said that, I clicked on my iPhone camera and started rolling! I filmed our conversation and you can watch it in my SXSW YouTube video at top. This conversation was my very favorite at SXSW. So random and awesome.
So now at this point, having lived on cupcakes and drinks the past few hours, Annie and I were STARVING. So we pranced across the street to a Mexican spot called Manuels. Not "vegan" but it was packed with a lively crowd and they squeezed us into a cozy corner booth.
We ordered drinks, guac, fresh corn tortillas and split the portobello mushroom fajitas for two. Perfect!
AND the best party of the night was when we offered our waiter our leftover box of cupcakes. He took it back to the kitchen and said the cupcakes were gone in two seconds! That made us VERY happy. I think I just might take boxes of vegan cupcakes to busy restaurants more often for the hard working wait and kitchen staff!
Cupcakes …. gone! (SXSW magic trick)..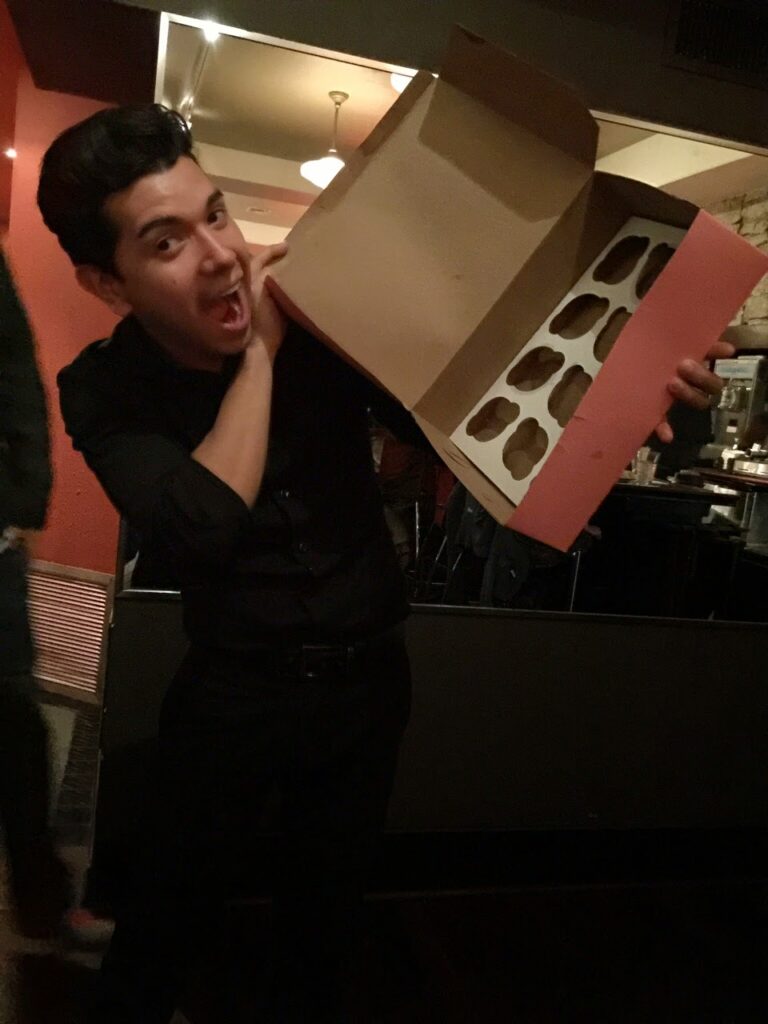 Fuzzy shot of our very yummy vegan dinner..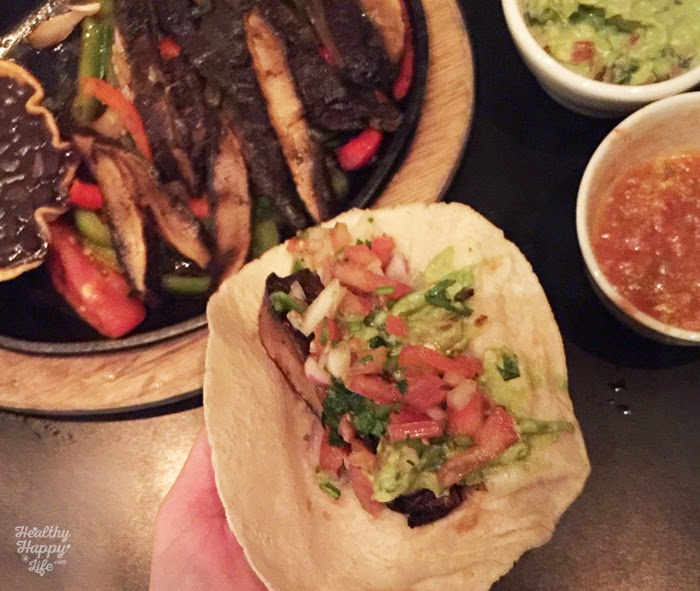 So next we headed out to check out the party scene. We went to some spot at the "W" where they were handing out capes, yes like superhero capes, and played loud crazy music. Then I ended up at a packed club where they played nothing but 80's music and music videos on giant screens all night long. It was awesome.
Day Two SXSW. The next day was so peaceful for me because my event stress was gone. I went to a few sessions like a chat with Biz Stone, co-founder of Twitter, and a few film panels and tech panels.
– @bizstone … Loved hearing him speak on fun at the office, the value in loving what you do and giving back to your community, changing the world through your projects, his journey as a tech innovator, how twitter created a way for humans to flock and fly and communicate like an elegant swooping flock of birds, and his passion for his latest project #Super.Me #SXSWA photo posted by Kathy / HealthyHappyLife (@kathypatalsky) on Mar 14, 2015 at 1:44pm PDT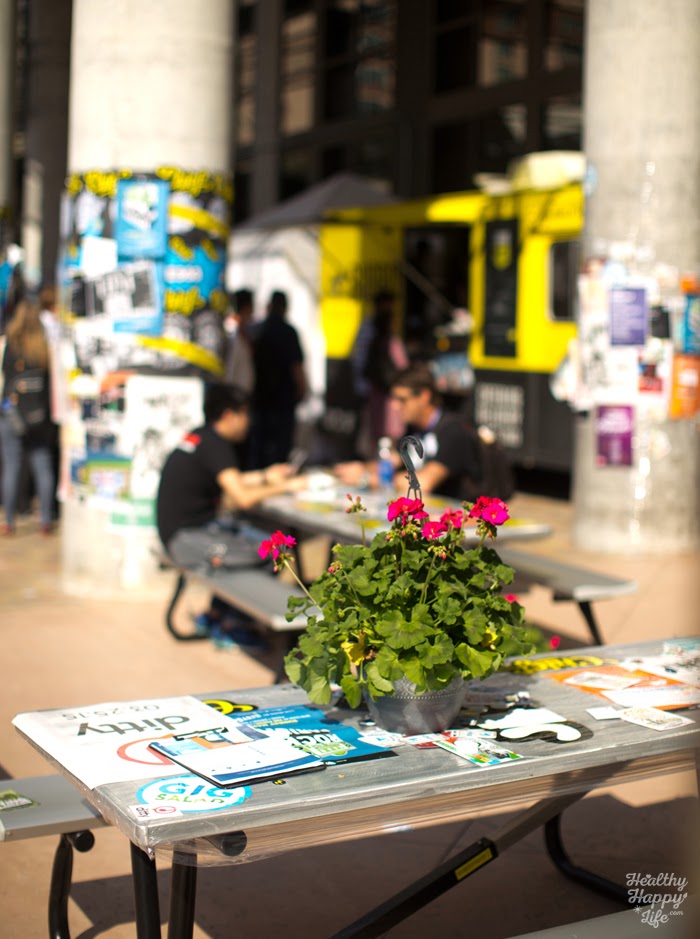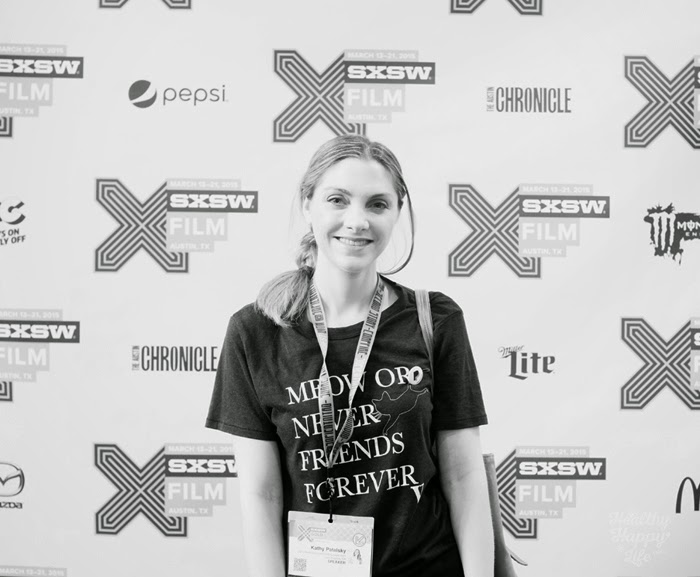 Then I stumbled upon the PayPal lounge where Shark Tank's Daymond was live judging two entrepreneurs and one company would be awarded 30K. It was fun to watch him in action!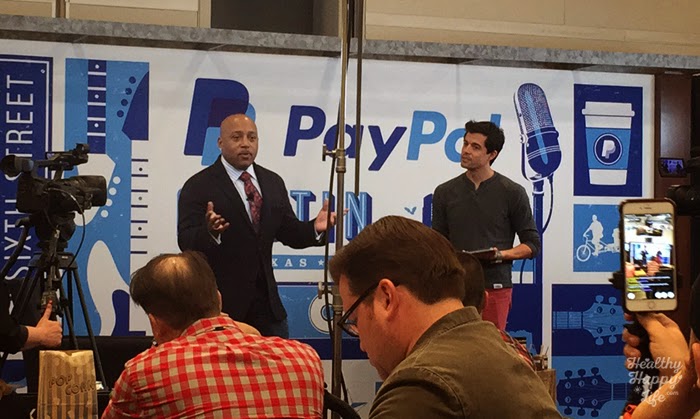 Then after a few more strolls around the lively SXSW downtown area, I headed back to my hotel and off to the airport for my evening flight home. I was actually really bummed to leave SXSW so early, especially when I had a GOLD pass! But I had to get back to my kittens and husband and work back at home.
But I can 100% say that I LOVED my time at SXSW. I was so inspired being around both film and tech people. I left SXSW wanting to write a screenplay, work extra hard on my two websites, laugh more at work, put FUN into everything I create (yes, FUN is a major theme of SXSW!) and just go with my gut on everything. I was inspired just spending a few days in Austin.
Inspiration is like gold to me, and SXSW was like hitting the jackpot.
Oh Austin…. I will be back.
More photos!..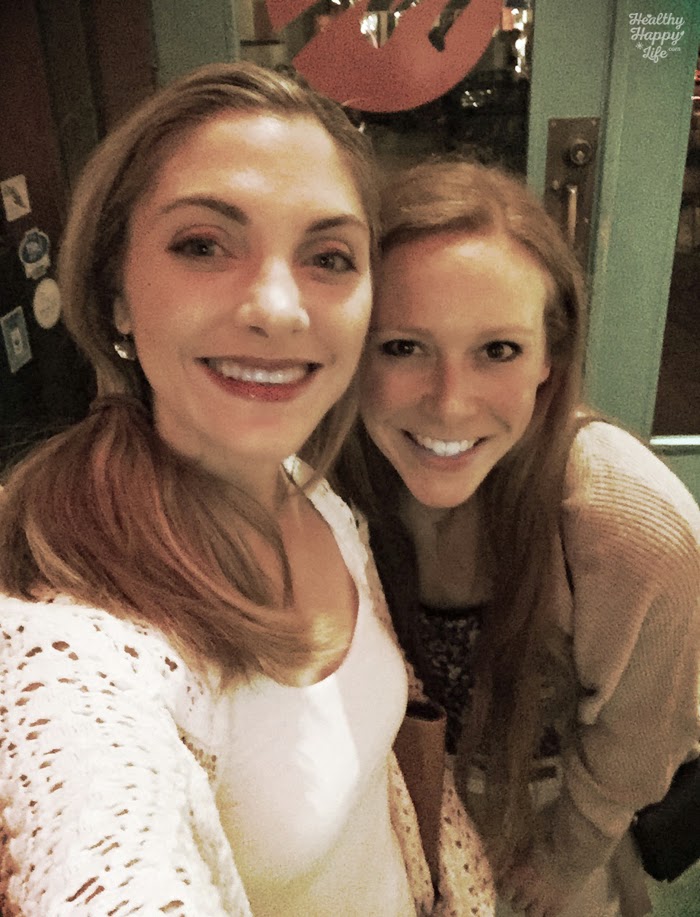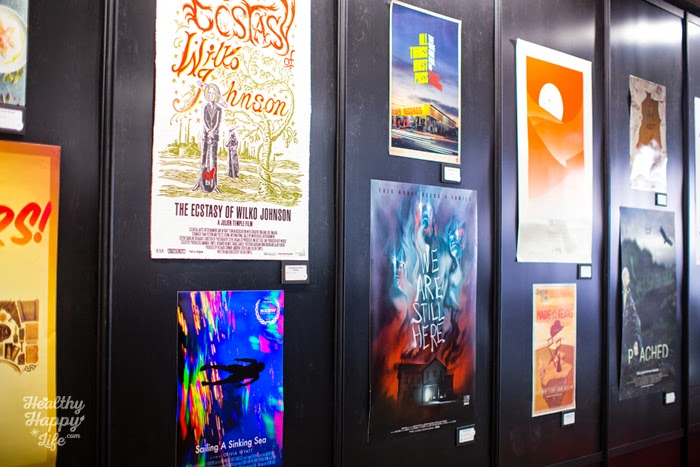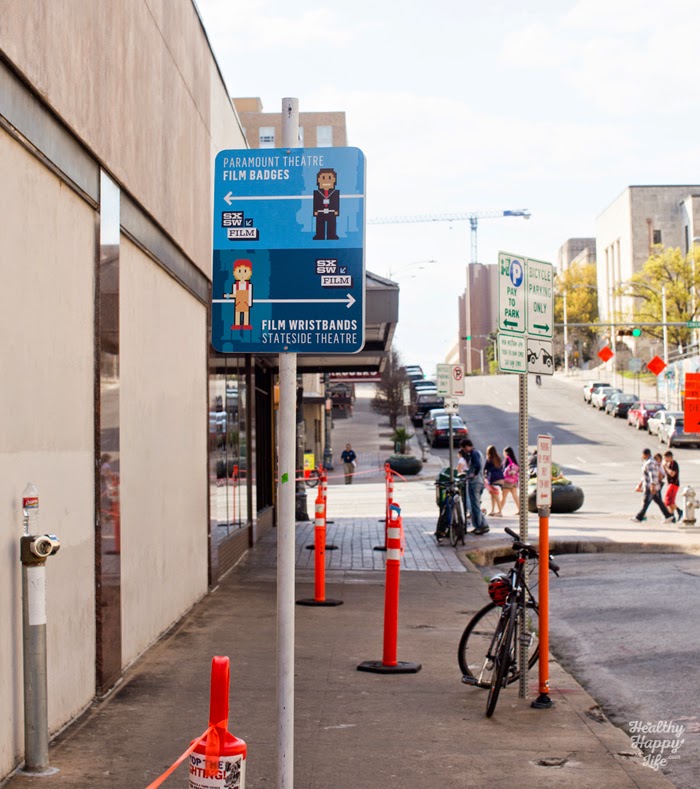 Love this show (my room key), then I ran into the star of it..
I love @HBO's #SiliconValley! Spotted this guy (Thomas Middleditch) standing outside the #JWmarriott and had to snag a photo and say hi. @tombini, thanks for being a genuinely nice + cool guy 👏 Excited for season two of SV (April 12th) and #TheFinalGirls 🎥 #SxSW (dontMindMyGiantBoxOfCupcakeLeftoversFromMySXSWVeganMeetup) #Austin A photo posted by Kathy / HealthyHappyLife (@kathypatalsky) on Mar 15, 2015 at 8:59pm PDT
Don't forget to watch my video at top! And download the BRAND NEW FindingVegan.com App! over 600 downloads in just the first week!.
Have YOU been to Austin or SXSW? I would LOVE to hear your favorite things about Austin or the event! Tell me your stories and where I need to go next time I visit! Hotel room tips also welcome!