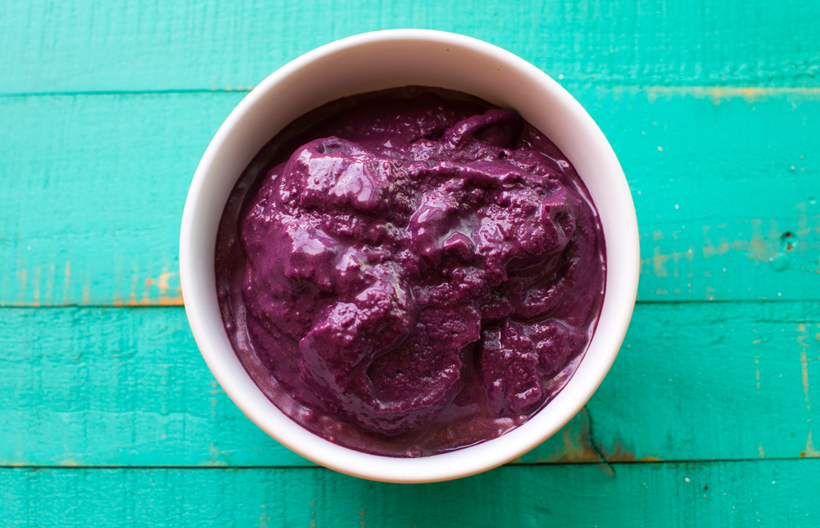 * acai bowl

Here we go…from the top!
Here are my top ten superfoods of 2008, all picks that you need to add to your diet in 2009!
At number ten…….
10. Nuts
We saw nuts (and not just peanuts) make a comeback this year. Maple almond butter showed up as a side condiment at Starbucks, and new research showed that kid nut allergies just might be avoided by eating more nuts! I love them. I am nuts for nuts. And you should be too. In 2009, why not try a few new nuts – brazil, macadamia, hazel or pistachios.
9. Probiotic Yogurts and Drinks
We've all seen that Jamie Lee Curtis commercial where she grasps her tummy and says she just doesn't feel right sometimes…and so with the plethora of probiotic drinks and yogurts options, we can all boost our immune systems and improve everyday digestion! Read my post on the top five probiotic products here.
8. Spirulina
It will make a comeback in 2009! It will! Higher in complete protein than ANY meat or soy product, spirulina is a super duper food. Add it to your smoothies. Greener color, little change in taste. Kids love a green-slime-monster smoothie.
7. Acai
More brands of acai juice seemed to pop up the shelves of my Whole Foods Market in 2008. And acai has even become a favorite Jamba Juice smoothie flavor! Now lets hope that Trader Joe's can come up with a high quality knock off version because those $3.69 a piece bottles are killing my wallet.
6.5. Sweet Potatoes
This is super food number six and a half because I simply had to squeeze sweet potatoes in somewhere…and this seemed like a good spot!
Yes, I'm obsessed.
A personal favorite for not just 2008, 2009 and beyond, but for always! I remember reading in a college anthropology class that certain cultures of Aztec Mayans would have root vegetables like sweet potatoes as their primary food source – and build meals around them every night. Ahhh to be born into that society! At least I can still pretend and add sweet potatoes to basically everything.
6. Goji Berries
Yes raw, whole goji berries CAN be delicious, we discovered in 2008. No more of that ghastly goji berry juice that makes us run for some easy to drink Tropicana blend. Mind you, goji berry juice is way to expensive to taste that bad. But WHOLE berries can be eaten with joy…and we discovered how. Yay us.
5. Green Tea, White Tea, Chai and Herbal Tea
Yes I know, tea has long been a super food. But I just had to give it a top ten billing because it continues to succeed in its message of antioxidants, anti aging and all around wellness! Tea drinkers have a sense of zen and calm about them that those triple venti red-eye cappuccino drinkers just don't have. I should know, as I was a twice daily, triple venti soy latte drinker for a long time. I've recently lowered my coffee drinks to just once a week. (I switched to chai at Starbucks) And I really do feel more balanced. Need a resolution? Less coffee, more tea in 2009. I'm so helpful.
4. Spicy foods and the Ginger-Lemon-Cayenne detox
Spicy foods. We all need a jolt of something these days. Get it from some hot spicy stuff! Ginger, jalapenos, chilies, habanero. A trendy concoction I kept hearing about is the ginger-lemon-cayenne juice detox/cleanse. Haven't tried 'the cleanse' plan myself, but I adore hardcore ginger juices from my favorite juice bars and at-home juicer. So I'll give it a mention. If you are into a detox of some sorts, this tonic sounds much better than any diet pill or caffeine enhanced diet/detox beverage.
3. Mineral Water
It's all about the minerals. In 2009 lets all get use to drinking sparkling mineral water with our meals. Why??? Because mineral water has a lot of fabulous natural stuff in it that's why! My favorite brands are Gerolsteiner, San Pellegrino, San Faustino and of course my all time favorite, VOSS.
2. Mushrooms
I love mushrooms. I love them sliced thin and raw in salads, I like them marinated in oil and garlic, I like shiitakes in my spicy noodle soup. Repeat, I love mushrooms. Craft in NYC, Tom Colicchio's restaurant (Top Chef dude), serves the best shrooms I've ever had…FYI. Oh, and ever since I saw Dr. Weill chatting about how mushrooms were the next 'it' superfood on Regis and Kathie Lee a few years back, I knew that mushrooms would be a great food to get into. Dr. Weill was right again! But then he sold out to Origins. Sort've. I still adore his wellness advice.
1. Coconut Water
Are you sick of me and my coconut water obsession yet? Have you tried coconut water yet? Yes? Fabulous. You know that it has 16 times more potassium than in sports drinks. And only 60 calories a serving.
No?? You haven't tried it?! Get your NYC self down to Organic Avenue. Or head over to Whole Foods and try ZICO, ONE or Vita Coco brands in the tetrapaks. Run, now! You'll need it New Years day….
FYI, coconut water is the ultimate hangover remedy. Since this is a New Years Eve list…
Happy Superfooding in 2009!
Browse thousands of recipes in my recipe index.
Snag meal plans, printables, 150+ recipe pages with photos, tips, shopping lists and so much more with the Finding Vegan Meals E-book.