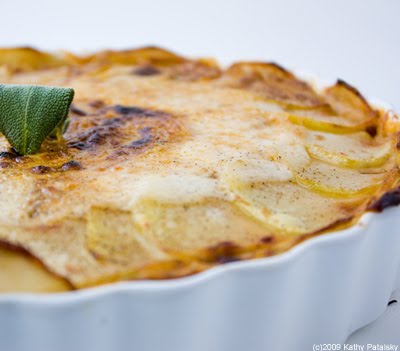 Spicy. Creamy. Layers and layers of three types of thinly sliced potatoes. My vegan Triple Spiced Creamy Potatoes Au Gratin is a home style comfort-food recipe with some serious snob appeal. Potatoes gone chic.

A Layered Secret. The secret to a really good potatoes au gratin is all about the layers. The layers of flavor you build in your sauce, the care you give your thinly sliced potatoes and your procedure for building your au gratin dish – layer by layer. My recipe is elegantly creamy yet boldly triple spiced with ginger, cayenne and paprika. The combination of Russet, Yukon gold and red potatoes gives this dish an extra hint of flavor mystery and complexity. Elegant potatoes are possible. Get my recipe…
Lots of Layers. Yes there are lots of layers to this dish. Lots of layers and ingredients. But this recipe is what I used and it came out just as I had hoped, so I didn't want to cut corners anywhere. If your pantry is low you may need to do a few creative ingredient switcheroos. If you must, you can probably get away with removing the buttery spread and even exchanging the soy creamer for soy milk. You can also probably omit the Vegenaise (if you must), but not the sour cream. Like I said, the recipe as is, is tested to be decadent, delicious and a crowd-pleaser for guests veg or not. I'm not normally an "au gratin" fan, but the artistic presentation and bold spiciness made me a believer. And my non-vegan gratin-loving taste-tester loved these potatoes as well.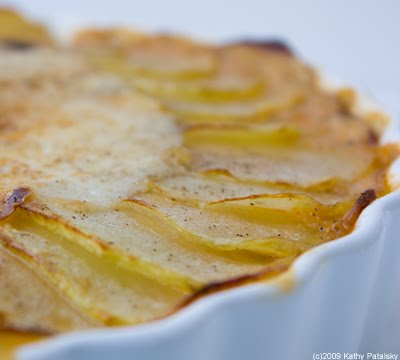 How Spicy do you Like it? My family loves spicy foods. So I did 5 generous dashes of cayenne in this sauce. It has heat! Plus the fresh ginger really warms it up. If you want a mildly spicy or non-spicy dish I'd lessen the cayenne (or remove it completely) and just rely on that warm burst of fresh ginger. Fresh ginger is a flavor must. Do a taste test of the sauce before adding it to the potatoes. If it is too spicy, simply add more sour cream to cool it off. You can even water it down a bit by adding in more soy milk and a few more dashes of flour to thicken it up.
Three Potatoes. I used Russet, red and Yukon gold potatoes. You can use any variety you'd like, just remember to slice them thin. And a note about presentation: I love the top ring of 'unsauced' potatoes on top. They look pretty and are a great option for your guests who do not want a lot of sauce on their potatoes.
Thinly Sliced Raw Potatoes:


And the results are delicious….
Before: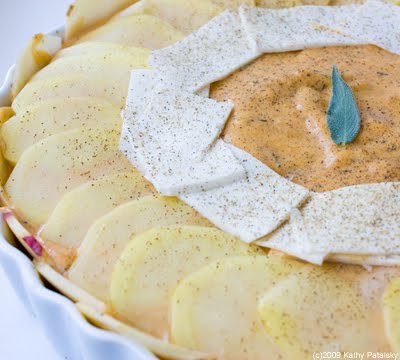 After: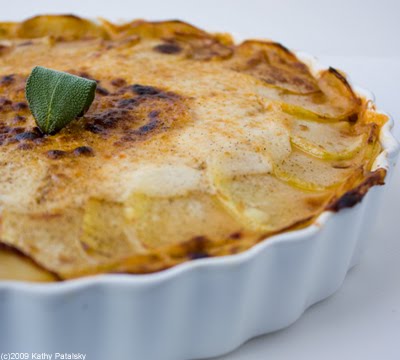 Triple Spiced Creamy Potatoes Au Gratin
vegan
3 tablespoon apple cider vinegar
4 potatoes, mixed variety-thinly sliced, roughly peeled
*I used one large russet, 2 medium red, 1 medium Yukon gold
1 cup + 2 tablespoon plain soy milk
¾ cup soy milk creamer
¾ cup vegan sour cream
*Tofutti brand
1 tablespoon vegan buttery spread
*Earth Balance brand
1 ½ tablespoon Vegenaise
¼ cup maple syrup
2 ½ tablespoon whole wheat flour
1 ½ tablespoon arrowroot powder
1 tablespoon garlic powder
1 teaspoon paprika
2 teaspoon dried thyme, finger crushed
¼ teaspoon salt
½ teaspoon black pepper
1-5 dashes of cayenne
*more cayenne, more spice
2-4 teaspoon grated fresh ginger
*more ginger, more warmth/spice
4 leaves fresh sage, chopped
3 tablespoon of vegan Monterey Jack cheese, sliced thin
*Follow Your Heart brand
Directions:
1. Wash and scrub your potatoes. Roughly peel them with a veg peeler. Remove any dark spots.
2. Using a mandolin slicer, slice the potatoes into thin disks. They should be translucent to look through and not able to stand firm when you hold a slice vertically-it should flop over to one side. Gather slices in a large bowl. You should have about 5 cups of potato slices.
3. Add 3 tablespoon of apple cider vinegar and a few dashes of pepper to your potatoes. Toss well. Set aside. (You can also toss with a teaspoon of olive oil if you'd like.)
4. Place a soup pot over med-high heat. Add: soy milk, soy creamer, sour cream, maple syrup, vegan buttery spread and Vegenaise. Stir until the mixture becomes liquid and is simmering.
5. Add about 1 tablespoon of your vegan cheese slices. Melt into mixture.
6. Add in, while constantly stirring, the arrowroot and whole wheat flour. Break up any lumps and stir until mostly smooth.
7. Add in the garlic powder, paprika, salt, pepper, cayenne and crushed thyme. Continue stirring briskly. The mixture should be thickening a bit at this point-and cooking down as some of the steam rises off. Total time on med-high heat: around 5 minutes.
8. Turn the heat to low and continue stirring as you add in your freshly grated ginger and fresh sage bits.
9. Remove from heat. Allow to cool for a minute. Then transfer to a high speed blender. Blend *carefully* on low until the mixture is perfectly creamy. This will get out any lumps and smooth out the herbs and spices. Pour the sauce into a medium bowl.
10. Grab your potatoes and lay the first layer in the bottom of your gratin serving/baking dish. You may want to lightly spray-grease the bottom of the dish. *I actually used a "quiche" dish which was quite shallow. You can do the same, or use a deeper dish or even an actual 'gratin' dish. The only difference may be in the cooking time. Deeper dish's/thicker gratin layers may need a bit longer in the oven.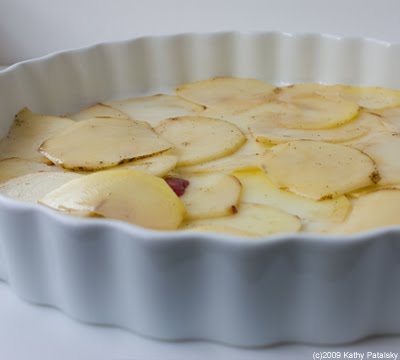 11. When your first layer is complete, evenly spread about 3 tablespoon of sauce over the potatoes. You can use a spoon or a pastry/saucing brush to distribute the sauce. The 'prettiness' of the design of the potatoes is not important at this stage of the layering process.
12. Continue layering and saucing the potatoes for about 3-4 more layers. About 2-3 tablespoon of sauce per thin layer. The sauce is bold, so a little goes a long way. Then once you get towards the top of the dish you will want to start layering your potato slices in elegant rows. Pour the remaining sauce on top of the top potato layer.
13. Then do one final ring of potatoes around the edge of the dish only.
14. Add a ring of your cheese slices (see images) and lightly sprinkle the entire top layer with fine black pepper.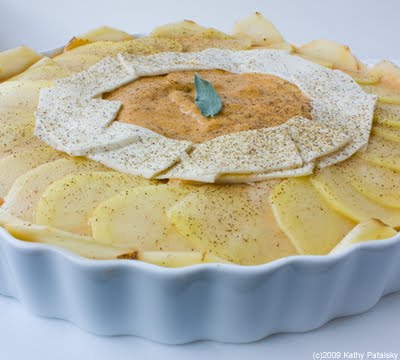 15. Cover tightly with foil. (Spray foil first with olive oil so the cheese doesn't stick.)
16. Bake in a preheated oven at 400 degrees for 30 minutes. For the last 5 minutes of baking time, remove the foil and turn the oven to broil. This will crisp the top potato edges and brown and bubble the cheese and sauce.
17. Let cool at least ten minutes before serving so the sauce can set and your guests don't get burnt tongues. Gratin dishes are perfect for a dinner party because they generally stay hot for a good amount of time.
18. Garnish with fresh sage leaves.