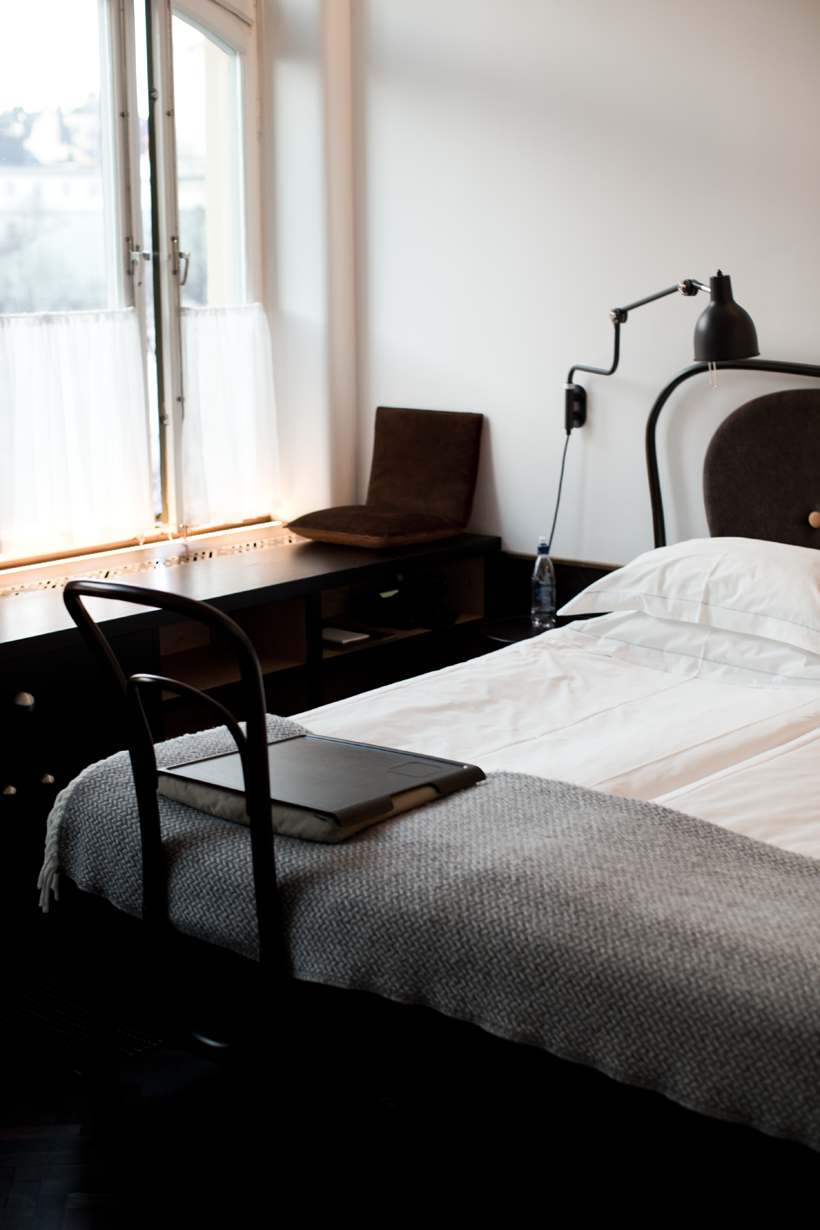 Two Days in Stockholm. That title kinda sounds like a cool independent film starring Kristen Stewart and Rami Malek. But no, my two days in Stockholm wasn't nearly as edgy as it sounds, but alas, it was simply blissful. And a perfect stopover spot on our way to Thanksgiving week in Iceland. More on that in my next post! But for now, we head to Sweden.
Or as Fredrik from Bravo's Million Dollar Listing New York says, "Sweeeeeeeeeeeeeeeeeeden!"
Here is how we spent our two days quick days and my ten Stockholm travel tips….
View from our room at the Miss Clara..

First off, how did we end up in stockholm for two days??..
Our plans for Thanksgiving: Iceland. But since we literally booked our trip two days (yes, you read that right) two days before our departure date, we didn't have very many flight options from LAX -> Iceland. But luckily, Europe has been crazy cheap lately. Have you noticed this at all? Seriously. There was a flight to Dublin from LAX for $440 – for last minute travel!
So basically, for our trip to Iceland we would have to fly into another European city, stay a few days and fly to Iceland from there. We narrowed it down to London or Stockholm or Copenhagen. Sweden was the cheapest, so.. And we love traveling to new destinations, so we landed our pointed finger on the Stockholm part of our virtual globe. Sweden here we come!
Granted, we knew absolutely nothing about Stockholm, really. I mean besides the basics like, uh, it is cold and it is snowy in winter and, uh, its pretty COLD there. Oh and they make a lot of modern, minimalist kitchen and home goodies. Oh and did I mention that it is cold?
Winter Coat! All my winter coats are in storage, #LAlife. So I spent the two days days before our trip running around Santa Monica trying to find a down-free (feather-free) puffy, long, hooded coat. We went to Patagonia, REI, Bloomingdales, Nordstrom and a few other random sport/surf shops. REI did have one feather-free long coat but it wasn't heavy enough for me.
Long story short, I emailed Save the Duck and they said they could overnight my order. So I bought two coats from them – one being a SUPER warm winter snow coat – and they arrived the next day – aka two hours before we left for the airport.
So, warm-clothes ready, we boarded our Norwegian Air flight to Sweden – it was the Dreamliner plane which I am in love with. Best flight ever. We slept a bit on the overnight flight and arrived in Stockholm around 4pm. When we arrived it was already dark.
Fun Fact: Both Sweden and Iceland get just around 6 hours of sunlight this time of year. It makes traveling and sightseeing a bit more challenging, but I don't mind so much. I kinda like the endless evening feeling it gives off. (It is a nice change from all that Los Angeles sunshine! Ha.) And also, those few hours of sunlight feel extra magical – twinkling rays of sunlight dancing low on the horizon – so low they create a bright yellow-golden glare all across the buildings and cobblestone. The light appears for just a glimmer and disappears behind the clouds just as quickly as it came.
So enough of the travel stuff. Here are my Stockholm tips from our journey!..
10 Tips for Two Days in Stockholm Sweden
1. Where to Stay. There are two places that I can highly recommend:
– Miss Clara Hotel by Nobis. This is where we stayed! I LOVED it. There is nothing more satisfying than getting off of a long overnight flight, opening the door to your hotel room and being stunned with satisfaction. From the beautiful dark hardwood floors to the puffy white bedding to the twinkly lights that line the tall windows and crevices of the ceiling. This hotel room felt more like a stunning apartment space than a hotel. And I loved that. The marble bathroom was perfect and the view was beyond cozy, looking over the busy street and a churchyard – the clock ringing at each hour. The windows cracked open so I could hear the mild city sounds. I adore when windows actually open in hotels!!
Note: I am INCREDIBLY picky about hotel rooms for one main reason: I have a severe dust allergy and asthma. So if I feel the tiniest twinge of discomfort upon entering the room I have to request a new room. It is pretty awful, but its reality for me. I can get pretty sick after even one night in a dusty or smoky or even musty room. But this room was perfection!
Some other bonus features for Miss Clara Hotel: The breakfast was amazing! This was by far the best hotel breakfast that we had on our vacation. There were 4-5 different homemade jams, plenty of gluten-free bread options, a selection of juices, delicious homemade gluten-free muesli, cereals, vegan yogurt!, fresh fruit salad and a fresh fruit platter and for the non-vegan folks there were pancakes, waffles, smoked salmon, "dairy-free eggs" and a bunch of cheeses. So vegans, gf peeps and non-veg ppl will be very happy here. They had soy milk on hand as well. Actually, the Miss Clara is well-known for its fancy Saturday brunch. Just check out the Instagram photos! Locals love this place for brunch! (Which is always a great sign)
Oh and last thing, the front desk staff was very friendly and helpful. We could easily come and go as we pleased without much fuss. Classic boutique hotel that respects the privacy of its guests. Loved that.
Miss Clara's beautiful dining room..

Streets below.. Love the subtle city sounds we could hear from our room.

Sitting in the window is the-thing-to-do at the Miss Clara. I felt kinda like a kitty cat..
– Grand Hotel. The other hotel I can recommend you try is where we had our spa treatments: Grand Hotel Stockholm, though I didn't stay in a room there, I can only guess that they are lovely! And the spa is amazinggggg, see #2..
(One other hotel we passed that looked nice was called HayMarket. I have no idea if it is in fact a good spot, but it was lively and in a good location..)
2. Spa Day at Nordic Spa. If you are traveling to Stockholm for more than a day, and love a good spa, you must visit the Grand Stockholm's Nordic Spa! This place is a treasure chest of wellness. I was in heaven here. We really only had one full day in Stockholm, so we were a bit concerned that spending 2-3 hours in a spa was going to mess up our sightseeing plans, but it was indeed the right call! It was a brisk morning and we pulled on our puffer coats and headed out to the spa, walking the 15 minutes it took to get there. When we arrived our noses were red and we were feeling tired. But we went in and fell in love. The spa has a sauna, steam room, giant mineral pools, cold plunge pool, experience showers, sparkling water and gourmet herbal teas to sip, fresh fruit on hand – and just loads of space to roam around and explore. It is huge. I loved doing the sauna, plunge pool and repeat thing. I wish more spas in the USA had cold plunge pools.
For my treatment I had the Nordic Restart: "Time for a real reboot! A heavy dry brushing to remove dry skin and a nutritious herb wrap to increase circulation and give the skin deep luster. Meanwhile, receive a soothing massage of the scalp. Thereafter, a quiet moment in a private steam room before finishing with a massage of the neck, hands and feet."
It was the best dry brushing I have ever had and really revived my immune system! I felt 100% "restarted" when finishing up my treatment!
My husband had the Nordic Glow Facial, which he also raved about.
The spa has a bunch of treatment options for guests so absolutely check it out!

*The two photos above courtesy of the Grand Hotel.
3. Joe and the Juice. Ok, ok, I'm sure locals will laugh at me for mentioning this, but this was literally our dinner spot the first night. We wandered around and the places on Happy Cow that we tried to find were either missing or too far or closed — it was only around 630pm!
Then we stumbled on Joe, and with twenty minutes until they closed we ordered avocado sandwiches on gluten-free bread, ginger shots and fresh pressed juice. It was perfect. And luckily the next morning we had the giant Miss Clara Breakfast to look forward to. When you are traveling, ginger shots and fresh pressed juice and hand-held avocado toast is a life saver! So when in a pinch in Sweden (or Iceland) head over to Joe and the Juice!
4. Christmas Markets. One of our favorite things to do when we visit Europe this time of year (fall/winter) is stroll through the Christmas markets. They are always packed with locals and feature gift booths, food booths and plenty of spirit lifting aromas, sights and sounds. I love them! They close early in Stockholm, around 6pm, so head over before then. The one in Old Town is probably your best bet for a classic experience. Gorgeous photo of the Stockholm Christmas Market here.
5. Wear Good Walking Shoes. Stockholm isn't huge! You can really rely on your feet to get you from place to place. (And Google Maps.) Wear some sturdy sneakers or walking boots. The ground in November/December will probably be clean and cold, but speckled with salt rocks (like it was when we were there) or somewhat snowy. I have a feeling that Stockholm excels at clearing out snow on the streets, because they had some good snowfall just the week before we arrived, and there was barely any snow to be found. So walking is the thing to do, even in winter. And of course using the train system, which rocks. See #10. (Any actual Sweden experts, please correct me on my snowy streets theory if I am wrong..)
Locals all seemed to wear sturdy walking boots, so I felt very American in my Nikes. But they were perfect for all the walking – something a little heavier may have been perfect though.
6. Sally Voltaire & Systrar. Ok, so the funny thing I noticed about Stockholm, compared to the USA is that they actually have some really awesome dining options inside of department stores and "malls." I really wanted to go to this vegan-friendly lunch spot and instead of it being in its own restaurant space, it was literally on the top floor, wayyyyyyyyyy in the back of a department store — just beyond the massive kitchen section – behind the pots and pans and Le Creuset and pretty blue and white dishes and piles of dish towels. Kinda funny. And there was a super long line for this spot, so I knew it must be good.
Besides food, this spot has a bunch of wellness goodies for sale (so LA, haha) they had bags of spirulina, raw nuts, smoothies, fresh-pressed juices and on and on.
I had a delicious vegan salad. The vegan soup looked really yummy too!
Super yummy #vegan lunch salad at @sallyvoltaireochsystrar – two hummuses, quinoa, kale, hazelnuts, beets, roast carrots, pea shoots and a few other goodies in there. SO good. Trekking around town to find this busy spot was worth it. And now I'm 😴💤😴💤😴💤 #jetlagProblems #stockholm #sweden ps. That chocolate bar = 😍😍😍 — the little vegan chocolate peanut butter smoothie also 😍😍😍A photo posted by kathy / healthyhappylife (@kathypatalsky) on Nov 20, 2016 at 6:11am PST
7. Oat Milk Lattes. Ok, so this makes me super sad, because we did not have time to do this the day we left, but grabbing an oat milk latte at Havremjölk is supposedly one of the things you have to do in Stockholm. Several people texted me to try this! Boo I didn't…
Oh, and I really tried to find an English-friendly link to this place but failed. Instead I found this interesting article about Oat Milk vs Dairy Farmers in Sweden…
8. Don't Forget its Soya, Not Soy. The great part about Sweden is that they actually seem to be very aware of alternative options! Gluten-free bread is SO easy to find, and it is all REALLY good. And if you ask, soya milk and almond and OAT milks seem to be available everywhere. I wish I had started asking for oat milk sooner because it seems to be Stockholm's specialty non-dairy milk. But their soya milk is very good and rich and creamy. I would love to see if it is organic and non-GMO, I'm guessing it is. I tried really hard to find an article talking about this, but again, failed. What's up with my lack of Google search skills for this trip?? Anyways, non-dairy options rejoice.
9. Stroll Stroll Stroll. Stockholm is a beautiful city! So the best thing to do during sunlight hours – and even those moody dark hours – is go for a long stroll! We walked over to Old Town, aka Gamla Stan and saw the Royal Palace and the sparkling water as we crossed bridges, and enjoyed the cobblestone streets. Truth be told, I was feeling cold and a bit exhausted and hungry during our stroll so we didn't get to see everything we wanted to, but it was still lovely and definitely something to enjoy on your visit.
Old Town region and the Royal Palace..
10. Take the Train to and From the Airport. We took a cab into the city because we were exhausted and didn't want to deal with figuring out the train system. But that was pretty silly because as you may know, pretty much all trains in Europe are amazing and fast and easy to figure out. Our taxi driver even dropped us off at the wrong hotel, leading us to have to walk 5-6 blocks, over wet cobblestone, rolling our luggage. Eeks. On our way back to the airport, we had a cab drop us off at the Central Station and took the train to the airport from there. Super easy and the train literally dropped us off inside our terminal! When in Europe, when you can, just do it: take the train.
So those are my modest ten tips for Stockholm. It was so fun to get to finally visit Sweden! I wish I had brought a separate suitcase and separate budget for kitchen goodies! But I restrained myself and didn't buy anything — except a few vegan chocolate bars so win for me.
If you have visited Stockholm and have some vegan-friendly dining tips or activities to check out, please leave them in the comments!
And next up…. my adventures in Iceland!!!!
Collapsing on a yummy, crisp white hotel bed after a ten hour flight has me like… #sweden love the @missclarahotel 💗A video posted by kathy / healthyhappylife (@kathypatalsky) on Nov 19, 2016 at 8:51am PST
Some of my breakfast at Miss Clara..
Simple starts. Loads of fresh fruit (definitely enjoyed seconds), gluten free muesli w/ soya milk, rooibos tea and fresh OJ too. Some fresh marmalade and lingonberry jam too. Thanks for having me @missclarahotel 👌A photo posted by kathy / healthyhappylife (@kathypatalsky) on Nov 21, 2016 at 12:37am PST
*disclosure: I was grateful to receive a media rate from the Miss Clara Hotel and a special media gift from the Nordic Spa. All opinions are my own.