So I am back from my wild weekend, as I mentioned in my last post. But I am backtracking a bit with recipe. I made this Buffalo Mac 'n Cheese with tempeh and avocado two nights in a row, right before I left for my trip. It was the perfect pre-travel comfort food with no leftovers and easy cleanup.
Keep reading to get this fast and easy recipe. Plus the CUTEST Sochi cat photos…
Comfort Food. I made this recipe not only because I was traveling, but because my TMJ/TMD was flaring up big time and I had been struggling with a rolling migraine for about two weeks. Pure awfulness. And whenever that happens I crave soft comfort foods because it chills me out and I don't have to use my jaw to chew to much. (BTW, if you don't know what TMJ is, it is basically a jaw disorder, but mine is really bad because I have an actual dislocated disc on one side – and if you have a tendency for headaches, it can basically make you feel like crap when it acts up. Yup, 'feel like crap' is my professional analysis. LOL.) But anyways, I won't bore you with all that today – just wanted to mention it because I know a lot of people deal with migraines, TMJ and even other chronic pain issues. And I just really think food can heal in ways even beyond healthy nutrients – comfort food is real. Food nourishes us in so many ways. But a-n-yways…
The point is, this recipe is perfect for any time you are craving hearty, protein-rich comfort food. I absolutely love love love this bowl, my Buffalo Mac 'n Cheese with tempeh and avocado.
The buttery avocado in this recipe adds some green, healthy-fat goodness. You could also do guacamole. Or if you can chew a bit better than I could at the time #TMJProblems, you could add leafy greens, roasted veggies, peas, broccoli or even a simple side salad.
The most-"healing" ingredient for me when I have a headache is the hot sauce! That spicy kick always seems to help, not sure why. But this article seems to agree.. "How to Eat Your Way out of a Headache" — And something about Mac and Cheese just seems to heal all, amiright or amiright?..



Sometimes you need easy.. I actually used a (gasp) boxed Mac and Cheese because I was really needing a super easy recipe. There are SO many rad vegan boxed mac and cheeses in stores these days! Dairy-free and many are even gluten-free.
But if I was more up to it I would have definitely made my m+c from scratch using one of my recipes..
– Mac and Cheese 1 – spicy chipotle
– Mac and Cheese 2 – original fake out mac and cheese recipe (old recipe)
– Mac and Cheese 3 – creamy vegan cheese sauce (newer recipe)
(And here is another spruced up Mac and Cheese recipe.)
Tempeh! I love these tempeh sticks so much. They are tender and sweet and savory. And so freaking easy to make. Just a few minutes in a skillet and they are done.
My favorite hot sauce is Cholula. What's yours? I was recently rummaging through my friend's fridge and saw that she had like ten different hot sauces in there! Super impressed by that. Skills.
This recipe is totally kid friendly too! You can omit the hot sauce if your kids do not like spicy things. You could also add a pesto sauce or even a drizzle or vegan mayo or hummus if you really want a sauce on top. Or extra cheese sauce on top is always a great idea.
Cat Photography. Oh and while I was shooting this, Sochi snuck into the "studio" aka far side of the living room, and decided to take over the photo shoot. I am in love with these adorable shots I got..
My instagram caption of choice…
Bio: Sochi the cat. Loves long naps, any hour of the day. Lives for belly rubs. Begs for kitty treats by whacking the box on the floor. Chaser of hair ties. Champion middle of the night meower. World class snuggler. Rolly Polly. Mushroom. Muffin head. Fuzzy creature. BFF. Kitty cat.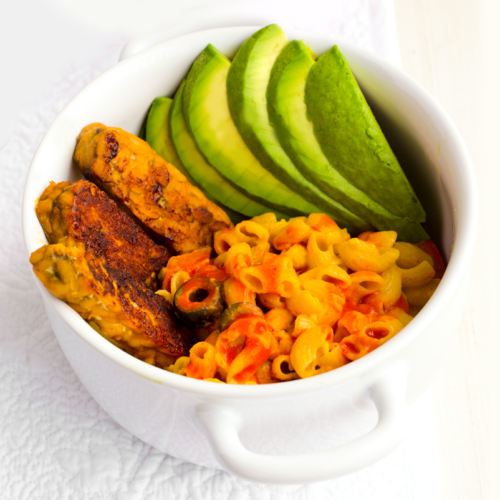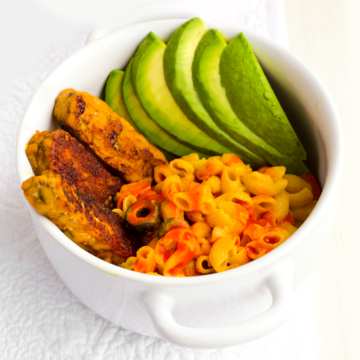 Buffalo Mac 'n Cheese with tempeh and avocado
This meal bowl contains creamy Mac and Cheese, drizzled with hot sauce, avocado and savory-sweet tempeh sticks on the side.
Print
Pin
Ingredients
Vegan Mac and Cheese (DIY recipe or boxed**)

½ – 1 avocado, thinly sliced

your favorite hot sauce to taste

¼ cup sliced black olives (optional)
Tempeh Sticks:
1 package tempeh

1 tablespoon maple syrup

1 tablespoon extra virgin olive oil

2 teaspoon tamari

pepper, salt and smoky paprika to taste

Optional: add in some veggies if you'd like (peas and broccoli are my favorite)

**I used Daiya boxed today, but I only use about half of the cheese sauce that is included 
Instructions
Prepare the vegan mac and cheese according to the recipe or box. Fold in the optional black olives or any other accent ingredient you want to add. Set aside in a pot to stay warm. Or continue to make the tempeh while the pasta is boiling.

Tempeh: Slice tempeh into sticks. About 8 sticks per package. Warm up a large skillet over high heat. Add the olive oil. When oil is warm, add in the tempeh. Cover skillet with lid and allow the tempeh to cook and slightly steam in its own moisture for 2-3 minutes. Flip tempeh with cooking tongs. Add in the tamari and maple syrup. Shake pan a bit to distribute the tamari, oil and maple. Allow the tempeh to cook for another minute or two on each side – just until it begins to caramelize on the edges and outside and turn dark caramel brown. Turn off heat. Sprinkle pepper and paprika over the tempeh to taste. Taste a piece of a stick and decide if you'd like to add additional salt.

Begin plating your meal. Add the warm mac and cheese to a bowl. Place the tempeh around the edges and add a fan of the avocado slices. Drizzle a generous amount of hot sauce over top. Serve warm.