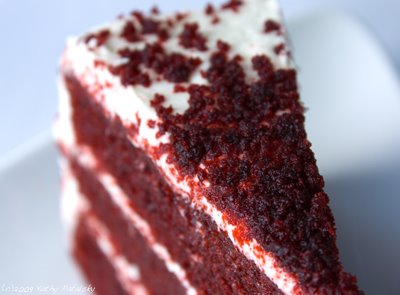 Red Mango Bakery in Brooklyn, New York makes a famous Vegan Red Velvet Layer Cake. It's a tall beet-red stack of fluffy cake and creamy snow white frosting. I don't know how they make it. But I'm just glad they do!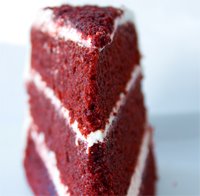 Vegan Cake 2009. It's 2009, and vegan cake doesn't have to taste like cardboard and look like wheat bread. Most everyone loves cake. Even health-conscious, animal loving vegans. Let us all eat cake.
Red Mango Bakery. They are wholesale only, though they do a few specialty orders. Incredibly friendly staff. I found their divine slice of red velvet heaven at The Bean Coffee Shoppe in the East Village NYC. Also on hand from Red Mango was a Peanut Butter Chocolate Cheesecake. It looked outstanding. Next extra special treat is going to be a slice of that!
Click ahead for my review of this divine Red Velvet Cake-sorry I can't hand you a forkful to taste-test!….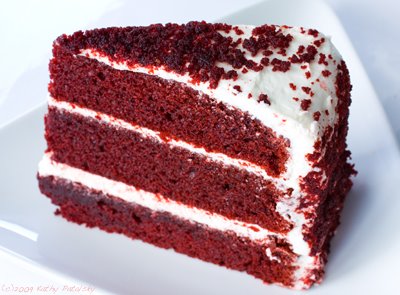 Vegan Bakery Finds. I am always thrilled when I find a new vegan cupcake, ice cream store, cake, pastry, doughnut or bakery. No I don't eat these treats everyday, but it's nice to know that they exist if I crave one.
Deprived Vegan Brides Everywhere. As a bride who sadly didn't get to eat her own wedding cake, because there were no vegan bakers nearby, I am incredibly supportive of quality vegan baking companies that I come across. Red Mango is one of them.
My Review: Red Velvet Cake,
Red Mango Bakery, Brooklyn NY

Shelf Appeal:Sometimes giant slices of cake can get ignored at places like The Bean. But not this one. Standing tall, proud, and irresistible, this Red Velvet cake, proudly marked vegan, gets snapped up by patrons. With crumbly red bits sprinkled on top of the snow white frosting, how an a vegan NOT try this? I hope the 'vegan' sign doesn't deter non-vegan coffee patrons from checking out just how good a vegan cake can be.

Label Check: No nutrition label here. I do not know the calories, fat, carbs ect. But just from the taste I can tell that this cake is hardcore. Not low in fat or sugar. And the size is outrageous! Cheesecake Factory sized. Huge. But if eaten in moderation-split between friends, this is a knock-out special treat dessert to try. Get a slice and split it – some soy chai on the side. That's a happy afternoon. Vegans should not be deprived of super special cakes, if they crave it– I say let them eat cake! This one, in moderation…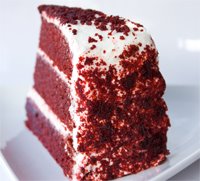 Taste Test: Is "Yum" a verb? How about "Mmmm"? Because you don't eat this cake, you Yum and Mmmm it. Really. It's that good. The cake is fluffy yet has a desirable dense quality. It's not too airy or moist. It really reminds me of wedding cake consistency. The frosting is outstanding. A little on the sweet side for my taste, but I guess for Red Velvet you have to go all out. Icing is creamy yet more of a sugar frosting that a 'creamy' frosting. The red crumbles on top are so fun. This cake has some serious sweet-sensational factor, yet it's amazingly not 'heavy'. I think the dairy-free-ness helps keep it easy to eat. And FYI, it's not just me- the Yelp.com reviewers of The Bean all seem to mention the Red Velvet Cake!
Price Check: Around $6 a slice. For the size, I think it's fair. And where else can you get this in a corner street coffee shop? Get you latte, check your cell phone messages, sit in a comfy chair and eat Vegan Red Velvet Cake.
Last Word: I wish Red Mango Bakery was around when and where I got married! That's the beauty of big cities like Los Angeles, San Francisco and NYC – you can always find someone doing something (like vegan cake baking) off-the-beaten-track out of passion. And eventually, if proven a success, it goes mainstream. Vegan wedding cake, Red Velvet Cake and PB Choco Cheesecake for all who desire it – is what I envision. Let them eat vegan cake! How Marie Antoinette 2009 of me.
More Photos in Slideshow: