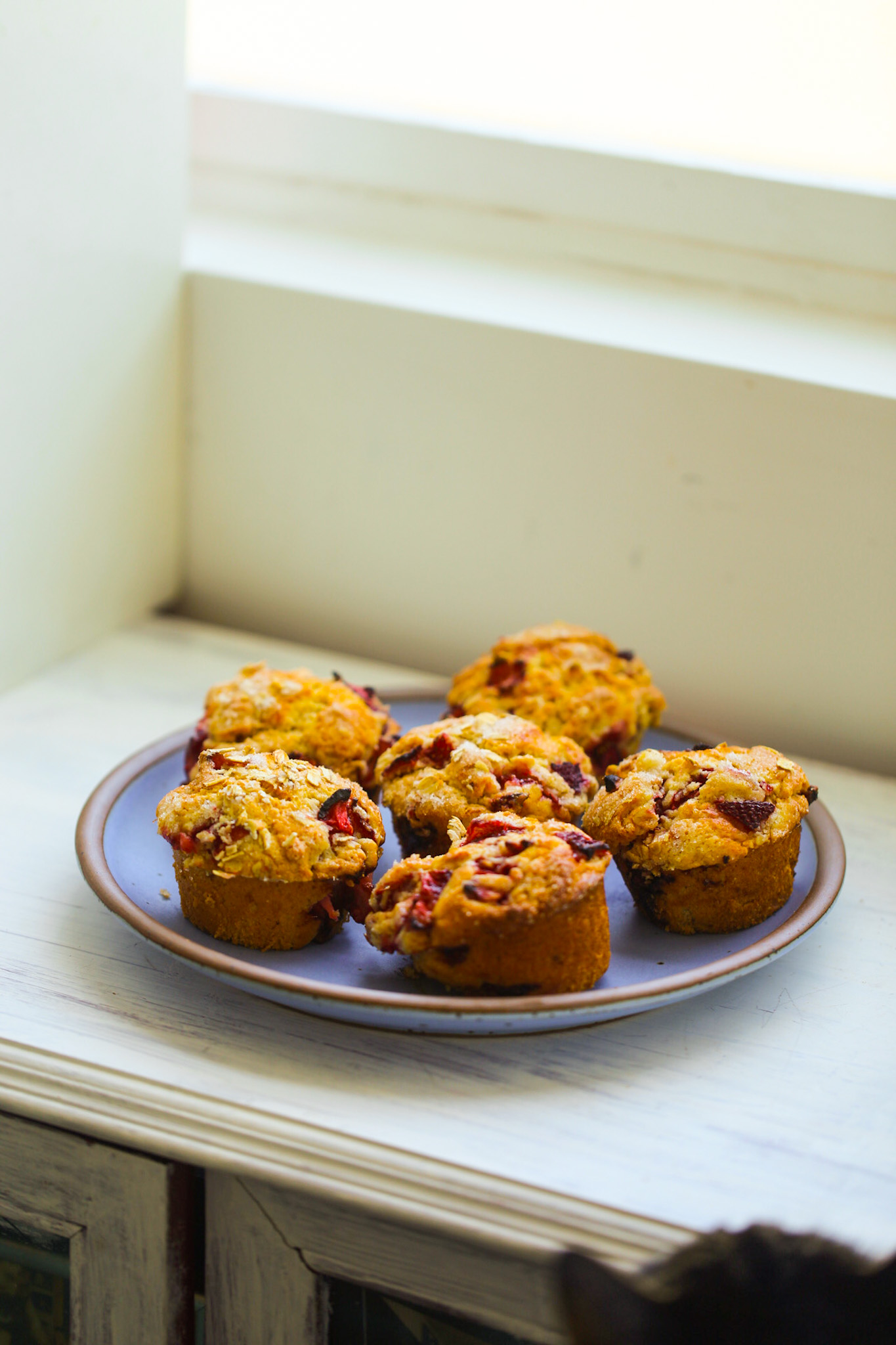 We were down to one blueberry muffin, so I knew I needed to make more. But always wanting to experiment, I decided on these Vegan Strawberry Muffins instead.
Bakery Style Muffins
These strawberry-studded muffins bake up fluffy and buttery with irresistible sugary caps on top. Cake-like crumb and totally bakery style. I could see these buttery gems sold in the best little bakery in a cute town. Steamy coffee and muffin in hand, some sort of picturesque mountainside or quaint main street out in front of me. You see it?
So but wait, the question comes up, what do you prefer: a classic blueberry muffin or a less common strawberry muffin?…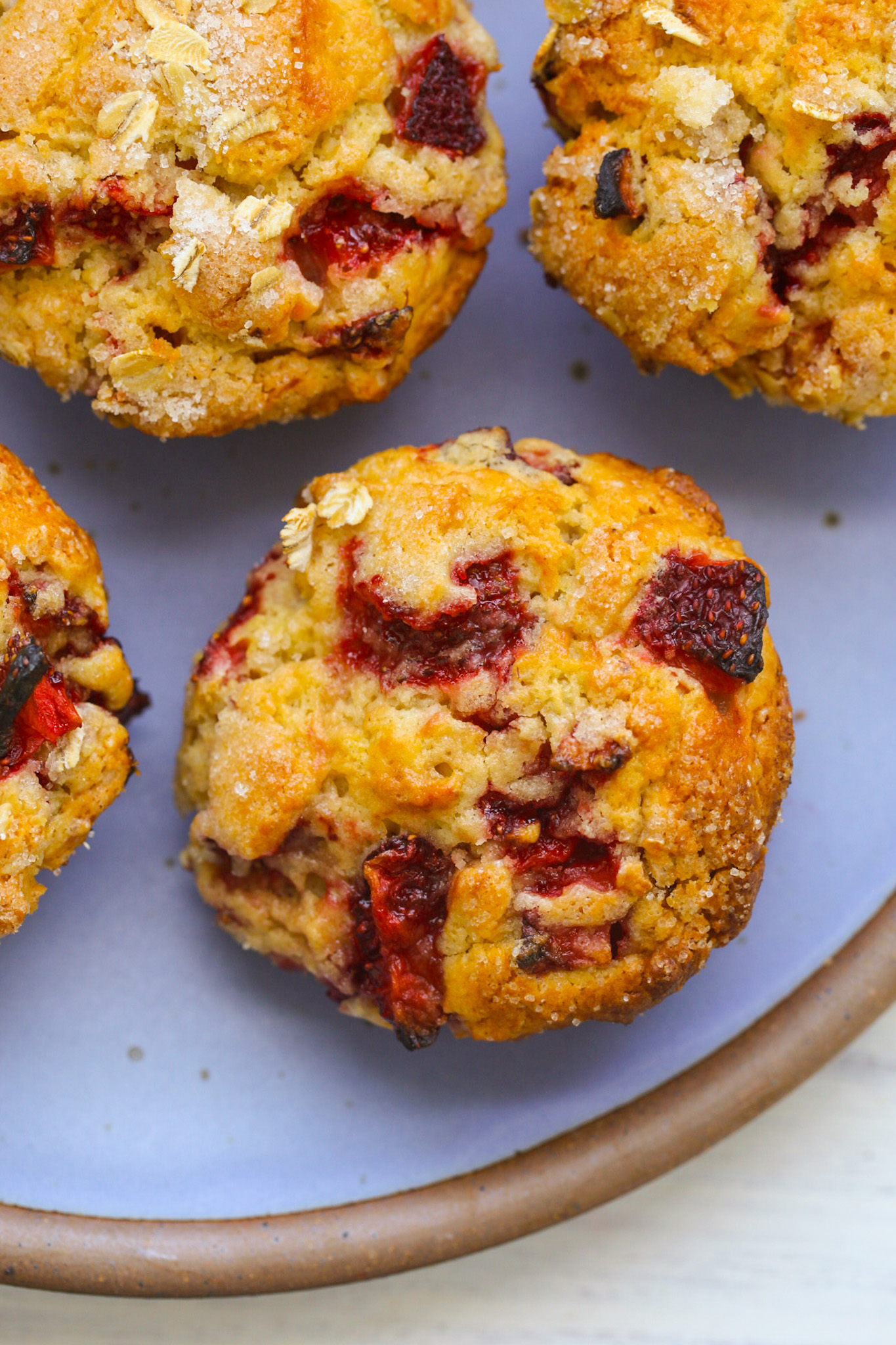 These Muffins are the Tops!…
Anyone else have an obsession with muffin tops? You do, I know it. Well these muffins make the best muffin tops. Studded with baked, sweet ruby-colored strawberries…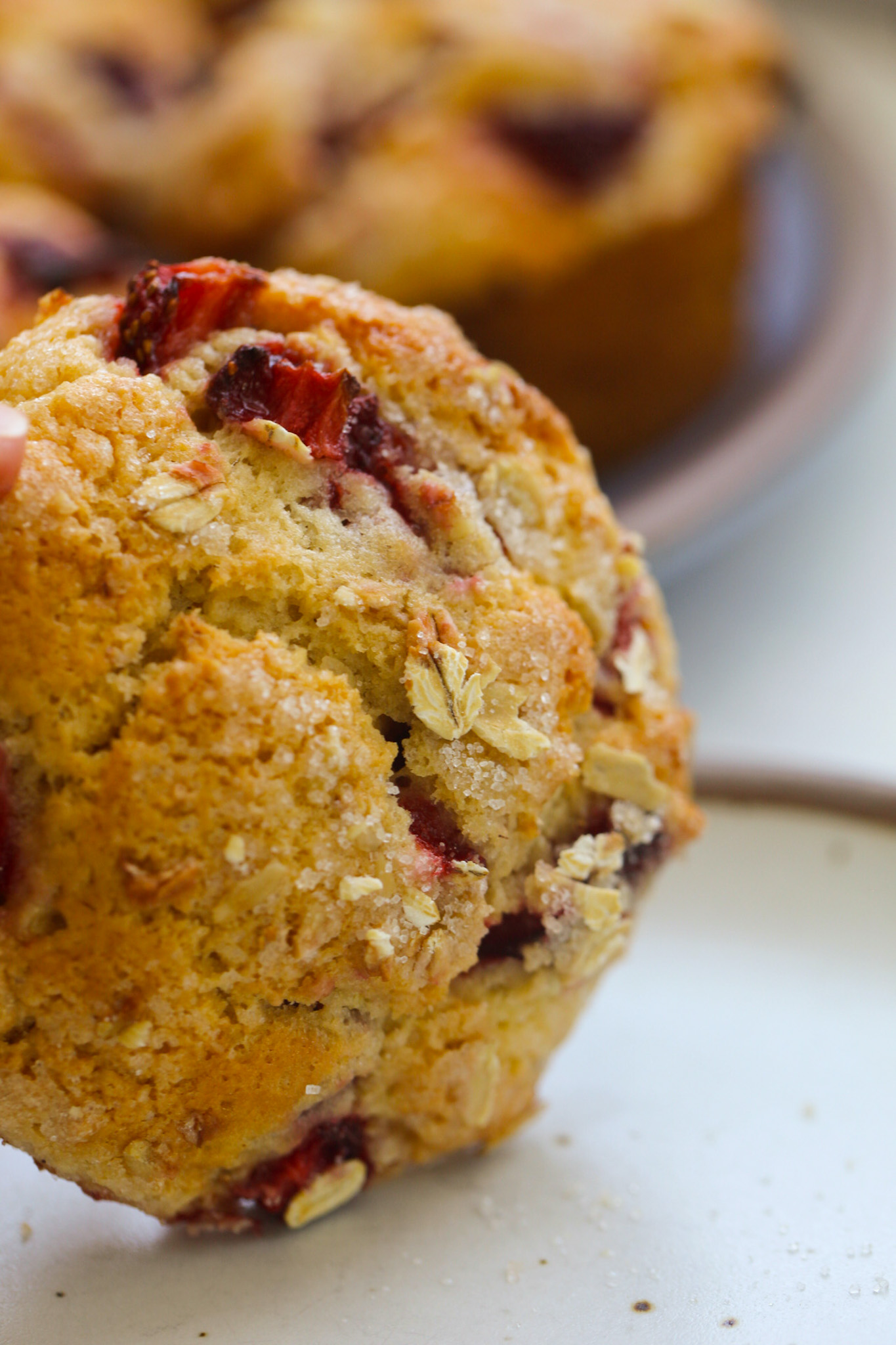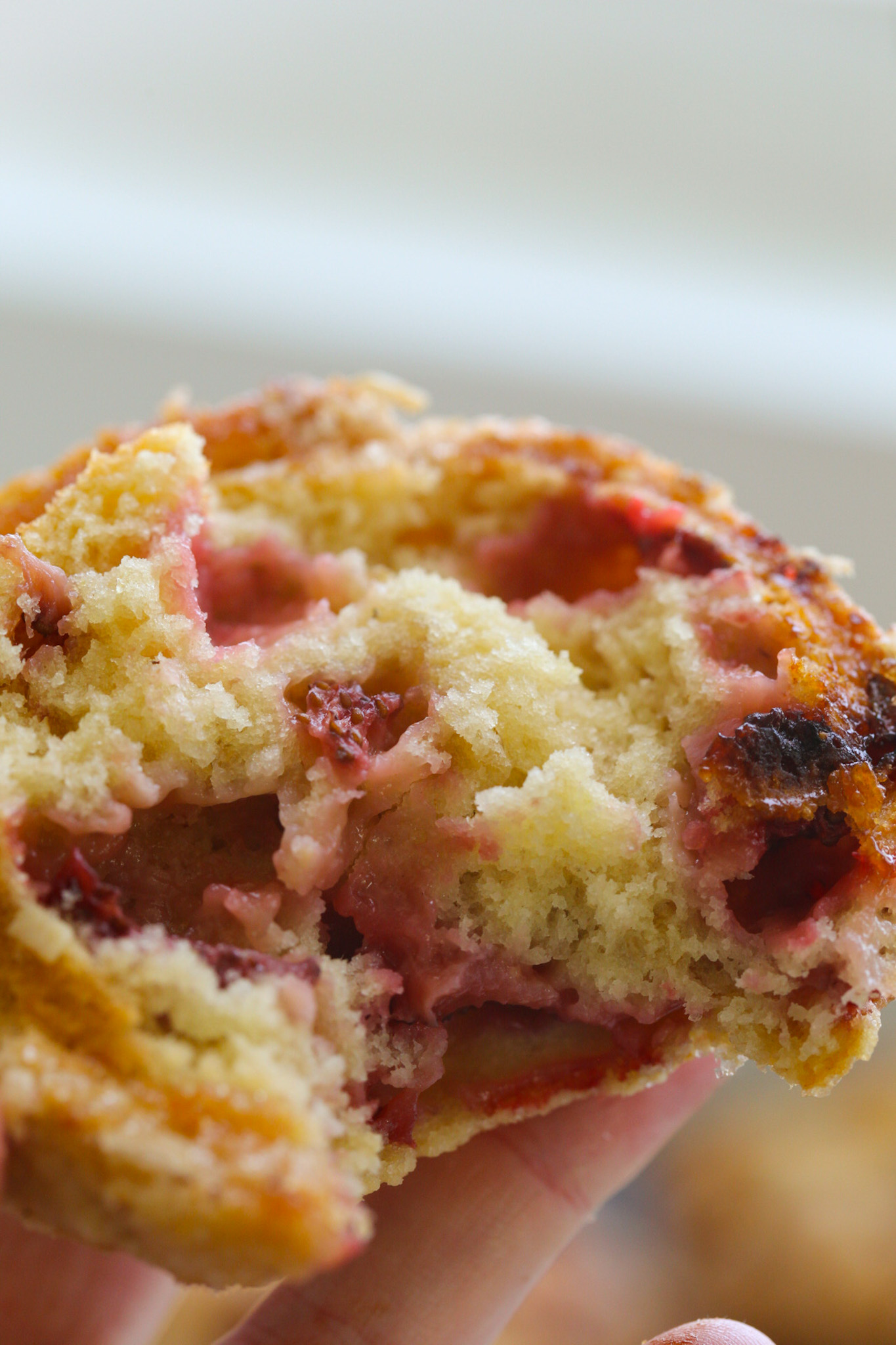 Strawberries in Baked Goods
I mentioned to my husband that I was going to make strawberry muffins this time. "Strawberry muffins!?" was his reply. I reminded him that one of our very favorite muffins when we were living in NYC was a vegan strawberry peach muffin we would always buy at the Dean & Deluca in Soho. "Oh yeah…"
It's true that strawberries do not get the pop culture fame as a blueberry muffin, but strawberries are arguably just as delicious to eat raw (or more delicious) compared to blueberries, so why not embrace them in baked goods as well???
One Theory Why Strawberries are Less Common…
One theory I have is that strawberries take more prep to add to baked goods. You need to dice them into smaller pieces, which can take an extra five minutes or so. They also give off slightly more moisture and stickiness since they do not have a circular skin protecting the insides. So you have to be aware of that and make sure your batter before adding the berries is nice and thick.
The other theory is just that people love fresh strawberries so much, they don't really think that cooking them in necessary!
And it's true, strawberries lose a bit of their acidity and bite when cooked/baked, but I still enjoy the mild and summery flavor of strawberries when cooked and raw.
So yeah, strawberries are a less traditional option for baked goods, but I think they totally stand on their own as being delicious – and so pretty too!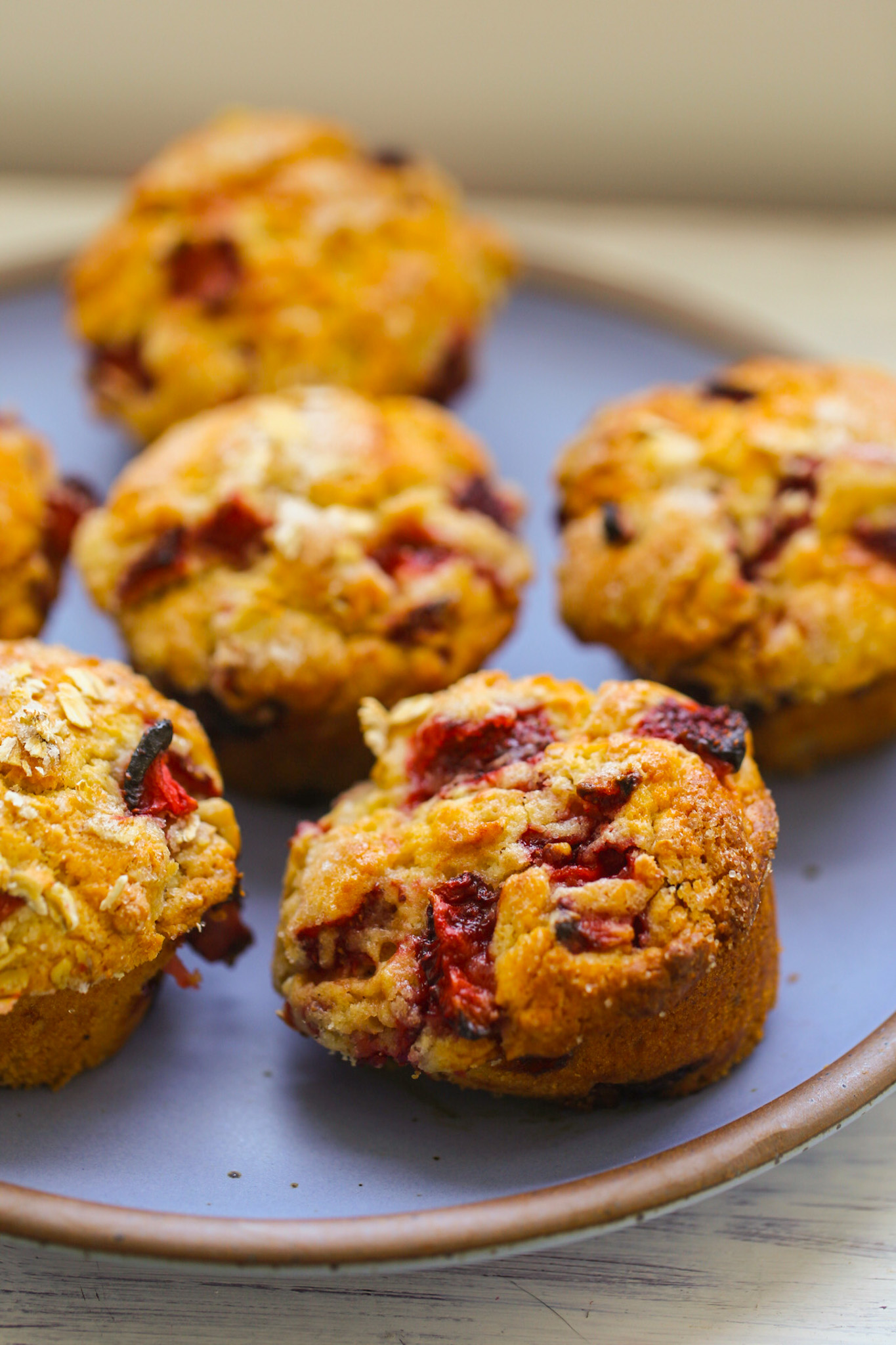 Vegan Muffins
These muffins are based on the blueberry muffins I posted last week. They use vegan butter instead of oil, so they have a slightly more dense texture. Almost like a scone in many ways. I love this batter recipe with fresh summer fruit! It reminds me a bit of my strawberry scones.
For the egg replacer, I have been really happy using the JUST Egg product — or my old fave of silken tofu, pureed.
Since these muffins use cane sugar as the sweetener, I make sure that the cane sugar is organic and vegan.
Everything else is so easy to veganize! These vegan strawberry muffins use vegan butter (Earth Balance sticks) and soy milk (unsweetened) and every other ingredient is naturally vegan.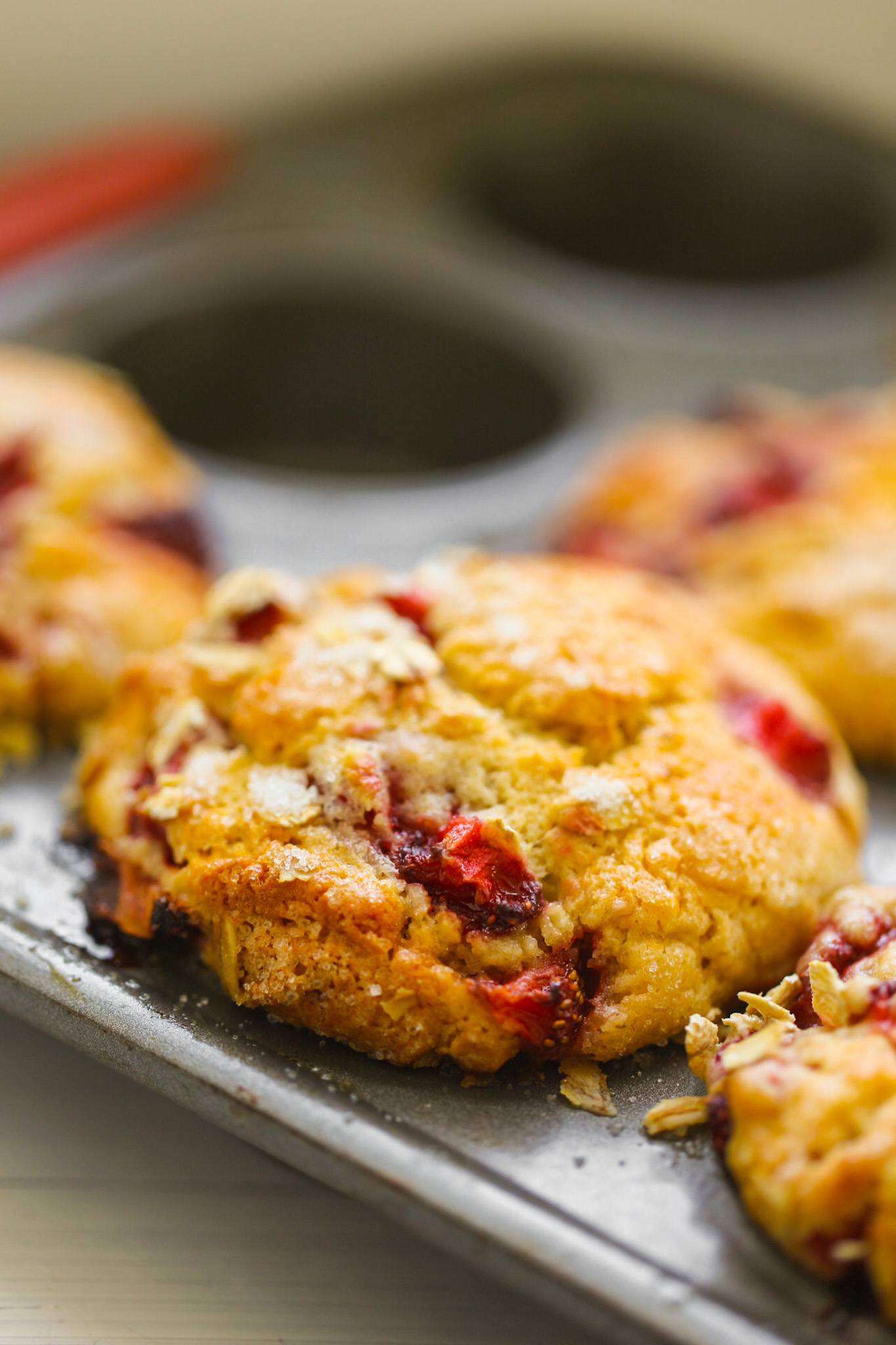 Flavor Add-In Options
So these vegan strawberry muffins are so perfect for customizing with some mild flavor accents. I actually added in some ginger today and loved the hint of flavor it added. Flavor add-ins are totally optional, but here are a few ideas…
Ways to modify these muffins – add in…
2-3 teaspoon lemon zest
Reduce strawberries by half and sub with diced fresh peaches
Mini vegan chocolate chips (yup! you can't really do that with blueberry muffins, but chocolate covered strawberry muffins are very allowed)
Drizzle a vanilla sugar glaze over top or add a crumble topping
Use bananas as your egg replacer for strawberry-banana muffins
Add in ½ cup chopped walnuts or almonds or hazelnuts
Baking Temp and Times for Vegan Muffins
I like to do 375 degrees and keep them in for about a half hour. But depending on how many muffins you want to make, the time may vary…
8-10 muffins – 30-32 minutes
11-12 muffins – 26-28 minutes
I like the slightly higher temperature when baking vegan muffins because I think it lifts the muffins quickly and then locks those puffy tops in place. Plus, you get a gorgeous caramelization and browning of those sugar-sprinkles tops.
Strawberry Season
These muffins are obviously best if you can make them from May-August-ish in strawberry or summer seasons. But since you can pretty much find strawberries year-round, you can make these whenever you crave them! I just love these with the freshest, deepest red summer strawberries – sweetest berries – I can find. I adore Harry's Berries here in LA for super sweet berries.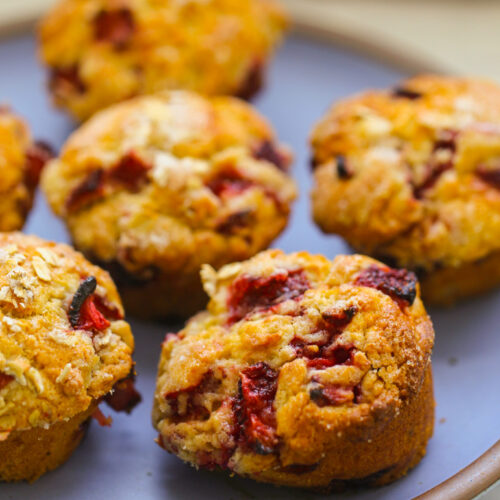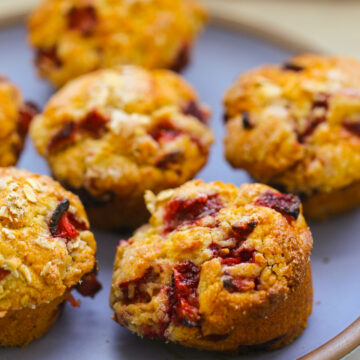 Vegan Strawberry Muffins
These bakery style vegan muffins are studded with juicy, sweet, tart summer strawberries. Buttery fluffy crumb.
Print
Pin
Ingredients
Wet:
½

cup

vegan butter

,

melted

¾

cup

cane sugar

,

organic

½

cup

vegan egg replacer

,

see notes

1

teaspoon

vanilla extract

1

teaspoon

apple cider vinegar or lemon juice

½

cup

soy milk
Dry:
2 ¼

cups

bread flour

,

organic, unbleached

2

teaspoon

baking powder

1

teaspoon

salt
Fold in:
2 ¼

cups

strawberries

,

fresh, organic – diced, rinsed and dried well

¼

cup

rolled oats
Topping:
3

tablespoon

cane sugar

,

organic

1

teaspoon

vegan butter

,

softened or melted

2

tablespoon

rolled oats

oil or vegan butter for greasing muffin tin
Instructions
Preheat oven to 375 and grease your muffin tin very well using veggie oil or vegan butter. Grease both the pits and smooth top of the muffin tin.

In a large mixing bowl, combine the wet ingredients. Whisk or beat well to combine.

Add in the dry ingredients and whisk or mix until smooth and fluffy.

Fold in the oats and fresh strawberries. Make sure your berries are nice and dry.

Scoop the batter into the tins.

Topping: Grab your ¼ cup of reserved fresh berries and plop them on top of the muffin batter. Combine the melted vegan butter with the cane sugar to get a clumpy soft sugar. Add the sugar mixture and rolled oats to the top of the muffins.

Bake at 375 degrees for about 30 minutes – or until muffins pass the toothpick test and the edges of the tops are lightly browned and fluffy.

Remove muffins from oven and let cool a good twenty minutes (at least) before removing carefully from tin. Serve warm! Store leftovers in the fridge for up to a few days — freeze for longer storage.
Equipment
muffin tin

mixing bowl

beater or whisk
Notes
egg replacer options – ½ cup of:
JUST Egg liquid
silken tofu, pureed with a pinch of salt added
(not tested) another egg replacer like flax eggs or apple sauce
nutrition estimate | per serving
Calories:
231
kcal
|
Carbohydrates:
37
g
|
Protein:
4
g
|
Fat:
7
g
|
Saturated Fat:
2
g
|
Sodium:
263
mg
|
Potassium:
189
mg
|
Fiber:
1
g
|
Sugar:
17
g
|
Vitamin A:
396
IU
|
Vitamin C:
16
mg
|
Calcium:
60
mg
|
Iron:
1
mg