I am obsessed with these Vegan Sugar Cookies. Perfect for just about any holiday. I love the buttery, orange-speckled, soft and lovely cookies all on their own, but when you add the most amazing, velvety, coconut, naturally pink, (not too sweet) sugar cookie frosting on top, well my heart gets all fuzzy warm and I know these are the perfect "I love you!" treats to make with or for your favorite person. Aka, Valentine-gifting approved.
Get the recipe, including my swoon-worthy, naturally pink, naturally sweet frosting…
Vegan sugar cookies you can feel a little better about. Yes I still have a basic sugar cookie base, but these cookies contain no artificial colors and simple ingredients, a few whole foods in there too!..

Sugar Cookie Frosting.
Once whipped, this frosting gets fluffy and smooth and so perfect for spreading onto cookies.
Did I mention that these cookies have snuck in a veggie? Carrots! I love the color + texture that the carrots create. They almost just look like giant orange sprinkles! (Heck, you could add in some spinach and strawberry bits and boom, all natural funfetti cookies.)

Bite! Buttery cookies with dreamy frosting. And the frosting isn't "too sweet" – which is my usual pet peeve with frostings in general…
Sugar Cookie Frosting.
I am totally in love with this frosting! I did a few rounds of testing and finally settled on this easy recipe using raw cashews (no soaking needed!) and coconut oil as the base. These ingredients are naturally sweet too! The small amount of powdered sugar I added is actually totally optional. The dragonfruit adds a naturally pink color. No food coloring needed in this kitchen.
Vegan Sugar Cookies.
Sugar cookies are so easy to make vegan. You just use vegan butter and add in something to replace the eggs. For these, I used something pretty unique. Mashed baby carrots! Yup. Use what you have, right?? I quite often use applesauce or flax eggs for replacing eggs when baking, but this was a fun fiber-ful ingredient to try. And instead of pureeing the carrots (which I actually also tested with this recipe..) I just give them a quick mashing! I love the texture and color the carrots provide.
Other veggies?
You could absolutely get creative with the veggies you use. Sweet potato, squash, heck, you could even try broccoli or peas if you don't mind the color and possible slight flavor nuances. I mean, it is kinda fun to add a veggie to you cookies…
Winter Olympics + Kitties. Oh! If you have been reading my blog for a while, you might know that this is the fourth anniversary of use adopting our two kitties Sochi and Mr White. We adopted them during the Sochi Olypics four years ago… Thus why the name! It is so funny when the sports announcers keep referencing the "Sochi Games" and I get excited and shout, "Sochi!" Sochi's little ears perk up and he is like, what in the world….
Read more: A Kitty Adoption Love Story for Vday: Sochi + MrWhiteCat
Vegan Sugar Cookie Notes:
If you do not have dragonfruit, fresh or frozen strawberries or raspberries would work too. But dragonfruit is great because you do not need to add that much to get a strong pink color.
If you do not have carrots, you could sub with sweet potato mash (about ½ cup). You could also experiment with apple sauce or flax eggs in place of the carrots, though I did not test with those ingredients.
I don't want to use white flour…. You can absolutely play around with whole grains or even gluten-free blends. But anything whole grain could interfere with the color a bit, and also the end results of this recipe.
Can I make the vegan sugar cookies thicker, or thinner? Yes! Absolutely. Play around with the thickness of the rolled out dough. I did a few thicker cookies that I really liked. Just remember that thicker cookies will take a few extra minutes in the oven.
Adding Sugar Crystals. If you want to add that extra sparkle with crystals, be sure to look for vegan, all natural brands if you want to keep your cookie dye-free. I used India Tree Pastel Sanding Sugar in a light pink. White also works.
Frosting Texture. After blending then chilling it, the frosting will be firm and waxy. But after whipping and letting it warm up a bit, it is heavenly. If you want it to get softer, just let it warm up a bit.

The coconut oil makes this frosting very temp sensitive. You wouldn't want to leave these cookies out in the heat, say in a backpack on a warm day. The frosting will melt a bit too much. And straight from the fridge, the frosting will be on the firm side. But when you get it at that soft, whipped, fluffy temp + texture, it is perfection!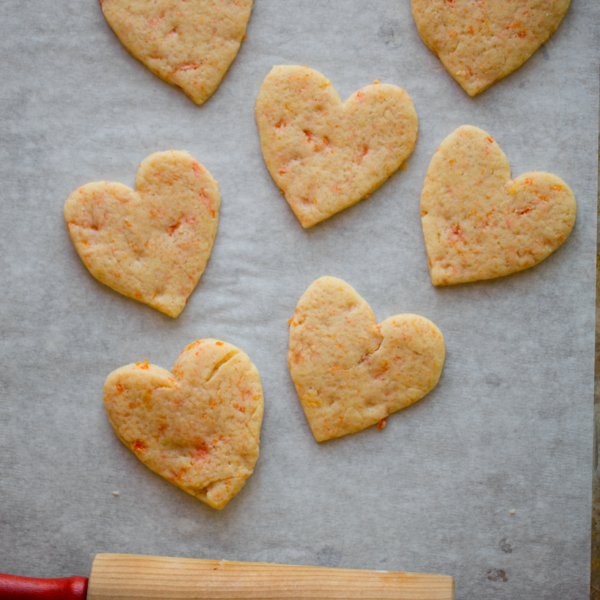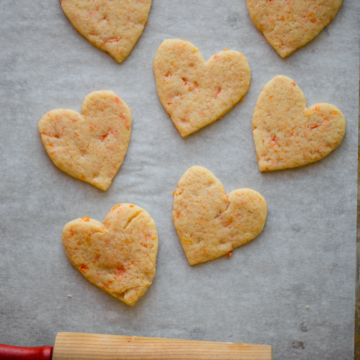 Vegan Sugar Cookies
These buttery, soft, vegan sugar cookies have the most amazing cashew frosting on top. All natural bright pink color using dragonfruit!
Print
Pin
Ingredients
Cookies:
½

cup

vegan butter

,

softened

½

cup

carrots

,

roughly chopped

1 ½

tablespoon

lemon juice

¾

cup

sugar

,

vegan cane sugar

½

teaspoon

vanilla extract

1

teaspoon

baking powder

⅛

teaspoon

baking soda

⅛

teaspoon

sea salt

2

cups

all purpose flour
Pink Cashew Coconut Frosting:
1

cup

raw cashews

½

cup

virgin coconut oil

2

tablespoon

powdered sugar

,

optional

⅛

teaspoon

vanilla extract

,

optional

1-3

teaspoon

frozen dragonfruit

,

from a smoothie pack

pinch

of sea salt
Instructions
Preheat oven to 350 degrees. Line two baking sheets with parchment paper.

Boil water in a small pot on the stove. Drop in the carrots. Boil for about 5-10 minutes, until very tender. Drain carrots and mash using a potato masher or fork. You want them as smooth as possible. Set carrots aside to cool for at least 5 minutes.

In a large mixing bowl, add the vegan butter, sugar, lemon juice and vanilla extract. Using a hand or stand mixer, beat until smooth. Add in the carrot mash. Beat on low very quickly, just until combined. Then add in the flour,

baking soda, baking powder and salt. Beat on low, just until smooth. It is ok if there are little orange bits of carrot in your cookies! That actually adds some nice texture and color.

Roll out the dough using a floured surface and a rolling pin. Roll to about ¼ inch thickness. Cut out heart shapes using a cookie cutter and place hearts on the baking sheets.

Bake cookies at 350 degrees, for 10-14 minutes, or until the edges start to very lightly darken in color. Transfer cookies to a cooling rack. They will be delicate upon coming out of the oven, and cooling will help them firm up a bit. Tip: If you like really soft sugar cookies, do not overbake them. You might even want them slightly underbaked. For firmer, crisp cookies, bake a bit longer, until edges brown more significantly.

While the cookies are cooling, you can whip up the frosting….

Boil some water in a small pot. Add the cashews and a pinch of salt. Boil them for just about 2-3 minutes. Drain the water and transfer the softened cashews to a blender container. Add in the coconut oil and vanilla and blend from low to high until smooth. You really want to blend on high for at least a minute to smooth out the cashews. (Very important for smooth frosting!) The mixture may look very clumpy and strange at this point, but that is ok! Next, add in the dragonfruit, blend until smooth and bright pink. Lastly, add in the powdered sugar and blend just until it is also combined. Scoop the mixture out into a small bowl. Do not worry if it is very clumpy. Place the mixture in the freezer for about 10-15 minutes, or until the top layer gets hard.

After the frosting firms up to a scoopable state that hold its shape very well, transfer all the frosting to a medium mixing bowl. One with high sides is preferred. Using a hand mixer, beat on low until fluffy and whipped.

Frost your cooled cookies and serve! Add pink sugar on top if desired. Tip: For easier frosting, place the cookies in the freezer or fridge for a few minutes before frosting. Store leftovers in the fridge or freezer.
Notes
nutritional info does not include frosting
nutrition estimate | per serving
Calories:
110
kcal
|
Carbohydrates:
18
g
|
Protein:
1
g
|
Fat:
4
g
|
Saturated Fat:
1
g
|
Sodium:
61
mg
|
Potassium:
44
mg
|
Fiber:
1
g
|
Sugar:
8
g
|
Vitamin A:
750
IU
|
Vitamin C:
1
mg
|
Calcium:
12
mg
|
Iron:
1
mg
Looking for another spin on Vday cookies…