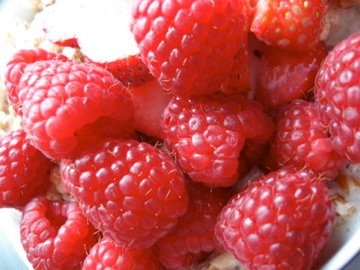 It's late January and the frosty air hasn't quite budged an inch from your windowsill.
You have just about drowned your palate in hot cocoa, hot tea, grande skinny lattes and Starbucks soy chai. You even tried that new London Fog drink for a taste of something new.
You have about worn out your soup bowl and spoon-they sit in your cabinet in the first row, right on the front lines for every suppertime meal. Your taste for winter comfort foods has grown dim, as these close-gray-sky days get very old very fast.
You're fed up with winter chill and winter menu monotony.
You feel a bit sluggish. You miss those summertime vitamin C highs from a Jamba Juice smoothie. And the zing of delight you get from biting into a fresh Georgia peach.
Perk your palate up with some fruit!
I know its winter. I know the summer berries are sleeping deep beneath their unsprung buds. But for gosh sakes, DO IT:
Break open a cantaloupe.
Slice a pink papaya.
Blend up a frosty fruit smoothie.
Shuck your "locavore ways" and indulge in that $5.99 box of blueberries. I won't tell.
Peel a banana.
Slice a honey crisp apple (sprinkle it with salt. yum.)
Suck on a mango.
Crack open a can of lychee's.
Crunch on a pippin apple.
Smell the aroma or a maple-drizzled pear.
Just a reminder from me to you: eat fruit.
It will make you feel better. I promise.
Need some ideas for winter fruit eats?Fruit Eating Ideas for Winter:
Berries and bananas in your oatmeal or cereal.

Salty Apples
Grilled pears on vanilla soy cream – a drizzle of Grade B maple syrup.
Warm figs on your bagel and vegan cream cheese.
Sliced winter citrus on your salad.
Fresh squeezed OJ or TJ of GJ (orange, tangerine or grapefruit juice.)
Melon in the morning-hydrating!
Buy some "gourmet" canned exotic fruits like lychee's, jackfruit or mandarins.
A fruit salad with lunch, grapes, kiwi, apples, lemon juice and pears.
Lime marinated grapefruit slices on the side of a burrito.
Get Creative. Go for the colorful fruits this winter. It will perk up your taste-buds and maybe your entire day!