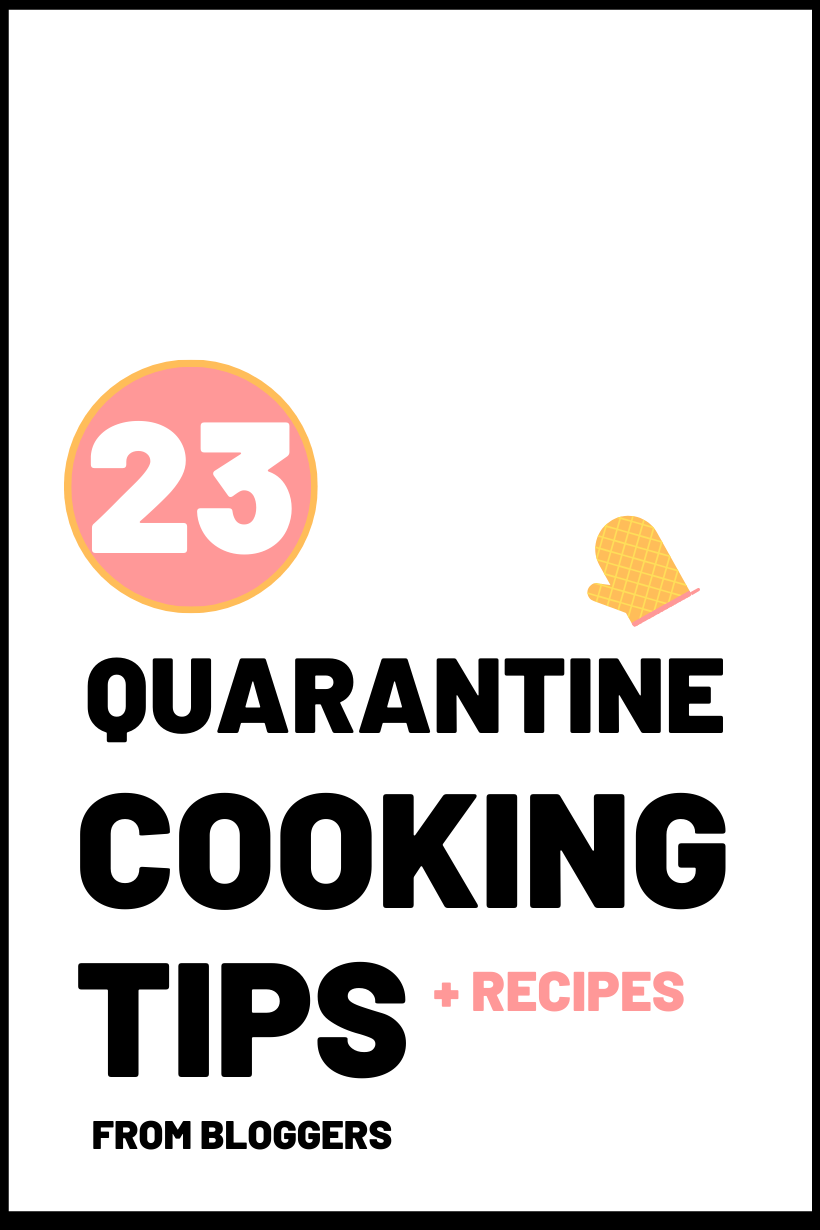 I asked my blogger friends to chime in on their very best Quarantine Cooking Tips + recipes — and here is what they had to say….
23 Quarantine Cooking Tips
I hope you enjoy this collection of tips, advice and recipes! Thank you to all the bloggers who shared their knowledge and inspiration. Here are the Quarantine Cooking Tips…
1 – Cook Beans in a Rice Cooker
"This is my favorite (and the BEST) method for cooking dried beans! You can make a big batch all at once, use what you need, and freeze the rest. I also include a must-have tip to reduce any "bean bloat" by cooking them this way!" – Rebecca, strength + Sunshine
Try it: How to Cook Beans in a Rice Cooker
2 – Legumes Save the Day
"I keep a good sized stash of canned legumes – beans, peas and lentils – on hand at all times. There are so many quick and easy meals you can make with them. Legumes give us great protein and fiber. I use them to make a simple vegan chili and these delicious lentil burgers that my teen daughter loves." – Joann, Woman in Real Life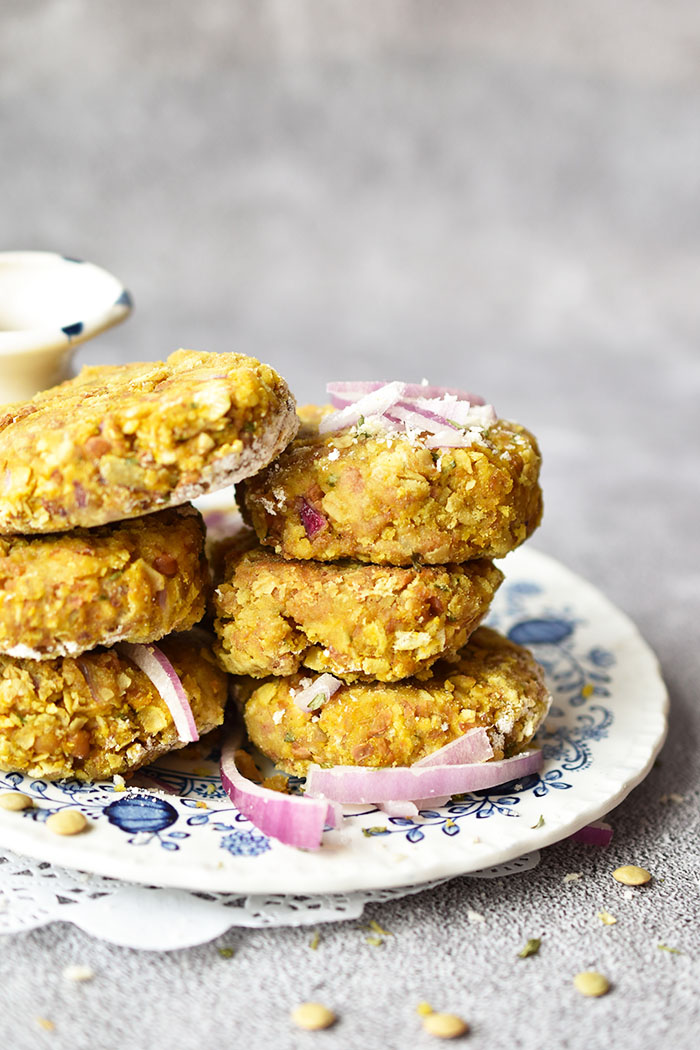 3 – Keep Your Pantry Smartly Stocked
"These 20 vegan pantry items are perfect to stock up on and have on hand for simple recipes." – Jessica, Any Reason Vegan
4 – Lentils for All
"We're so glad to have plenty of dried lentils on hand. They're great value and more compact compared to canned. We love using them in this Flavoursome Vegan Lentil Ragu which can be made entirely with pantry staples. It's easy to adapt and add fresh veggies when we have the available. Perfect on pasta and in oven bakes for a nutritious and protein rich meal." – Sophie, Vegan On Board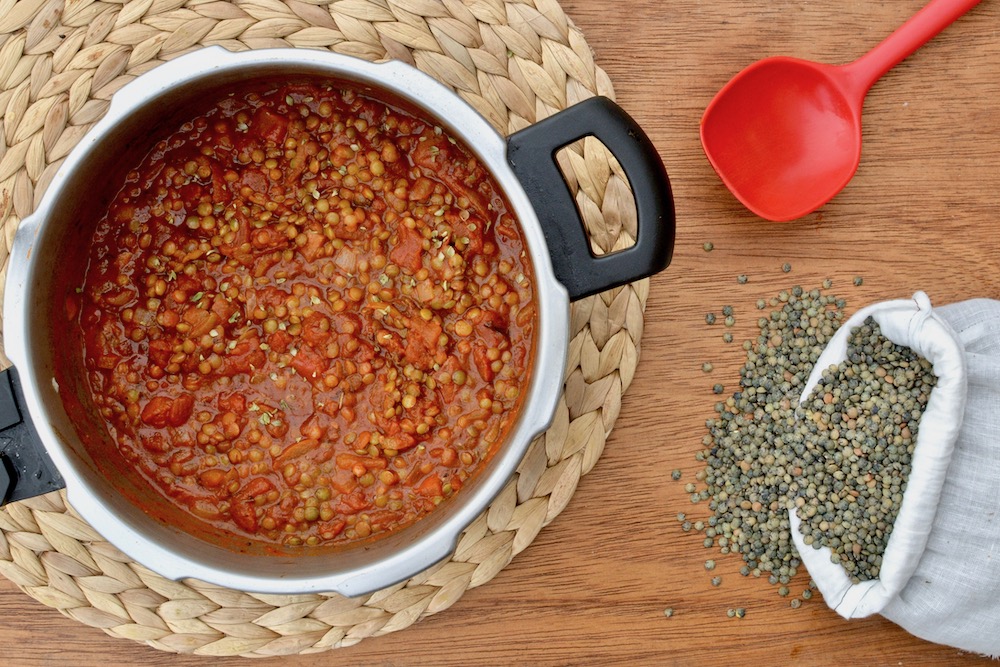 5 – Homemade Pesto – On Everything
"Making big batches of pesto, store them in freezer-friendly container and keep them in the freezer for easy and quick meals. This broccoli pesto goes super well with pasta, rice, roasted veggies and even as a sandwich filler with extra veggies!" – Andrea, The Petite Cook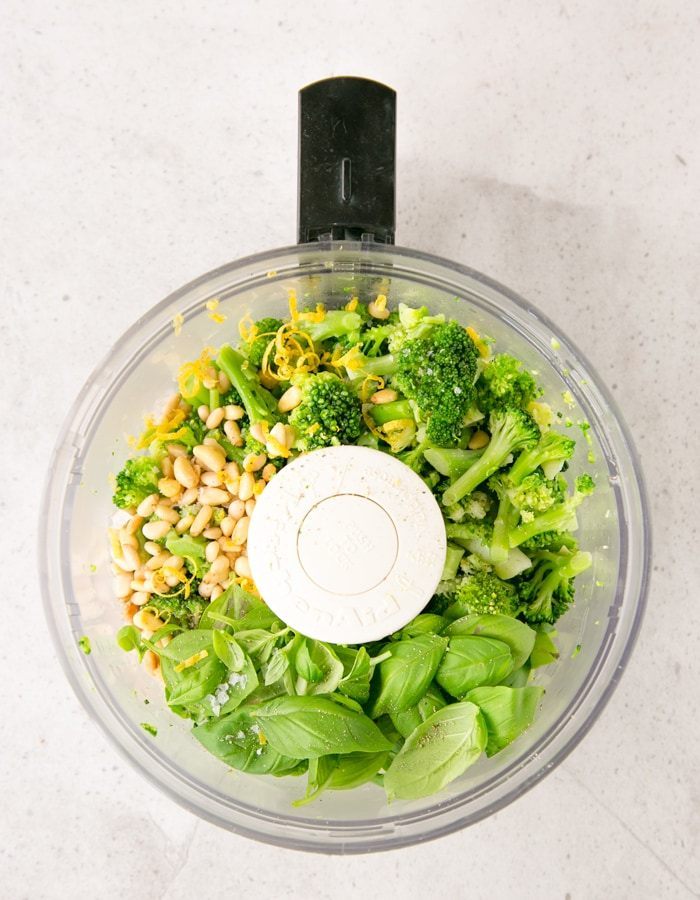 6 – Tacos + Stir-Frys = FLAVOR
"Spicy and extra flavorful dishes feel really comforting right now, so we've been enjoying tacos and simple veggie stir fries. They're both so easy to adapt depending on what you have or need to use up. Our favorite taco combination this week was made with sautéed onion, canned black beans, frozen corn, and Trader Joe's chorizo. So good! This sticky sesame tofu is another dish we've gravitated toward. Double the sauce and serve it with rice." – Lori, My Quiet Kitchen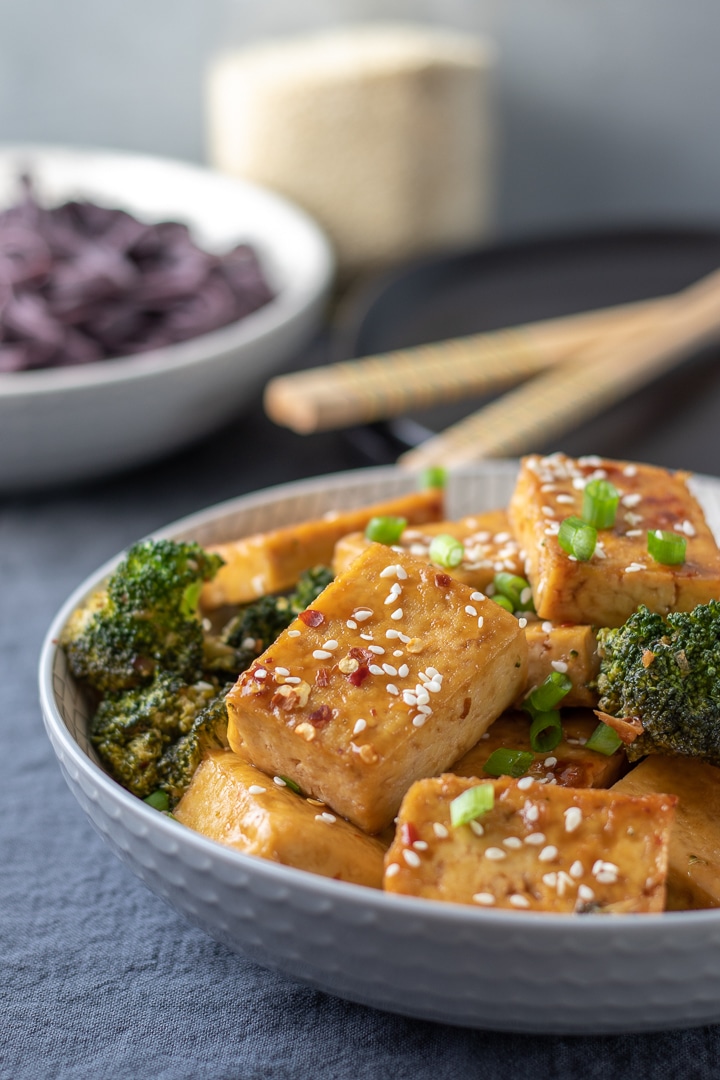 7 – Tofu to the Rescue
"Tofu is such a versatile and inexpensive food that can be used in a variety of ways in order to get a good dose of protein for the day. Since it absorbs the flavors it's prepared with, make sure to add spices, herbs and condiments. Many people that declare they don't like tofu, they simply don't know how to prepare it well. Use firm tofu for stir-fries and scrambled tofu; use silken tofu to make a spread or add it to your smoothies." – Francesca, Seven Roses
Check out: Francesca's 10 Must-Have Vegan Pantry Items
8 – Instant Pot Basics
"We stored rice, frozen vegetables, and beans. With these, we can make lots of rice recipes, soups, and even warm bean salads. Instant pot meals are great during the quarantine life that makes it easier for you and for your family. I am so glad I have an Instant pot!" – Uma, mrishtanna
9 – Canned Chickpeas Are a Must
"I make sure to have canned chickpeas on hand because they can be so versatile and are a healthy choice for adding complex carbohydrates, protein, and fiber to a meal. Then I add chickpeas to salads, buddha bowls, soups, and pasta dishes. I can use them to make veggie burgers or casseroles as well as use the brine (aquafaba) as a thickener/binder. This Roasted Tomato Chickpea soup is made with mostly pantry staples – including chickpeas – so it's a great choice for a healthy lunch or dinner." – Mary Ellen, V Nutrition
10 – Give Red Lentils a Try
"I love cooking and baking with red lentils. It doesn't require a lot of preparation or overnight soaking or long hours of cooking but it is one of the highest protein legumes. It is also not something most people think of at first so I usually manage to buy them easily. I am making the usuals like stew, soup, curry or Dahl but I use them to make these pancakes, waffles or tortilla as well." – Emese My Pure Plants
11 – Extra Protein From Beans
"Our family loves to keep extra cans of beans around so we can add some quick protein to any meal! We love to serve them in different ways—soups, stir fries, salads, bowl meals, and even hummus!" – Sarah, Fried Dandelions
Try it: Sarah's Chickpea Stir Fry with Pineapple
12 – Canned or Fresh Tomatoes on Call
"Besides dried pulses we always keep a good supply of canned tomatoes in the cupboard. Tomatoes are a great source of vitamin C and aid in absorbing iron. If I can't get canned tomatoes I buy a huge batch of fresh tomatoes and roast them to make my own passata to freeze. Tomatoes are so handy for pasta sauces, chilli, soups and curries." – Amanda, My Goodness Kitchen
Make it: Chickpea, Tomato, Spinach Curry with tomato
Kathy's Quarantine Cooking Tip: Keep tomatoes on hand! They can be used in soups, stews and homemade marinara sauces. You can even whip up some pizza dough and pizza sauce.
13 – Switch it Up!! #GetCreative
"I love to switch up the basic ingredients to make many different things. If you're creative it's easy to find ways to make current recipes with what you have on hand. Here is my collection of our current faves and tips on how to adapt them!" – Sophia, Veggies Don't Bite
Get it: Sophia's Vegan Pantry Staples
Kathy's Quarantine Cooking Tip: I LOVE the above tip from Sophia. Making ingredient changes in recipes is so important right now. Don't be afraid to make some kinda weird changes! From cucumber slices in sandwiches to beans tossed in pasta, to using kale or collards in place of spinach. Not only will this help your ingredient issues, but it will absolutely make things interesting!
14 – Egg Substitute From Beans! Aquafaba…
"There's a near endless supply of egg substitute in your pantry! Aquafaba, the liquid in cans of beans, is incredibly versatile. It can even be whipped up like egg whites, and helps to provide structure. I also like that it helps to use up something that otherwise would have gone to waste." – Alisa, Go Dairy Free
Try it: Alisa's Aquafaba guide
15 – Grab Gardein for Extra Protein + Flavor
"Gardein Beefless Tips have been a great protein for me. I've added them to stews, eaten them with some onions and mushrooms, and also created this yummy Beef and Broccoli recipe with them and a few pantry staples." – Steven, The nut-free Vegan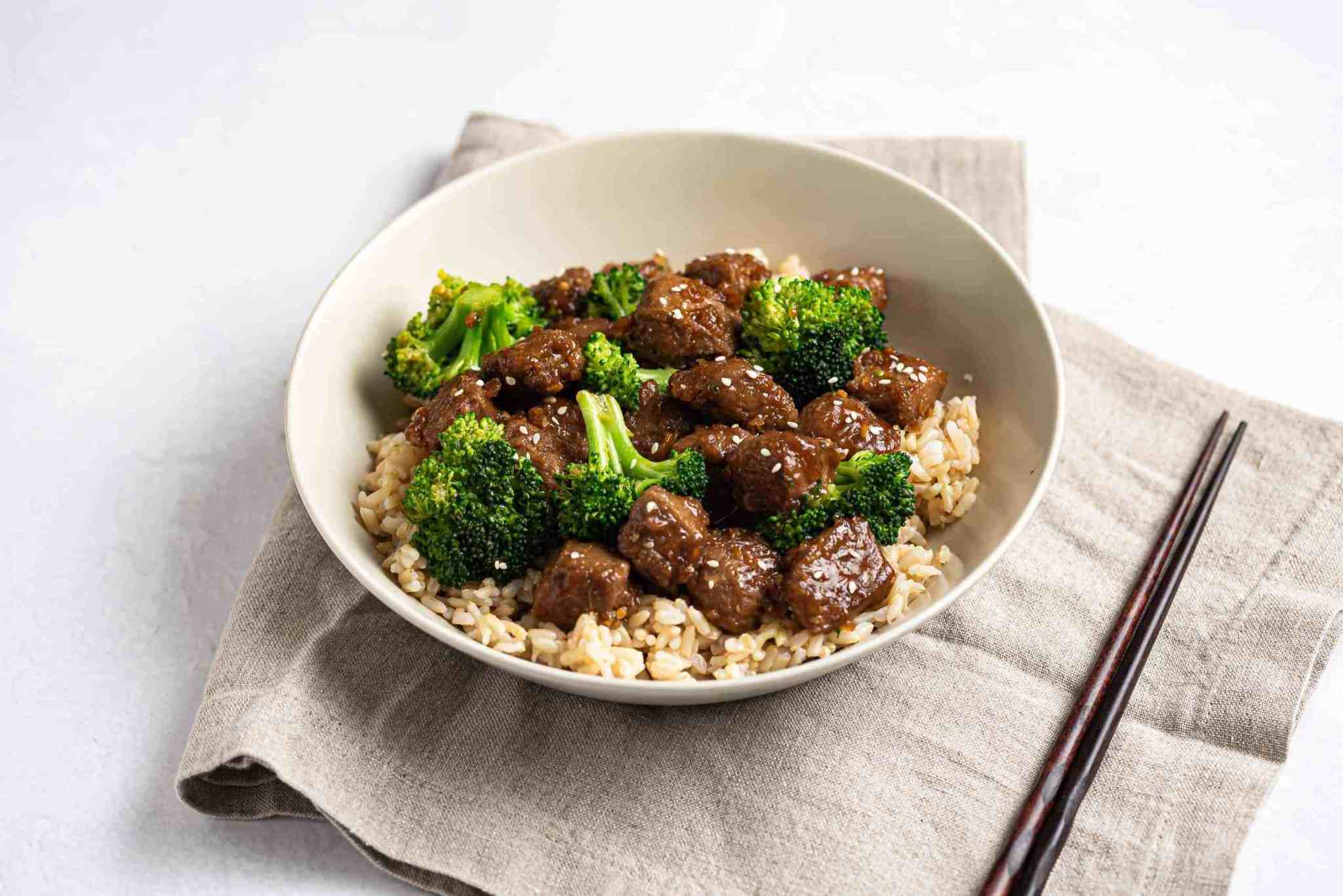 16 – Burrito Bowls = Crowd Pleaser
"Now that all three kids and my husband are home full time, I feel like I'm busier than ever. Working from home, facilitating e-learning for the kids, making sure everyone is fed, cleaning up three meals a day plus snacks, etc…it's a lot. Quick and easy meals are super important right now. These Super Simple Burrito Bowls are quick and easy and made almost entirely of pantry/freezer staples. The avocado sauce is optional, but delicious if you find yourself with fresh avocados. We like to serve them up with tortilla chips for dipping…no forks allowed!" – Jennifer, Veggie Inspired
17 – Big Pot Stews – Meals for Days
"I'm into legume stews (either split peas, mung beans and/or lentils of all kinds). I prepare I big potful so that it lasts for 3 days and I only need to chop up some raw veggies or steam greens for a complete meal." – Nele, NutriPlanet
Get Inspired: Nele's Day of Quarantine Meals Video
Kathy's Quarantine Cooking Tip: LOVE my big pot soups and stews for make-ahead meals! And Nele is so right, you can easily make one giant pot and have several days of meals from it if you play things right. Boost the soup by adding hummus or avocado toast or veggies to crunch on – on the side.
18 – FLAVOR-Powered Beans
"I've been loving deep-diving into my tinned goods the past few weeks and using beans to create delicious recipes that take no time. One of my favorite tinned beans recipes is this mexican pinto beans dish – it requires minimal ingredients that you're guaranteed to have in your pantry, and makes the perfect quick and healthy lunch!" – Yasmin, By the Forkful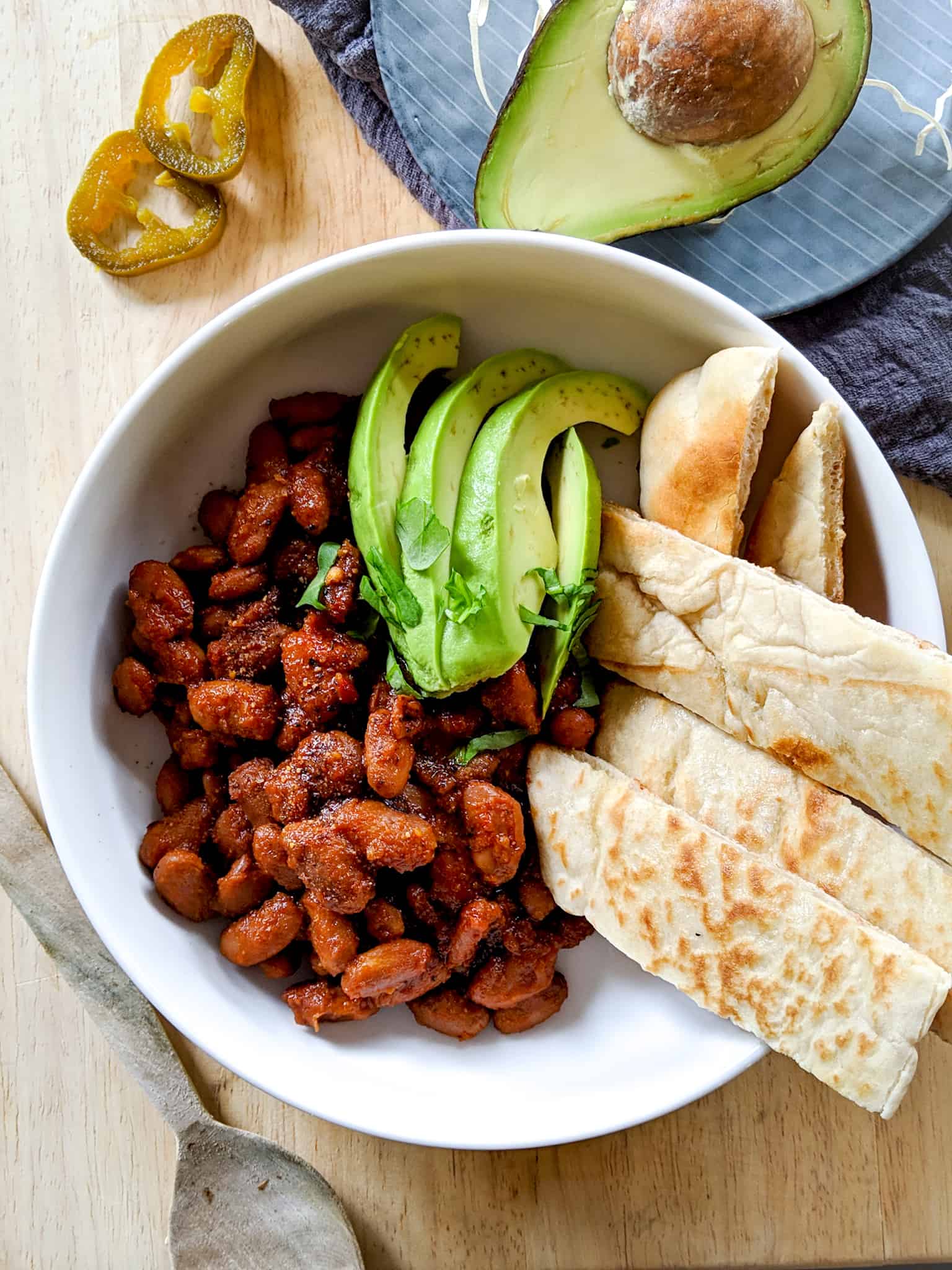 19 – (3 Tips!) Long-Lasting Produce Focus + Freeze Foods for Smoothies + Frozen Veggies in Liquid-Based Recipes Work
"I'm used to buying fresh food every other day, so now I've had to shift my focus to more shelf-stable and hearty dishes, including a lot of beans and grains.

I'm also thinking about which types of produce lasts the longest–potatoes, carrots, and onions are all versatile and have a long shelf life. I've also been stocking up on bananas. When they get too ripe I just throw them in the freezer to use for smoothies.

When it comes to frozen vegetables, I don't much like the textures when you eat the veggies alone. But if you throw frozen vegetables into soups, curries, stir fries, etc. (anything with a lot of liquid), they work out quite well. And I always keep a big bag of frozen blueberries on hand to top my morning muesli." – Julianne, no sweat vegan
20 – Freeze Dips + Sauces + Dressings
"Any little bit of fresh guacamole, dip or dressing that can be frozen, I freeze and label it! I have been doing this for months and continue to do so. It's so helpful to look in the freezer and suddenly have an array of sauce options to top plain canned beans or pantry staple rice!" – Sarah, Bad to the Bowl
21 – Sandwiches to the Rescue
I am really into sandwich lunches right now, like my hummus + 'cado crunch because you can throw in some basics: hummus, a crunchy veggie, maybe pickle slices or smashed avocado and add anything else that you might have. From vegan cheese to veggie deli meats and tempeh bacon. Sandwiches are so versatile so they break the boredom of quarantine meals. I'm also obsessed with Beanfield's (affiliate link) and baby carrots and pomegranate juice or lemonade served with my sandwiches." – ME, HealthyHappyLife.com
22 – Day Cooking for Make-Ahead Dinner Meals
"The more you can cook during the day and just reheat at night the better, IMHO. Since many of us are home during the day, we can whip up a dinner meal while we are making lunch, and then once dinner rolls around you have zero work to do.

My favorite make-ahead meals: hearty bean soup, potato soup, cozy pasta, casseroles like enchiladas and mac + cheese and more." – ME, HealthyHappyLife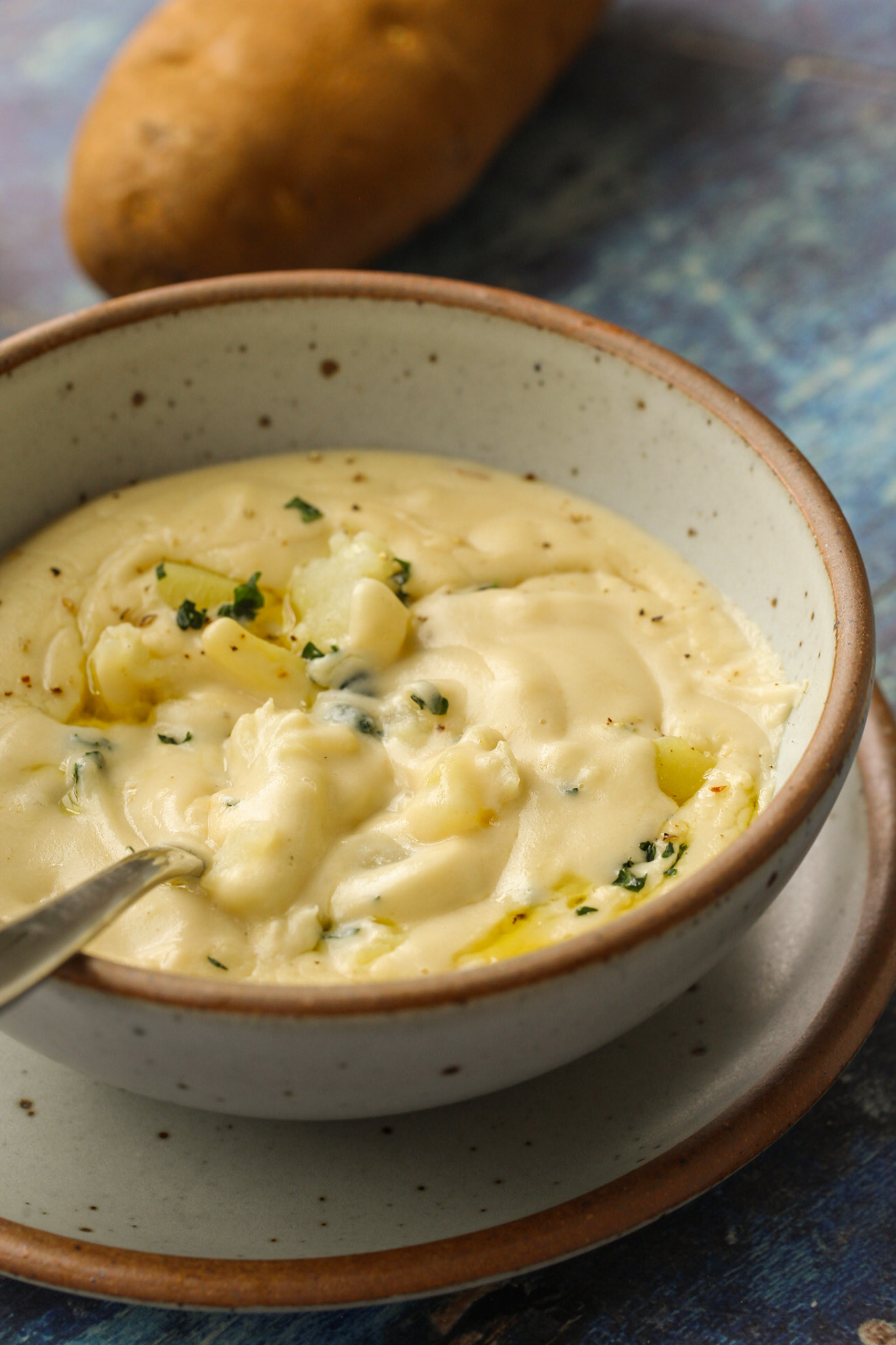 23 – Rice Rice, Baby
"It sounds so ordinary, but really-good cardamom rice is the go-to hero that's saving our quarantine mealtime life – mostly because everyone loves the taste!

When the scent of cardamom fills the kitchen, the family starts filtering in without even being called, which is always a pleasant way to start dinner. We especially love this creamy rice with a dish we call, no-cook tofu curry in a hurry, and it's excellent with a bowl of deliciously seasoned black beans, too – both of these fuss-free mealtime favorites are on the blog." – Renee, Veeg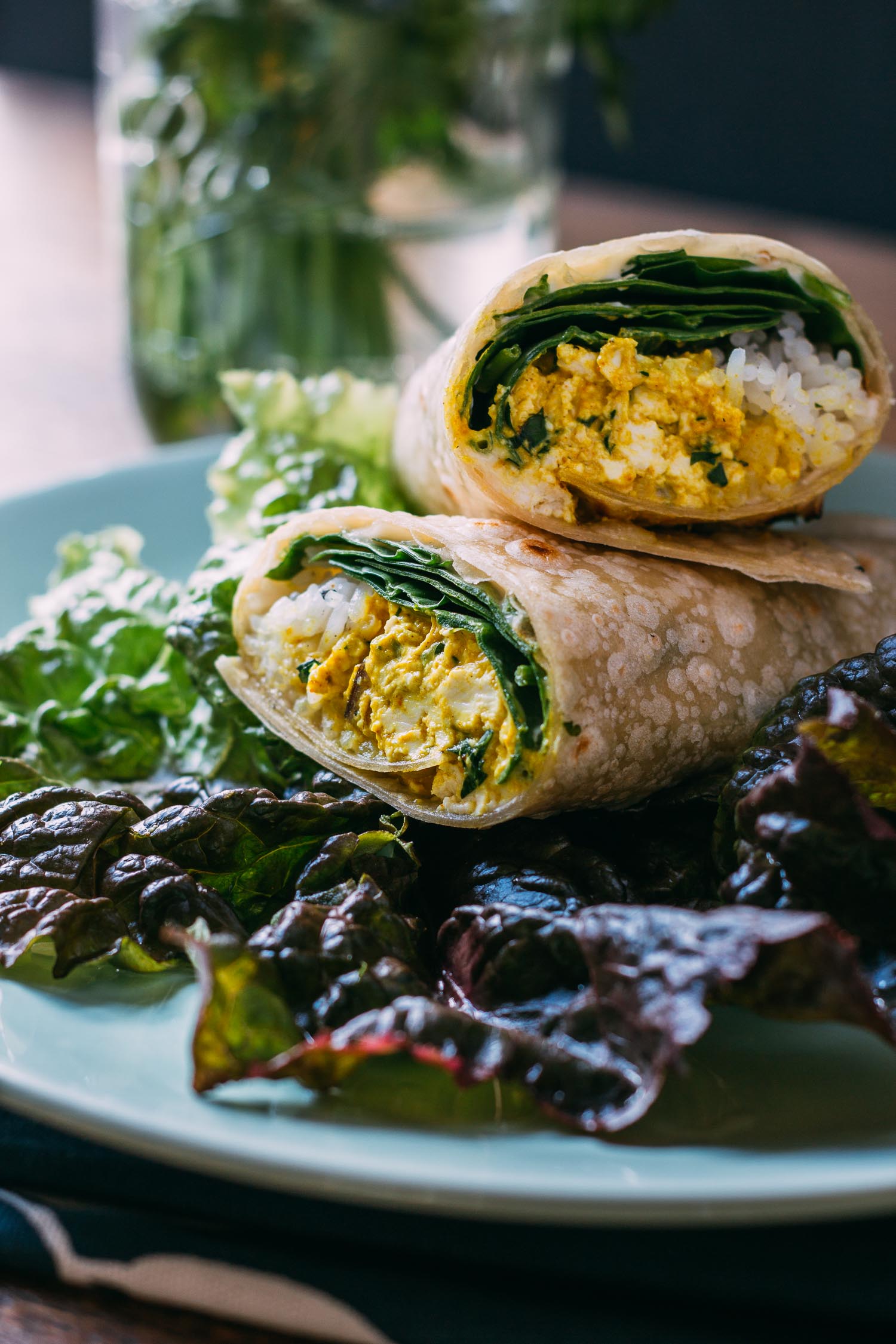 BONUS TIP #24 – Take it Easy
This is a really stressful time for everyone. So don't hesitate to do whatever is the easiest + most appealing food option for you and your family. That may mean that your quarantine cooking for the day consists of PBJ + easy oatmeal and a frozen pizza or boxed vegan mac+cheez, with a side of baby carrots and bottled vegan ranch.

Or maybe you cook one big thing and serve that – then just nibble and do easy snacks the rest of the day. Smoothies for dinner are OK! And don't forget the treats! Baking is an awesome way to distract yourself right now, and you get to eat the goodies. These oatmeal cookies are kinda perfect.
Sending so much love + wellness your way! _- Me, Kathy, HealthyHappyLife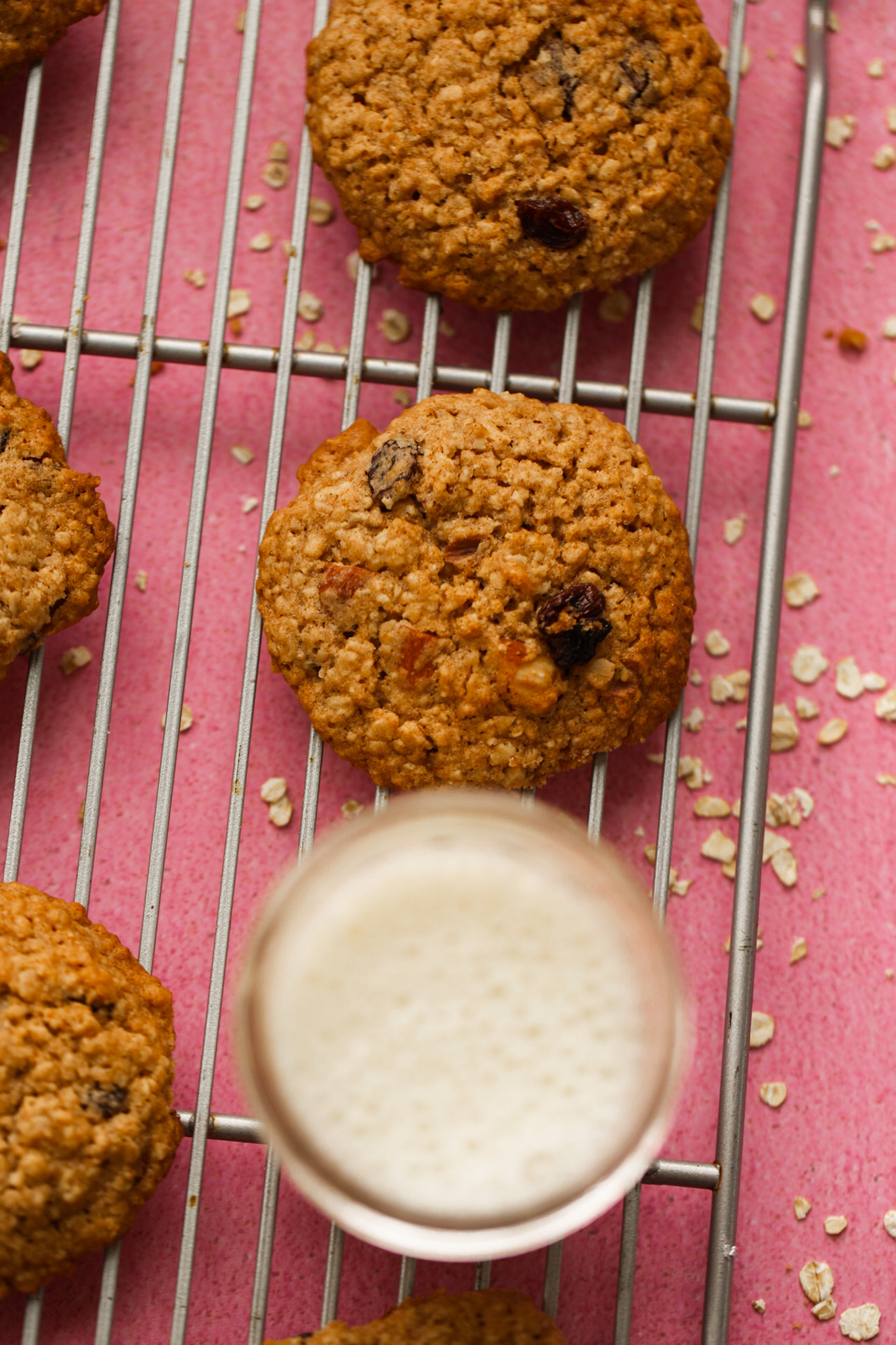 Quarantine Cooking Tips Recap…
Cook Beans in a Rice Cooker
Legumes Save the Day
Keep Your Pantry Smartly Stocked
Lentils for All
Homemade Pesto – On Everything
Tacos + Stir-Frys = FLAVOR
Tofu to the Rescue
Instant Pot Basics
Canned Chickpeas Are a Must
Give Red Lentils a Try
Extra Protein from Chickpea Meals
Canned or Fresh Tomatoes on Call
Get Creative – Switch it Up!
Egg Substitute From Beans! Aquafaba…
Grab Gardein for Extra Protein + Flavor
Burrito Bowls = Crowd Pleaser
Big Pot Stews – Meals for Days
FLAVOR-Powered Beans
Long-Lasting Produce Focus + Freeze Foods for Smoothies + Frozen Veggies in Liquid-Based Recipes Work
Freeze Dips + Sauces + Dressings
Sandwiches to the Rescue
Day Cooking for Make-Ahead Dinner Meals
Rice Rice, bABY
(BONUS!) Take it Easy on Yourself
Thank you to all the bloggers who shared their Quarantine Cooking Tips!
If you have any questions or tips of your own, leave them in the comments. And if you just need to know what meals + snacks are SAVING people right now in quarantine, check out this Twitter Thread on FV…
Q: What one #vegan meal or snack is saving you right now in #QuarantineLife?

— Finding Vegan (@findingvegan) March 31, 2020
Need more Quarantine Cooking Ideas? Check out my Pantry Meals…