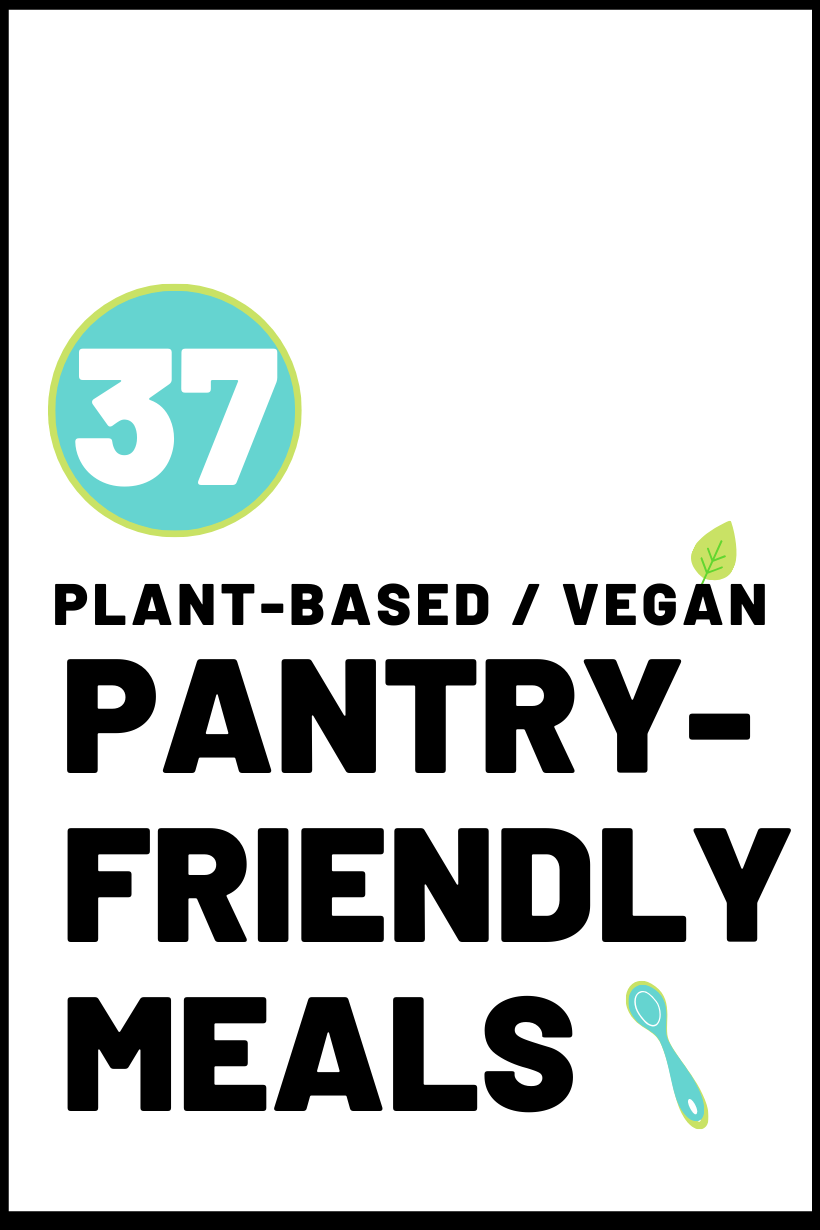 Since we are all hunkering down and staying in lately, I wanted to help out a bit on the culinary side of things. I scanned my blog in search of some of what I think are very quarantine-friendly recipes. I'm constantly updating this post so, here are my 37 .. 40 plant-based vegan pantry-friendly meals to save the day in these coronavirus times…
Vegan Pantry-Friendly Meals Shopping List
To get you started, here are a few of the main pantry and fridge or freezer storage ingredients that are common in these recipes…
rice, quinoa, farro dry grains
beans of all varieties
jarred marinara sauce
canned tomatoes or tomato paste
extra virgin olive oil
vinegars
nutritional yeast
raw nuts, especially cashews and walnuts
raw seeds
salsa
chips, crackers
bread – store in freezer for longer life
flour
dried lentils and split peas
frozen veggies like peas, squash, greens
dried spices – cayenne, cinnamon, chili powder, pepper
veggie broth
peanut butter
jams
jarred veggies like olives, peppers, chilies
other jarred or canned sauces
vegan butter
tahini, miso paste, soy sauce – fridge
salad dressings
oatmeal – rolled oats
frozen fruit
chocolate! and cocoa powder
vegan mayo and mustard
vegan cheeses
tofu, tempeh, seitan
potatoes – white or sweet
any veggies you can manage – carrots, broccoli, cauliflower
loads of fruit (though not in these recipes – so great to have on hand)
….those are just a few things off the top of my head! But really focus on beans and grains and breads. There are so many recipes to be made using those basics.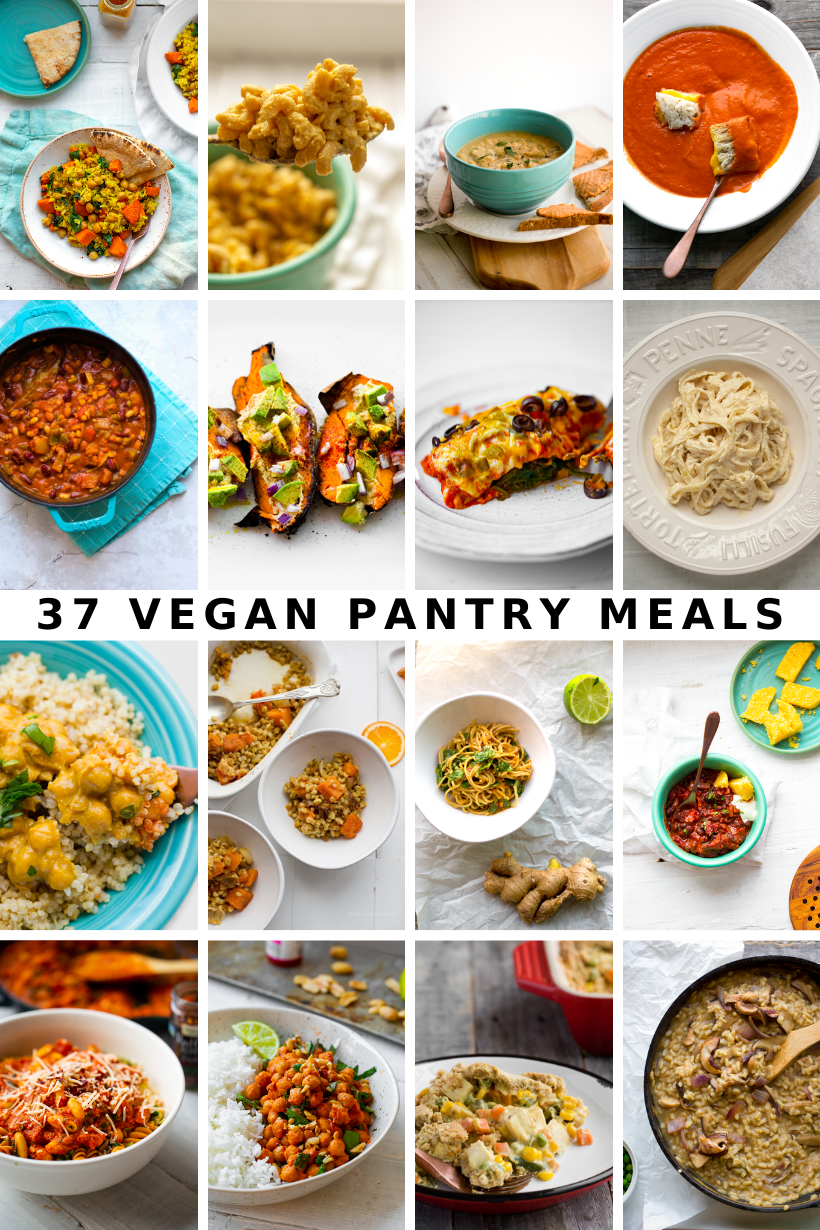 37 Plant-Based Pantry-Friendly Meals
1 – Rice + Beans Bowl
This has been my go-to for a while now, but it's simple. Warm up a can of beans or vegan chili and whip up some rice. Instant meal. Add some veggies on the side and maybe some sauces like salsa, hot sauce or something simple like oil and lemon juice and a few dried spices. I'm starting off simple, but a fancier version of this is my coconut curry rice bowl.
have on hand: hummus! Or DIY hummus with chickpeas, EVOO, tahini and lemon juice.
2 – Hummus Sandwiches
Fight me on this, but hummus sandwiches can absolutely be served any time of day. Dinner approved! Just serve some hearty veggie side dish, stack your sandwich high and you can a full meal. The hummus sandwich I have been obsessing over lately: Green Crunch 'n 'Cado Sandwich. Bonus points if you break out a can of chickpeas and DIY the hummus.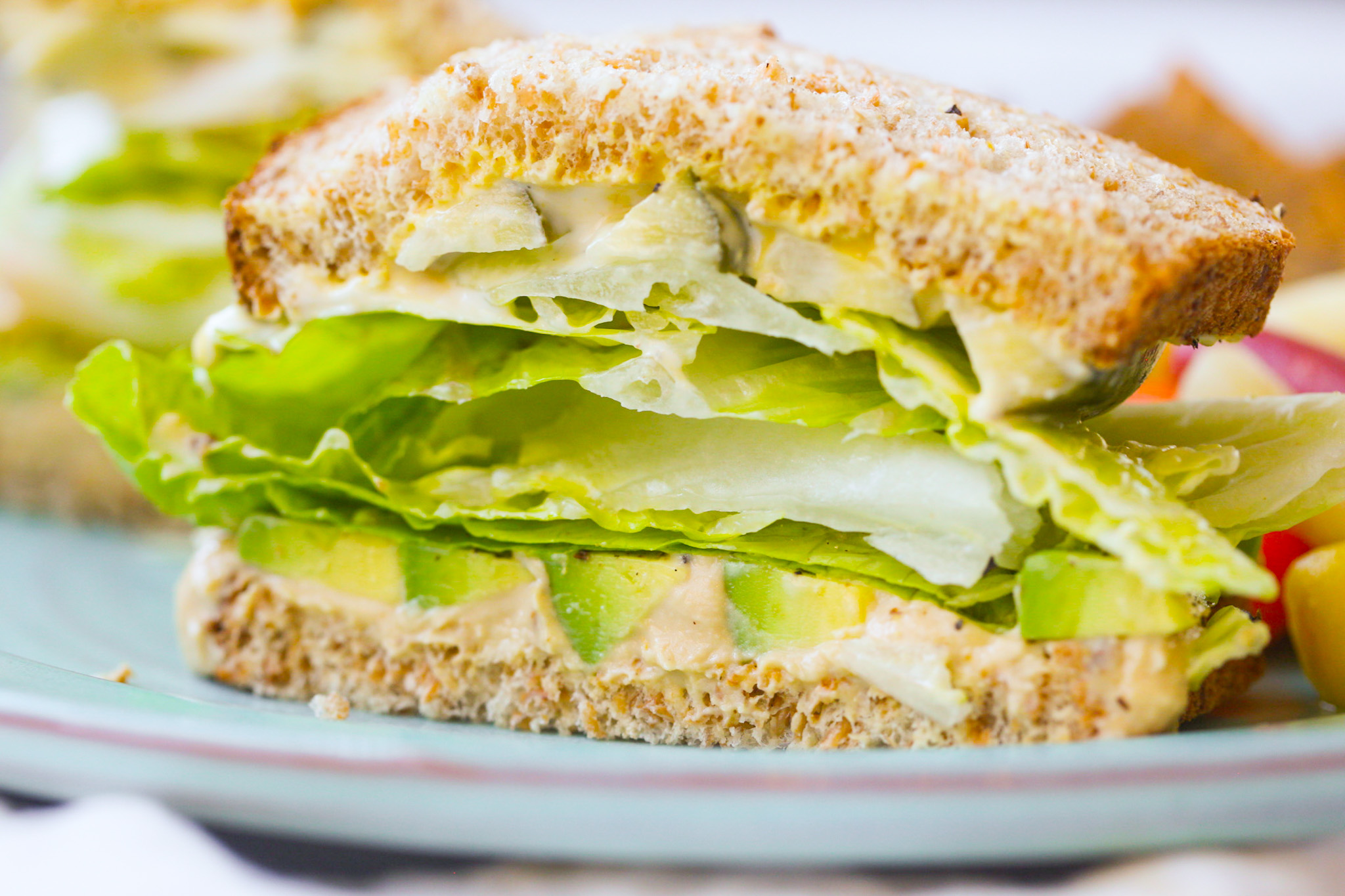 3 – Pasta with Beans
Rev up your go-to pasta and sauce with some beans! This dish with beans and potatoes is total comfort food. Or try this marinara sauce with beans: rustic White Bean Tomato Sauce.
pasta dishes are incredibly versatile pantry-friendly meals!
4 – Baked Mac 'n Cheese
This comfort food recipe can be made with any pasta you might have in your pantry – mac not required! Make a double batch and bake your mac and cheese for a more casserole like meal that will last a few days.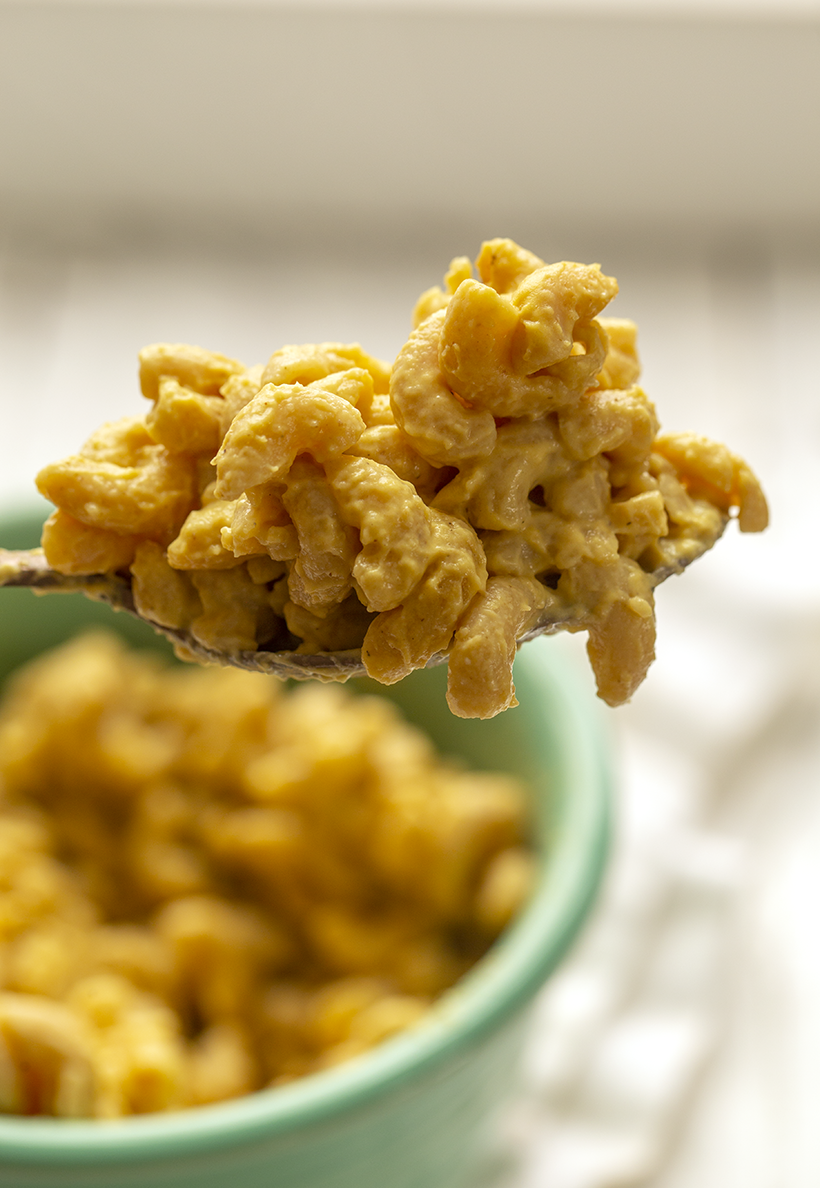 5 – Broccoli Soup
One of my absolute fave comfort food, pantry-friendly meals that is actually packed with protein… broccoli soup! I change it up with adding beans and how many potatoes and how much vegan cheese I add. This is a good starting point recipe: Broccoli Soup. Now the tricky part will be snagging some fresh broccoli. Once you find some, stock up and make a big batch of this soup to last a few days.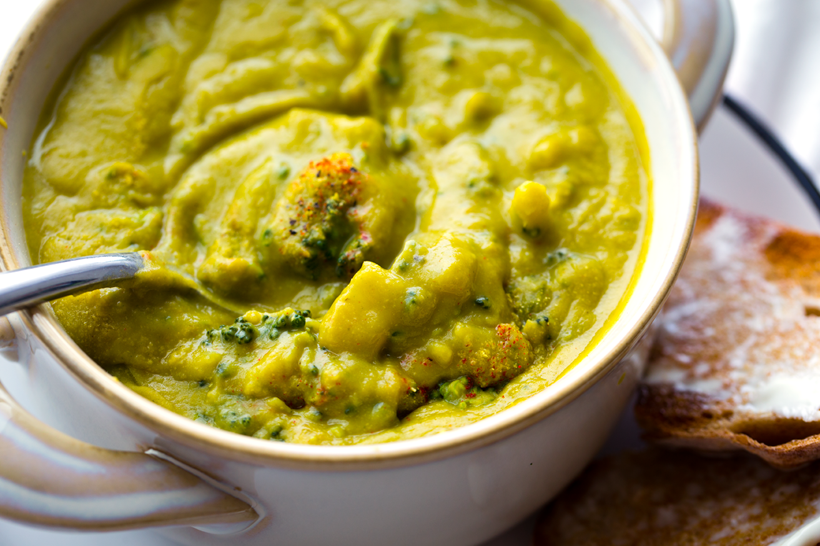 6 – Burritos or Tacos
This is an easy vegan pantry meal. Have tortillas, rice, beans and jarred salsa on hand. Instant meal. Add veggies or avocado if you have them.
have on hand: tempeh, seitan and tofu.
7 – Philly Cheese Sandwich
If you have some seitan in the fridge, and some rolls or sandwich bread in the freezer, this is a great pantry meal. Bell peppers and vegan cheese make it even better. Snag this recipe with mushrooms. Or this classic recipe with just seitan.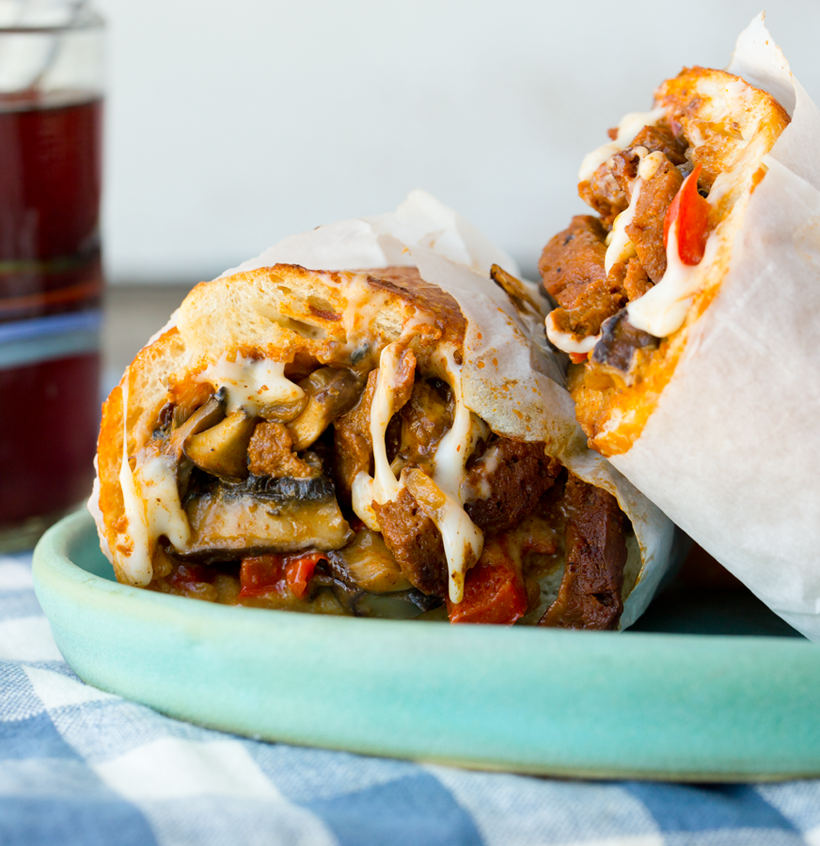 8 – Simple Pasta Night
Easy peasy. Jarred sauce and dry pasta create an easy meal. Add frozen veggie balls, vegan Parm or tossed in veggies for a more well-rounded meal. A salad on the side would also help.
9 – Skillet Rice Bowls
If you have rice and some excess ingredients like veggies and maybe some plant-based meats (sausage, tofu, etc..) your skillet is waiting for you. Simple seasonings like EVOO, vinegar, spices and more can help. This recipe used seitan and peanut sauce and was super easy to put together. tossing everything together in a warmed oiled skillet will intensify flavors.
peanut butter isn't just for PBJs! Peanut butter can create versatile savory sauces,
10 – PB Chickpeas and Quinoa (Or tofu!)
All you need for this meal: chickpeas, rice or quinoa and some simple peanut sauce. Love this super easy but satisfying peanut butter-flavored chickpea recipe. — Peanut Butter Tofu is another fave.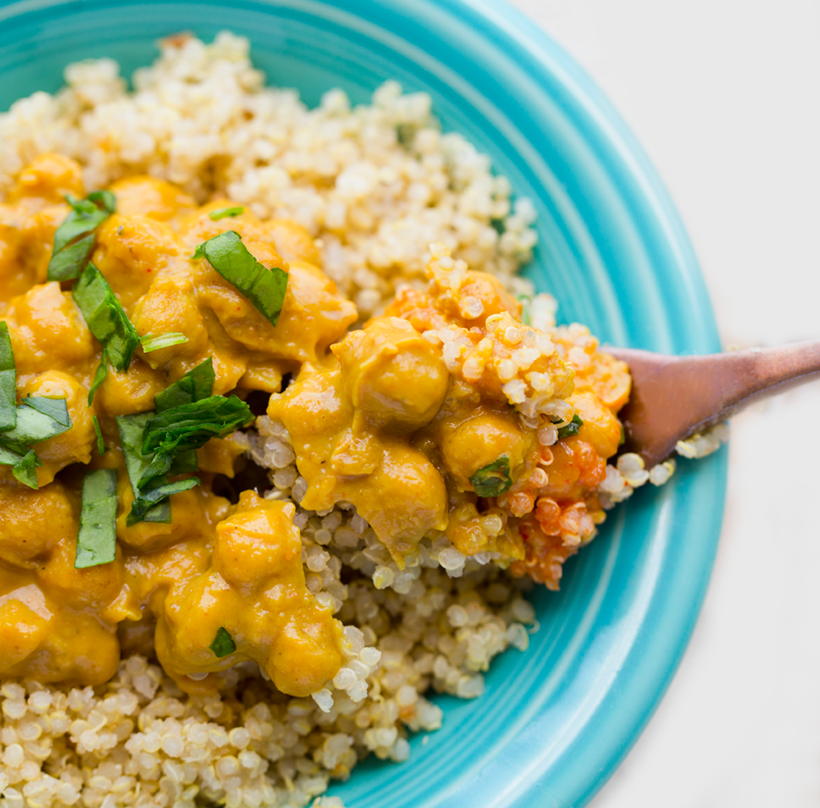 have on hand: soba noodles! They cook up super fast and provide some variety compared to regular pastas like spaghetti.
11 – Peanutty Soba Noodles
Soba noodles offer up so many opportunities for easy, delicious meals. I love these soba noodles tossed in a peanut sauce. Want bonus points? Add a veggie and some tofu or beans.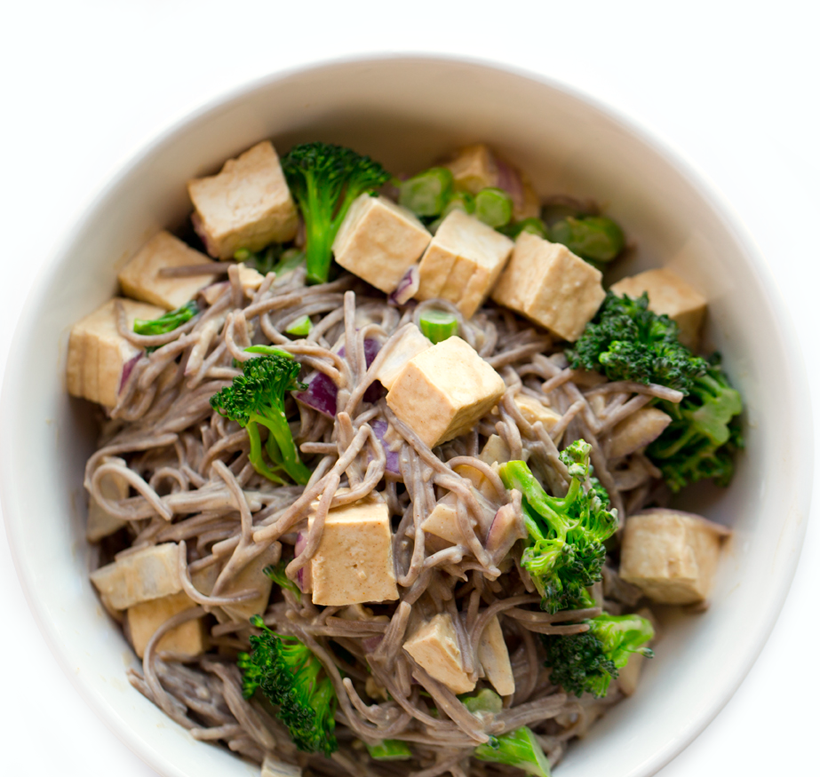 12 – Sweet Potato Veggie Burgers
Beans? Sweet potatoes? You are almost ready to make these sweet potato veggie burgers! And you can actually serve these on a bun or just as is. This is one of my most popular recipes for a reason!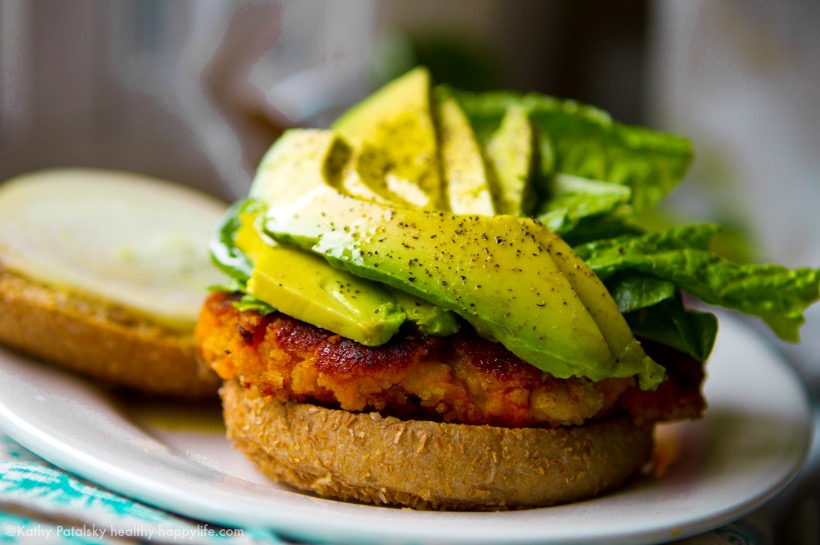 have on hand: sweet potatoes! Store them in the fridge to keep them longer.
13 – Speedy Sweet Potato Soup
Another fan favorite is this speedy sweet potato soup. Minimal ingredients are involved for the basic soup, so have sweet potatoes on hand for a pantry-friendly meal. Add lime, chips and fancy spices to make it next level amazing.
14 – Mushroom Toast
Maybe it's just me, but the mushroom section is always well-stocked during a crisis. Obviously people haven't tried this mushroom toast! A delicious light meal or hearty snack.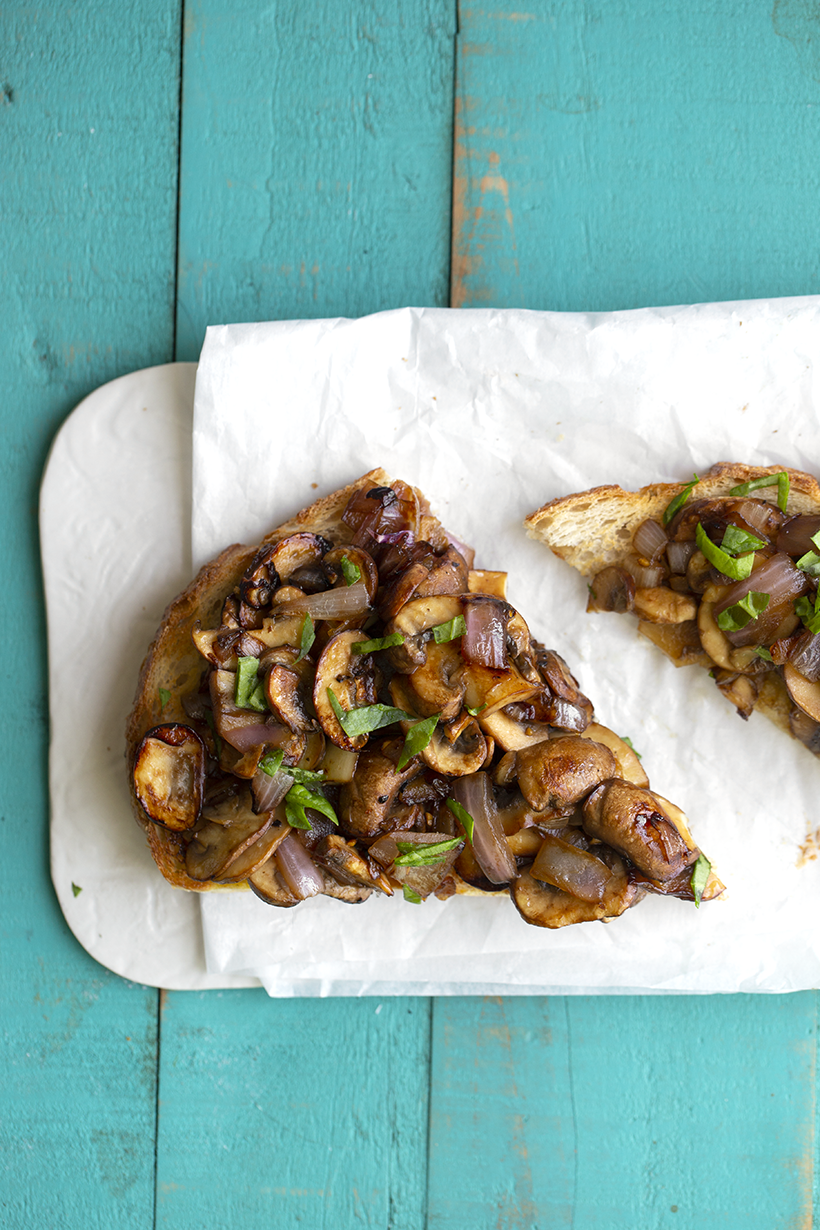 have on hand: dried peas! Rich in protein and they create the yummiest pea soup.
15 – Pea Soup
Dried peas and veggie broth are easy to keep in your pantry. And with a few flavor accents, you can make a delicious meal-approved, protein-rich soup. Love this easy pea soup!
creative grain idea: farro!
16 – Farro Dishes
Another easy dried grain to keep on hand is farro. It has a very hearty and nutty flavor that pairs well with basically any vegetable. You could even add some beans and your own blend of spices to the mix. Farro with Squash.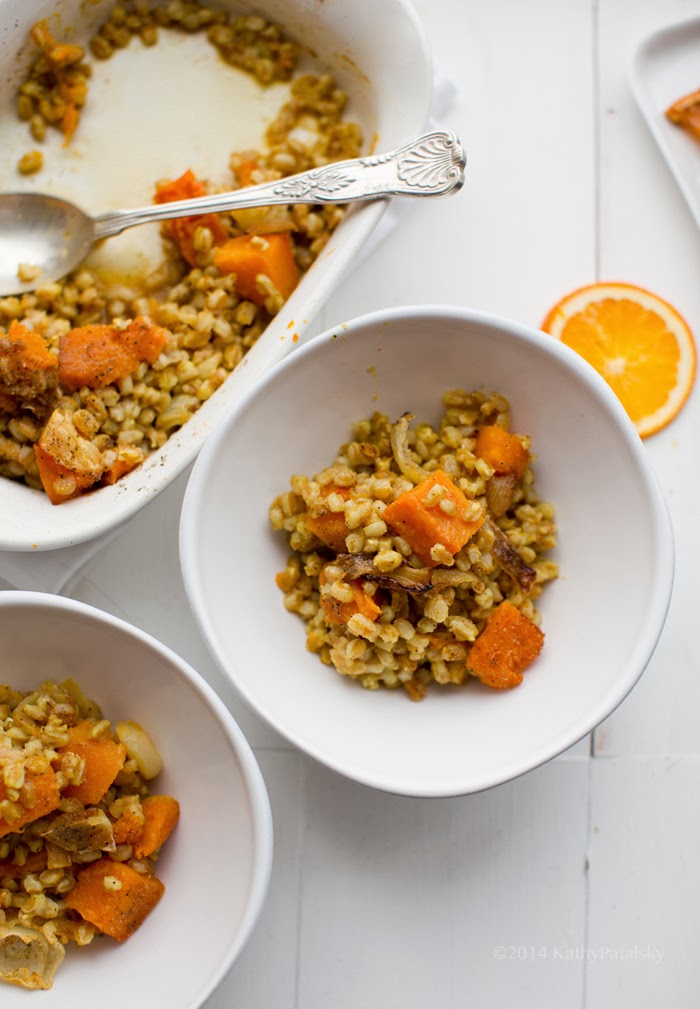 17 – Alfredo Pasta
Cashews and vegan butter will start up this amazing vegan alfredo sauce. Add it to any pasta you have on hand. I'm obsessed with how yummy and creamy this sauce is!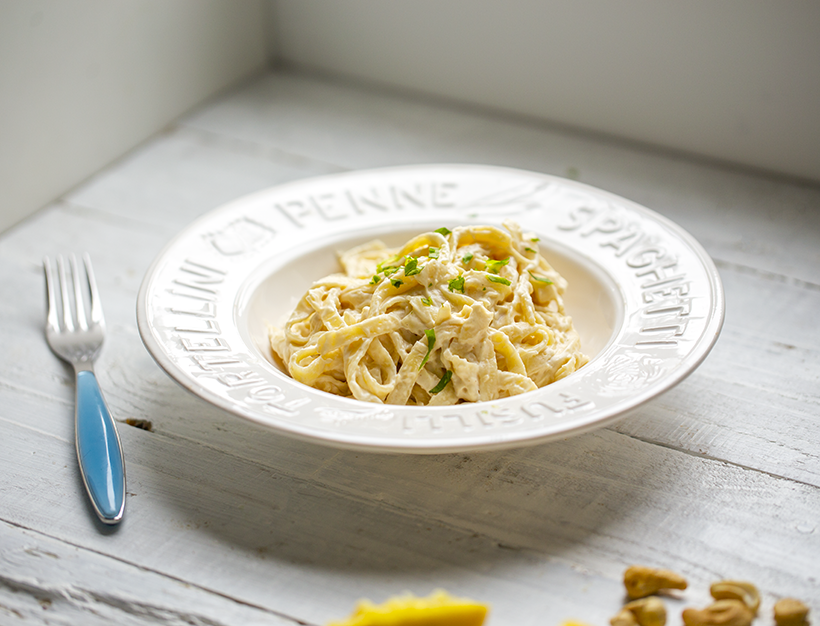 raw cashews make the best creamy vegan sauces! Have some on hand and be ready for deliciousness.
18 – Cashew-based Pot Pie with Veggies
This is an awesome casserole to whip up for a good few days of meals. The sauce is cashew-based and the add-in ingredients can range from frozen veggies to tofu and even beans. A simple pot pie biscuit topping seals things in. I love this version with tofu and frozen veggies.
have on hand: tortillas! Yes, you can even freeze them.
19 – Easy Enchiladas
Keep tortillas, some jarred enchilada sauce (or DIY it), beans, canned black olives or green chiles and frozen or fresh spinach on hand to whip up some vegan enchiladas. Vegan cheese of course makes every dish of enchiladas even more delicious. Easy Spinach Enchiladas.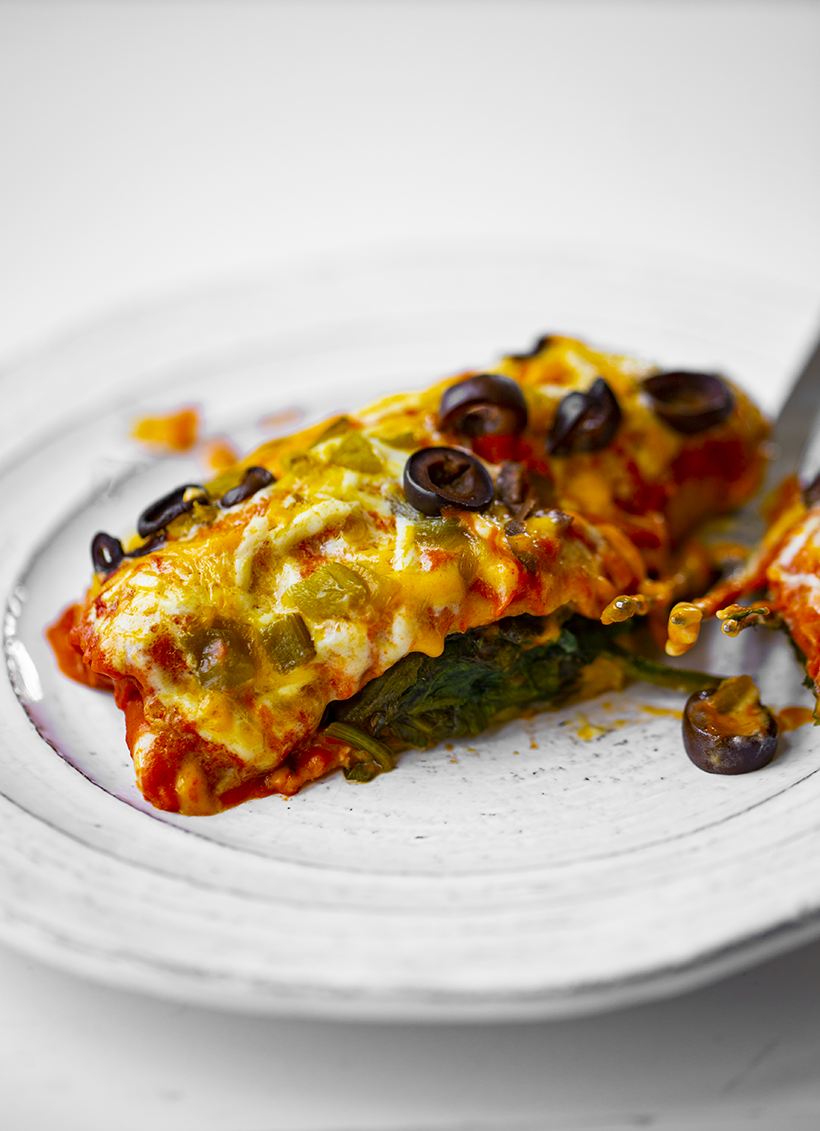 20 – Lentil Soup
Keep dried lentils on hand for lentil soup. Spices and a variety of optional veggies help glam things up. Try this carrot potato lentil soup.
21 – Spicy Soba Noodles
Speedy, spicy soba noodles can save meal time! And soba noodles are easy to keep in your pantry and whip up in a few minutes with just a few flavor accents. Try ginger peanut spicy soba. Bonus, ginger is great for lung health.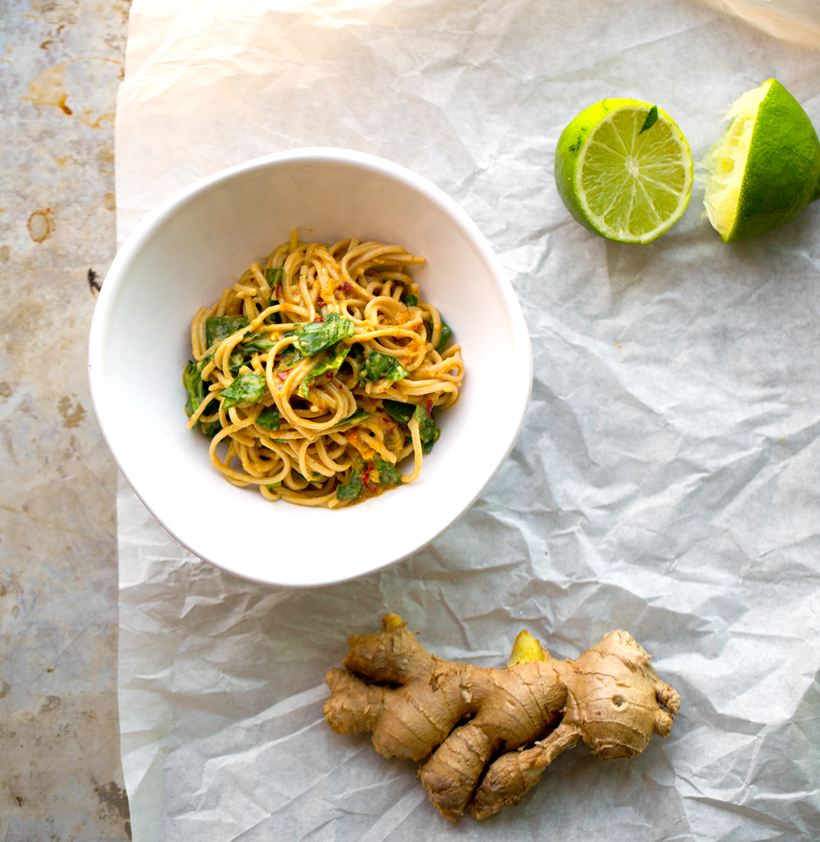 lentils are a great source of protein and iron and can create a variety of savory dishes.
22 – Lentil Bolognese
Lentils come to the rescue again to add some serious protein, fiber and iron pizazz to your plant-based meal. This bolognese sauce is so good and more satisfying than basic marinara.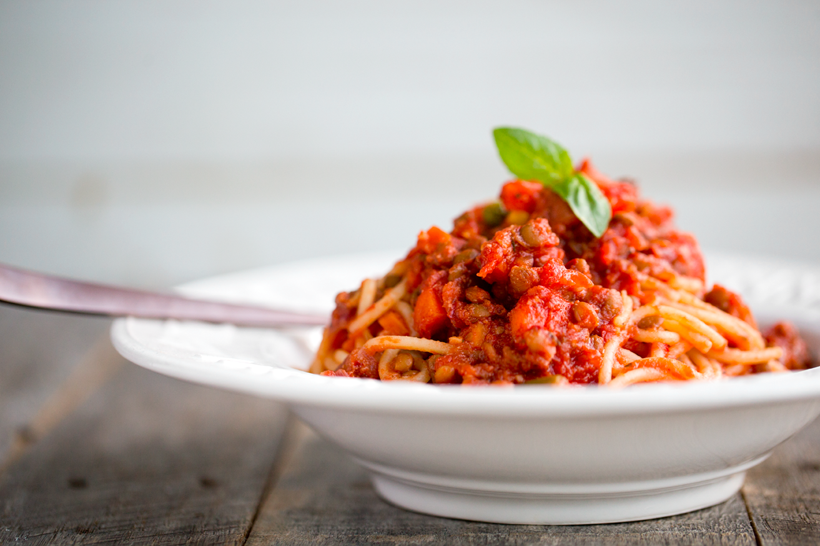 23 – Stuffed Sweet Potatoes
Sweet potatoes are a great pantry item to keep around for as long as you can. Sometimes I put my sweet potatoes in the fridge to extend their life. Baking and stuffing sweet potatoes is an easy meal. You can add just about anything you love like hummus, veggies, greens, avocado and more.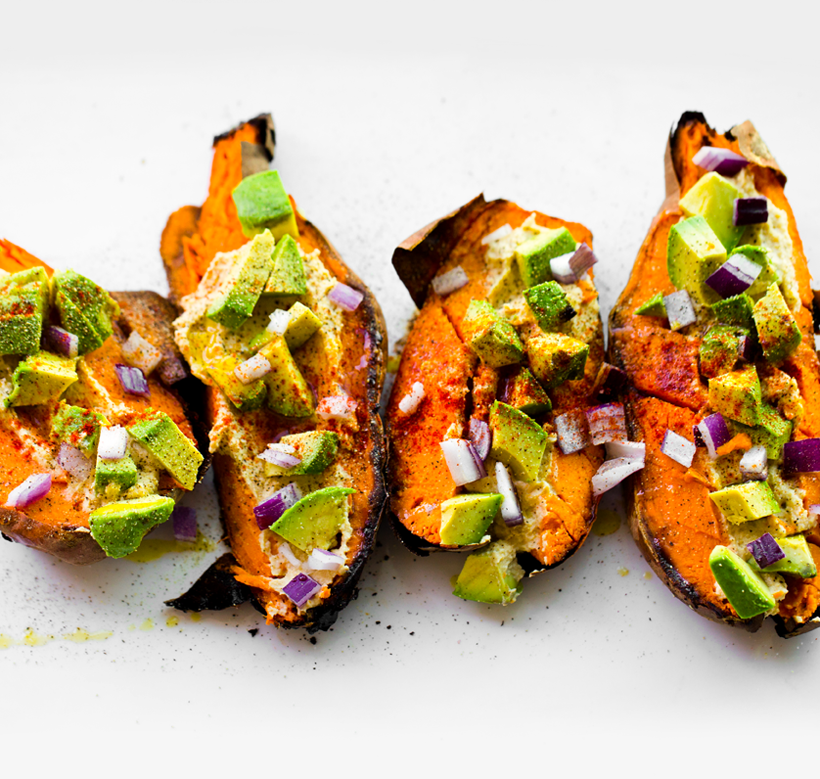 24. Bean + Cheese Quesadillas
Keep those beans around! especially refried beans, which can easily be added to tortillas for quesadillas. And seriously, the cheese is actually optional. These are a great easy meal: Spinach Bean Quesadillas. Frozen veggies would work too!
25 – Buffalo Chickpeas
Want to give your boring can of pantry beans some life? Buffalo-flavor them! Add these beans to rice, quinoa, salads, pitas or eat them as is.
beans, beans and more beans! chickpeas, kidney beans, navy beans, white beans and more.
26. Beans and Biscuits
Homemade biscuits will make any bean-based meal something to crave. Biscuits are actually super simple to make! You just need some flour and vegan butter and a few other simple ingredients. Canned beans, baked beans or your own bean creation would go well with these flaky homemade biscuits.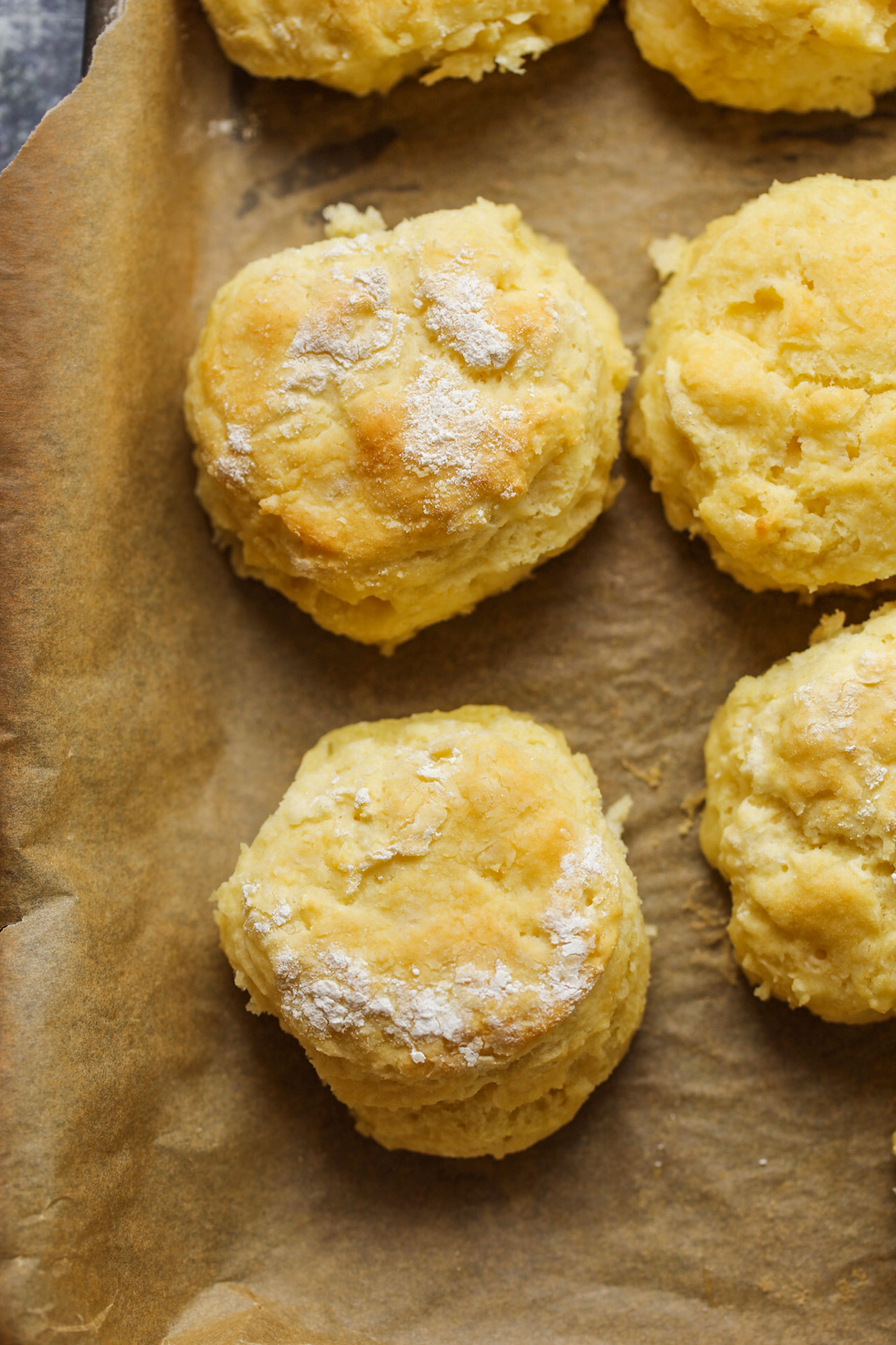 27 – Easy Veggie Chili
Another bean-winner: chili! Veggie Chili is super simple to whip up using pantry ingredients like kidney beans and tomato paste.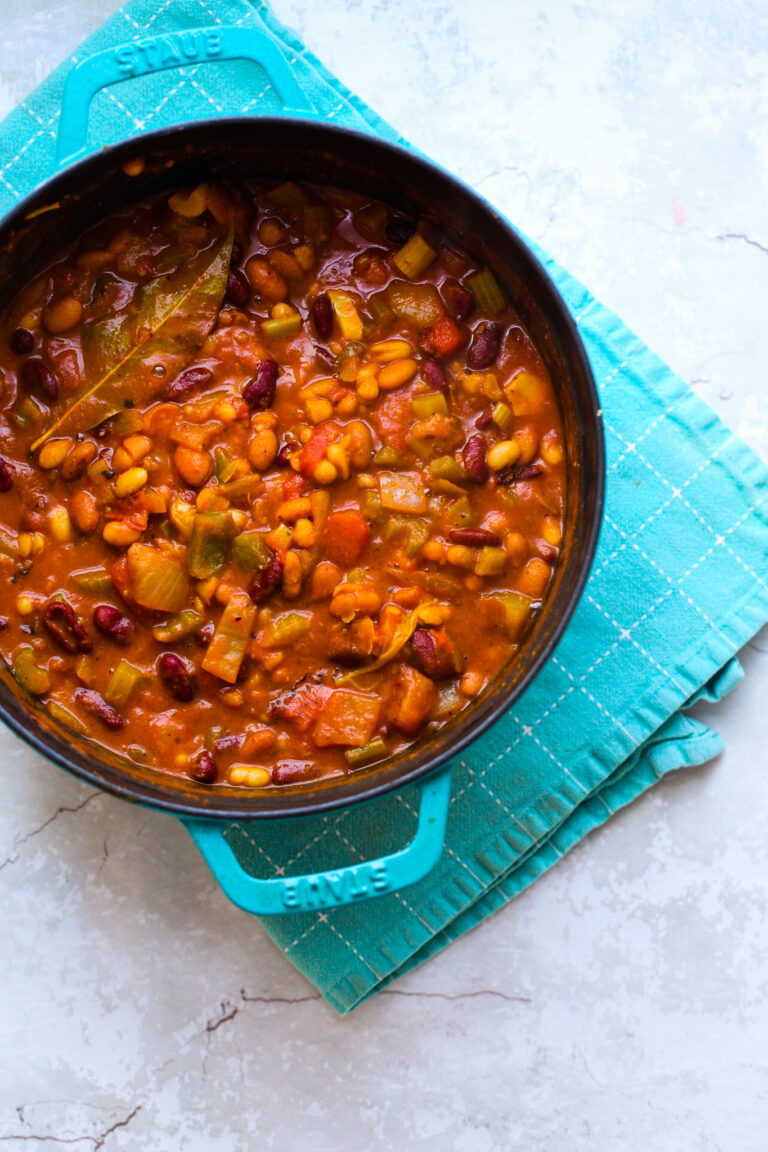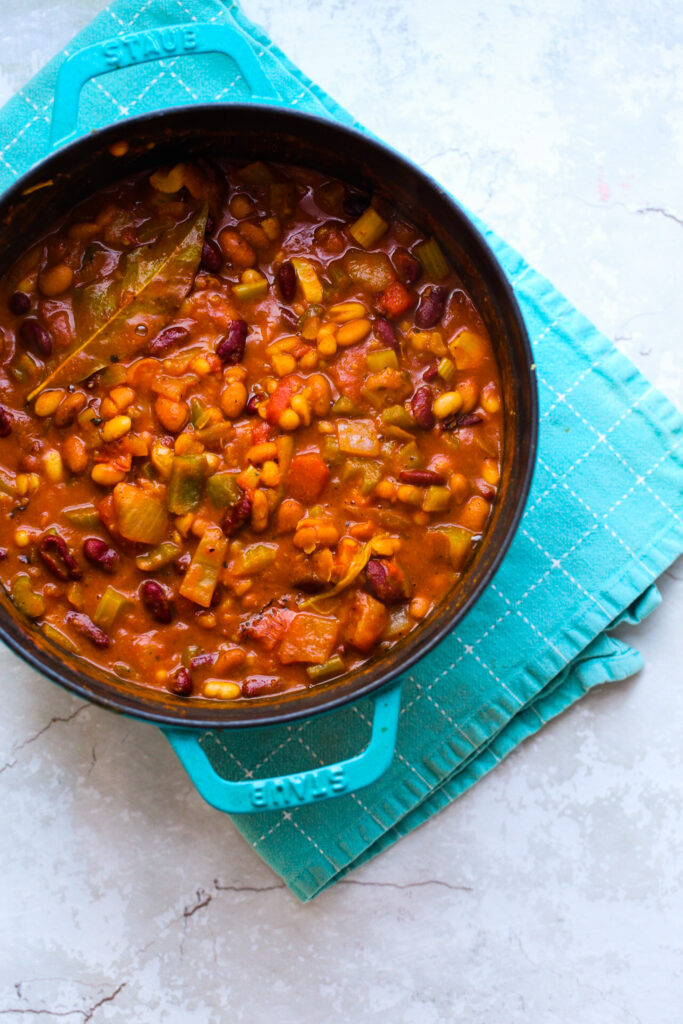 28 – Tempeh Sandwiches
Tempeh is another great ingredient to keep in your fridge because it lasts a long time and can be used in a variety of dishes. It is a great protein-building ingredient for sandwiches like a TTLA.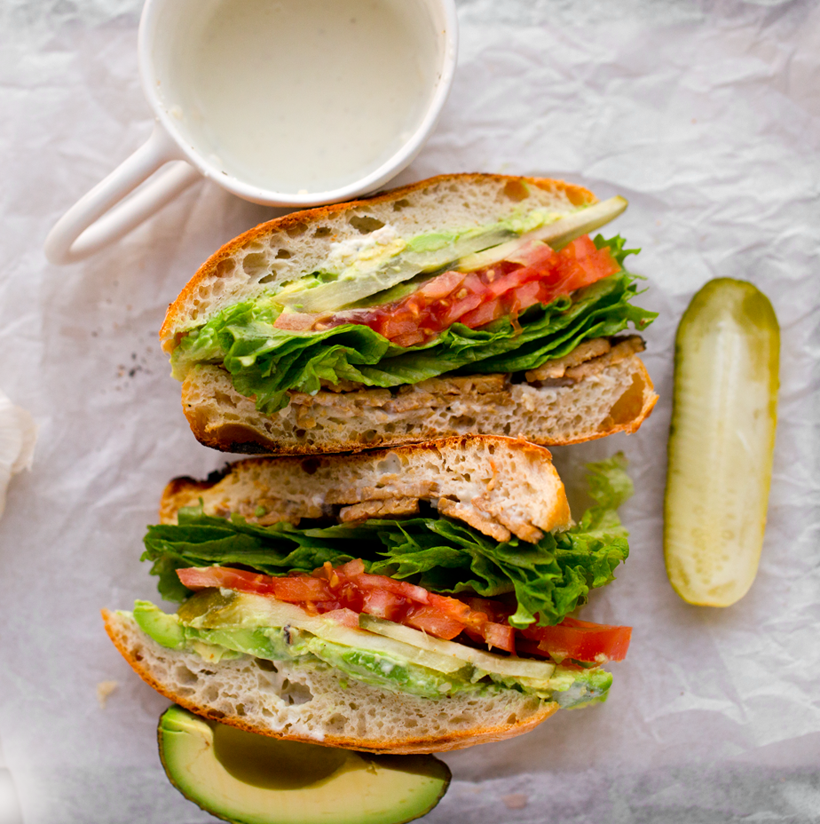 29 – Red Curry Tofu
Curry paste is a great flavor-boosting ingredient to keep in your pantry or fridge. Add it to beans, rice or tofu. This red curry tofu is an easy meal.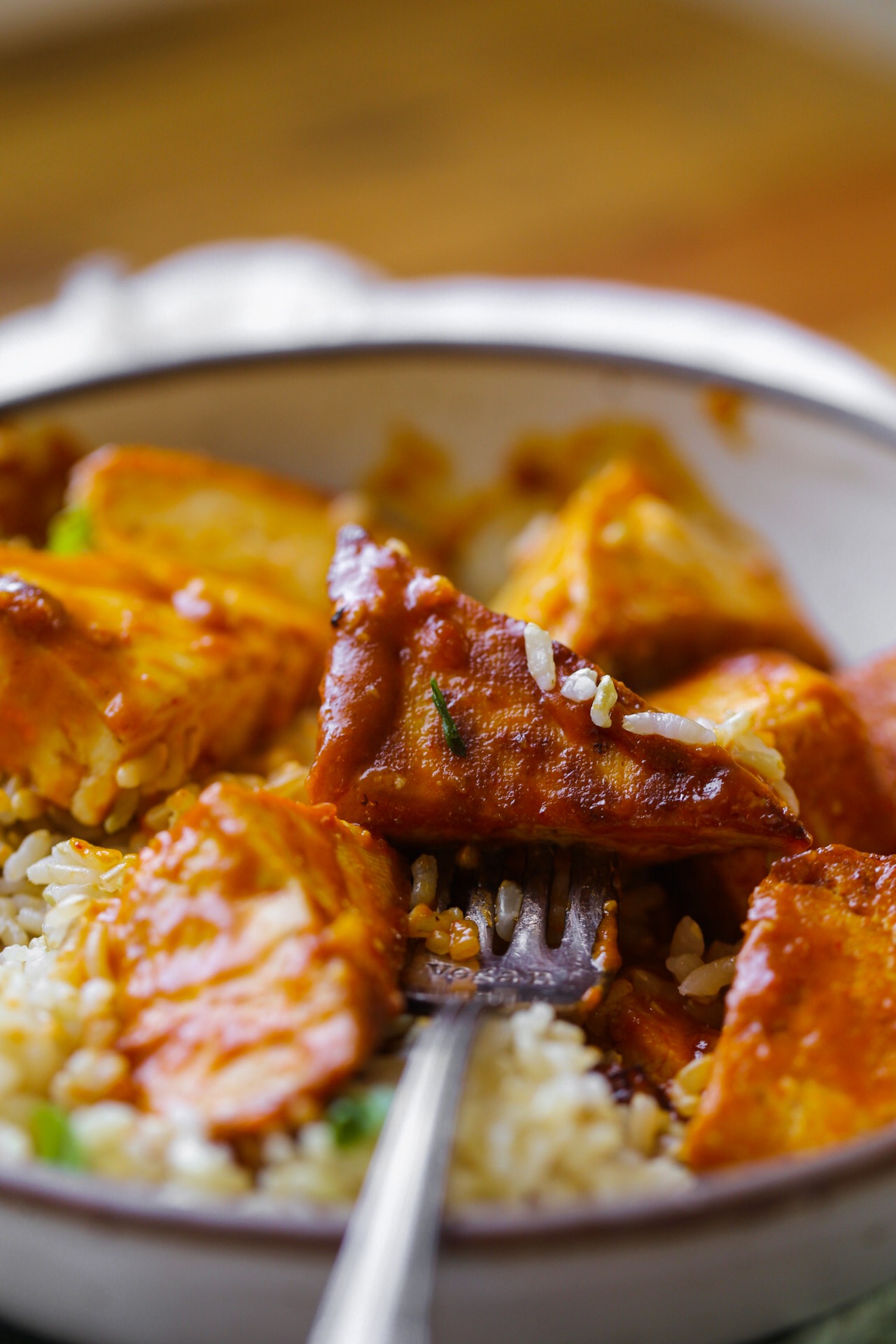 30 – Beans on Toast
These beans on toast offer up a simple and comforting, healthy meal. Bread can be kept in the freezer and any canned beans can be used for this recipe. Vegan butter adds loads of richness to this recipe.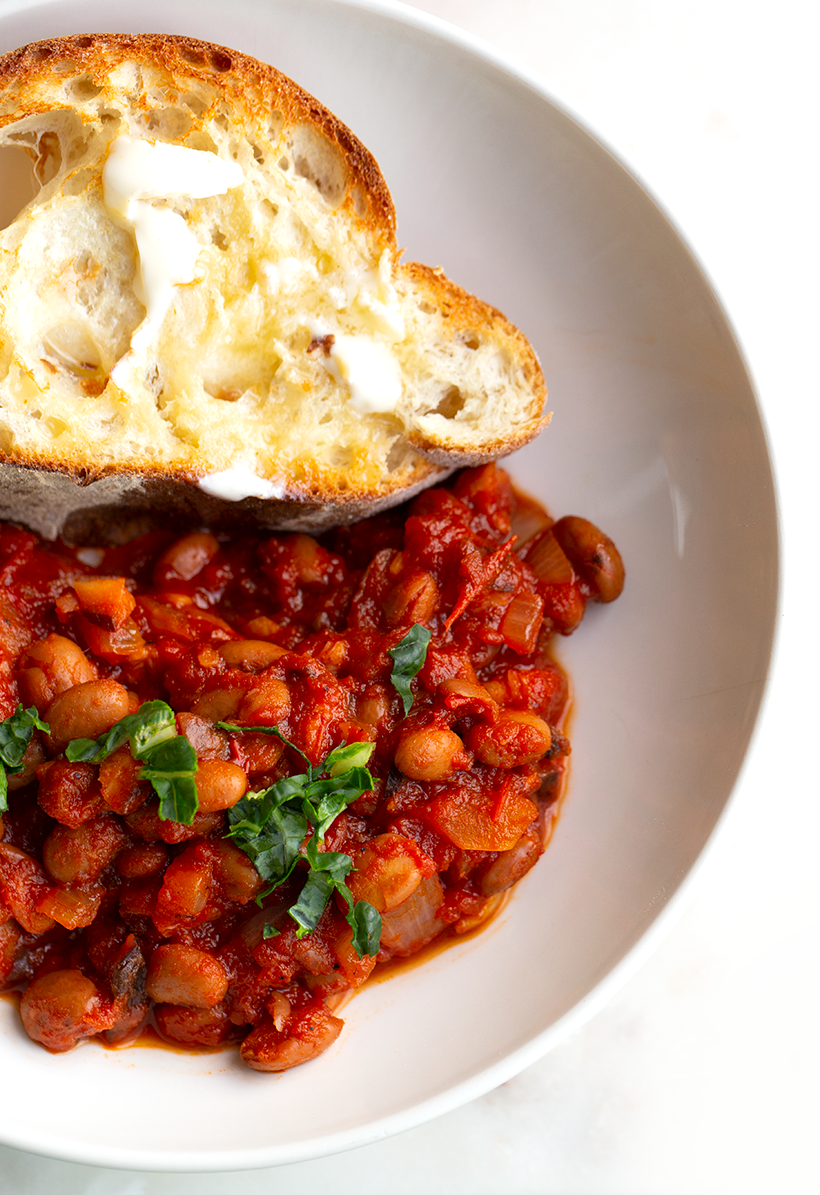 31 – West African Peanut chickpeas
This is a really delicious way to flavor beans! These west african chickpeas have a peanutty flavor. Add over top rice or quinoa for a complete meal. Add veggies if you have them on hand. Frozen works!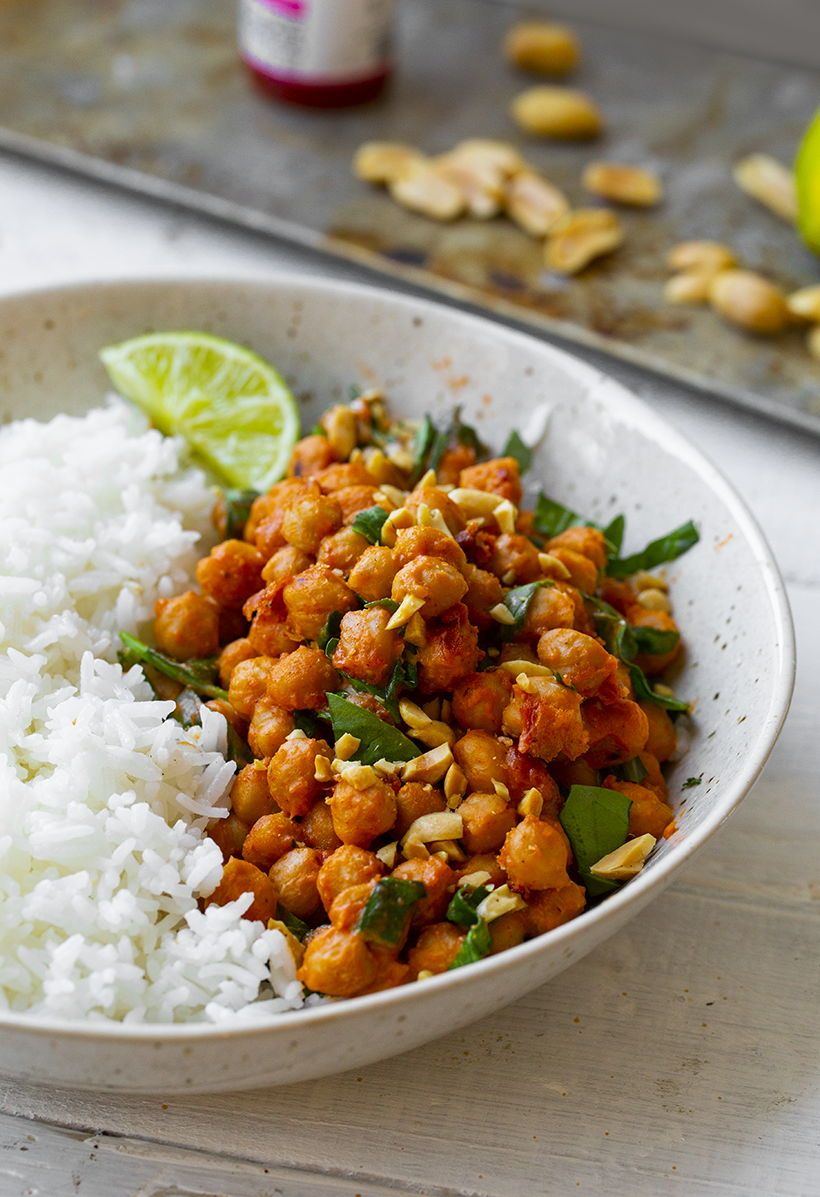 32 – Senate Bean Soup
One of my fave cozy bean soups, senate bean soup uses the texture and flavor of buttery mashed potatoes to achieve it's cravable flavor and texture. rich in fiber and bean-based goodness.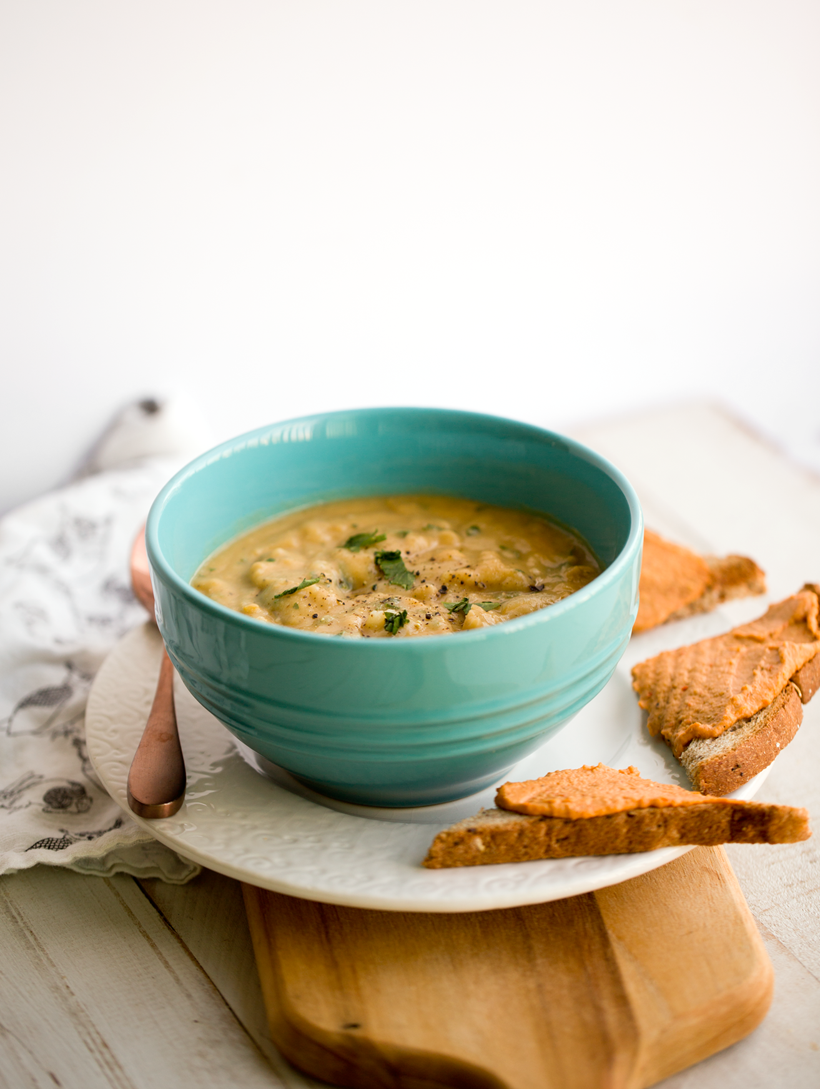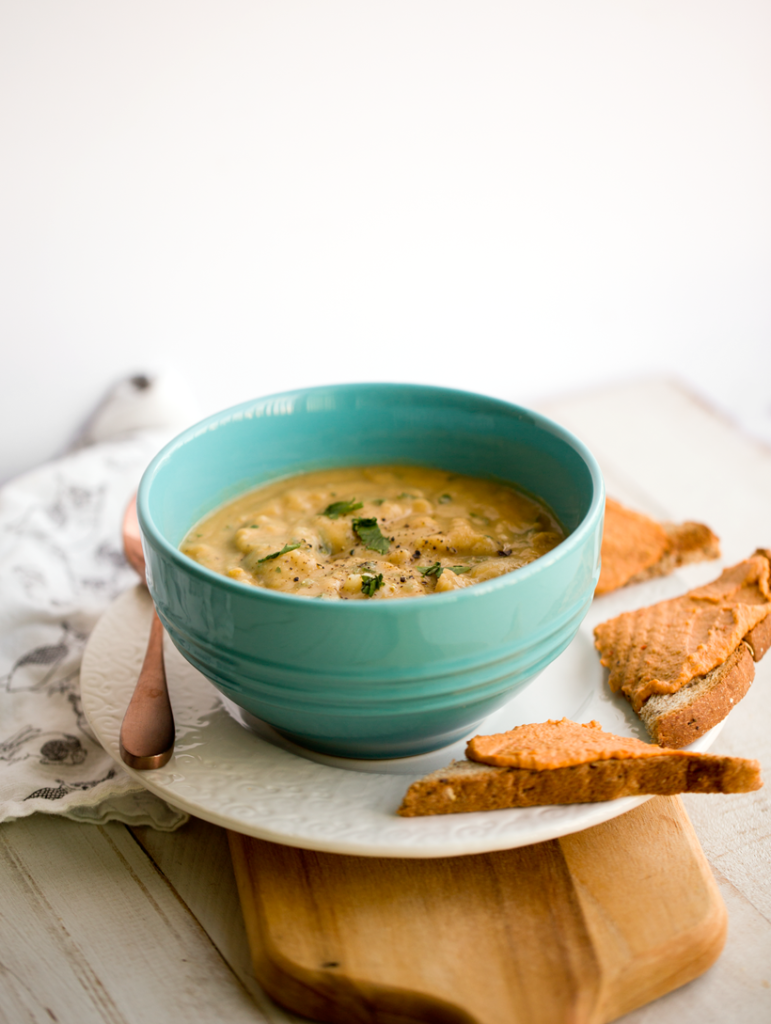 chilled pasta salads are a great way to infused flavor into pasta and have a meal prepped and ready for lunches and fast meals.
33 – two-bean chilled pasta salad
Pasta and beans – can't get more pantry-friendly than that! This chilled pasta salad can easily be a main course. Add sauces and spices that you have on hand.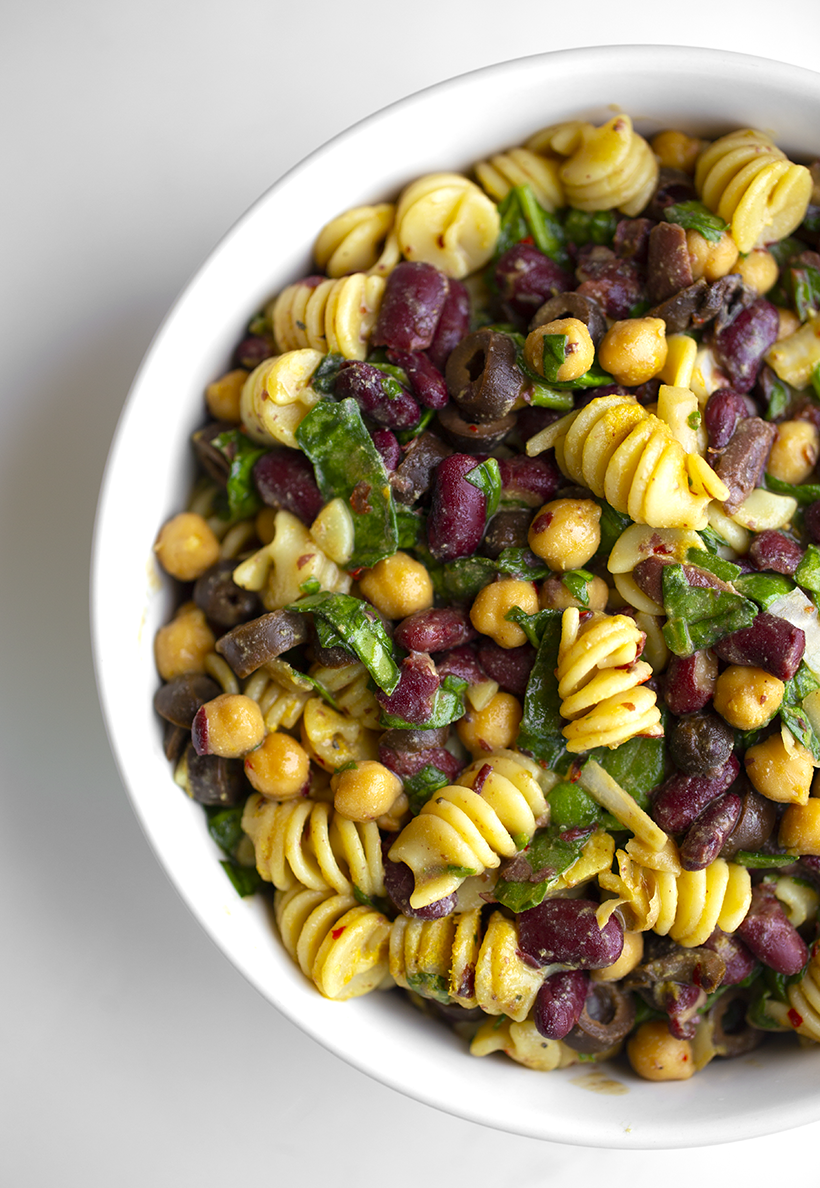 34 – tomato soup with grilled cheese croutons
When comfort food is calling you, reach for the grilled cheese croutons and tomato soup. This meal is made using simple ingredients, pantry-friendly. If in a bind, nix the grilled cheese and use crackers or chips as croutons.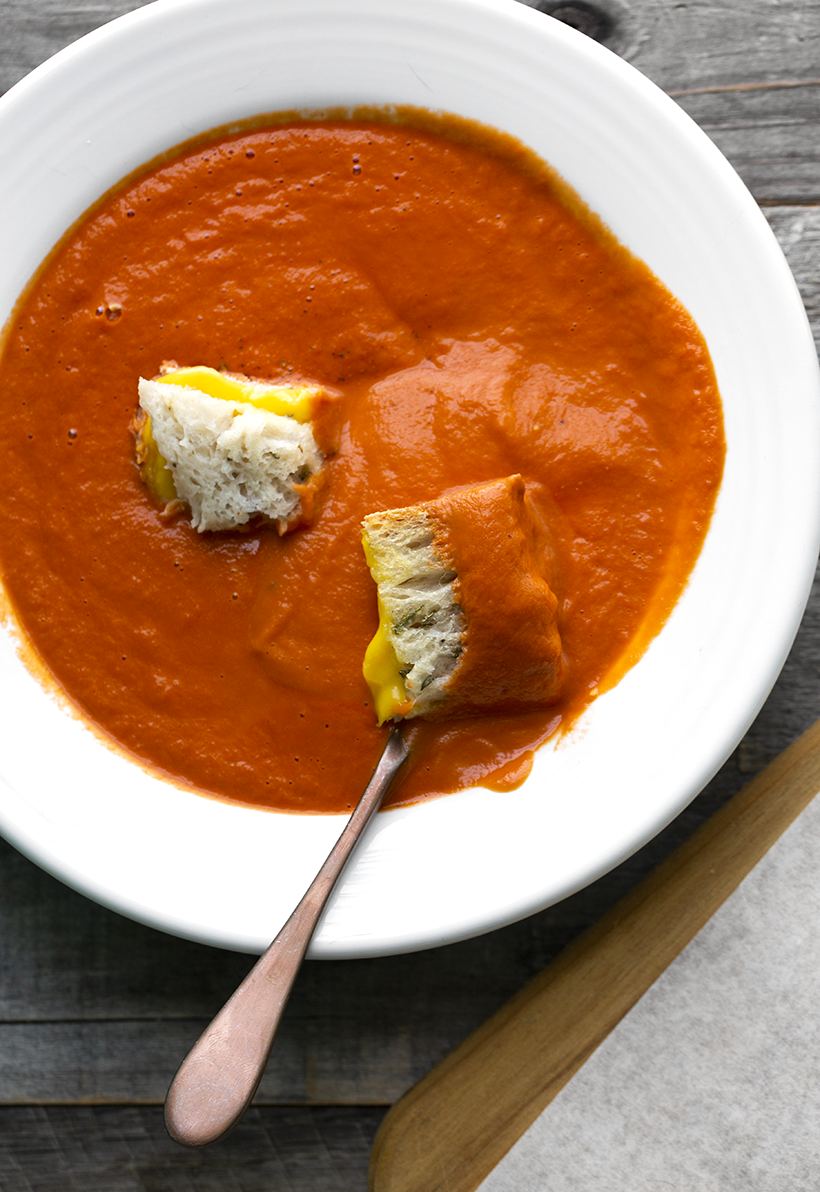 35 – Risotto
Slow-cooked and full of cozy flavor, risotto is one of those elegant pantry-friendly meals. Keep arborio rice on hand to whip up some risotto. you can use any veggies or flavor accents that you have on hand to build a meal around this luxurious grain. Try pumpkin sage. Or my fave mushroom risotto. Frozen peas make an excellent addition to risotto to add fiber, flavor and protein.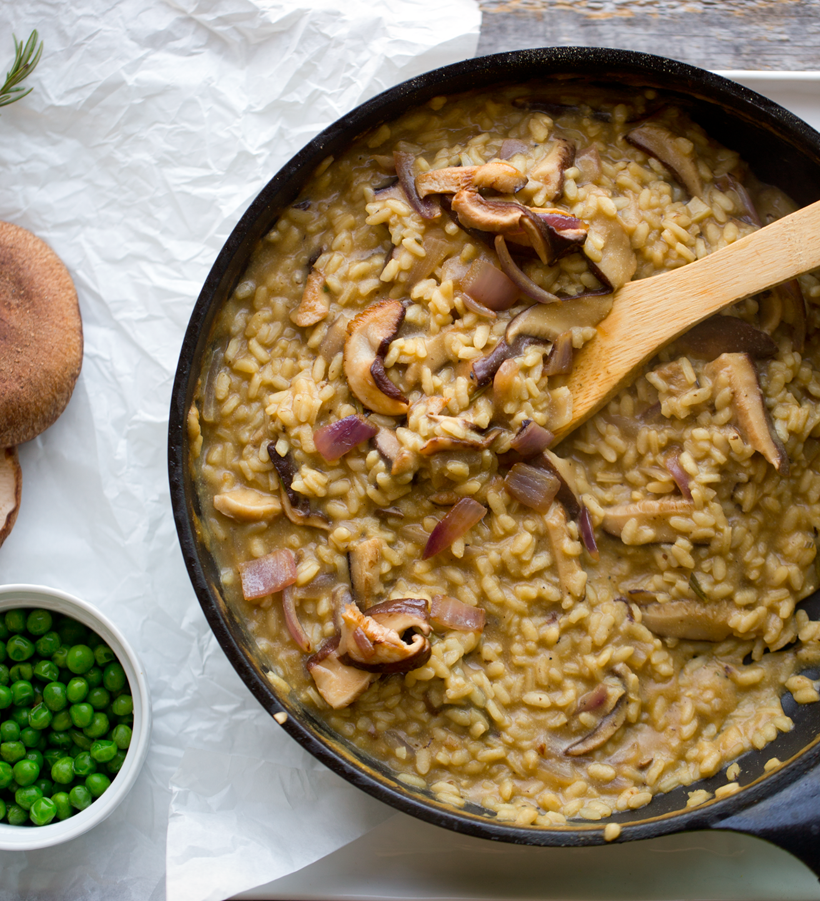 have on hand: garlic and EVOO!
36 – Olio Pasta with Parm
Something super simple to try: any pasta, vegan Parm, and some smashed roasted garlic. Easy! Add lemon juice for a kick, black pepper for some spice and toss in veggies for a more balanced meal. It's similar to this garlic butter pasta.
37 – Creamy Tomato Pasta Sauce
This is a richer version of a basic marinara. Basically if you love creamy tomato sauces, this recipe is for you. Simple and easy to add veggies to create a well-balanced meal.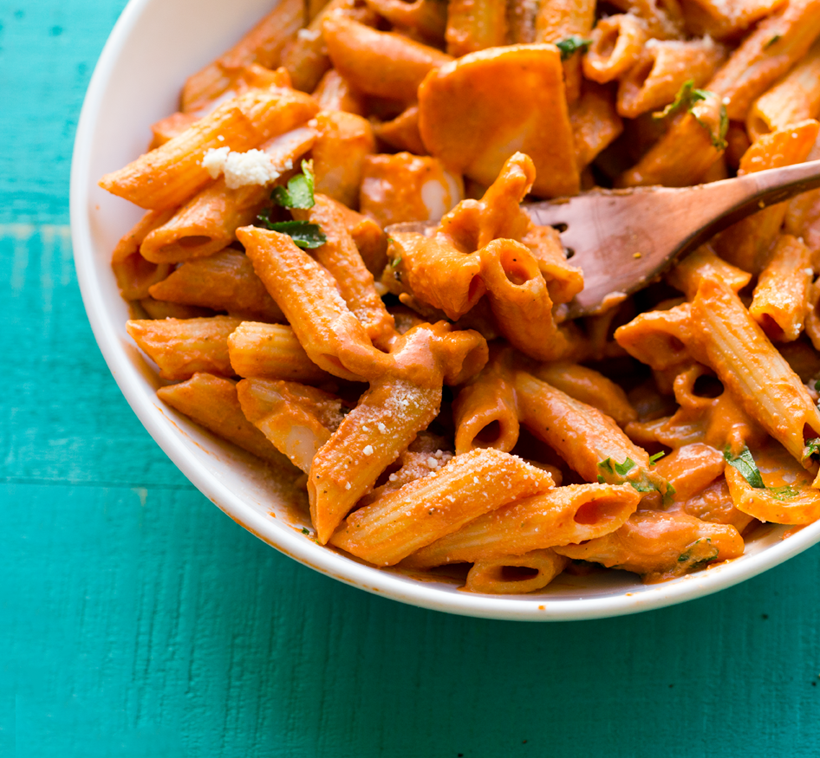 38 – Ginger Carrot Soup (bonus one I needed to add…)
With just four ingredients, this ginger carrot soup is a great pantry-approved recipe because carrots actually keep for a good amount of time in the fridge – along with the fresh ginger!
39 – Kale Pesto Pasta
Loads of pasta in your pantry? Get your hands on some kale and whip up this fresh and fancy pesto sauce for Kale Pesto Pasta. Vegan Parm on top.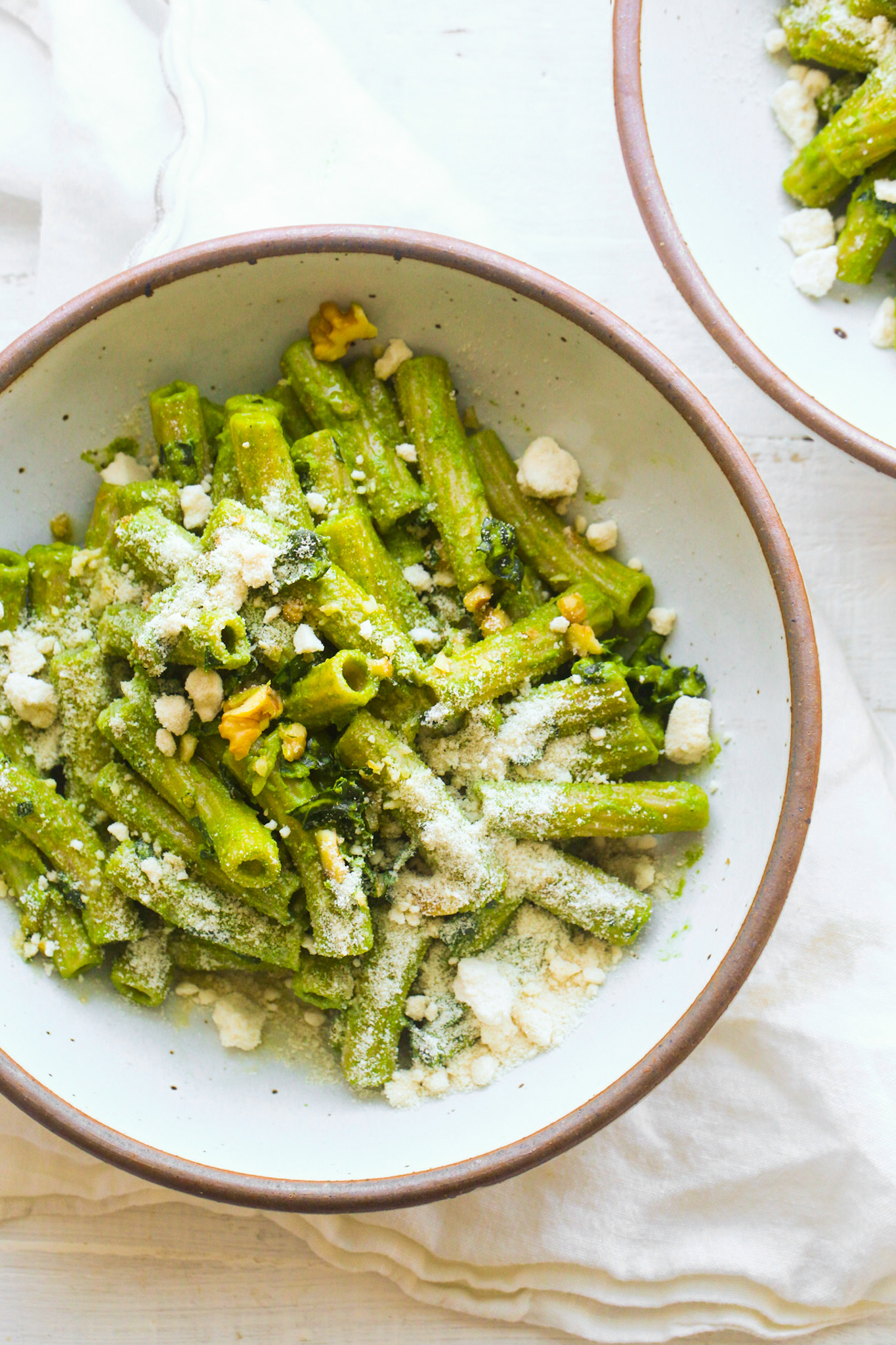 40. Potato Soup
This creamy, thick potato cauliflower soup is a new fave. Simple ingredients, if you have some potatoes, you can give this a try! (Yes, you can a sub all potato if you are out of cauliflower.)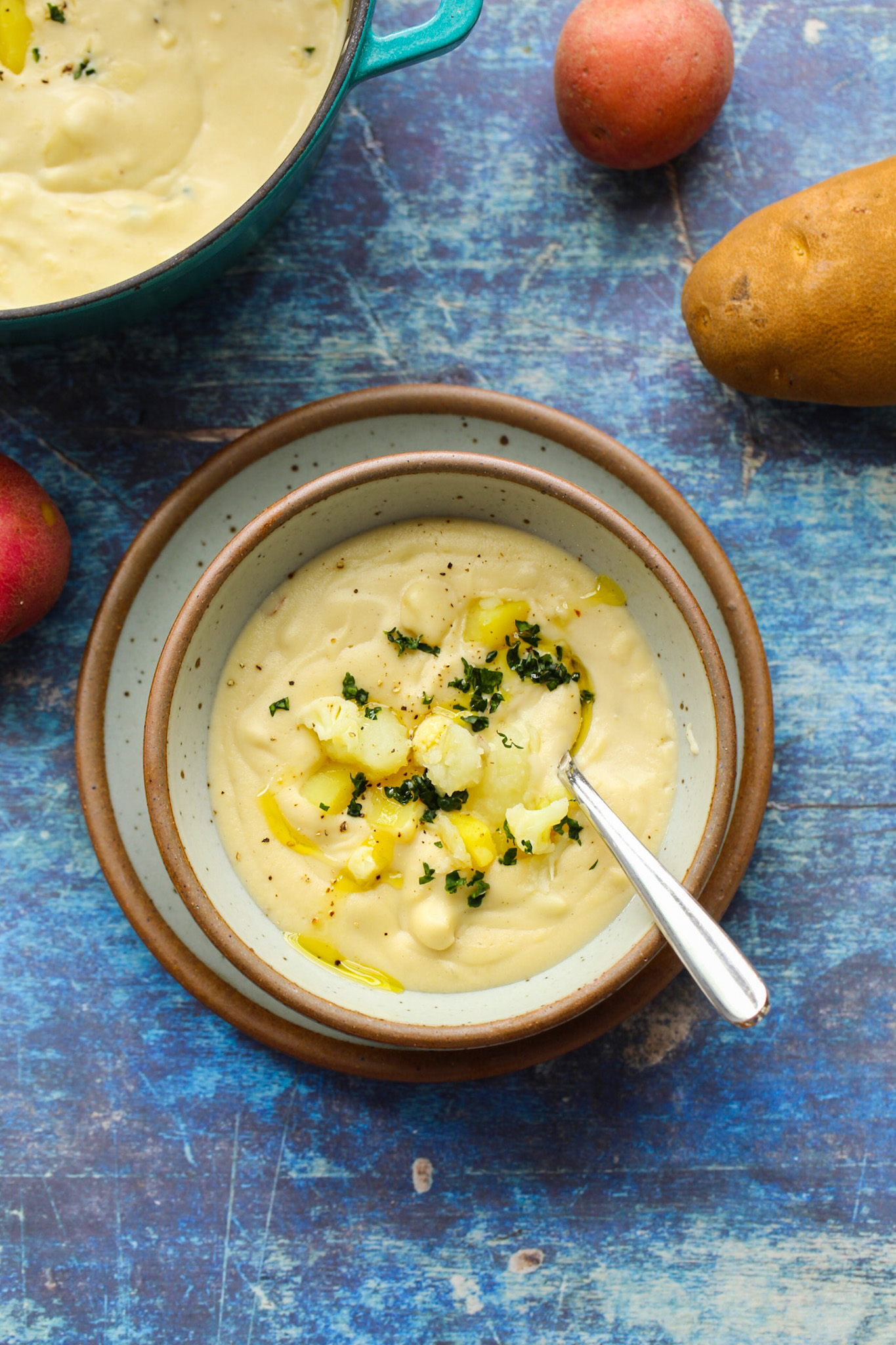 I hope those vegan, plant-based pantry-friendly meals are a bit of help for you and your family! What fave meals are you guys making right now??