Chili and cornbread is one of my favorite meals. Chili provides a delicious way for me to consume a few extra beans in my diet, and with this Easy Veggie Chili – some vegetables too!
This recipe packs 17g of plant-based protein per serving and 15g fiber. Six servings in one big pot. Or if you like big bowls of chili, like me, you get even more good stuff.
This vegan chili recipe contains beans, celery, garlic, tomato and of course so many warming cozy spices. You can easily whip up a pot of this chili in about a half hour. Dinner made easy. Get the recipe!..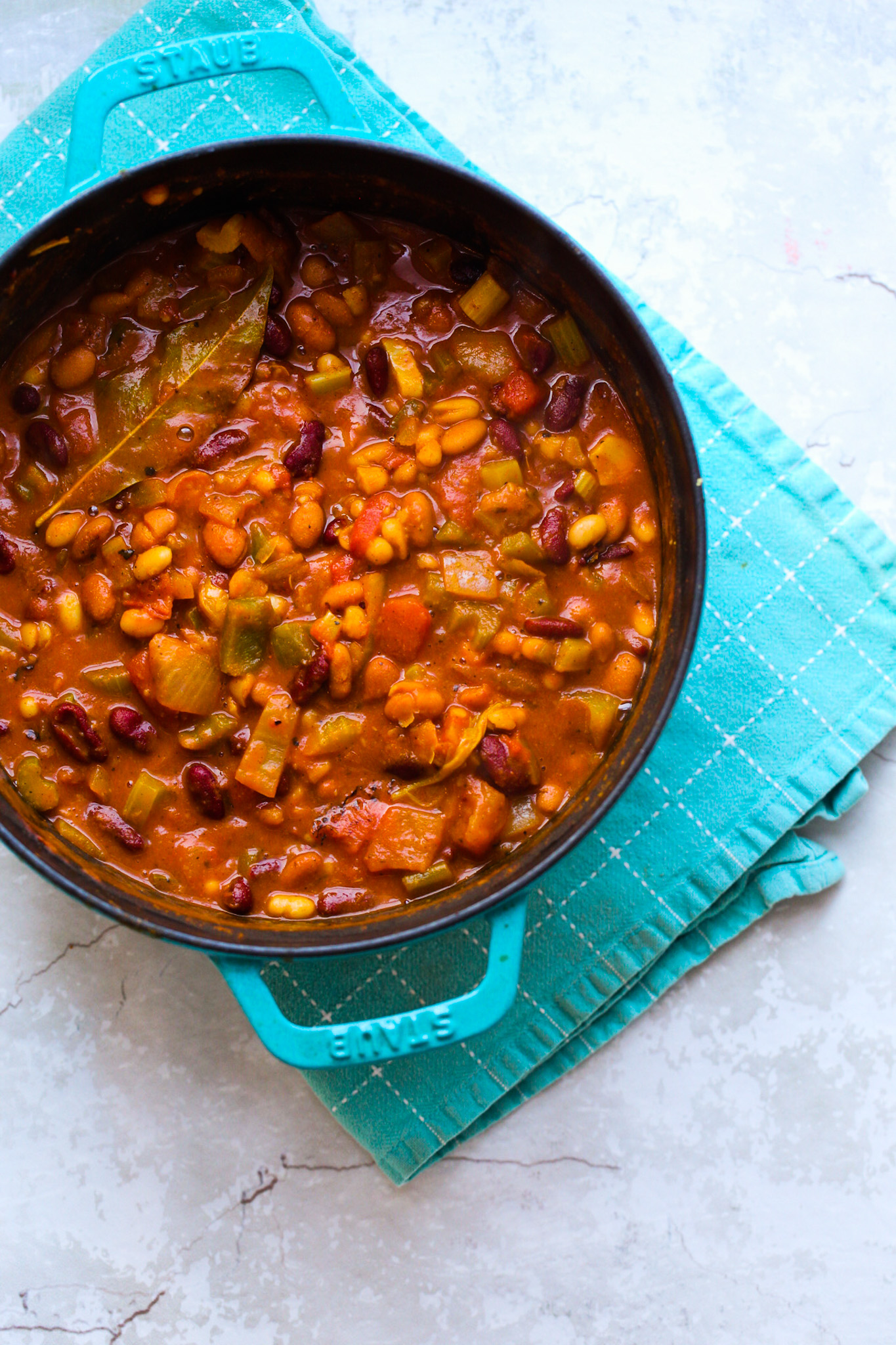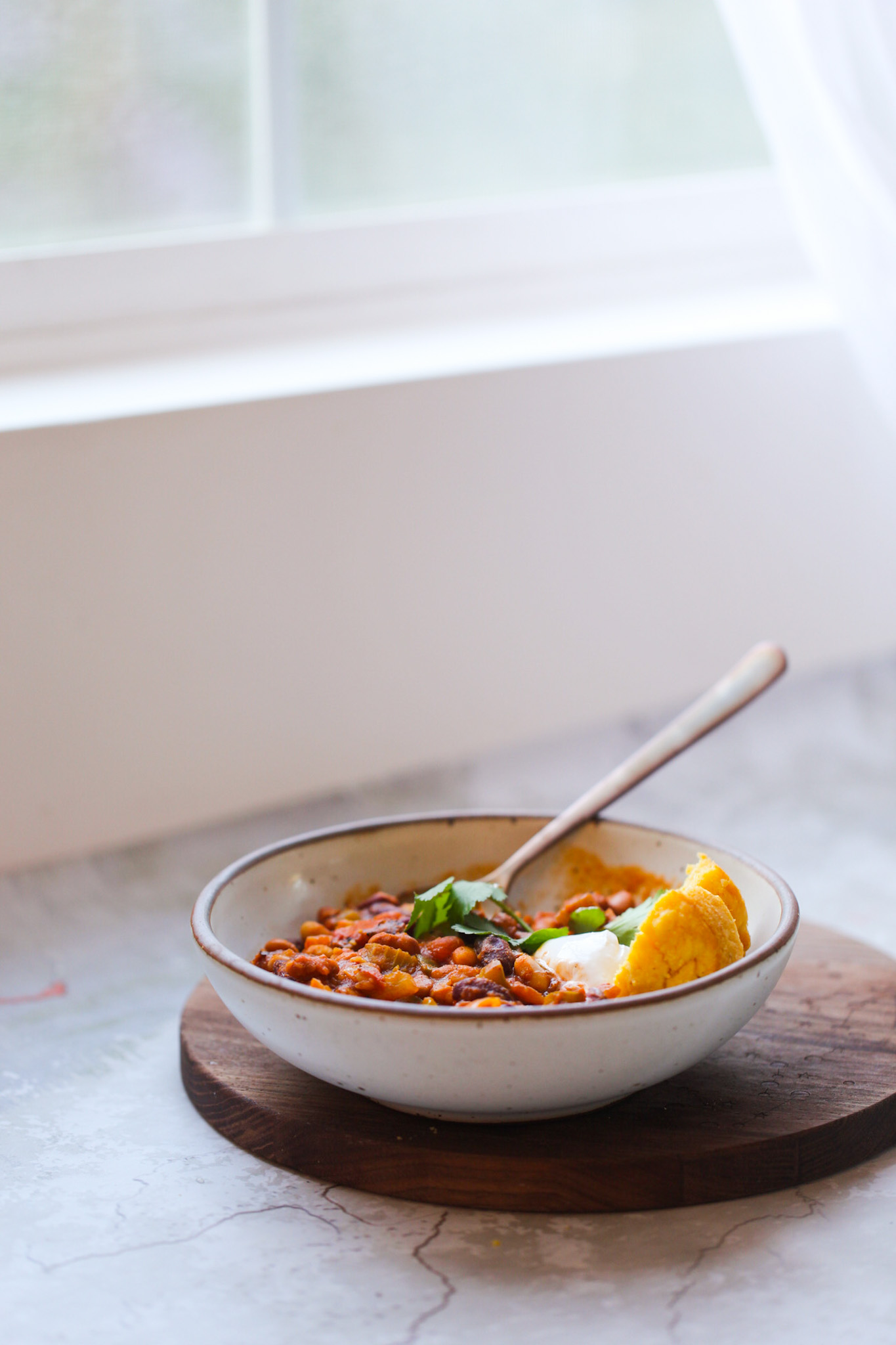 Anytime Chili
I whipped this Easy Veggie Chili up over the weekend and have been enjoying the leftovers for lunch every day since. This giant pot plus a fresh batch of corn muffins can provide you more than a few meals – depending on how many you are feeding.
I feel like January is one of the best months for chili. Holiday flavors are long gone and now we are all craving a bit of robust spice, hearty meals and healthy recipes too. Veggie Chili brings you all of that.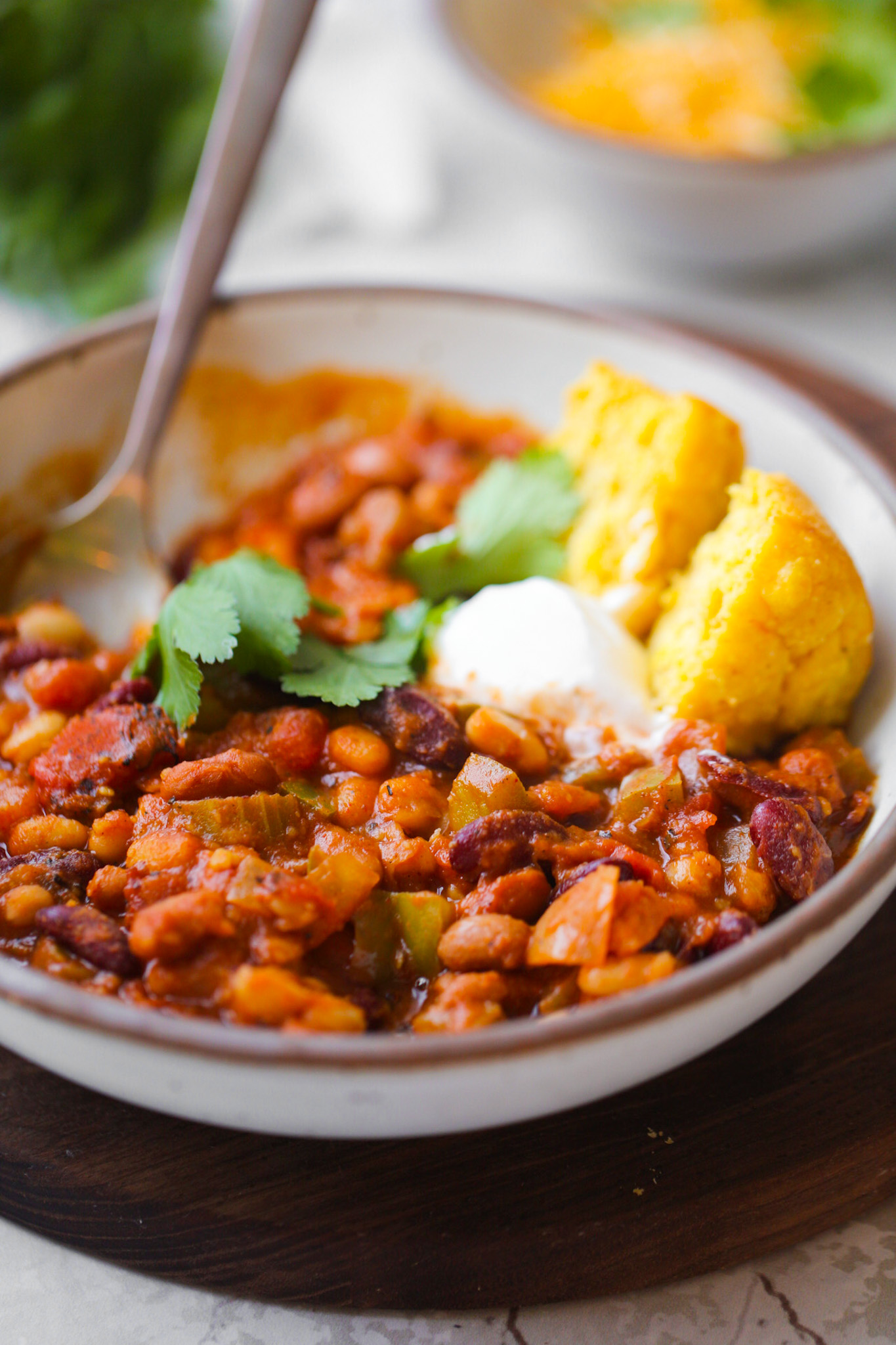 Veggies in Chili
Some chili recipes, vegan or otherwise, lead with beans and don't really care to much about the veggies. Maybe an onion, or a small dose of bell pepper, but nothing too intense. Well I made sure this chili had a nice chunky aray of veggies. I really wanted to feel like each bowl represented a well-balanced meal. Beans and veggies and spices do that for me. Plus that side dose of sweet, cozy carbs from the vegan butter-slathered cornbread.
I used celery, green bell pepper and onion, along with diced tomatoes as my veggies. I added chopped cilantro on top to serve. Other veggies you can add to chili include:
carrots
sweet potato
chopped spinach or kale
corn
green onion
zucchini
Toppings you can try for vegan chili:
vegan cheese
vegan sour cream
chopped peanuts
crushed corn chips
corn bread
cilantro
green onion
fresh tomato
avocado
But for me, cornbread is just a must with chili. This recipe for vegan cornbread is one of my faves. The trick is to use masa harina. It creates a super rich and cake-like texture that I just love. I might post the recipe I used over the weekend since it's a bit more basic (aka easy) and yields very similar results.
For me, cornbread is less about the muffin texture, and more about the cake-like corn flour texture.
The best bean for chili?
This appears to be based on tastes for most people. I did a little research and found this interesting Food52 comment thread about the best beans for chili. A few people say that pinto beans are authentic. And a few people love black beans. I always add some kidney beans for color and what I know as 'classic.' But really, you can play around and use any beans you'd like. Or whatever beans you have on hand. For example, I would usually use two cans of pinto and one kidney, but I only had one pinto – so my third can was a navy bean. Not classic by any means, but still worked just fine!
Chili for the Superbowl
This veggie chili is perfect game day fare. Whip up a big batch – or a double batch and serve it to your family or guests for easy TV-side eating. Just don't forget the cornbread!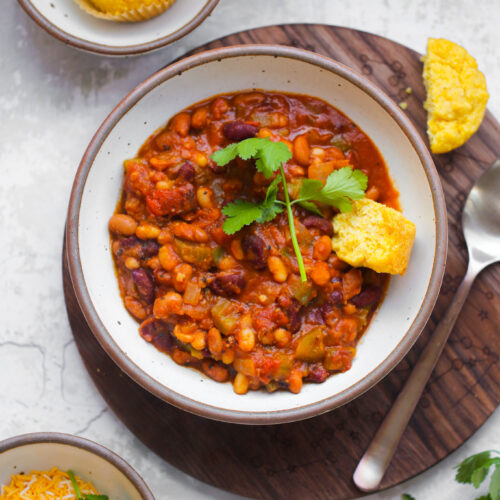 Easy Veggie Chili
This easy vegan chili contains a spicy aray of beans and chunky veggies. Perfect for a one bowl, plant-based meal.
Print
Pin
Ingredients
2-3

tablespoon

extra virgin olive oil

1

medium

onion

,

chopped

1

medium

bell pepper

,

diced

4

cloves

garlic

,

chopped

6

ribs

celery

,

chopped

1

bay leaf

3

tablespoon

tomato paste

14

oz

diced fire-roasted tomatoes

,

canned

1 ½ – 2

cups

vegetable broth

1

teaspoon

ground cumin

4

teaspoon

chili powder

1

tablespoon

dark chocolate

,

optional**

14

oz

pinto beans

,

canned

14

oz

kidney beans

,

canned

14

oz

white beans

,

canned – or more pinto/kidney

⅛

teaspoon

black pepper

½

teaspoon

salt
Optional Toppings:
cilantro

vegan sour cream

corn bread
Instructions
Prep all your veggies. Be sure to dice and chop the celery, bell pepper and onion to a size that you would like in your chili. For extra chunky chili, keep a larger size, for a smoother chili, finely chop the veggies. For the beans, I like to drain and rinse my beans in cool water to prep.

Warm a large soup pot over high heat. Add in the olive oil.

Add in the onion. Sweat onions for about two minutes, stirring into the oil with a wooden spoon. Then add in the celer, garlic and bell pepper. Add in the bay leaf. Toss the veggies in the oil and cook for about 3-4 minutes, until they start to brown and get a bit tender.

Reduce heat to medium and add in the canned tomatoes, tomato paste, 1 cup of the veggie broth, chili powder, cumin and optional molasses. Stir together until combined.

Add in the beans and salt and pepper. Cover chili with lid and allow to simmer for 5 minutes on medium or med-low. When in doubt, lower the temp and cook a bit longer. You don't want to burn your chili or any of the added spices.

Remove lid and give the chili a good stir. If desired, add in another ½ – 1 cup of the veggie broth. stir, then simmer again for 3-5 minutes on medium or low. Your chili will be ready to eat when everything is bubbling nicely and cooked through. The longer you simmer, the more the flavors will marinate the veggies and beans – thus making this recipe delicious the next day as leftovers. Or you can make it ahead of time!

Serve chili piping hot with desired topping on top. Try fresh cilantro, corn bread, peanuts, corn chips or vegan sour cream or shredded cheese. Store leftovers in the fridge for up to one week.
Notes
** dark chocolate adds a rich, complex layer of flavor. Use a 70-80% cacao blend for the richest flavor. Chocolate and spicy tomato actually works very well – kinda like a molé! You could also try just using molasses, brown or coconut sugar – or sub with 2-3 teaspoon of cocoa powder. 
Make it Meaty! If desired, you can sub one of the cans of beans with chopped seitan (wheat meat), vegan sausage or your fave vegan "beefy" crumble product.
nutrition estimate | per serving
Calories:
335
kcal
|
Carbohydrates:
55
g
|
Protein:
17
g
|
Fat:
6
g
|
Saturated Fat:
1
g
|
Sodium:
1147
mg
|
Potassium:
1148
mg
|
Fiber:
15
g
|
Sugar:
9
g
|
Vitamin A:
1874
IU
|
Vitamin C:
33
mg
|
Calcium:
168
mg
|
Iron:
7
mg