Today I share a holiday favorite, Vegan Pumpkin Pie. This one with two recipe options (cheesecake-infused or traditional) and you can totally pull this off in just about five ingredients. Easy, delicious and classic for the holiday season!
Pumpkin Pie for Thanksgiving
Pumpkin Pie was always my favorite part of the holiday season. We would eat leftovers for breakfast and lunch and I would get so excited to be eating dessert for breakfast with my mom's permission. Heck, she was diving in too!
Pumpkin Pie is like the little black dress of desserts. You can dress it up or dress it down. No whip, it's basically a vegetable pie (daywear) and whip or a la mode, it becomes a decadent spiced dessert, for the twilight hours.
Ok, but really, pumpkin pie is just a staple for most people during the holidays. And usually recipes call for eggs and condensed milk – very non-vegan things. So for everyone looking to veganize their pie – or just hoping to make it a bit healthier – this post will give you the tools and tips you need!
More holiday recipes! Browse all my fave Thanksgiving recipes + tips in this post!
Recipe updates. Here on the blog, I have loved playing with pumpkin pie recipes over the years. And before I really whittled things down in my 4-Ingredient Pumpkin Pie recipe, I kept things simple and deliciouswith today's recipe, which I am updating a bit with new photos and a video and a recipe tweak. Let's make my 5-Ingredient Pumpkin Pie. (With a Pumpkin Pie Cheesecake option too!)
Hope you love these pies and make them year after year like we certainly do!..
Make the holidays easy! Snag my 40-page Holiday Meals Guide! Get it over on Finding Vegan Meals!
These first pics are of the classic vegan pumpkin pie with a vegan frozen crust. (DIY crust + cheesecake version pics below)
Pie Crust
I absolutely to play around with the crust when I am recipe testing. Sometimes I just really love the look of a perfectly crimped pie edge with the ease of store-bought. And other times I want an imperfect homemade crust. (Both ways work!) I think everyone should attempt a homemade crust at least once (it is pretty fun + easy if you don't mind the baking mess). But I also want you guys to know that buying a frozen crust is totally fine too. There is a vegan-friendly brand called Wholly Wholesome.
Two Recipe Options:
– Vegan Pumpkin Pie (5 main ingredients)
– Vegan Cheesecake Pumpkin Pie
What are the differences?
The basic pumpkin pie has more moisture and is a bit fluffier. The cheesecake pumpkin pie is a bit more dense and dry in a good cheesecake-y sort of way. A bit richer in texture. The flavor of the basic pumpkin pie is sweet and spiced, lovely and traditional. The cheesecake version adds a tart and tangy cream cheese undertone. mellowing out the spice a bit.
Which version do I like better?
Tough call!! I love the moist and fluffy texture of the basic recipe. And note, I recently started adding the one apple to the pie mixture and really love what that does! The apple is optional but give it a try I think it adds a bit of fiber and some apple cider sweetness! I adore this pie with a swirl of soy or coconut whip on top.
But I will say that for a more dessert-y, rich textured cheesecake-meets-pie, I love the cheesecake version! I really like the combo of cream cheese and pumpkin pie, baked into a dense and rich dessert. But actually, it is still really healthy, rich in ingredients like pumpkin, cashews, optional apple, spices and more.
Whip on top! Or a la mode…
The best part about pumpkin pie or cheesecake pie is the topping! I love using an easy store-bought soy or rice whip (from the brand Soyatoo). But my favorite topping is homemade coconut whip. Get my coconut whip recipe + video here.
Ice cream is another side dish that pairs so well with pumpkin pie. I would use my Salted Caramel Ice Cream! It is cashew-based so pairs so well with this recipe.
Serve this pie warm or chilled.
For warming, I usually pop individual slices in the microwave for 10-20 seconds. If the pie is very chilled, 30-60 seconds might be needed. If you don't want to use the microwave, you can take your chilled pie and pop it in a 300 degree oven for around ten minutes. This will produce a subtly warmth. I personally love chilled pit, but those are a few options if you (or your guests) prefer it served warm.
What's with the apple?
I recently started experimenting with tossing one small, sweet apple (usually a Fuji or Honeycrisp or similar) right into the blended filling mixture. I really like this! It kinda acts as an egg replacer since apple has fiber and pectin. It also adds a lovely bonus hint of fall-infused sweetness. The apple was not part of my original recipes, so you can totally omit if desired. But I love that the holiday season gives us the opportunity to try new spins on our old faves that we make year after year! It can be fun to try tiny twists and tweaks. This is one small tweak that I am calling a keeper!
But some recipes do not need messing with, ha. Like that one year I didn't plan ahead and was forced to use pita bread to make my stuffing. Haha. It totally tasted amazing! But I probably wouldn't do that again. Fun to improvise though.
And I always have pita bread around Thanksgiving to make these Sweet Potato Pockets… my usual main course item! Bring me all the carbs…
But I Just Want a Healthier Pie…
Cool, me too! I personally do indulge in a homemade flour crust with this pie for the holidays, butter and white flour and all. But a few healthier options could be to try a crustless pie. A graham or gingersnap cookie crust. Or get creative with an oat-nut crust. I mean, truly, the crust is usually the most unhealthy part of a pumpkin pie. (Or the whip, if you tend to swirl it on really tall like I do.) Or if you add a giant scoop of ice cream. Well just remember that if you just want a healthier pie for whatever reason, lighten up the crust in some way and go easy on the toppings. The filling is good to go if you use my recipes below.
Vegan Pumpkin Pie Tips + Considerations:
– I want an extra moist pie filling…

Bake on the short end of the baking time. Another option: add a large apple instead of a small apple. The apple really moistens up the classic pie. And I would NOT do cheesecake pie version if you want a really moist pie. No-bake pies tend to be very moist. Try my walnut pumpkin pie.
– I like a brown bubbly top, well-baked center! How do I do that?..

Bake on the long end of the cooking times, 55 minutes should do it. If you hate browning, see above and reduce the heat a bit and/or bake a bit less. Remember, slow and long is the best way to bake a pumpkin pie.

Another tip is that you can serve your baked pie chilled to make sure it is a firm texture. chilling in the fridge overnight will firm things up a bit more.

– What temperature do you bake a pumpkin pie at?

Bake pumpkin pie at 425 degrees for 15 minutes, then reduce heat to 350 for an additional 40-50 minutes. That is the 'gold standard.'

A big consideration is if you what size pie dish you are using or if you fill your pie extra thick or a bit on the thin side. Sometimes I use two different sized pie pans and that can need some tweaking.

– Pumpkin Puree Brand Variantions. The canned pumpkin is drier than the boxed (Tetrapak) pumpkin. I prefer to use canned pumpkin puree.

If you have time and desire to, you can even make your own pumpkin puree from scratch like I did for this recipe. Check out this pumpkin puree recipe from Martha.

– What else? Feel free to ask questions in the comments.
More Pumpkin Pie Recipes to Explore: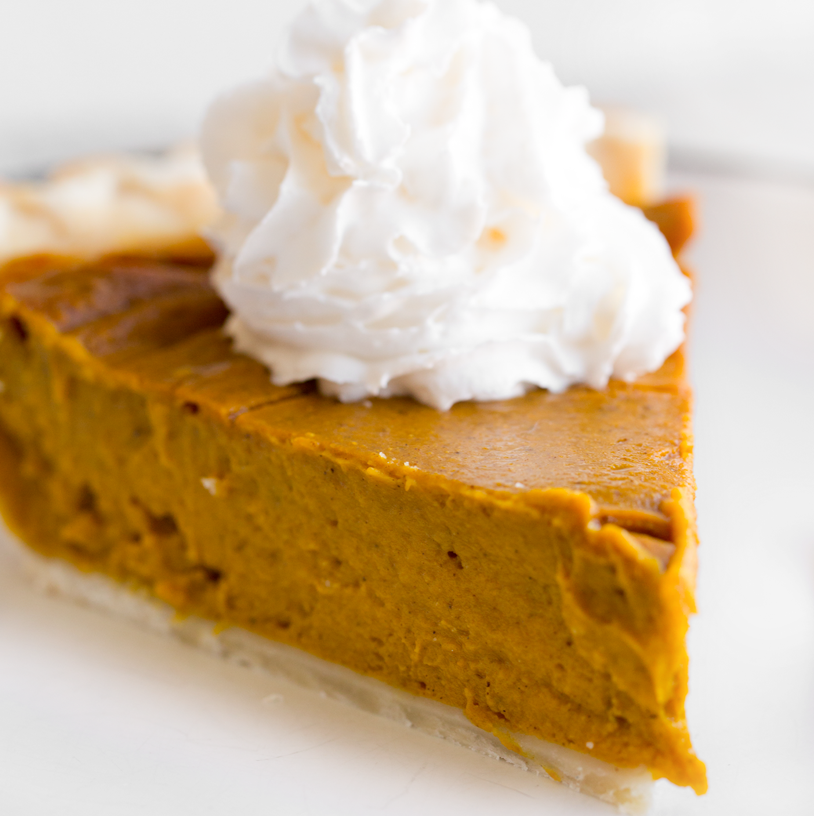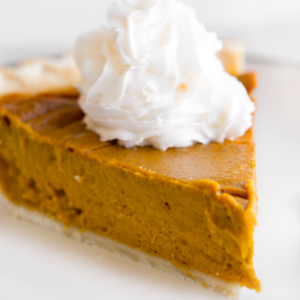 Vegan Pumpkin Pie
This pumpkin pie if fluffy and fragrant with pumpkin spice. Naturally sweetened and easy to whip up. Classic flavors and textures, gones vegan thanks to creamy cashews.
Print
Pin
Servings:
16
slices / 1 pie
Ingredients
Pie Filling
30

oz

pumpkin puree

,

unsweetened (2 standard cans)

½

cup

maple syrup

1

teaspoon

sea salt

1

tablespoon

pumpkin pie spice

1 ¼

cups

cashews

1

small apple

,

chopped – optional

1

teaspoon

vanilla extract
Pie Crust
2

flour, Graham or Ginger Snap Crusts

,

DIY recipe or store-bought
Instructions
At least an hour (and preferably overnight) before making the pie, soak your raw cashews in warm tap water. Hot water will speed up the softening process. Soak cashews until tender and slightly plumped. Drain and set aside. Overnight soaking is not necessary, but the pie will be a bit less moist, and blending a bit stiffer, without the overnight soak.

Prep your crust. If you are making a crust from scratch, follow directions according to recipe.

Pre-heat oven to 425 degrees for pie baking.

Add the pumpkin puree, maple syrup, soaked and drained cashews, pumpkin pie spice, vanilla and salt to a blender. (If adding optional ingredients, do that now as well: apple, vegan cream cheese.)

Blend until silky smooth.

Pour the pie filling into your two pie crusts. Bake at 425 degrees for 15 minutes. Then reduce oven temperature to 325 and bake for an additional 40-50 minutes. You want the top to be slightly browned and bubbly. Longer baking time will lead to a drier filling.

Cool pie on the counter for an hour or so, then cover with foil and chill overnight in the fridge for serving the next day. Pies can be made up to 2-3 days in advance and stored in the fridge.
Video
Notes
Version Notes: Before you get started, consider which version you want to make… Classic ingredients are stated above. Cheesecakes ingredient modification is below..
Cheesecake Version – Ingredient Add-In:
8oz vegan cream cheese
1 tablespoon maple syrup.
Classic Version: Make as shown above. The apple is optional, but advised for added sweetness and fluffiness.
Cheesecake Version: If making cheesecake version, make the classic version, then add in the cream cheese and maple add-ins to the blender mixture. 
Q: But won't the cheesecake version be over-filled?
A: Interestingly, the thickness of the pies comes out pretty even – even though the cheesecake version technically has eight more ounces of ingredients mixed in. More questions? Feel free to leave a comment below and I can help! 
——-
Pie Crust Options:
– Classic Vegan Pie Crust, flour
– Go crust-free!
– Gingersnap crust
nutrition estimate | per serving
Calories:
206
kcal
|
Carbohydrates:
26
g
|
Protein:
4
g
|
Fat:
10
g
|
Saturated Fat:
3
g
|
Sodium:
237
mg
|
Potassium:
234
mg
|
Fiber:
3
g
|
Sugar:
10
g
|
Vitamin A:
8279
IU
|
Vitamin C:
3
mg
|
Calcium:
36
mg
|
Iron:
2
mg
Original Post Content Follows – recipes have been slightly updated above:
Last year, one of my favorite recipes from the fall/winter holiday season was my recipe for Vegan Swirled Pumpkin Cheesecake. Creamy layers of pure pumpkin swirled with cashew-blended tofu cream cheese. Vanilla, maple and cinnamon spice. The pie was a hit with everyone at my Vegan Thanksgiving feast (even non-vegan children and their skeptical parents were ogling at a second slice).
Pumpkin Pie 2010. This year I created a recipe that echoes all the same flavors of last year's pie, but a bit more simplified…
*NEW BONUS: 3-Ingredient Pie! see below..
*I tried and tested a 3 ingredient vegan pumpkin pie last week. It worked! I was out of tofu cream cheese, so I increased the soaked cashews by 4 ounces and added in 6-7 ounces of soy milk to thin out the nuts. I even skipped all the additional optional add-in's in my test-run of 3-ingredient pie. Guess what, it worked! It was a tad more rustic, nutty and earthy due to the increased nut content. Less creamy/silky – but kinda perfect for a breakfast pie (cashews and pumpkin – healthy, yum!)
Three Ingredient Pie. So if you only have pumpkin pie mix, cashews and non-dairy milk on hand you can make this modified pie!
For Pumpkin Pie.. If you want to stay truly homemade, you can use your own real pumpkin puree. Otherwise, use canned 100% pumpkin and add your own sweetener, salt and spices. Or a Pumpkin pie mix includes spices and sweetener.
"Pumpkin Pie Mix" Substitute:
1 ¼ cups dry sugar
28 ounces (3 ½ cups) pure canned pumpkin (or equivalent fresh pumpkin puree) Pumpkin Puree Recipe I found here.
1 tablespoon pie Spice mix (cinnamon, nutmeg, cloves)
1 teaspoon salt
UPDATED note: Below are the old versions of the recipes — my refined updated recipe is the one at top in the recipe box. I just kept these here just in case some of you really fell in love with these versions….
Pure Pumpkin Pie
vegan, makes 2 pies
8 ounces tofu cream cheese
30 ounces (about 3 ¾ cups) canned Pumpkin Pie Mix (or sub ingredients shown above)
1 ¼ cups soaked raw cashews (soaked overnight in salted water)
3 tablespoon lemon or orange juice (optional – adds a slight zippy undertone)
2 teaspoon cinnamon (optional)
2 graham cracker pie crusts (or your own recipe)
handful of cashews for garnish
Directions
1. Soak your raw cashews in salted water overnight or at least 6 hours. They should break apart easily and be tender to bite when properly soaked.
2. Preheat oven to 375 degrees.
3. Drain your nuts and set aside. Also set aside about 15-20 cashews or garnish. Gather all ingredients and set aside as well.
4. In a food processor, add the cream cheese, pumpkin pie mix (or substitute ingredients), cashews and lemon juice.
6. Pour your puree into your two pie crusts.
7. Swirl and smooth top with fork. Dot on cashews around the edge and center as you'd like.
8. Bake at 375 for 30 minutes. Cool. Place in fridge to firm before serving.
I made this one back in 2010, without a Vitamix. The Vitamix or another high speed blender really makes for a smoother filling..
Happy pumpkin pie season everyone!
Want more recipes? Hop over to Finding Vegan Meals!