This stay-at-home period has probably been the longest stretch of my life without ordering takeout! We have been cooking at home for a few months now and I have to say … it is actually incredibly refreshing and lovely. But sometimes you get those nostalgic cravings for your faves. And Chipotle has always been a fave of mine. This Copycat Chipotle Veggie Fajita Burrito is super easy to make (yes, even with all those components!) and it definitely satisfies that giant burrito craving you may have…..
Longing for some Chipotle?
Sochi's mood is just that. Don't worry, we've got you covered..
Prep all these goodies. It's easier than you may think!…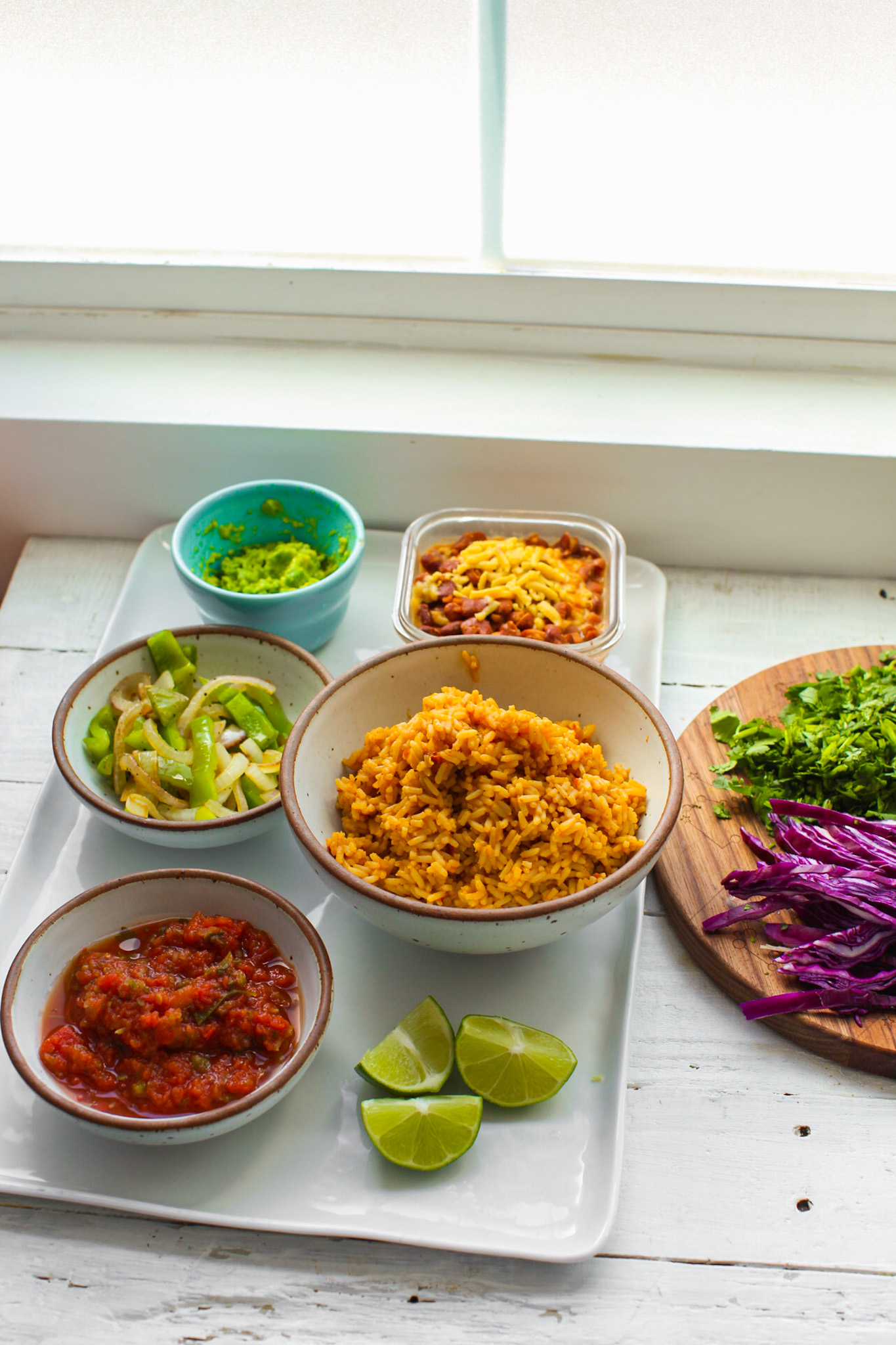 Then fill that tortilla!
Copycat Chipotle Veggie Fajita Burrito on the way. No leaving your house required!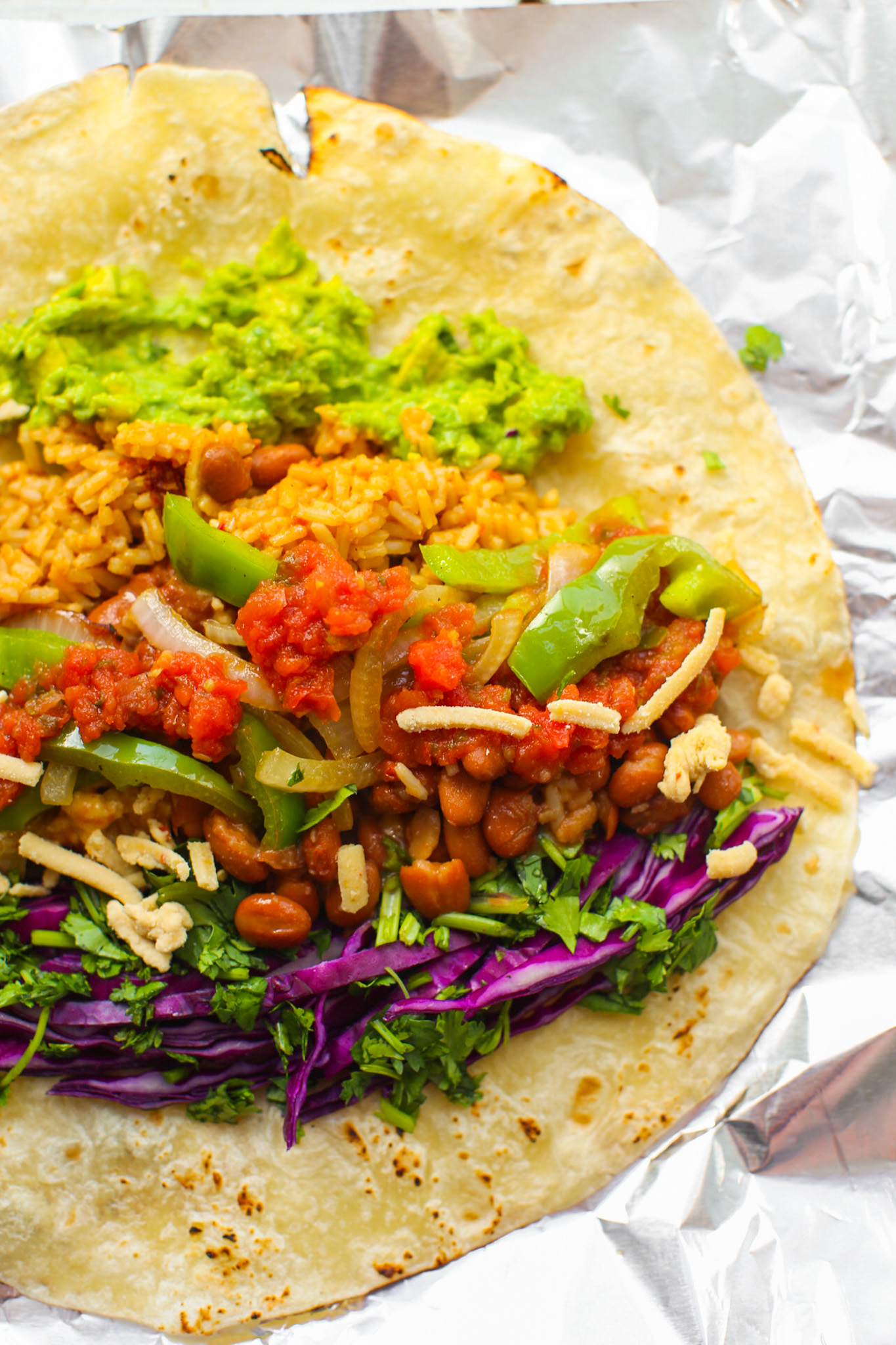 This was me politely loading things up. Needed it to look nice for the photo, but feel free to just pile everything on!..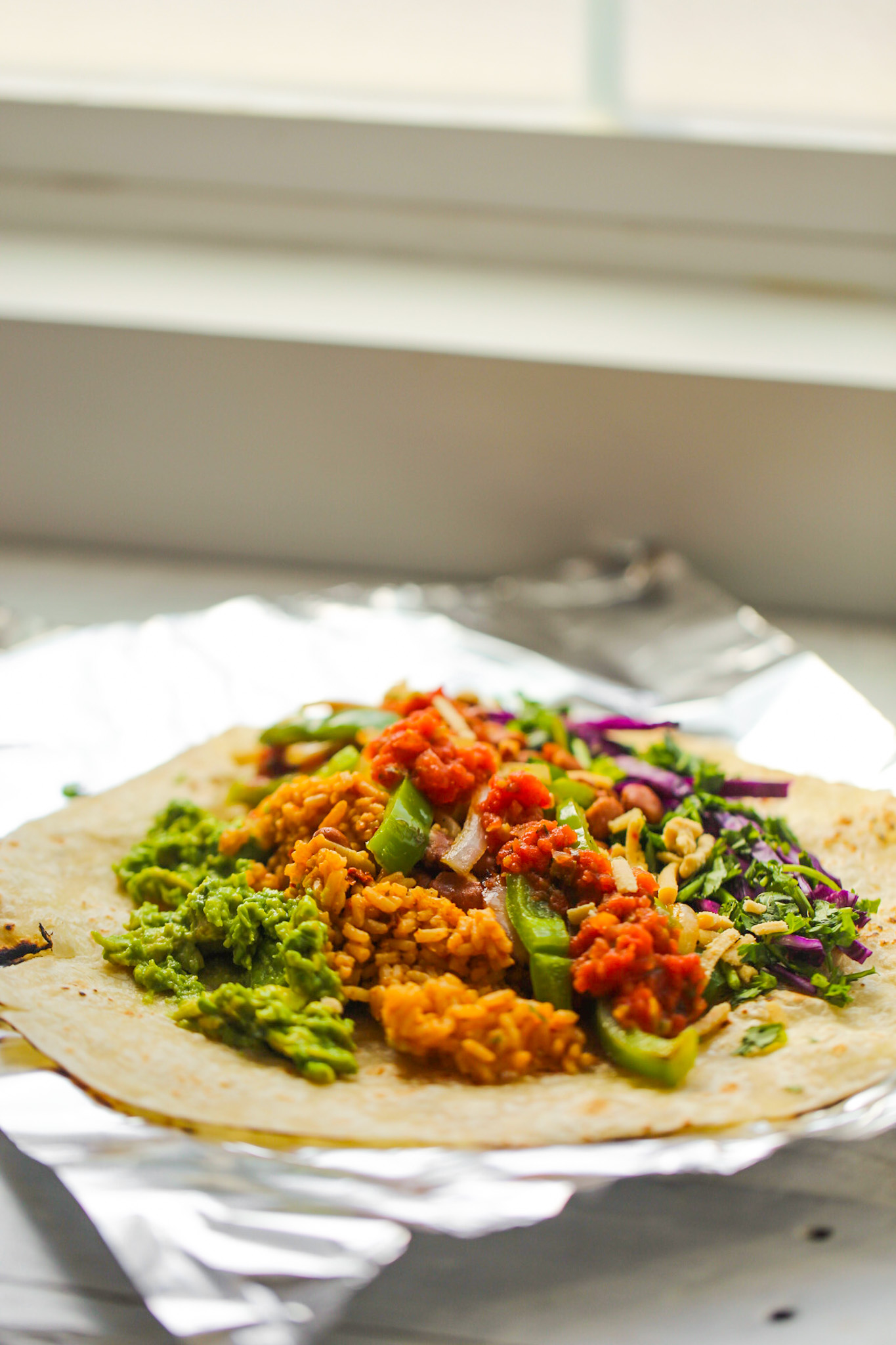 Wrap in foil for that true Chipotle vibe…
But parchment paper works well too if you don't feel like using foil.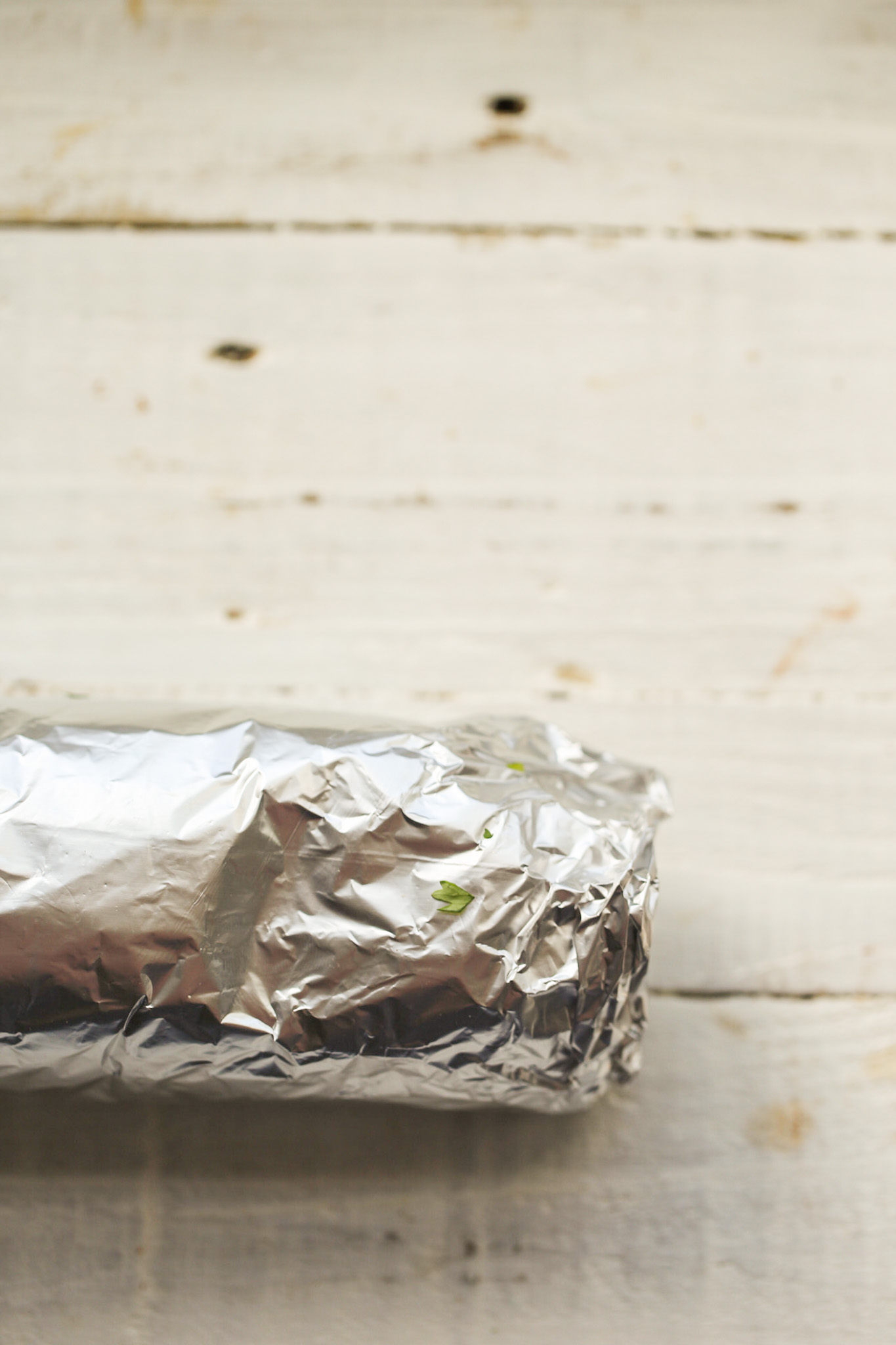 Vegan Options at Chipotle
Vegan Chipotle fans unite! This recipe is for you.
I love how many vegan options Chipotle has these days. I still remember when they first came out with sofritas. That yummy, spicy, tofu-based filling. I was living in DC and hopped on the Metro to Dupont Circle to be one of the first people to give it a try. I know I took photos and posted about it somewhere, but that post is so old I can't even find it, ha.
But all the vegan basics are there for you! Beans, rice, fajita veggies, guacamole, lettuce and a few different salsas.
Today's recipe for a Copycat Chipotle Veggie Fajita Burrito is a basic beans and rice order with tender and flavorful fajita veggies sizzling from a hot skillet! And don't forget the guac. Obviously.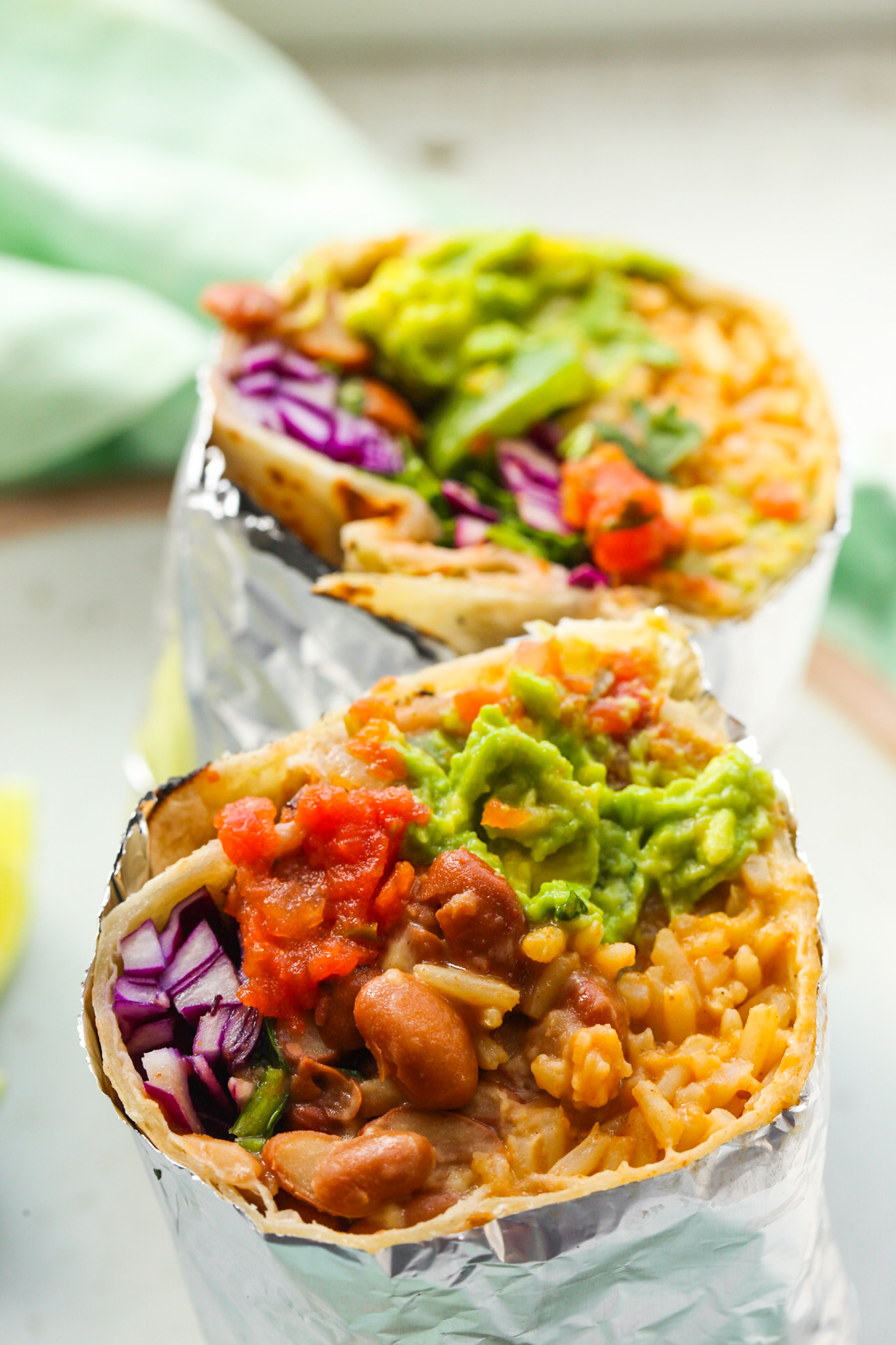 What Makes it Taste Like Chipotle?
Ok, so there are a few things that really boost your Chipotle copycat game for this Copycat Chipotle Veggie Fajita Burrito…
Extra Large Tortilla – If you can find an extra large tortilla, this is a must! It will ensure all those yummy fillings inside and basically feels like more filling, less tortilla. I find that a lot of the XL tortillas tend to be a bit thinner than the smaller ones – which also feels more like chipotle.
Warm that Tortilla – Do not add you fillings to a cold tortilla. You want to add them to a warmed and maybe even flame-charred tortilla. This enhances the texture and flavor of the tortilla – and makes it more pliable for folding.
Season Everything! – So my numberone tip for making this burrito really taste like Chipotle is to be heavy handed on the salt. Yup. (Obviously if you are trying to stay away from sodium, this burrito is amazing that way too…) but for true fast-food flavor, you have to have salt. So that means salting those fajita veggies. The beans should have salt already from the can, or add some if using salt-free beans. The guacamole needs salt and yes, that salsa will be salty too. I've made so many burritos at home and when I compare them to Chipotle – the number one difference I taste is saltiness. Again, we all know some people cannot do high sodium, but if that's not you, season to your taste bud's delight (it's definitely not me .. I actually have to eat more salt due to lowish blood pressure sometimes).
YES on Guacamole – "Would you like guac on that?" U, yes. Yes and more yes. Chipotle likes to add a BIG scoop of guac on burritos. So you can feel free to do that as well. I swear that one scoop must have a whole avocado in it!
Something Light + Crunchy – Instead of the classic romaine that Chipotle uses, I used cabbage and finely chopped cilantro.
GOOD Salsa – DIY some or buy the good stuff from the store.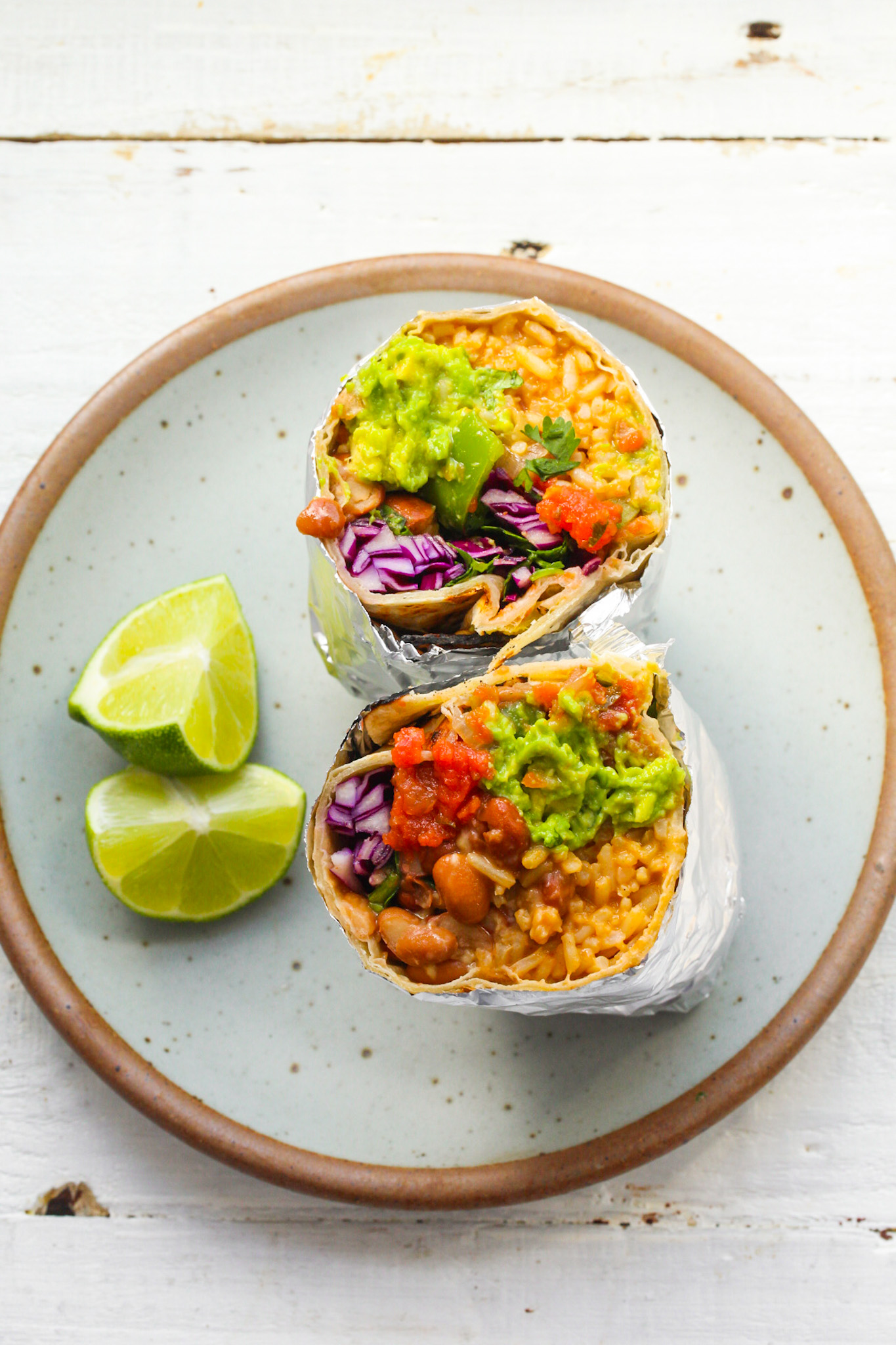 Burrito Rice
So we all know that Chipotle has two types of rice. Cilantro White Rice and Brown Rice. Both are fluffy and lovely and vegan. Today I actually had a box of 'Mexican Rice' mix in my pantry just begging to be used, so I whipped that up. I love it because you get a lot of flavor from it (Chipotle approved) and it was super easy.
However, I know most of you will be DIYing your rice options. So just remember after making your rice — season it! Add a squeeze of lime juice and some garlic salt to make things easy.
If you want to do a red tomato rice like the one I used, try my Mexican Rice Recipe.
Rice + Friends…
Gina over at Skinnytaste has a great Copycat Chipotle Cilantro Rice recipe you can check out – side note, love Gina, she's the sweetest. I remember I met her at a DOLE event at Disneyland. I think it was Bananas! And her, Brooke (love Brooke too!!) and I did a quickie workout in the gym. I was only joining to socialize lol, I did not like working out back then, haha. But she was talking about her book deal and how she was getting ready to write it. And now it's a huge best seller! Love those little stories from all my food blogger adventures.
Man, I miss people!! And press trips. Travel. And Disneyland. Sigh.
Guacamole
One of these days I will get around to posting my go-to guacamole recipe at a post (can you believe I haven't done that in thirteen years of blogging??) But for now, I will just say that guac can be super simple for this Copycat Chipotle Veggie Fajita Burrito. Avocado, lime juice, salt and pepper. Good enough for me!
Fajita Veggies
These skillet veggies make this Copycat Chipotle Veggie Fajita Burrito feel like Chipotle!
And they are so easy to make. Just add oil to a hot skillet and saute half-moon sliced green bell peppers and red onion until they are tender and lightly browned. Add salt and pepper and done.
Why the Cilantro?
I chat about my cilantro in burritos obsession in my Santa Cruz Burritos post. But yeah, it's optional, but chopped cilantro stems + leaves is kinda my fave thing in a burrito.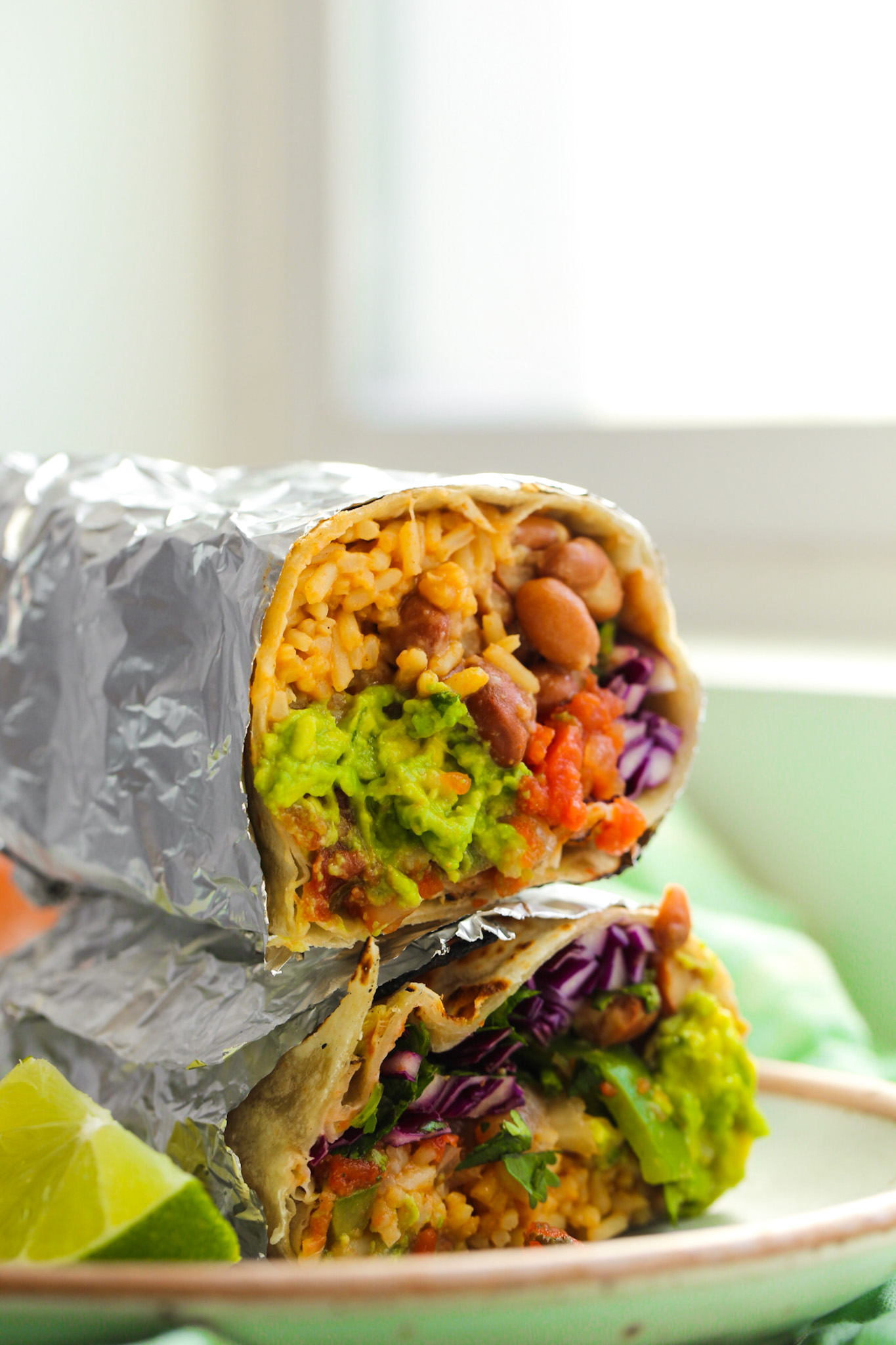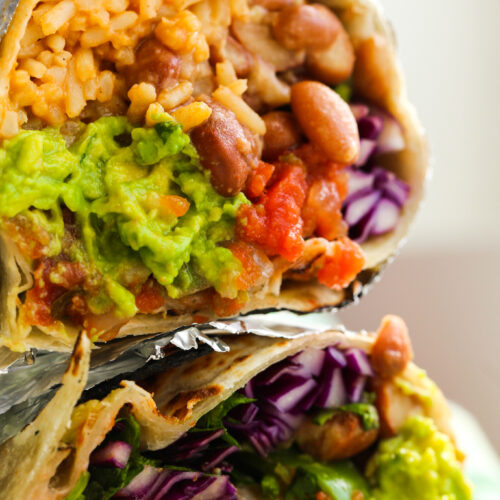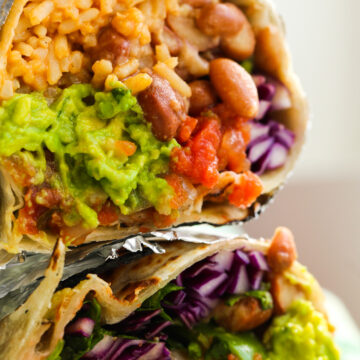 Copycat Chipotle Veggie Fajita Burrito
Whip up yummy fast food at home in a flash with this easy recipe. Fajita veggies, rice, beans and salsa, don't forget the guac!
Print
Pin
Ingredients
¾

cup

rice

,

any variety, see notes

¾

cup

pinto beans

½

whole

avocado

1

lime

3

tablespoon

cilantro

,

chopped

¼

cup

red cabbage or romaine

,

chopped

¼

cup

salsa

¼

cup

vegan cheese

,

shredded – optional

1

tortilla

,

extra large
Fajita Veggies
2

teaspoon

olive oil

,

extra virgin

¼

cup

red onion

,

sliced

½

cup

green bell pepper

,

sliced
Seasoning
salt

,

to taste

pepper

,

to taste
Instructions
RICE: Make your rice first. There are several recipes you could use. Mexican rice. Cilantro rice. Or go with plain white or brown rice. If using plain rice, just be sure to season with salt and pepper and any other spices you'd like.

BEANS: Use canned pinto beans for ease! Drain and rinse. Pour into a small bowl and microwave for 2-3 minutes until warm. I like to add the vegan cheese over top for the last thirty seconds of heating. Stovetop method could also be used.

GUAC: Add the avocado, along with about 2 tablespoon of the lime, juiced, to a small bowl. Add a pinch of salt and pepper. Mash. Add more salt to taste if desired. Optional guac ingredients include: minced garlic, finely chopped onion or even garlic or onion powder.

VEGGIES: Warm a skillet over high heat. Add the oil and veggies. Saute for 3-4 minutes until tender and lightly browned. Turn off heat and add a pinch of salt and pepper. Taste. Add more salt if desired.

TORTILLA: Warm tortilla over a gas flame for 10-20 seconds each side — do this with caution! Other method: Warm in microwave for about 10-15 seconds to soften. Your oven could also be used.

ASSEMBLE: Add about ¾ cup rice, ¾ cup of the beans, fajita veggies, mashed avocado, cilantro, cabbage or romaine, salsa to taste, and optional vegan cheese shreds. Add a squeeze of lime over top everything for extra bright flavor. Also optional: vegan sour cream.

Roll up tortilla into burrito shape. Slice and serve with additional salsa or hot sauce on the side. Additional guacamole could also be made.
Notes
Rice options: See post for details.
Red Mexican Rice
Cilantro White Rice
Brown Rice
nutrition estimate | per serving
Calories:
597
kcal
|
Carbohydrates:
96
g
|
Protein:
15
g
|
Fat:
19
g
|
Saturated Fat:
4
g
|
Sodium:
1301
mg
|
Potassium:
938
mg
|
Fiber:
14
g
|
Sugar:
11
g
|
Vitamin A:
917
IU
|
Vitamin C:
97
mg
|
Calcium:
166
mg
|
Iron:
4
mg