These Santa Cruz Beach Burritos remind me of being a teenager, grabbing a burrito with my friends on the way to or from the beach. The secret to these burritos is that they celebrate simplicity – nothing too fancy with seasonings. Salt, lime, maybe a few fajita spices for the grains and really letting the textures and flavors of the plant ingredients shine through.
The other secret to these burritos: cilantro. The way I add cilantro to these burritos is unique and it is my favorite signature thing about this recipe. So who is up for a vegan burrito night?
If you want to add vegan seitan strips, go for it..

Grab one of these and dinner is done. (Ps. I add plentiful amounts of Cholula hot sauce or a spicy salsa as I eat…)
Then you can plop on the couch after a very satisfying summer meal.. (This is Sochi's 'tired' face even when he just napped all day. He was doing this while I was cooking + photoshooting + working. #Kitties..)
Santa Cruz Beach Burritos: Inspiration
The inspiration from these burritos is from a tiny hole-in-the-wall Mexican restaurant that my friends and I used to go to. I cannot remember the name of it and it has since been replaced with something else, but while it was there, a few blocks from the ocean, it thrived! It could fit about four small tables inside and had a bunch of picnic tables scattered all around the back. Or you just grabbed your meal to go and ate it in the car or brought it home. It was across from the Seabright Brewery (I think .. this was twenty years ago…). So if anyone knows the name, feel free to comment!
Another spot that inspired my with an epic Vegetarian Burrito was a spot called Sofia's Taqueria. We went there soooooo many times I could not even count. Probably once a week. The veggie burrito was giant and had loads of crunchy cabbage and giant, tender pinto beans. I remember, as a kid, it was one of the first times I felt really cool ordering the vegetarian option on the menu.
Santa Cruz Beach Burritos: The Secret Ingredient.
For me, the secret ingredient was the cilantro! It was finely chopped up (leaves AND stems) and large amounts of it were placed in the burrito, just as you might add lettuce to a wrap. The Santa Crus Beach Burritos I remember had copious amounts of fluffy, green cilantro leaves and crunchy green cilantro stems.
Cilantro Leaves and Stems
The cilantro gives a lightning effect to this burrito. Chopped cabbage could do that too. I always felt just right after eating a big one of these cilantro-packed burritos and a side of guac and chips for dinner.
Cilantro has a weird reputation. I think that is because some people don't like it, aka hate it. "It tastes like soap." I have heard cilantro-hating people say. While others (like me) think it tastes dreamy and fragrant and is the perfect aromatic accent to spicy salsas, rich guacamole and hearty beans and rice. I literally cannot get enough cilantro in my Mexican meals. So this trick is perfect for me. Lots and lots of it!
Cilantro vs Coriander. A fun fact about what Americans call 'cilantro.' So here in the US we call the leaves and stalks of the plant 'cilantro' and the seeds, coriander seeds. While in the UK they call everything coriander and the word cilantro doesn't exist. In India they call it "dhania."
Health Benefits of Cilantro.
As a leafy green herb, cilantro is naturally quite good for you. It contains antioxidants, most notably vitamins A and C) and fiber.
Economical Greens. The great thing about this recipe is that you get to buy a big bunch of cilantro, and actually use up the entire bunch (stalks and leaves) as your 'leafy green' filling for your burrito. And cilantro tends to be reasonably priced. Economical way to add a dark leafy green herb to your meal.
Cabbage? I love adding cabbage as another veggie. But that is totally optional. The cilantro alone, should do the trick!

"I hate cilantro, now what?" If you are not into cilantro, you can omit it and still make these simple and fresh-tasting burritos. I would sub with cabbage or some diced tomatoes or maybe even just some shredded spinach or romaine. If you want something with a more fragrant aroma, you could try flat leaf parsley.
Beach Burrito Ingredients:
Pinto beans, warmed up and very lightly seasoned with a bit of salt and pepper.
Pico de gallo. You can make this yourself, use a store-bought brand or you can even use a bottled salsa or hot sauce if needed.
Avocado. The 'guacamole' I used for this was again, very simple. Mashed avocado with a tiny bit of salt and lime juice.
Rice. Rice or quinoa can be fancy or super simple. I used a very simple spanish rice boxed mix that I had on hand. This added nice flavor without being too much of a time sink for 'simple burrito night.' If you want to DIY your red rice, I have a recipe here. Or you could also just cook up some white or brown rice or quinoa and toss it with a teaspoon of fajita spices and use that. Or keep it unseasoned! Totally fine too.
Veg. Cilantro leaves and stems and shredded cabbage are my picks.
Tortilla. For the tortilla, I love the half-baked flour tortillas you can find in store. My brand was by Cabo Chips. Alternatives: make tacos and use small corn tortillas. You could also use a larger spinach wrap and make a super 'Chipotle-sized' burrito. Or make a burrito bowl and omit the tortillas and just crush some corn chips over top!
How to Warm a Tortilla
I place my tortillas over an open gas burner flame for a few seconds on each side, until blackened bubbles for along the edges. (Use extreme caution if warming your tortillas over a gas flame!) Alternative method: warm tortillas in a skillet over medium heat until warm to touch. OR simply pop them in a microwave for about ten to twenty seconds.
Chop as fine as you want. The stems get nice and crunchy while the leaves stay fluffy. Chop the leaves very well to release all that fragrant cilantro aroma. For the stems, don't over-chop or make them mushy. A quick mincing should do it.
Fluffy fluffy shredded green cabbage adds such lovely light crunch to any burrito, taco or burrito bowl. I think it is a very underrated veggie to add to salads to give some crunch!
Those are my Santa Cruz Beach Burritos. I hope you love making this simple and healthy meal as much as I do! Let me know if you love the cilantro stems trick!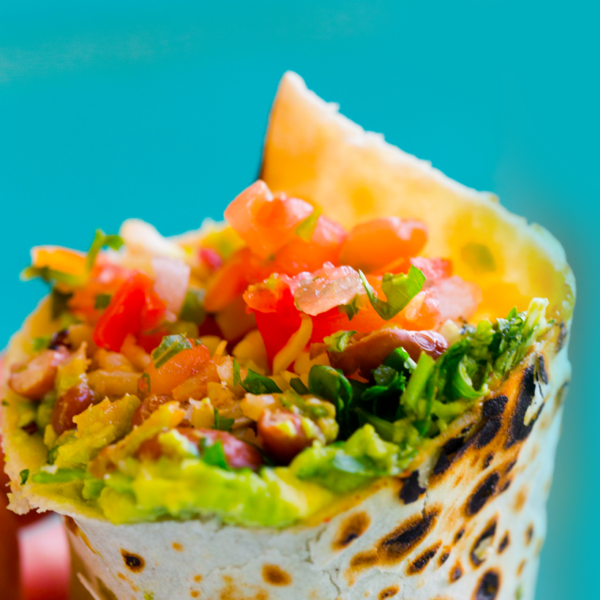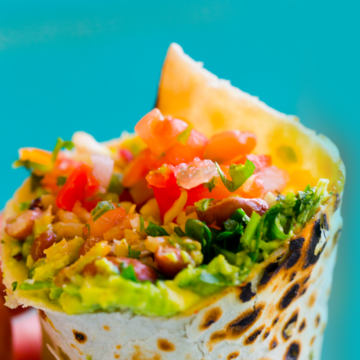 Santa Cruz Beach Burritos
These simple and healthy vegan burritos use beans, rice, fresh flavors from pico de gallo and the secret ingredient: cilantro leaves and stems!
Print
Pin
Ingredients
14

oz

pinto beans

,

drained and rinsed

4

cups

cooked rice or quinoa

1

bunch

cilantro

,

leaves and stems finely chopped

2

cups

shredded cabbage

,

optional

1 ½

cups

pico de gallo or salsa

,

homemade or store-bought

1

avocado

salt and pepper

,

to taste

4

flour tortillas
on the side:
1-2

limes

,

quartered

additional salsa or hot sauce
Instructions
Cook the rice or quinoa. If using red rice: this recipe. If using quinoa: this recipe. Or you can use a vegan "Spanish Rice" boxed rice which includes the seasonings. While the rice is cooking you can prep the ingredients.

Avocados: Peel and pit and mash the flesh with a pinch of salt and pepper and lime juice. Set aside.

If you are adding seitan, warm a skillet over high heat, add a splash of extra virgin olive oil. When the oil is hot add the seitan and heat until warm with browned edges. Set aside.

Drain and rinse the beans. Warm them in a skillet over medium heat. Add a splash of water or veggie broth to moisten, if needed.

Cilantro: Remove about 1 inch of the stems and discard. Rinse the cilantro well. Squeeze out any excess water and pat dry with a paper towel. Finely chop both the cilantro stems and leaves. Set aside.

When all your ingredients are prepped, warm your tortillas. I do mine on an open flame on my gas burner. I heat for 15 seconds and then flip, repeating until black bubbly edges form. (If you use this method proceed with EXTREME caution – never leave the tortillas unattended and never leave the tortilla on long enough to start a flame.) The safer method is to warm a skillet and warm the tortillas in the skillet. You could also wrap the tortillas in foil and warm them in a 300 degree oven.

Fill the burritos: Rice, beans, and a large amount of cilantro (about ½ – ¾ cup per medium burrito), optional shredded cabbage and optional seitan, pico de gallo and guacamole. Wrap the burrito and repeat to use up all the filling. Serve warm!
nutrition estimate | per serving
Calories:
500
kcal
|
Carbohydrates:
90
g
|
Protein:
14
g
|
Fat:
11
g
|
Saturated Fat:
2
g
|
Sodium:
1172
mg
|
Potassium:
984
mg
|
Fiber:
12
g
|
Sugar:
8
g
|
Vitamin A:
711
IU
|
Vitamin C:
26
mg
|
Calcium:
149
mg
|
Iron:
4
mg
Rainbow Sangria is always a good idea too..
Pin for later!..