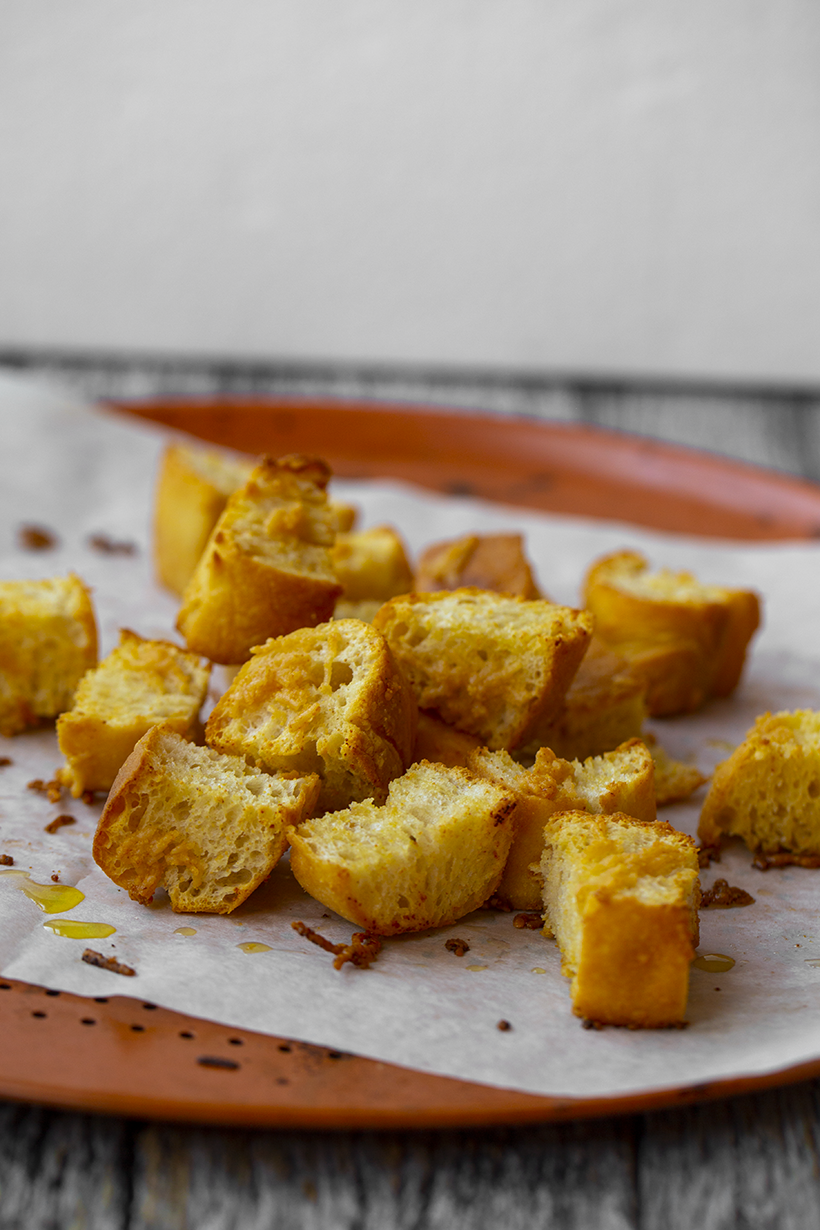 These toasty Vegan Garlic Parmesan Croutons are so easy to make and big on flavor. Perfect for adding to salads – CAESAR – or nibbling all on their own if you're in the mood. These would be delicious dipped into guac or hummus too.
Croutons Meaning?
"The word crouton is derived from the French croûton, itself a diminutive of croûte, meaning "crust". Croutons are often seen in the shape of small cubes, but they can be of any size and shape, up to a very large slice." – Wikipedia
But do you have to make croutons with the 'crust' of bread? Well, sort've! I definitely think that hearty, 'crusty' bread makes the best croutons. And I love how the definition above says you can make a crouton ANY size or shape! I often get frustrated when my cubes are not perfectly 'cubed' and tiny in size, but really, wonky-shaped croutons are just fine. Big, small, flat, fluffy. The essence of a crouton is the taste, texture and added depth it gives to a dish! Adding crisp crunch and a punch of saltiness and richness to your recipe.
DIY Croutons
Croutons are one of those recipes that you might forget just how easy they are to make – but when you DIY them, they taste so much better than store bought. store-bought croutons tend to be small, extra crunchy and dried out and sometimes overly salty or poorly seasoned. Or oftentimes, they are not even vegan, using dairy-based toppings and powders.
But homemade croutons are not just simply dehydrated. They are oven-toasted, warm when they come out with a bit of chewy texture once you get past the inviting oven-toasted crunch. They oil marinates the center and edges and the spices are fresh and bright.
These Garlic Parmesan Croutons use some very simple flavorings. Garlic – in the form of powdery granules – not to be confused with the powder-based garlic powder – and of course EVOO, sea salt and some vegan Parmesan cheese.
Garlic Powder can come in two forms. The thicker granules that are about the size of salt bits or powder – which comes in a very powdery consistency. The granules are more common and they work really well in coating the oil-doused bread cubes and creating a punch of flavor.
This is a croutons recipes you will make again and again!
And these are especially lovely on a Vegan Caesar Salad…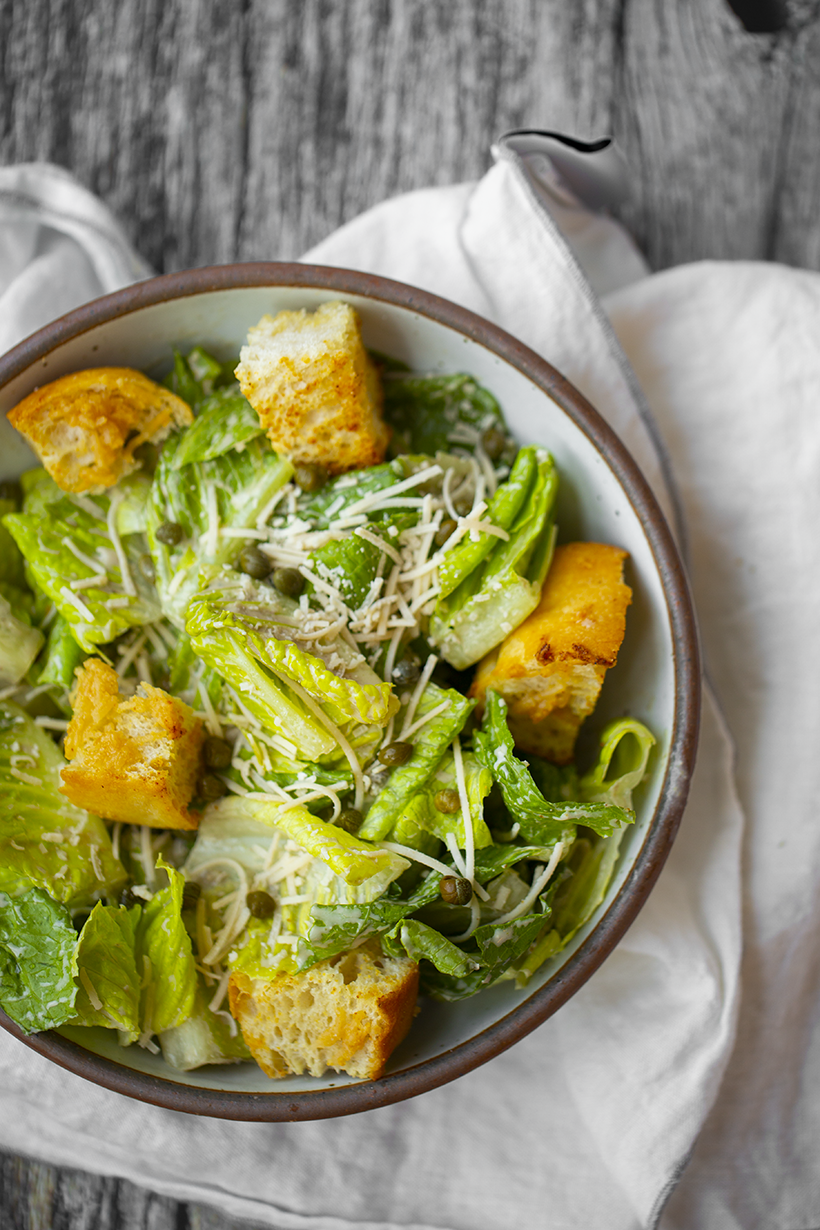 What Type of Bread to Use for Croutons?
You can use any variety of bread, but the best bread is something hearty like a baker's loaf. Sourdough, french bread or anything with nice air bubbles and a thick crust. These types of loaves dry out nicely after a day or two of sitting on the counter. Fresh bread is not the ideal variety for croutons. Just like when you make stuffing, you want the bread in a more 'day old' consistency. I usually just wait a day or two and my loaf is good to go. Sometimes a fresh loaf will be dry enough to use right away though! Definitely experiment a bit and see what you prefer.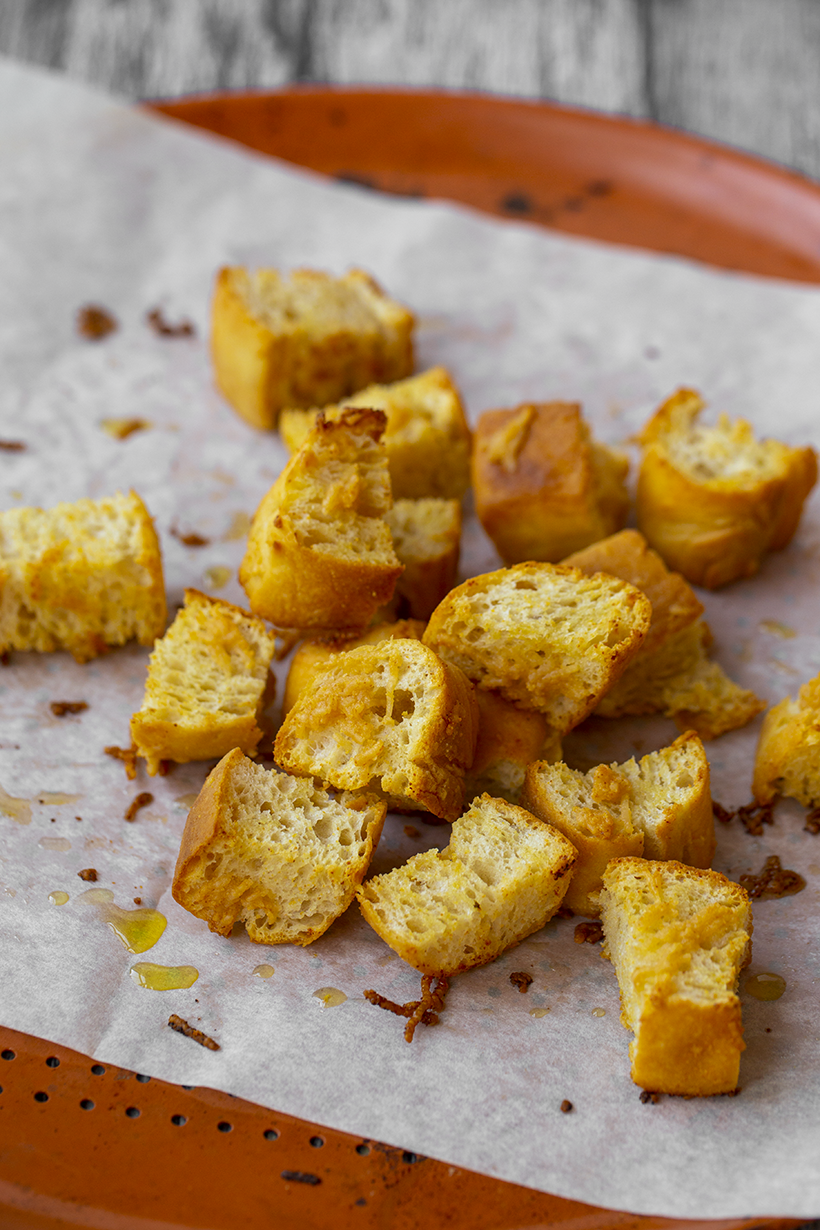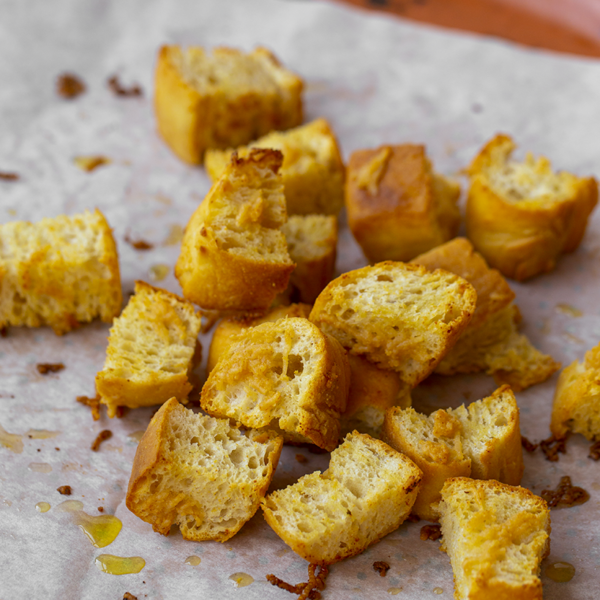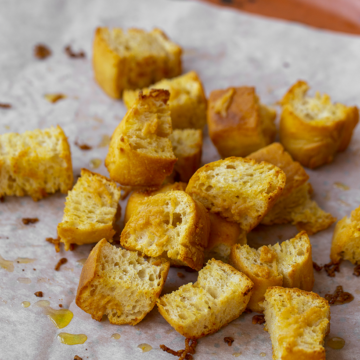 Garlic Parmesan Croutons
Cheesy, garlicky toasty croutons. Easy to make and loaded with flavor. Vegan.
Print
Pin
Ingredients
2

cups

french bread

,

cubed

3

tablespoon

olive oil

,

extra virgin

2

tablespoon

vegan parmesan cheese

2

teaspoon

granulated garlic
Instructions
Preheat oven to 400 degrees.

Add the bread cubes, oil, cheese and garlic to a large mixing bowl.

Lay the bread cubes on a baking sheet – greased or lined with parchment paper.

Bake at 400 degrees for 15 minutes.
nutrition estimate | per serving
Calories:
168
kcal
|
Carbohydrates:
12
g
|
Protein:
2
g
|
Fat:
12
g
|
Saturated Fat:
2
g
|
Sodium:
157
mg
|
Potassium:
38
mg
|
Fiber:
1
g
|
Sugar:
1
g
|
Calcium:
12
mg
|
Iron:
1
mg
Pin it for later….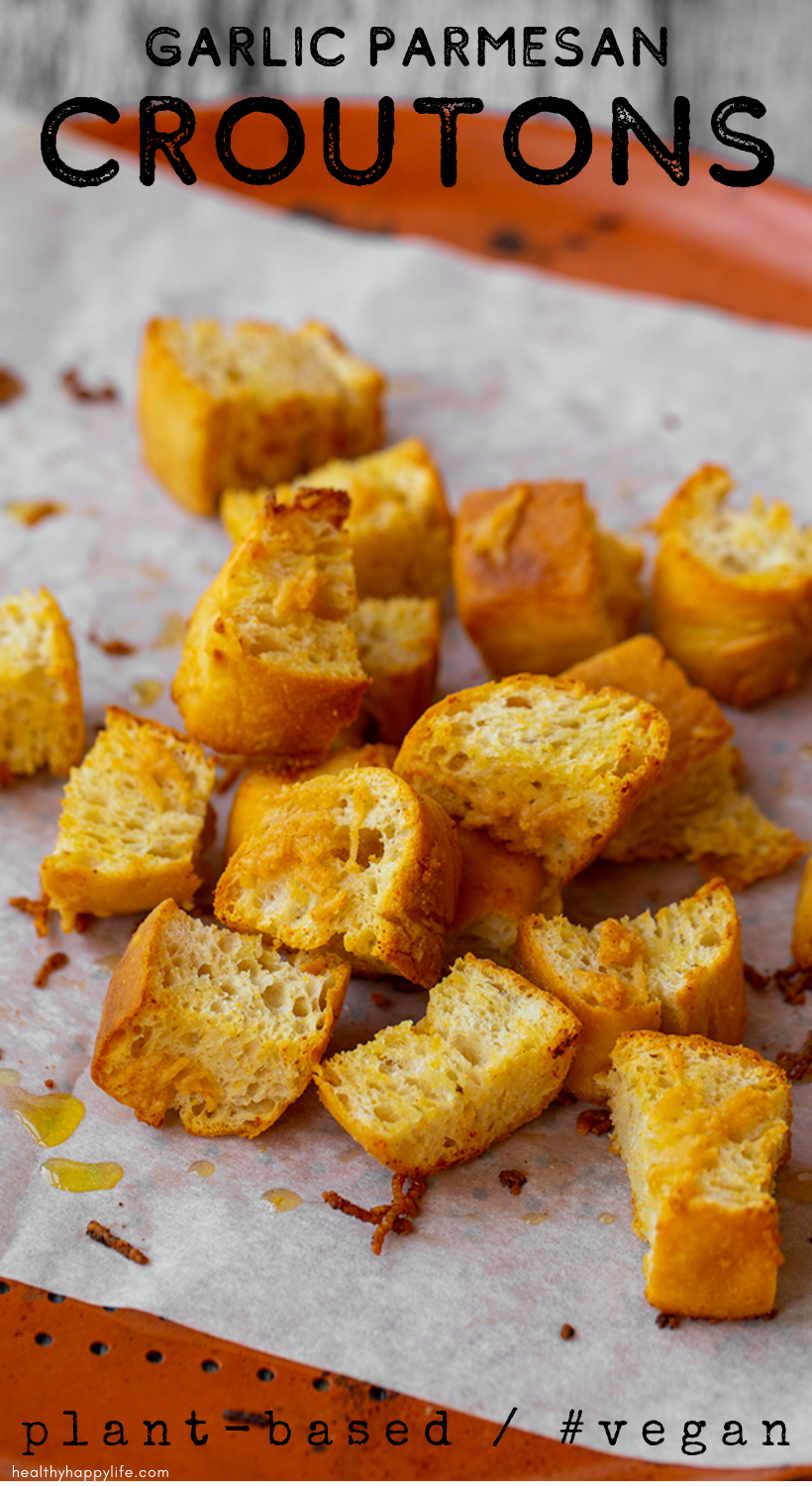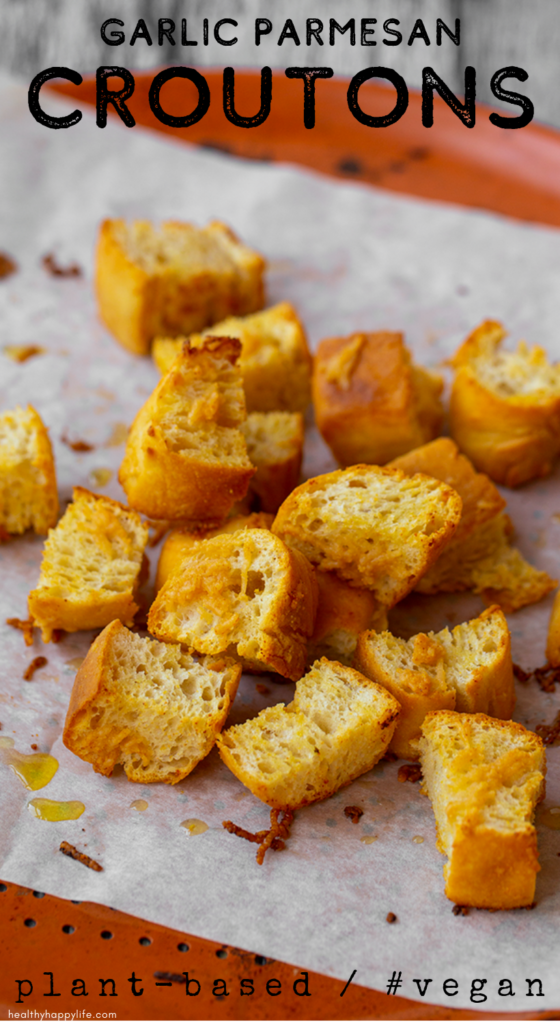 post updated:  * disclosure: this blog earns income from ads + sponsored content.