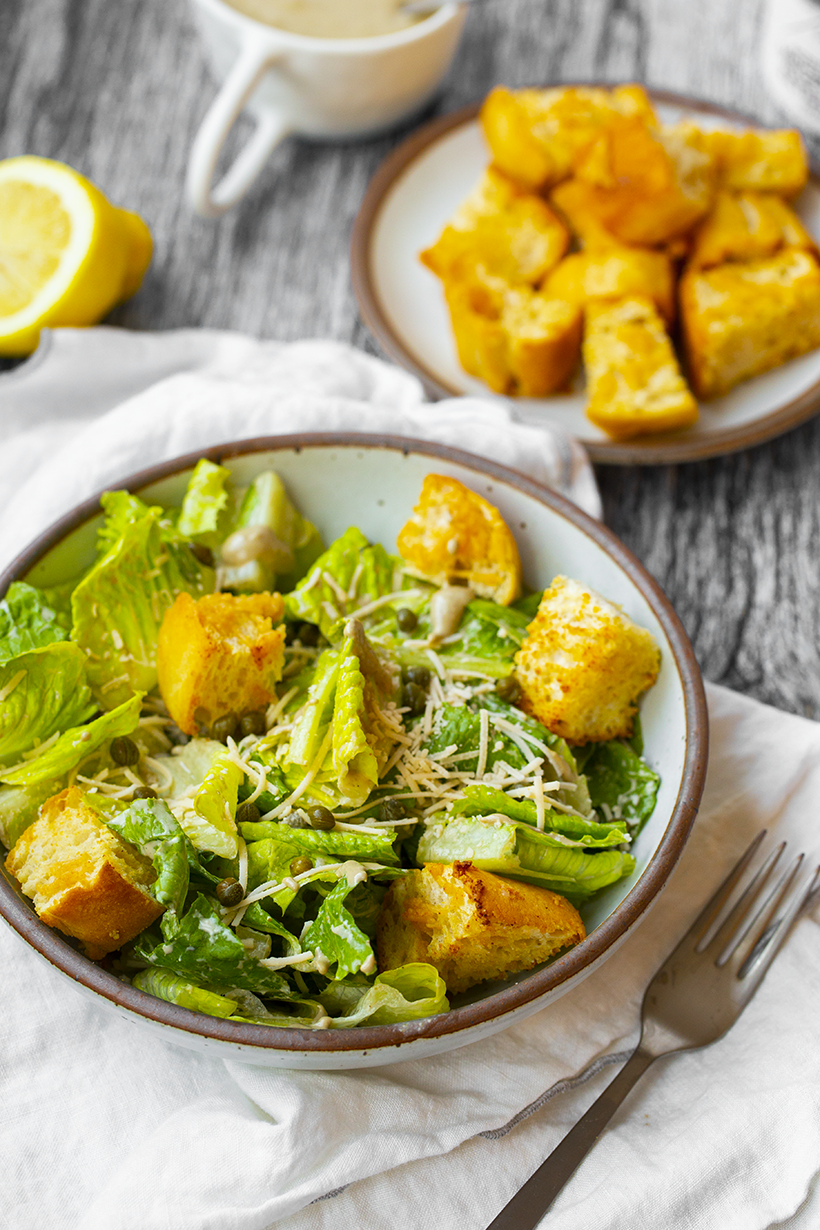 This Vegan Caesar Salad is super flavorful and cravable. Caesar Salads are such crowd pleasers. Vegan or not – this salad is a boom of bold flavors and textures. I love pairing the crisp, cool romaine with rich, earthy Parmesan, capers and pepper.
The savory garlicky croutons, creamy Caesar Dressing, Parmesan and capers is lightened up by crisp and cool, chopped romaine lettuce. The DIY dressing is made using plant-based ingredients. It blends up super thick, creamy and ready to be tossed!

I can't wait for you to try it!..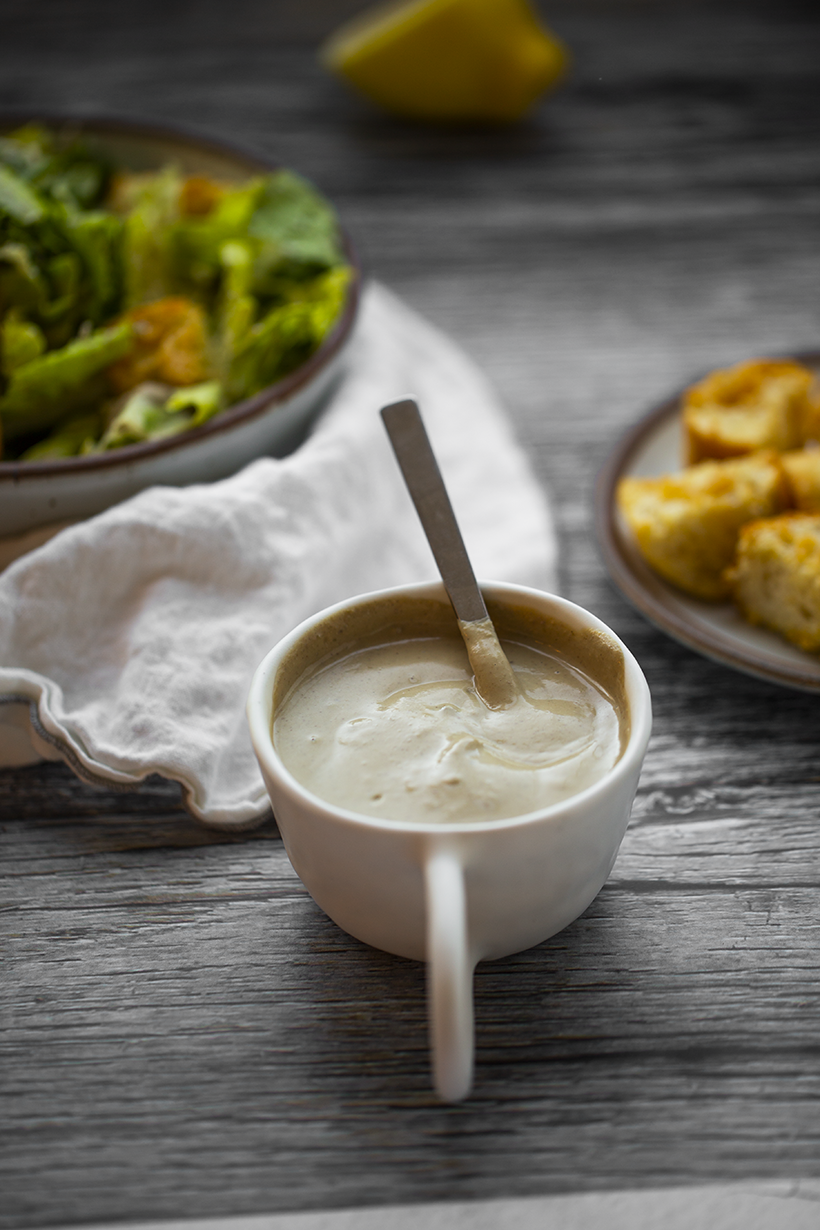 Vegan Caesar Dressing
This Caesar Dressing blends up super thick and creamy. Perfectly textured for coating the light and crisp romaine leaves. You really want your dressing to pack some oomph to a Caesar salad – and this one does it! USing capers, cashews, worcheshire, mustard, lemon and pepper – this dressing is super dreamy. You could actually use it on a wide variety of veggies. Roasted brussel sprouts, carrots, kale, in a Vegan Caesar Wrap and even for dipping veggie sticks!
A Caesar Salad is a classic recipe that everyone will love. I am confident that even non-vegan Caesar-lovers will adore this Vegan Caesar Salad.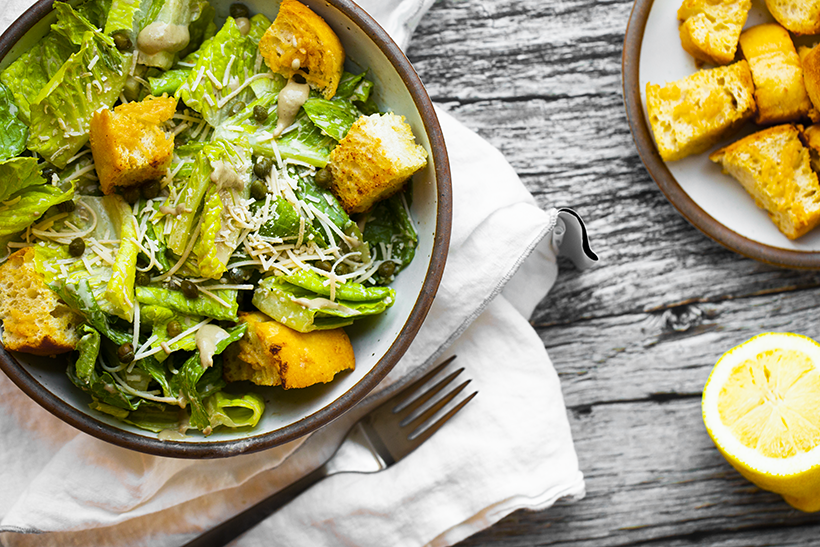 Don't Be Afraid of Your Messy Side…
Earlier today I furiously thumbed through a giant stack of papers. "Wait, where is my recipe?" The photos shot and edited – and I couldn't wait to make the recipe again — but that would indeed require — the recipe.

I had spent two days tweaking ingredient ratios. More capers. Less mustard. More lemon. Getting things to the point where my taste buds screamed CAESAR upon tasting it. Creamy, sassy, sharp, missing nothing.
It's here somewhere…." On a scrap of paper – a mess of scribbles only legible to me. I've tried neat and tidy notebooks to keep track of recipes, but I always go back to the scraps. Chaos. Messy kitchens, scraps of paper, garlic and salt on my skin, the smell of pepper in the air. That's how I love it. Creativity. Messy.
Worry. Frett. Crap. "I threw it away, didn't I?" Then boom. Found it! …. Maybe I should try that notebook thing again? …nah… Creativity is messy. Life is messy. That's how you get to the good stuff.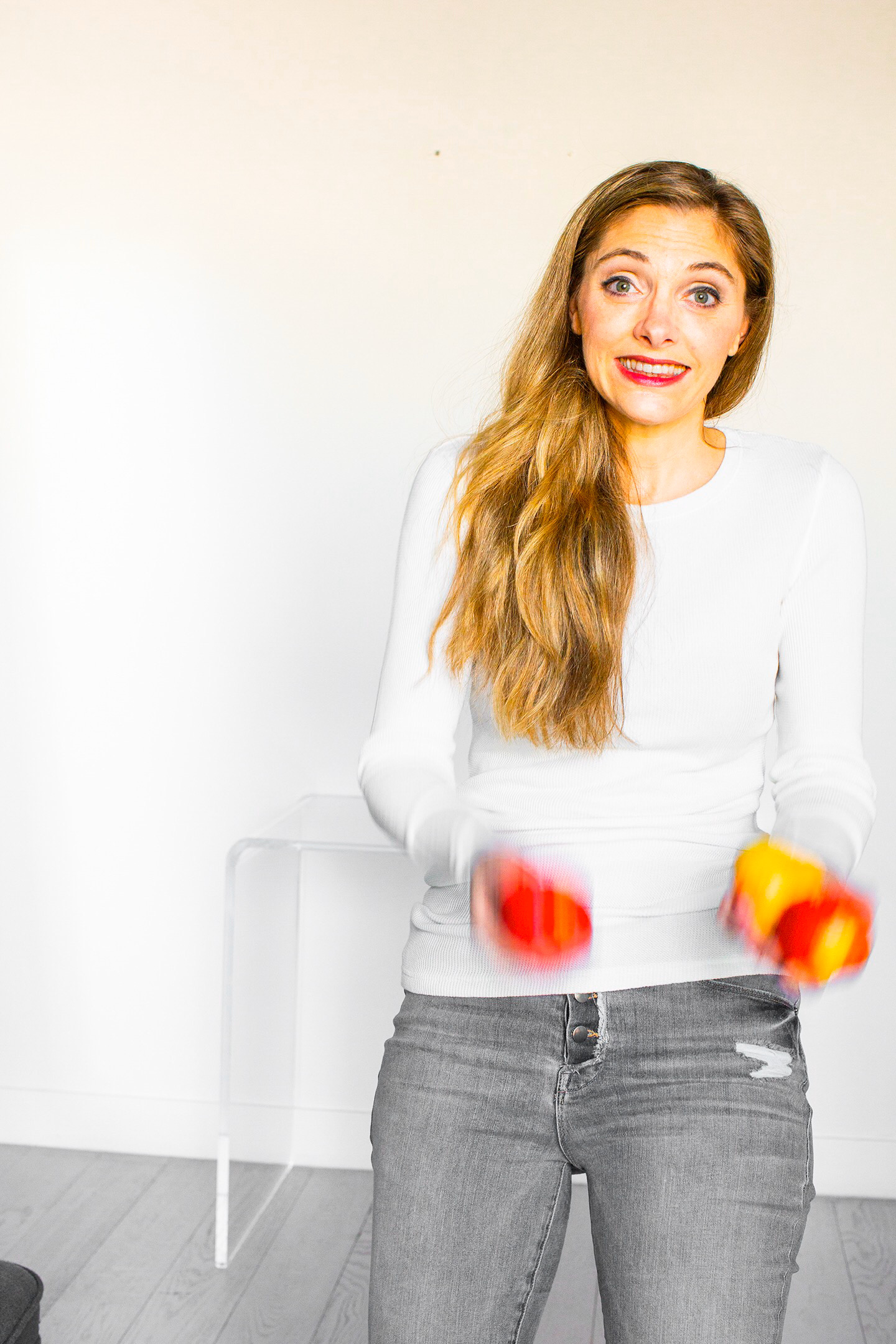 Creativity is messy. Life is messy. That's how you get to the good stuff.

-me
The other side of a screen.
Food — and life — can look all proper and perfect on the other side of a screen. Instagram, Blogs, whatever. But really, creating something worth sharing is a messy, uncertain, very imperfect process.
Don't ever be afraid of your messy side, that part of you that ditches the need for tidiness and organization and just runs full speed – holding your heart out in front of you – scraps of paper and scribbled words breezing behind you in a flurry.
…So when you whip up this salad, don't be afraid of making a mess. Salads should be a little tossed together …. ha. You can totally serve this salad right in the giant mixing bowl you tossed it in if you don't feel like plucking a real bowl from the cabinet – YES, I always end up doing this when it's just me for dinner! Wanna ramble more? check out this post about social media, privacy, and what 'real' online means. But anyways, back to salad.
Thank goodness I found the recipe!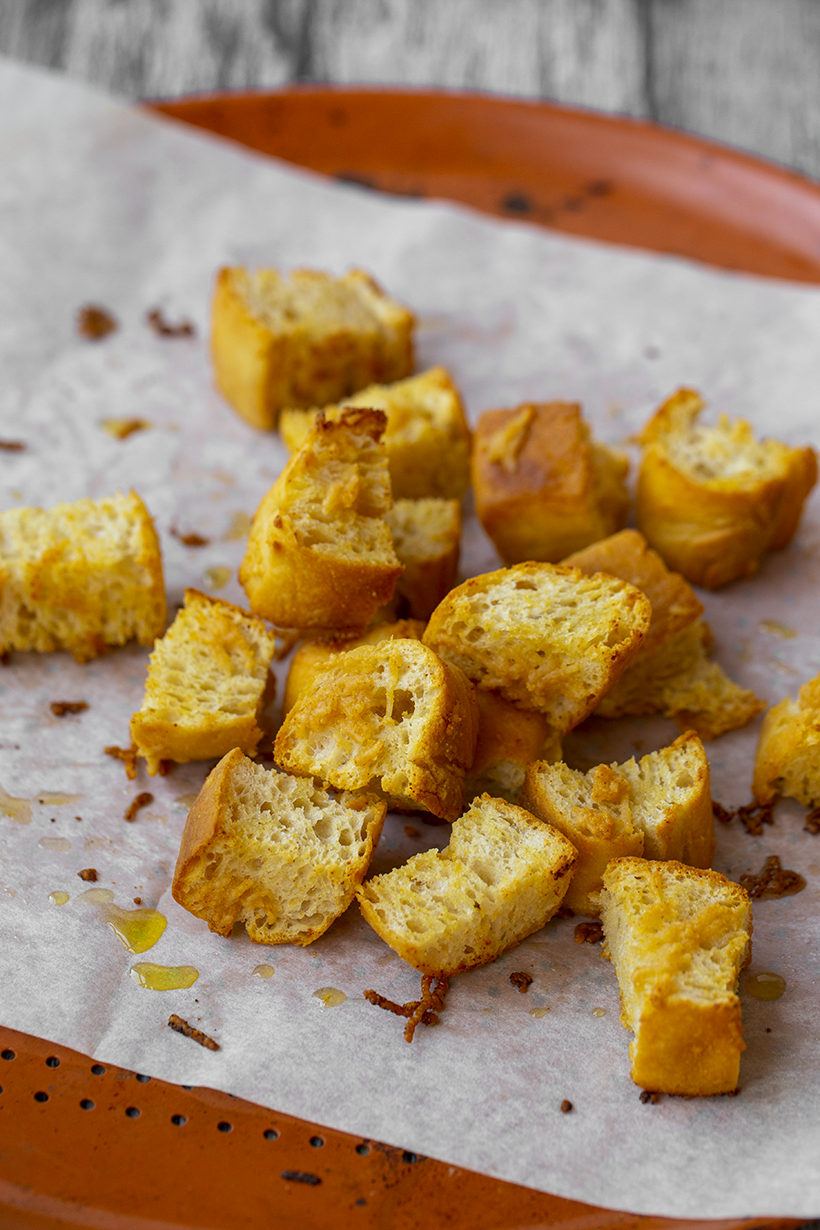 Homemade Croutons
One special touch for this Caesar Salad is to make the croutons yourself. These Garlicky Parmesan Croutons are super simple to make and bake up light and crisp with caramelized edges and tender insides. Perfect for adding texture and flavor to your salad.
Make it a meal! Besides those yummy croutons, you can also play around with adding these tasty plant-based salad toppers…
Salad Toppers to Try:
Pumpkin Seeds
Walnuts
Vegan "chicken" – Gardein has some great options
Tomatoes
Shaved fennel
Farro – love this nutty grain on salads!
Quinoa
Avocado! yes-yes-yes — how did I not add this to my original recipe?
Vegan Parmesan Cheese
My pick is the Follow Your Heart Parmesan shreds! Though using a DIY recipe, or another brand works too. I also love the Galaxy Foods sprinkle.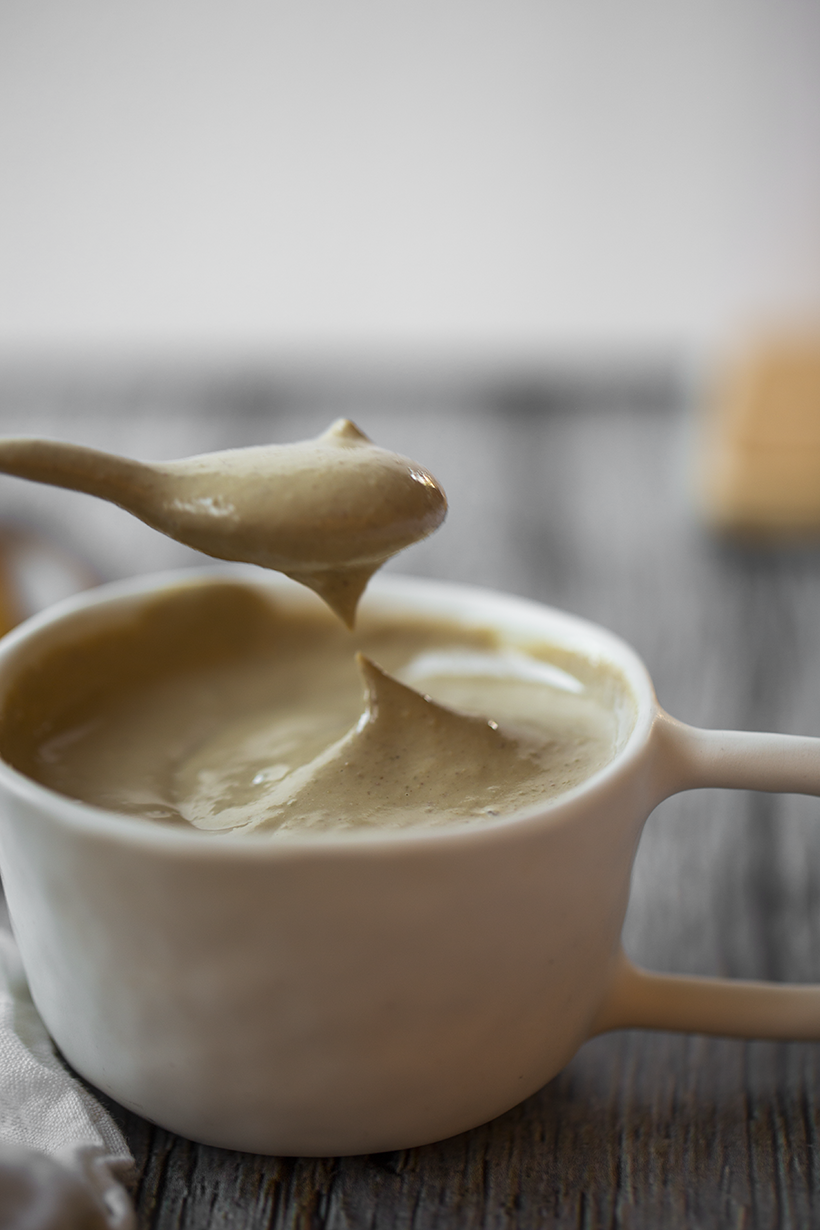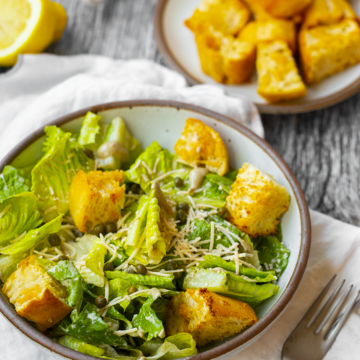 Vegan Caesar Salad
This flavorful vegan salad uses vegan Parmesan, homemade croutons and an amazing creamy dressing.
Print
Pin
Ingredients
Caesar Dressing:
1

cup

water

4

tablespoon

capers

,

drained

4

tablespoon

lemon juice

,

freshly squeezed

½

teaspoon

lemon zest

6

tablespoon

extra virgin olive oil

¼

teaspoon

salt

¼

teaspoon

black pepper

1 ½

tablespoon

maple syrup

1

tablespoon

Dijon mustard

1

clove

garlic

2 ½

tablespoon

vegan worcestershire sauce
Salad Ingredients:
2

heads

romaine lettuce

,

chopped

¼

cup

vegan Parmesan shreds

,

see notes

2

cups

Garlicky Parm Croutons

,

homemade

1

tablespoon

capers

,

topping

black pepper

,

to taste
Instructions
Prepare the croutons before starting on your dressing and salad assembly.

Add all the dressing ingredients to a high-speed blender or food processor. Blend from low to high until silky smooth. Pour into a jar or glass.

Add the romaine to a large mixing bowl. start off by adding about a third of the dressing. Toss. Taste. Add more as desired.

Pour the tossed salad into a large serving bowl – or individual serving bowls. Add the croutons, capers and vegan Parmesan cheese over top. Add pepper to taste. Serve!
Notes
Vegan Parm. There are a few products you could use. I love thw Follow Your Heart shreds for this recipe, but the Galaxy Foods vegan Parm sprinkle is also yummy. You could also use a DIY version such as this recipe.
If you like your salad dressed more lightly, you may have leftover dressing. Store covered in the fridge for up to three days for best flavor and texture. If needed, whisk in some fresh lemon juice or water to thin any sauce use as leftovers – since it will firm up and dry out a bit in the fridge when kept overnight.
nutrition estimate | per serving
Calories:
455
kcal
|
Carbohydrates:
29
g
|
Protein:
10
g
|
Fat:
36
g
|
Saturated Fat:
6
g
|
Sodium:
602
mg
|
Potassium:
1103
mg
|
Fiber:
8
g
|
Sugar:
12
g
|
Vitamin A:
27262
IU
|
Vitamin C:
21
mg
|
Calcium:
138
mg
|
Iron:
6
mg
Love Caesar Salads? Check out this array of recipes on Finding Vegan.
Pin this recipe for later!…