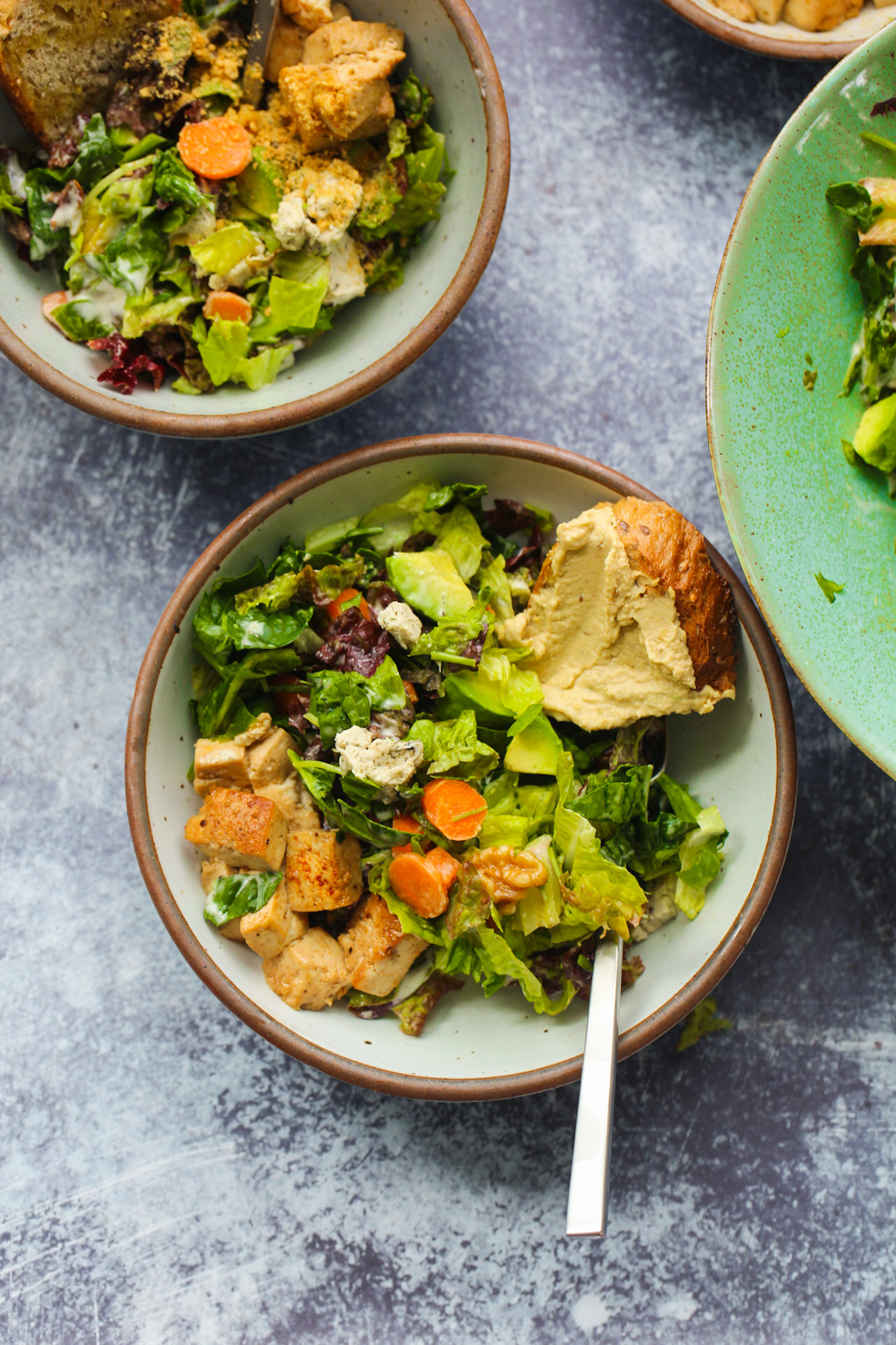 This whole work from home thing has me eating larger lunches and earlier dinners. It also has me craving more big and fresh salads. But a simple salad, all raw and lovely just isn't a "meal." So today I am sharing 14 tips on How to Turn a Salad into a Meal.
I'm also sharing my recipe for this Fresh and Crunchy Vegan Salad, which is one of my fave salad meals to make right now!…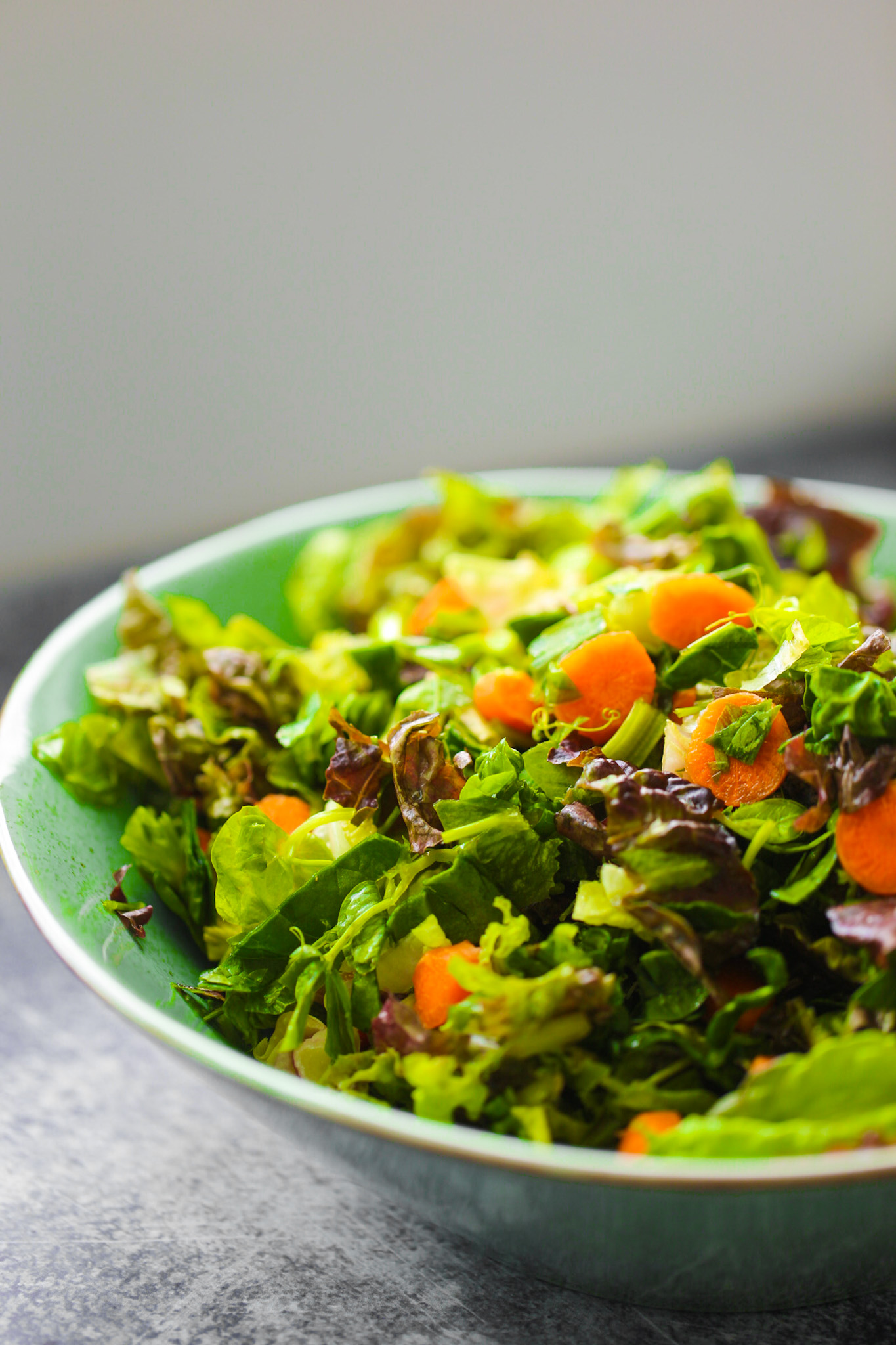 But, it's Just a Salad…
Not so fast my veggie-judging friends. "Just a Salad" is certainly a thing, but in the modern world of plant-based cooking, that'just a salad' gets turned into 'now that's a salad!"
Salads are typically made up of lots of raw veggies. Leafy greens, maybe a few accent veggies, the occasional fruit or nut and so on.
But the modern salad is amped up even more. Modern salads are jam-packed with diverse veggies, textures, flavors and even temperatures! Yes, one of my favorite pairings is a bowl filled with chilled raw veggies/greens and then topped with something warm.
Also not 'just a salad' means that you are pairing contrasting flavors and textures. Sour and sweet. Salty and sweet. Grassy and savory. Crunchy and soft ect. Even the array of colors gives the modern salad an edge!
Salads as Meals
Salads can certainly be side salads. An extra dose of leafy greens or veggies – any way you can snag them. But these days, salads can absolutely be turned into the centerpiece meal by taking a few steps to jazz things up.
Some elements that I think are important to any well-balanced meal include:
protein
fiber
antioxidants
healthy fats
richness
lightness
healthy carbs
salt + sweet
whole grains
The modern salad, aka the salad you turn into a meal, has all of the above!
How to Turn a Salad into a Meal: 14 Tips
1 – Start with Fresh Produce.
I don't care if you are shopping at a fancy farmer's market, get you veggies delivered via CSA or simple hop down to your nearest mainstream grocery store. It doesn't matter where you buy them. I just want them to be fresh! And fresh means, flavorful, colorful and well-textured. No limp lettuce leaves please!
And when possible, choose organic, local and in-season produce. I really think any produce on the 'dirty dozen' list should be organic when possible.
To turn a salad into a meal, the first step is a fresh selection of high quality produce to inspire you!
2 – Start with a Leafy Green Base
This salad is going to get pretty fun, but first things first, start with a leafy green base. This is the ingredient that hold your salad in place, gives it fluff and body and fork-appeal! Ideas for leafy green bases include:
spinach
kale
chard
spring mix
arugula
romaine
..and many more!
Another reason to start with a leafy green base is because the dressing you will be adding in will really marinate and liven up those greens!…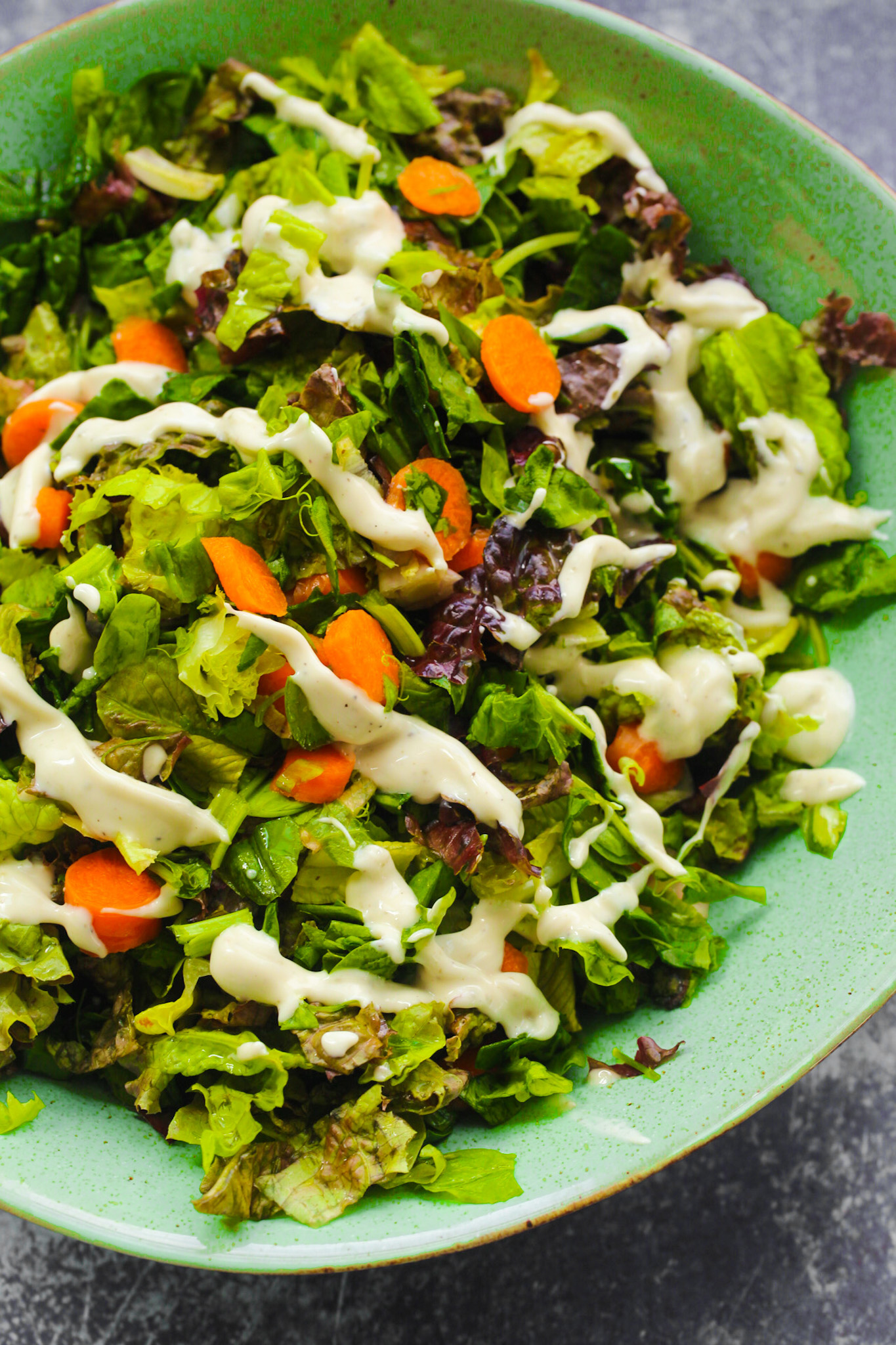 3 – Buy an Array of Textures + Colors + Crunchiness
…But if you think 'salad' just means leafy greens and that's about it, then step outside the box a bit!
Salad produce can be pretty much anything you find in the produce section. YES, anything. From mushrooms to cabbage, carrots and broccoli, bell peppers and apples, citrus and potatoes, avocado and fresh herbs. Anything!
So in addition to starting with a nice base of leafy greens (not necessary, but helpful) pick some fruits and veggies that have an array of colors (red, green, blue, orange, pink!…) and also an array of textures (snag something delicate, something crunchy and maybe something with a unique texture like broccoli or fennel.
4 – Choose a Fruit, Maybe
Not necessary, but adding a fruit to your salad can really perk it up. The sweetness makes anything salty or savory really pop! Fruits that go great in salads include:
apples
citrus
berries
tree fruit like peaches
even dried fruit like raisins or chopped apricot
mango – goes SO well in this salad…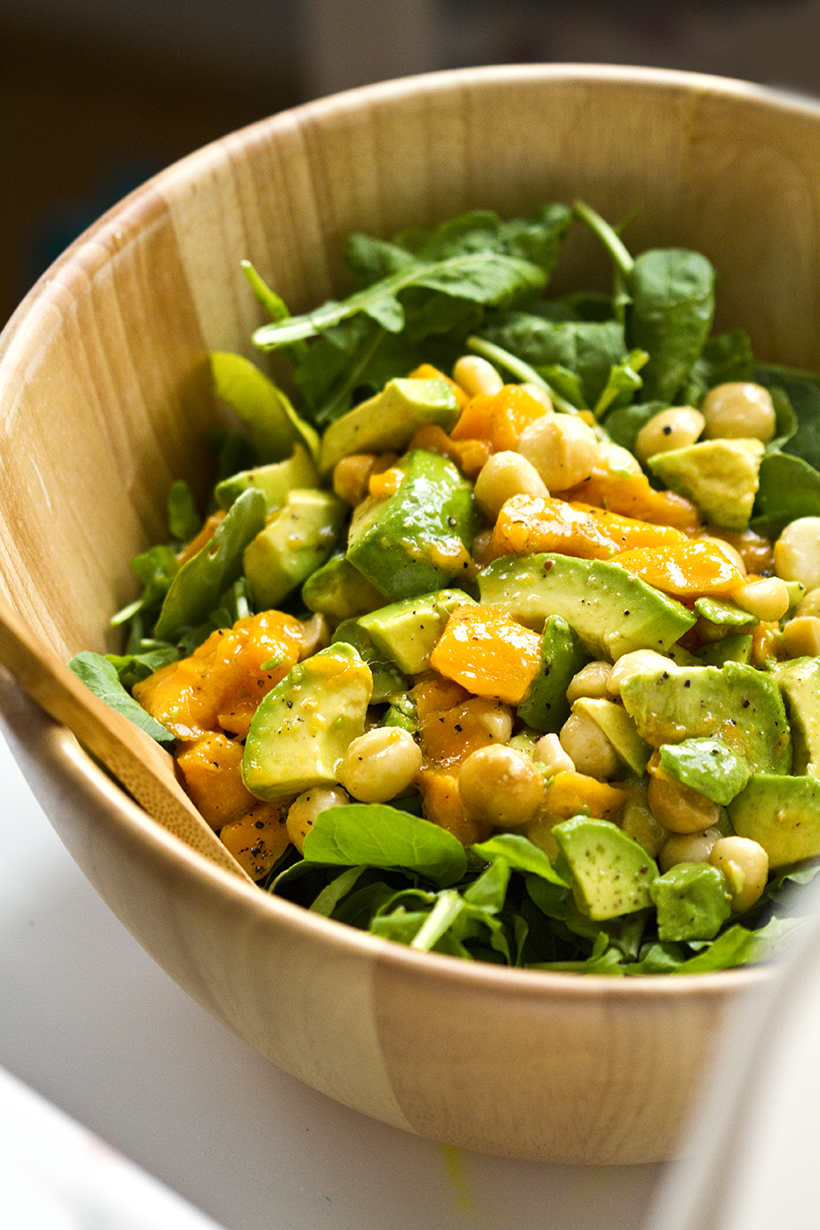 5 – Nuts or Seeds
Ok, so you have your leafy green base, your creative, crunchy and colorful veggies – and maybe something a bit fruity and sweet. Now we add in some more texture – via crunch – and some healthy fats. Nuts and seeds add so much texture and flavor! Some to try:
walnuts
pumpkin seeds
almonds
cashews
candied nuts
macadamia nuts
sunflower seeds
hemp seeds
avocado!!! (also a nut…)
6 – Dress it Up!
The salad dressing you choose will make a huge difference in flavor! I personally think that dressings with a bit more body like a vegan ranch, or vegan caesar or a thick 'honey mustard' work really well to help turn a salad into a meal. Anything with body makes it feel more meal-y compared to say a light vinaigrette. But you also want to choose a dressing that works with ALL the flavors and textures you are using. So be cautious to not marry flavors that don't mix.
My go-to pick: Neutral creamy dressings like vegan ranch work well with so many ingredients. If you don't feel like making your own, there are a bunch of great vegan ranch bottled dressings on the market! I personally love the Follow Your Heart and Daiya varieties.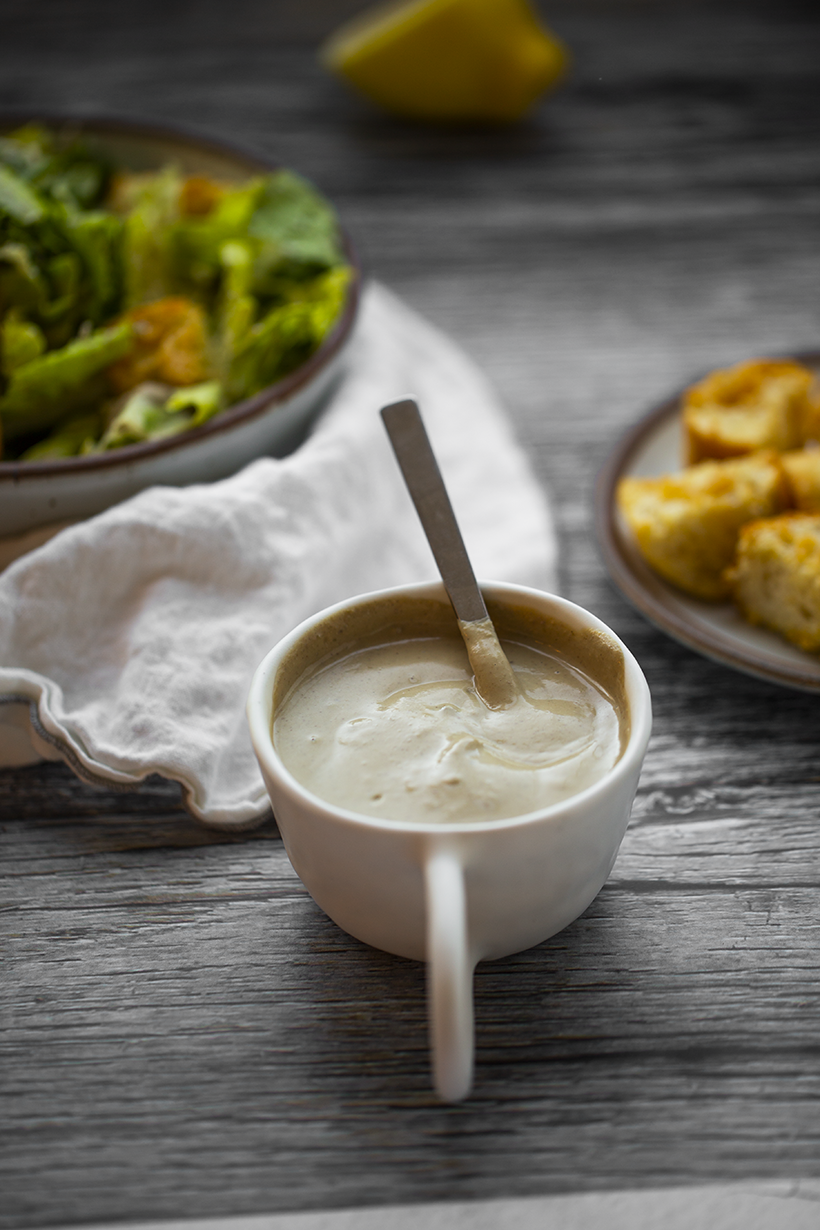 7 – Cheese Please!
I don't care what kind of vegan cheese you use. Fancy aged cheese or a humble cheesy shred. Or even a sprinkle or vegan Parm or nooch. There is something about cheese that will bring your salad to meal-time status in no time!
Cheese is rich and salty, dense in fat and flavor. A little cheese goes a long way to give your salad some oomph!
Browse my vegan cheese guide here. there are seriously SO many brands on the market these days. I really love a crumbled aged vegan nut cheese in my meal salads. You can do store-bought or DIY some yummy cashew cheese…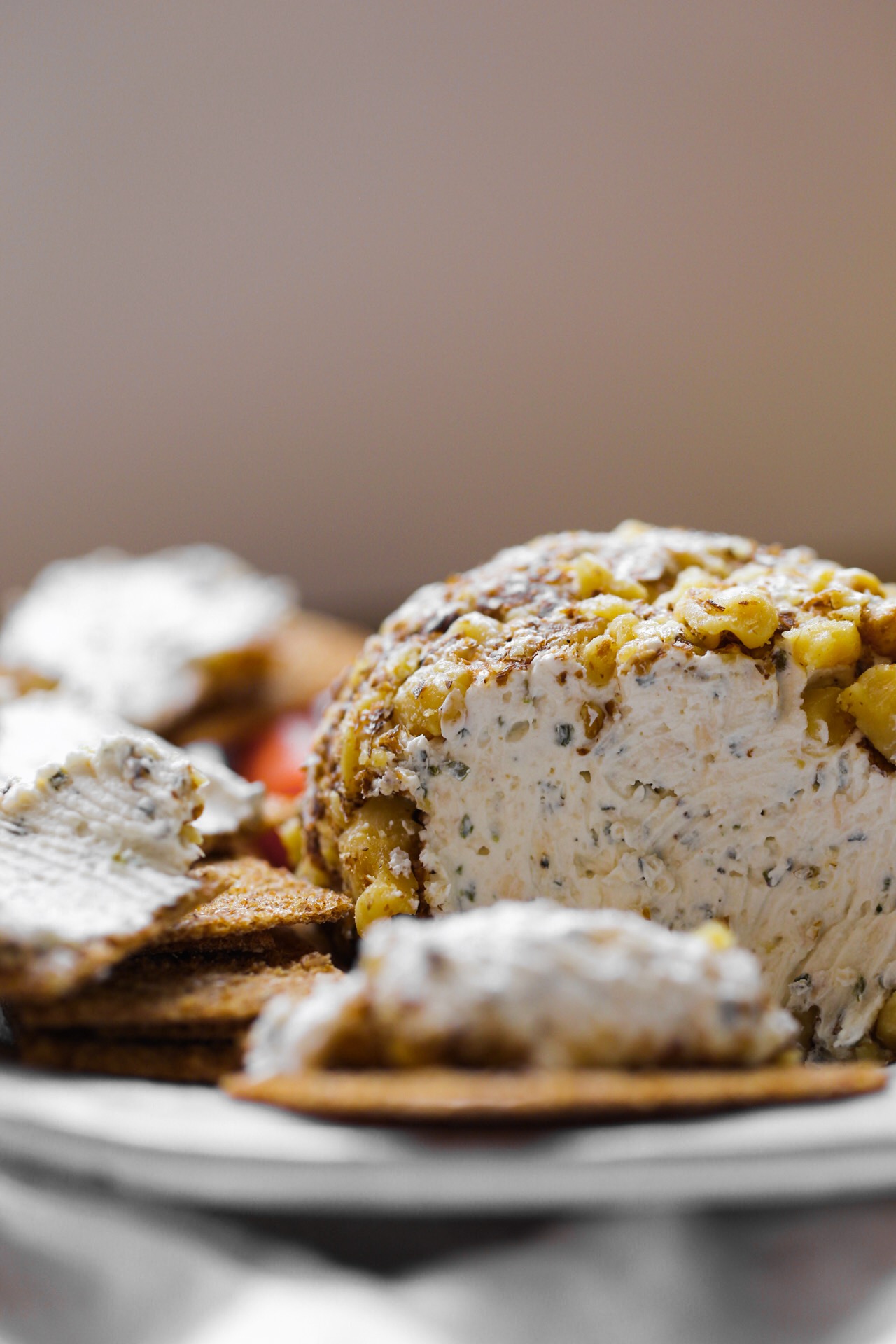 8 – Pass the Protein Topper! (Bonus points if it is warm..)
Ok, this is probably my number one tip for how to turn a salad into a meal. Protein! And yes, every plant in your salad contains some protein, but I'm talking about dense sources of plant-based protein. Some ideas include:
tofu cubes or tofu croutons
falafel
beans like chickpeas or kidney beans
lentils
faux meats like 'chicken strips'
seitan
vegan sausage
vegan 'bacon' bits
skillet mushrooms
You want your protein to hopefully have some built-in flavor. Add some BBQ sauce to your tofu. Marinate your tempeh so that it tastes like 'bacon.' You can even add beans that have a sauce built in like my baked beans!
Or at the very least, season your protein, like adding salt and pepper, maybe some spices to your lentils.
And the more meal-like way to serve your protein is to warm it up and add it very last to your salad so that you get that contrast of cool and crunchy with warm and flavorful.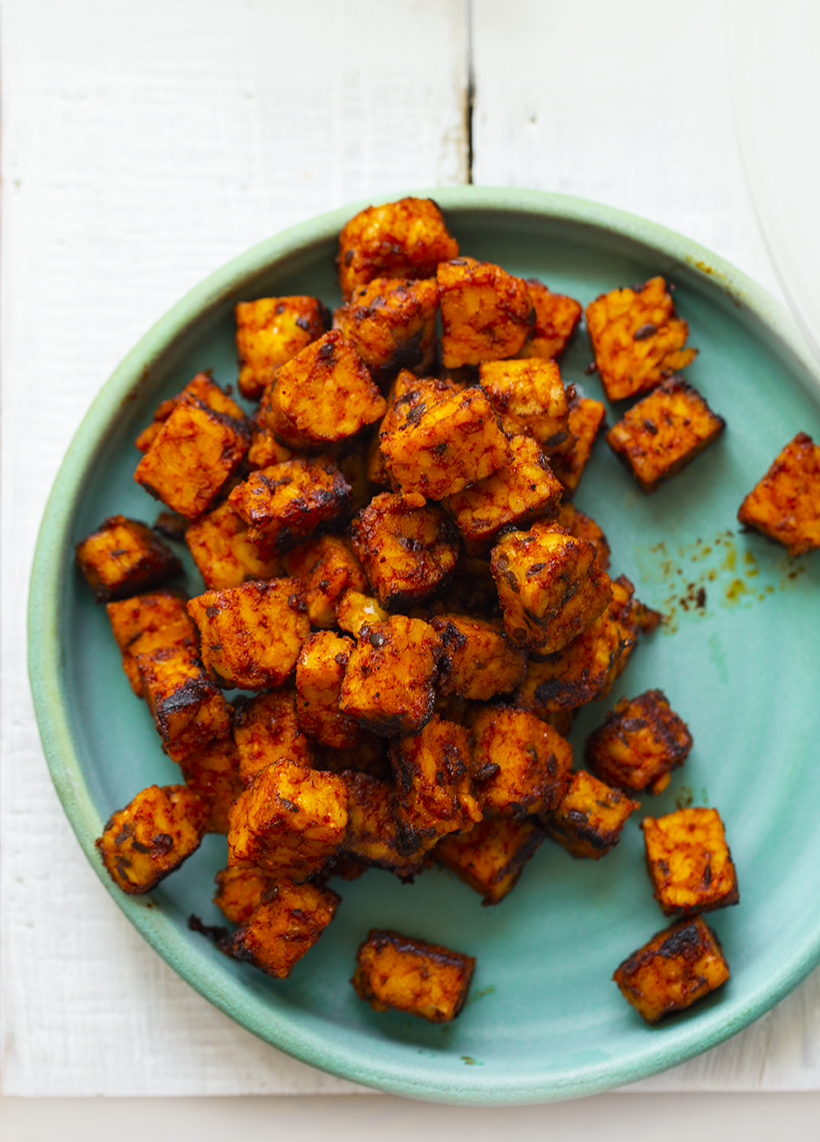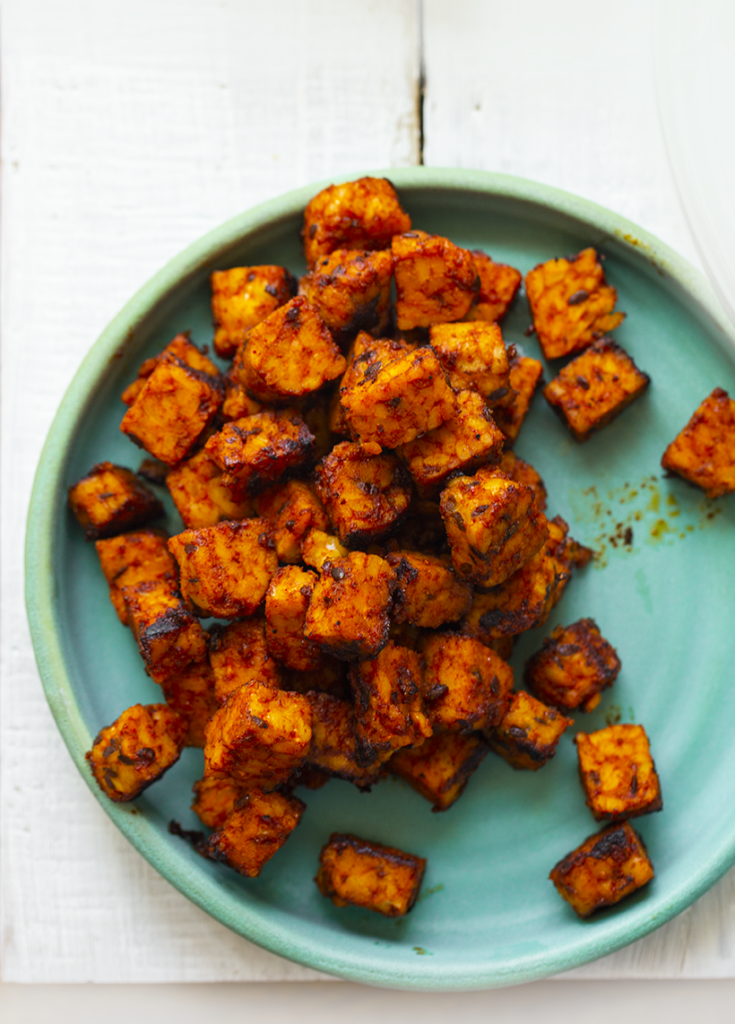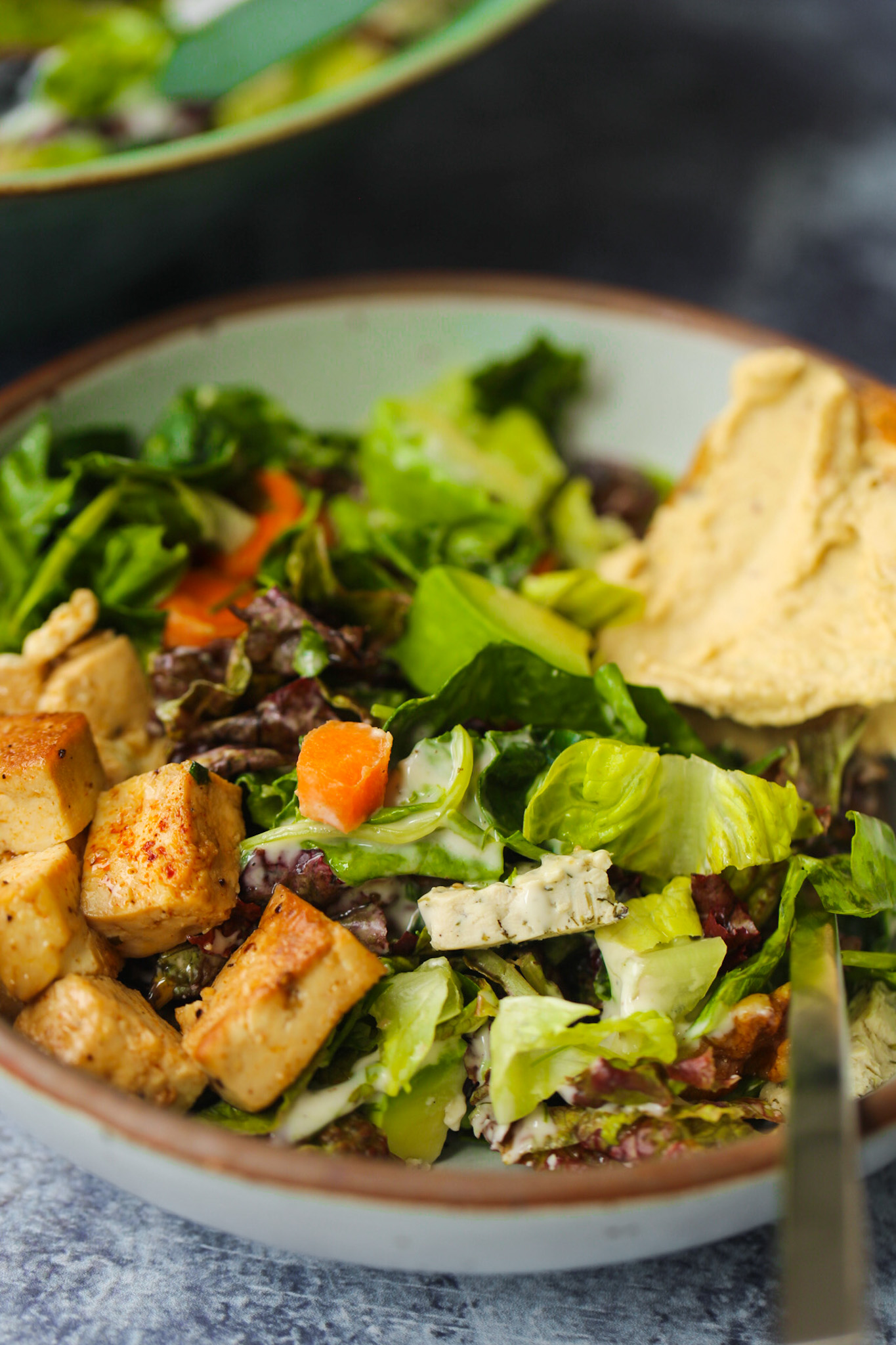 9 – Carbs Carbs, Cozy Carbs
Many of the ingredients you have added are already rich in healthy carbohydrates. But I'm talking about those classically cozy carbs..
Bread and potatoes!
I like to add a side of whole grain bread to my salads, either slathered in hummus, avocado mash or Vegenaise.
I did hummus toast today. Get my secret to really good hummus here.
Another idea is to add a baked sweet potato half, or some warm roasted potatoes. Or even croutons or crushed tortilla chips could work.
Another carb-y accent could be in the form of whole grains. Rice, farro and more. Note: I LOVE farro in salads.
These warm and cozy carbs really help your salad turn into a meal!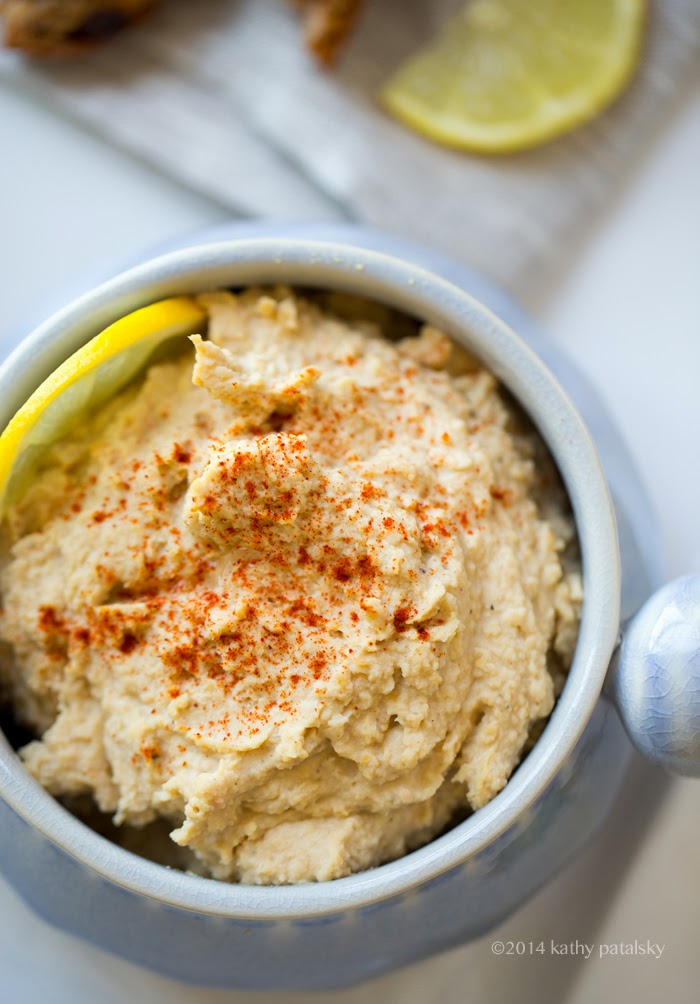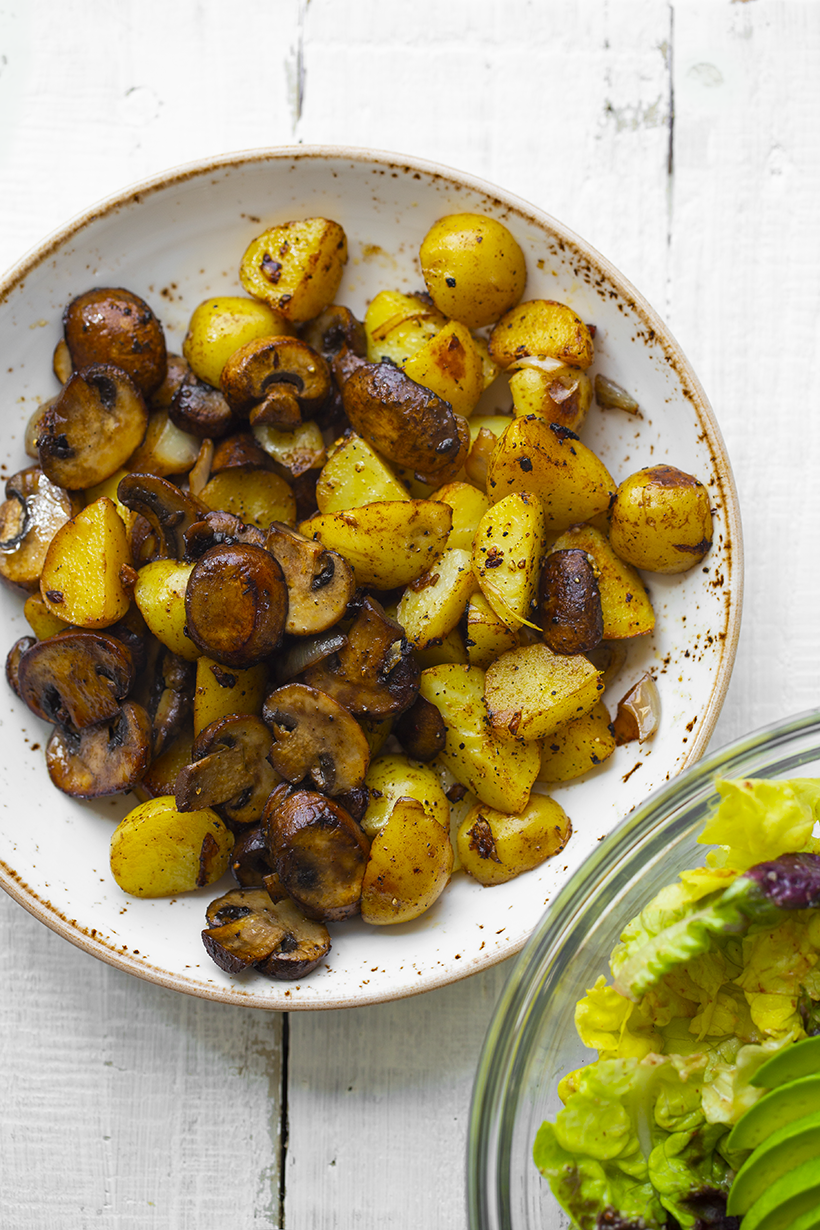 10 – Add Avocado
this is a no-brainer for me whenever I have a ripe avocado on hand. Avocado goes so well with just about any salad! And it adds healthy fats, oomph and body and flavor.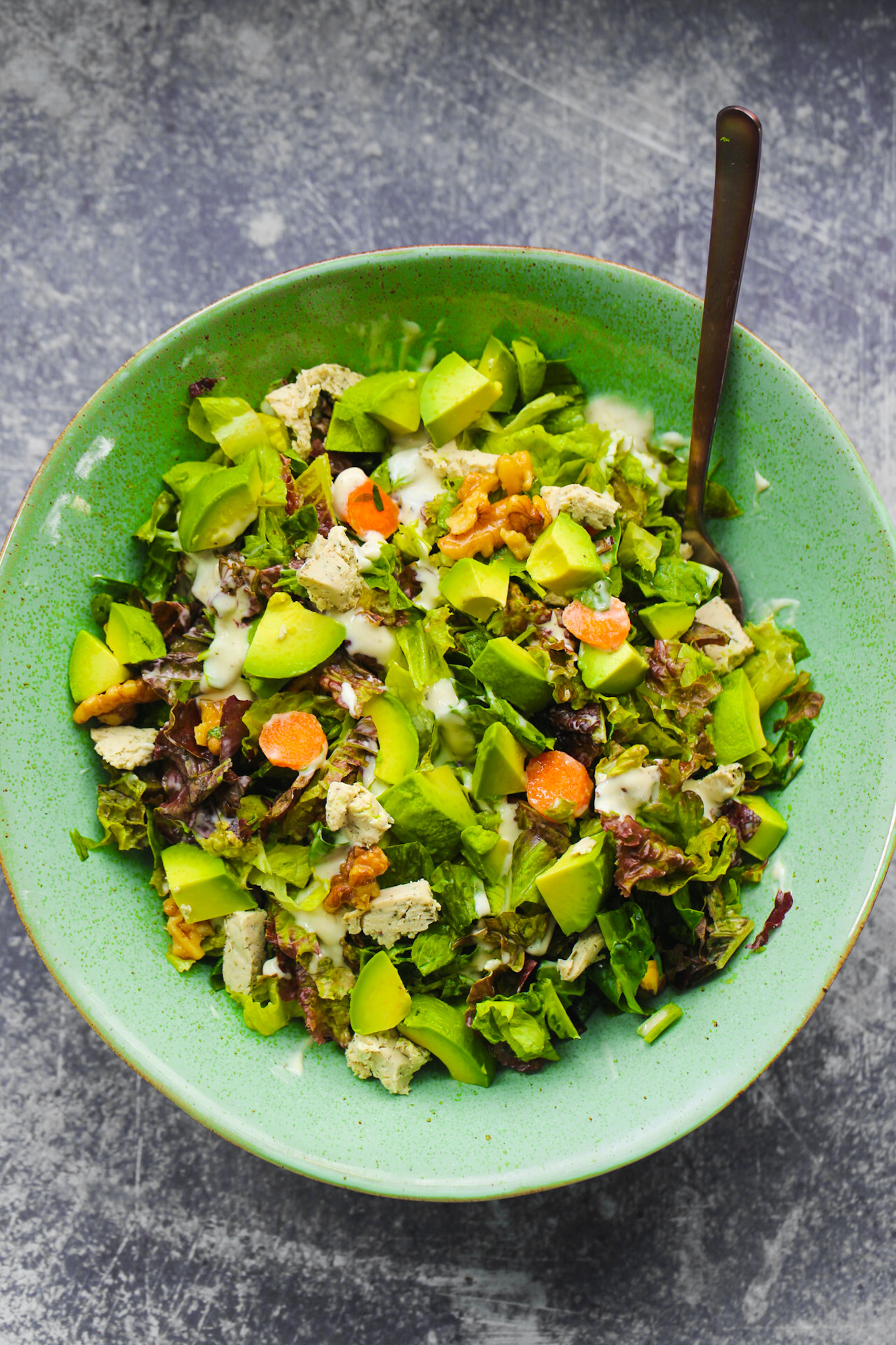 11 – Salty Accents
You want something with a punch of salt in your salad. Maybe you already added some salty nuts or seeds, and that vegan cheese will be salty too, then great! But other ideas include: olives, capers, crushed tortilla chips or crackers. Roasted bell pepper, other pickled ingredients like sauerkraut…
12 – Citrus or Vinegar
One more idea to give your salad a punch – fresh lemon juice, orange juice or even a splash of a yummy vinegar.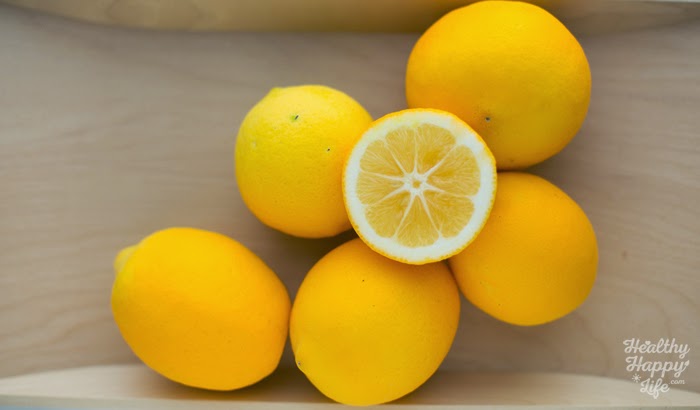 13 – Serve it in a Big Bowl
And my last tip for turning a salad into a meal, serve it in a big bowl! You want to be able to fit a large portion, as well as all those little extras. The nuts or seeds, vegan cheese, protein topper, carb accents. All of it. This is not a side, this is a meal. Just think of it like a pasta meal. You have your base of pasta and add lots of goodies. Well, this is your veggie-base, also with loads of flavorful goodies added in. I love my East Fork Pottery bowls.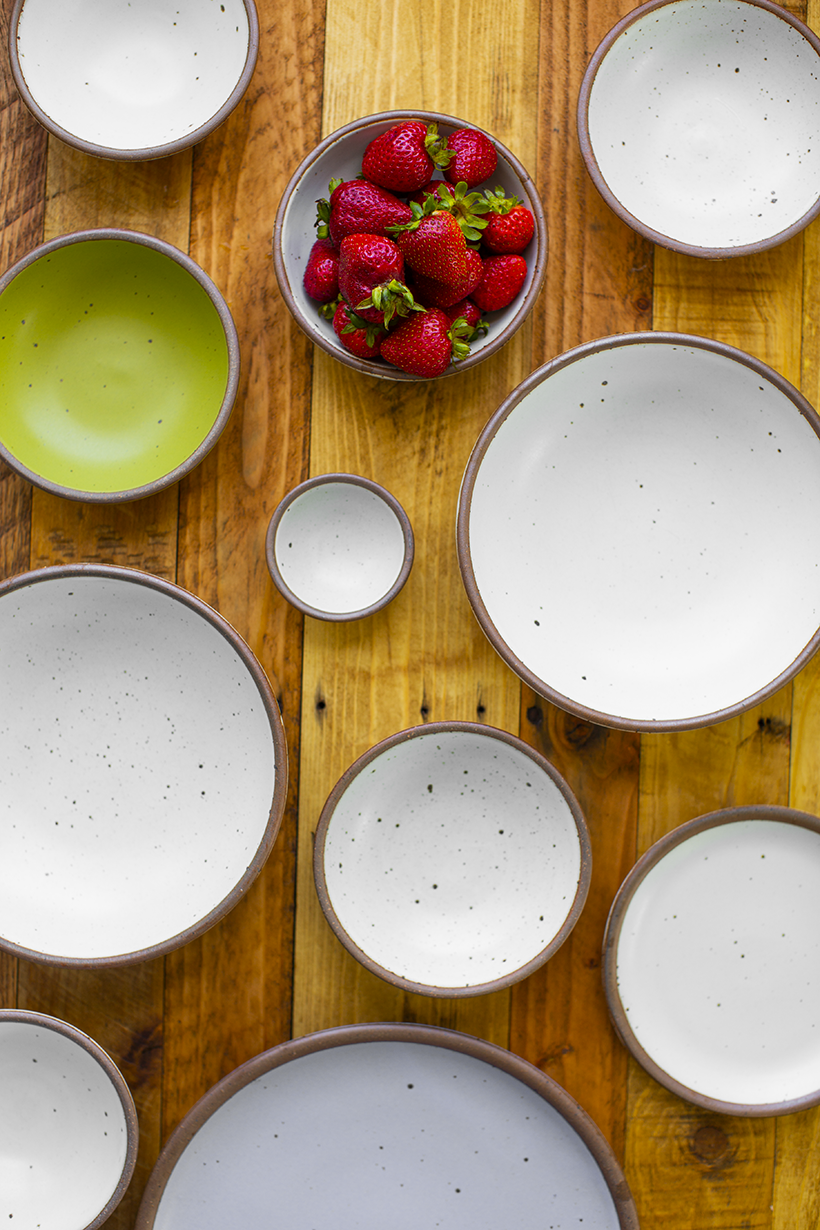 14 – Eat right Away!
Meal salads were meant to make and eat right away. Especially if you are pairing cool and warm ingredients – which I reccomend! you don't want the warm stuff wilting your fresh crunchy veggies.
If you need to make something ahead of time: prep your veggies, chop everything like greens, crunchy veggies etc. then toss them in a bowl, but wait until you are ready to serve to add the dressing and other more moisture-heavy ingredients.
Pulling it All Together
So. Are you ready to turn your salad into a meal? Hooray! I am so happy for you. I absolutely love taking a big crunchy salad and spinning it into a meal. Nothing tastes more satisfying and makes you feel so good after you wat it. Something about fresh produce that makes me feel so good. especially right now, when we are all stuck inside.
And with that, here are the basic components for my Fresh and Crunchy Meal Salad – with tofu and cashew cheese…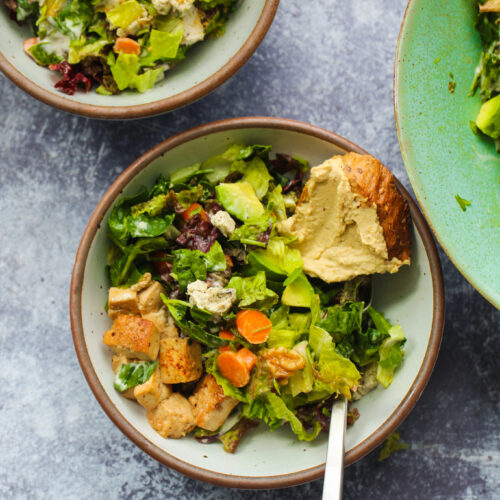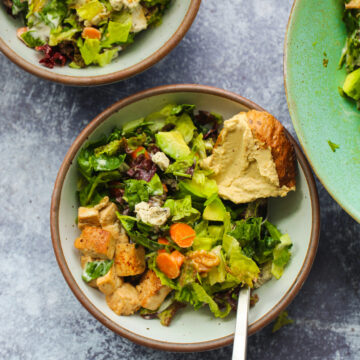 Fresh and Crunchy Meal Salad
This meal-approved salad pairs fresh leafy greens with crunchy veggies, nuts, cashew cheese and warm skillet tofu cubes.
Print
Pin
Ingredients
Salad:
3

cups

romaine

,

chopped

2

cups

red lettuce

,

chopped

2

cups

spinach

,

chopped

½

cup

carrots

,

chopped

⅓

cup

walnuts

,

chopped

¼

cup

cashew cheese

,

or another vegan cheese

1

small

avocado

,

chopped
Warm Tofu Cubes:
2

teaspoon

olive oil

,

extra virgin

1

cup

firm tofu

1

tablespoon

liquid aminos

1-2

tablespoon

maple syrup

salt and pepper to taste
Hummus Toast:
3

slices

whole wheat bread

,

or any variety

6

tablespoon

hummus

3

teaspoon

olive oil

,

extra virgin — optional
Also:
salad dressing of choice

,

see notes

anything else you feel like adding! veggies, fruit, herbs, spices..
Instructions
First, prepare your tofu by warming a skillet to high heat and adding the olive oil and tofu. Add in the liquid aminos and maple syrup. Allow to cook for 2-4 minutes, flipping the tofu every minute or so. Tips: Squeeze out as much excess liquid from the tofu prior to use. USe more oil if your pan is sticking. You can also cook on a lower heat setting. Add optional salt and pepper to taste. Set these cubes aside.

In a large mixing bowl, add all the leafy greens. Add in the dressing – start witha. small amount, and toss well.

Add in all the remaining ingredients: walnuts, carrots, avocado, cheese and toss again, this time a bit more gently. Add more dressing to taste.

Toast your bread, top with hummus and drizzle with optional olive oil.

Scoop your salad into serving bowls and top with the tofu and side of hummus toast. Serve!
Notes
nutritional info does not include salad dressing – choose a dressing that works for you! I love vegan ranch or 'honey' mustard on this salad.
nutrition estimate | per serving
Calories:
483
kcal
|
Carbohydrates:
37
g
|
Protein:
19
g
|
Fat:
31
g
|
Saturated Fat:
4
g
|
Sodium:
687
mg
|
Potassium:
866
mg
|
Fiber:
12
g
|
Sugar:
8
g
|
Vitamin A:
11029
IU
|
Vitamin C:
16
mg
|
Calcium:
228
mg
|
Iron:
5
mg