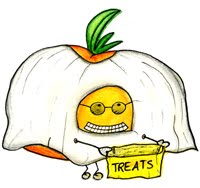 Happy Halloween from Healthy. Happy. Life. and The Lunchbox Bunch! I hope your Halloween weekend is filled with fright, festivities, fun and flavor (of the vegan kind of course.) Here are my top ten favorite frightful (and festive) Happy Halloween delights! And no, surprisingly, they don't all have to do with food…
My "Happy Halloween" Top Ten List
*in no particular order*
1. Costumes!
No matter how old I get, I love wearing some sort of costume on Halloween. I usually decide very last minute what I want to be (in fact I'm still deciding for this year…) A few of my favorite costumes ever: Rainbow Bright (custom costume from my mom when I was 8 years-old), "Princess Fairy" (at least 2-3 Halloweens worth), a tap-dancing black cat (with my sister. I was 5.)Dorothy from The Wizard of Oz (loved my ruby sequin-coated slippers. Where are those anyways?..), a 50's Girl (loved those big girly Poodle skirts) a Can-Can girl (complete with giant pink and red ruffled puffy skirt) Ginger from Gilligan's Island, a sparkly-green-leaf-covered forest-fairy (over-did the glitter that year), Cleopatra (although my golden beaded headdress kept falling off and people kept asking me if I was a 'prom queen'), a baby (wore PJ's and pig-tails to school…now that was fun!), last year I was Sydney Carton from A Tale of Two Cities (inspired by the short-lived Broadway musical which I fell in love with), and my fave costume of all time was when I was Marty the Pink Lady from Grease with a few of my best friends in high school. Fun. Fun. Fun.

2. Pumpkin Pie Shake
OK, so I just thought up this recipe last week, but I love it! Great for pre-trick or treating for kids. Also good for Thanksgiving next month! Pumpkin Pie Shake Recipe.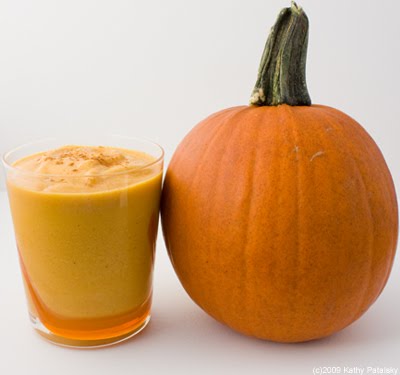 3. Garfield's Halloween Special
I've been a fan of Garfield the cat ever since I was a little girl reading comic books in bed. And proud of it! Fave Garfield comic ever – (Jon: "Garfield, why are you sitting in my scrambled eggs?" Garfield: "Because they're warm." ) Hee Hee. Love Garfield. So every year I have to watch the Garfield Halloween Special – you can see it on YouTube. Here is Part One below, part 2 and 3 are on YouTube:
4. Vegan Candy!!!
Yes it's true. Some mainstream candy is actually vegan. So whenever my non-veg friends start saying "Halloween must suck for vegans" I just start naming off all the mainstream candy varieties that are vegan. My faves: Sour Patch Kids and Twizzlers. You can see a great list here by VegNews Magazine.
5. "Spooky" Hot Spiced Cider, "Creepy" Apple Ginger Juice and "Ghostly" Pom-Bellinis
Cider – There is nothing better than a hot mug of spiced cider on Halloween eve. And yes you can even spike it with a shot of brandy if you'd like. I make mine very simply: Add Farm Fresh Apple Cider (not apple juice) to your mug. Add a squeeze of lemon juice and a few spices: cayenne, cinnamon, nutmeg, cloves… Heat and serve. Really easy. Totally festive.
Apple-Ginger – This murky colored "Apple Ginger Juice" juice could be 'swamp water' or a 'witches brew' for sure. But the taste will perk up any Halloween activity and leave you feeling anything but 'spooked'. Apple-Ginger Juice Recipe.
POM-Bellinis – I love making a simply beverage out of prosecco sparkling wine and fresh crushed pomegranate juice. Great for Halloween because they take on a bright red color. Vampire's Brew perhaps?
6. Pumpkin Muffins
Yes, another pumpkin-flavored treat for my Halloween celebration. Pumpkin-Pecan No-Oil Added Muffin Recipe.

7. Halloween Parties, Parades and Haunted Festivities!
I love a big gathering of fun-friendly folks dressed in costumes and mingling about. My favorite costume extravaganza is NYC's Village Halloween Parade. It can't be beat. But I'm sure your town has a few awesome costume party gatherings of their own. Always fun to attend, and yes it's OK to just people watch! And yes, I LOVE anything spooky: haunted houses, haunted corn mazes, scary spooky parties, ghost stories…love it all.
8. Scary Movies (And some not so scary)
What's your favorite scary movie? Or at least Halloween themed? I love getting spooked while cozy on the couch, in honor of Halloween. My favorite scary (and some not so scary) Halloween movies: Hocus Pocus, Scream, Poltergeist, The Shining, Beetle Juice, The Goonies, Casper, Nightmare on Elm Street, Blair Witch and my fave cartoons: Garfield's Halloween and It's the Great Pumpkin Charlie Brown.

9. Trick or Treating!
Obviously I don't go trick or treating anymore. But it created so many fun childhood memories. But in my neighborhood growing up in Santa Cruz California, Trick-or-Treating was the thing to do. Throngs of costumed kids paraded the streets and sidewalks from 6pm-10pm. In fact the owners of the houses on my street really couldn't close their front doors for more than two seconds without hearing a "Trick or Treat!" I remember my mom having to run out to the store to buy more candy because we would always run out! So while I hope everyone gives out vegan treats this year, or maybe even a few non-candy treats this year – I hope everyone gets a few treats and very few tricks.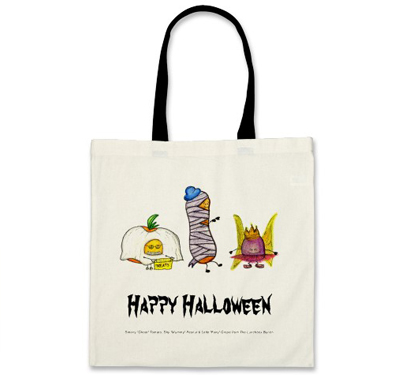 10. Pumpkin Creativity
You just have to buy a pumpkin for Halloween. The question is: what do you do with it? Carve it? Fun idea and great for kids. But for adults, you may want to leave that pumpkin whole and wait until after Halloween for the creativity to begin. Slice up the pumpkin, roast the seeds and roast the pumpkin. You can puree the pumpkin fresh for some flesh pumpkin pie or even a "fresh pumpkin" version of my yummy pumpkin pie shake.
Whatever you do this Halloween, make sure it is Happy and Healthy!!!