Updated! This Vegan Mushroom Soup, aka my No-Cream of Mushroom Soup with hints of garlic, rosemary and spicy black pepper has been one of my favorite blender soups for the past eight years. I posted this recipe back in November 2012, and have updated it a bit based on all the many times I have made it! I have received so many comments and rave reviews of this soup over the years, so I wanted to update the photos and give the original recipe a bit of love…
Some fun facts: This Mushroom Soup is vegan and comes together in just about twenty minutes. Easy dinner or lunch material.
How to Serve my Vegan Mushroom Soup?
I love it paired with avocado toast, hummus on toast or another toast or half sandwich fave. It also goes well with a side salad or just a chunk of your favorite crusty bread for dunking.
Make Ahead Soup
I love to make a big batch of this ahead of time and store it in the fridge until I am ready to serve it….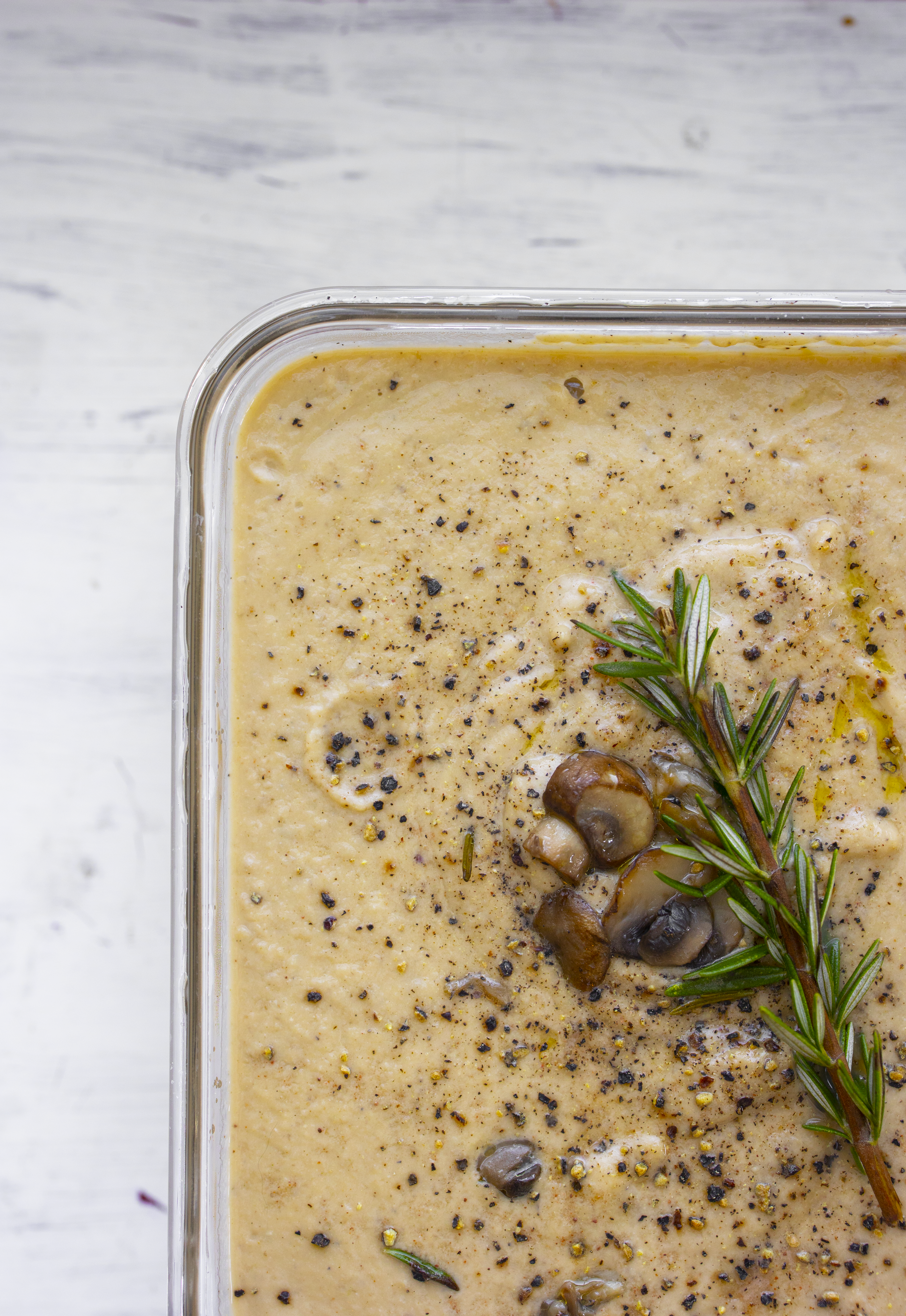 Serve with a garnish of sauteed mushrooms, some rosemary, pepper and drizzle of your favorite olive oil…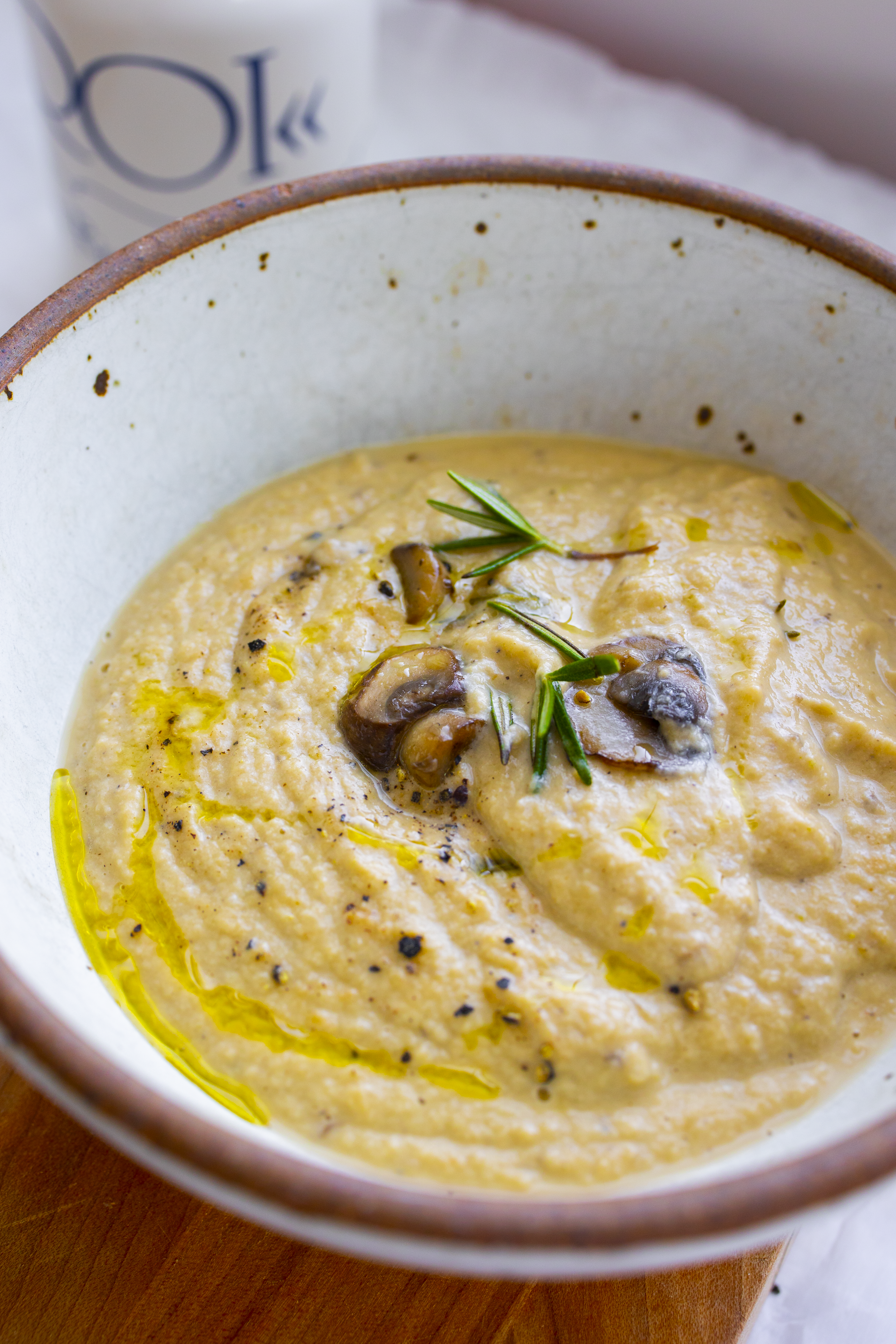 What Type of Mushrooms to Use?
For this Vegan Mushroom Soup, you can use any variety of mushrooms you'd like! I prefer to use a blend of more traditional (Like portobello and baby bella) mixed with fancier mushrooms like shiitake and trumpet and enoki. Whatever you do, just give this delicious, warming creation a try!…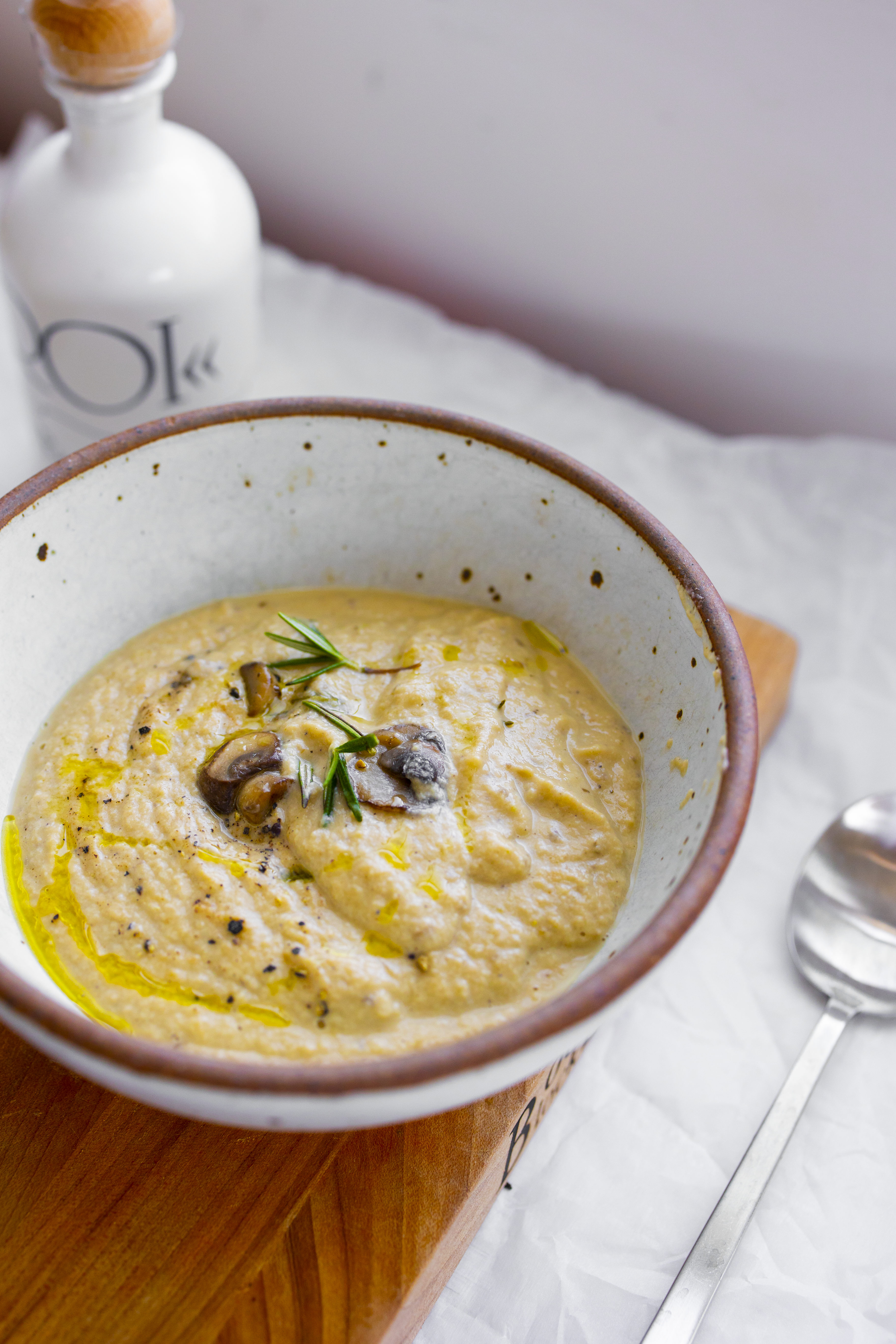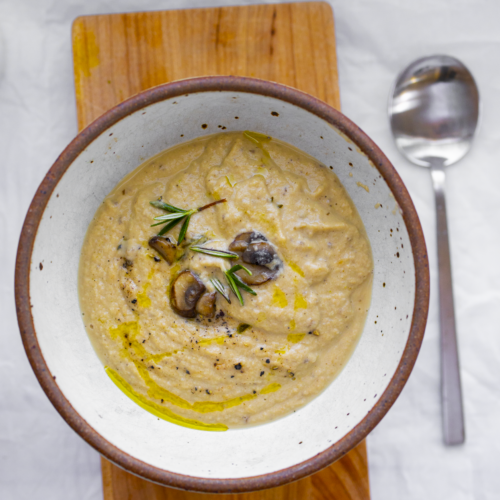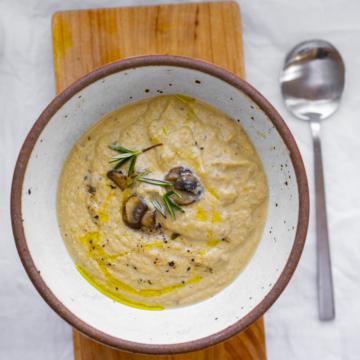 Vegan Mushroom Soup
Creamy mushroom soup, blended with skillet mushrooms, rosemary, garlic and broth. Cauliflower and cashews add dairy-free creaminess. Comes together in under twenty minutes!
Print
Pin
Ingredients
8

oz

baby bella mushrooms

,

or any variety

8

oz

shiitake mushrooms

,

or any variety

4

cups

mushroom broth

,

or veggie broth

3

tablespoon

extra virgin olive oil

4

cloves

garlic

1

tablespoon

fresh rosemary

,

chopped

½

cup

cashews

,

raw

4

cups

cauliflower

,

or one small head, chopped

salt and pepper to taste
Instructions
Warm soup pot over high heat.

Add the olive oil to your soup pot. Add the garlic and saute for a minute.

Lower heat to medium. Add in the mushrooms and rosemary. Saute for five minutes – or until tender, stirring occasionally.

At the same time as the mushrooms are cooking – in a large soup pot, bring water to a boil. Add the cauliflower and boil until tender – usually about five minutes.

When the cauliflower and mushrooms are finished, add them to your blender, along with the cashews, broth and a pinch of salt and pepper – you can add more to taste later. Optional: leave some of the mushrooms out of the blender if you want a slightly chunky soup with whole mushrooms folded in.

Blend from low to high until creamy. Taste test and add more salt and pepper to taste.

Add water to taste if you want to thin out your soup a bit. Broth can also be used, but this will make the soup more salty.

You can either serve directly from the blender or simmer in a soup pot until ready to serve. Add any mushrooms that you set aside to serve. Drizzle oil over top, if desired.
nutrition estimate | per serving
Calories:
256
kcal
|
Carbohydrates:
20
g
|
Protein:
8
g
|
Fat:
18
g
|
Saturated Fat:
3
g
|
Sodium:
981
mg
|
Potassium:
844
mg
|
Fiber:
4
g
|
Sugar:
7
g
|
Vitamin A:
515
IU
|
Vitamin C:
49
mg
|
Calcium:
44
mg
|
Iron:
2
mg
Soup Season
Looking for more vegan soup recipes? Browse them in my recipe index right here!
Original post and recipe from 11/2012 follows.
Mushroom lovers' listen up.
This No-Cream of Mushroom Soup, aka Vegan Mushroom Soup, is pretty darn fantastic. Minimal ingredients, simple steps and an end result that looks oh-so-fancy and tastes amazing. Roasted mushrooms, caramelized until tender, infused with pepper and rosemary. Plus a secret ingredient to get all the "creamy" you crave, without adding cream. And sure, add a splash of soy creamer over top to serve if you'd like. Because the white crescent pool of faux creamer does look kinda pretty. Optional though.
Serve with some crusty bread – or even better – in a bread bowl! This mushroom-lovers' soup will warm you up and cozy-up your evening…
Secret ingredient -> cauliflower puree! All the creamy you crave – without the cream!
..you can make this soup as thick or thin a you'd like. It all depends on how much broth you blend in. I like my soup thick and creamy, but thin is soothing too!
Mushroom Soup Nutrition Bonus.
Mushrooms are the only vegan food that naturally contain vitamin D. So dive into mushrooms if you are looking for more D during these "not as much daylight" fall and winter months. And the secret creamy ingredient, cauliflower, is a good source of fiber, Vitamins C and K as well as potassium. Low in calories and fat free too! (soup calorie content below recipe)
Grocery Store Tips.
If you are looking to reduce the sodium in your diet, buy low-sodium mushroom broth.
Also, I always buy organic for both mushrooms and mushroom broth. That also goes for the cauliflower and delicate herbs in this recipe: parsley, rosemary and any others you may want to add.
When it comes to black pepper and optional cayenne chili pepper – I use Penzey's Spices brand because it is incredibly flavorful and high quality. I'm a fan!
Serve with mushroom and herb garnish, with a splash of soy or rice creamer or milk (or a drizzle of EVOO) if you'd like.. dairy-free though!..
No-Cream of Mushroom Soup
vegan, makes 8 cups – 4 servings
Soup – puree:
1 medium white cauliflower, boiled/drained
4 cups mushroom broth
¾ of the roasted mushrooms
1-2 sprigs of the roasted rosemary
salt + pepper to taste
Roasted mushrooms:
8 ounces baby bella mushrooms, quartered
8 ounces portobella mushrooms, sliced (2 large)
6 ounces shiitake mushrooms, sliced
*woody stems removed from all mushrooms*
salt + pepper (to taste)
2-4 sprigs of rosemary
2 tablespoon extra virgin olive oil
1-2 tablespoon apple cider vinegar
optional: additional spices like cayenne or thyme.
garnish: fresh flat leaf parsley, a few pinches per bowl

additional: splash of vegan plain non-dairy creamer (optional) Roasted garlic, nutritional yeast and caramelized shallots would also be nice add-ins.
Directions:
1. Preheat oven to 425 degrees.
2. Rinse and dry your prepped (chopped and woody ends removed) mushrooms. Toss the mushrooms with the oil, vinegar, rosemary and spices.
3. Lay mushrooms flat on a baking sheet. Roast at 425 degrees for about twenty minutes – or until they begin to caramelize around the edges. After roasting, they should still be moist, yet fully cooked and flavorful to eat on their own.
4. While mushrooms are roasting, you can boil the cauliflower in water. Drain the water, set aside tender cauliflower. You should be able to break the cauliflower with a fork after boiling.
5. Add the cauliflower and about 2 cups of mushroom broth to a Vitamix or similar blender. You could also use an immersion blender or food processor. Blend on low until the cauliflower is smooth. Add in about half of the mushrooms. Do a taste test. Add more of the mushrooms into the soup. About ¼ cup of the whole roasted mushrooms should be left for garnishing the serving bowls. Blend in a few of the tender ends of the roasted rosemary – toss any woody stems. You can also add in additional flavorings: cayenne, roasted garlic, nutritional yeast..
6. Continue adding in broth and mushrooms and spices (salt and pepper to taste) until you reach a texture and flavor you like. I used about 3 cups of broth. You may want more for a thinner texture. (You could also thin out with some non-dairy milk if you'd like. This will make a much denser, creamier soup.)
7. Pour warm soup into serving bowls and garnish with leftover mushrooms, freshly chopped flat leaf parsley and rosemary. Pepper and soy cream over top if you'd like. If not serving right away, simmer in a pot on the stove until ready to serve.