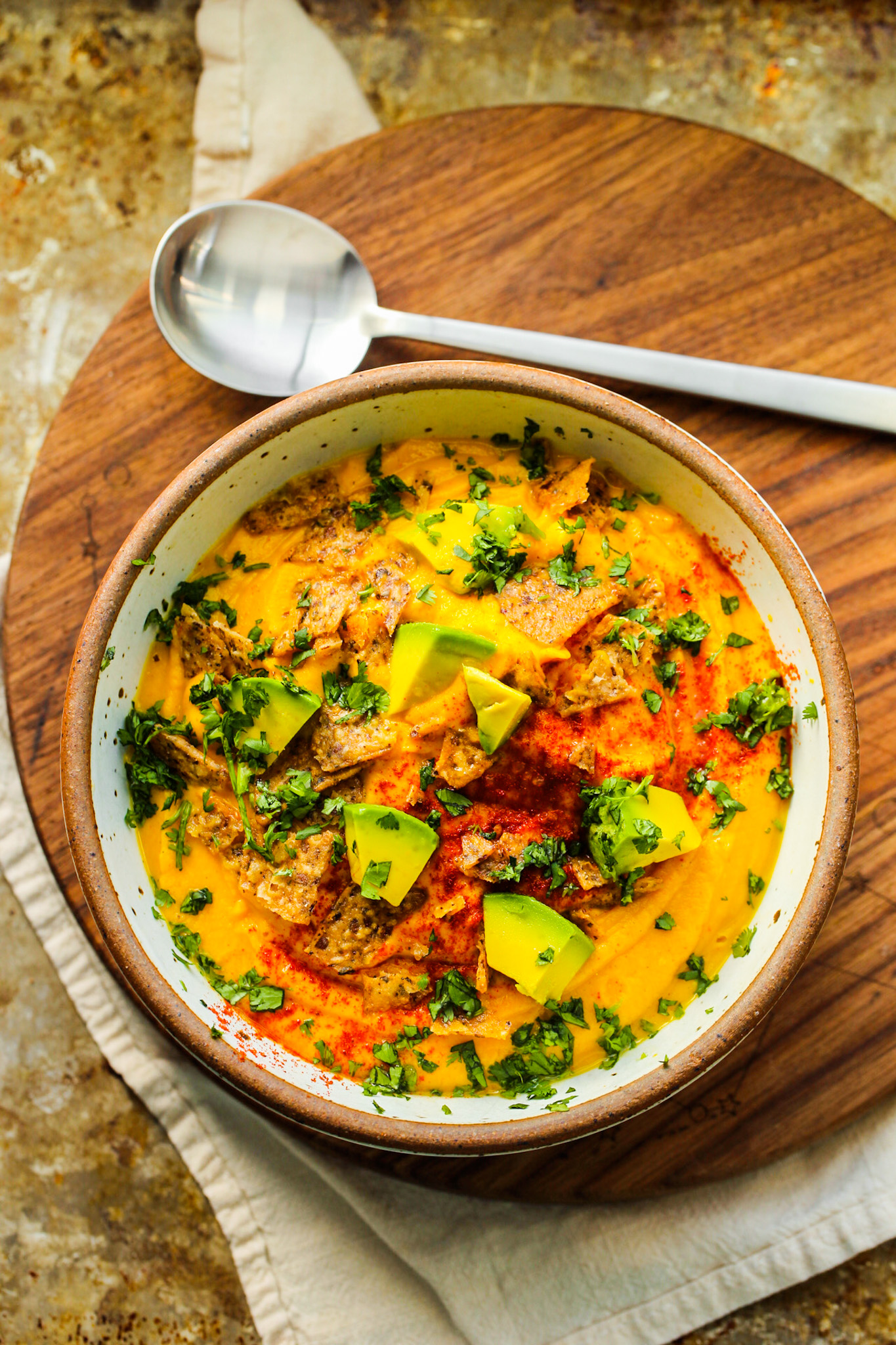 What am I doing posting this warming, spiced, creamy Sweet Potato Cauliflower Soup right as summer is coming? Well, for me, pureed soups are an absolute year-round meal. And this particular vegan recipe is a spin on one of my most popular soup recipes – my Sweet Potato Soup in a Flash. And just like that recipe, this bowl has warming spices that wake up your palate, bright, summer-y citrus and the tones, colors and textures just feel very 'any season approved' to me.
This recipe makes one large bowl of soup – perfect for the solo diner, a la meal for one! Or you can easily double, triple or (whatever) the recipe if you are sharing this meal with some people you love. Spoons up!…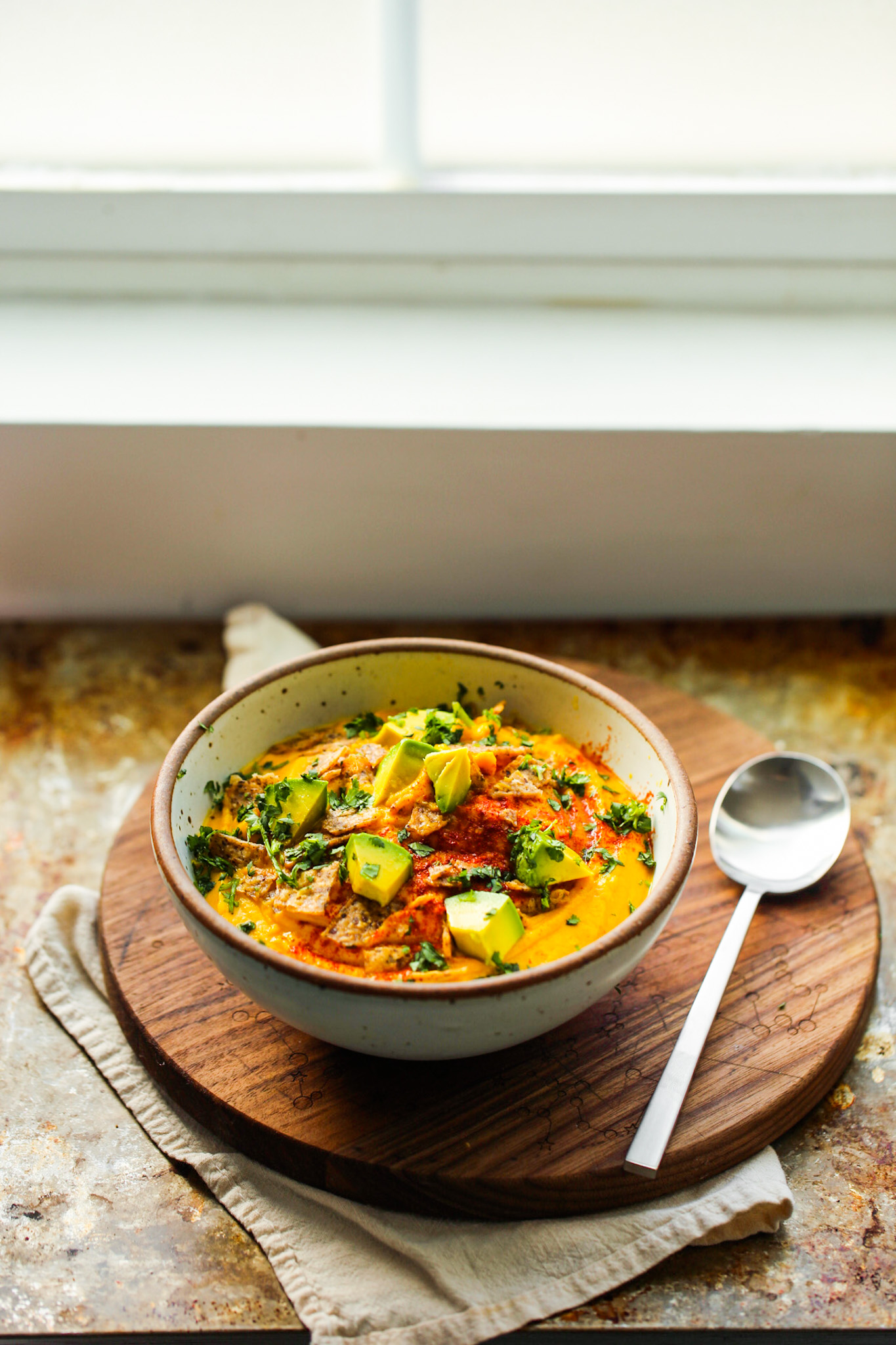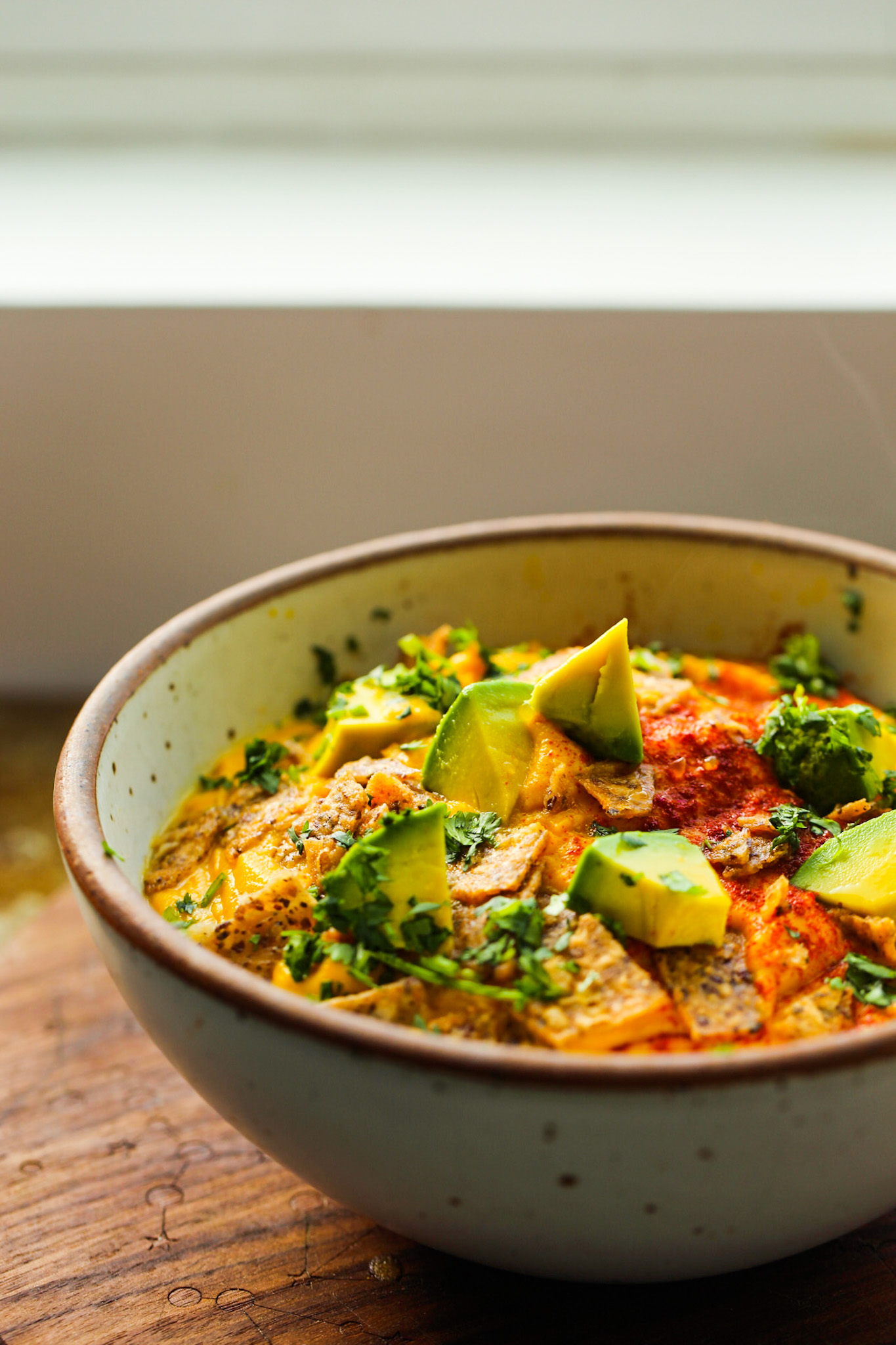 Sweet Potato Lover
I can't really get away from sweet potatoes. They have always been one of my favorite foods. From sweet potato burgers to stuffed sweet potatoes, pockets, falafel, fries, rolls and even eating a sticky-sweet oven-baked sweet potato right out of the oven – they truly are a veggie that has my heart.
Plus, sweet potatoes are loaded with healthy nutrients, packed with fiber and basically have super-superfood status.
And pureed sweet potato soup is an absolute staple in our house.
So Sweet Potato Cauliflower Soup it is.
However, this one has more than just potatoes in it…
Cauliflower to the Rescue!
I always forget about cauliflower. I know, that seems really hard to do with all the viral cauliflower recipes out there. Buffalo Cauliflower, this dreamy soup, cauliflower pizza crust and many more. But it's true, I just always forget about it. I think it is the pale complexion that always makes me go, "Nah, I want more pigment in my veggies than that!" Silly, I know.
But really, cauliflower is also a veggie with loads of good qualities. Health.com says cauliflower contains plenty of vitamins C and K as well as 10% of your daily choline! That makes this pregnant lady feel really good since choline is something that is really good to keep in check in your third trimester. There are more cauliflower benefits in this Health article. I really love this fun fact….
"Cruciferous veggies contain natural substances that protect the bends and branches of blood vessels—areas most prone to inflammation, making it a potent protector of your heart." – Health.com
So yeah.
Maybe I shouldn't say "Nah." to cauliflower as much. And say "Yeah!!" instead.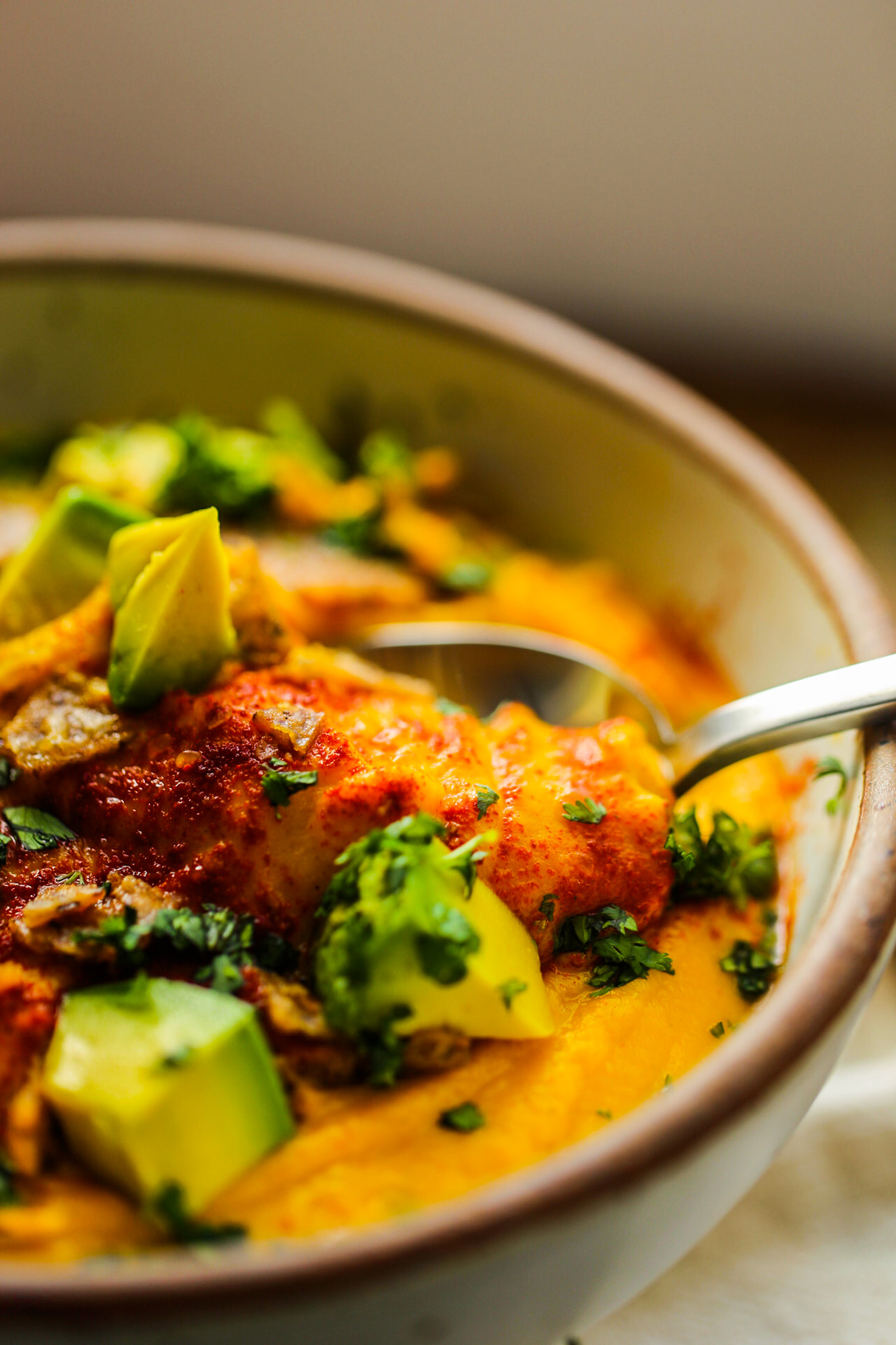 Soup Toppings
Sure, you could just blend up this super easy soup and call it a day, but I am all about these toppings! Here is what goes on top to serve this Sweet Potato Cauliflower Soup…
Diced avocado
Fresh orange or mandarin juice (lime or even lemon works too)
Sprinkle of smoky paprika
Finely chopped cilantro (parsley would work too)
Crushed NAcho-flavored Beanfield's chips (any chips will work though..)
To me, those toppings help make this bowl a meal. All those textures and tones and contrasting flavors.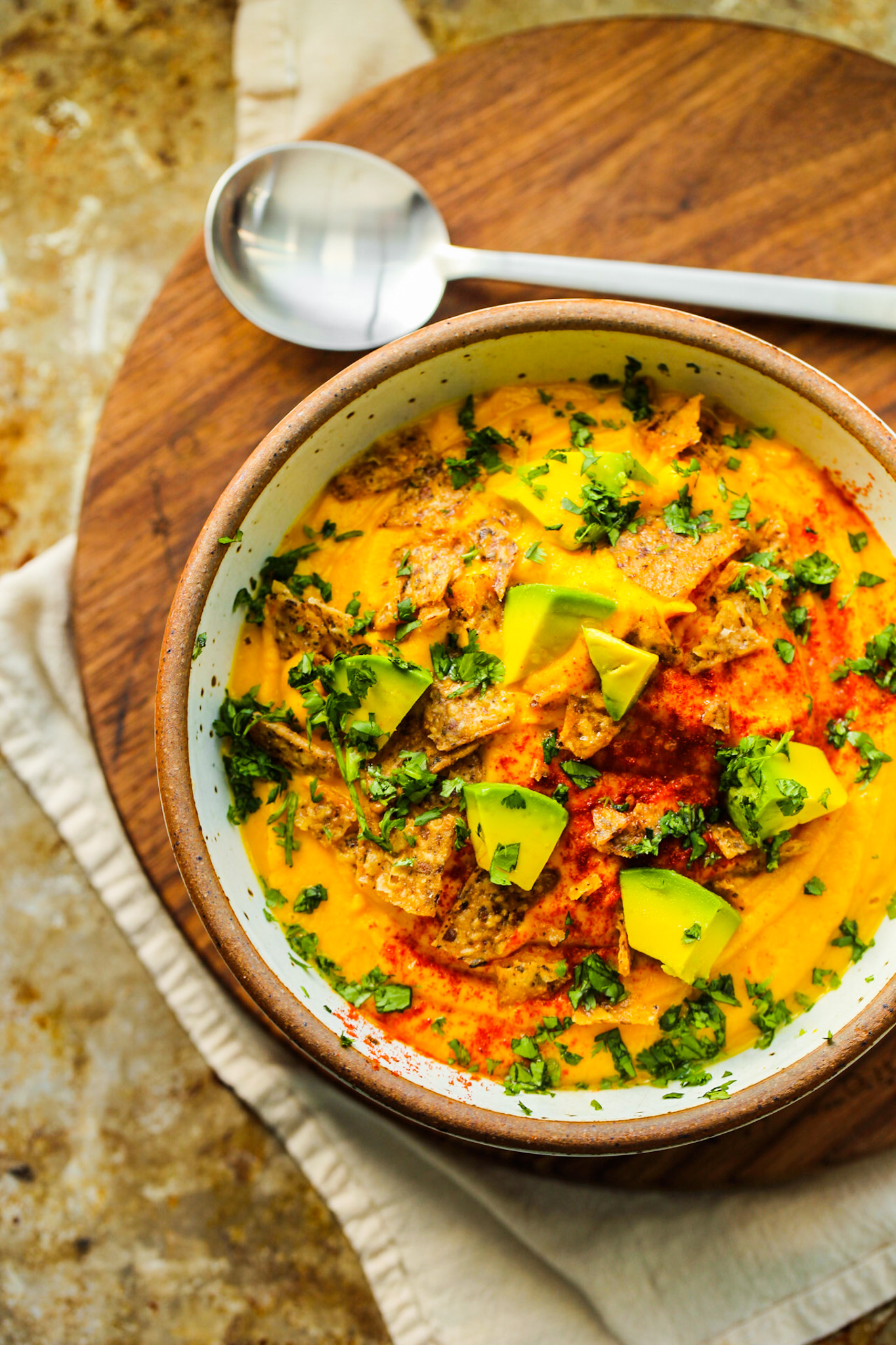 Simple Vegan Soup – in a Blender
I'm all about easy these days and this soup is so simple! Just two main ingredients and a few flavor accents to blend. I didn't even use veggie broth – just regular filtered water to blend. And the spices in there can easily be tweaked to your preferences. Here is what I used to season my Sweet Potato Cauliflower Soup…
turmeric
smoky paprika
salt
black pepper
fresh garlic and a bit of garlic powder
cinnamon
Other additions could be chipotle powder or cayenne for some added heat and spiciness. Onion powder or cumin would also work. And any of the above can be omitted too. This is your soup! Make it your own!!
And with that, let's do this…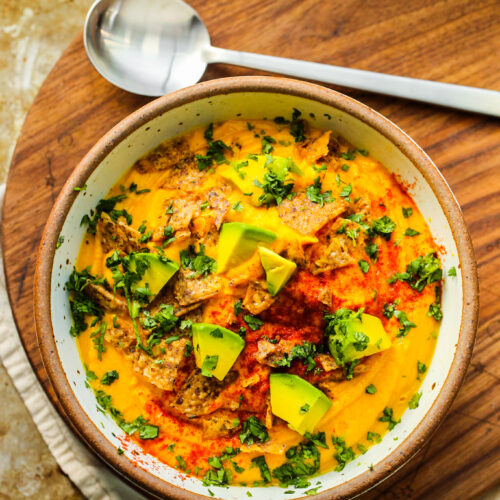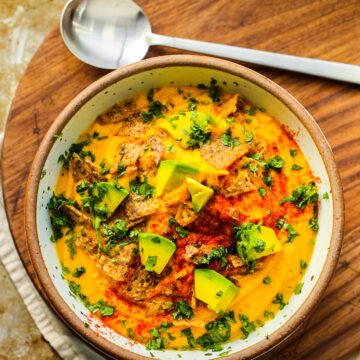 Sweet Potato Cauliflower Soup
This super simple blender soup is made using two main ingredients and a variety of spices.
Print
Pin
Ingredients
1

medium

sweet potato

,

peeled and chopped

4

cups

cauliflower

,

roughly chopped

1-2

cups

water

2-4

tablespoon

maple syrup

¼+

teaspoon

salt

,

to taste

2

cloves

garlic

,

peeled
Spices to taste:
turmeric

smoky paprika

cinnamon

garlic powder
Toppings:
3

tablespoon

fresh orange or mandarin juice

,

lime works too

⅓

cup

crushed Beanfield's Nacho-flavored chips

,

or another brand

a few

sprinkles

smoky paprika

¼

avocado

,

diced

¼

cup

cilantro

,

finely chopped
Instructions
Boil the sweet potato until tender. About halfway through boiling, add in the cauliflower. When both the sweet potato and cauliflower are tender, transfer to your blender.

Add in the water, maple, garlic, salt and start with one cup water. Blend from low to high until smooth. Add in the spices to taste. After you make this soup a few times you will get a good feel for how much of each spice you like. I like very light cinnamon, heavier handed smoky paprika and a touch of turmeric and garlic powder. Blend again. Soup should be thick and creamy. If you need more water, for a thinner consistency, add it now.

Pour out all the water that was in you large soup pot for boiling. Transfer the soup back into your large pot and turn heat on medium. When soup starts to bubble, turn to low and simmer and stir for five to ten minutes. This helps to remove all the air pockets and bubbles that formed during the blending process.

Pour soup in serving bowl(s) and add the paprika, citrus juice, chips, avocado and cilantro. Serve warm!
Notes
veggie broth can be used in place of water if desired – tweak salt to match the broth
nutrition estimate | per serving
Calories:
515
kcal
|
Carbohydrates:
104
g
|
Protein:
16
g
|
Fat:
12
g
|
Saturated Fat:
1
g
|
Sodium:
846
mg
|
Potassium:
2393
mg
|
Fiber:
20
g
|
Sugar:
46
g
|
Vitamin A:
32238
IU
|
Vitamin C:
231
mg
|
Calcium:
210
mg
|
Iron:
3
mg