This Vegan Butternut Squash Soup is super speedy to prepare and tastes delicious as a warm lunch or light dinner. Delicate spices like pepper and garlic mingle with maple, green apple and that sweet and savory golden squash. This recipe uses boiled butternut squash for speed and ease! This soup can be ready in about twenty minutes start to finish.
How to Prep a Butternut Squash
I use a sturdy peeler and remove the outer skin. Some people take a sharp knife and slice off the outer thick skin, but I find the peeler method to be a bit safer and more effective.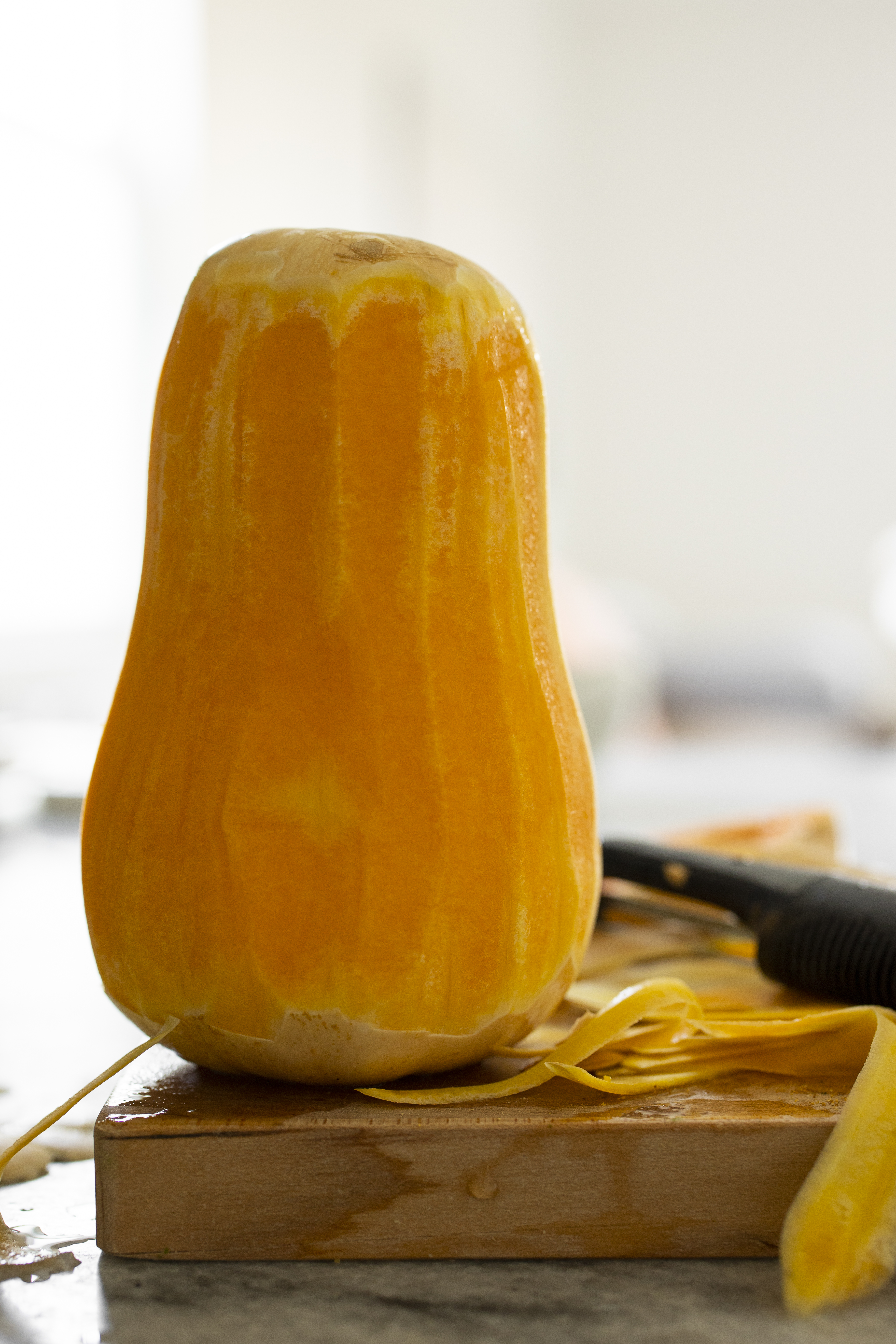 Winter squash in general can have a very thick and hard outer skin, so removing it should always be done with caution! But once the skin is removed, it's easy to remove the inner pulp (usually a few seeds and stringy bits) and then slice into cubes…
Roasting or Boiling Squash for Soup?
For this Vegan Butternut Squash Soup, I chose to boil my cubes. But you can absolutely roast your butternut squash cubes if you have the time!
To roast, simply toss them in a bit of EVOO and bake at 400 degrees until tender. But the speediest method of cooking butternut squash is to boil the cubes. (Steaming would work too – especially if you have an Insta Pot!)
Roasting yield a bit more flavor and concentrates the flavor while adding some yummy caramelization. But for me, I wanted speed – and YES – the boiling method yields a delicious soup!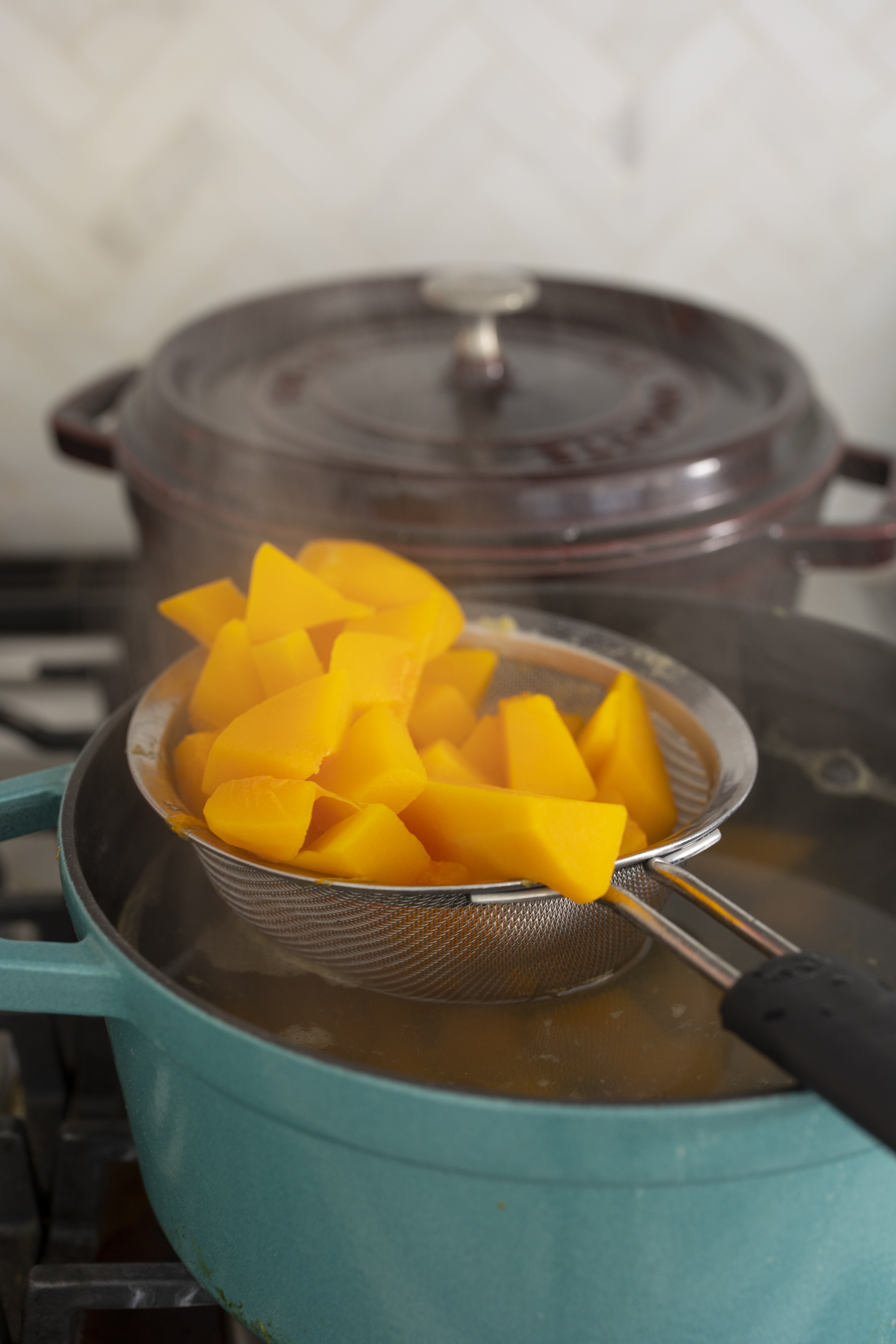 Blender Soup
So easy! A quick blend turns your ingredients into a velvety, silky blended soup. I use my Vitamix, but any powerful blender will do a great job.
You can just pour and serve, or boil the blended soup to remove some air bubbles.
Another blender soup I love for fall: speedy sweet potato soup with avocado.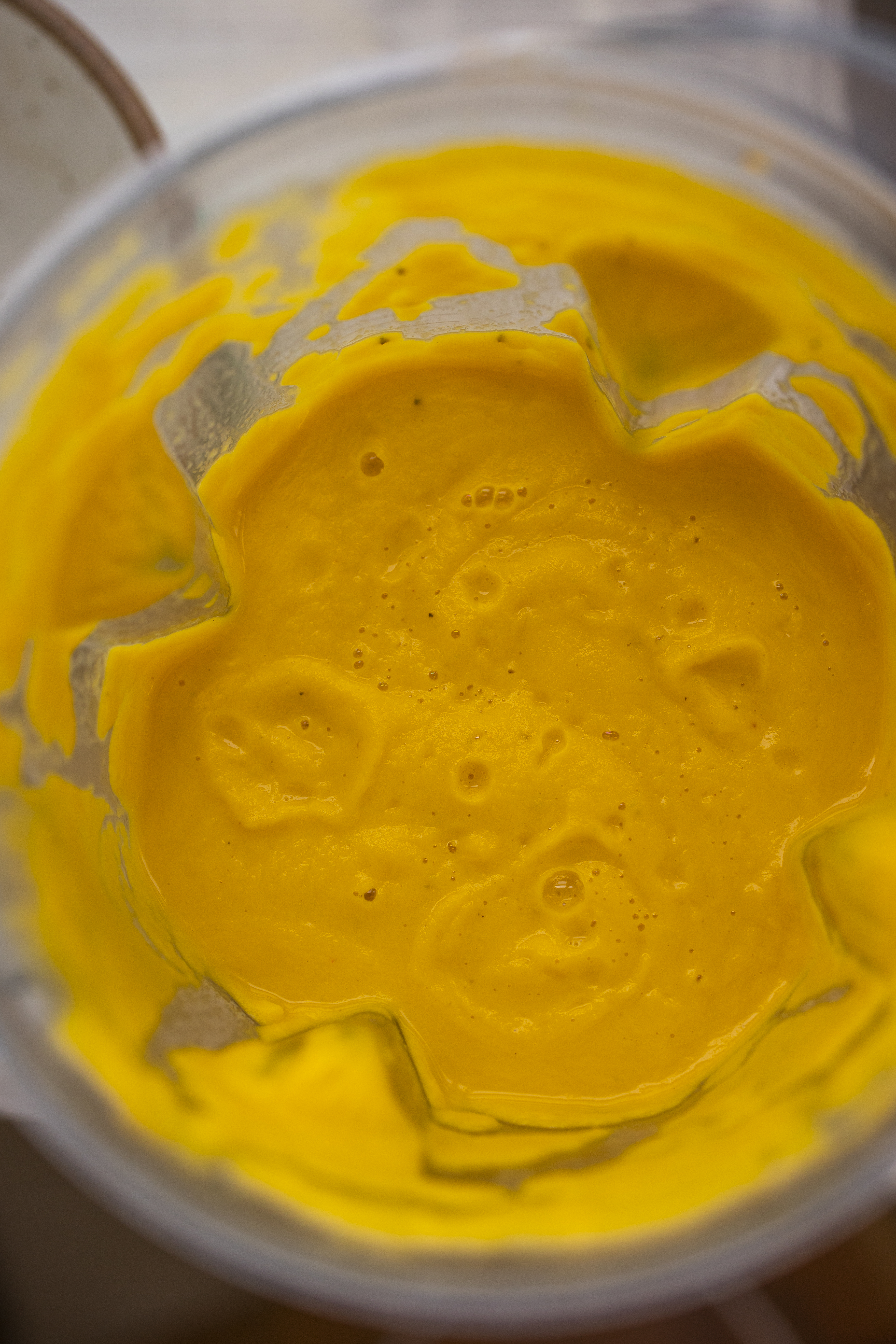 Add Toppings to this Vegan Butternut Squash Soup…
I love adding toppings to this Vegan Butternut Squash Soup. A few ideas..
avocado
smoky paprika
pumpkin seeds
EVOO drizzle
chopped greens or herbs
pepper
crushed tortilla chips
Vegan cheese (Parm!)
hemp seeds
chopped pecans
candied walnuts
I went with some simple greens, avocado, EVOO and paprika.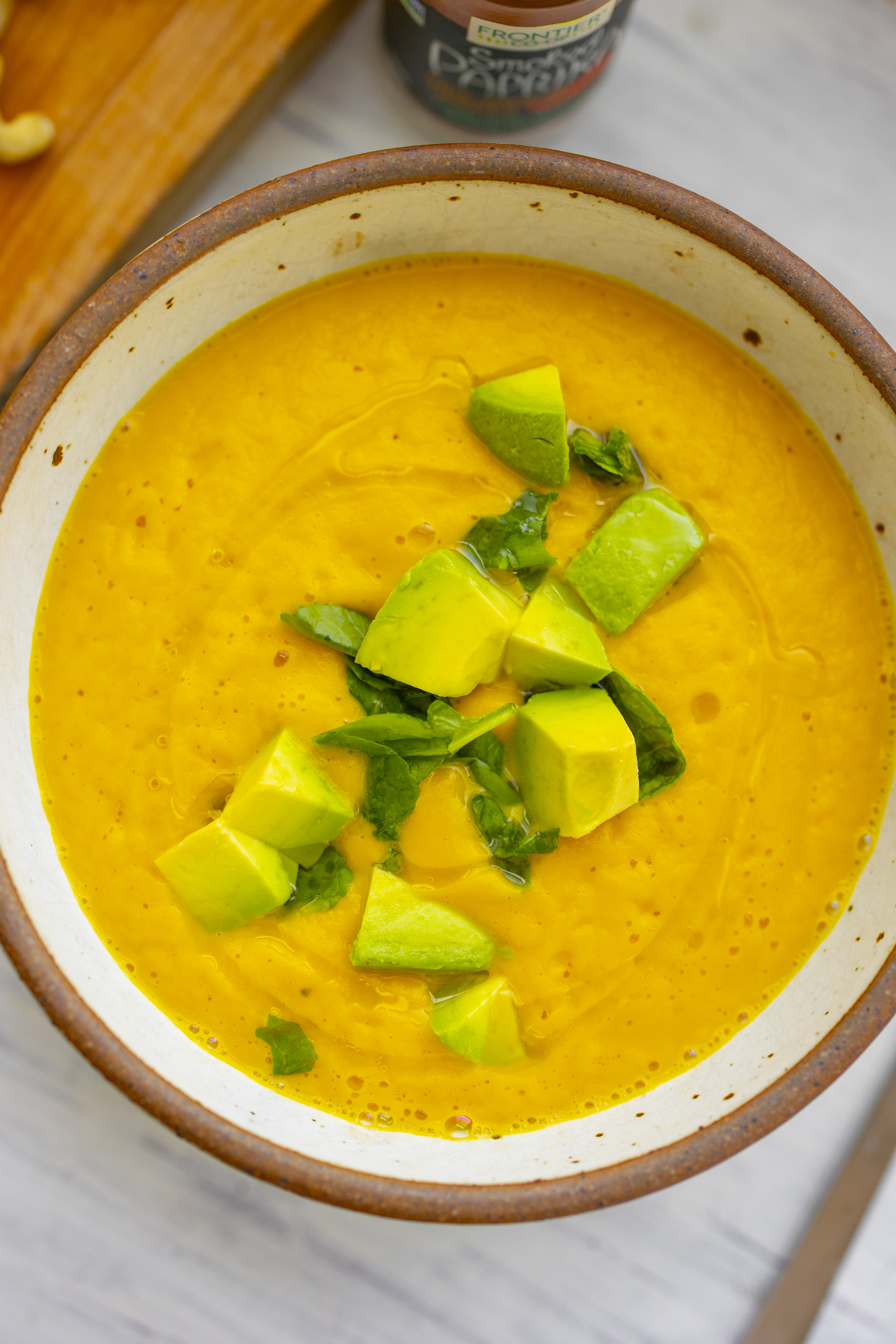 Serve!..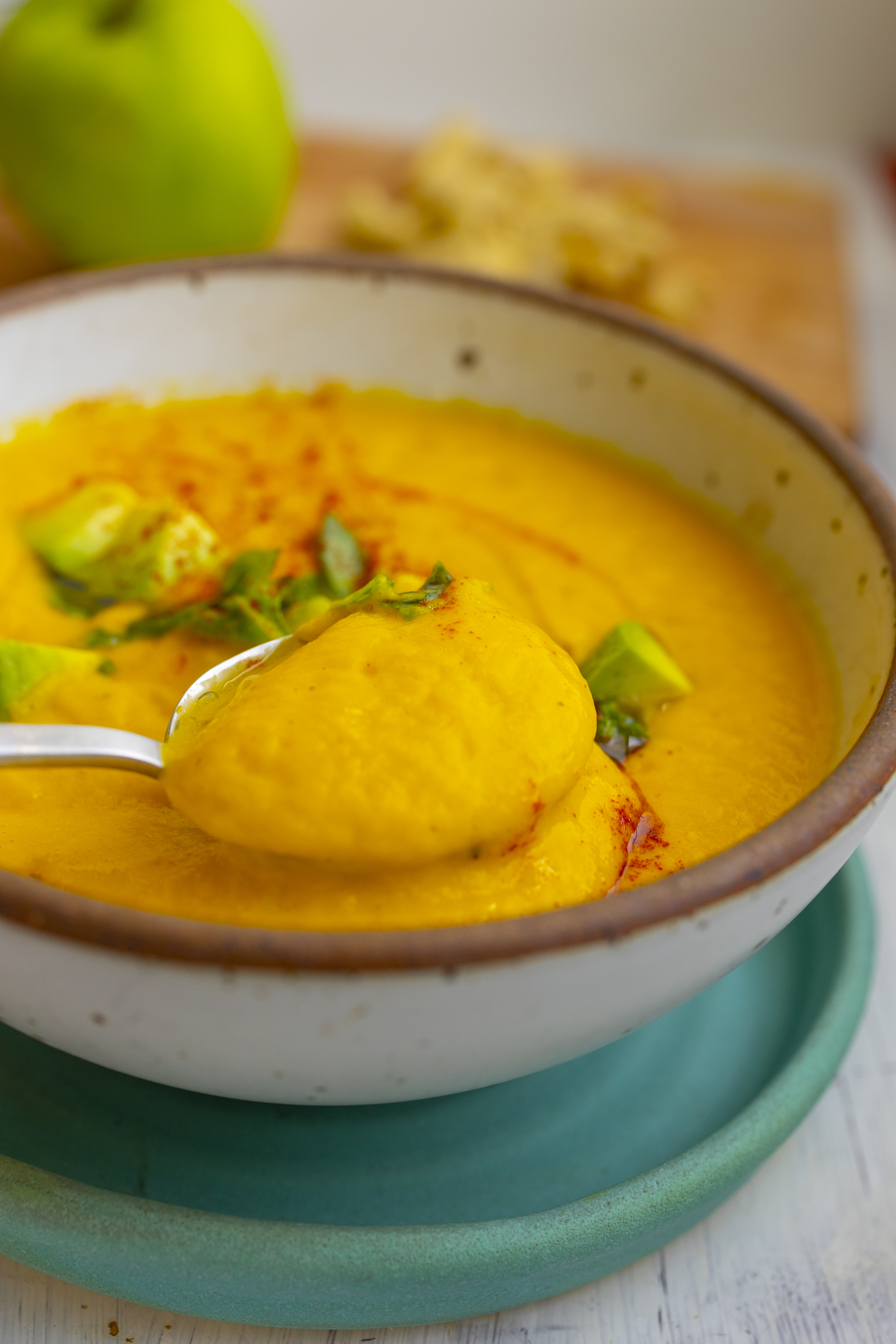 Soup Season
As fall settles in, I start to crave all those cozy comfort foods. Soup. Pumpkin. Breads. Muffins. Oats. Casseroles. Hearty grains. Warm mugs. And more. And one of my favorite fall ingredients: butternut squash.
This Vegan Butternut Squash Soup is made using just a few easy to find ingredients. Super cost effective too since whole butternut squash is usually a great deal. You get a lot of veggie for the price.
Two Easy Steps!
This Vegan Butternut Squash Soup has two simple steps after the ingredient prep. Boil the squash, then blend the ingredients.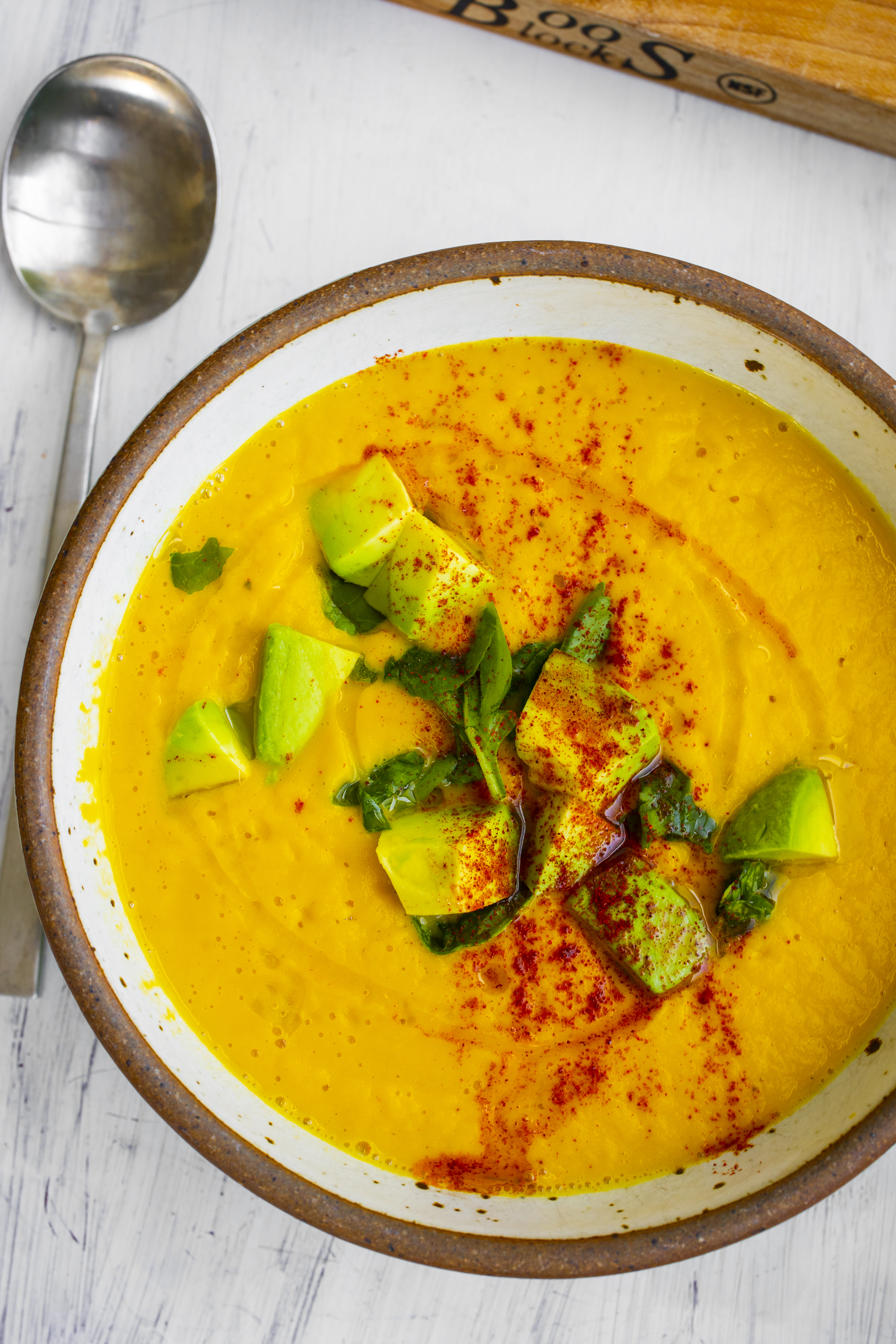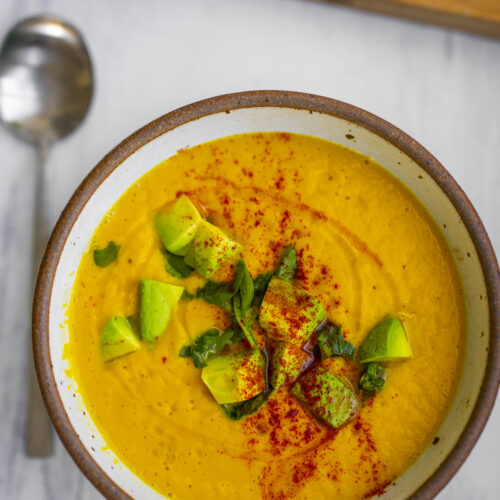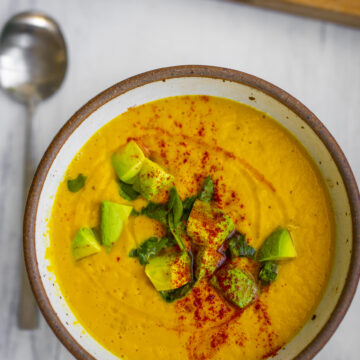 Ingredients
5

cups

butternut squash cubes

,

– about 1 medium butternut squash

2

cups

vegetable broth

2

tablespoon

maple syrup

,

optional

2

cloves

garlic

⅓

cup

cashews

,

raw

1 /2

cup

green apple

,

chopped

¼

teaspoon

salt

,

or to taste

¼

teaspoon

black pepper

,

ground

pinch

cayenne

,

optional
Instructions
Prep squash by peeling, removing seeds and chopping into cubes. Cubes can be a rough chop.

Bring a large pot of water to a boil. Add squash cubes. Boil 5-10 minutes – or until tender. Strain out cubes and transfer to blender.

Add all the ingredients to a blender, blend until smooth. Then blend an additional 3-5 minutes on the 'soup' setting to fully warm soup. Otherwise, pour soup into a side soup pot and simmer over medium heat until warm.

Pour and serve with desired toppings.
nutrition estimate | per serving
Calories:
190
kcal
|
Carbohydrates:
37
g
|
Protein:
4
g
|
Fat:
5
g
|
Saturated Fat:
1
g
|
Sodium:
625
mg
|
Potassium:
743
mg
|
Fiber:
5
g
|
Sugar:
15
g
|
Vitamin A:
18870
IU
|
Vitamin C:
39
mg
|
Calcium:
102
mg
|
Iron:
2
mg