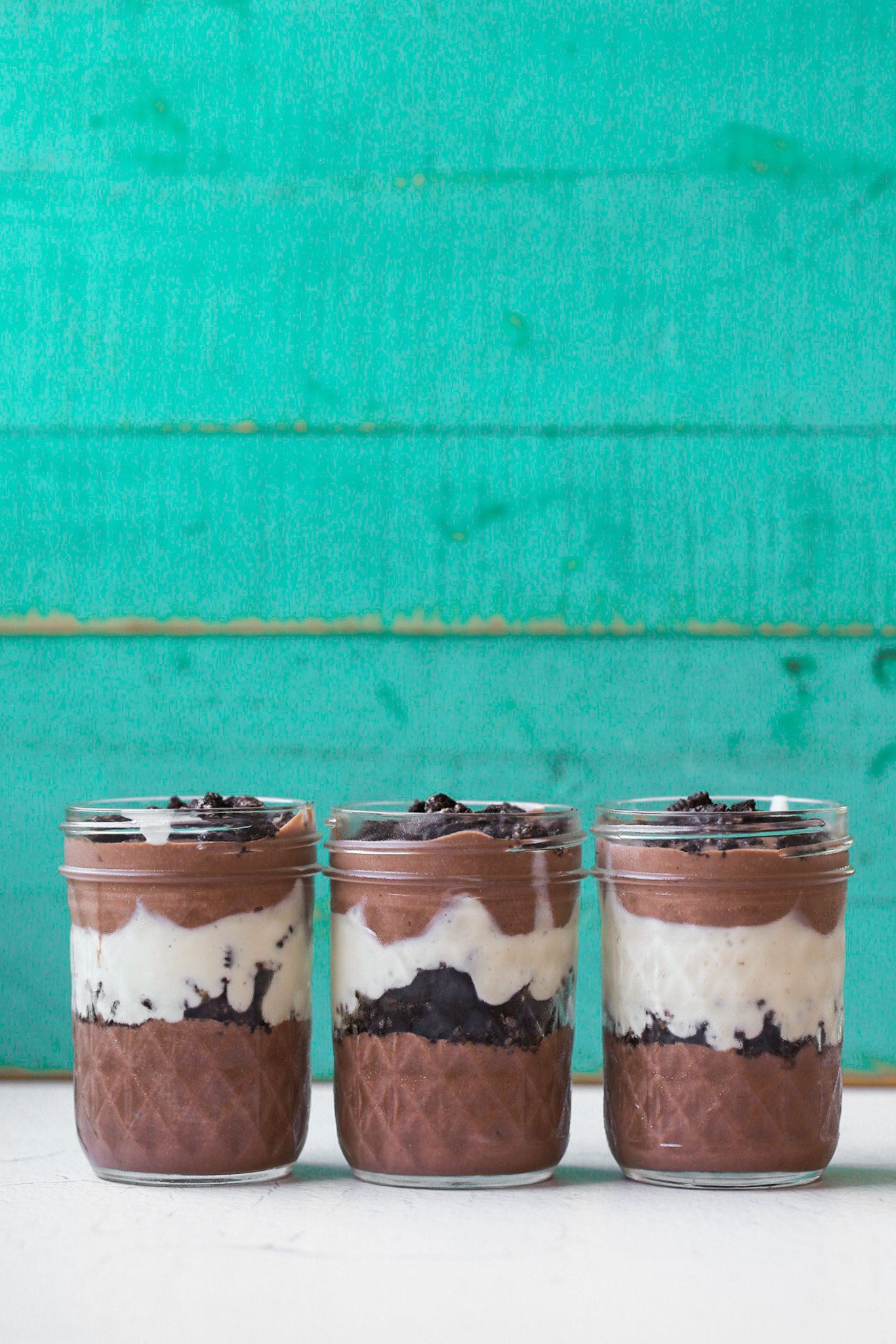 This decadent, yet secretly sort've healthy, Oreo Pudding Parfait is a perfect treat when you crave some rich chocolate, comfort-food flavors. Layers of silky chocolate pudding mingle with Oreo cookie crumbles and a silky vanilla pudding layer. Creating a easy, cozy, chocolate meets vanilla, Oreo-inspired dessert.
This vegan dessert is power-packed with plant-based protein and naturally sweetened. And the best part is that you can whip this dessert up in minutes with minimal ingredients. Simply chill in the fridge and pull and serve when ready! This is a lovely, eye-catching make-ahead dessert to feed your favorite people.
And this Oreo Pudding Parfait dessert is perfect for Valentine's Day too!…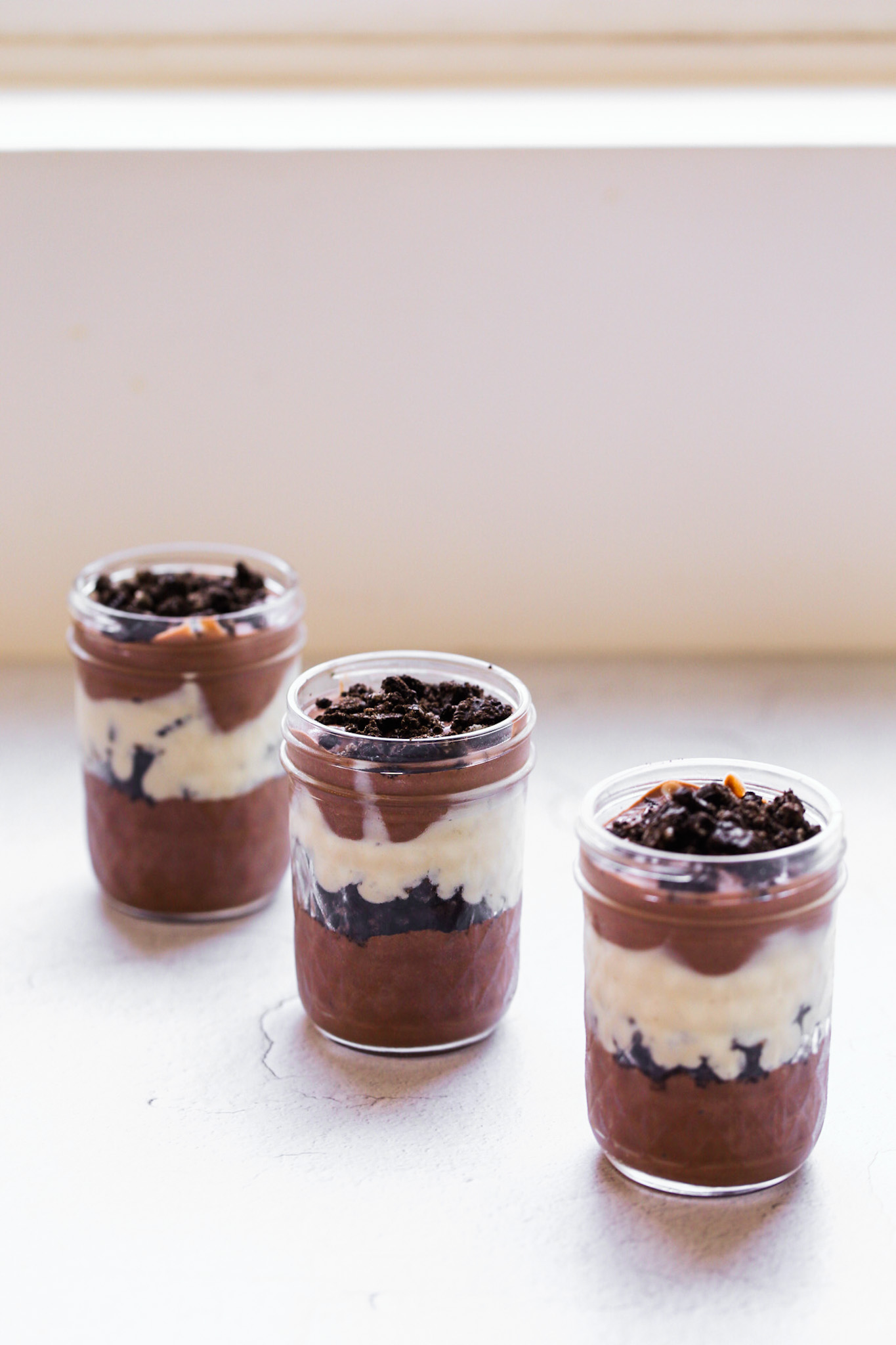 Oreo Cookie Dessert
I am a long time Oreo cookie fan. When I was a kid I would grab a tall stack of Oreos, a giant glass of ice cold milk and start dunking as I lay sprawled out on carpeted living room floor, watching after-school reruns of Growing Pains and Saved by the Bell. Oreos were my jam.
Cut to being vegan, many years later, and realizing that (most) Oreos are in fact vegan! I mean, they aren't health food by any means, but for a classic, vintage treat, Oreos are always a welcome fave in our house.
But wait, are Oreos vegan?
Oh man, if I had a pack of Oreos for overtime I read this question online, I'd be set for life! Well first, fun fact, Oreos up until the mid-nineties actually contained animal fat, aka lard! Crazy. I guess I used to eat those. Weird. But these days, Oreos do not contain animal products and the fat is vegetable based. HOWEVER, Nabisco is very clear to mention possible cross-contamination with milk-containing ingredients.
…What that means for most vegans is, woo-hoo, Oreos are good to go! But if you have a dairy allergy or sensitivity, you may want to skip Oreos. There are so many articles online chatting about this Oreo question, here are a few: Delish, FreshnLean, VegNews.
Oreo Cookie Topping
And one of my favorite ways to eat Oreos these days is as a crushed cookie topping. I love it on vegan vanilla ice cream or fro-yo. Banana ice cream. Or yes, pudding! And you can even use them to make the best vegan cookies and cream ice cream.
But for today, I'm all about this chocolate meets vanilla Oreo Pudding Parfait.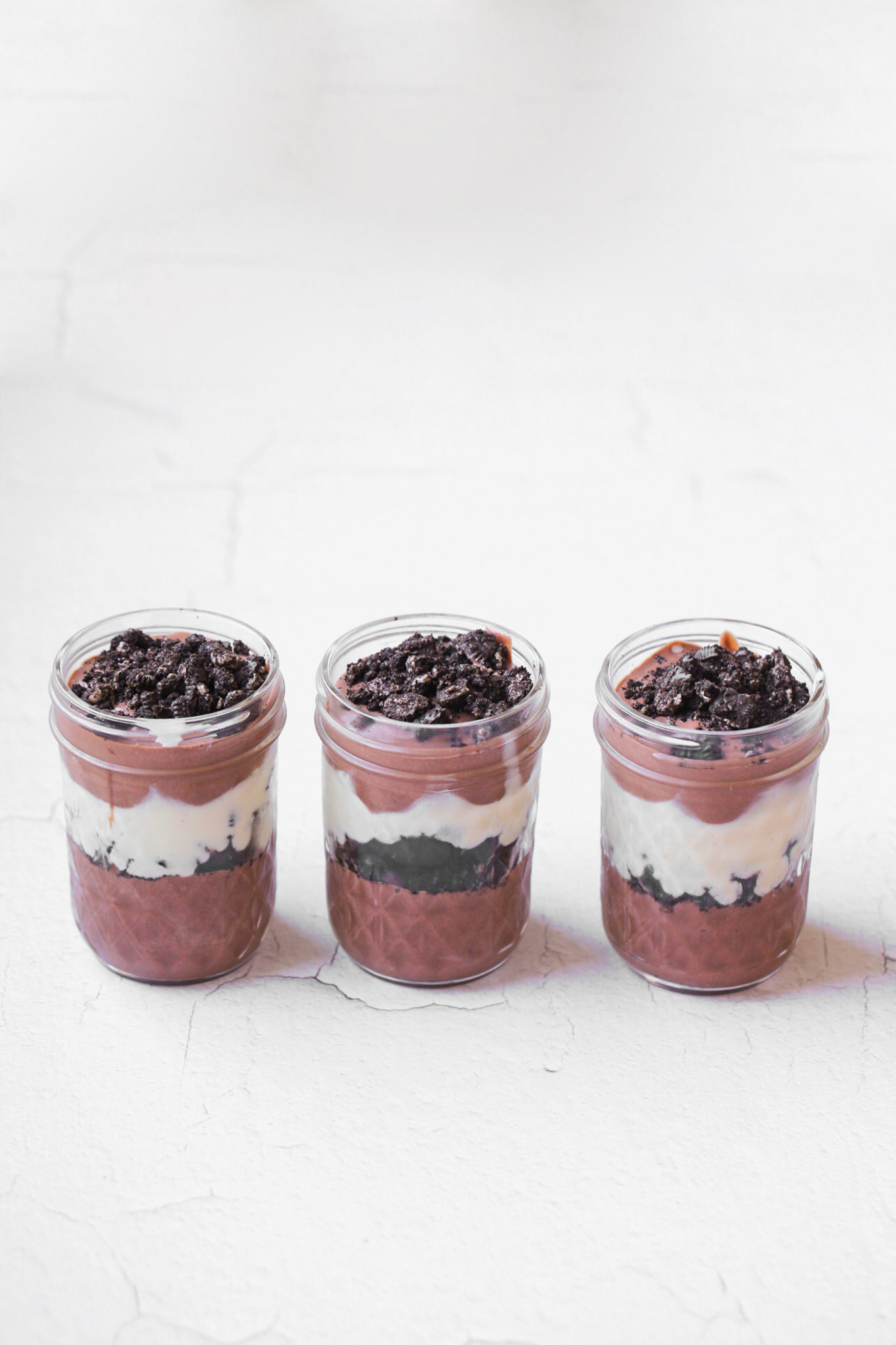 Tofu Pudding, say what???
I looooove this pudding. The chocolate version has been a personal fave, and a fan fave, for about ten years here on HHL. I first started making it and touting it's protein-packed, cacao-fueled benefits and acknowledging that yes, you could absolutely eat this pudding for breakfast.
Tofu is an excellent source of complete plant-based protein. I always choose organic and non-GMO tofu.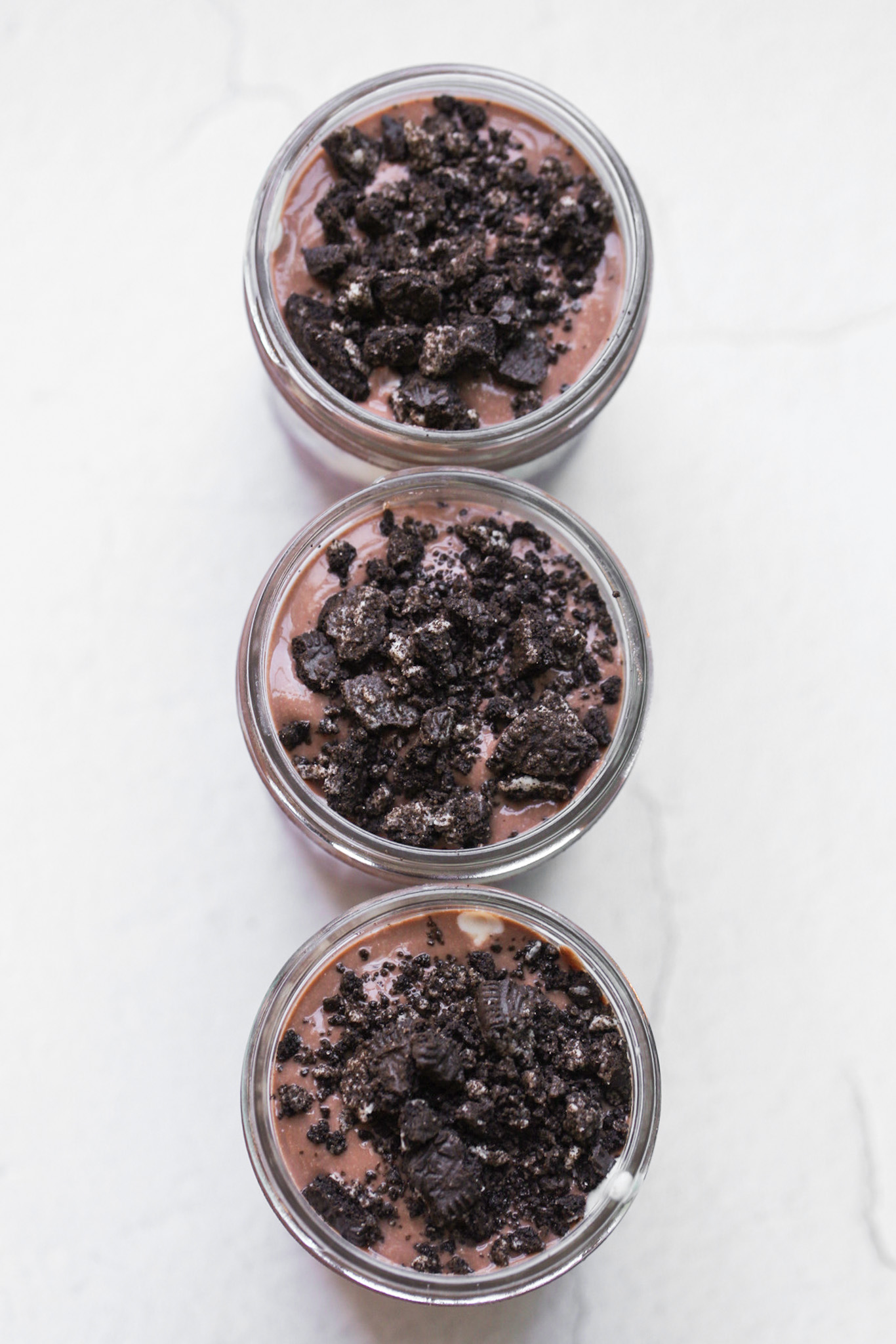 Pudding vs. Mousse
This same recipe can easily be modified to make a mousse-like texture. To me, a pudding is a bit thinner than a mousse. A mousse is thicker and richer. While a pudding keeps a more hydrated texture, while still being quite spoonable.
The easy adjustment to take this pudding into a "mousse-like" texture is to add more melted coconut oil. I would say 2-4 tablespoon more per batch should do it. The coconut oil gets rock hard in the fridge, so when mixed with the silky soft tofu base, it creates a lovely whipped, thick texture – the more coconut oil you add.
Here is a good photo of this same chocolate pudding recipe with a bit more coconut oil to add to the whipped, mousse-like texture…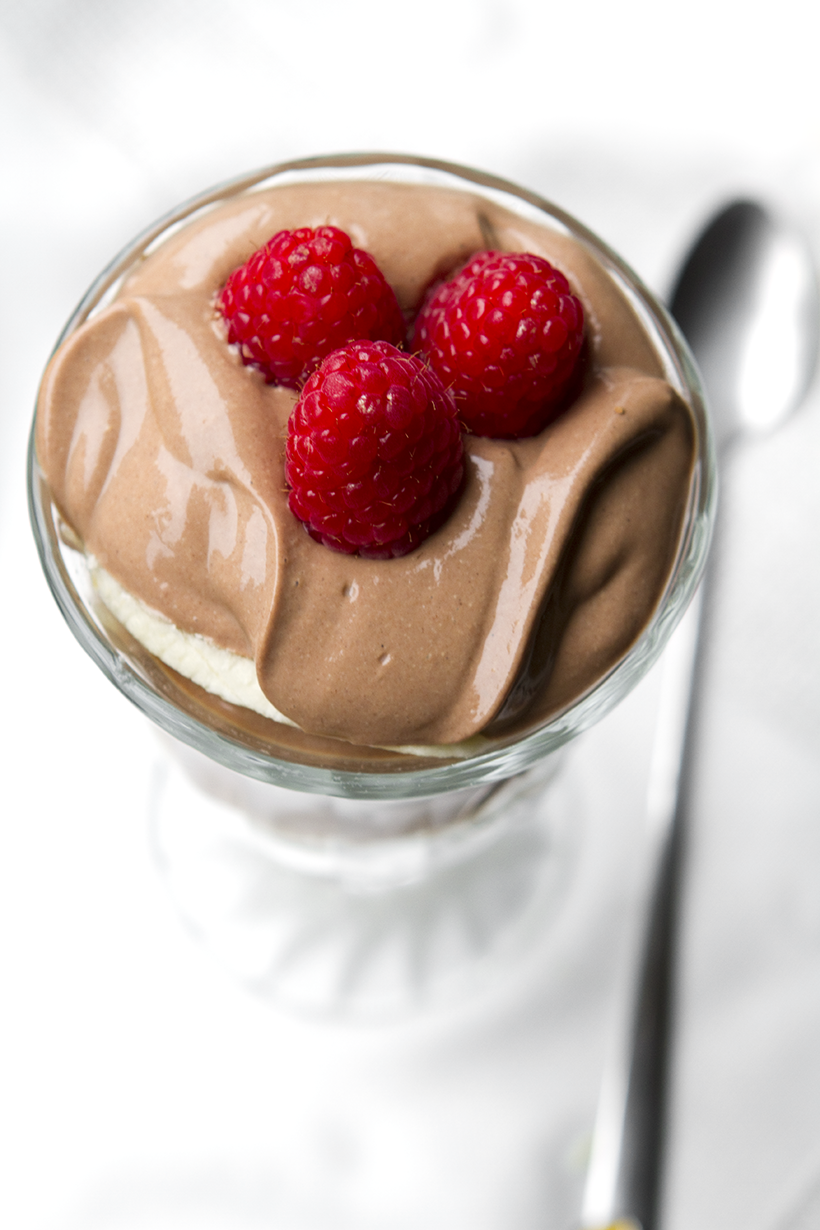 Room Temperature Tofu (Sort've)
You don't want to mix your melted, warm, coconut oil with an ice cold tofu. That could create a bit of beading when the warm coconut oil hits the cold ingredients. Instead, I like to let my silken tofu sit on the counter for at least ten minutes before using. That's usually good enough for my Vitamin to whip everything together. But if you are worried, you can even warm your tofu up a bit in the microwave so that all the ingredients keep the same temp when blending.
The same goes for the sweetener. If you store your agave in the fridge, let it warm up a bit before adding.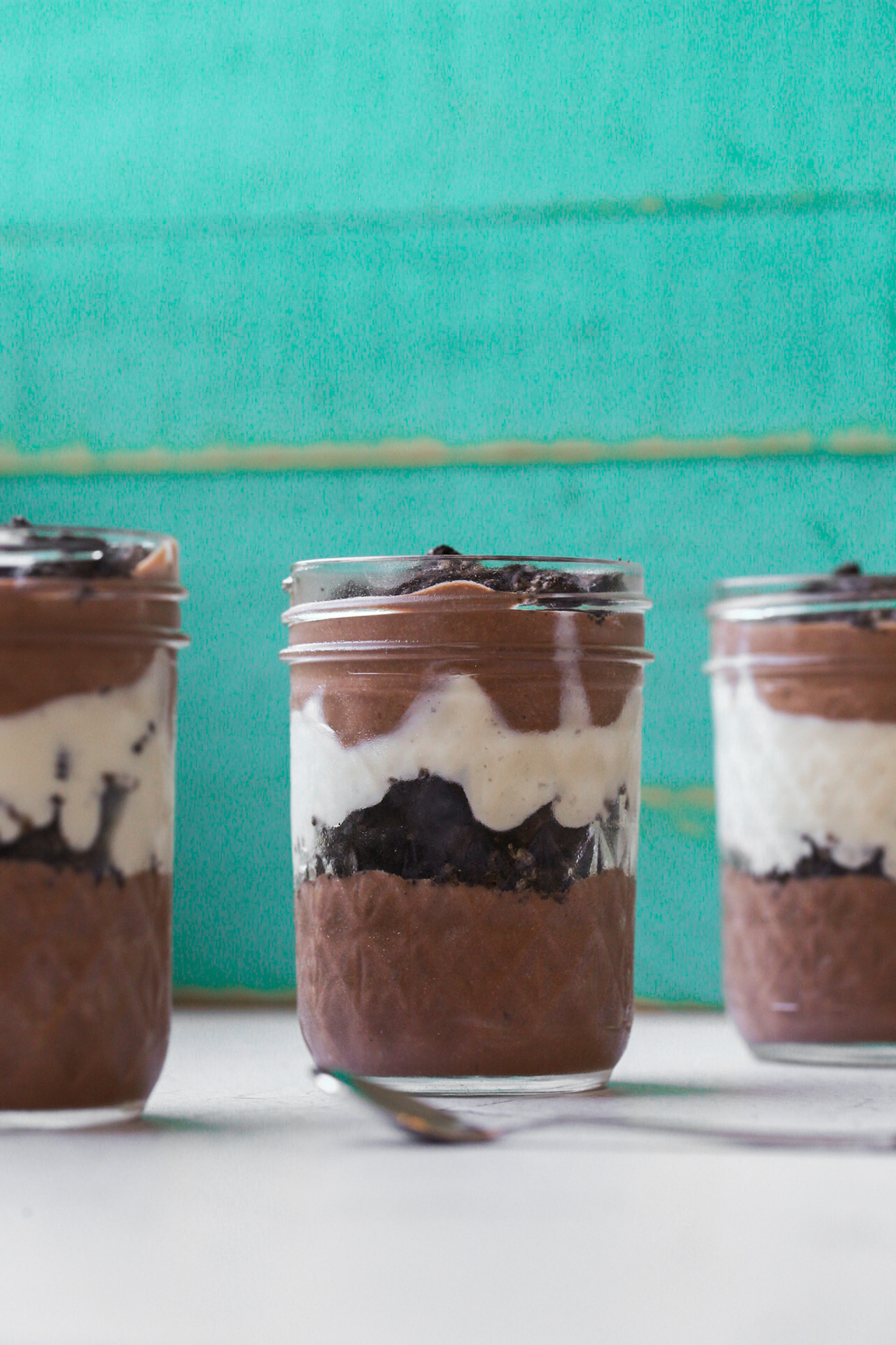 Yummy Oreo Parfait Add-ins
There are so many things you could add to this dessert to make it even more special….
sliced strawberries
raspberries
chopped walnuts or pecans
crushed graham crackers
pinch of cinnamon in the pudding
pinch of cayenne in the chocolate pudding to add some heat
chocolate shavings on top
coconut whip on top! (my fave add)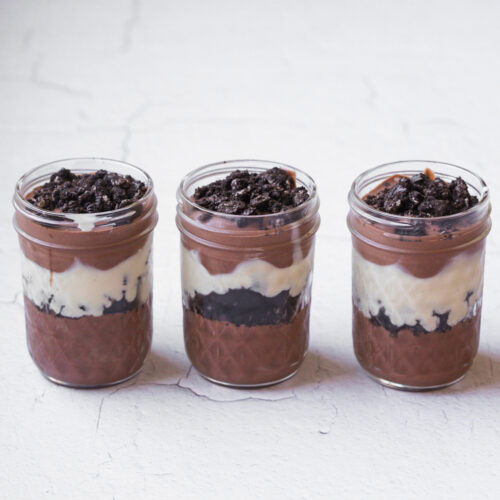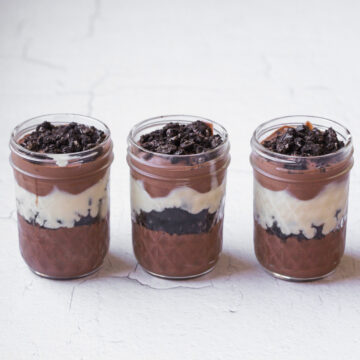 Oreo Pudding Parfait
Chocolate and vanilla pudding meets crumbly Oreo cookie topping. Easy and simple, tofu-based and vegan dessert recipe.
Print
Pin
Ingredients
chocolate pudding
16

oz

silken tofu

¼

cup

agave syrup

2-4

tablespoon

cacao powder

,

unsweetened***

3-4

tablespoon

extra virgin coconut oil

,

melted

⅛

teaspoon

salt
Vanilla Pudding*
8

oz

silken tofu

2

tablespoon

agave syrup

2

tablespoon

extra virgin coconut oil

,

melted

½

teaspoon

vanilla extract

,

(or use a real vanilla bean pod – seeds)
Topping
5-8

oreo cookies

,

crushed
Instructions
First make the vanilla pudding: add all the ingredients to a blender and blend from low to high until silky smooth. Tip: Make sure your tofu and agave is room temperature (about) so that it doesn't harden the coconut oil when blending. Pour the vanilla pudding into a side bowl, cover and place in the fridge.

Next, repeat the process with the chocolate pudding. (No need to rinse your blender!) Blend the chocolate pudding ingredients until smooth. Pour a small layer of the chocolate pudding into the bottom of each parfait serving glass, and pour the remaining chocolate pudding in a small bowl, cover and place all the containers in the fridge.

Allow your pudding to chill for at least an hour. Overnight is even better.

Add your Oreo cookies to a plastic baggie and using the handle end of a dull, heavy knife, whack the baggie to crush the cookies.

Assemble parfaits: Add a layer of crushed cookies over top the chilled bottom chocolate layer. Then spoon a layer of the chilled vanilla pudding over top. Then on top of that, add a final layer of chocolate pudding. Top with more crushed Oreos. Serve chilled. These will keep prepped in the fridge for up to two-three days. After that the Oreos get a bit too soggy.
Notes
*If desired, you can simply make a full batch of the vanilla pudding (16oz of tofu), but since there isn't as much vanilla pudding used in the parfaits, you may have leftover.
***Cacao powder: Start with two tablespoons, and see how dark it turns, add 1-2 more tablespoons to increase chocolate flavor, to taste.
Optional: Add some coconut whip on top for an extra special treat!
nutrition estimate | per serving
Calories:
337
kcal
|
Carbohydrates:
36
g
|
Protein:
10
g
|
Fat:
19
g
|
Saturated Fat:
11
g
|
Sodium:
152
mg
|
Potassium:
377
mg
|
Fiber:
1
g
|
Sugar:
25
g
|
Calcium:
59
mg
|
Iron:
3
mg