This summer I have been having some fun updating the photos on some of my older popular posts. And this Easy Energy Almond Butter Banana Shake was a favorite early on! It is so simple to make and blends up rich and creamy, tasting like almond-banana ice cream. It is packed with good stuff like fiber, potassium and healthy fats. Those healthy fats help to provide you with sustainable energy for your busy day. I like to think of it as the smoothie version of almond butter banana toast!
So today, a few updated photos to this recipe, a new video and I share some summer smoothie tips..
Chocolate Banana Almond Butter Shake Tweak
You can easily give this shake a chocolate flavor by adding in 1 tablespoon of cacao powder. If you like a sweeter chocolate shake you can add in 1-2 Medjool dates (pitted) as well. Add more non-dairy milk as needed to blend, but as always, use as little as possible for a rich and frosty texture.
5 Summer Smoothie Tips:
1 – Stock Up! The easiest way to make smoothies is to be prepared! And that means making sure you have a good base of smoothie ingredients.

Some of my favorites: frozen wild blueberries, frozen bananas, frozen strawberries, frozen pineapple, frozen acai, frozen mango, nut butters, protein powder, superfood blends like (maca, baobab, spirulina, hemp seeds, matcha, turmeric), whole Brazil nuts, Medjool dates, frozen pitaya packs, fresh bananas, avocado, leafy greens (spinach mostly) and a selection of non-dairy milks. Cacao powder is also a great add-in for chocolate-y shakes! And I don't always have all those goodies on hand, but just a few lead to excellent recipe combinations.
2 – Invest in a Vitamix. My Vitamix makes smoothie blending so easy and hassle-free. I recently did a cooking demo and was without a Vitamix and wow, quickly remembered how challenging it is to blend things like leafy greens in a "normal" blender. If you are a smoothie lover a Vitamix is such a worthy investment purchase. And you can even snag a refurbished Vitamix for a crazy-good price. And they are just as good as brand new! I visited Vitamix a few years ago and they really convinced me how meticulously they care for their refurbished blenders.
3 – Have a Plan! Instead of waking up and being completely clueless about what recipe to blend, have a plan! On Sunday night or Monday morning, write out seven smoothies you would like to try for the week. Then as you make your way through the week you can scratch them off your list. This allows you to force yourself to try a few new recipes, and also gives you a plan of action! To be even more prepared, you can go shopping a few days ahead of time, for any ingredients you may need. A great place to find smoothie inspiration: the internet or a cookbook! My book 365 Vegan Smoothies pretty much guarantees that you will never get bored with the same old recipe every day.
Here is an example of seven smoothies you might try..
4 – Go Fresh! Even though I am used to using frozen fruit in my smoothies, in summertime I love blending in very simple flavors, using fresh summer berries and peaches, even cherries and melon. An example is to blend 1 cup fresh strawberries with ½ cup non-dairy vanilla yogurt, ¾ cup almond milk and 1 fresh or frozen banana – plus some ice. Blend until smooth. So simple and so flavorful.
5 – Bowl it. Summer is the perfect time to take a smoothie and make it into a meal by serving it in a bowl and adding toppings. Learn how to make a smoothie bowl, in this post: How-to Make a Smoothie Bowl + 8 tips!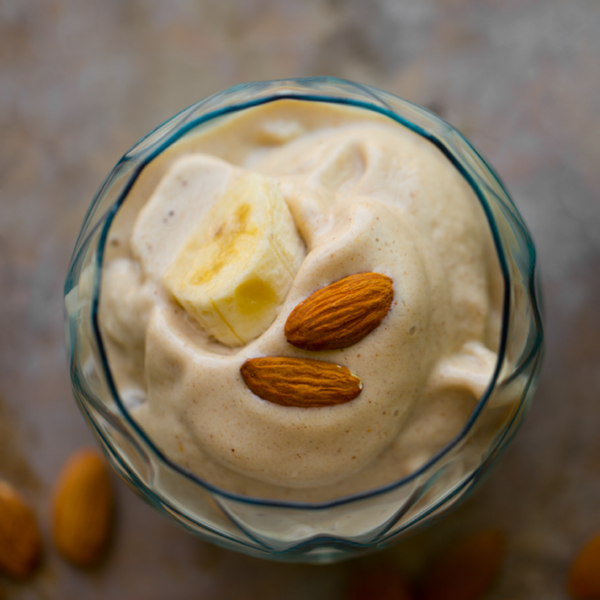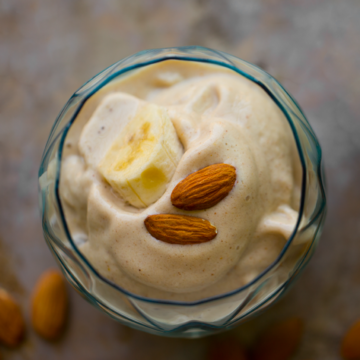 Easy Energy Almond Butter Banana Shake
Frosty and creamy, this dairy-free shake is sure to please kids and adults! Rich in potassium, fiber, healthy fats and protein.
Print
Pin
Ingredients
2-3

bananas

,

frozen – about 2 cups

1

cup

non-dairy milk

⅛

teaspoon

cinnamon

2

tablespoon

almond butter

,

or another nut butter
Instructions
Add all ingredients to high speed blender and blend from low to high until smooth.
Notes
Optional:
½ cup ice
1 scoop vegan protein powder
Non-dairy milk note: Add more or less non-dairy milk as needed to blend. Using as little liquid as possible will lead to a thicker, more ice cream-like smoothie.
nutrition estimate | per serving
Calories:
257
kcal
|
Carbohydrates:
34
g
|
Protein:
8
g
|
Fat:
12
g
|
Saturated Fat:
1
g
|
Sodium:
61
mg
|
Potassium:
709
mg
|
Fiber:
5
g
|
Sugar:
18
g
|
Vitamin A:
539
IU
|
Vitamin C:
19
mg
|
Calcium:
227
mg
|
Iron:
1
mg
Creative Shake.
I make this recipe a lot! And I often experiment with ways to simplify the ingredients – or give the flavor a spin. I once added a dollop of vegan chocolate-hazelnut spread for a "Choco-Almond Shake" .. that was yummy.
But lately I've been simplifying the ingredients from the original recipe because I didn't really need them when I'm in a hurry to make this shake. I omitted the extra sweetener as well as the cider vinegar.
Frozen Bananas.
You will need two frozen bananas for this recipe. Be sure to freeze your bananas when they are very ripe – a few black spots. And be sure to slice your ripe bananas into quarters before freezing them, so that they will blend easily once used. Note: two ripe fresh bananas will not work in this recipe. The smoothie would be too mushy and gooey. You need frozen fruit.
Nutrition.
This smoothie is a good source of vitamin E, fiber, protein and potassium. Plus it is packed with energy from healthy fats (from the almonds) and high quality carbohydrates from the bananas and non-dairy milk.
disclosure: This post contains a few affiliate links.