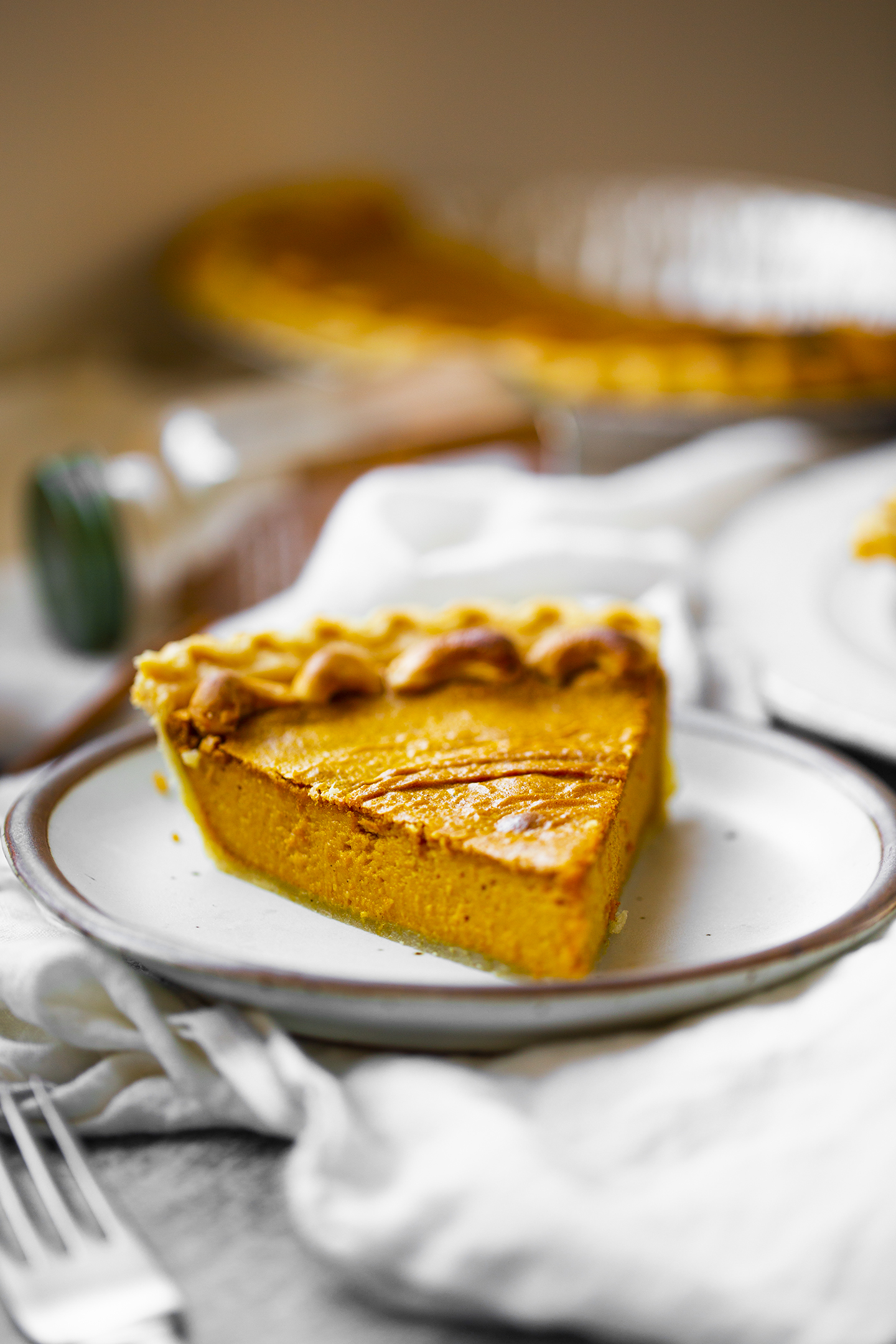 I admit it. I have a pumpkin pie recipe addiction. I love pumpkin pie so much that every year, around Thanksgiving time, I play around with a brand new recipe. And this year, I dove in and tried this Two-Ingredient Pumpkin Pie. And it was surprisingly amazing.
So today, for all you 'scared of too many ingredients' cooks out there. This may be the holiday recipe for you! Plus I remind you what my fave go-to recipe is that I personally use every year. Check out how it works…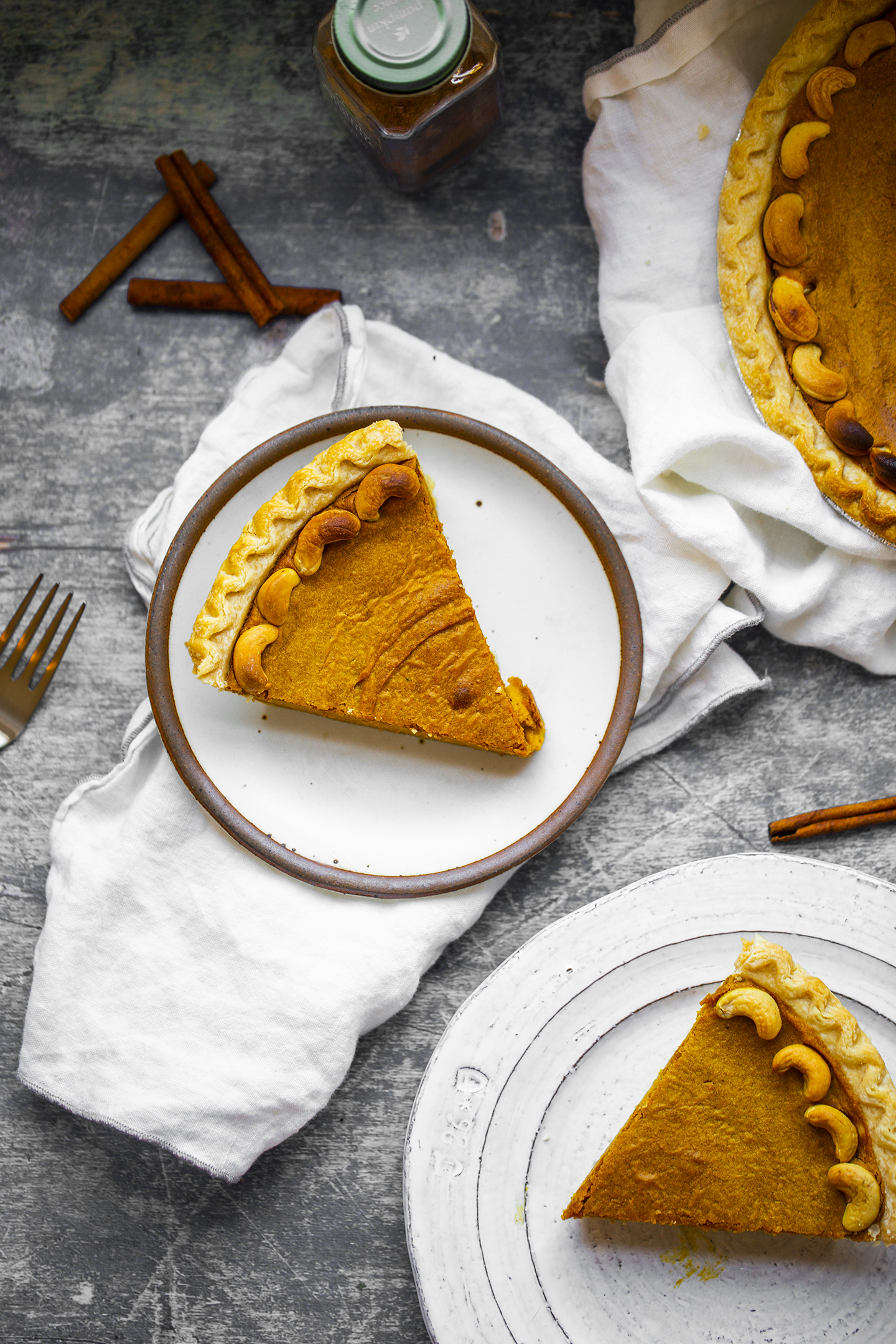 Simple Pumpkin Pie
When it comes to simple pumpkin pie recipes, this one shines! It's vegan, fluffy, rich and bakes up a beautiful golden orange color. The two ingredients are……
Organic Pumpkin Pie Mix
Cashews

A pie crust…. but actually this pie would bake up fine crustless too
My Favorite Pumpkin Pie Recipe
Before you move further down the post, I want to remind you what my all time fave pumpkin pie recipe is. This one! It still includes the soaked cashews, but it also includes more DIY options like adding in your own sweetener (I use maple syrup) and pumpkin pie spice, vanilla extract and even one small apple! The apple is my secret ingredient for adding some fluffiness and a tart-sweet accent of flavor.
Browse all my fave Thanksgiving recipes + tips in this post!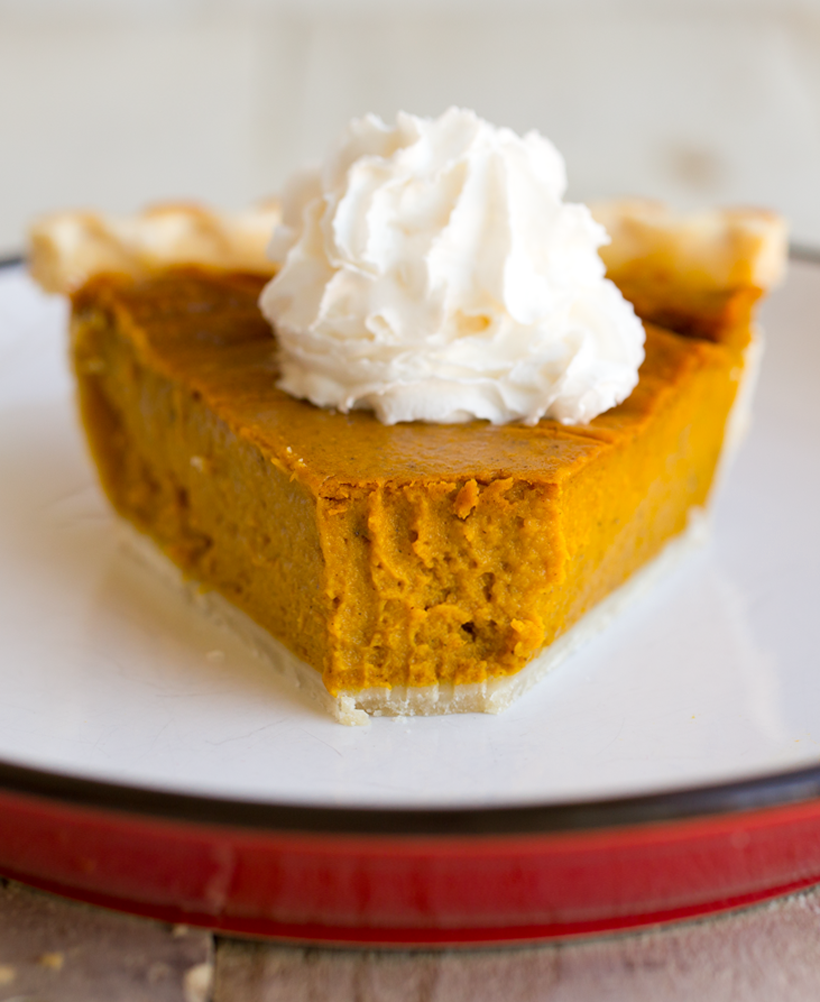 My Vegan Thanksgiving Resources: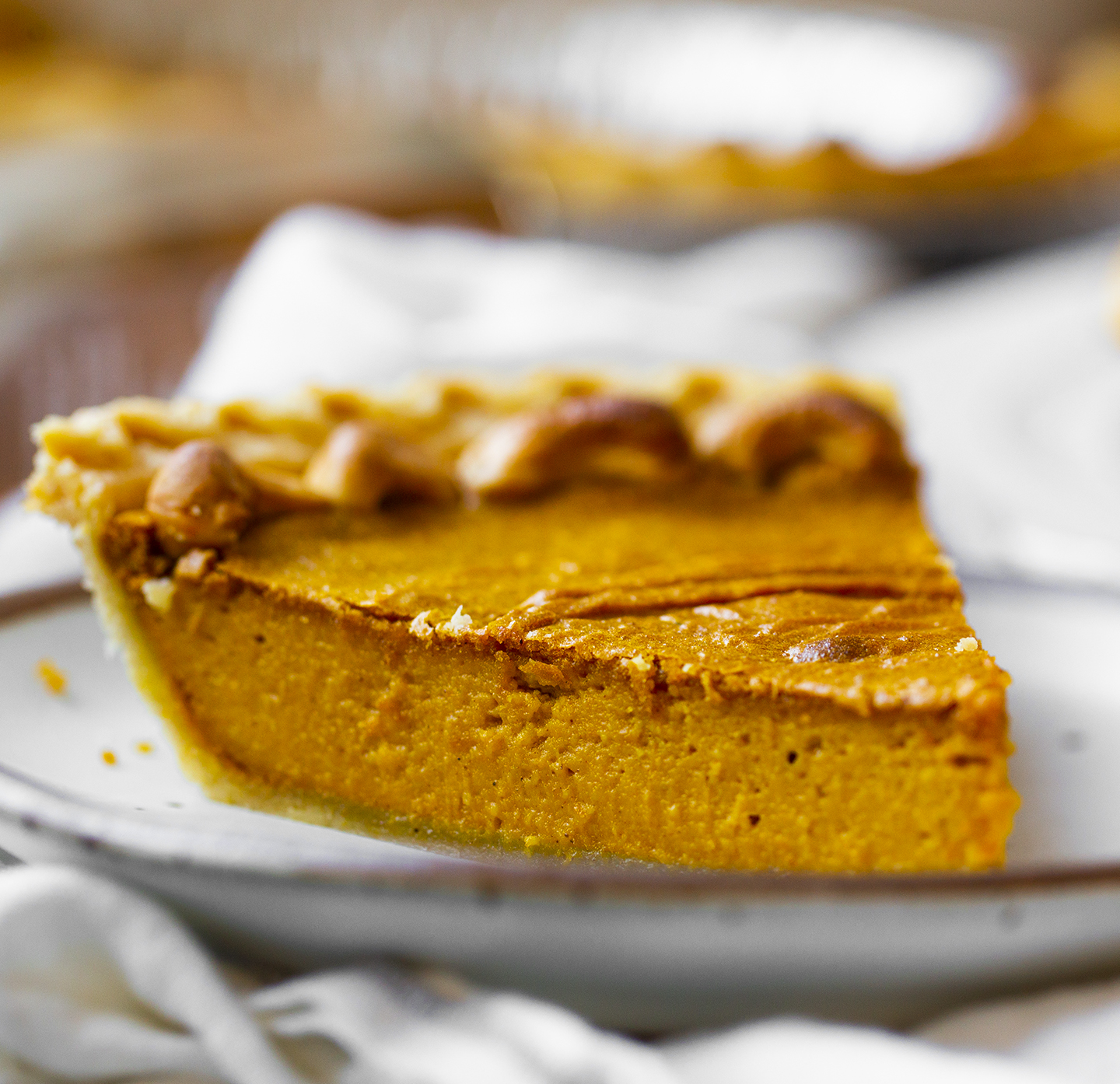 Notes About This Recipe..
Before you get too excited about the idea of a two-ingredient pie, I do have a few caveats to this recipe. While I devoured my slice last night and totally loved it, I think this recipe, compared to my fave one, it is slightly lacking in a few areas. (I would 100% still make this recipe again because it's SO easy, but here are my notes..)
Dense. This recipe makes a pie that is on the dense side. It could be a bit fluffier for my personal tastes. The reason is because the cashews are quite dense and really add a sort of 'cheesecake' like texture to the pie.
No Shine on Top. One of my favorite things about pumpkin pie is the slick shine that it gets the next day after chilling in the fridge overnight. Because this pie is so heavy with nuts, I don't think the shine shows up as well.
Sweetness. Because the only sweetness comes from the sugar that is in the pumpkin pie mix, you don't get a really bright sweetness. But this is easily remedied by adding some sweet coconut whip on top or serving it a la mode. And if you don't want an overly sweet pie – this may be perfect for you!
Salt. I found that this pie could use a pinch or two of sea salt. But this could easily be remedied by adding some salt to your overnight cashew soak – or by simply adding a few pinches when you blend the filling.
But as for very slight 'problems,' that's really it! The texture, pumpkin flavor and spice and aroma of this pie was just lovely. I was very happily surprised by how well a TWO ingredient pumpkin pie turned out.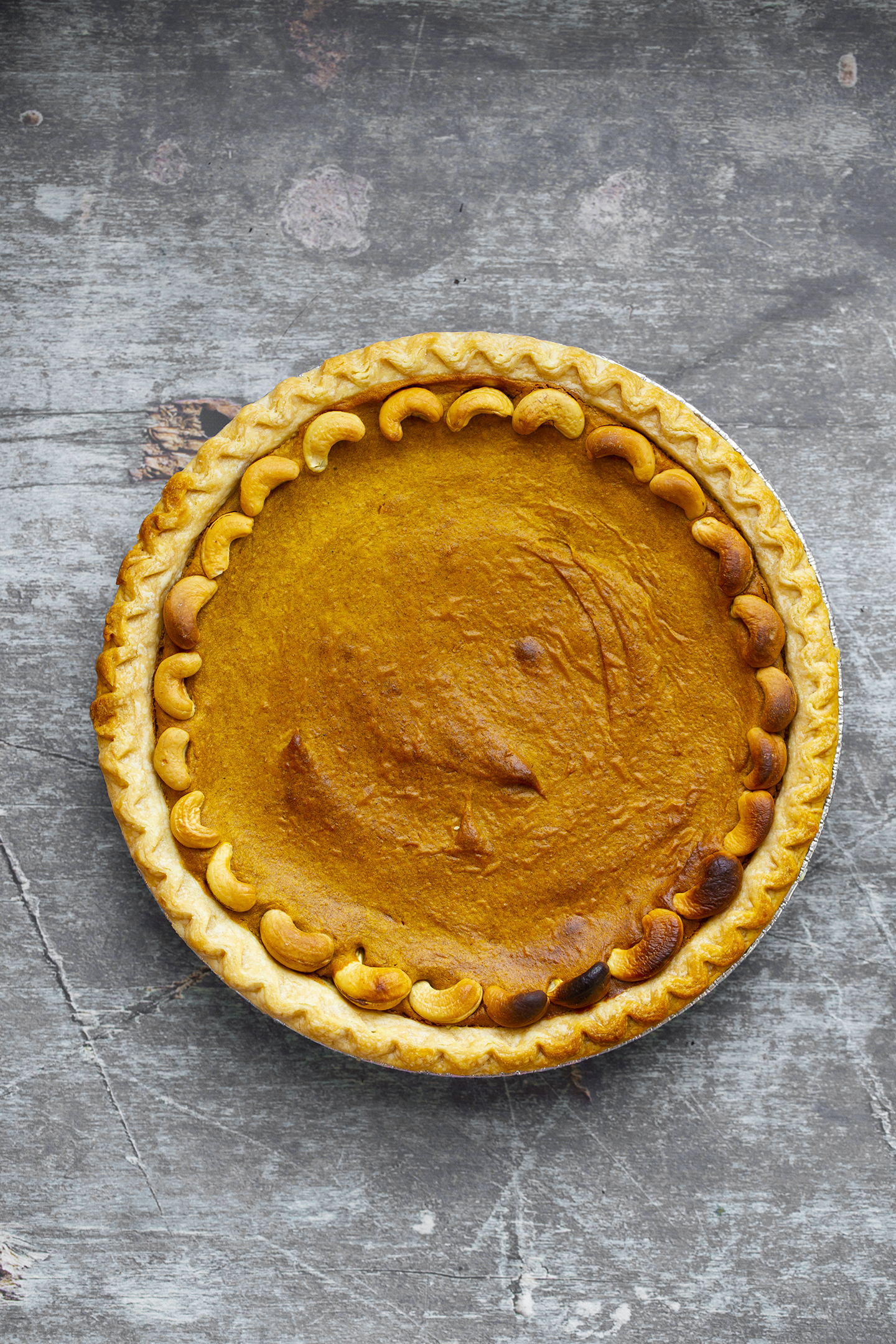 Which Vegan Crust Should I Use?
If you are looking for a vegan store-bought crust, I usually buy Wholly Wholesome crusts that you can find at Whole Foods. And when I'm not testing recipes for filling, or for Thanksgiving day I try to make my own crust. I also love a good graham cracker crust for pumpkin pie.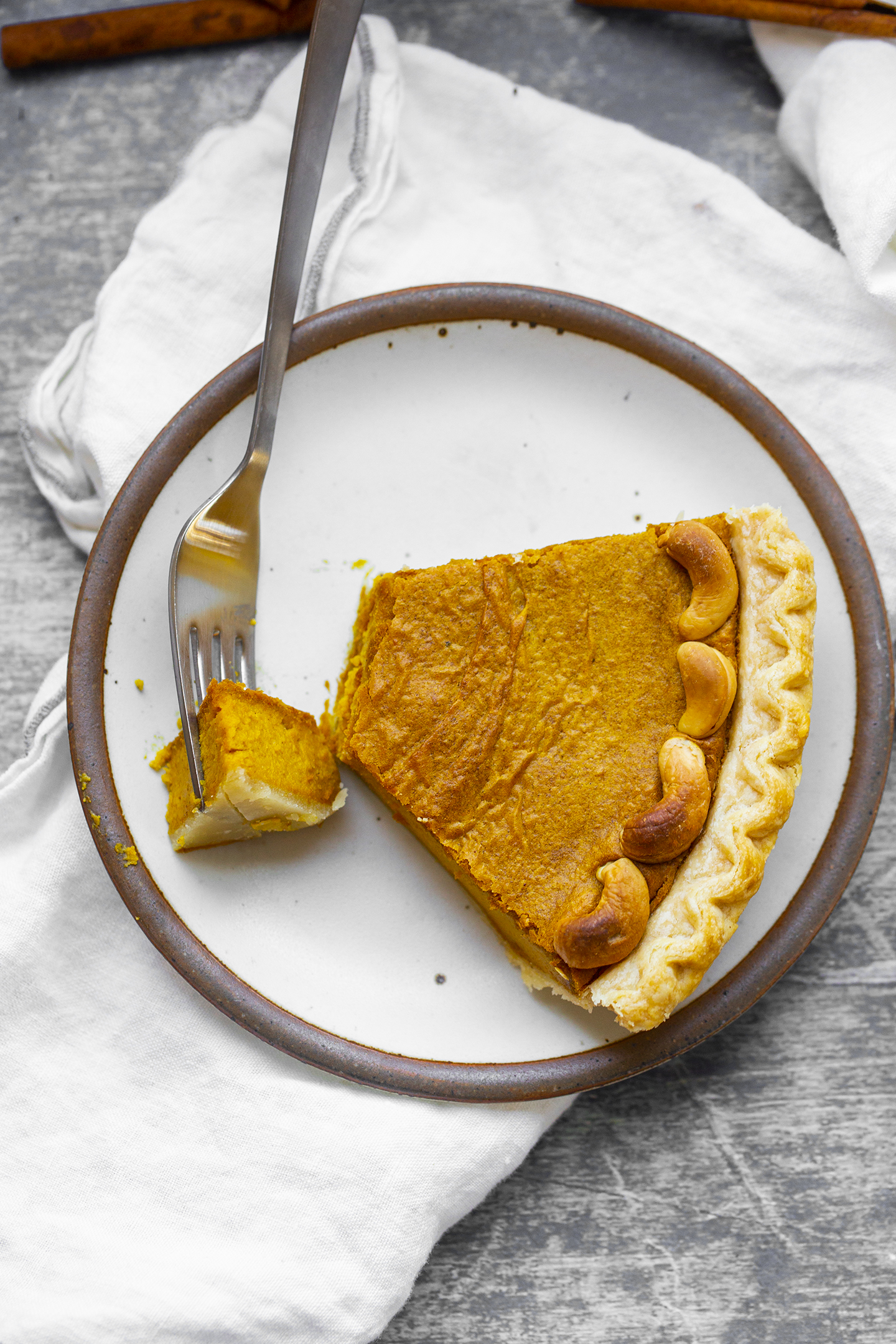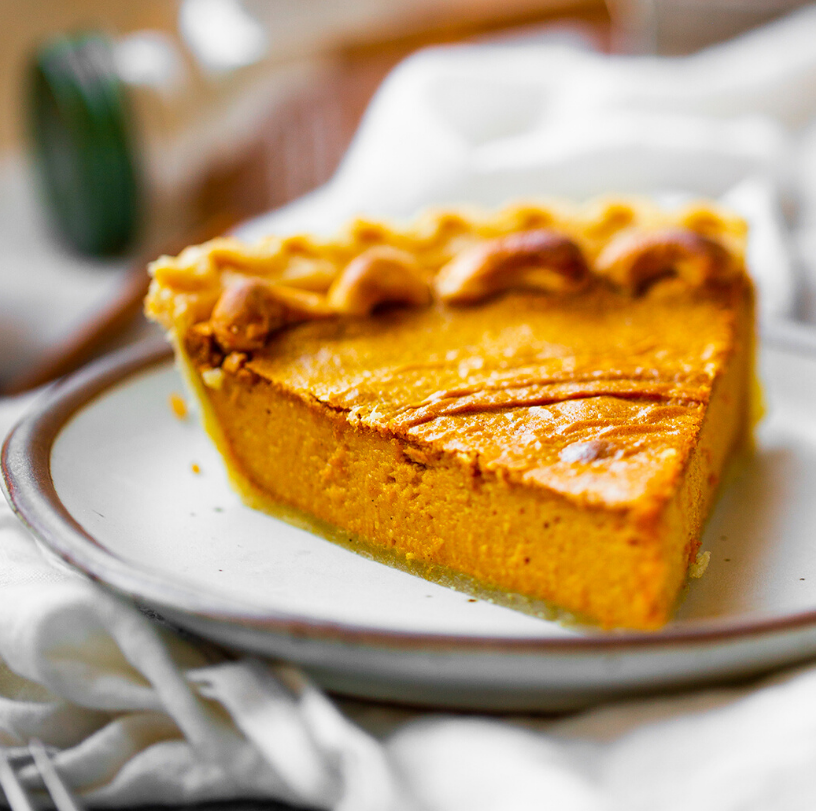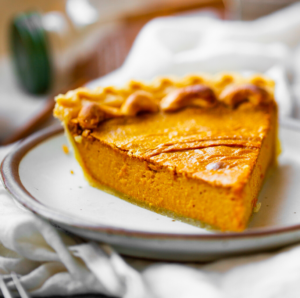 Two Ingredient Pumpkin Pie
This super simple vegan pumpkin pie recipe uses two ingredients. Pre-sweetened and spiced pumpkin puree as well as healthy raw cashews, soaked to perfection. Thanksgiving ease!
Print
Pin
Ingredients
15

oz

Pumpkin Pie Mix

,

organic

1 ½

cups

cashews

,

raw
Pie Crust
1

whole

pie crust

,

premade – or DIY
Instructions
The Day Before
A day before you want to make your pie, you will need to soak your cashews. Add them to a large mixing bowl and fill bowl with water. Add a pinch of salt to the water – optional. Cover and soak in the fridge overnight.
Day of
Preheat oven to 425 degrees.

Drain and rinse the soaked cashews. They should be softened and plumped up quite a bit. Add the drained cashews to your blender. Note: When soaked, you should have just under two cups of soaked cashews.

Add the pumpkin pie mix to the blender.

Blend from low to high until smooth. This will take a good 5-7 minutes of stopping the blender, scraping down the sides and starting again. When your filling mixture is silky and smooth, pour it into your pie crust.

Add the optional cashew garnish around the edges of the pie. Then place the pie in the oven.

Bake at 425 degrees for ten minutes, then reduce heat to 325 and bake for an additional 30-40 minutes. You want the crust edges to turn golden brown but not burn. The top of the pie should look golden as well.

Remove pie and cool for at least a half hour before serving. Store leftovers, covered, in the fridge.
Notes
Troubleshooting + Notes:
Chunky Blend: If you are having trouble blending, your cashews may not have soaked for long enough. Raw cashews can vary in driness, so some may need a longer soak. You can add in a splash or two of non-dairy milk to your blend to thin things out.
Pie Crust: If you want to DIY your crust, here is a video and recipe.
Sweetness: If you really want a sharp sweetness to your pie, you can add 3 tablespoon maple syrup to your blend. Another option would be to add in a small honeycrisp appl to your blend.
—–
Nutrition: Since pie crusts vary, this nutritional info is only for the filling portion.
nutrition estimate | per serving
Calories:
151
kcal
|
Carbohydrates:
17
g
|
Protein:
4
g
|
Fat:
9
g
|
Saturated Fat:
2
g
|
Sodium:
91
mg
|
Potassium:
186
mg
|
Fiber:
4
g
|
Sugar:
1
g
|
Vitamin A:
3529
IU
|
Vitamin C:
2
mg
|
Calcium:
23
mg
|
Iron:
2
mg