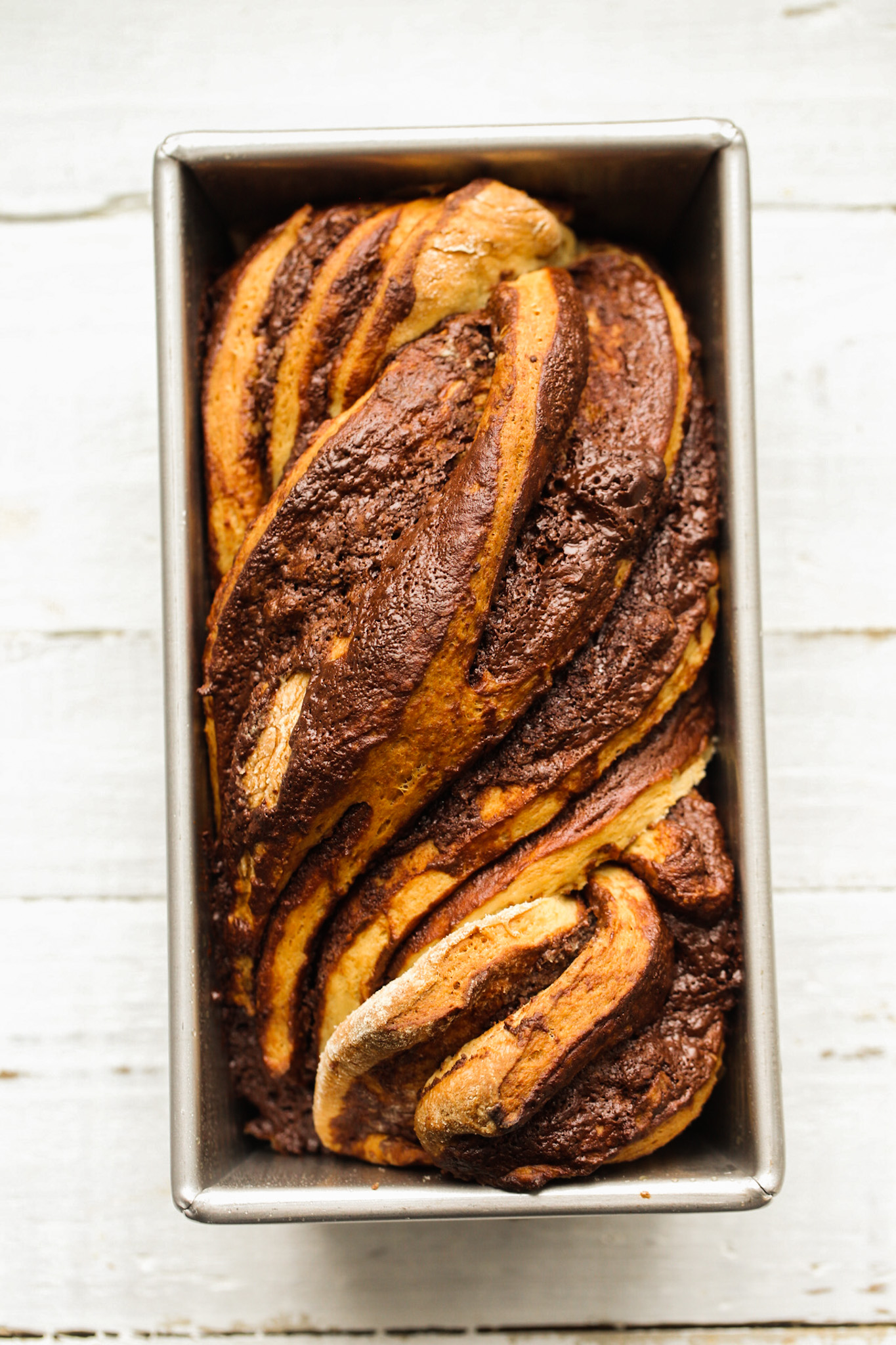 Everyone is on a baking kick right. Comfort food. Dough. Buttery flavors. Caramelized sugar. Chocolate. Oh yeah. And Babka is a recipe I have been seeing pop up lately. Looking for a baking challenge, I decided to dive in. This Cinnamon or Chocolate Vegan Babka is insanely delicious. Plus, I try a few Mini Babkas too!
If you love dough, baking and yummy things, keep reading…
Two versions of this Vegan Babka for you..
The difference is all in the filling. And I give two options for an egg replacer. Both tested + amazing.
Chocolate Babka…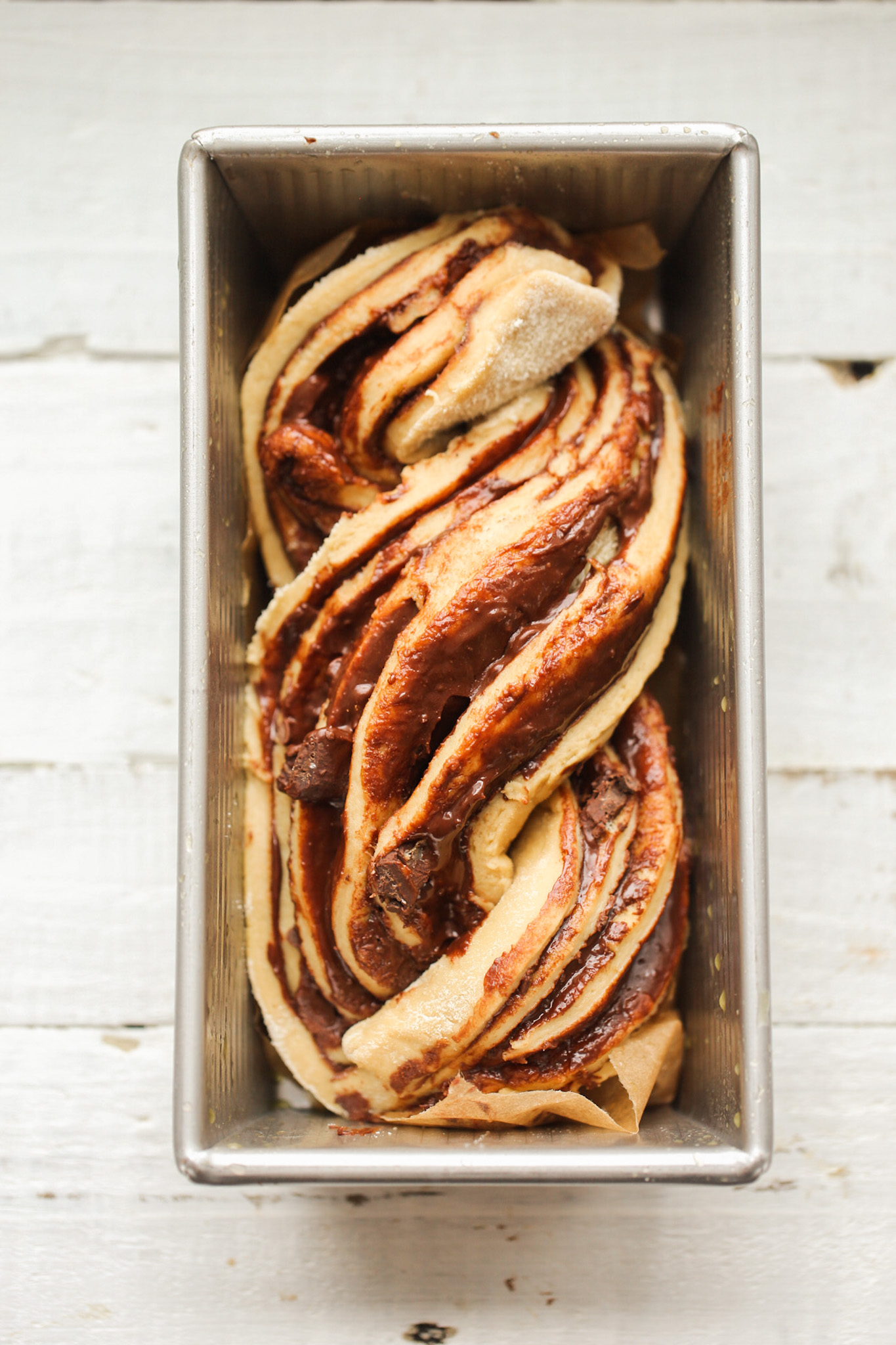 Bake this pretty, chocolate-swirled dough and watch it turn into something crazy-dreamy. Vegan Babka, warm from the oven, oh my!…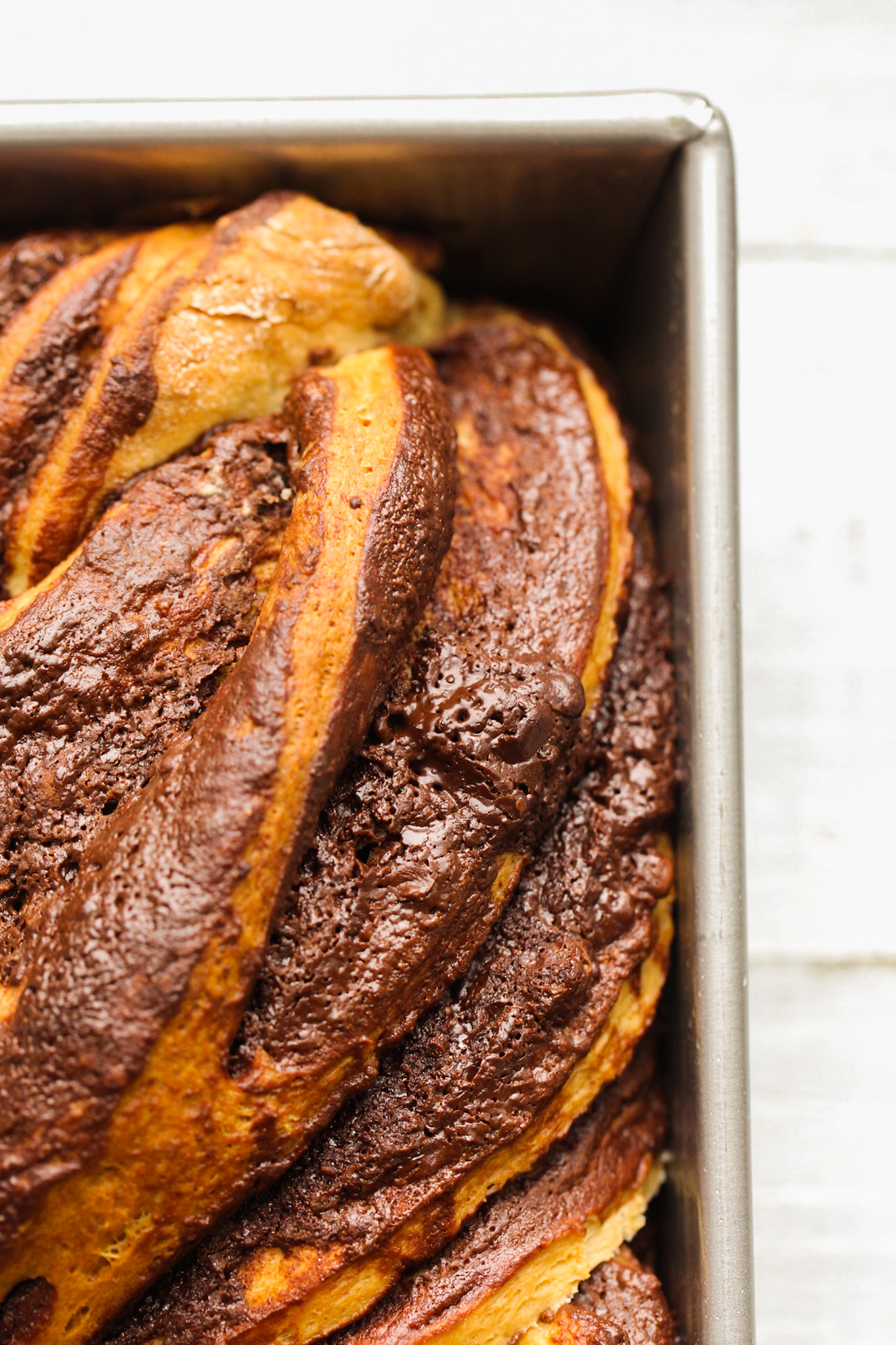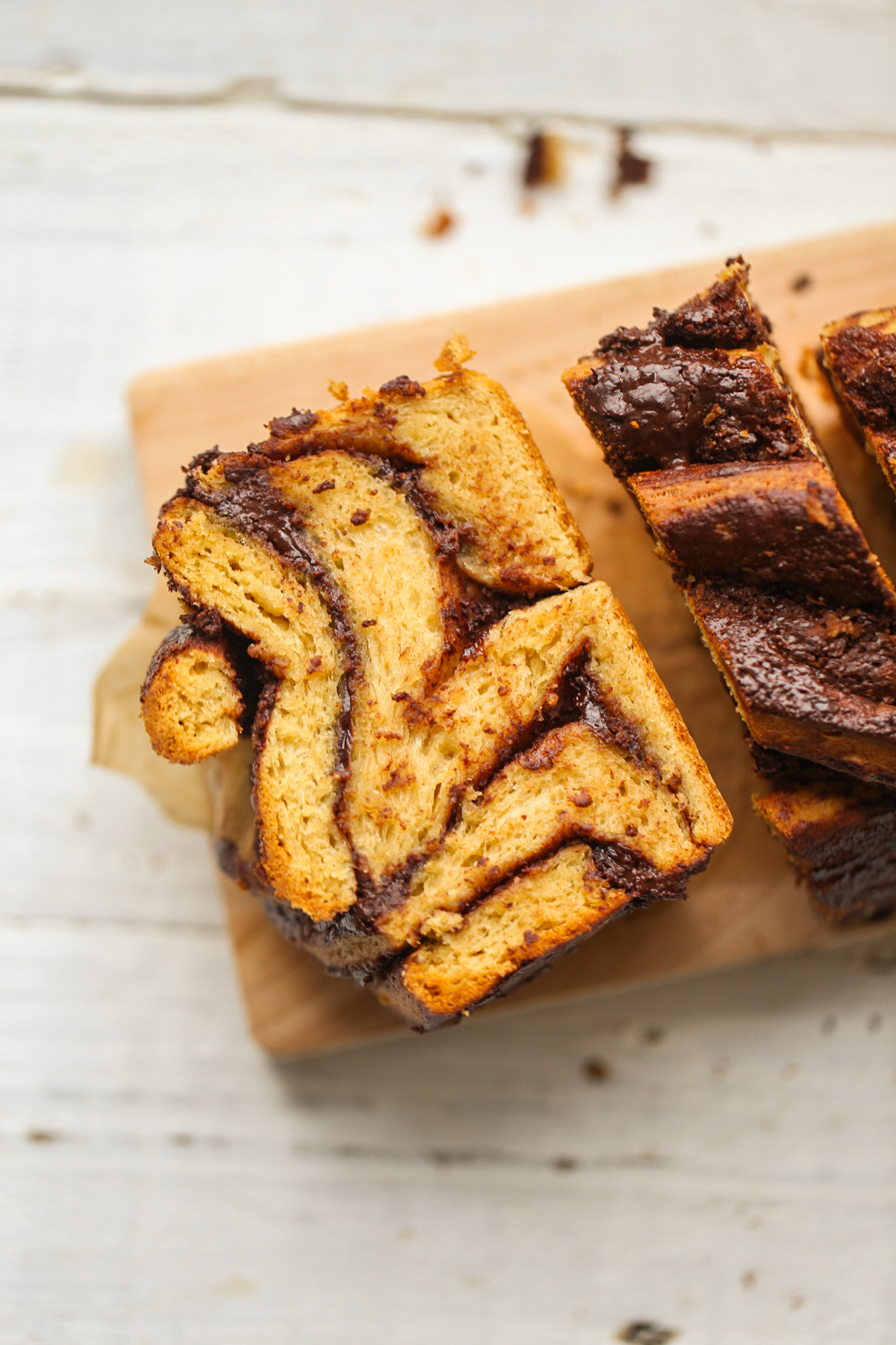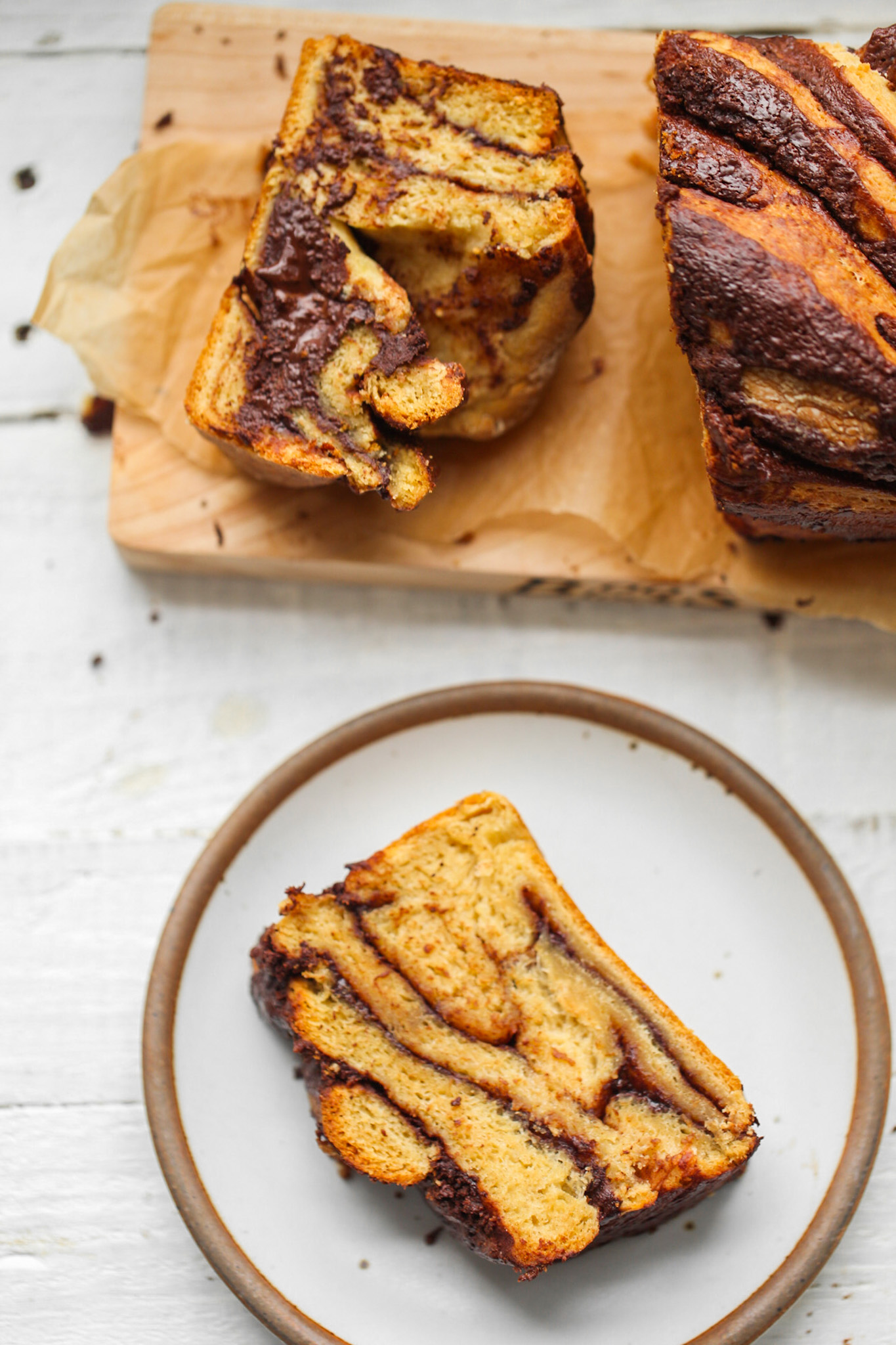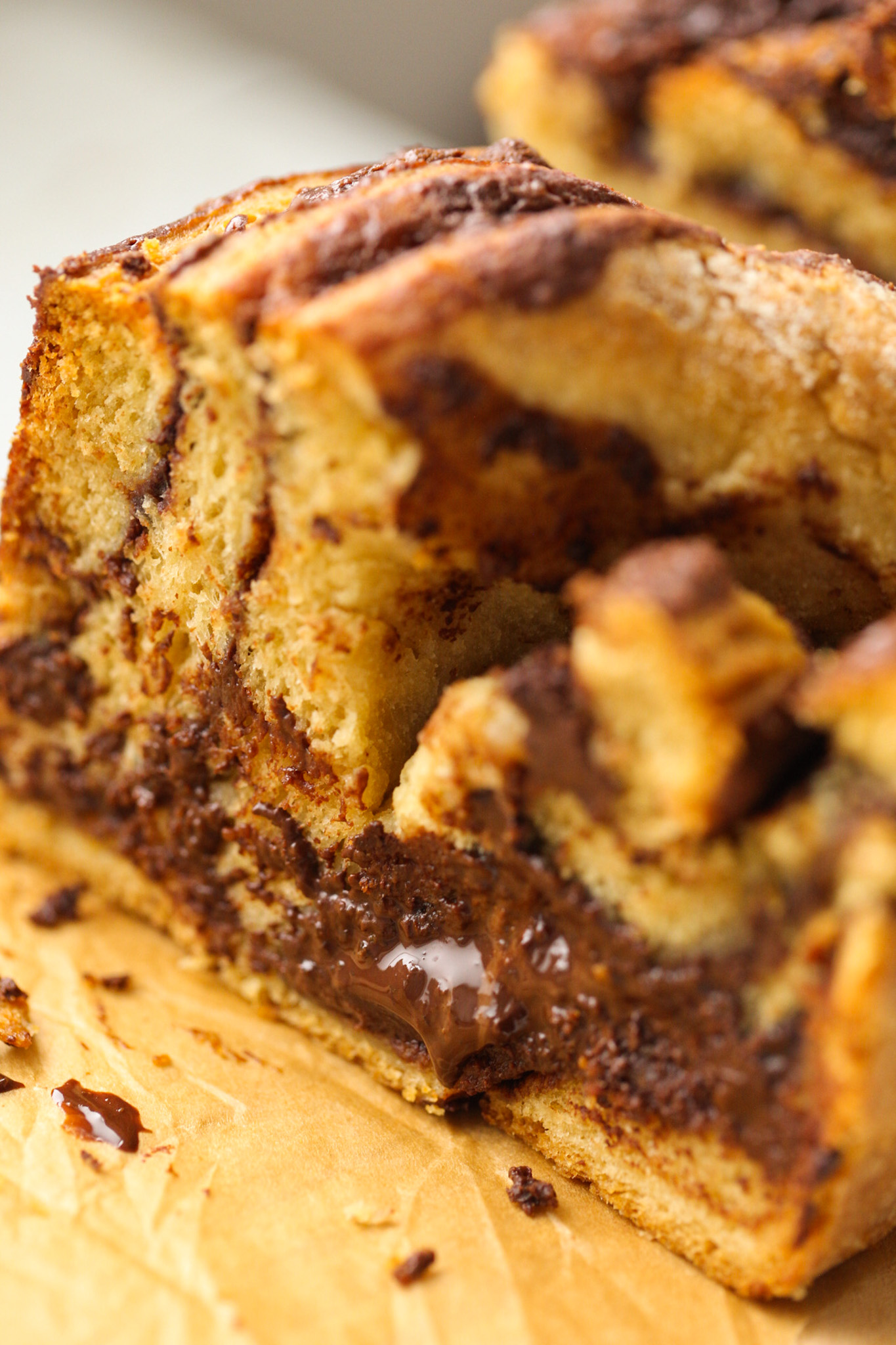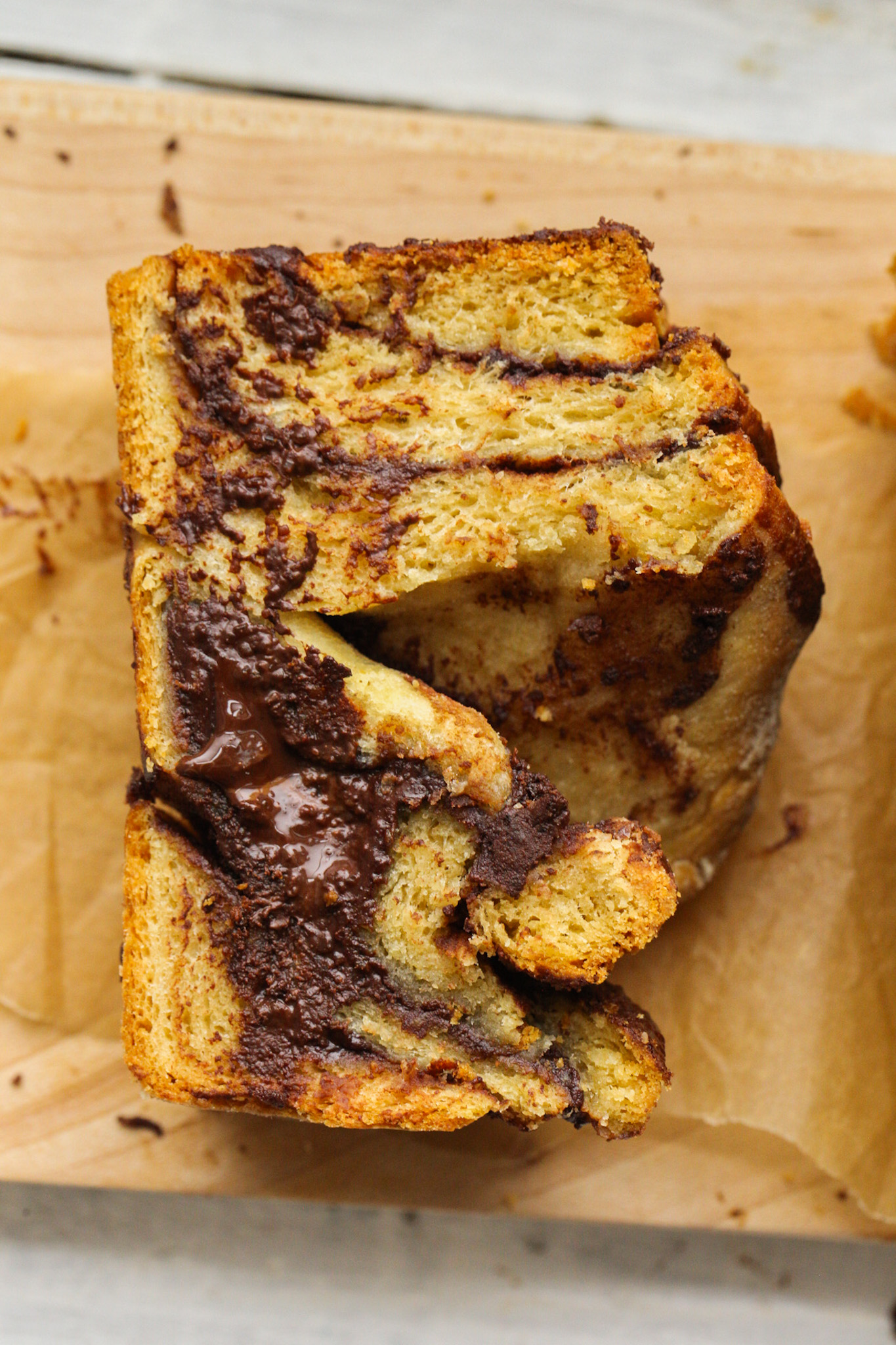 And, Cinnamon Babka
Fluffy and sticky-sweet, cinnamon roll flavors..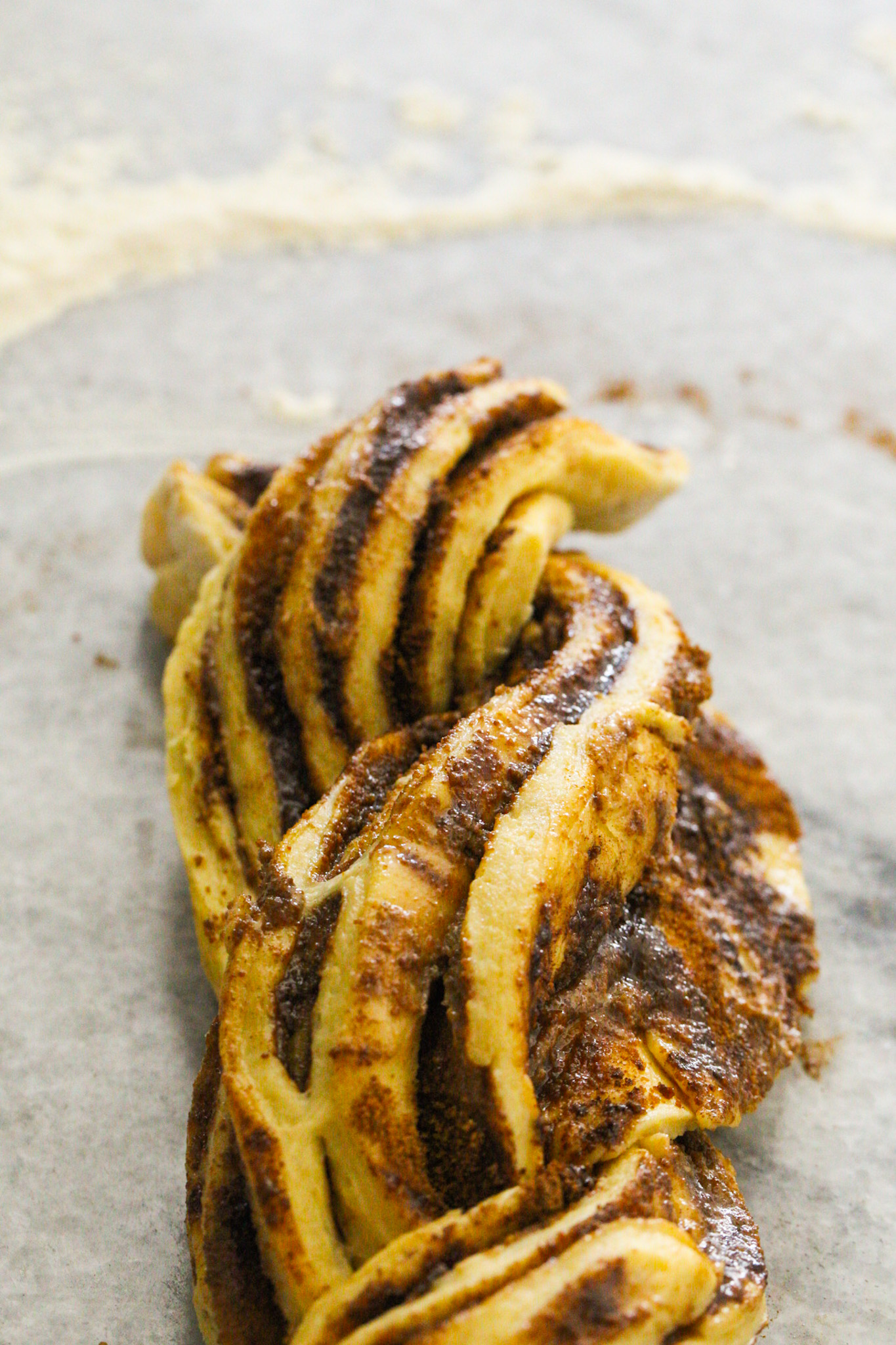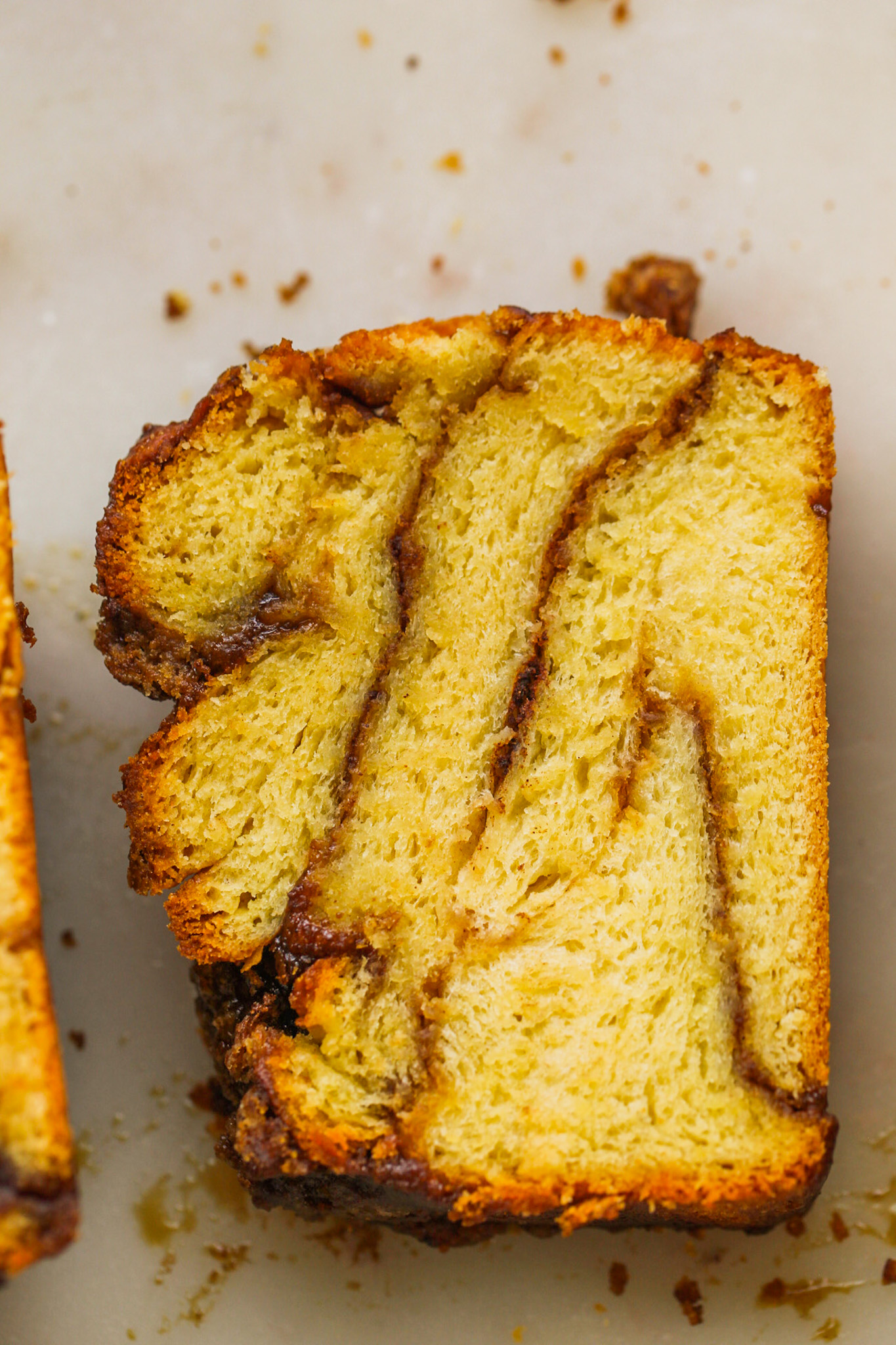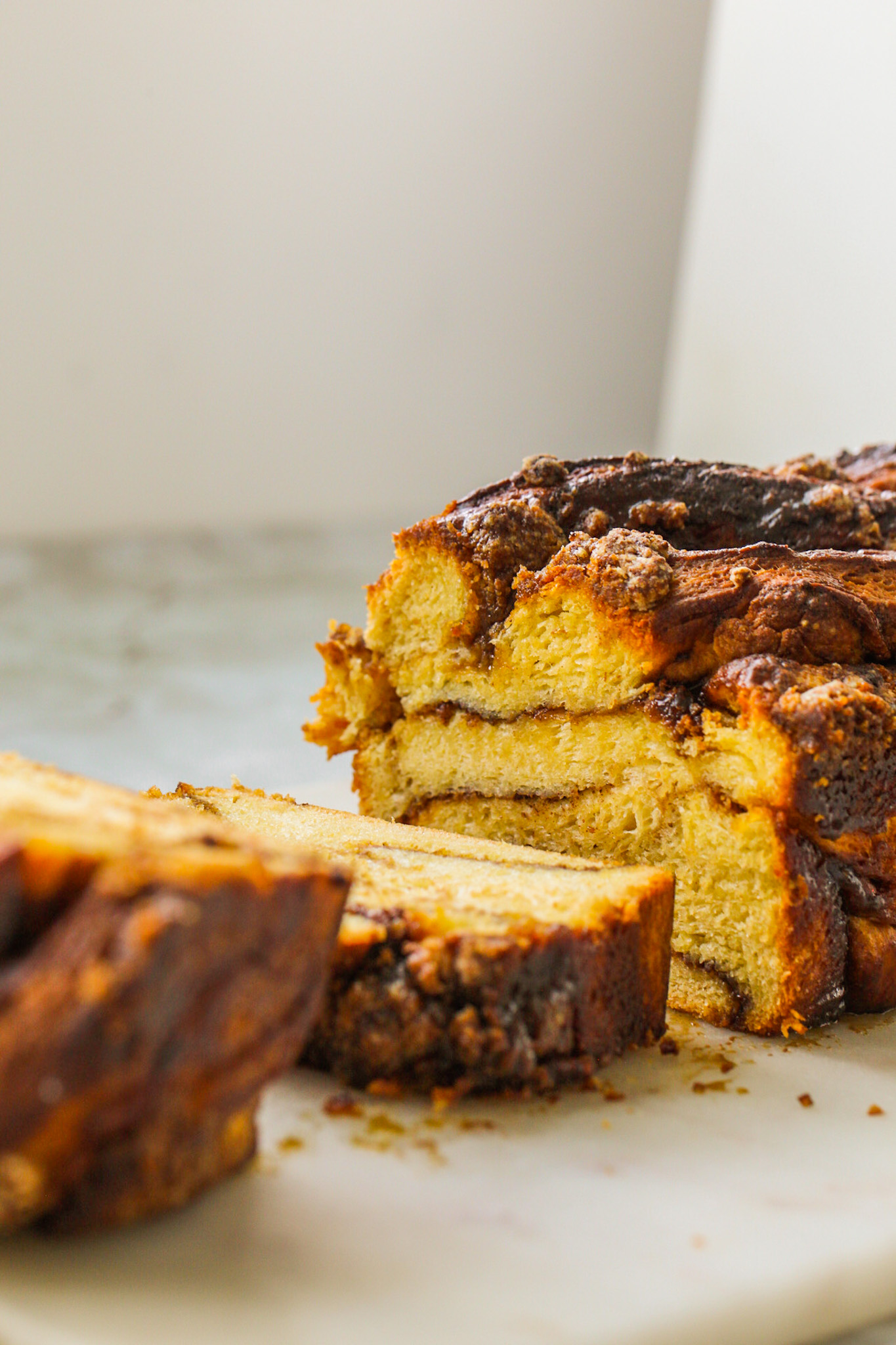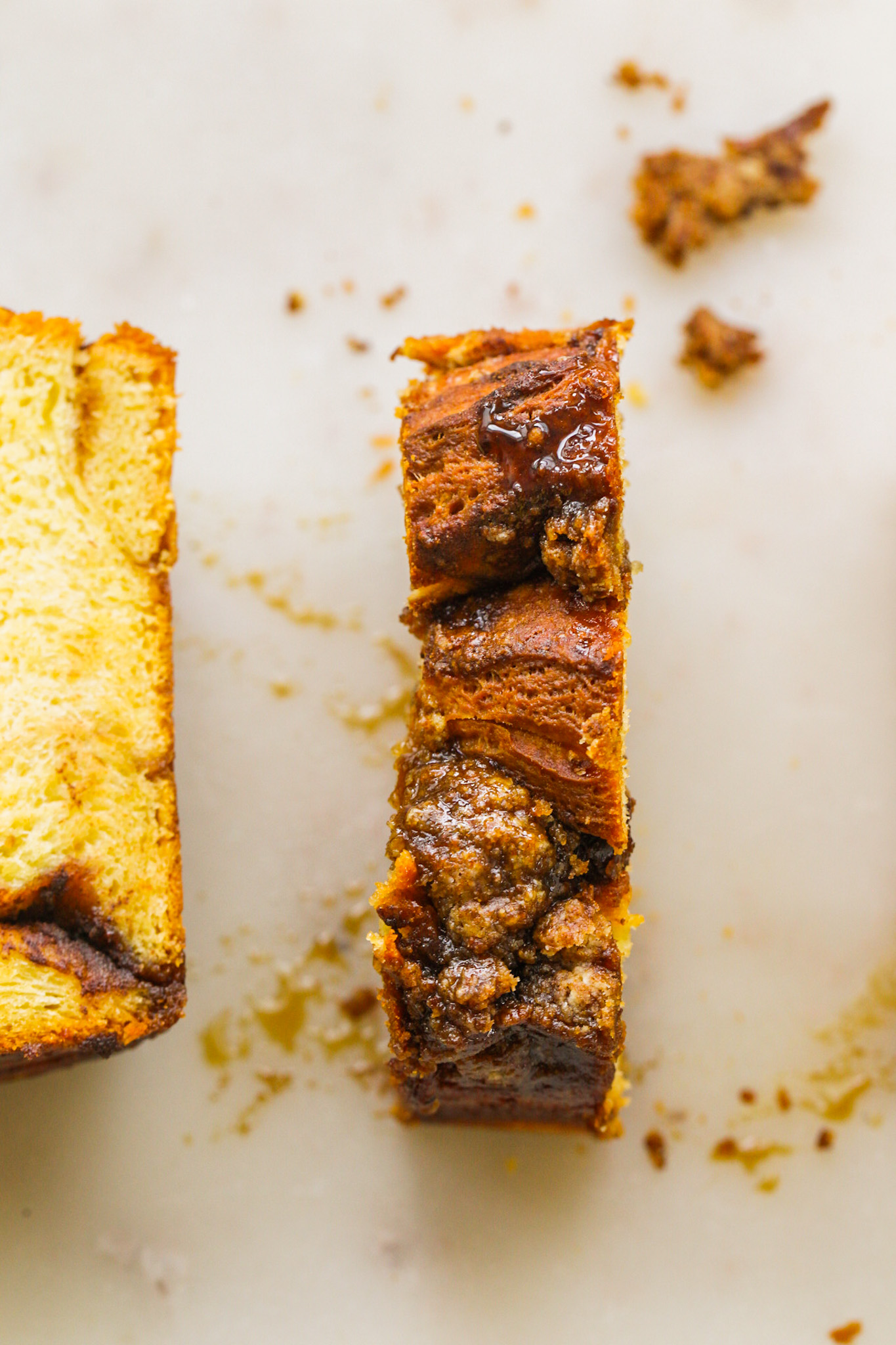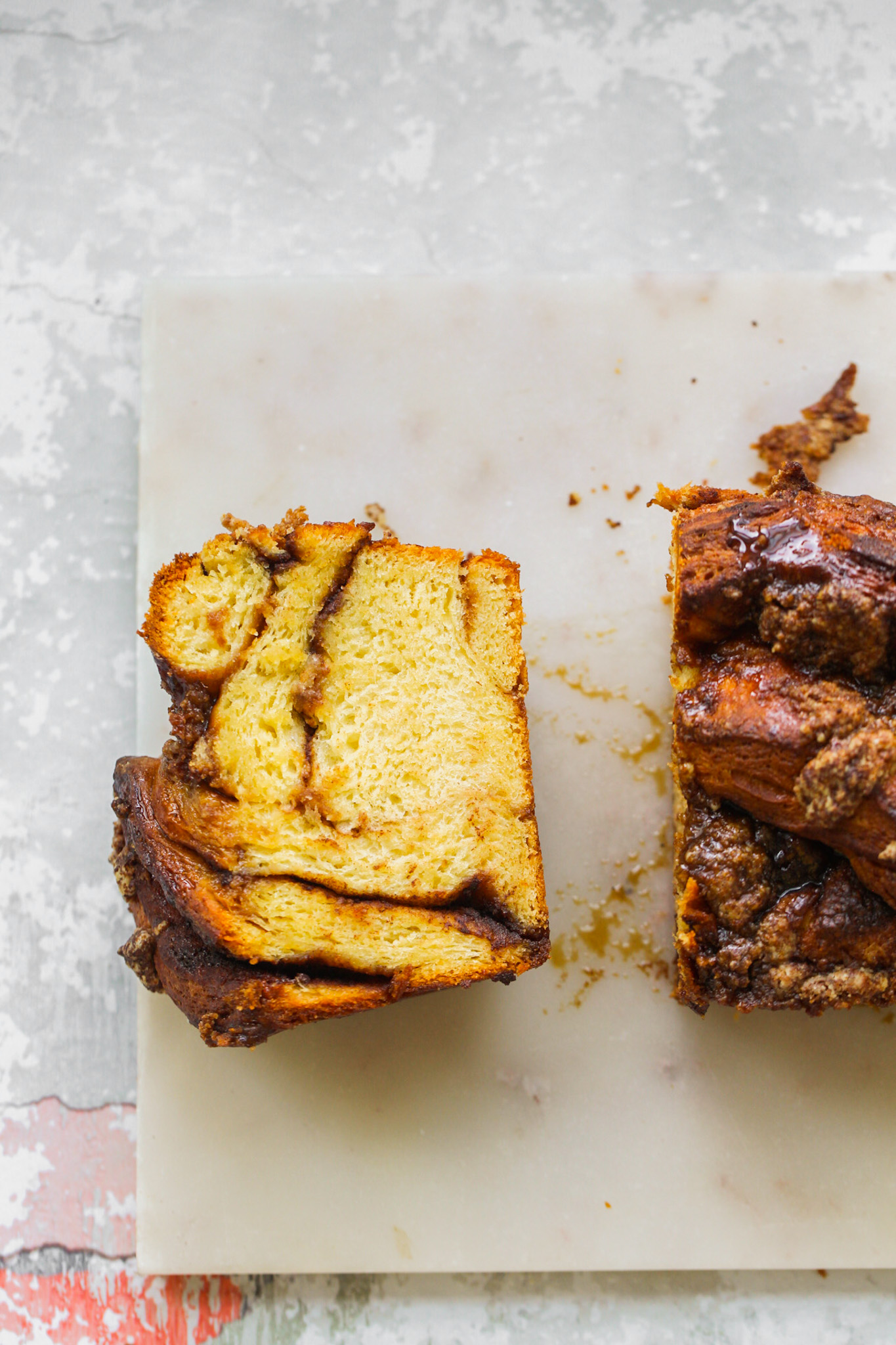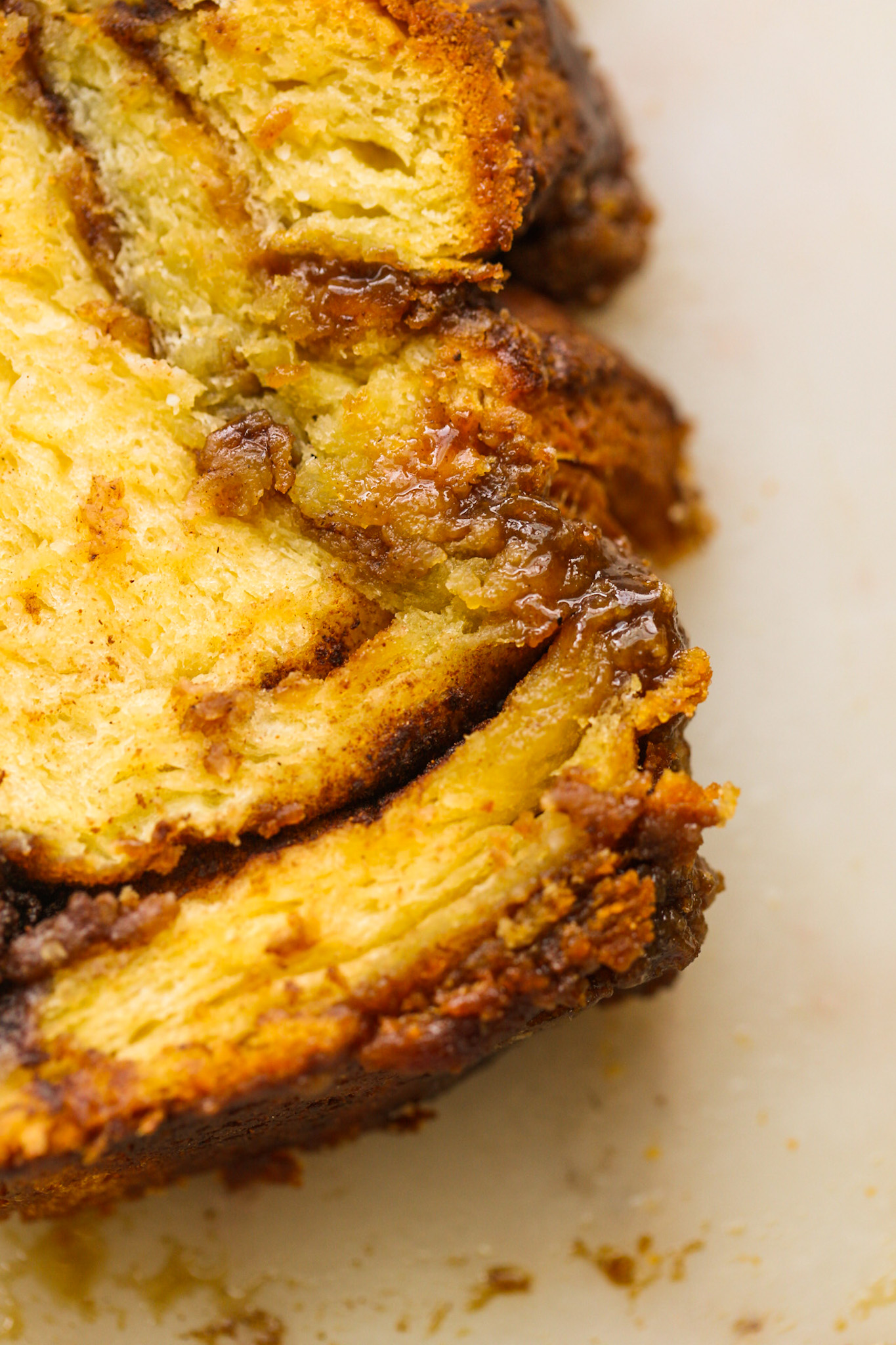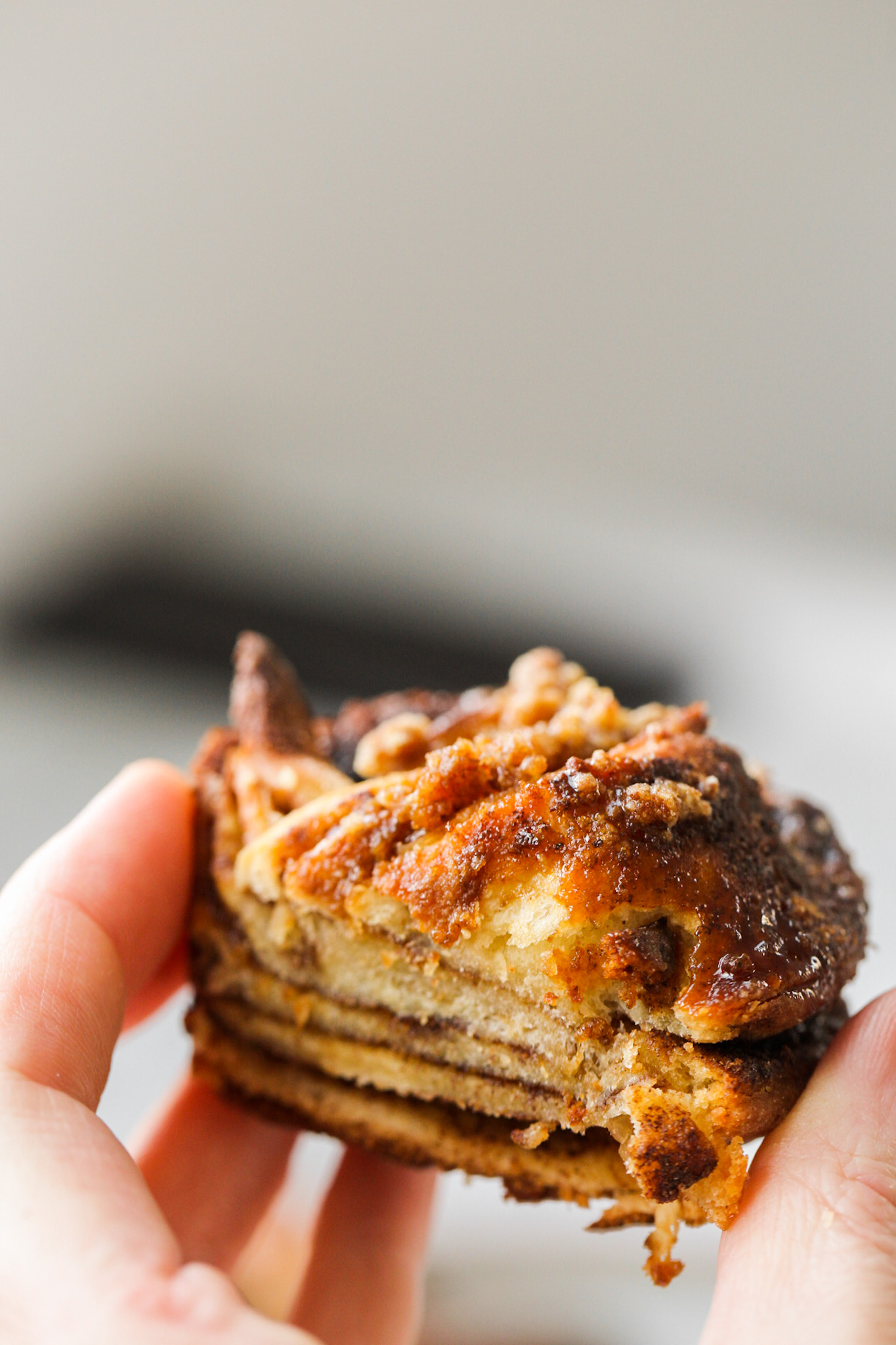 Babka. Vegan Babka.
I was a little concerned – at first – if a classic Babka could translate it's buttery, eggy deliciousness to a vegan version. But luckily, the substitutions I made worked perfectly. Not a thing lost in translation – and IMO so much more gained by making this a plant-based baked good!
The two main ingredients that you will need to veganize are butter and eggs. Easy though! I used Earth Balance buttery spread. It is the most butter-like option on shelves in my opinion.
And for eggs, I have two tested options for you!
JUST egg substitute. The yellow stuff in the bottle, in the fridge section. I chose JUST Egg over say, silken tofu, because I wanted to keep some eggy flavor + color.
Silken Tofu. I used this in the Chocolate version and was super happy with the results! You just puree the tofu along with the other liquids before adding to the yeast mixture. You want your tofu silky smooth when you blend it into the dough.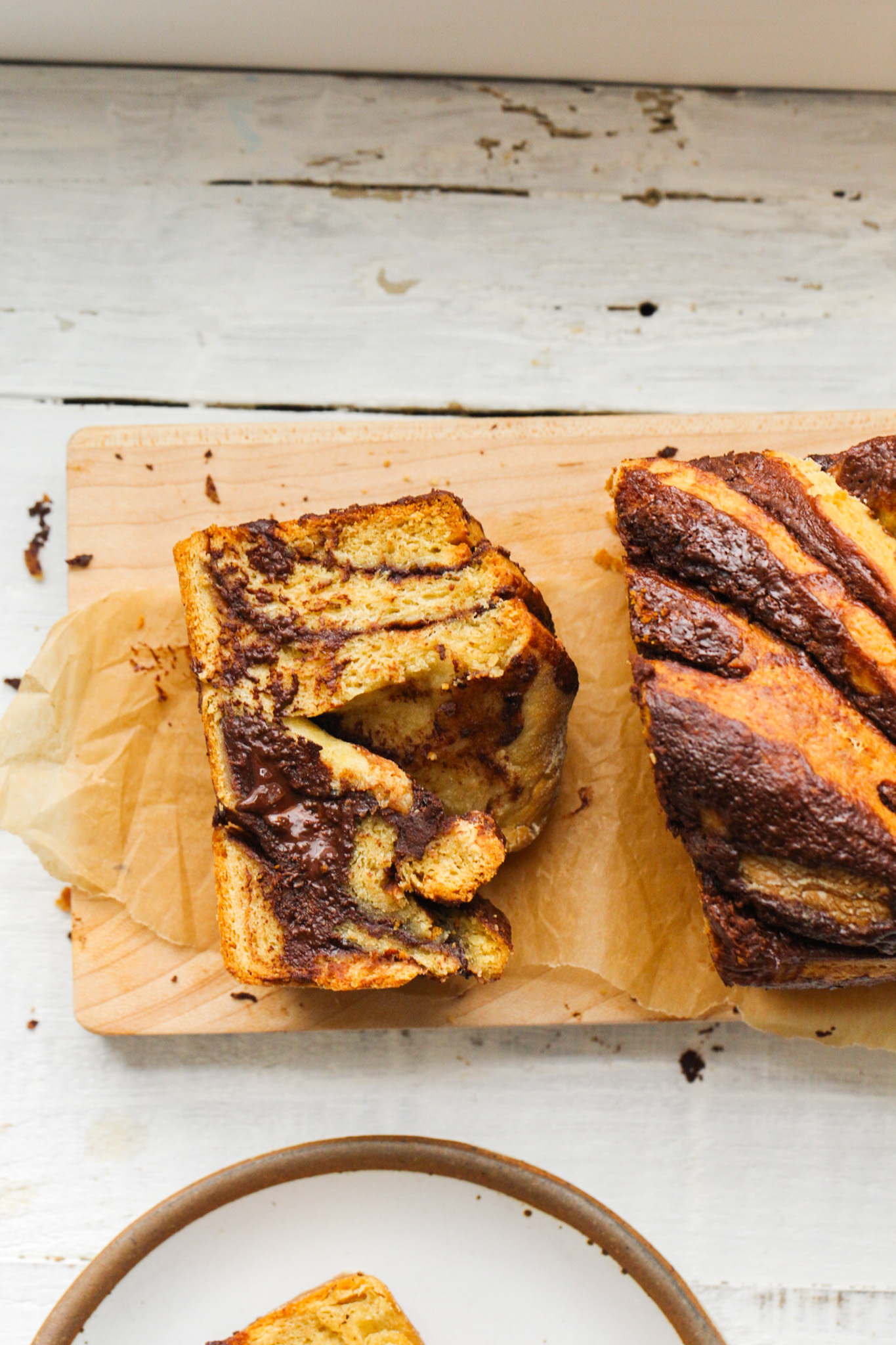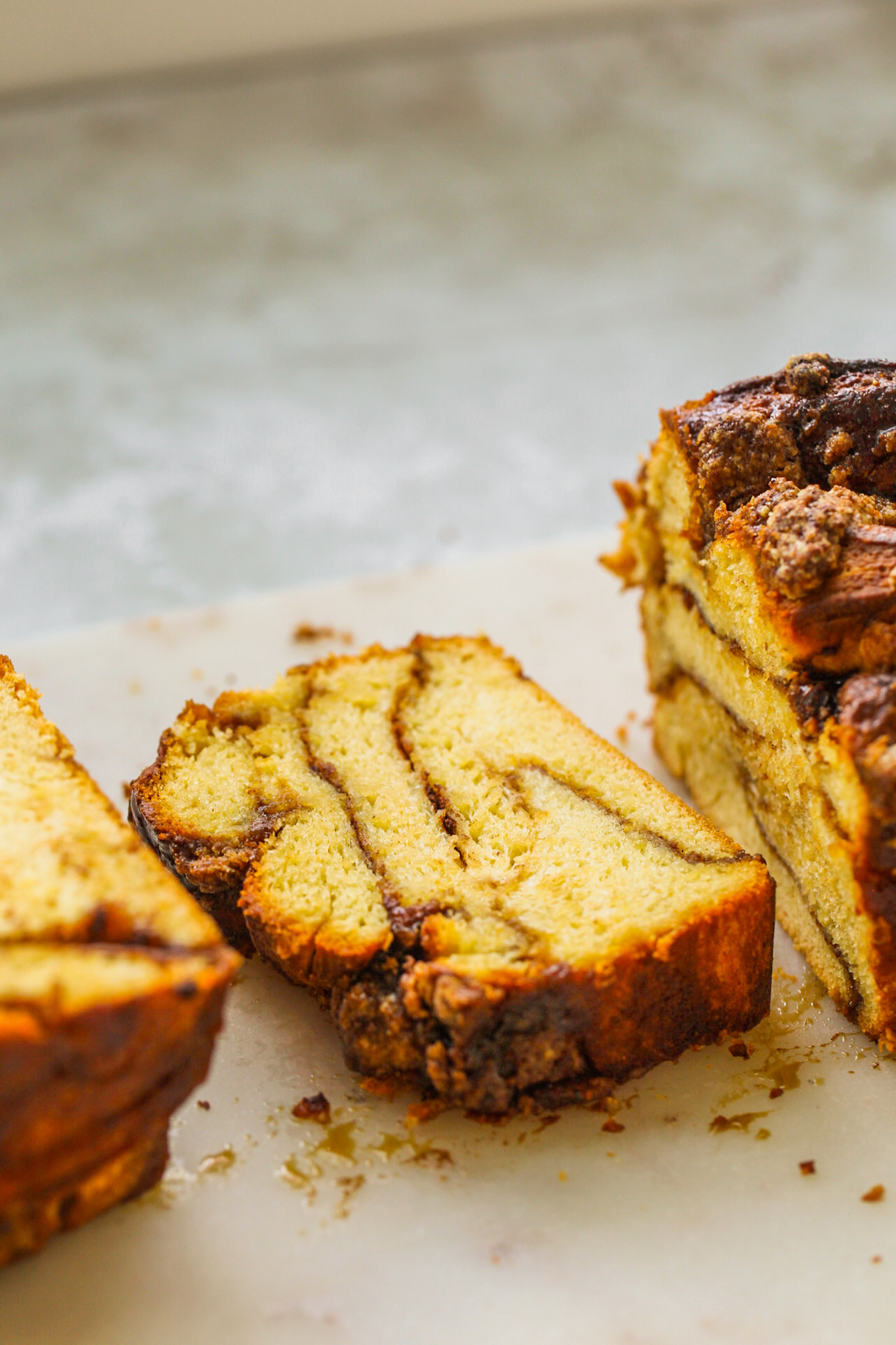 Vegan Ingredient Substitutions for Babka
JUST Egg has an egg-like flavor and when cooked, takes on the consistency of an egg. Fluffy, binding and of course that lovely yellow color. Silken tofu also mimics the texture of egg and adds protein too!
Vegan Babka egg replacer options:
silken tofu (tested!)
JUST Egg (tested!)
egg replacer powder + water
flax eggs
Some sort of fruit/veggie puree like squash or sweet potato or applesauce
The only other ingredient to sub is the milk. You want something rich! So a watery almond milk or rice milk or anything lower in fat won't work. I went with a rich and creamy soy milk.
Cooking Time + Temp for Vegan Babka
I did 350 degrees for 45 minutes for my first attempt. I felt the heat was slightly too strong, so 325 was tested next. Winner! 325 for 40-45 minutes is my sweet spot.
Around the 40 minutes mark, start watching your bread! When the top looks browned but not burnt, pull it. You can do a toothpick test too.
The loaf should feel almost hollow when tapped. That is from all the light and fluffy, yeast-driven air in each swirl.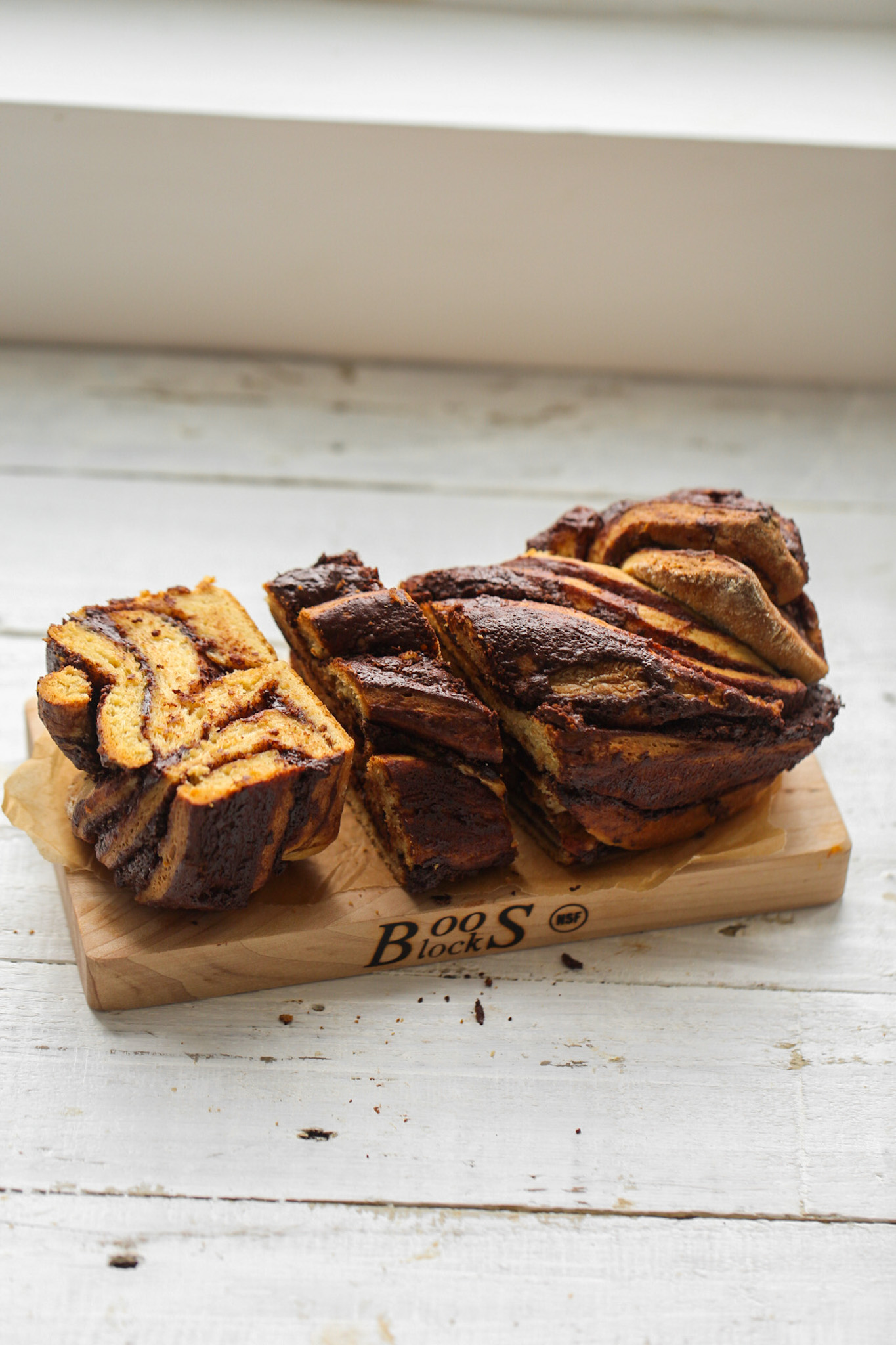 Is Babka Hard to Make?
Those pretty swirls, dense yet fluffy pastry bread and caramelized, syrup-toppped crust is a total showstopper. So how hard is it to make this beautiful baked treat?
Not that hard! however, it does require a good time commitment. There are two rises for Babka to give it a super fluffy texture. And the first rise is at least four hours.
Having a loved loaf pan makes this recipe easier too. I love this steel rectangle pan, or my fave Le Creuset stoneware loaf pan.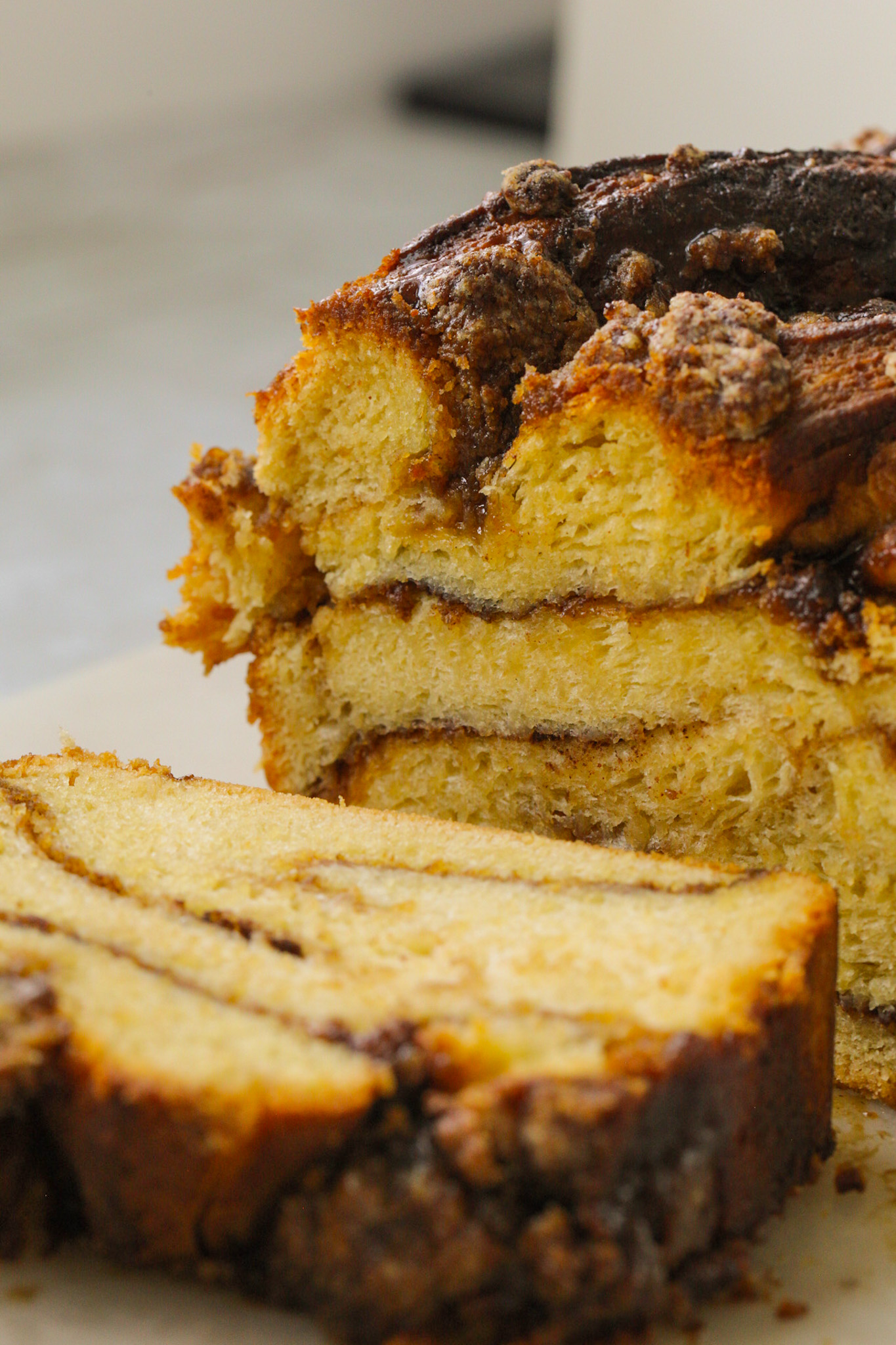 Gifting + Sharing Babka.
One cool thing about Babka is that is actually tastes better the next day – in my opinion! After it cools and rests, the dough really takes on this complex cake-y nature. Super flaky and buttery, yet still hearty. The top becomes crisp, yet chewy in a lovely way. The syrup sinks into the crevices and makes for a sticky treat.
So. I think my Vegan Babka would make an excellent gifting bread! You could even bake one and ship it overnight to your fave person.
Babka also travels well! It is nice and sturdy and slices really well so it's a perfect food item to contribute to events, potlucks, celebrations and more. (Not that many of us will be attending those any time soon. Oy.)
Babka Filling
Updated! I started with cinnamon and moved onto chocolate. Both awesome options! Cinnamon Babka tasted more like a brunch snack. While Chocolate Babka had dessert vibes.
For my Cinnamon Babka, the filling was exactly what I like to do for a cinnamon roll. Vegan butter, coconut sugar and cinnamon – generous amounts of cinnamon! Baking this loaf make the house smell dreamy. Another perk of Cinnamon Babka baking!
Chocolate Babka has a chocolate fudge-like filling that firms up upon cooling. So you get chocolate swirls throughout. I simply used vegan chocolate chips and some vegan butter to create my filling.
Babka Syrup on Top
One of the signatures of a Babka is the sticky, flake yet caramelized top. That stickiness comes from not only the slight crumble that is added, but also a really easy sugar syrup that you drizzle over top upon pulling the Babka out of the oven. I made mine using coconut sugar – which is the sweetener I used throughout – and always my fave sweetener for it's caramelized flavor.
Crumble Topping
I did the crumble topping on my cinnamon loaf, but in the end I just don't think it is necessary, so I omitted it from my base recipe. But if you love a crumbly topping, I included it in the notes of the recipe.
Other Babka Filling Ideas?
You can absolutely make this Vegan Babka base your own by getting creative with ingredients to fill it with! Here are a few off the top of my head..
sticky caramel pecan (using a date caramel!)
peanut butter + maple
strawberry jam + vegan cream cheese
walnut + cinnamon + coconut sugar
vegan nutella
savory Babka! vegan cheese + scallions
Mini Vegan Babka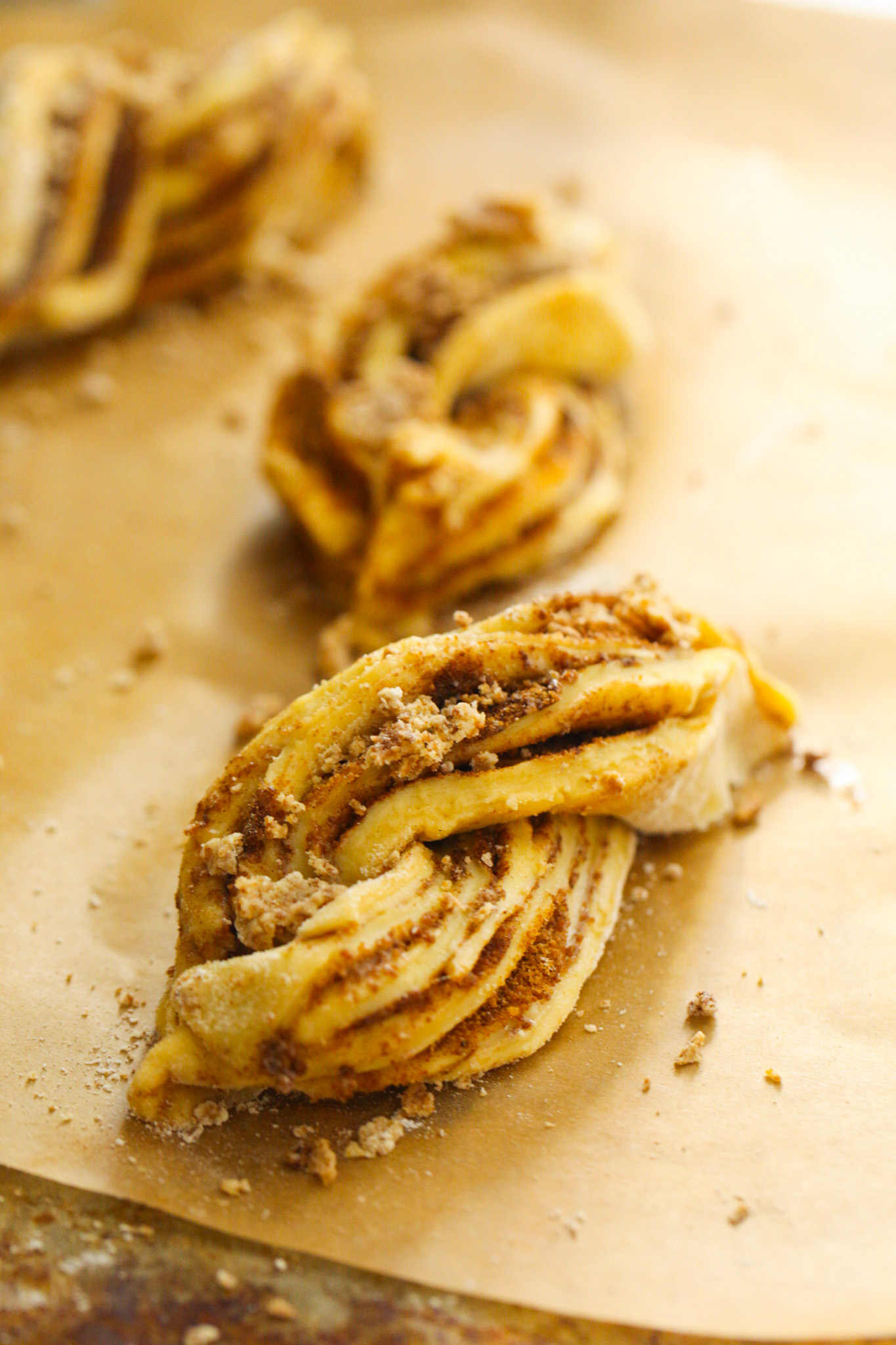 After splitting my dough in two and filling my one bread loaf baking dish with my main full-sized Babka, I decided to play around a bit and perfect my 'braiding' skills by making a few mini vegan Babkas! I had no idea if they would stay together, bake well or taste good, but to my delight, they turnout out lovely!..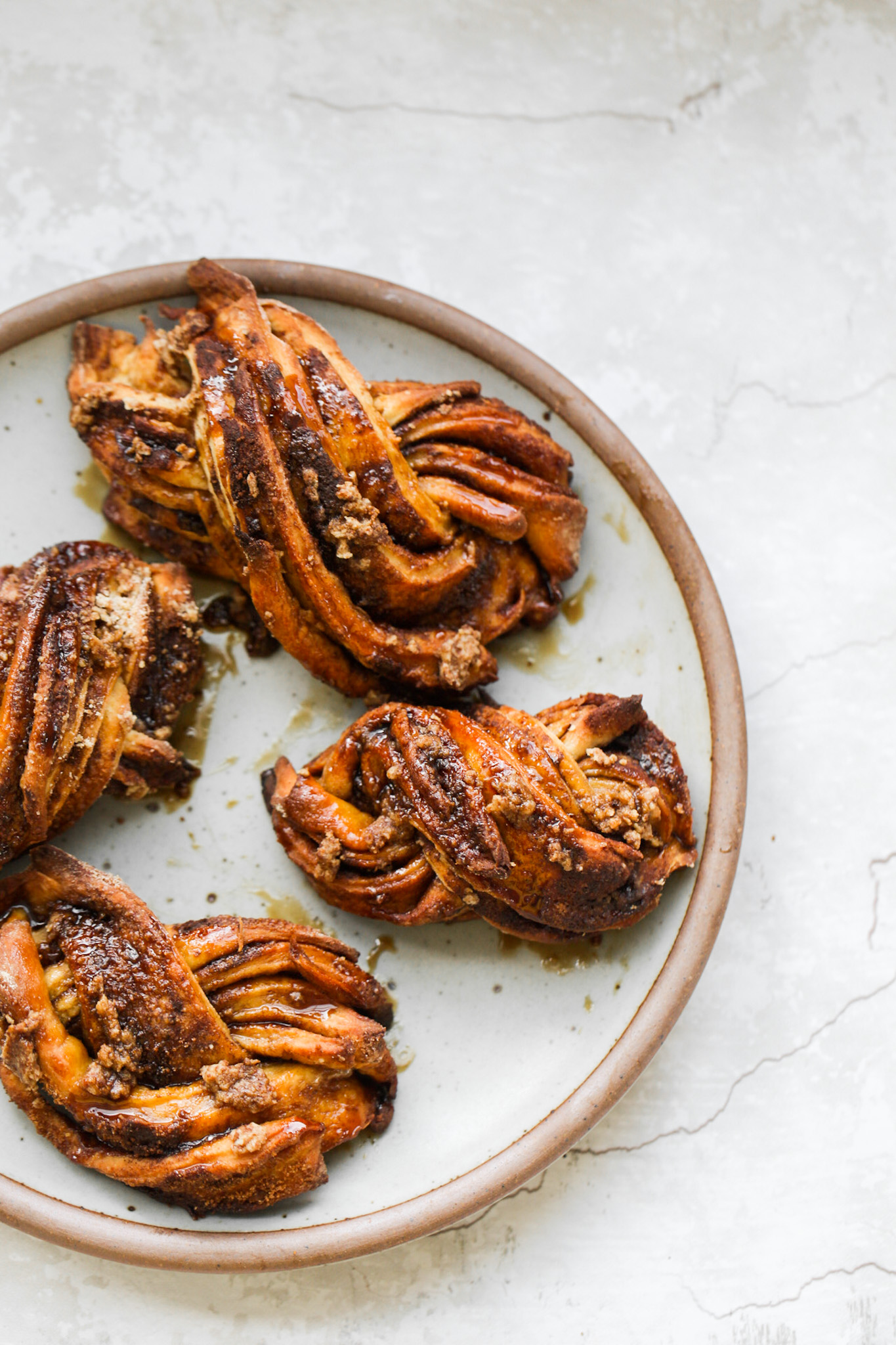 Because you get more crust coverage compared to the soft buttery pastry filling, the mini Babkas have a sturdier texture. The bottoms were nice and sticky, caramelized. Yet the center was still flaky and buttery.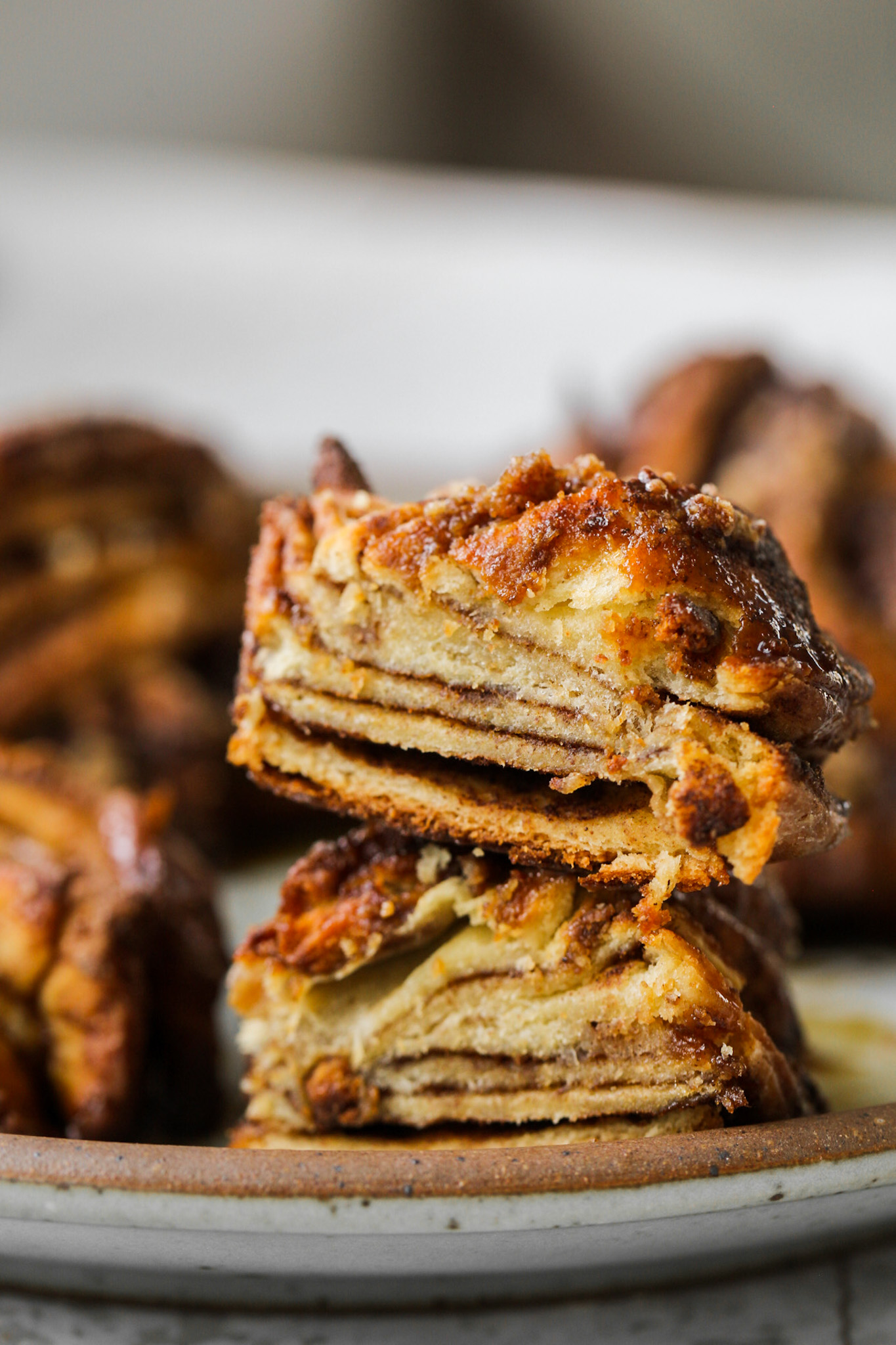 I love both versions – the traditional full-sized Babka loaf and mini individual Babkas. The mini Babkas take about half the time to bake.
Perfect Tea or Coffee Bread!
This Vegan Babka is the perfect afternoon tea bread. It is less sticky, messy and sweet than something like a cinnamon bun, yet it still has that rich buttery, flaky texture you might be craving.
Recipe Inspiration
Since this was my first time making Babka, I adapted my recipe from this NY Times Chocolate Babka recipe. Of course I used my own cinnamon filling and made vegan + personal preference adjustments throughout.
Serving Size
This recipe creates two full-sized loaves – or one loaf and 4-6 mini Babkas, depending on the size you want for them. Overall, about 16 servings, since each loaf will provide eight thick slices.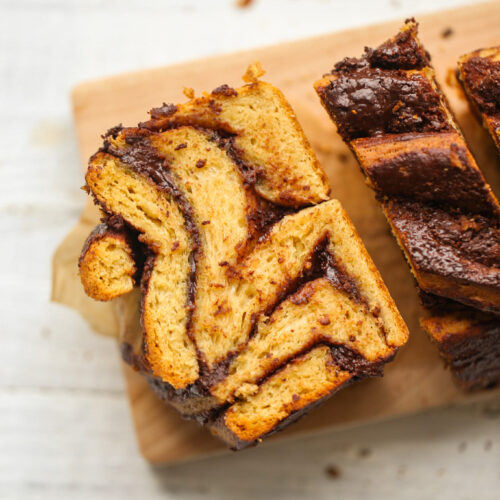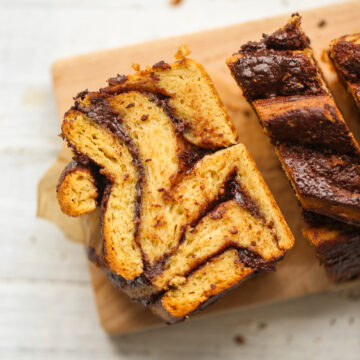 Vegan Babka
This buttery, fluffy, flaky and either chocolate or cinnamon-sugar filled vegan Babka is what baking dreams are made of. Perfect with tea or coffee or a special treat.
Print
Pin
Ingredients
Base Dough:
½

cup

soy milk

,

plain

2

teaspoon

yeast

,

(or 1 packet if that is what you have)

⅓

cup

coconut sugar

1 ½

teaspoon

salt

1

teaspoon

vanilla extract

1

teaspoon

orange or lemon zest

,

optional

1

cup

vegan egg replacer

,

(4 eggs replaced) – JUST Egg or silken tofu tested

¾

cup

vegan butter

,

softened

4 ¼

cups

all purpose flour
Filling – Cinnamon Version:
½

cup

coconut sugar

1-2

tablespoon

cinnamon

⅓

cup

vegan butter

,

softened or melted
Filling – Chocolate Version:
1

cup

vegan chocolate chips

⅓

cup

vegan butter
Crumble Topping — OPTIONAL
3

tablespoon

vegan butter

3

tbsp

all-purpose flour

2

tablespoon

coconut sugar
Syrup:
½

cup

coconut sugar

⅓

cup

water
Instructions
The Dough:
In a large mixing bowl, add the soy milk, coconut sugar and yeast. Stir to dissolve and allow this mixture to sit for five minutes.

Adding the liquids: If using the tofu egg replacer, blend the butter, vanilla and tofu in a blender until smooth. Add tofu mixture to the yeast mixing bowl, along with the salt, optional zest, vanilla extract. Stir to combine. If using the JUST Egg, you can simply add all the liquids to the yeast bowl – no blender needed. Whisk or stir to smooth and combine.

Add in the flour – one cup at a time. Use a stand mixer on a low speed or do this by hand using a wooden spoon. I did mine by hand.

When you have added all the flour, knead the dough in the bowl for a minute, then transfer to a floured surface and knead for 2-3 minutes until nice and smooth.

Place the dough in the center of the mixing bowl you just used.

Two rising options: 1) Same-day rise: Cover with a towel and let rise for 4-5 hours in a warm spot in your kitchen. 2) Overnight rise. Cover the dough and place it in the fridge for an overnight rise.
AFTER THE FIRST RISE:
If you did an overnight rise: Pull your dough from the fridge and set it on the counter for a good hour to allow it to warm to room temperature. If same day / countertop rise – your dough is good to go!

Grease your baking loaf pan(s) with vegan butter or oil. Set aside.

Transfer dough to a floured work surface. Split the dough into two equal pieces. Set one aside. Start kneading the first piece until smooth and fluffy. Roll out this dough to about a 8 x 14 inch rectangle — eyeball it. You want the dough to be about ½ inch thick for optimal swirling. Similar to a cinnamon bun.

Once rolled out, add the filling. For cinnamon: Brush the surface with half of the vegan butter, sprinkle with a generous amount of the coconut sugar and cinnamon. For chocolate: Melt the chocolate chips and butter together to get a thick chocolate paste. Spoon it onto the dough and spread evenly.

Roll the dough up into a tight spiral – making sure that you are rolling from the 9 inch edge to create a 9 inch roll.
BRAIDING:
BRAIDING: This part sounds tricky, but promise it is easy. Carefully slice the roll in half – right down the center to create two long pieces. Carefully flip the pieces facing more outwards. Pinch them together and one end, then braid them overtop each other. Pinch the other end together then transfer the braid to your nine baking loaf pan. Repeat with the second ball of dough – or make mini Babkas and place them on a parchment paper-lined baking sheet.

Allow the dough to rise in the baking dish(es) for 60-90 minutes.
AFTER THE SECOND RISE:
Preheat oven to 325 degrees about ten minutes before the dough is fully risen.

The crumble is optional. I probably wouldn't add it unless you really want those textures and layers on the top crust. —- If adding: Whip up the crumble by placing the butter, sugar and flour in a small bowl and squishing them all together with you hands. Sprinkle over top the Babka dough. (This crumble is optional)
BAKING:
Place the loaf or loaves into a 325 degree oven and bake for 40-45 minutes.

While the dough is baking, whip up the syrup. In a small sauce pot, bring the water and sugar to a low boil over high heat. Boil for 2-3 minutes, then turn off heat and allow the syrup to cool.
SYRUP:
Pull the Babkas from the oven and drizzle the cooled syrup over top.

Allow the Babkas to cool slightly before slicing and serving.

Leftovers can be stored on the countertop for up to a day, then slice and freeze for longer storage or store in the fridge for 1-2 more days.
Equipment
bread loaf pan 1-2

large mixing bowl

Rolling Pin

wooden spoon

parchment paper
Notes
Nutritional info is for the cinnamon Babka.
Crumble topping is totally optional, I didn't really think it was needed, but did add some nice texture.
Egg replacer: You can choose between 1 cup JUST Egg replacer or 1 cup silken tofu, pureed until smooth. If using the tofu, you can puree the butter, tofu and vanilla all together.
This recipe makes two standard loaves.
nutrition estimate | per serving
Calories:
250
kcal
|
Carbohydrates:
34
g
|
Protein:
5
g
|
Fat:
10
g
|
Saturated Fat:
3
g
|
Sodium:
336
mg
|
Potassium:
79
mg
|
Fiber:
1
g
|
Sugar:
6
g
|
Vitamin A:
582
IU
|
Calcium:
24
mg
|
Iron:
2
mg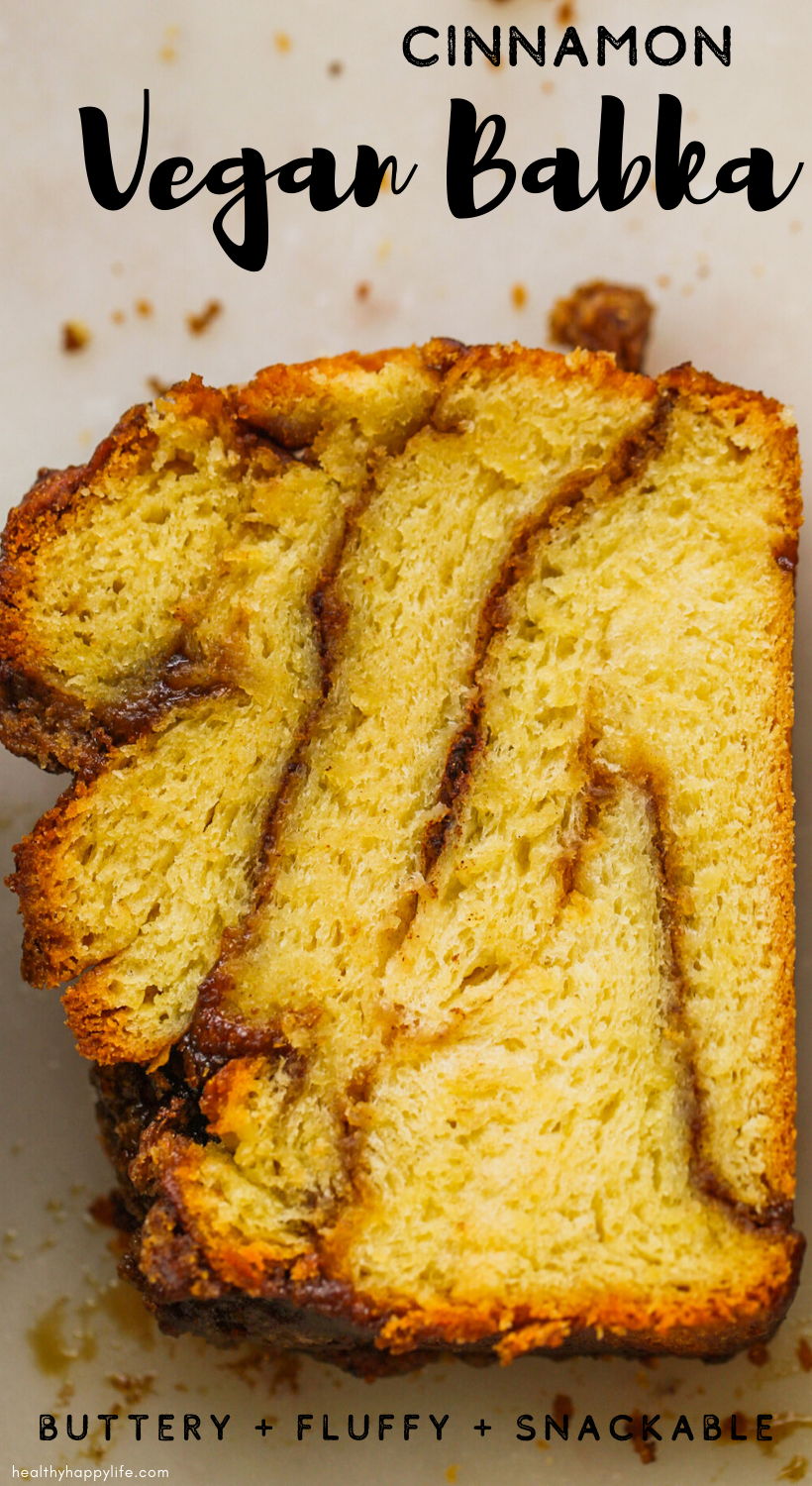 disclosure: This post contains a few affiliate links to Amazon