I asked around to my food blogger friends via my Finding Vegan blogger's group on Facebook: Give me your best vegan after school snack recipes! And here are the amazing collection of (105!) recipes they shared.
Vegan After-School Snacks
Some savory, some sweet, some grab-n-go, some fresh from a sizzling skillet. We have smoothies and energy balls, puddings and toasts. Chips and popcorn and even a few chocolate-covered treats in here too. Bookmark this page and have amazing plant-based snacks all school season long!..
The request:
Lets share fun, creative, colorful, easy, fast, vegan after-school snack recipes for this back to school season. Bonus points for using fruits/veggies as the star ingredient.
105 Plant-Based After School Snacks
by Vegan Richa
Kids will rush home to nibble these delicious, secretly oat-and-almond, sweet bars!
by lunchboxbunch, aka me
This super easy blender soup is warming, delicious and perfect for slowing down after a busy school day. Crunchy chips on top add fun and flavor!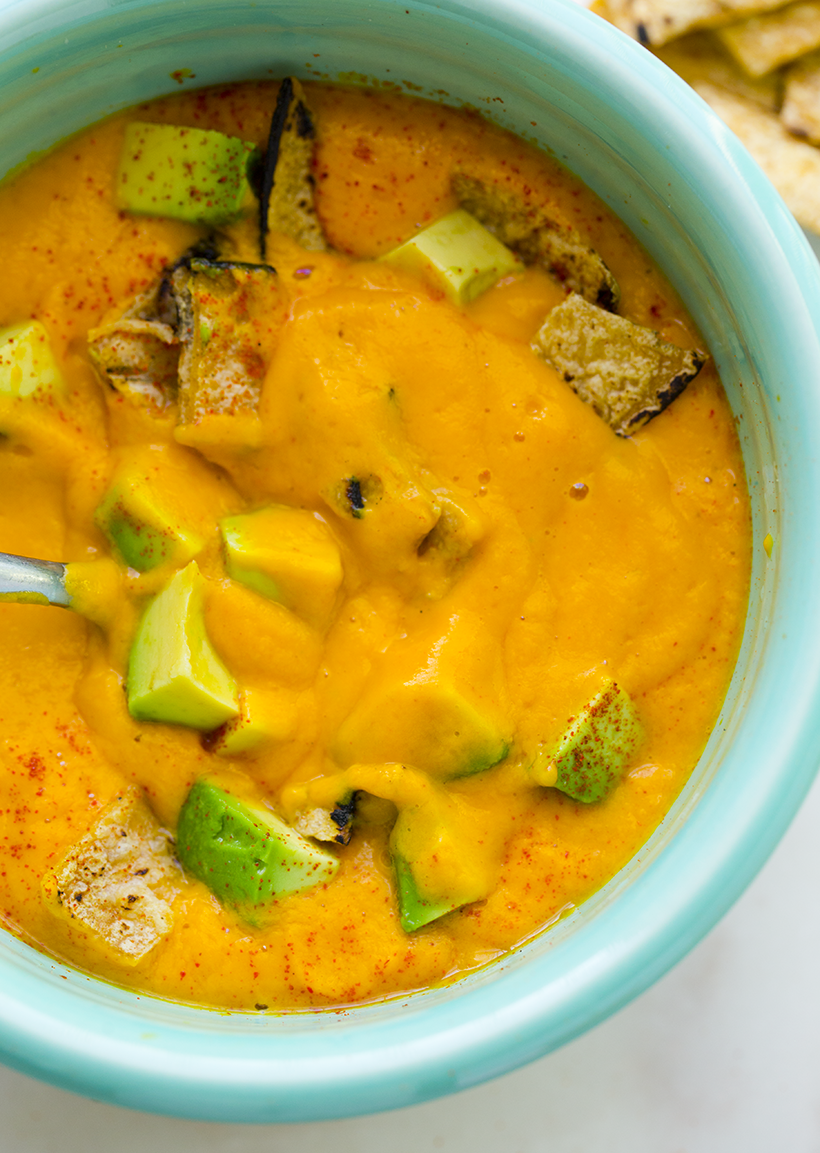 by Clean Eating Veggie Girl
Love kale chips? Then give these cheezy broccoli bites a whirl!
by Fork and Beans
Turn study time into silly smile time with these super fun snacks.
by Noshed
Fall spin on a yummy, cozy snack cake.
by Simply Quinoa
Veggies and grains and legumes, made delicious and beautiful!
by lunchboxbunch
Come in from the chilly fall air and warm up to this hot-cocoa-spin on pumpkin. Perfect after-school study sip! Pair with almond butter toast or your fave fall cookie.
by Feasting on Fruit
Cozy oatmeal cookies with a superfood spin.
by lunchboxbunch
This fall spin on a vegan quesadilla is savory and sweet and something to run home from school to! Served from a sizzling hot skillet.
by lunchboxbunch
This snackable dip is perfect for the fall back to school season. Just add veggie sticks, toast or fill pita pockets!
by the organic dietitian
This DIY fruity fave is a must try for kids who love fruit snacks and leathers.
by Vegan Family Recipes
For snack time, study time or movie time, this savory popcorn delivers!
by lunchboxbunch
by Veggie Inspired Journey
For a boost of protein and fiber, these savory bites are the perfect way to fuel up for a long night of homework!
by unconventional baker
Sneak veggies into their study sesh with these alluring chocolate cupcakes! Gluten free and oil free!
classic gone DIY after-school snack…
by Veggie-Inspired Journey
by Harriet Emily
Cherries make for a sweet after-school treat, when baked into these lovely cupcakes. No frosting needed!
18. Fruit Kabobs with Sunflower Dip
by The Vegan 8
These fruit kabobs are a fun way to get your kids to eat fruit after school. You can even let them help you make them!
by KiipFit
The warming and friendly flavor of apricot, makes these bites a healthy treat!
by Styled Nutrition
Serve up this after school avocado toast for a satisfying bite.
by The Vegan Chickpea
Serve your apple lovers this apple cereal with nuts, seeds and cacao – aka chocolate.
by green evi
Homework is easier with chocolate and berries gone vegan..
by Natural Chow
The whole house will smell amazing with these on the study sesh menu.
by two peas and their pod
Sneak healthy fats into chocolate cookie bliss with these yummy tender vegan cookies.
by lunchboxbunch
Perfect for a group study session – this PBJ super sandwich will serve a crowd!
by love me feed me
These are sweetened using dried apricots!
by Cupcakes and Kale
These cookies pack a healthy-delicious punch, banana bread flavors warm things up!
classic gone DIY after school snack…
by RealFoodRealDeals
These are your homemade spin on those unhealthy toaster tarts many kids love.
by the pretty bee
These kale chips will be gone in a flash — so make a lot and watch those veggies fly!
by Turnip The Oven
These cozy, filling gluten free bars are infused with fall apple flavor.
by vegAnnie
These protein-packed, pizza-flavored sticks are power fuel for homework time!
by Tasting Page
Chips and dip gone fall – lovable after school snack.
by fork and beans
Any kitty lover will be super thrilled to come home from school to find this silly kitty face waiting for him/her. Fun and delicious!
by Cotter Crunch
Swap these in for those store bought fruit snacks!
by lunchboxbunch
This super simple pumpkin pie pudding is infused with healthy pumpkin puree and brain-power boosting walnuts.
36. Pumpkin Seed Granola Bars
by Fried Dandelions
Fall spin on a classic kid-approved snack.
Sarah's kiddos love them!..
by lunchboxbunch
Frosty and sweet and totally amazing, this acai bowl is rich in antioxidants, fiber, potassium and flavor.
by a virtual vegan
More pb-chocolate deliciousness in these healthy-treat bites.
fun spin on pizza after-school snack…
by lunchboxbunch
These easy, healthy after school english muffin pizzas are topped with Mexican goodies for fiesta flavors!
by elephantastic vegan
I am in love with these DIY square snack crackers!
41. PBJ Popcorn
by feasting on fruit
Snack approved! This is a creative spin on a study snack fave.
by contentedness cooking
Who can say no to this chocolate-infused snack bread?
by lunchboxbunch
These baked taquitos are filled with healthy ingredients like beans and veggies – but packed with fun crunchy fiesta flavor.
44. Hummus Lettuce Wraps
by The Vegan Chickpea
Craving veggies and hummus? Whip up these delicious lettuce wraps!
by plant eaters manifesto.
Peanut free and naturally sweetened snack bars.
by Brewing Happiness
Love fig cookies? Try these sweet fig energy balls to fuel the after school hours.
by lunchboxbunch
Give them a taste of summertime, even in fall, with this DIY pineapple-infused DOLE Whip! Pineapple and banana goodness in every frsoty sweet bite. Hydrating and rich in vitamin C.
by lunchboxbunch
Add chips, veggie sticks, rice crackers or drizzle over your fave veggie salad for a spicy study sesh snack.
by Cadry's Kitchen
Serve these savory-amazing tortilla triangles with some guacamole for a cravable after school bite.
by lunchboxbunch
Just call these 'road trip bars' 'amazing study sesh bras' because chocolate, savory-sweetness and loaded of healthy ingredients will always equal a more productive study hour.
by Styled Nutrition
This spin on PBJ uses fresh fruit in place of jam!
by lunchboxbunch
Refuel after school with this chocolate shake or smoothie bowl.
by Garlic and Zest
Turn any study sesh into a fiesta with this legume-rich dish!
by Plant Strong Vegan
Chocolate lovers will love to nibble these date-sweetened treats.
by Real Food Real Deals
Did someone say chocolate and popcorn, in one nibble-approved recipe? Yes, please!
by veggies don't bite
These yummy sweeet-savory chips are totally snackable! And healthy!
by unconventional baker
These yummy squares look decadent, but are super healthy! Gluten free.
by veggies don't bite
Kids of all ages will get excited to try a SCUFFIN! 🙂
by lunchboxbunch
These chocolate, oat and seed/nut cookies are indeed one of my favorite goodies to nibble. Study fuel!
by unconventional baker
The next best thing to German Chocolate Cake. Only healthy too!
by your wellness to go.
Fall apples will be delicious in this tart.
super creative after school snack…
by begin within nutrition
These are so fun and delicious for anyone who loves snacking on apple slices and nut butter!
63. Red Pepper Dip
by Rough Measures
Serve this yummy dip with veggie sticks and warm pita triangles.
by Tinned Tomatoes
Clearly these protein-rich tofu fingers are a big snack-approved, kid-friendly hit!..
Serve a crowd, snackable after school snack…
65. Vegan Cheese Ball
by peacemealxo
Savory snacking bliss! This fun vegan cheese ball.
by lunchboxbunch
These flaky tortilla triangles are stuffed with apple butter cashew spread and apple slices.
by elephantastic vegan
These are an after-school treat for every chocolate and cream lover. Reward homework time with a snack plate like this!
by Fettle Vegan
These extra chewy bars will be a chocolate-infused hit with homework-infused kids!
by Strength and Sunshine
Kids love cold cereal. Well this homemade version is better than most high sugar store bought options.
by Radiant Rachels
Give any of these recipes a try for after-school toast feasting.
71. Cookie Butter Chocolate Cups
by the vegan cookie fairy
These cookie butter-infused chocolate cups are a delicious study treat.
by Blender babes
If they can get past the green color and just try a sip, we are pretty sure kids will lOVE this sweet banana flavor smoothie. Popeye approved!
73. Easy Mini Crispbread Pizzas
by peace love quinoa
These fun, healthy pizzas are a great choice for a 'pizza-party study sesh.'
by FoodScape
Grab and snack fruity stud fuel.
Totally classic after school snack..
by nourish by nutrition
Simple, classic and healthy with a flax, brain-boosting spin.
by active vegetarian
These are a kid-approved snack wrap!
by vegan family recipes
This vanilla bean 'caramel' dip is delicious paired with fall apple slices.
by Nourish and nestle
Fiber, antioxidants, flavor! These gluten free bars are a crumbly, delicious study snack treat. Cherry or berry infused!
by unconventional baker
This green dream sweet treat is a healthy and energizing after school snack. Make ahead for grab-n-serve bliss.
by connoisseurus veg
This is a moist and snackable way to serve lovable trail mix flavors.
by gourmandelle
These super silky and creamy chocolate truffles are a healthy after school treat.
by veggie desserts uk
These sweet potato-infused bites pack a warming study sesh punch!
by go dairy free
These savory bites are a fun sandwich-y finger food for homework time.
by go dairy free
How incredible are these fun and delicious apple "fries." Served in a fry container wrap!
by nosh and nourish
Just add apple slices, pita triangles or veggie sticks!
sweet treat after school snack…
by Veganosity
These are SURE to impress. Chocolate = study fuel? Yes, please. Sub with almond butter if needed.
by Vegetarian Gastronomy
Sweet and creamy with fruit flavors, soft serve is a winning study hour snack.
by Spa Bettie
Serve your little cookie monster this fun cookie-inspired cold cereal.
by elephantastic vegan
These fun spiral snacks have a savory-delicious pesto flavor.
by veggies don't bite
Fall fave. Make this healthy savory snack during pumpkin carving season.
by Harriet Emily
These delicious bites are the perfect after school study fuel.
by Vegan Heaven
Sweet, creamy, pink bites for a healthy treat.
by Cotter Crunch
Kids will love these pretty pink lemonade bites.
by Vegan High Tech Mom
These savory muffins are a delicious way for kids to eat veggies after school.
by lunchboxbunch
Get them to eat their greens after school with these rice wraps featuring peanut sauce flavor in every bite.
by lunchboxbunch
Savory sweet flavors from fall apples and garlic-sage hummus make this study toast a hit.
by a virtual vegan
These fluffy, zesty-sweet muffins are a cozy after school snack.
by the almond eater
These creative spring rolls should add some fruity fuel to the after-school hours.
by Vegetarian Gastronomy
Berries from the end-of-summer days will love being baked into these fluffy amazing muffins.
by Pancake Warriors
For the students who love a sophisticated nibble, these elegant sweet potato pesto bites will impress!
by lunchboxbunch
This is a substantial way to fuel up for homework time. Healthy fast from avocados and protein and fiber in those skillet chickpeas.
by DebSpots
Instant study fuel for a crowd of students, these mini smoothies pack an energizing punch.
Bean-loaded, healthy after school sandwich snack…
by lunchboxbunch
This easy to make tuna-alternative is rich in crunchy celery and chickpeas. Delicious on toast! My updated version is here!
Everyone loves pizza after school. Get one of my fave recipes here!
Thank you to all the vegan bloggers who contributed after-school snacks!
If you are a vegan blogger and would love to be included in round-ups like these, be sure to submit your recipes to my other site FindingVegan.com — you can then have access to the private Finding Vegan Blogger's Group on Facebook!
Question of the Post: What is your favorite vegan recipe for kids that is after-school snack approved??
Please leave it in the comments below!