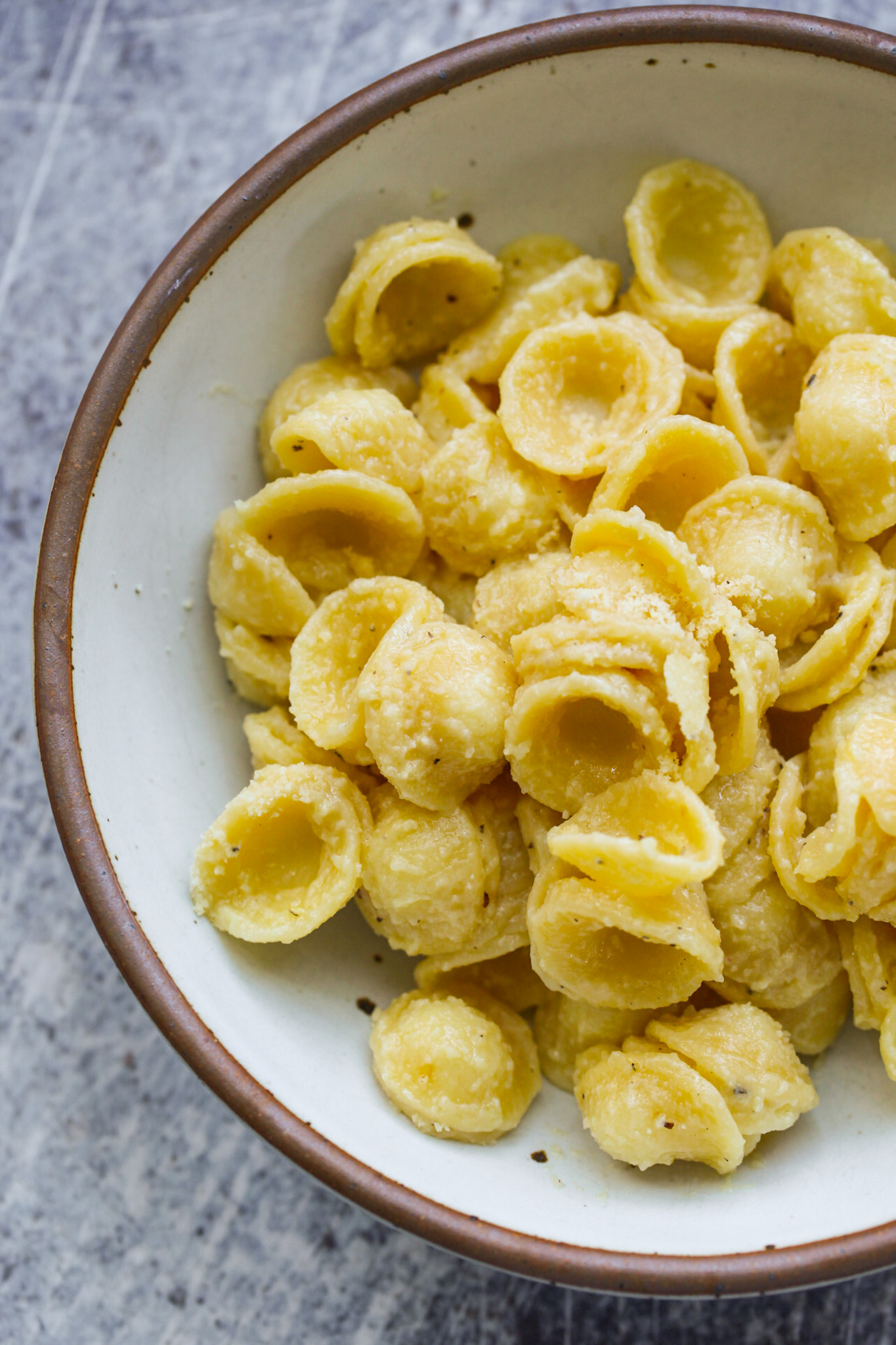 Aglio e Olio, which means garlic and olive oil has always been one of the fave pasta sauces in our house.
And this two-ingredient sauce comes in super handy when you are running low on pantry items. Today I'm sharing my favorite vegan Aglio e Olio Pasta with a creamy light sauce, rich garlic flavor and lots of vegan Parmesan to bring everything to another level of yummmm…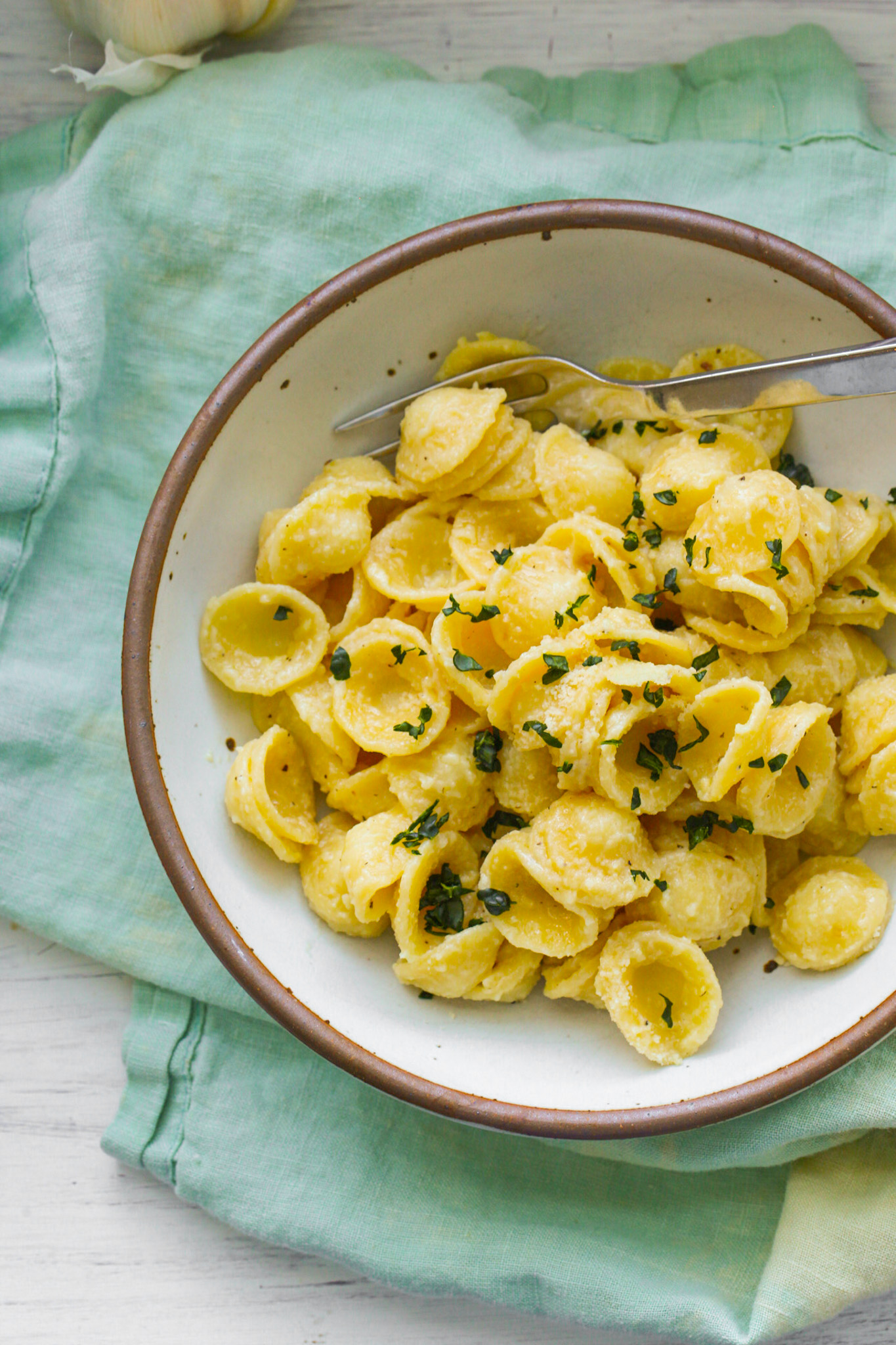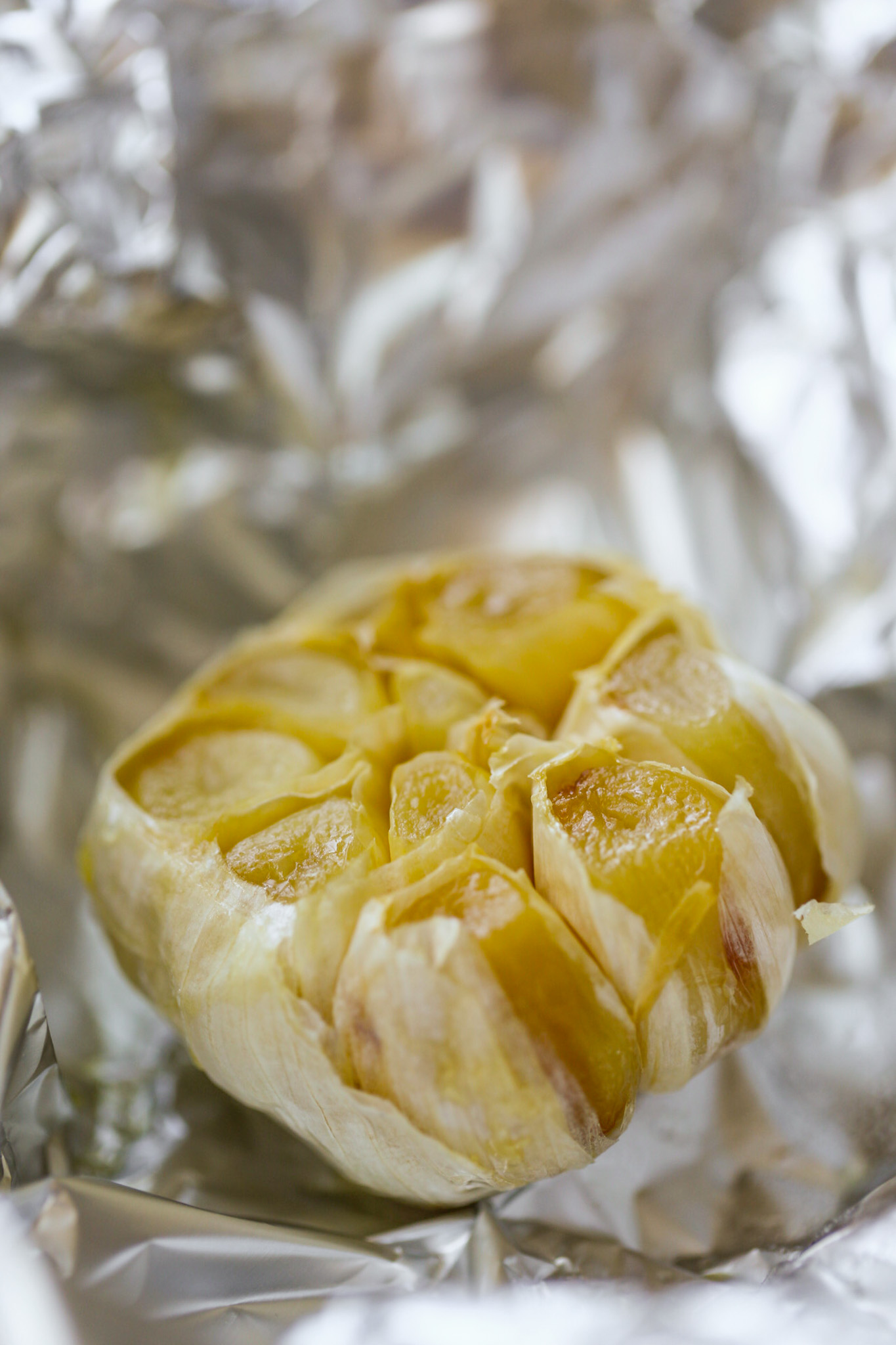 How to Roast Garlic
My favorite technique for roasting garlic is to use a simple foil packet. I slice the tip top of the head of garlic off using a sharp knife, then drizzle about one teaspoon of EVOO right over top. Then seal up the foil packet.
Place in a 400 degree oven and roast for about 15-20 minutes or until soft. Easy! Then for this sauce, you just mash the insides with EVOO…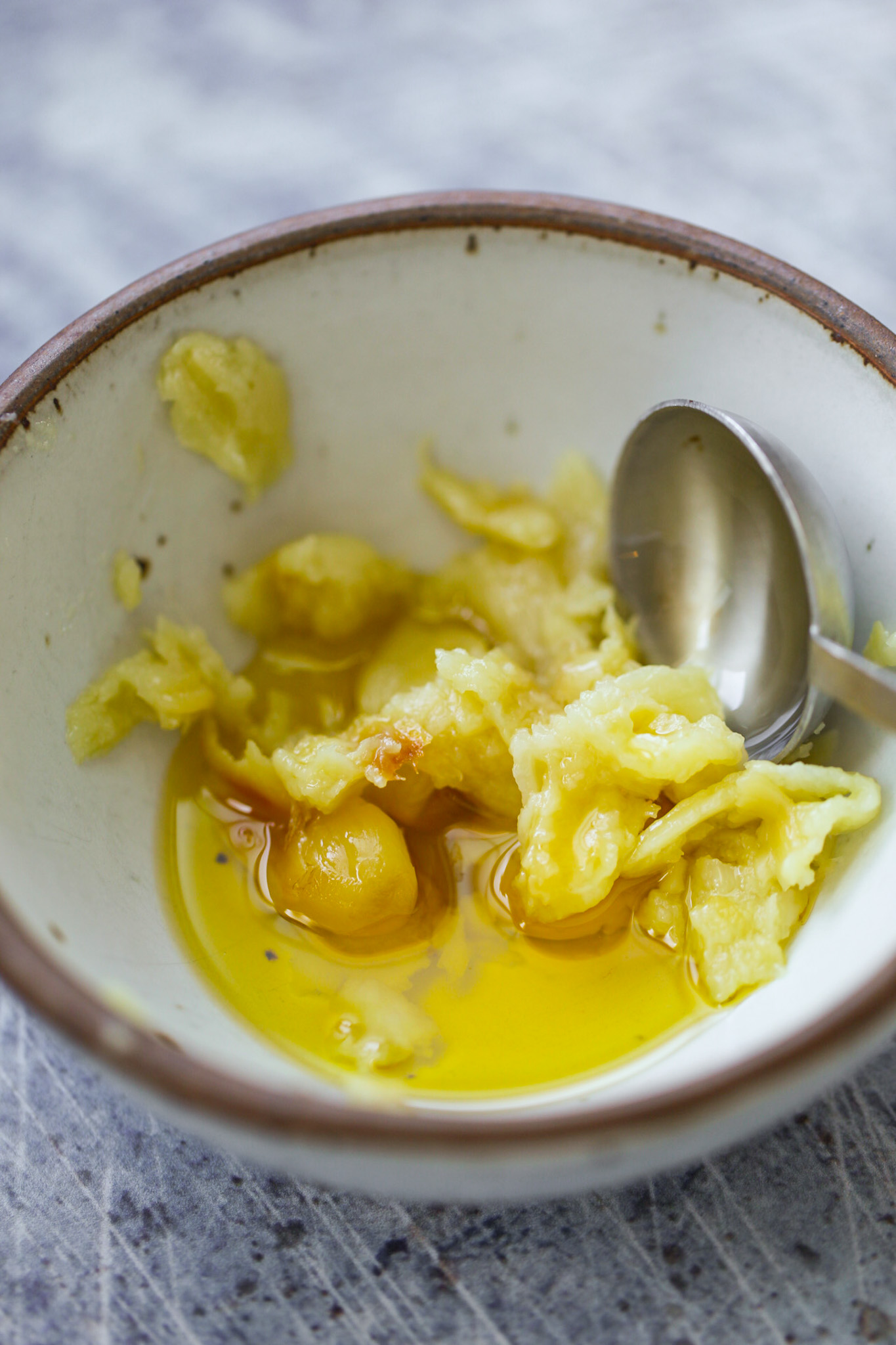 Mashed and ready to go! (s + p to taste)..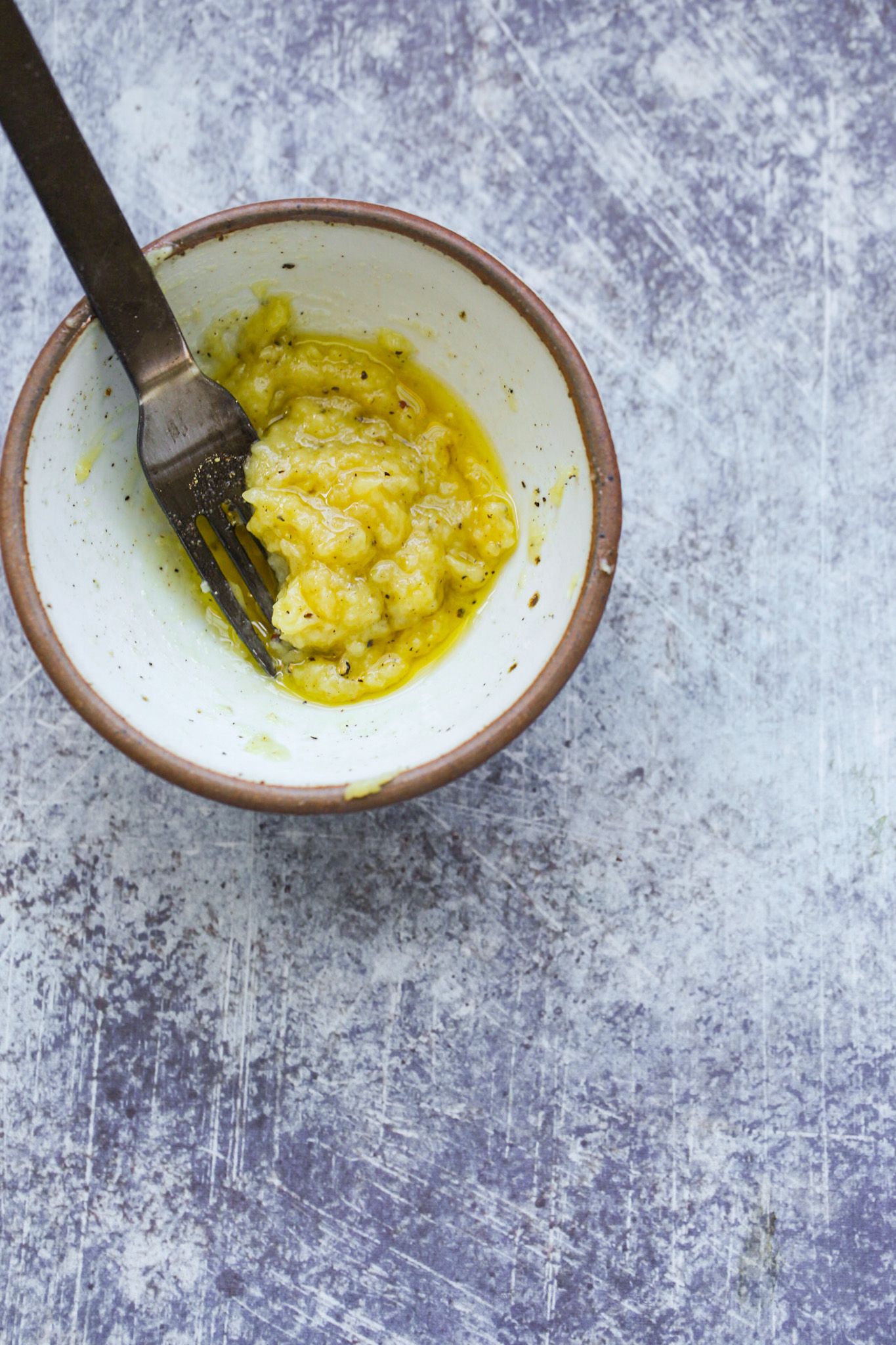 Add some optional vegan Parm for another layer of Aglio e Olio Pasta flavor…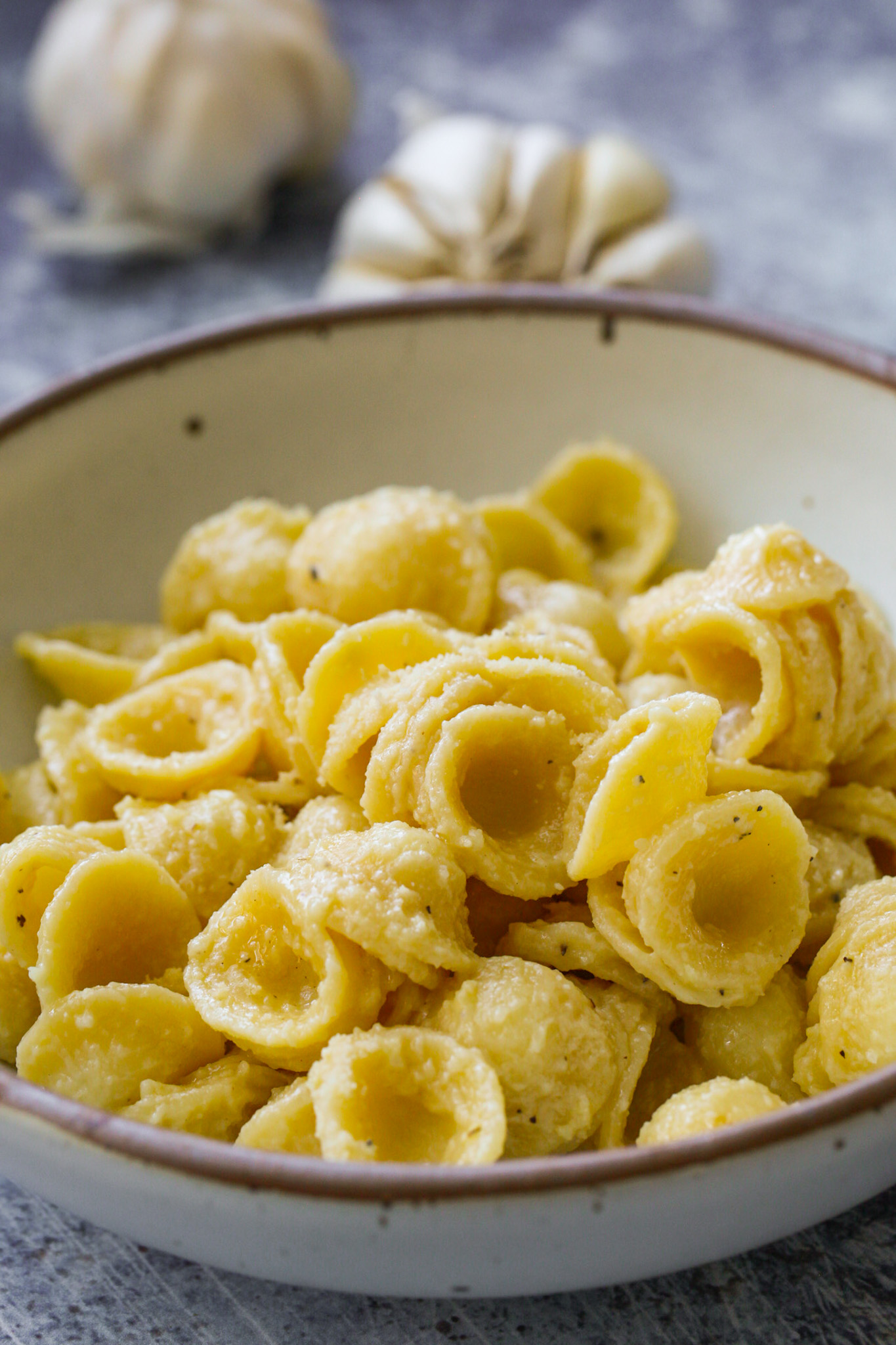 Garlic and Olive Oil
If you can snag some whole fresh garlic at the store, you are just about ready to make this sauce. I use roasted garlic in my Aglio e Olio sauce so that it has a swoon-worthy garlic flavor, not too sharp or spicy, more slow and warming. The roasted garlic is also very creamy just by nature. Perfect for creating a creamy sauce texture.
Parmesan
Along with the two main ingredients of olive oil and roasted garlic, I like to add in vegan Parmesan. But it's actually totally optional! the sauce kept super simple with two ingredients is delicious.
No Parm on hand? DIY your own or simply add some finely chopped nuts or sprinkled in nutritional yeast.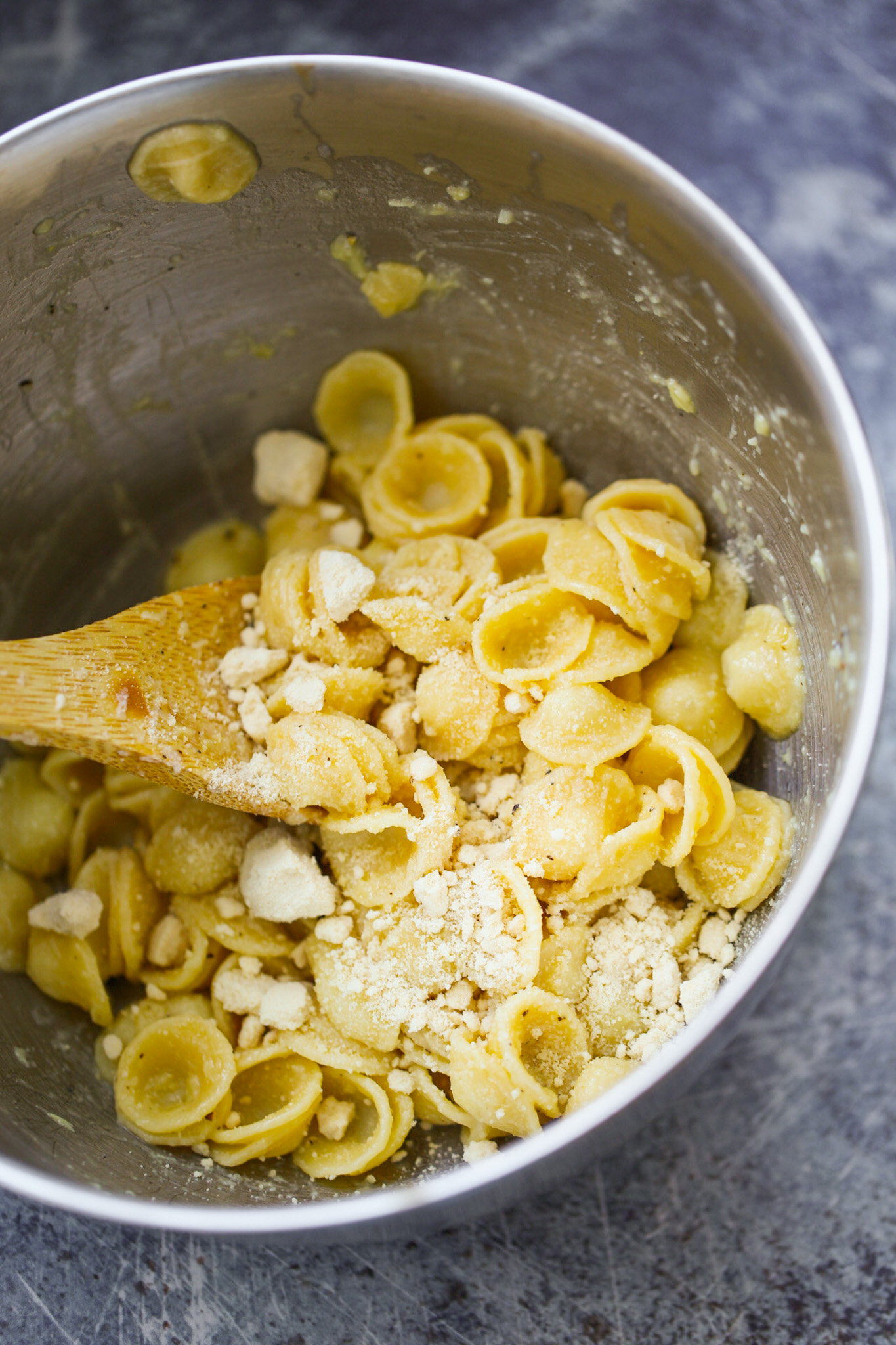 Follow my blog with Bloglovin
Extra Virgin Olive Oil
Since the EVOO plays such a big role in Aglio e Olio Pasta, you want to try and use a higher quality oil. Something that has a bit of body to it. Maybe some spice. Or maybe some buttery, grassy notes.
I always keep at least two olive oils on hand. A 'cheaper' brand that I use in a skillet for cooking, and one or more more expensive brands that I use for finishing dishes, salad dressings and other raw serving situations. This sauce is never heated, so it could be considered a raw serving situation.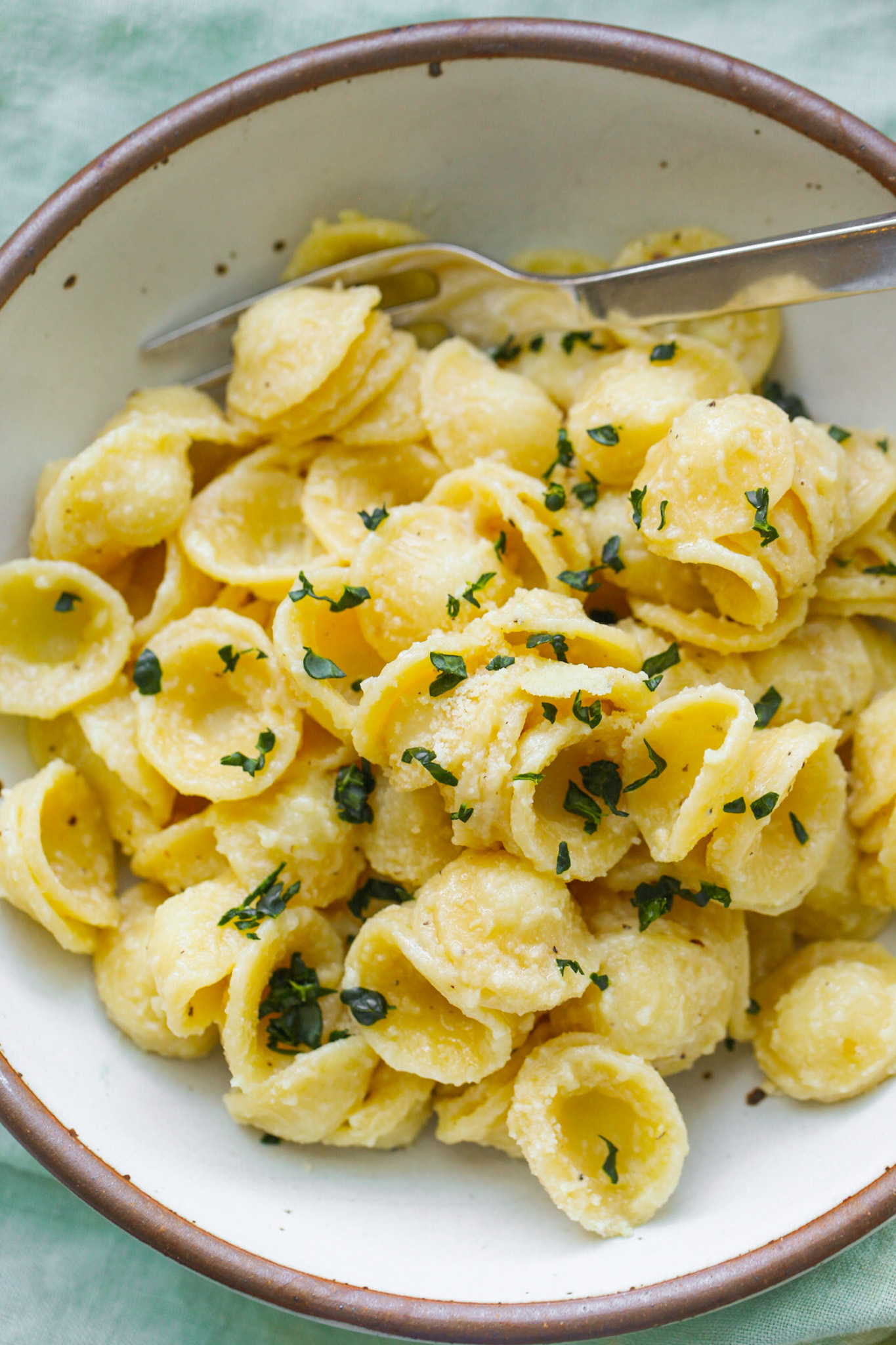 Pasta
When it comes to Aglio e Olio, you can absolutely use any type of pasta you have on hand. I personally love this sauce with an orecchiette style pasta. Spaghetti or penne – both very common – would totally work too.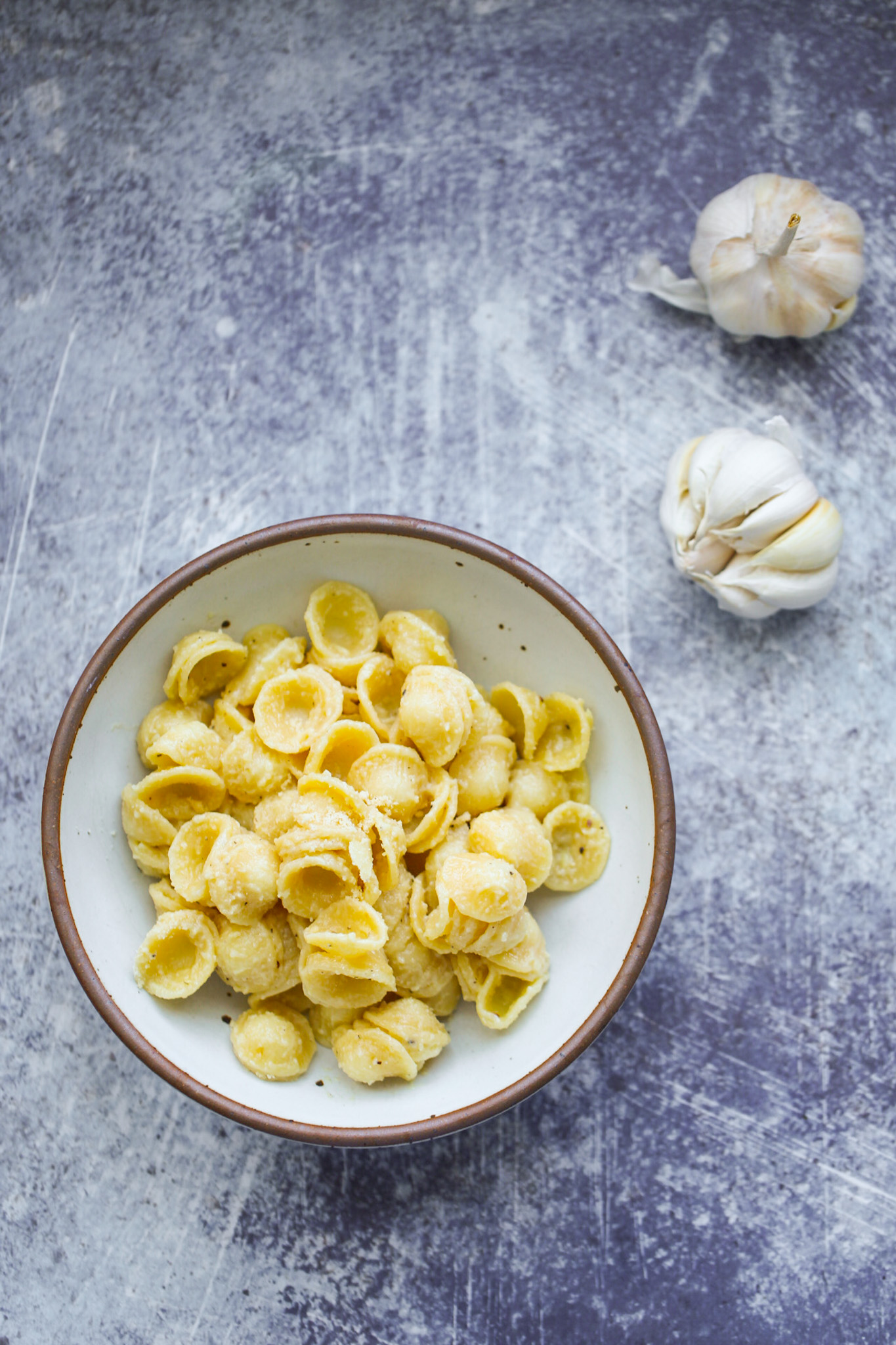 Add-ins for this Pasta:
You can spruce this pasta up however you'd like. Some of my fave ideas are here:
steamed peas
sauteed or roasted mushrooms / shiitake bacon
chopped kale or wilted greens of any kind
steamed or roasted chopped asparagus
tiny roasted potatoes
chopped nuts
So many goodies you could add!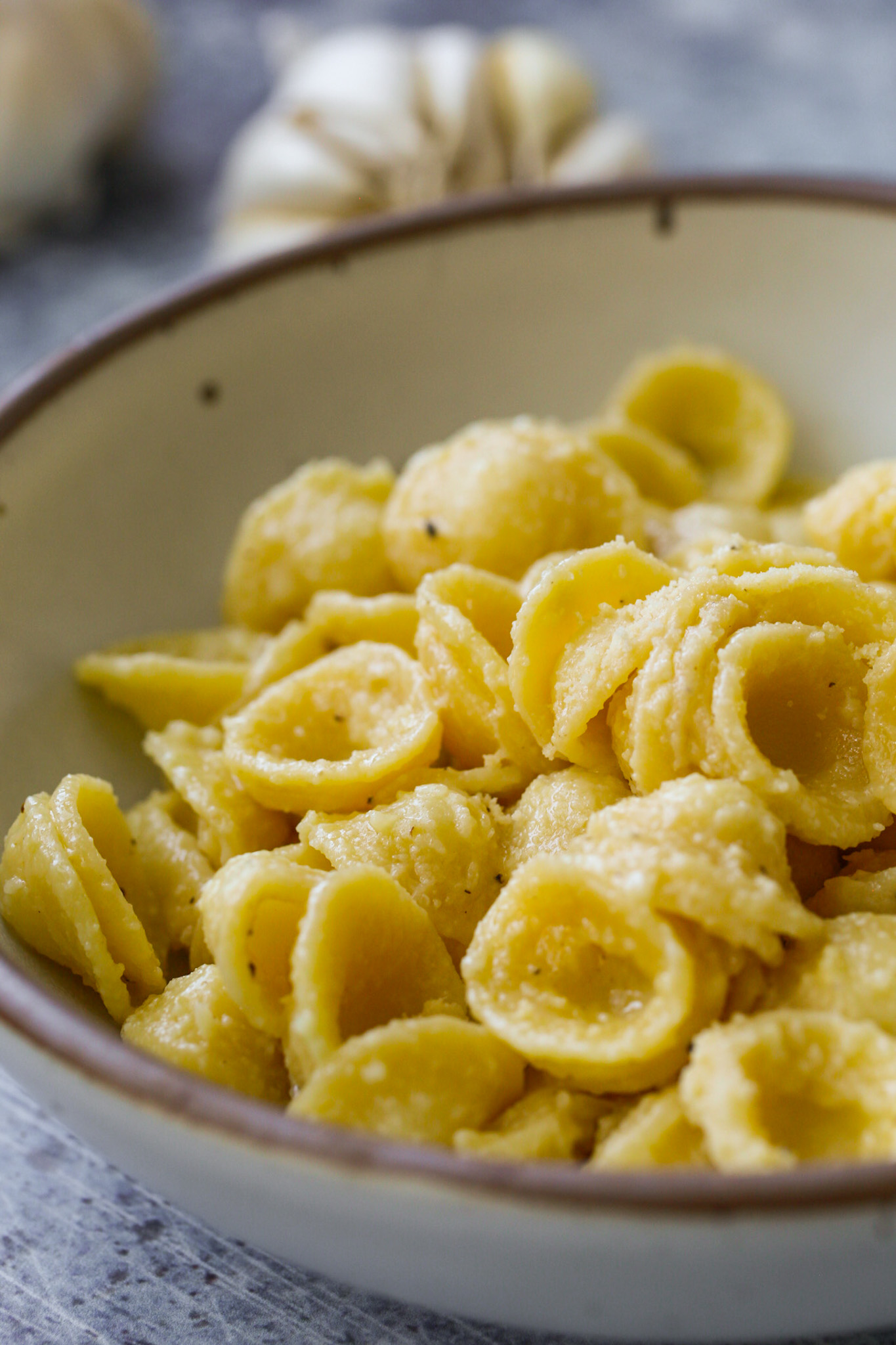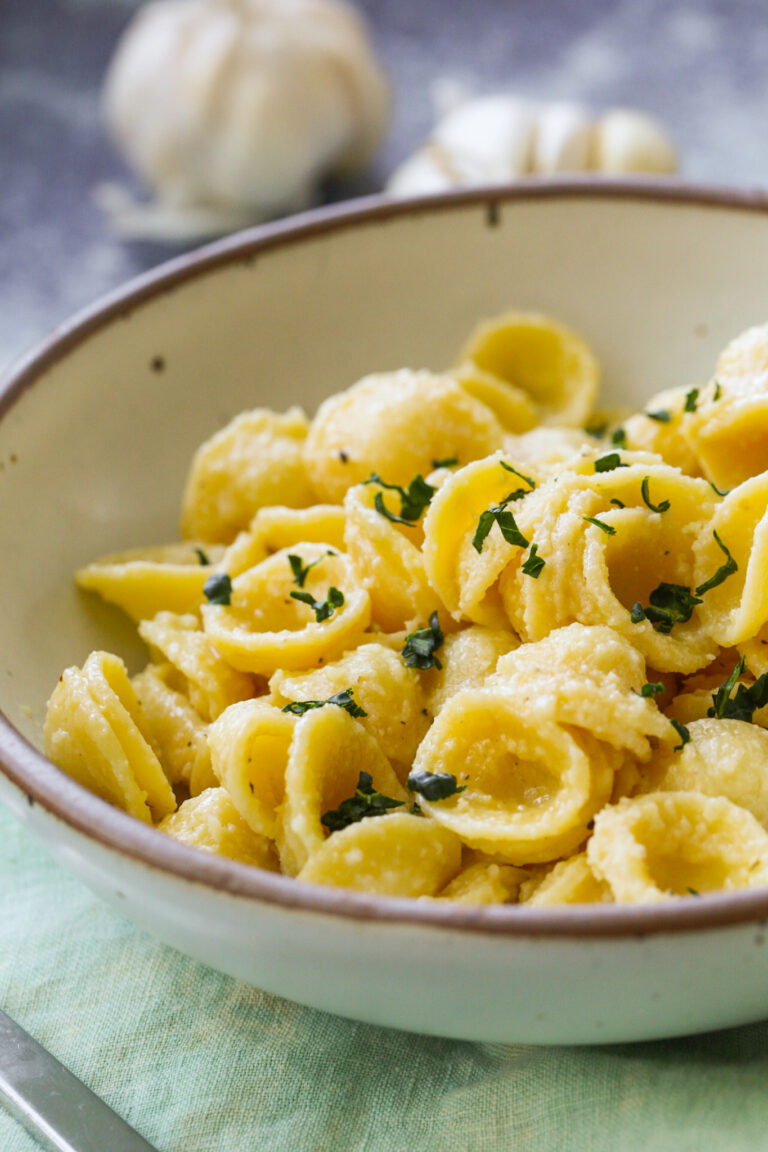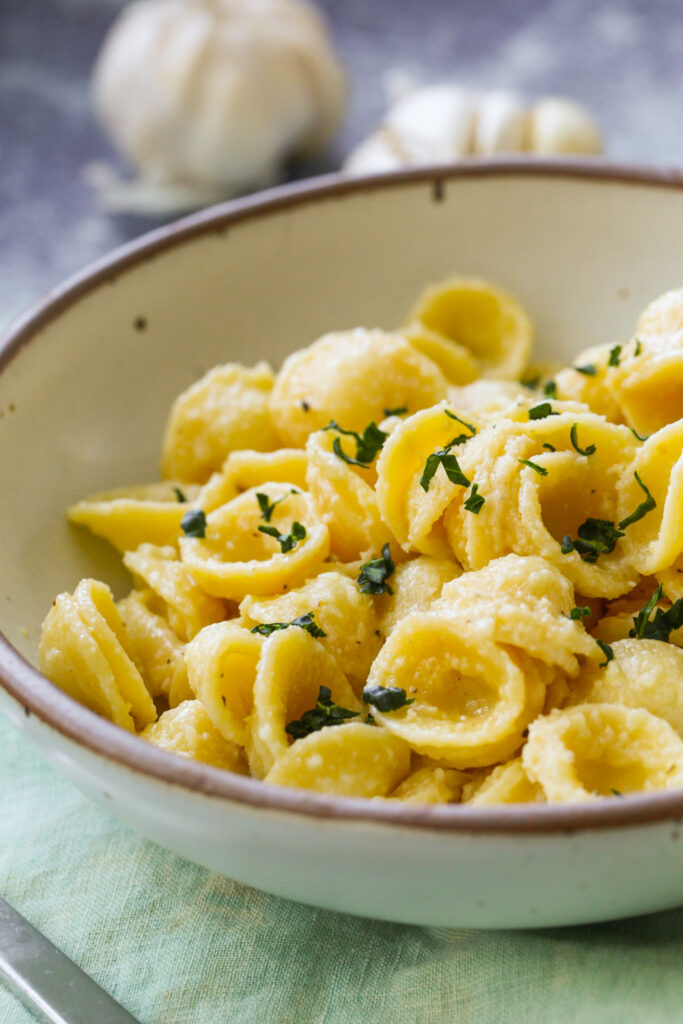 Make-Ahead Tip:
Did you know that you can make roasted garlic a day or two in advance? Sometimes I like to make 2-3 heads of roasted at a time and store them in a sealed container in the fridge. If you really want to plan ahead, you could freeze them.
But if you use chilled roasted garlic, you will need to warm it a bit before adding to your pasta. A quick tutorial on freezing garlic is here on the Kitchn.
More Pasta Meals!
Get a few of my faves, also browse the pasta section of my blog.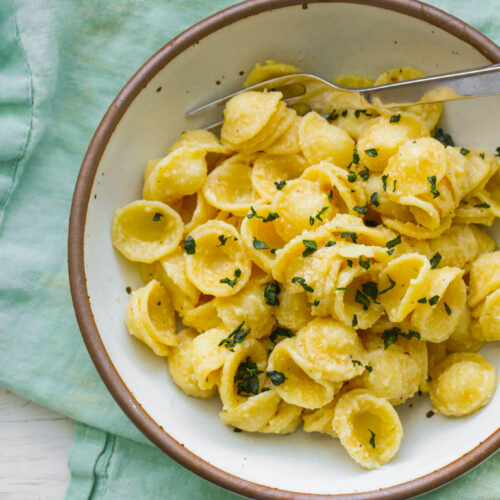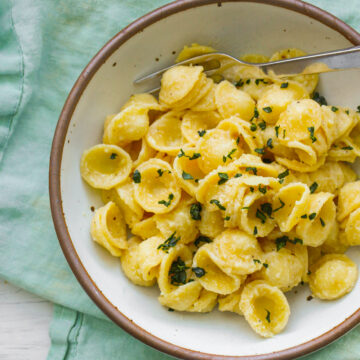 Ingredients
4

cups

cooked pasta

,

any variety
Roasted Garlic
1

head

garlic

,

top chopped off

1

teaspoon

extra virgin olive oil
Olio Sauce
2-3

tablespoon

extra virgin olive oil

salt and pepper to taste

roasted garlic
Optional add-ins:
¼

cup

vegan Parmesan cheese

,

optional

finely chopped kale or parsley or basil
Instructions
Roasting Garlic
Slice the tip top off of your head of garlic. Place it in the center of a medium-sized piece of foil

Drizzle the teaspoon of EVOO right over top the sliced cloves. Wrap the foil up tightly to seal.

Bake at 400 degrees for about twenty minutes – or until soft. Cook pasta during this time.
Pasta
Cook your pasta and drain. Set aside when ready.
Sauce
When your garlic is roasted, into a small bowl, squeeze the head of garlic so that all the insides, all mushy and creamy, come out. Add the EVOO to that. Add a pinch of salt and pepper to taste.

Mash the garlic and olive oil together until a creamy, oily paste forms.
All together
Pour the cooked (still hot) pasta into a large mixing bowl. Scoop in the Aglio e Olio sauce. Toss well using a wooden spoon. Add in the optional vegan Parmesan. You can also add more salt and pepper to taste. Or red pepper flakes for heat. Any other add-ins like veggies can be folded in now as well.
nutrition estimate | per serving
Calories:
344
kcal
|
Carbohydrates:
51
g
|
Protein:
10
g
|
Fat:
11
g
|
Saturated Fat:
2
g
|
Sodium:
3
mg
|
Potassium:
106
mg
|
Fiber:
3
g
|
Sugar:
1
g
|
Vitamin C:
3
mg
|
Calcium:
28
mg
|
Iron:
2
mg
Looking for more easy meals: check my Pantry Meals roundup!