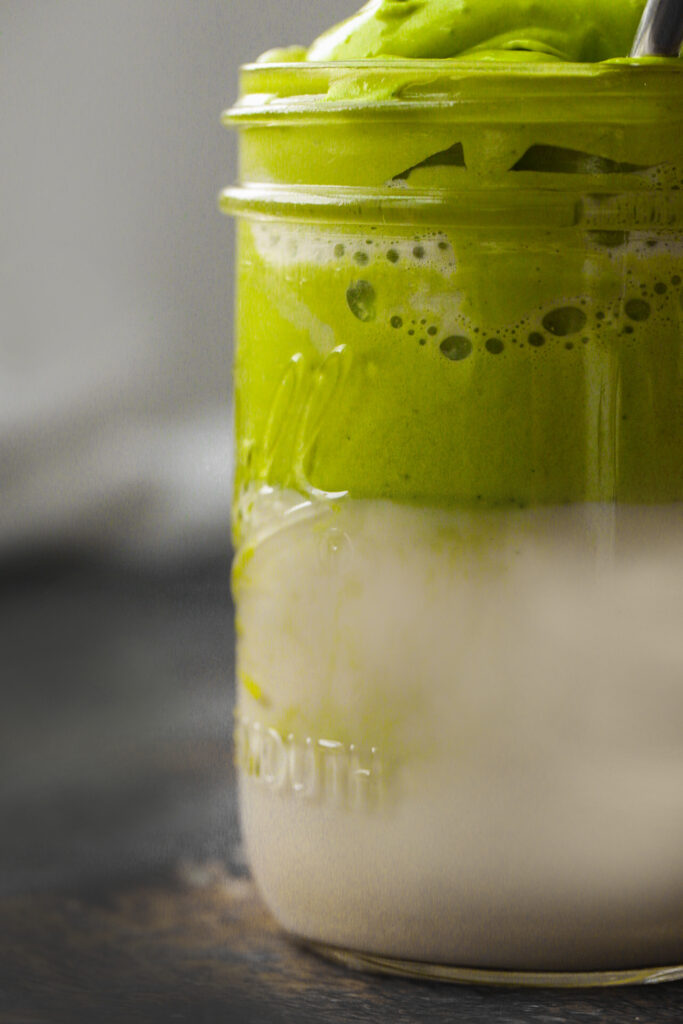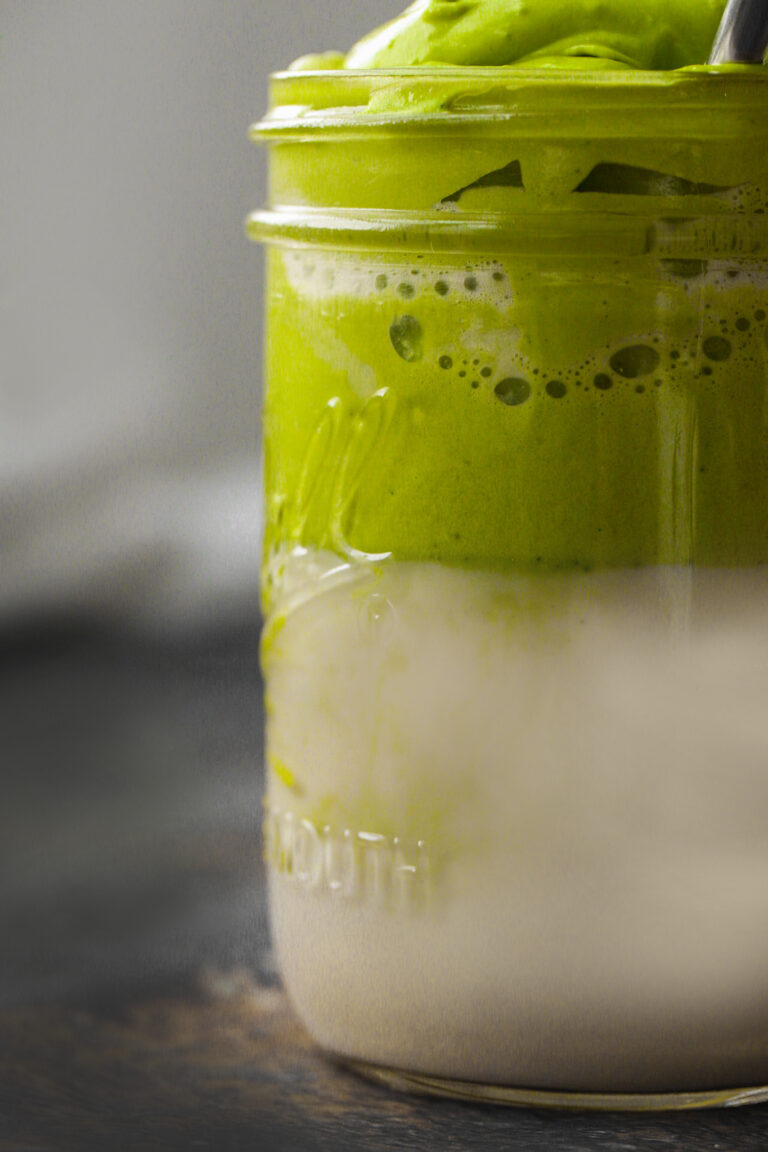 If you pay attention to internet type things, you have probably heard of or seen Dalgona Coffee — the fluffy, whipped coffee trend that is all over TikTok + Instagram. Well my friend Cat made the most ah-mazing version of Dalgona in her stories – and she challenged me to try making a Dalgona Matcha, and so here are my results. What worked and what didn't!…
Coconut whip matcha foam/cream..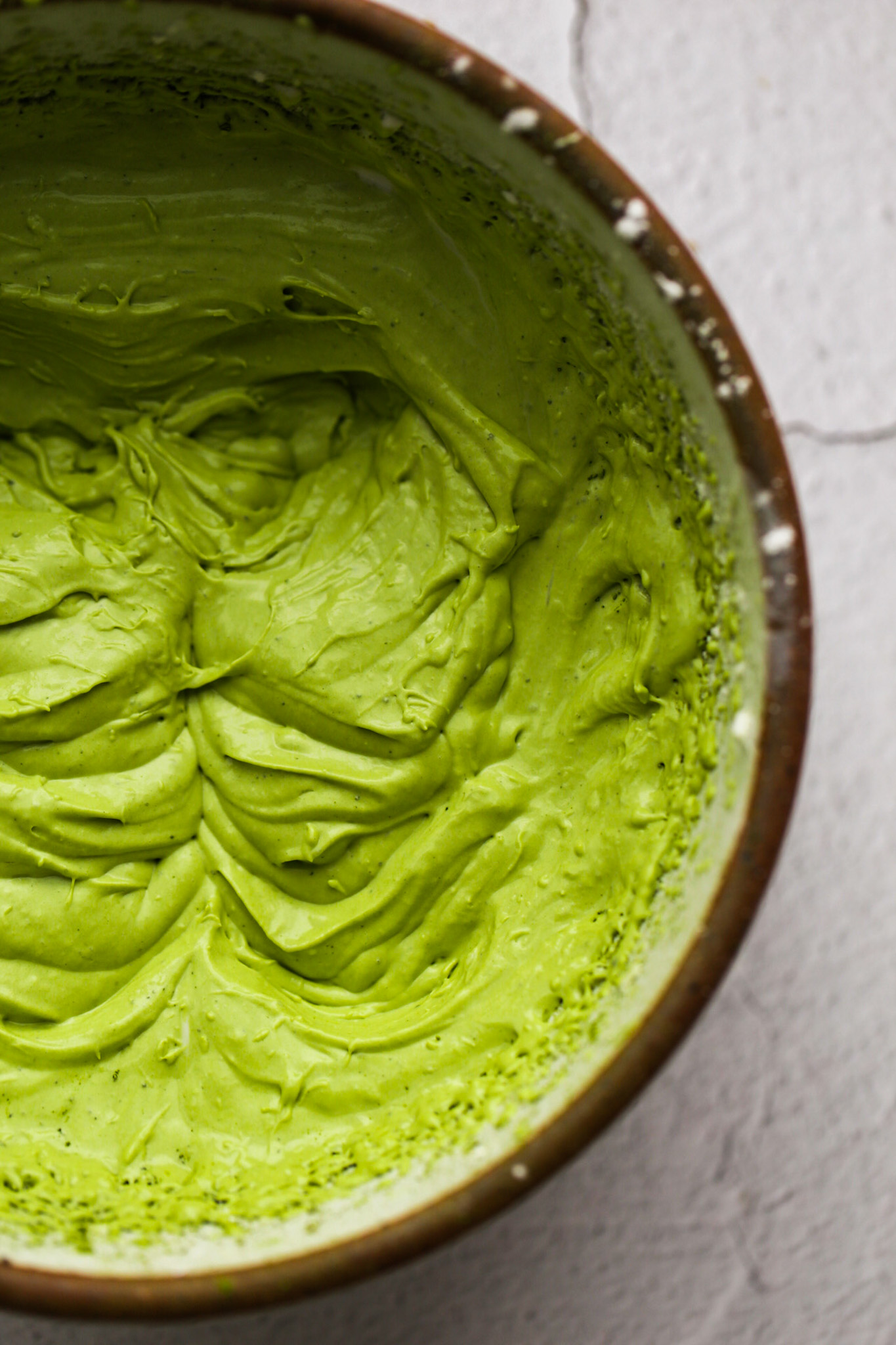 What Didn't Work, #Fail
A few weeks ago I tried making Dalgona Matcha in the same way that you make the coffee-version. I whipped sugar with water and matcha powder (sub of instant coffee). The results? A big green soupy mess. No fluff, just watery matcha concentrate.
I had a feeling that might happen. I guess something in the crystals of instant coffee creates a fluffy foam! And since I don't think 'instant matcha crystals' exist just yet, I brainstormed other options….
Coconut Milk | Coconut Whip to the Rescue..
Most vegans know that there are two great ways to get 'fluff' and foam for recipes:
coconut whip – from coconut cream/milk (chilled) – recipe
aquafaba – from the liquid from a can of beans
..And I guess you could toss in soy milk to the mix since I always know how to make my soy lattes nice and foamy just using my blender. But as I have noticed in most recipes + videos… Dalgona Coffee foam on another level – even more than I get for a basic latte.
Dalgona Matcha, from Beans
I noticed this week that the awesome Jasmine of Sweet Simple Vegan posted an aquafaba version of Dalgona Matcha. Her recipe comes out super light and fluffy – foam galore! Love it.
A few other bloggers who also dove into the Dalgona Matcha trend… Proportional Plate (aquafaba), Simply Quinoa (aquafaba), Unbound Wellness (yay another coconut milk person!)
For me, I personally lean towards coconut whip type flavors for my beverage fluff, and matcha especially, so I was excited to give this a go!…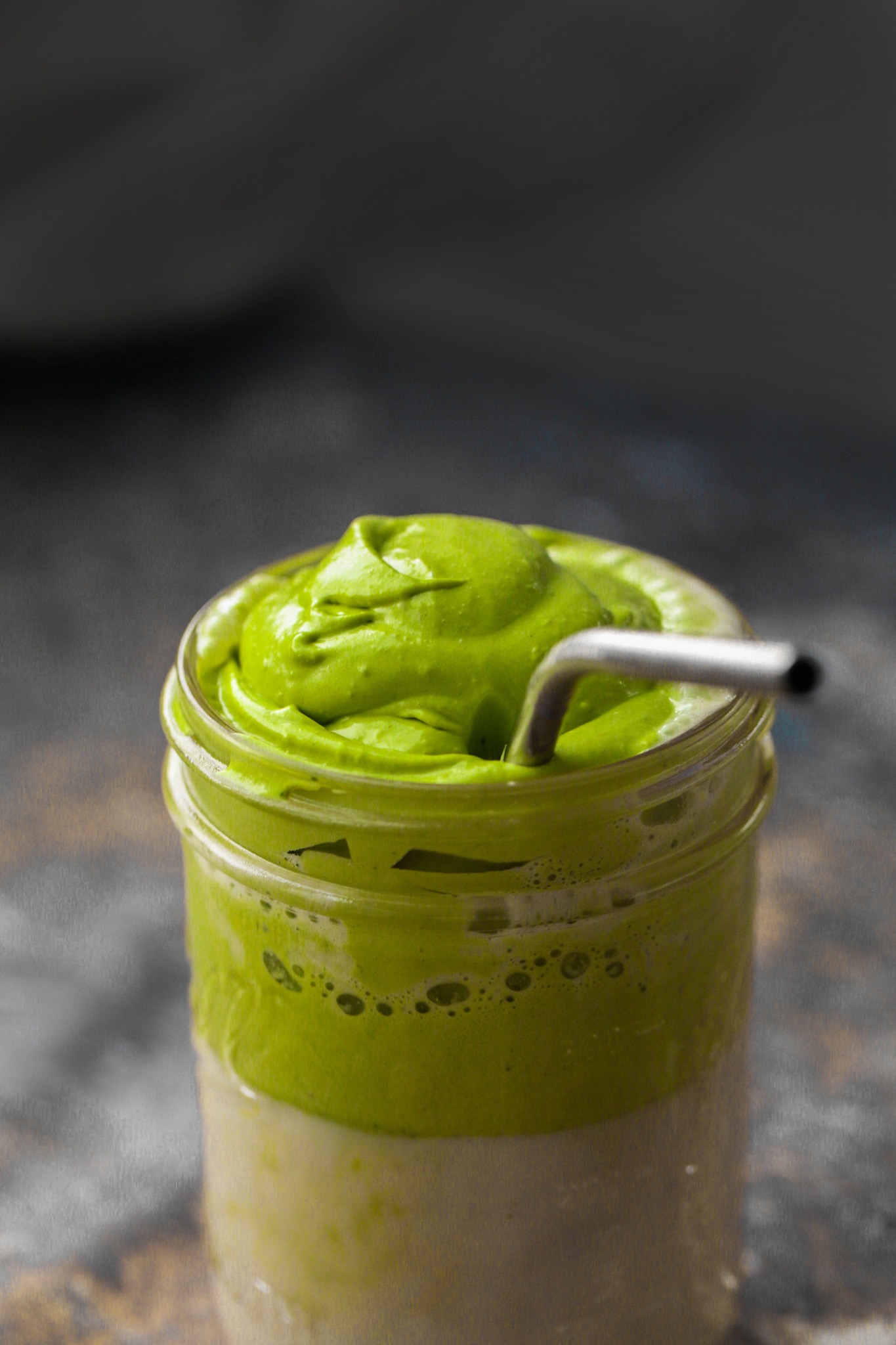 Dalgona Matcha, from Coconut Milk
The recipe is easy and fast. You just need a can of full fat coconut milk – or coconut cream. Some powdered sugar and of course some matcha! That's it!
The results are similar to coconut whip. Fluffy and creamy, but definitely richer than the average 'coffee foam' from instant coffee and water. I certainly didn't mind.
But if rich and creamy isn't what you are going for with Dalgona Matcha, I'd give the bean-based, aquafaba version a try instead. But if you love coconut whip flavors on matcha lattes, you will love this!..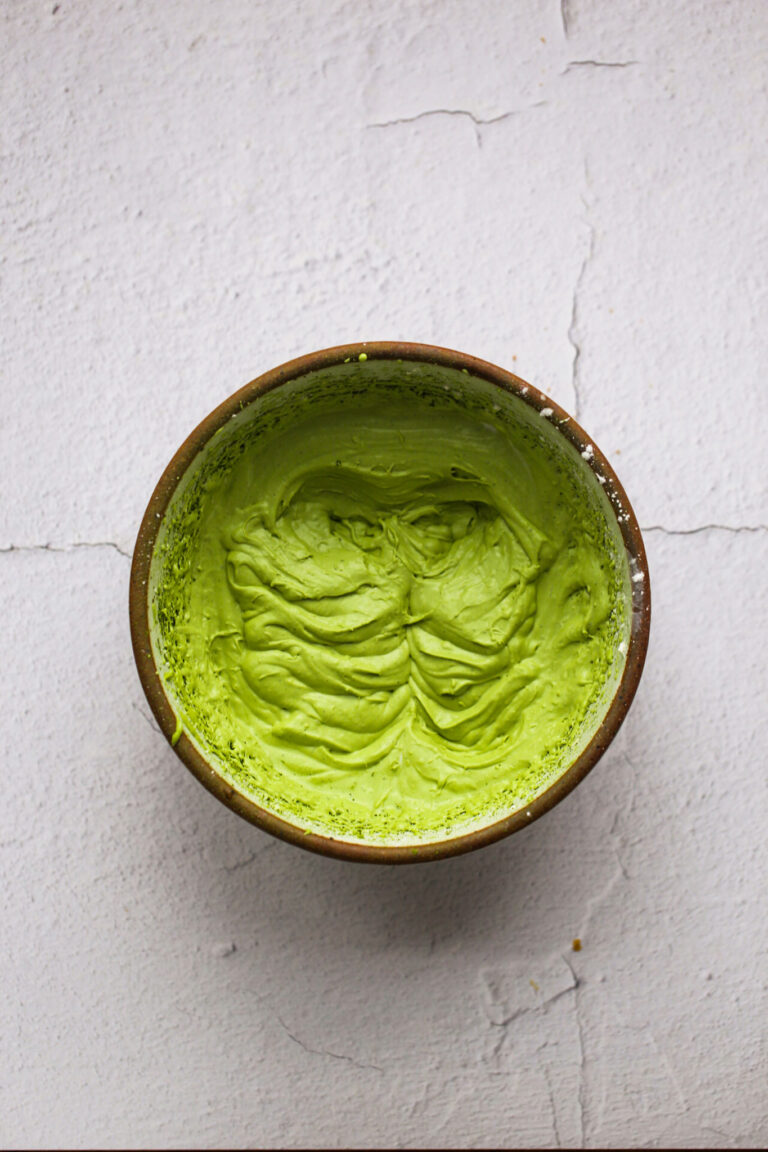 My Best Tip for Coconut Dalgona Matcha…
Make sure your coconut milk / coconut cream is very chilled upon starting to whip. You want it basically rock hard or slightly softer…
…don't mind my labelless can, it peeled away when we were grocery washing. Ah, COVID times.
Watch me make it on TikTok…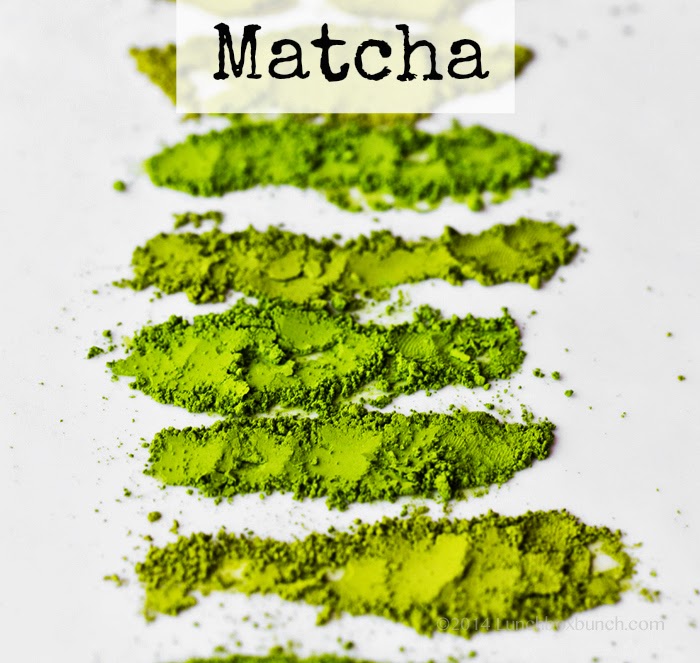 What Matcha Should I Use?
This is a great question! You can use a latte-grade matcha, or even a ceremonial-grade matcha if you want the perkiest green color possible. I always choose organic matcha because the leaves are so delicate, I don't want any pesticides on my matcha leaves.
Per usual, I grabbed my Encha matcha because it has long been one of my fave brands for quality and I love supporting my friend Li's small business. You can find more insight into matcha in my many blogposts on this topic…
My Matcha Content:
Powdered Sugar Sifting Hack!
I discovered this hack while making this recipe. So sifted powdered sugar works way better than cliumpy non-sifted powdered sugar, in this recipe and most recipes. And while I have a hand-crank sifter – it takes forever to sift. My hack:
Add the sugar to a wire strainer – fine mesh material. Then use your hand mixer to beat the sugar through the mesh material. Sugar: sifted! And in seconds. Zero muscle power needed.
Is Dalgona Served Hot or Iced?
You can actually do either serving method. I thought hot was the only way, so that's what I did for my recipe. But I did notice the hot soy milk melted a bit of the foam upon scooping it on top. I think an iced Dalgona Matcha would turn out even better than warm, but both are super yummy. If serving iced, simply add cold milk + ice cubes to your serving glass, then foam on top.
Is it Sweet Enough??
I love my matcha lattes with a good dose of sweetness. So what I did is I added about 2 teaspoons of agave syrup to my non-dairy milk – basically sweetening it ahead of time since the matcha foam only has so much sugar in it – and I don't prefer the flavor of basic powdered sugar over agave, maple or coconut sugar. If you are cool with a less sweet drink, the recipe, as is should be good to go.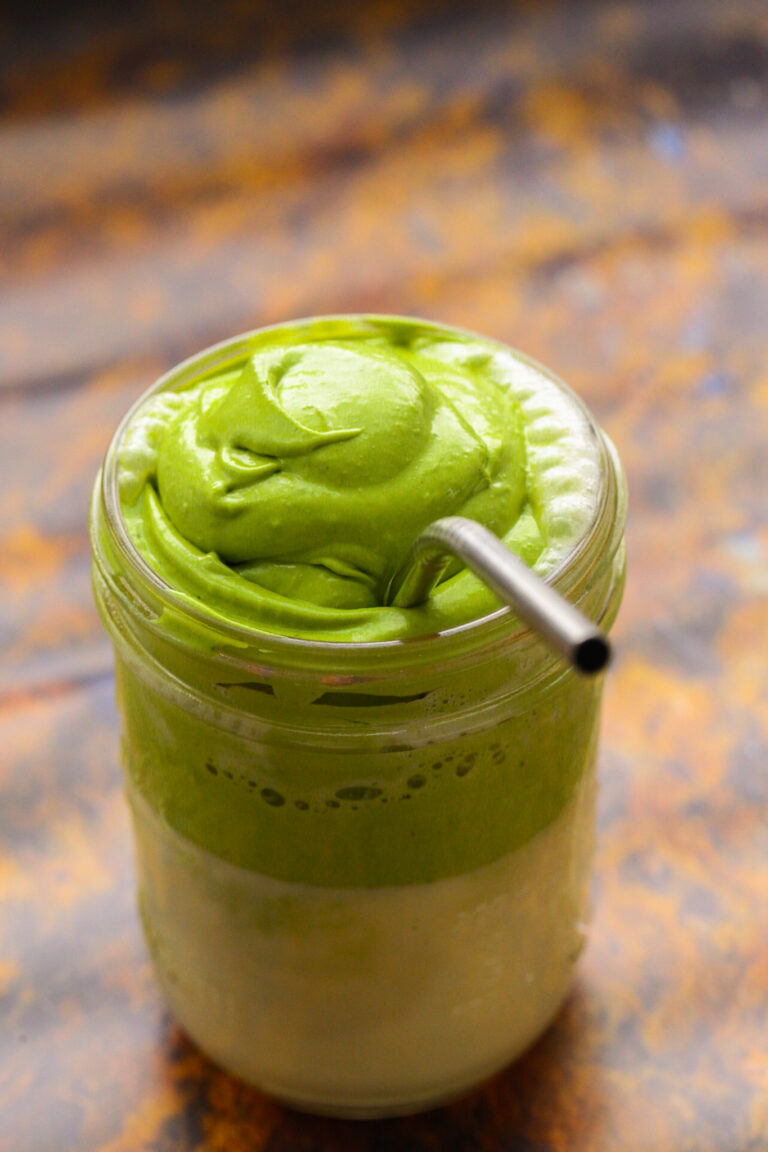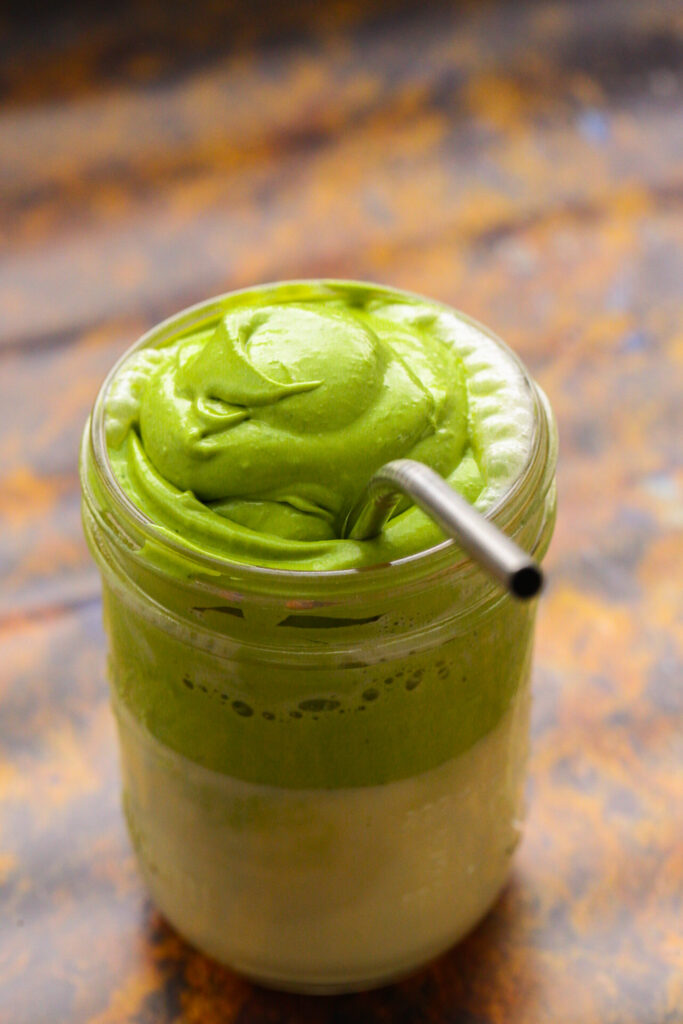 How Did The Dalgona Trend Start?
Apparently it is a popular beverage in South Korea. You can read more about it from this BBC article.
And with that, here is the recipe! Give it a try an let me know how yours turns out!! If you share to social media, as one might do with a gorgeous matcha latte such as this, tag me so I can see how it went for you!
Pregnancy Side Note
I'm actually not drinking any caffeine while I am pregnant. Matcha or coffee. I've been doing Nespresso decaf lattes in the morning. But I did make an exception for test tasting this recipe. And it was goooood. I definitely think I will make the chilled version once the little one is here and some hot late summer weather kicks in. (I don't have anything against caffeine during pregnancy, one moderate serving a day – 150mg-300mg – has been said to be fine, just for me, it's not something I need right now.)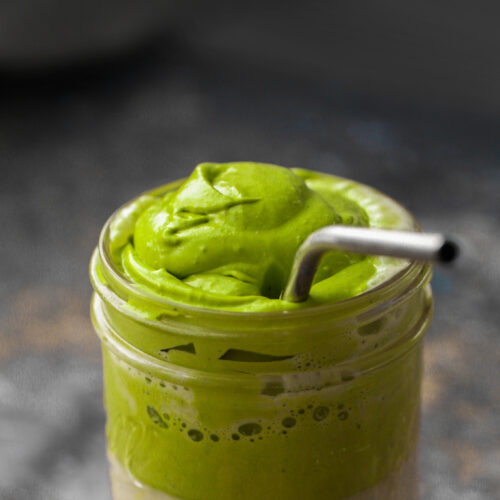 Dalgona Matcha
This vegan, matcha version of the famous Dalgona Coffee trend is rich and creamy, fluffy and delicious!
Print
Pin
Ingredients
½

cup

coconut cream

,

fully chilled***

2

tablespoon

powdered sugar

,

organic – sifted

1

tablespoon

organic matcha

1 ½

cups

soy milk

additional sweetener

,

to taste

⅛

teaspoon

peppermint extract

,

optional for a minty accent
Instructions
Prep: Fully chill a can of full fat coconut milk or coconut cream overnight in the fridge.

Ready to make it! Open you can of coconut milk or cream. Scoop out ½ cup of the creamy white stuff. Scoop into a medium bowl. Tip: Tall, narrow, deep bowls work way better than wide shallow bowls. More air gets whipped in when the whipping space is more condensed.

Add the powdered sugar and matcha to the coconut cream.

Using a hand or stand mixer, whip coconut mixture until it is smooth and fluffy. Use up and down motions, on the highest speed, to fully whip into a fluffy texture. DO NOT over whip – warming the coconut cream too much will make it melt and lose it's fluff. Set aside.

Milk: If serving warm, heat milk to desired temperature – usually 1-3 minutes in the microwave should do it. Pour into serving glass(es). If serving chilled, pour cold milk into glass(es) and add a few ice cubes.

Scoop the matcha foam over top the milk and serve!
Notes
***You can either use the creamy white part of a chilled can of coconut milk (full fat). Or you can actually buy 'coconut cream.' The coconut cream will still need to be chilled overnight.
nutrition estimate | per serving
Calories:
312
kcal
|
Carbohydrates:
15
g
|
Protein:
11
g
|
Fat:
24
g
|
Saturated Fat:
19
g
|
Sodium:
70
mg
|
Potassium:
414
mg
|
Fiber:
2
g
|
Sugar:
9
g
|
Vitamin A:
752
IU
|
Vitamin C:
2
mg
|
Calcium:
233
mg
|
Iron:
4
mg