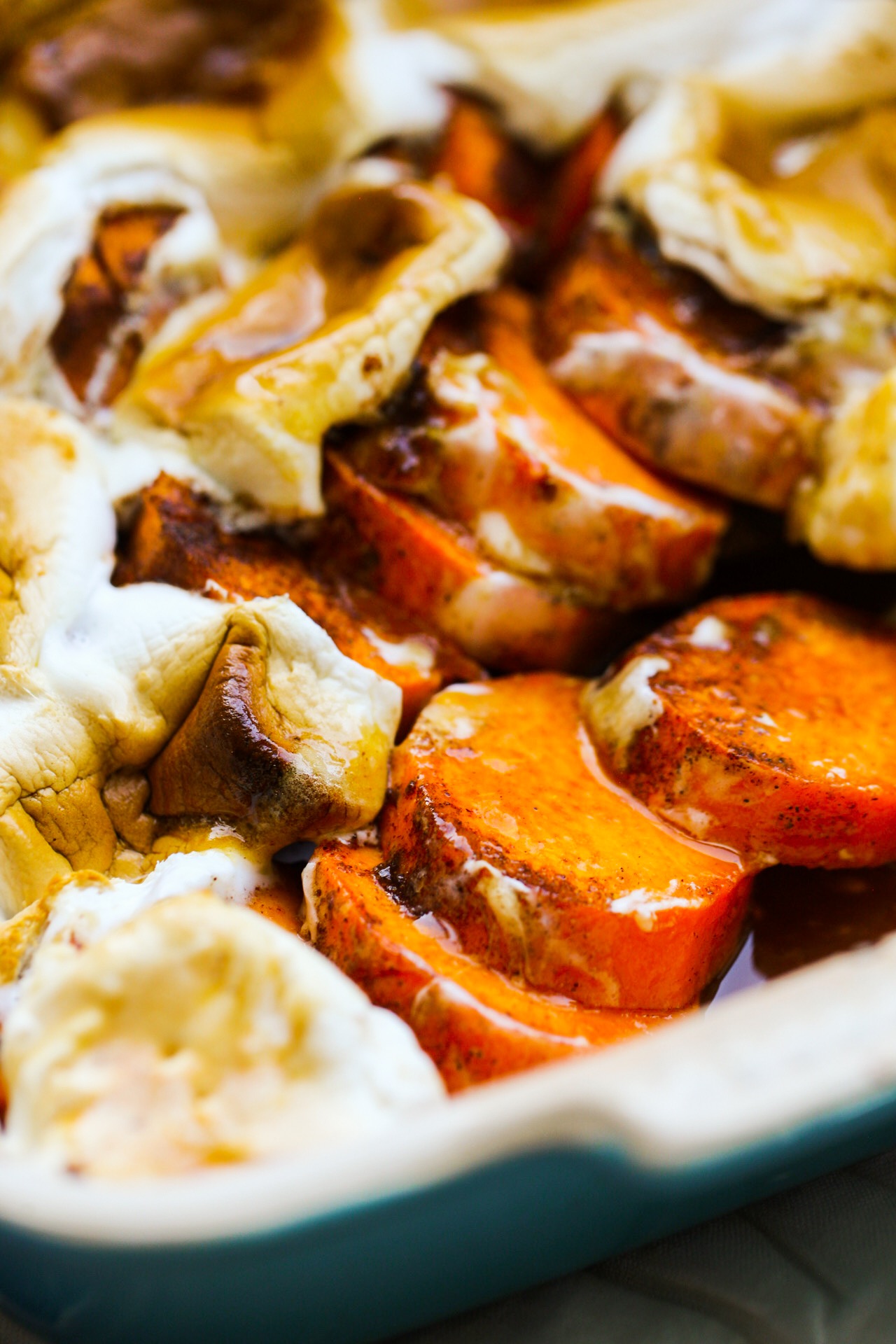 This easy Sweet Potatoes with Marshmallows recipe is the perfect dish to keep the magic of the holidays, alive and well, via your dinner table.
There is only one time of year I would ever think of adding marshmallows to my sweet potatoes. Thanksgiving time of course! Sweet potatoes are one of my all time favorite foods. Usually I bake them whole, skin on, in a hot oven, until sticky-sweet and tender. The filling caramelizes on the edges and you can literally eat the sweet potato just as-is for the yummiest flavor and texture.
But everyone loves an eye-catching side dish in the dinner table around the holidays, and sweet potatoes with marshmallows is one of those dishes. It grabs the attention of kids who look with wide eyes and think, "Wait, mom and dad – or whoever is in charge of dinner – put marshmallows on the dinner table???" And suddenly, everything feels extra magical. Marshmallows next to the brussels sprouts, and everything is right in the world.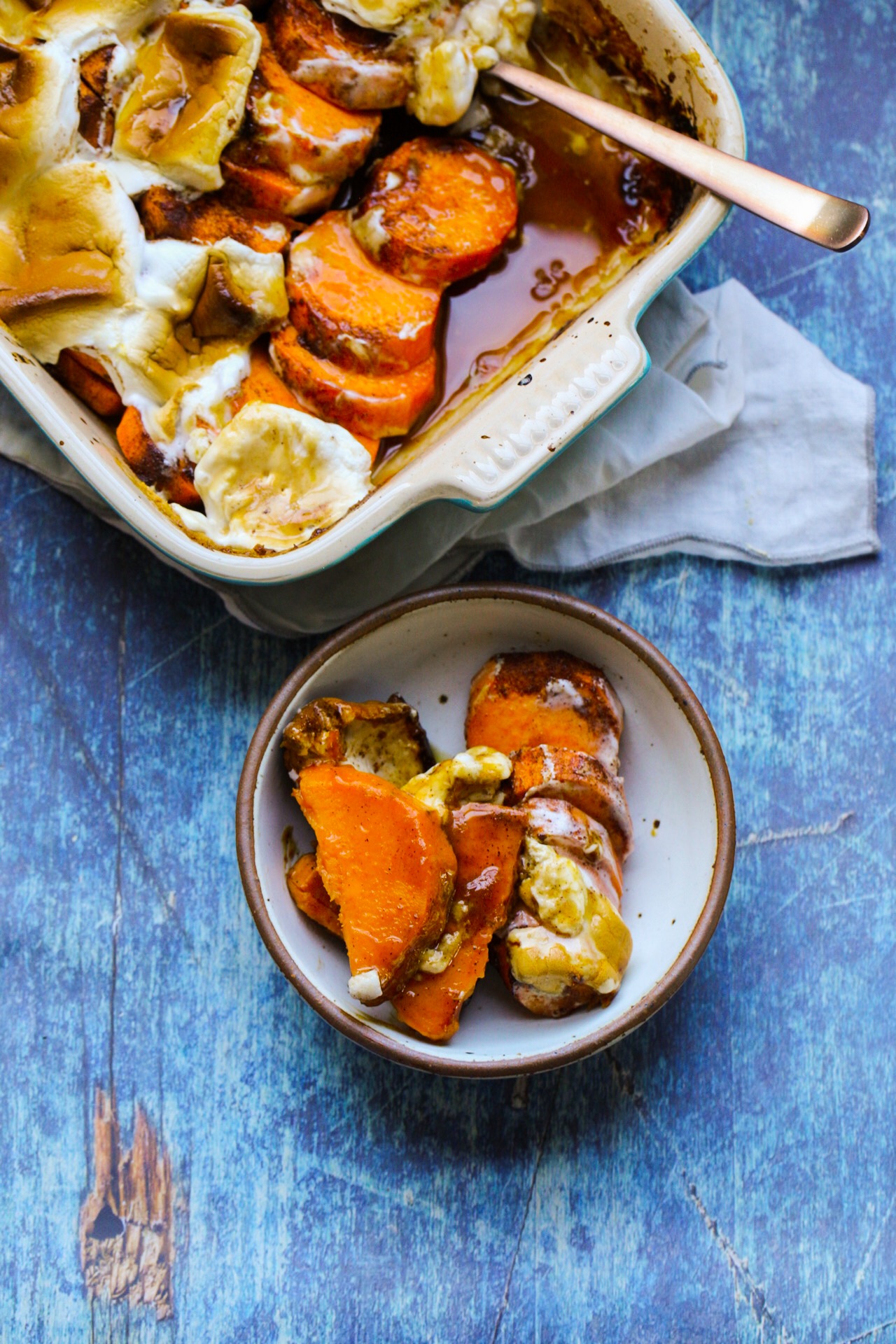 Marshmallows next to the brussels sprouts, and everything is right in the world.
Vegan Marshmallows
Vegan marshmallows are easy to find these days. The company Dandies make both mini and large sized vegan marshmallows. Regular marshmallows are not vegan because they contain gelatin, which is an animal product.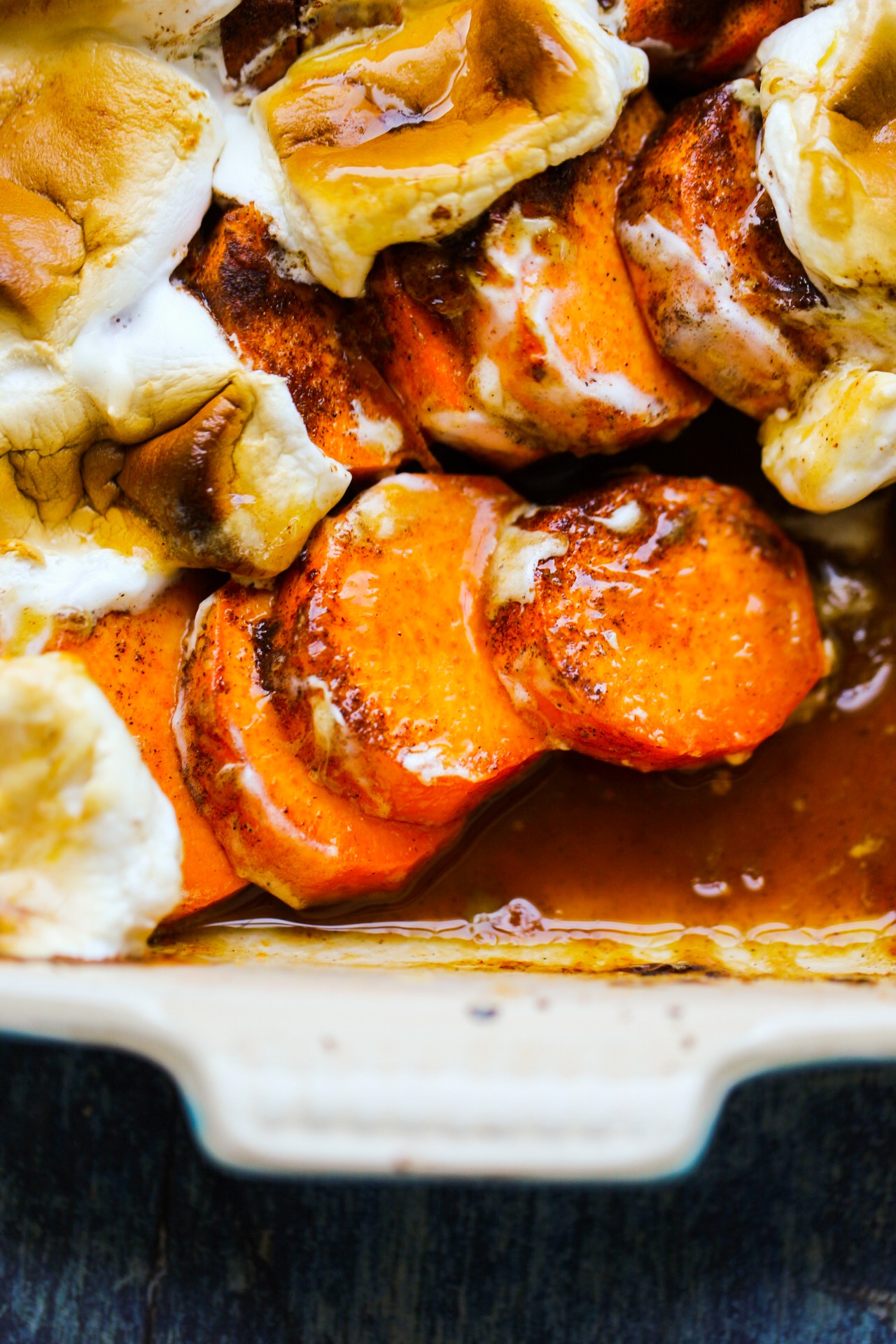 Other Ingredients for these Sweet Potatoes..
citrus
cinnamon
butter
coconut sugar
salt
Sweet Potatoes for the win
Sweet potatoes are one of those delicious super foods that I think we should all be eating more of. they are rich in fiber, vitamin A, potassium and more. Plus, they are naturally sweet and hearty and nourishing.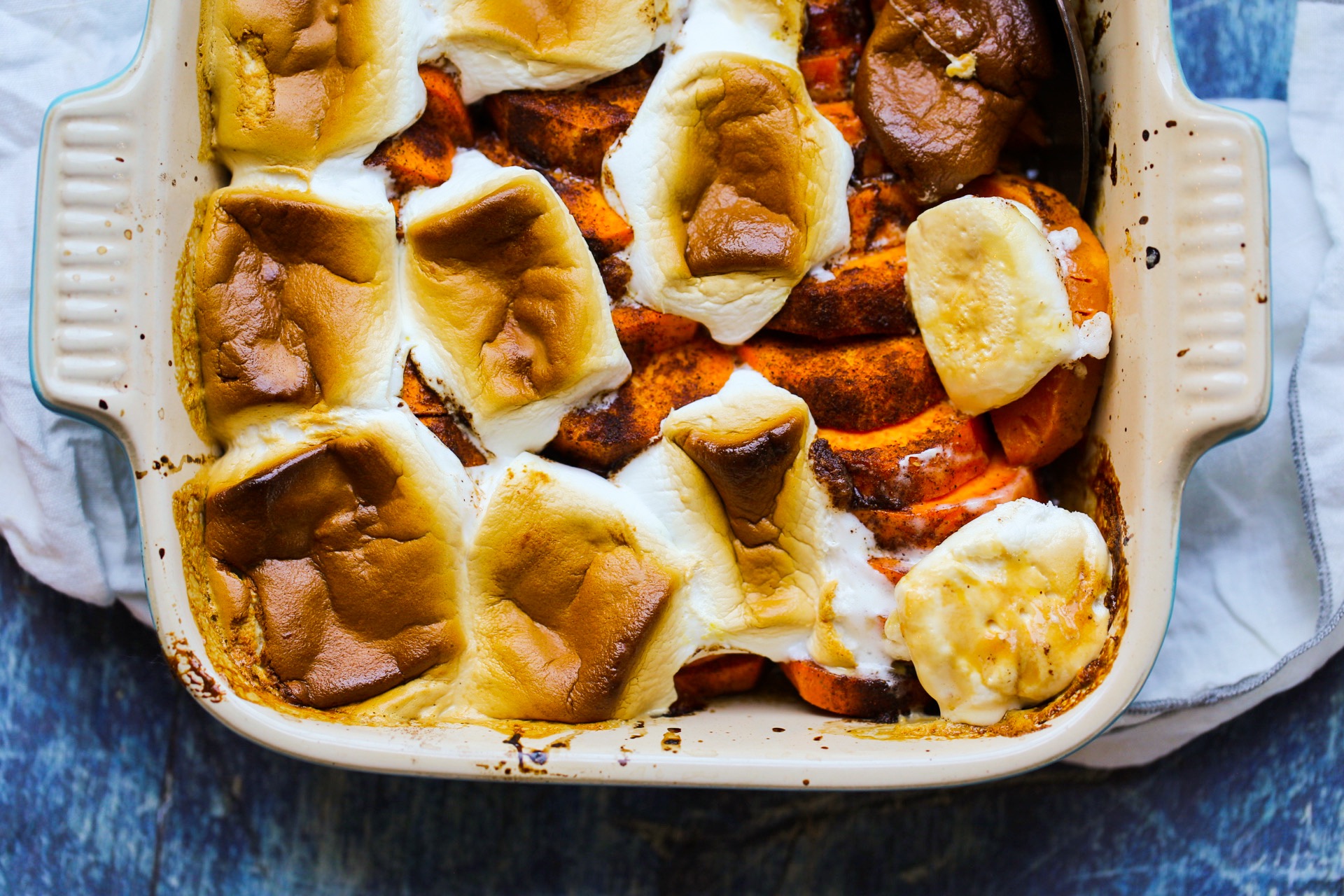 Make Ahead Sweet Potatoes with Marshmallows:
These Sweet Potatoes with Marshmallows are best when served right away. But it's easy to modify the recipe for a make-ahead friendly dish.
Once marshmallows brown, they will become a bit toasty, and while that is delicious for serving right away, they will get hard in the fridge. For make ahead sweet potatoes, you can absolutely cook the sweet potatoes all the way through – minus the marshmallows – then the day of serving, warm the sweet potatoes in a 350 oven for 10-15 minutes, and add the marshmallows then.
Vegan Thanksgiving Resources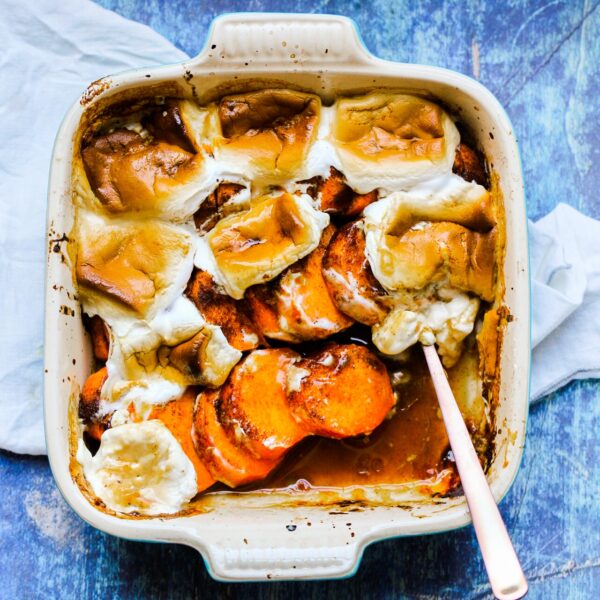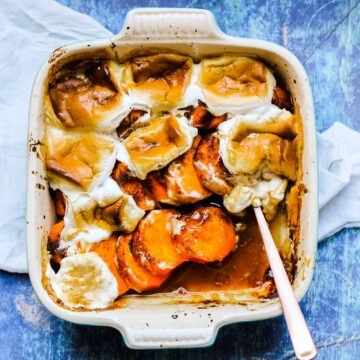 Sweet Potatoes with Marshmallows
This vegan side dish uplifts the usually lovely sweet potato to an even more decadent and magical level. Sticky sweet in all the right places.
Print
Pin
Ingredients
3-4

medium sweet potatoes

7-10

vegan marshmallows

⅓

cup

vegan butter

3

tablespoon

fresh orange or tangerine juice

,

optional

2

tablespoon

coconut sugar

¼

teaspoon

salt

2

tablespoon

ground cinnamon
Instructions
Preheat oven to 425 degrees.

Rinse and peel potatoes. Slice into rounds. You can slice as thick or thin as desired, but remember that thick rounds will need a bit longer to bake. Tip: slice about ¼-1/2 inch wide.

Lay the sweet potatoes into your baking dish. Slide the rounds apart a bit so they have some room to breathe.

Pour the optional citrus juice over top the potatoes. Optional: zest some of the citrus peel over top for extra citrus flavor.

Sprinkle the cinnamon and coconut sugar over top the potatoes.

Slice up the butter and add in pieces over top the potatoes.

Add 2-3 marshmallows to the pan. Stuff then under and in between the potatoes so they are not right on top. Cover with foil.

Bake at 425, covered, for 35 minutes. Then remove the foil and add the remaining marshmallows over top. Bake for an additional 5-10 minutes to melt and brown marshmallows.
nutrition estimate | per serving
Calories:
179
kcal
|
Carbohydrates:
26
g
|
Protein:
1
g
|
Fat:
8
g
|
Saturated Fat:
2
g
|
Sodium:
229
mg
|
Potassium:
248
mg
|
Fiber:
3
g
|
Sugar:
11
g
|
Vitamin A:
9718
IU
|
Vitamin C:
6
mg
|
Calcium:
46
mg
|
Iron:
1
mg