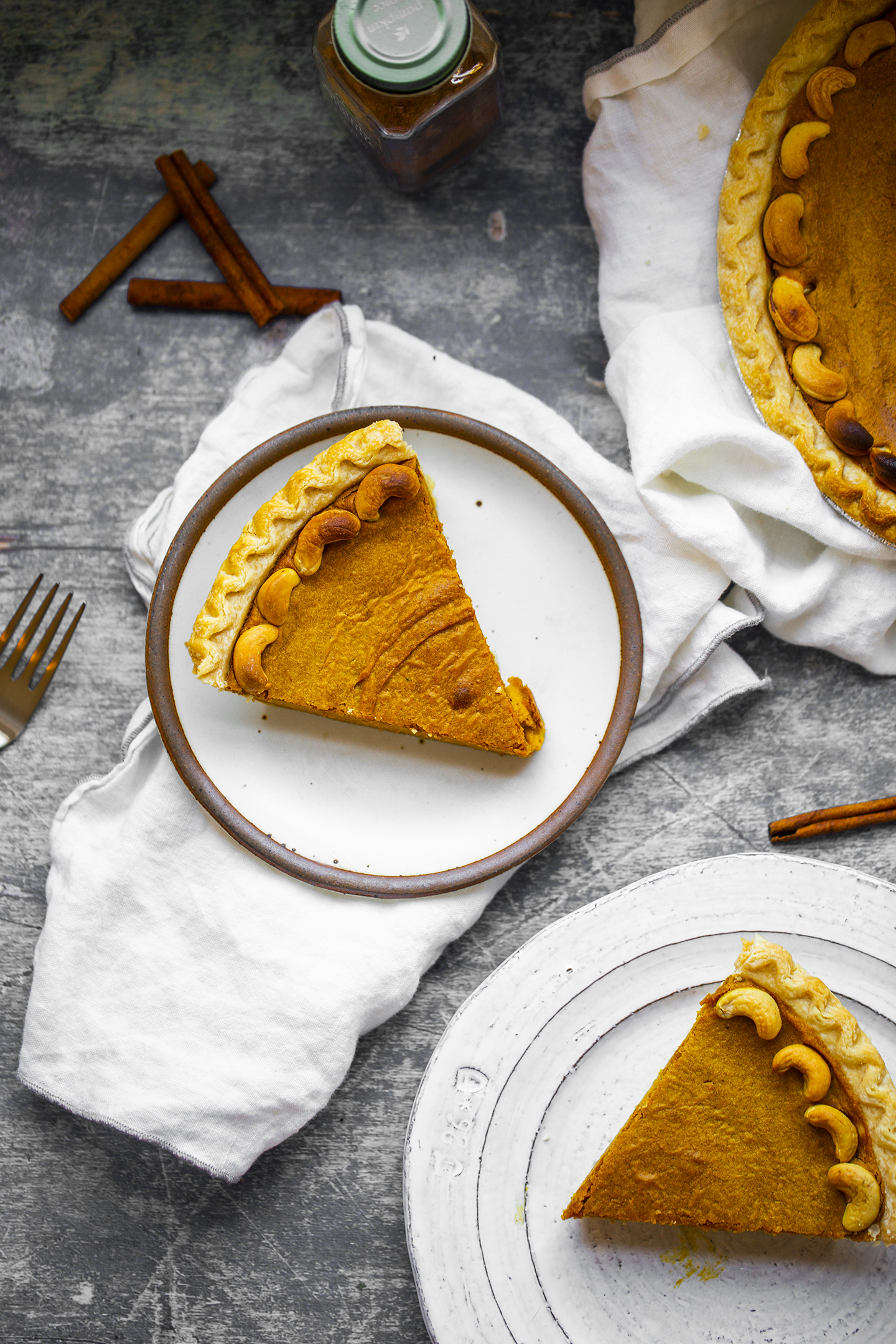 Thinking of veganizing your holidays this year? Get ready for my 25 Reasons to Host a Vegan Thanksgiving This Year…
Hello, Holidays.
Is this you? Pondering the upcoming holiday. Tapping your finger to your lips, your mind swirling with all the plans, people and food yet to coordinate this year?
Maybe you start browsing the internet, Pinterest boards, blogs and YouTube. And you start to see a whole bunch of yummy #vegan recipes scattered around. And suddenly you think, hmmm, this vegan thing, sounds interesting. I would like to try that.…
Vegan Thanksgiving?…
Pondering a Vegan Thanksgiving is certainly where my vegan journey began back in 2000. Pondering the recipes and taking a few test drives of vegan feasts around the holidays. And I have never looked back. And if I can do it, anyone can do it.
I am just like you. I love good food, friends, family. And Thanksgiving, it needs to be delicious and special. Magical and beyond cozy. I get it. A vegan Thanksgiving can easily be all those things and more.
My challenge to you: host a vegan Thanksgiving in your home this year…
Twinkly golden lights, wine glasses filled to the brim, the intoxicating aroma of sweet potatoes, chestnut stuffing and pumpkin pie dancing in the air. And instead of a giant sad Turkey in the center of your table, something else settles in. Maybe a dreamy vegan entree, maybe a vibrant satsuma and pomegranate centerpiece fruit bowl, maybe a lovely vase of flowers or maybe just more and more vegan food. A meat-free, plant-based Thanksgiving is easier than ever!…
Don't need convincing? Hope over here to get my Vegan Thanksgiving Guide with tips and recipes. For the rest of you, here we go….
25 Reasons to Host a Vegan Thanksgiving:
1. Vegan Pumpkin Pie
Reason enough, right here. I will not blame you if you just want to skip dinner and grab a slice. Vegan pumpkin pie is just as good, if not better, than the original dairy and egg-infused versions. And there are quite a few ways to spin it: gingersnap crust, no-bake options, cashew cream blended in, walnuts, varieties of pumpkin. And even one recipe with only four ingredients. Get my favorite recipes, and coconut whip to top things off.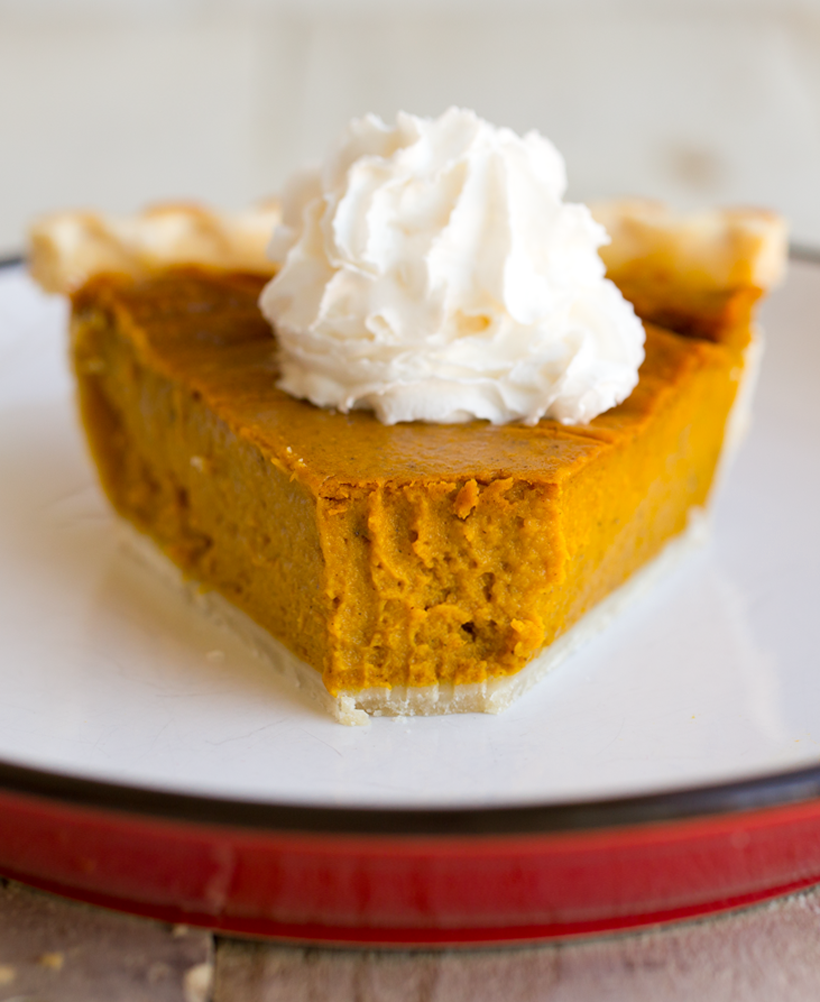 And that fresh coconut whip, a must!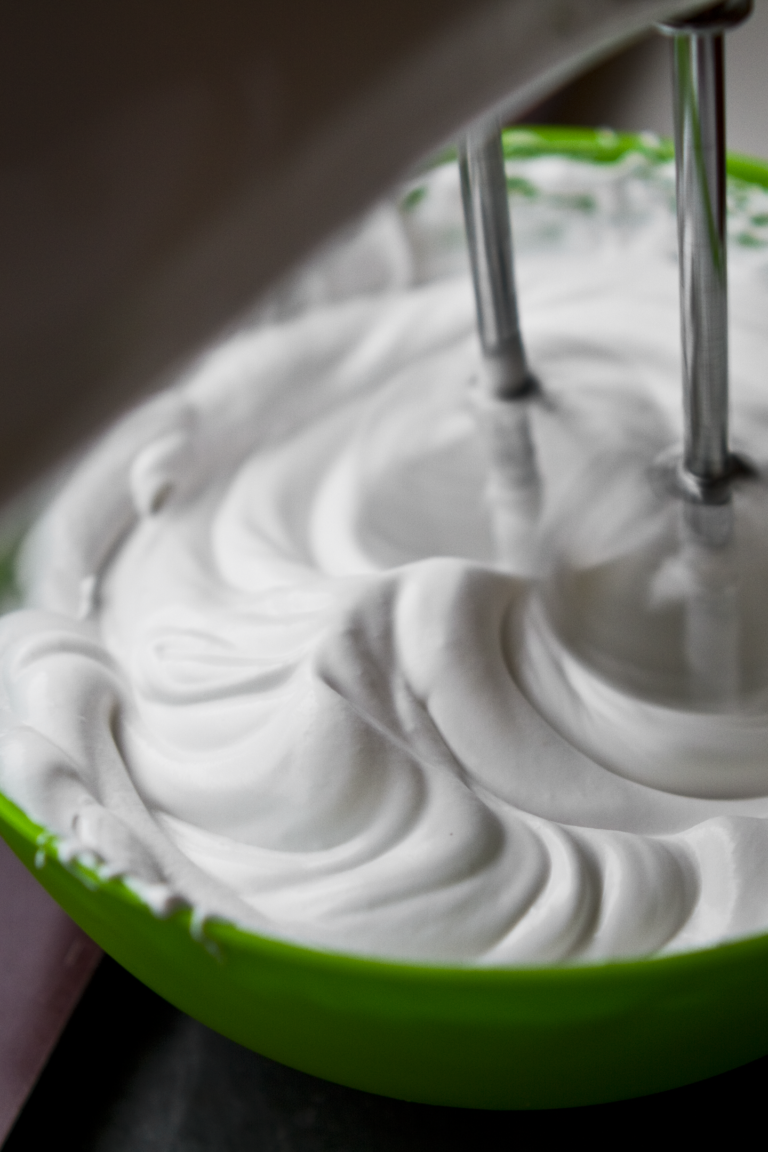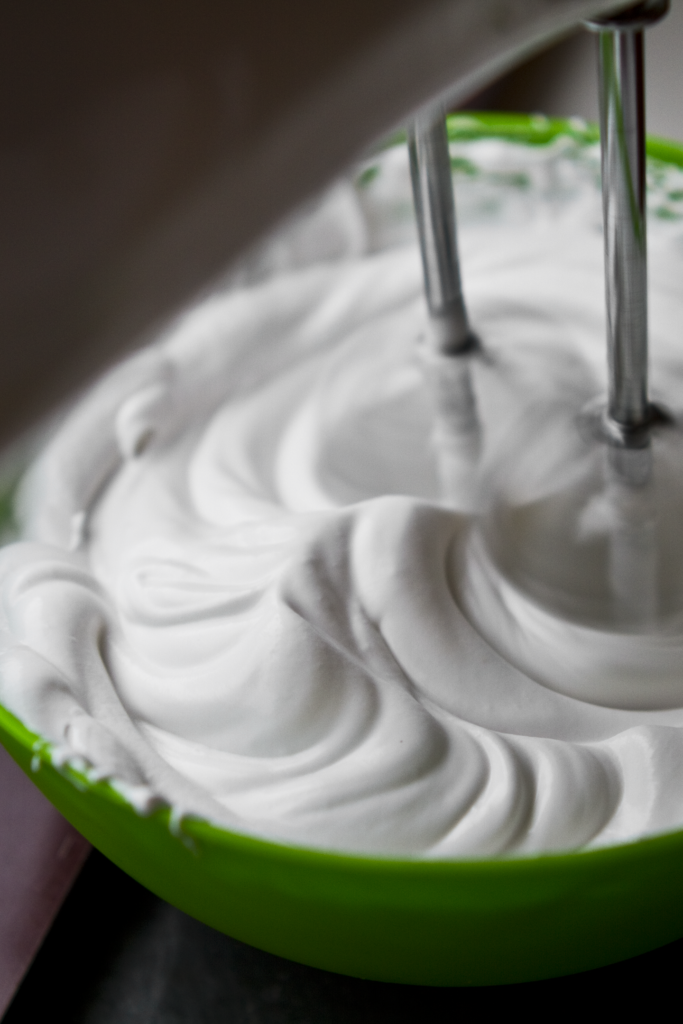 2. Happy Turkeys, Adorable Happy Turkeys
Turkeys are incredibly beautiful creatures, with loads of curiosity and personality. They truly deserve to live a happy life. Those long and lovely feathers are just the outside of their beauty. And these beautiful birds are worth celebrating rather than eating on Thanksgiving. Don't believe me? Watch a few of Karen Dawn's turkeys in action to see for yourself. Vegan Thanksgiving means a compassionate holiday.
3. Green Bean Casserole
I'm a GBC convert, guys. It was never at my holiday table growing up, but since creating this vegan recipe, I just can't get enough! Super creamy and cozy with warming mushroom and green bean, crispy onion flavors, this casserole is a family fave that you simply have to try in the plant-based version!
My "best" Vegan Green Bean Casserole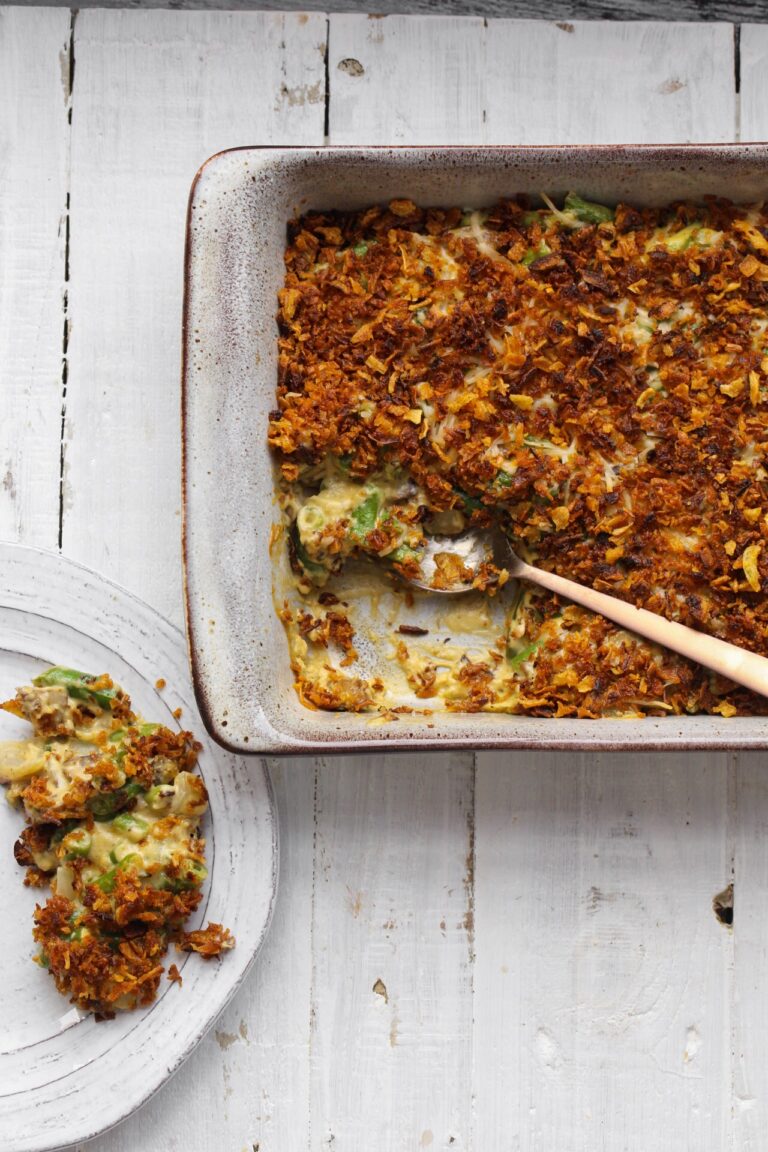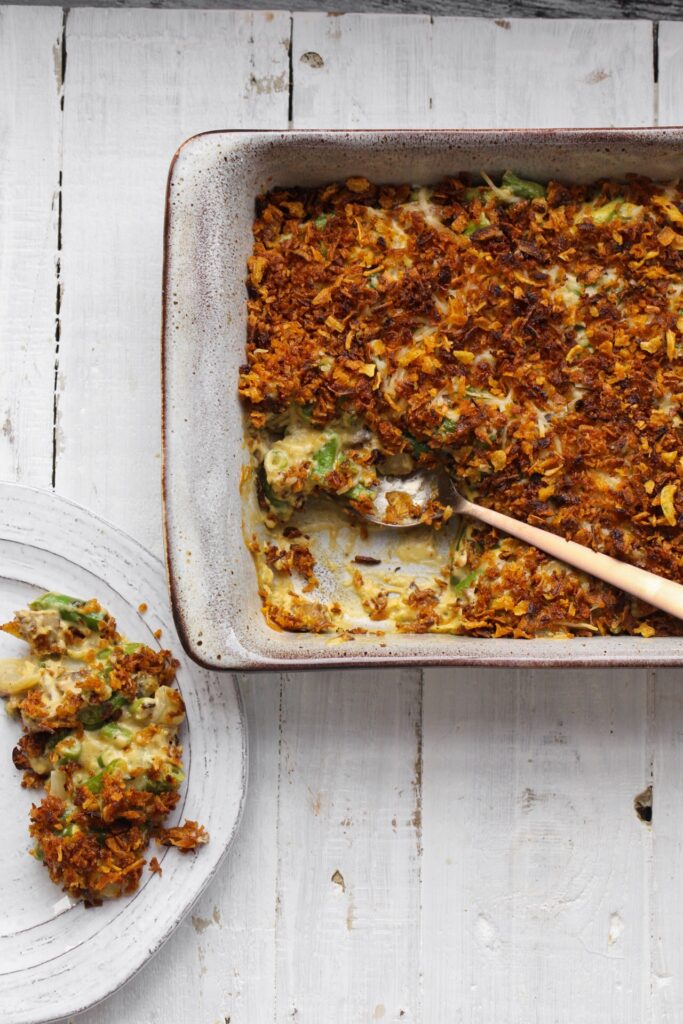 4. Sweet Potatoes
Glorious golden sweet potatoes are one of the best parts of any holiday feast. Well those yummy golden rounds are easily veganized. You can even add vegan marshmallows and vegan butter for some sweet dreaminess. Another idea: add swoon-worthy coconut sugar and cinnamon on top for brown sugar, caramelized flavor.
Try these recipes: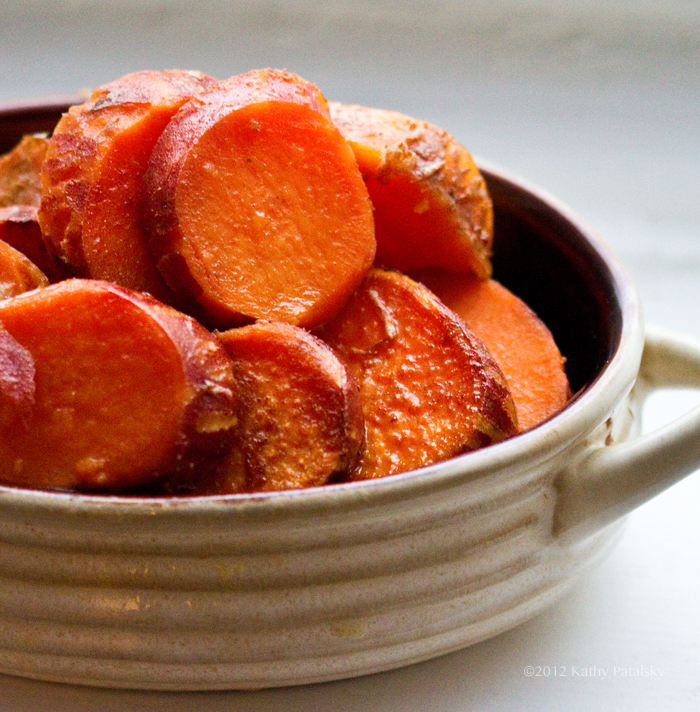 Or just bake up some Softy Sweet Potato Rolls!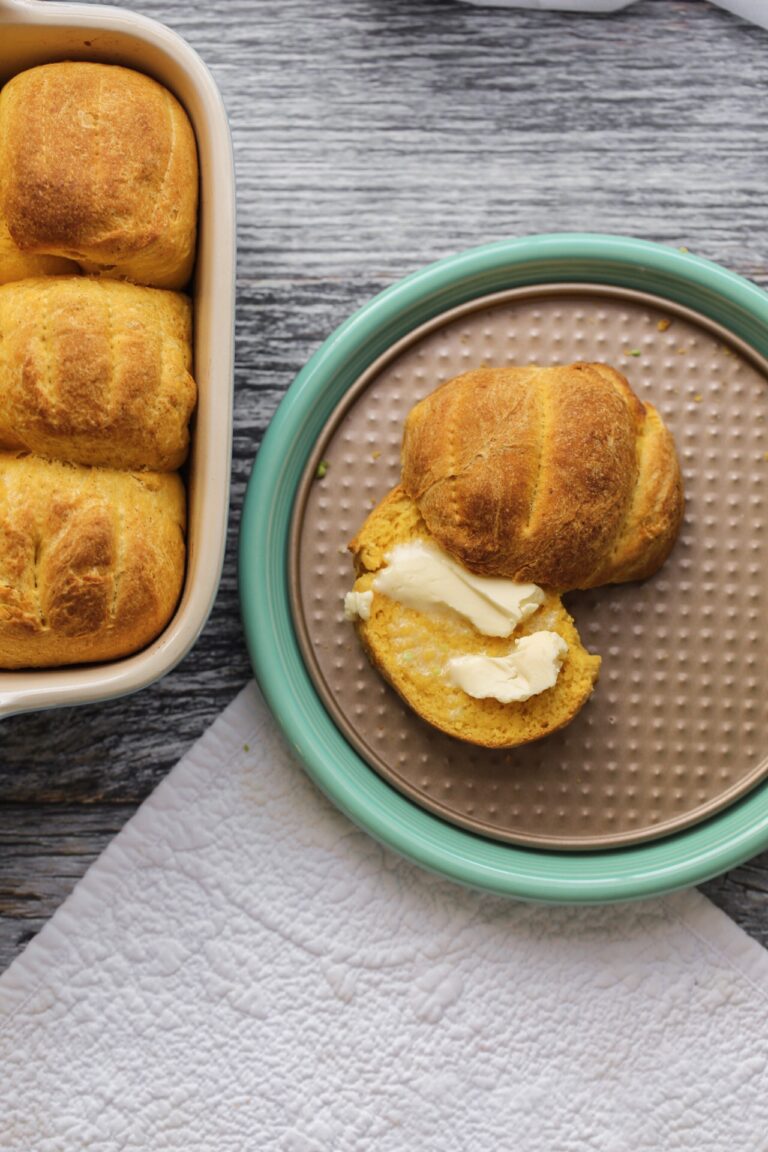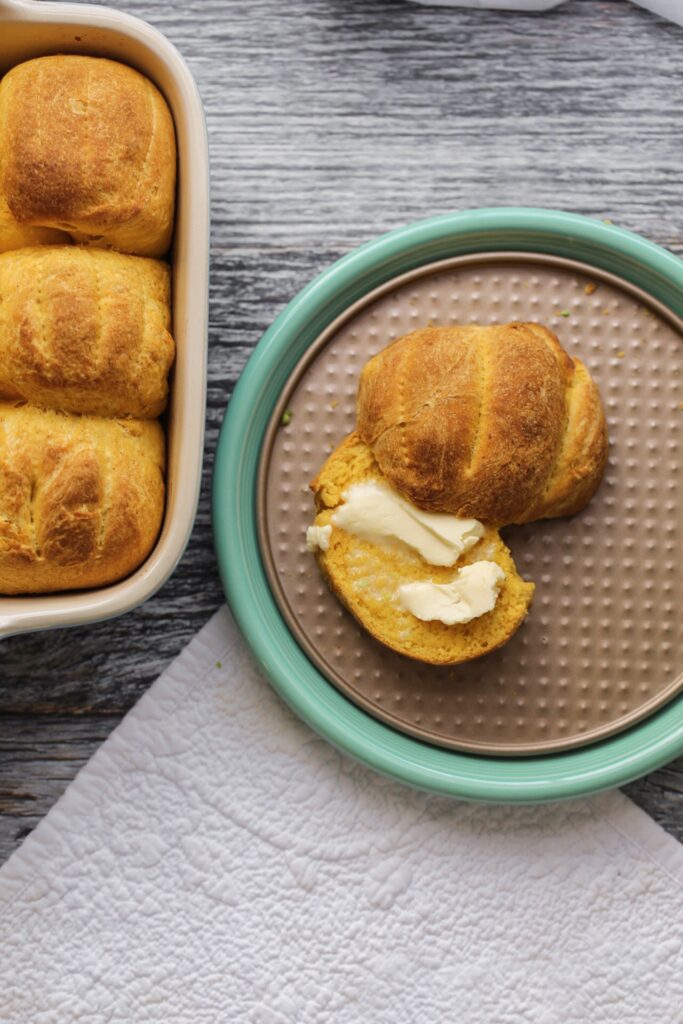 5. Stuffing. Vegan Stuffing.
Thanks to vegan buttery spreads like Earth Balance, a bit of poultry seasoning (yes it's vegan despite the name) and all the goodness of bread, broth and veggies, you can make amazing stuffing that is vegan. Cook it on the stovetop, then bake it in the oven for fluffy-amazing carb-deliciousness. Because what is thanksgiving without stuffing? My favorite vegan stuffing recipe for Thanksgiving.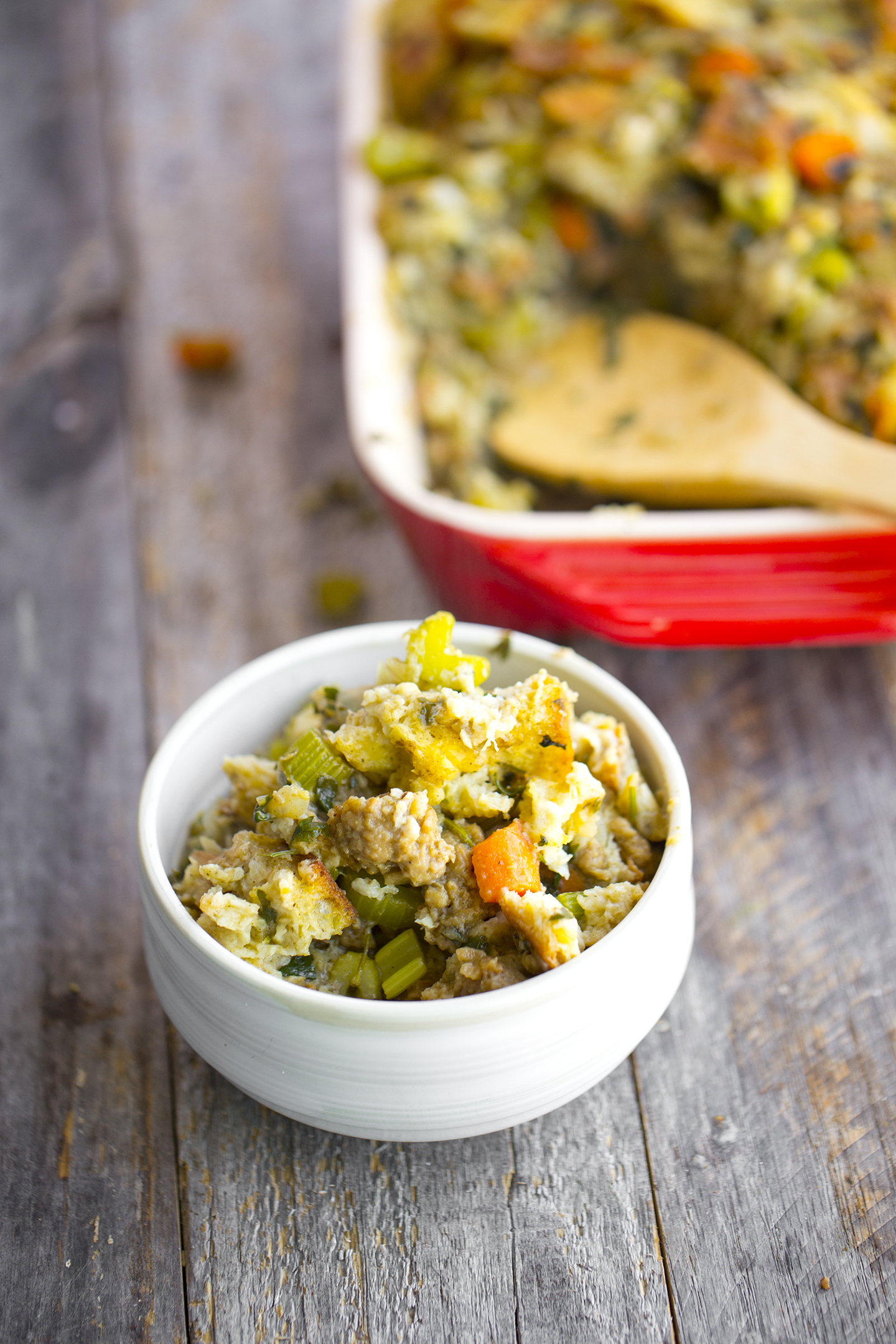 6. Vegan Entrees.
Oh goodness, there are indeed so many delicious options out there. Even beyond the clichè, but lovable, Tofurky. My all-time fave: Sweet Potato Pockets.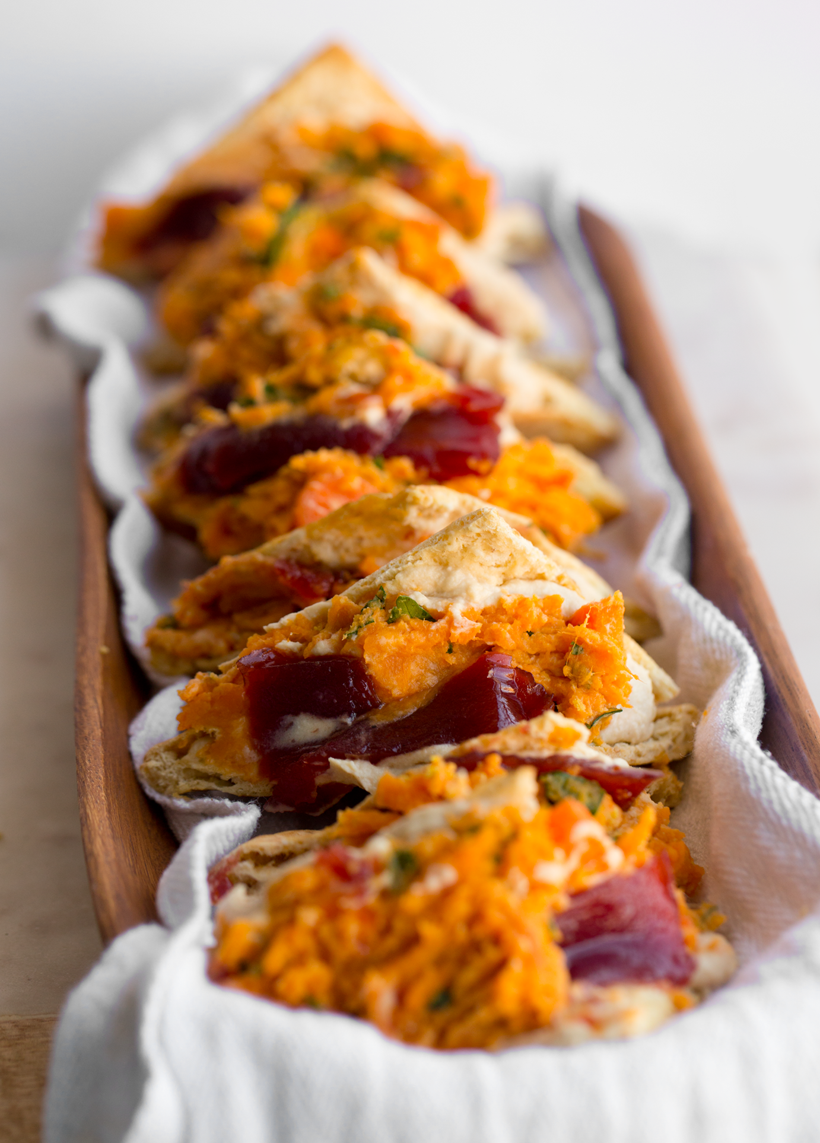 Thanksgiving entree ideas…
Or try a vegan "holiday roast" or "tofurkey" centerpiece…
"But I need a centerpiece!" OK, here you go. This. I recently taste-tested this super easy vegan holiday entree and I was blown away by the yummy flavor.
Here is the deal with a vegan holiday roast: you pull the Holiday Roast box from the freezer, slide the frozen roast out of the box, unwrap it and plop it in a baking dish, then you turn your oven to 400 degrees, pop this thing in the oven and for 60-75 fuss-free minutes you can flit through the house – sing, dance, sip cocoa or wine, watch Netflix, then when the buzzer dings you twirl back into the kitchen and pull it out of the oven as you notice how holiday-dreamy your entire kitchen smells. Then just start slicing! Gravy optional. Done and done.
There are actually TONS of vegan "Turkey" subs out there. This is just one of my faves. Check out options from Field Roast, Tofurkey and more.
7. Healthy Holiday
Having a plant-based, plant-loaded Thanksgiving is the perfect way to kickstart wellness for the new year and beyond. Vegan recipes are usually made using whole foods, loads of healthy plants and antioxidant-rich, nutrient dense foods. Foods like veggies, sweet potatoes, pumpkin, whole grains and more.
A Thanksgiving spent overindulging in animal products like meat and dairy could leave you feeling kinda less than fabulous. But loading up on plants may be a different story. Everyone is different and your nutritional needs may vary, but for me personally, I feel nothing but awesome after my plant-powered holiday meals. Plus, a cruelty-free feast makes me glow with pride from the inside out.

Note: Overindulging in ANY food could leave you feeling sluggish and spent. So watch those portions if you don't want to feel like a couch sweet potato on Thanksgiving night. Or stuff your plate and plop! Whatever makes you happy.
8. A Taste of Vegan For All
Hosting a vegan Thanksgiving may seen scary if you are serving guests that are not used to eating vegan meals. But this is the perfect opportunity to give everyone something to talk about! It is fun to try vegan spins on your favorite family recipes, and let all your family members be able to walk out the door saying, "Vegan eating? Yup, I did that!" Who knows, they just may (probably will) be so impressed by the cuisine that they get inspired to add a few, or a few more, vegan meals to their life. Who knows, maybe Grandma's inner-vegan will be unleashed for all to see. Don't be shy about inviting others to join your feast. Offer to give everyone's Thanksgiving a plant-based makeover this year!
9. Feel Good Vibes
Hosting a cruelty-free, vegan feast is sure to give you warm fuzzies. Nothing was harmed in the making of your feast, you saved a fluffy-feathered sweet turkey too.
You made a difference. I award you a gold-plated pumpkin as a trophy for being so gosh darn amazing. All the warm fuzzies in the world will come streaming your way at your cruelty-free feast.
Vegan Thanksgiving is a feel good choice for the planet, you and animals! But really, mostly for animals. Anyone else feel great helping animals out?…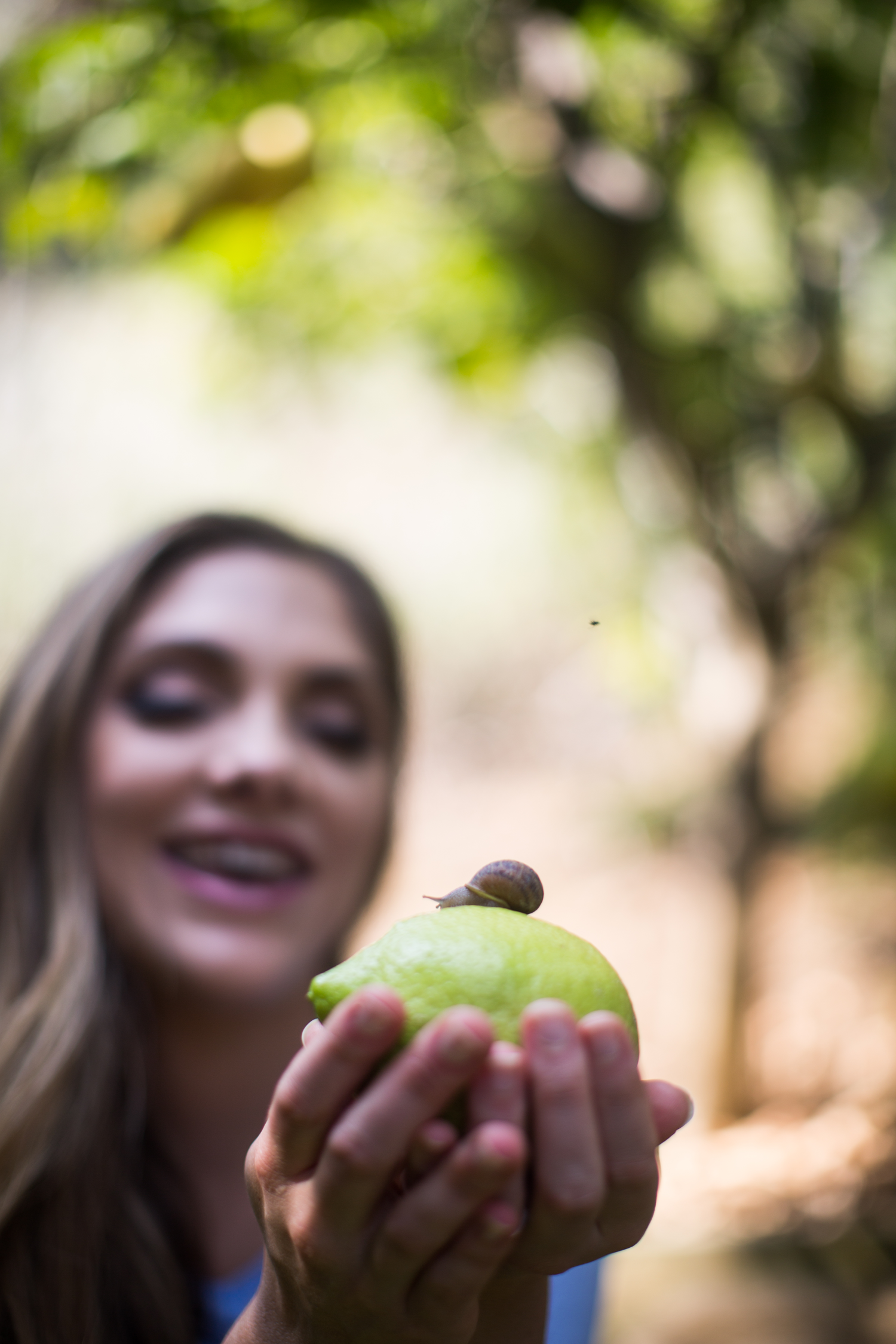 10. Save Money
Guess what. Those giant turkeys at the store? They are not cheap. But the Holiday Roast I mentioned above that serves up to 8 people is just $19.99, retail. And if you choose one of my other veggie centerpiece options like beans, tempeh or tofu, you are also saving some money. And you could even completely forgo a "centerpiece" item completely and just do all amazing "sides" .. because let's be honest, the sides are the best part anyways! (ps. I just googled and found one supermarket that sells a "prepared turkey" for $80. $80. I could whip up all my sides and a centerpiece for less than $80. So there you go.)
11. Mashed Potatoes
Those fluffy-amazing mounds of bliss can be vegan and totally amazing. Here is my favorite mashed potatoes recipe: three ways.
12. Bread, Rolls, All the Carbs Pls
I do not know about you, but I love stashing a few warm-from-the-oven rolls on the side of my plate on Thanksgiving. And yes, vegan rolls are easy to find. You could even make your own rolls or biscuits. Try my Pumpkin Seed Spelt Brown Bread Loaf. Or "jalapeño-cheddar" biscuits!
Or these Sweet Potato Rolls.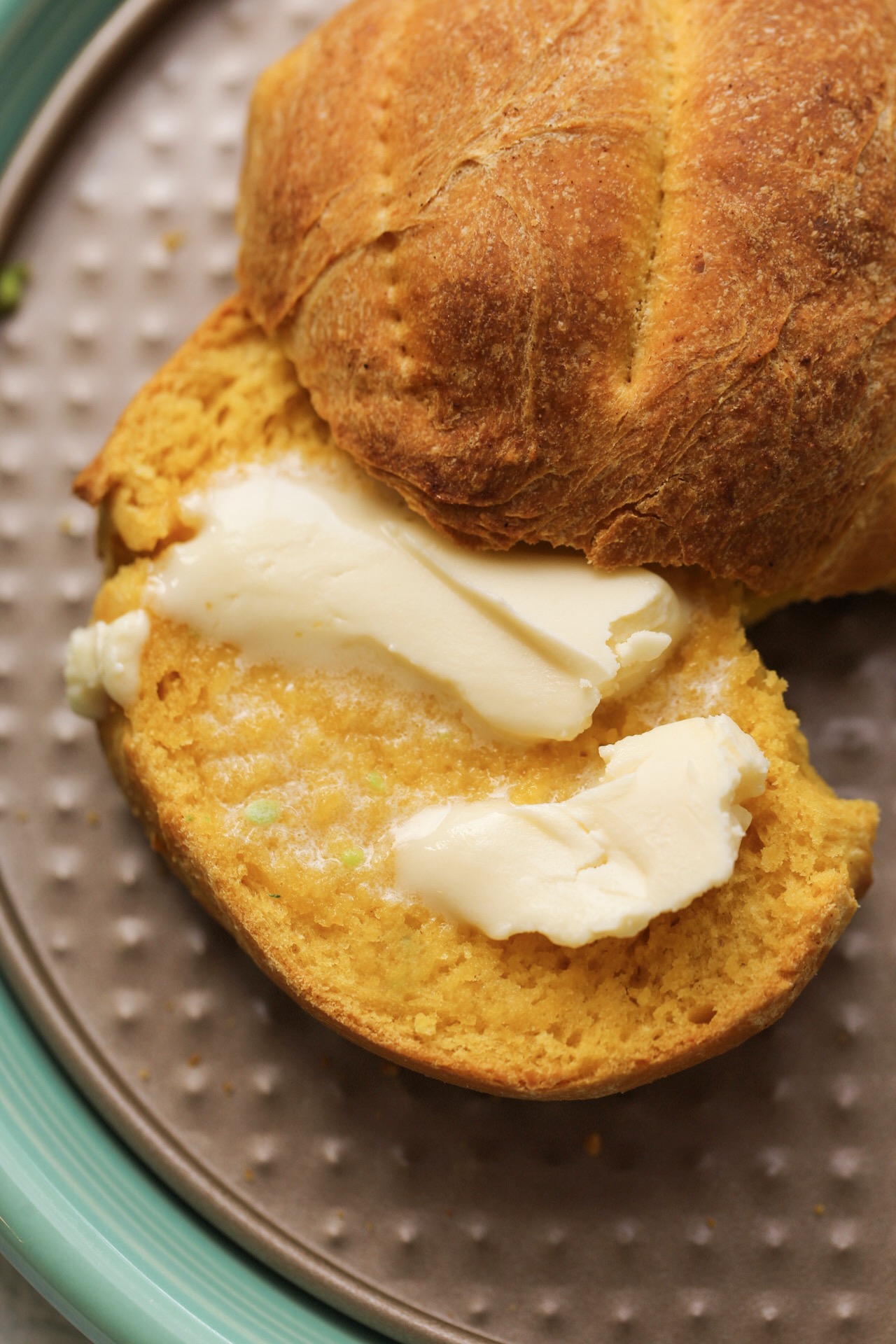 13. Cranberries.
Cranberry sauce is amazing stuff that dreams are made of. That tangy-sweet flavor and nutritional powerhouse goodness. Cranberries are rich in antioxidants, fiber and flavor. So load up on homemade cranberry sauce.
Or my new fave.. Wild Blueberry Cranberry Sauce. Tastes like pie.
14. Simplify Things.
One of my favorite parts about the Thanksgiving meal I create every year in our house is that we do not over indulge in a ba-zillion different dishes. We choose our favorites and stop there. It just feels better, we have less leftovers that may or may not get eaten, and we are more likely to not stuff ourselves on the "big day."
Thanksgiving does not have to be a day of excess. It can easily be a day of simplicity and gratitude for a few favorite dishes at your table. Think about it, what do you love most at Thanksgiving? Make those extra special and forget the rest. My faves: sweet potatoes, stuffing, a festive green salad or veggie, cranberry sauce, rolls and a protein side or a fun pre-made vegan Holiday Roast, Celebration Loaf or Tofurky.
15. Holiday-Week Mornings
The pre-feast vegan options are pretty fantastic. Try not to starve yourself all day for one big meal, but rather eat normally and not stress out your digestive system. Thanksgiving Day breakfast with yummy lattes and teas and some goodies is a winner. My recipe ideas..
16. It's Vegan Gravy, Baby
This vegan gravy is so delicious. Pour it on anything.
16.5. Brussels Sprouts.
Obsessed with this veggie. Brussels sprouts have the ability to transform into something yummy and modern, sophisticated yet rustic — all in a matter of minutes. Definitely try my Maple-Roasted Brussel Sprouts. OR this fun recipe with cranberry sauce and brussel sprouts.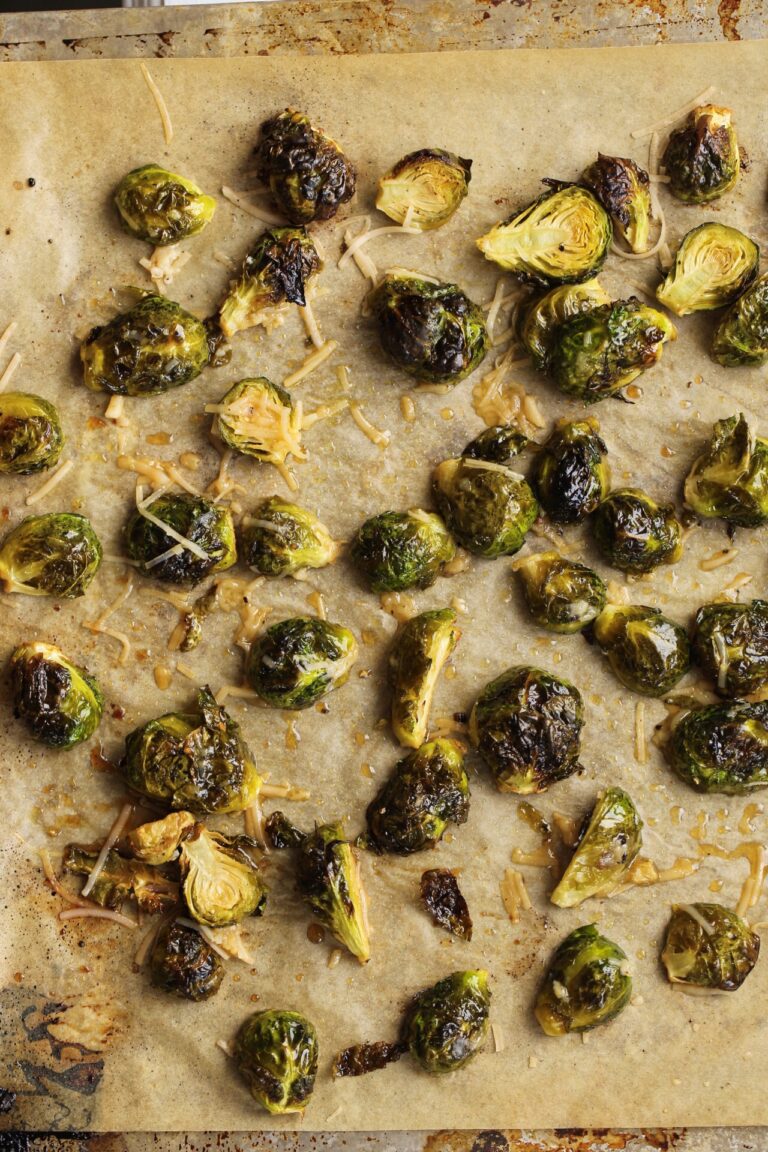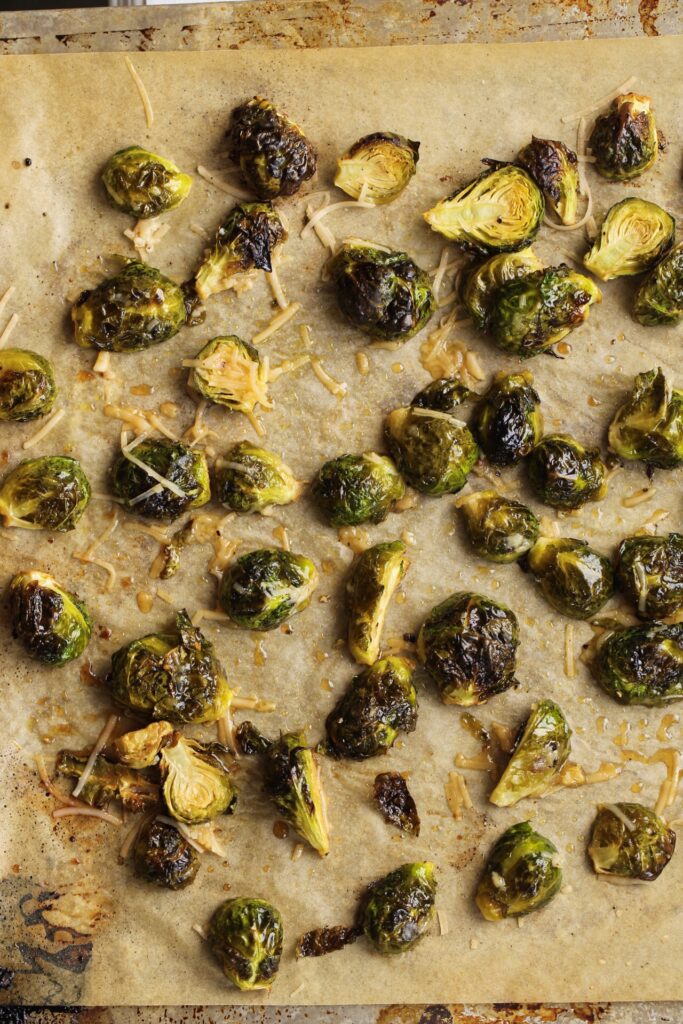 17. My Famous Pockets
If you've been here before you know my signature Thanksgiving recipe is super simple and kinda unsophisticated, but portable and cheery and oh so delicious. My famous Sweet and Sassy Sweet Potato Pockets have everything you love about Thanksgiving in one perfect little pocket. Have you tried them???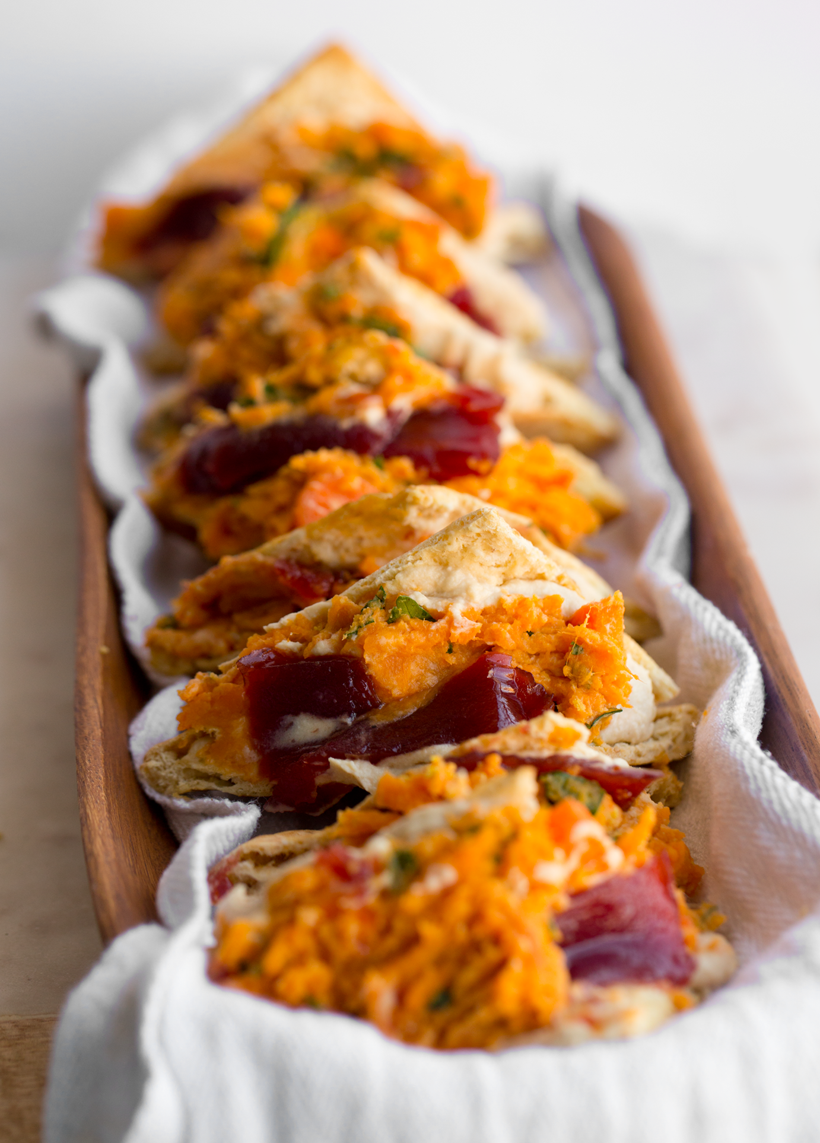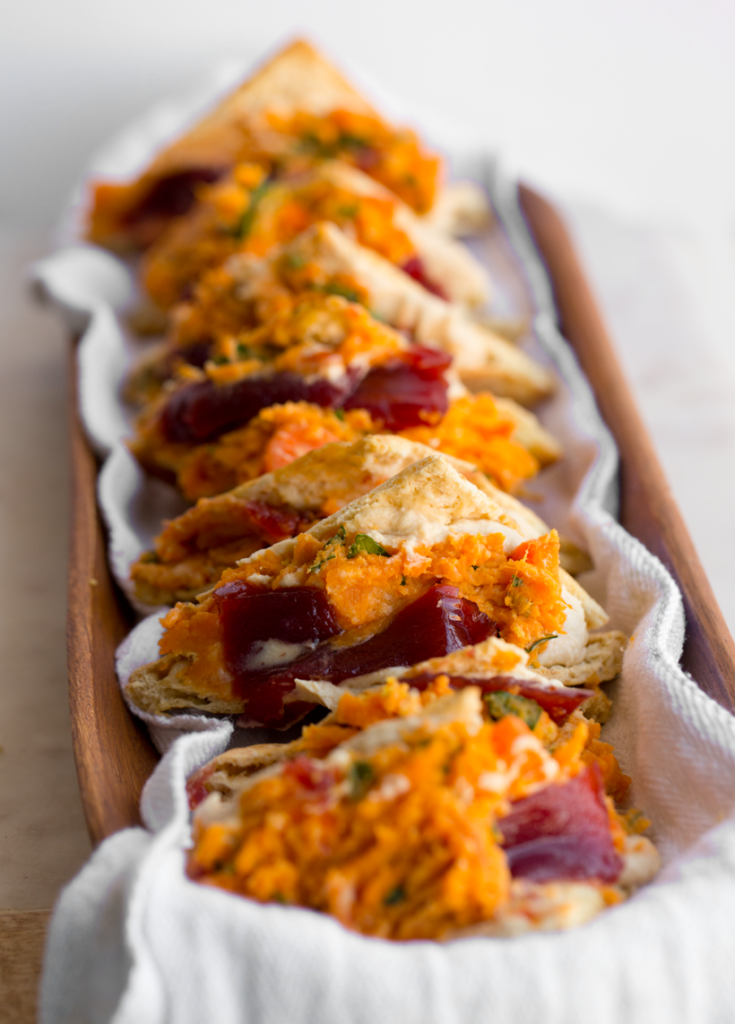 18. Festive Drinks!
Serve up some amazing vegan cocktails and beverages at your feast. My faves: Pom-secco cocktails made from freshly pressed pomegranate juice and prosecco. And my apple-ginger shots, a pre-meal sip to cleanse the palate and entice the taste buds!
19. Dip and Dance!
Thanksgiving gone vegan can be so much fun. It is a plant-based party from the moment your dinner guests walk in the door. You can whip up a number of fun and fancy (or not so fancy) appetizers for folks to nibble on pre-meal. Here are a few of my favorites..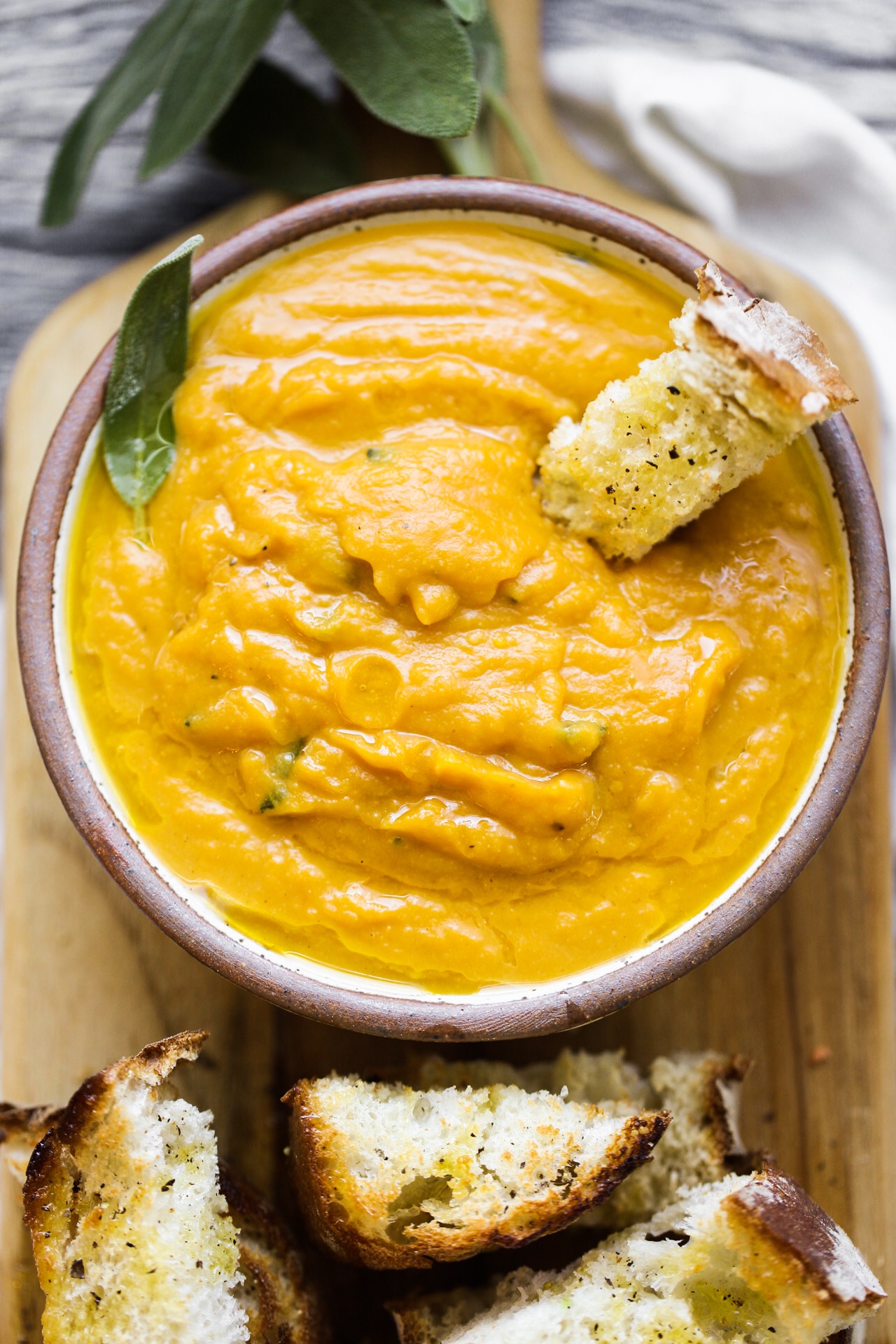 20. Kids Can Love It
You might think that picky-eater kids will scowl at "vegan food" but I promise you they will most likely not even know the difference in all the sides. The turkey is something that parents will want to chat about in their own way, but the sides are all so easy to veganize using my recipes and tips.
And no, you do not even have to tell them about the vegan part if you are worried of backlash. But if you are able to explain that this is a feast made 100% from plants, I have found that most kids are incredibly excited and curious to try just about everything. And if you have some animal loving kids, you can even let them know that they are celebrating the lives of turkeys at the feast, in place of eating them. Each year, my family adopts a turkey from Farm Sanctuary, and we display our turkey's photo for all to see and celebrate. Kids are natural animal lovers, so if you can connect the feast to their hearts, you can help nurture that natural compassion inside them.
And as always, my best tip is to get kids in on the fun! Invite them into the kitchen to cook.
And if all else fails, make then a Silly Sweet Potato Kids Pizza
21. Warm Mugs
One of my favorite things about Thanksgiving is all the chances to stop, grab a warm beverage in a mug and really ponder the moment. Hopefully with my vegan recipe ideas in this post you will be able to easily craft a vegan meal so that you have more time to spend with your loved ones this holiday. A few of my favorite warm mugs, like cocoa, tea and mulled wine, in this post.
Or just check out my famous Cloud Cocoa for cold, cozy nights.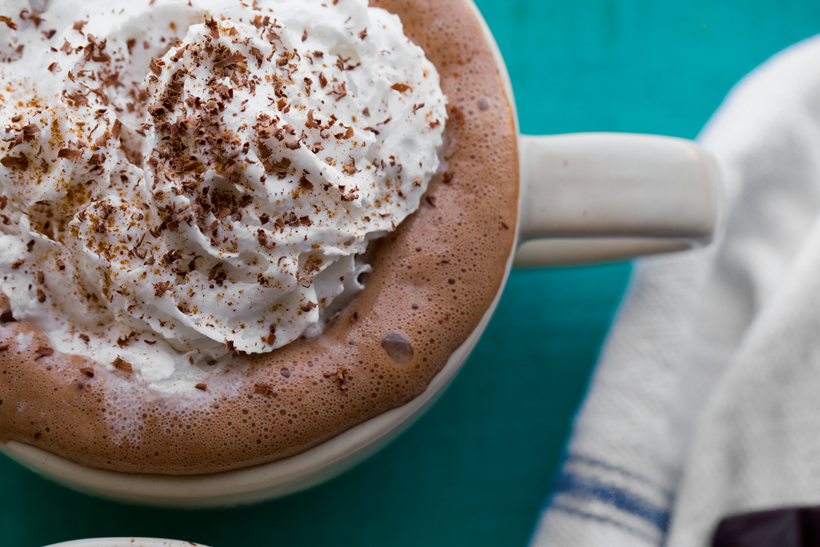 22. All The Cool Kids Are Doing it
OK, so this is a little silly, but seriously, the vegan movement continues to grow and build momentum because people are loving this lifestyle! Celebs, business heavyweights and politicians are embracing a vegan diet. So join in the fun this Thanksgiving and see what all the buzz is about. Have you seen Leo's Before the Flood or Arnold + Jim's Game Changers?
23. All The Veggies
Vegans know how to make veggies taste amazing! Vegetables are not just side-show ingredients, they can easily be the main event. Take kale. Once a boring dark leafy green, it is now a recipe superstar! Raw kale salads rule the world. So this Thanksgiving, grab some veggies and find a vegan recipe to make them sing. You can browse my recipe index under salads and vegetables or head on over to findingvegan.com to browse endless options using the search bar.
24. Happy Planet
Vegan meals are quite simply put, kinder to this beautiful planet we call home. Here is a cute little video to inspire from VEG Society..
25. Vegan Leftovers!
Of course you can make way-too-much food so that you can have a fridge filled with leftovers. Create your own vegan sandwiches and wraps in the days after your feast.
Happy Vegan Holidays!
I hope this guide helps you Host a Vegan Thanksgiving this year!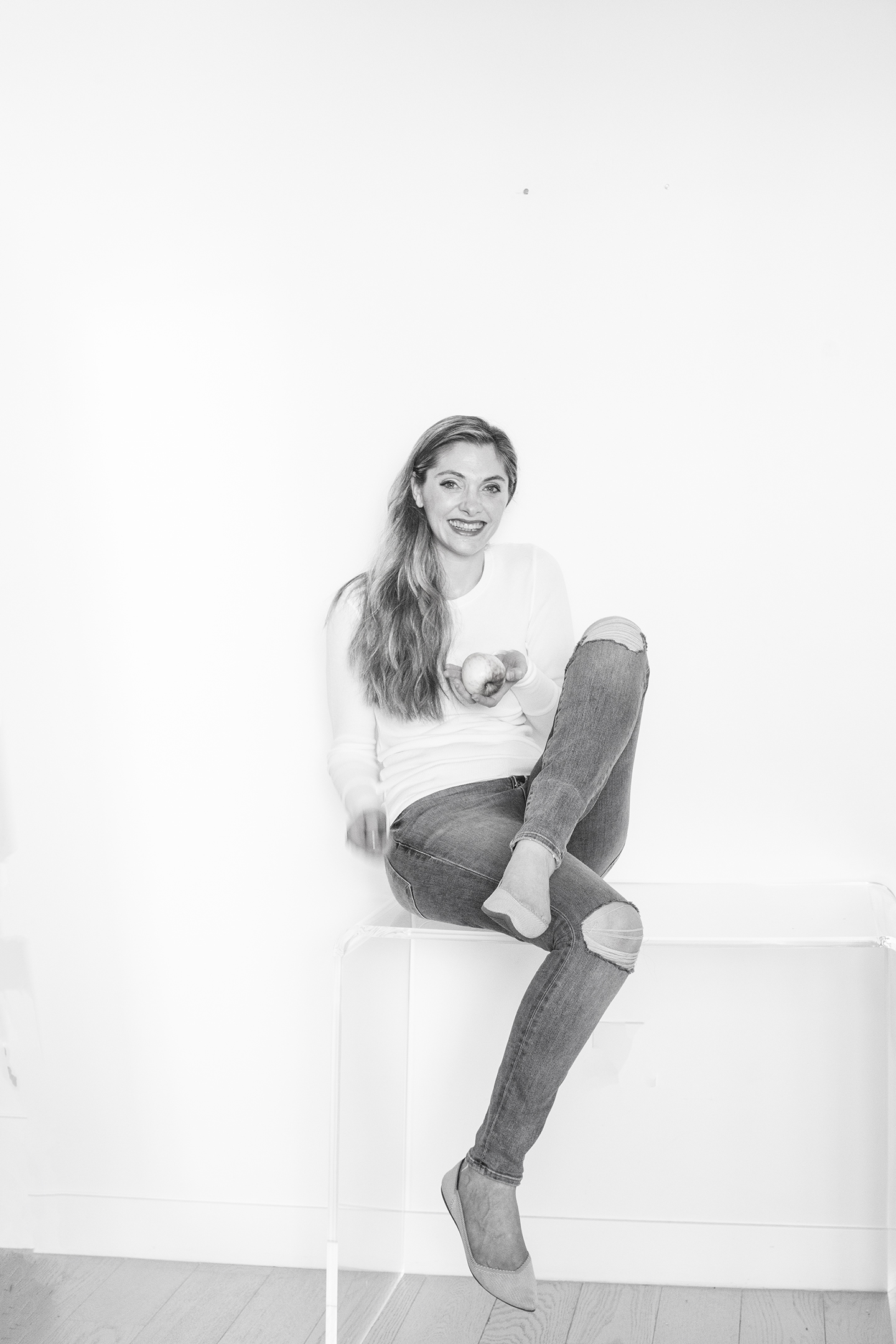 pin this post for later…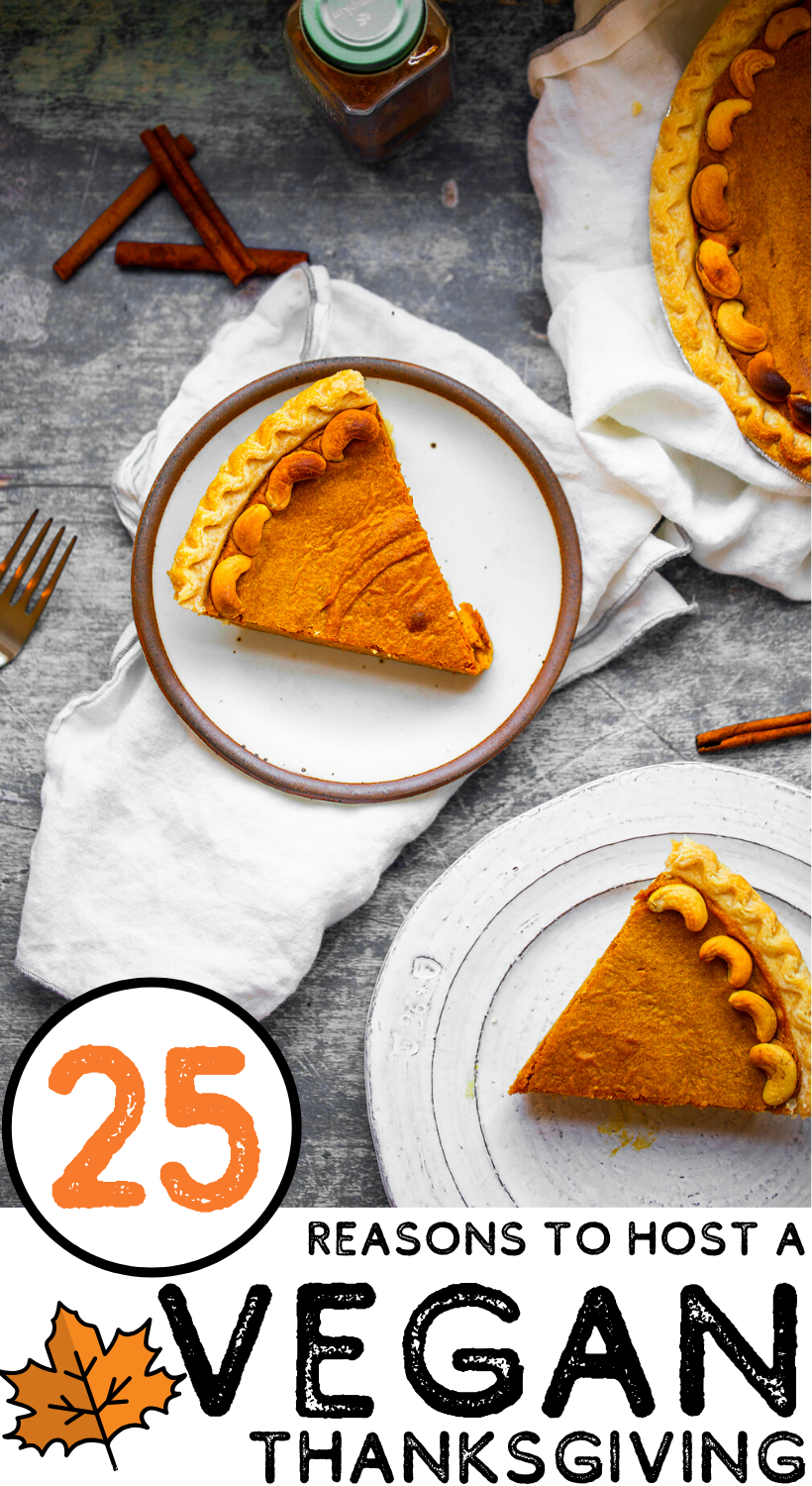 More Vegan Topics to Browse: